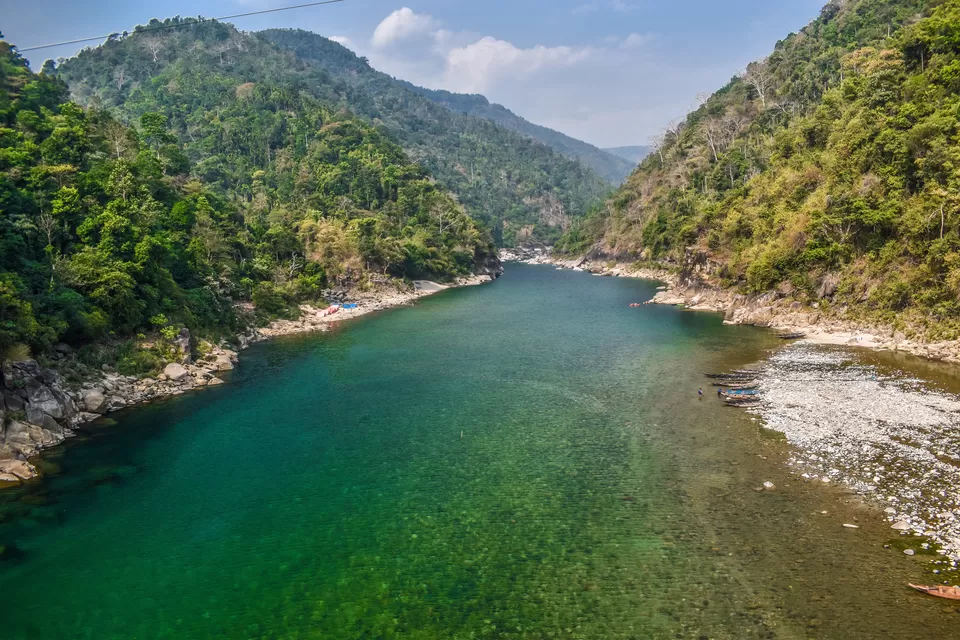 The best way to reach Shillong / Cherapunji is from Guwahati Airport.
Flights are very limited to Shillong Airport hence it may disrupt your plan. It is advisable to take a flight to Guwahati and then cruise around 120 kms thru NH6. The condition of the roads is very good without any potholes however there are small ghats from time to time. It will take around 3 to 3.5 hours to reach from Guwahati to Shillong.
Possible options for Reaching from Guwahati to Shillong / Cherrapunji
A) Private Car to Shillong – Cost around 3,500 – 4000
B) Private Car Sharing basis to Shillong 1000 per pax.
C) Cab from Airport to Paltan Bazar Guwahati - 400/-. Paltan Bazaar to Shillong – Shared cab – 800 per pax and then from Shillong Police Bazaar to Cherapunji – Shared cab 200 per pax.
Unfortunately we visited Meghalaya right when the local cabs went on strikes for the increased prices in petrol and Covid losses due to which there were no local cabs / sharing cabs available.
We reached Cherrapunji by around 4 – 4:30 PM and checked in the hotel. It was almost started going to get dark soon so we decided to just rest and start the next day early.
River Umngot, Dawki and Mawlynnong
There was a lot of photos we had seen of the River Umngot which is the clearest river in India and was definitely on the list. We started early around 7 from the hotel and reached Dawki, a small town located at the border to India and Bangladesh.
The first glances of the river Umngot took our breath away. The river was so serene calm and clear. It is possible to see the river bed.
Boating is available at the town Dawki where the cost ranges 1000 -1200 Rs.
The boats are mechanically driven by boatman without any electric / fuel driven motor which helps to avoid any pollution and keep the river clean.
If you want to enjoy clear waters of River Umngot, plan to visit it from December to March. It will get muddy from June onwards due to monsoons.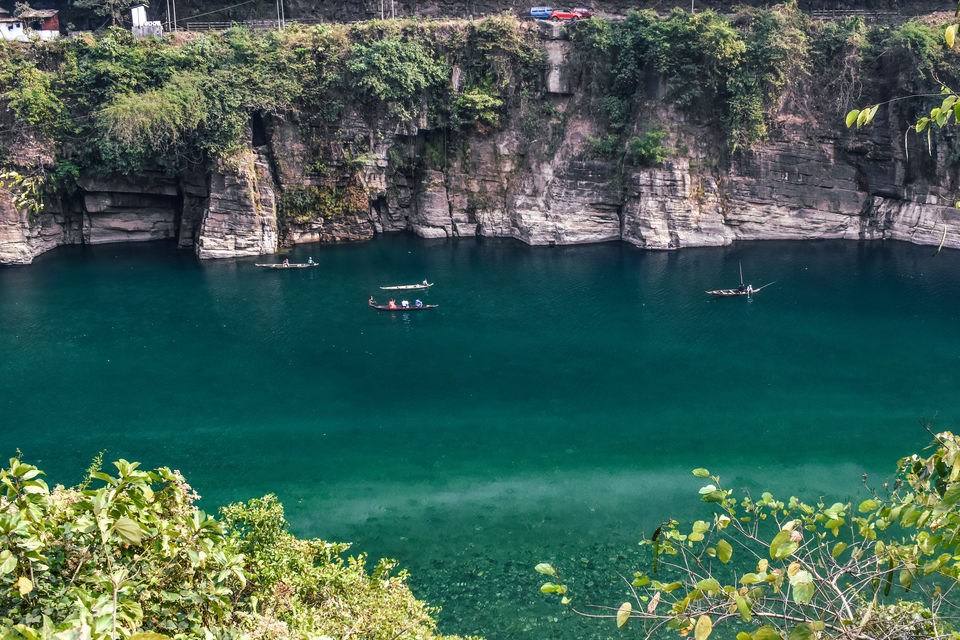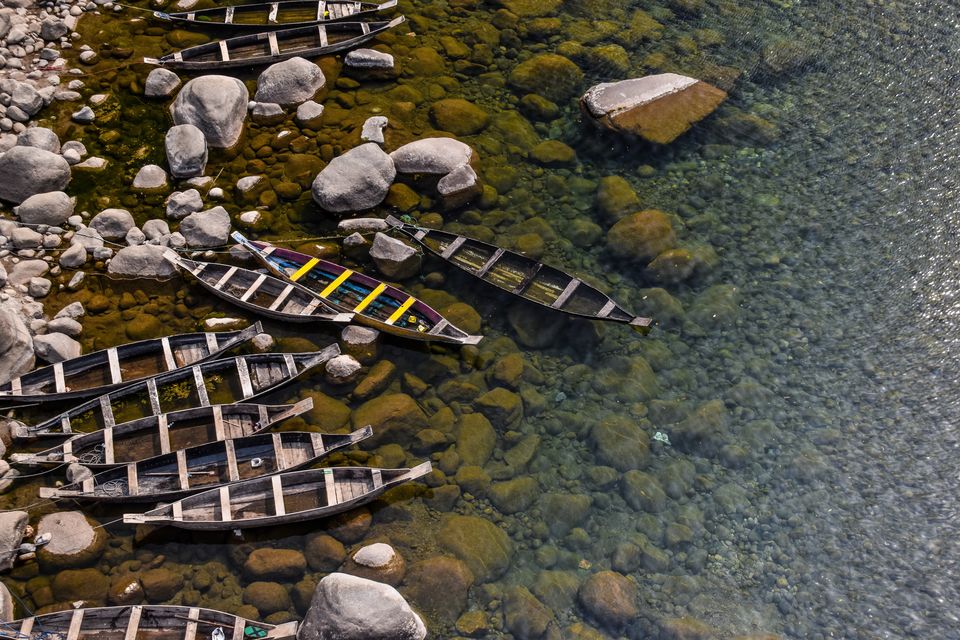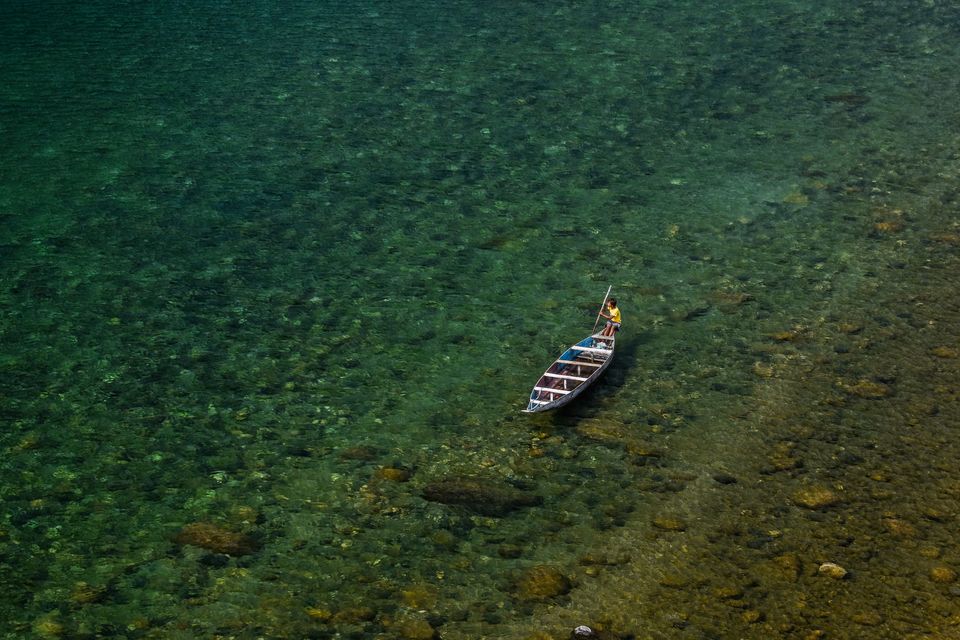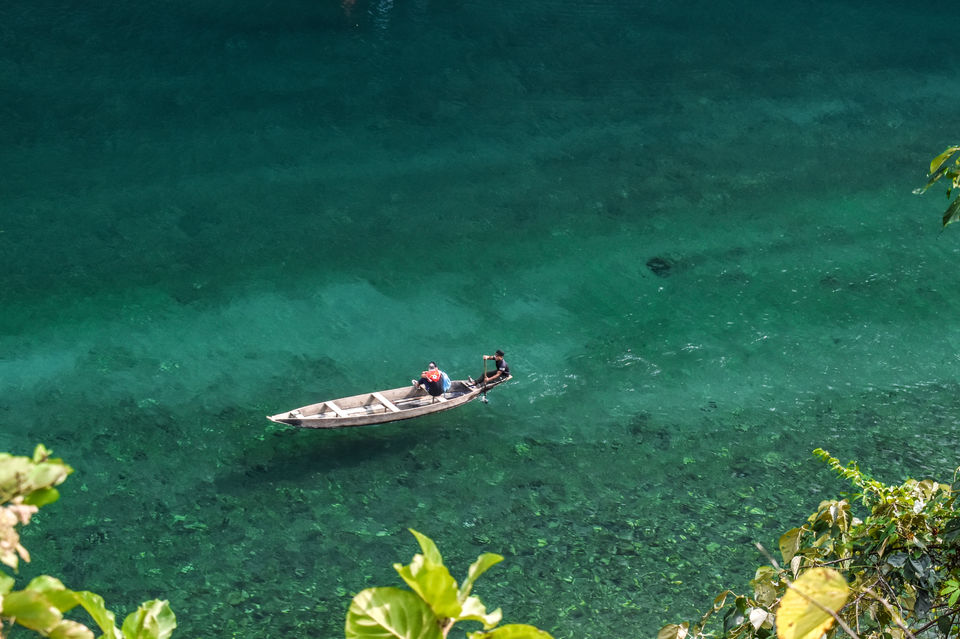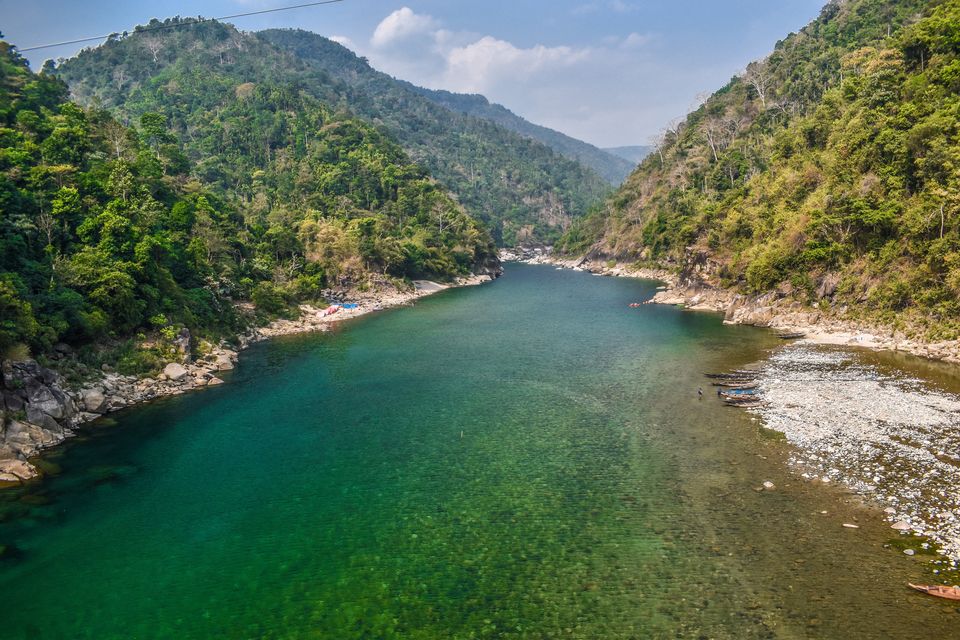 After boating we head back and visited Mawlynnong which won the Asia's cleanest village in 2003 and India's cleanest village in 2005.
For the habitats of Meghalaya, cleanliness is not a value of life but a LIFESTYLE. All houses are equipped with toilets and bamboo dustbins. Plastic and smoking are strictly banned in these villages. It amazes that there is so little done by the Authorities to keep the villages clean yet the villagers take all initiatives and measures to keep the area clean and beautiful. Veranda is decorated with beautiful flowers and plants. The waste from their households is dumped into pits to generate manure.
Some images of the Mawlynnong village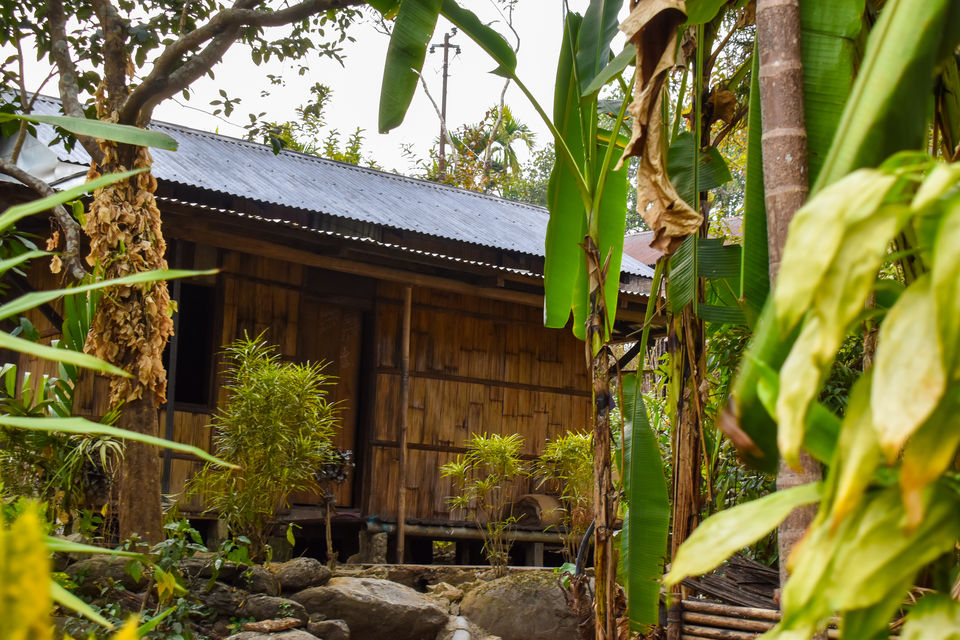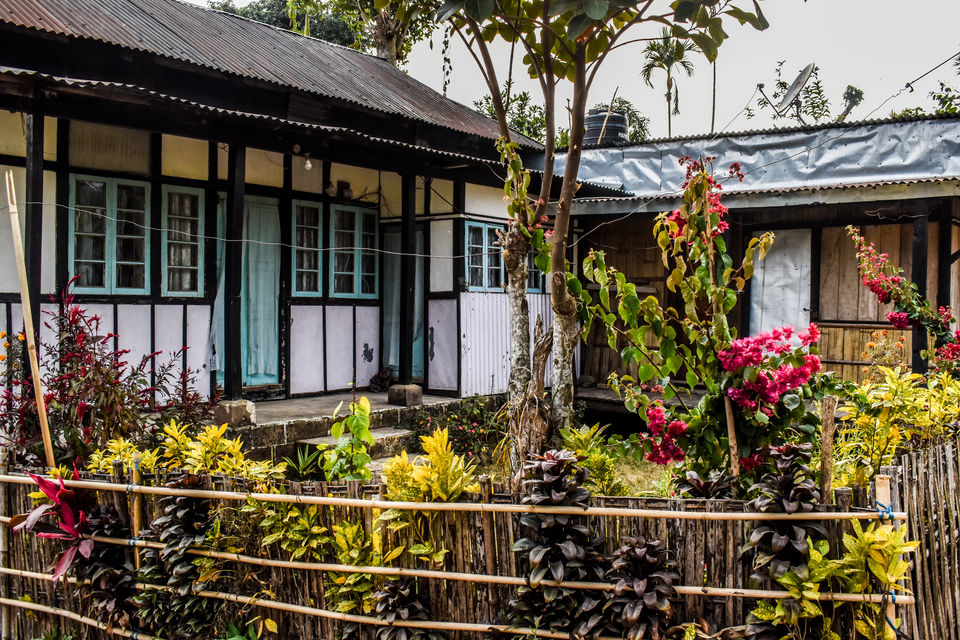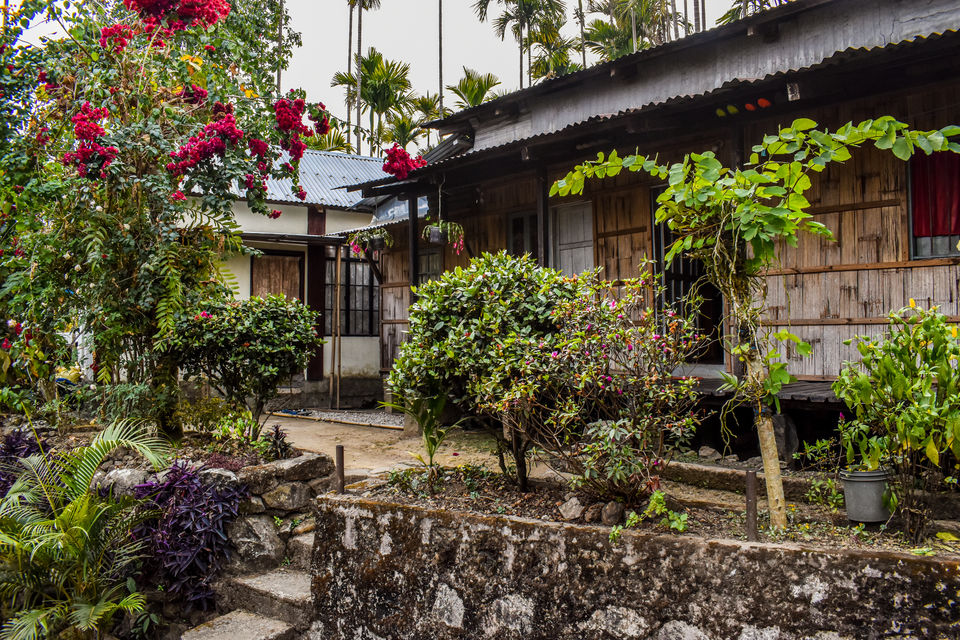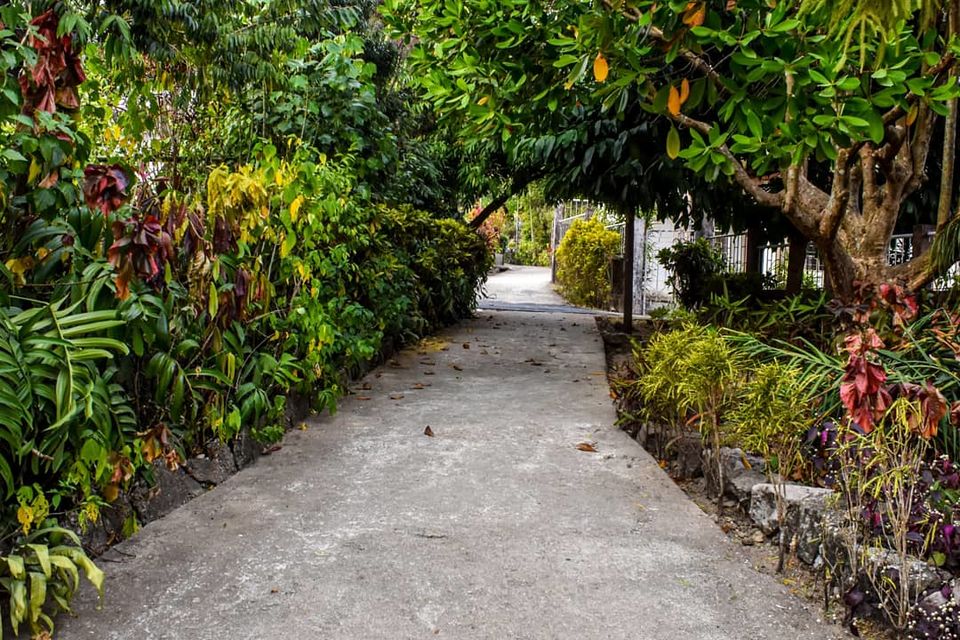 How to reach: - You can hire a private cab to reach Dawki and Mawlynnong (cost approx. 2000-3000).
Meghalaya is quite popular for the living root bridges. The Khasi people have trained and developed techniques so that these roots grow in such a way that they form a bridge over rivers which used to help them cross.
Reaching the Double decker root bridge requires a trek of around 3500 steps and you need to descend around 2000 feet.
The first part is the steepest and most challenging part of the trek – down the hill from Tyrna Parking to Village. There are some small shacks in this village for refreshments.
Further from the village you need to keep going deeper into the forest filled via beetle nuts trees and cross 2 steel suspension bridges. Right when you minds starts thinking how much longer and on the verge of giving up, you will see some houses located on small ascend and have a board called Nongriat village.
The place is quite calm and relaxing. There is a small natural pool developed near the Double decker bridge where you can relax by. The water in this stream is quite calm and refreshing. Don't forget to dip your feet in this pool to enjoy free fish spa which will take away your tiredness.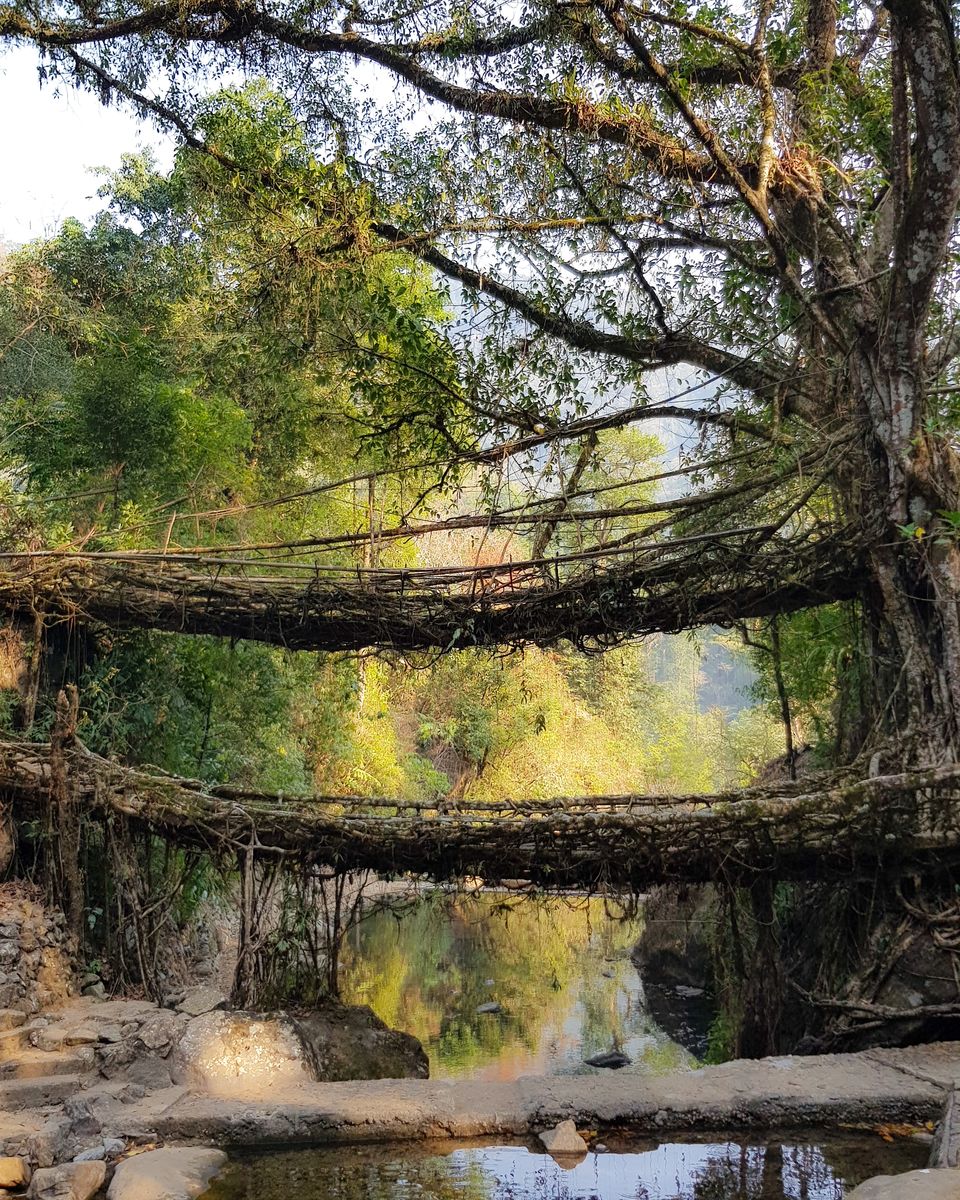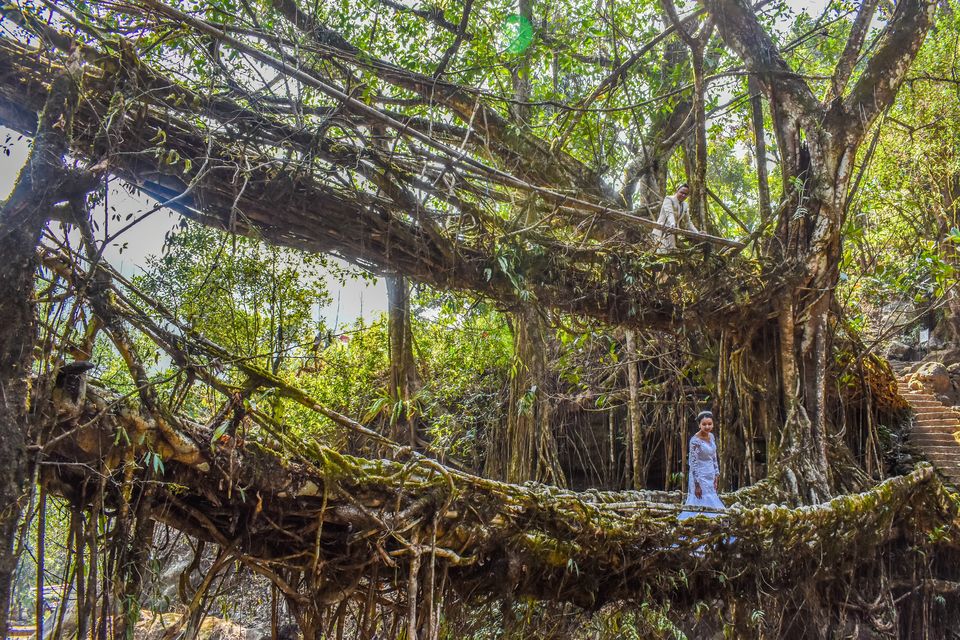 We rested for a while and then started the journey to Rainbow Falls.
The trek to Rainbow falls is much harder as compared to the Double Decker bridge. It keeps on ascending and descending thru the mountains and valleys. After a trek of around 1 – 1:15 Hrs, you will start to hear water falling from a height and which adds excitement to complete and reach the destination.
The water fall is quite beautiful and is worth the trek. A small rainbow appears at the foot of the falls which is why it is named as Rainbow falls.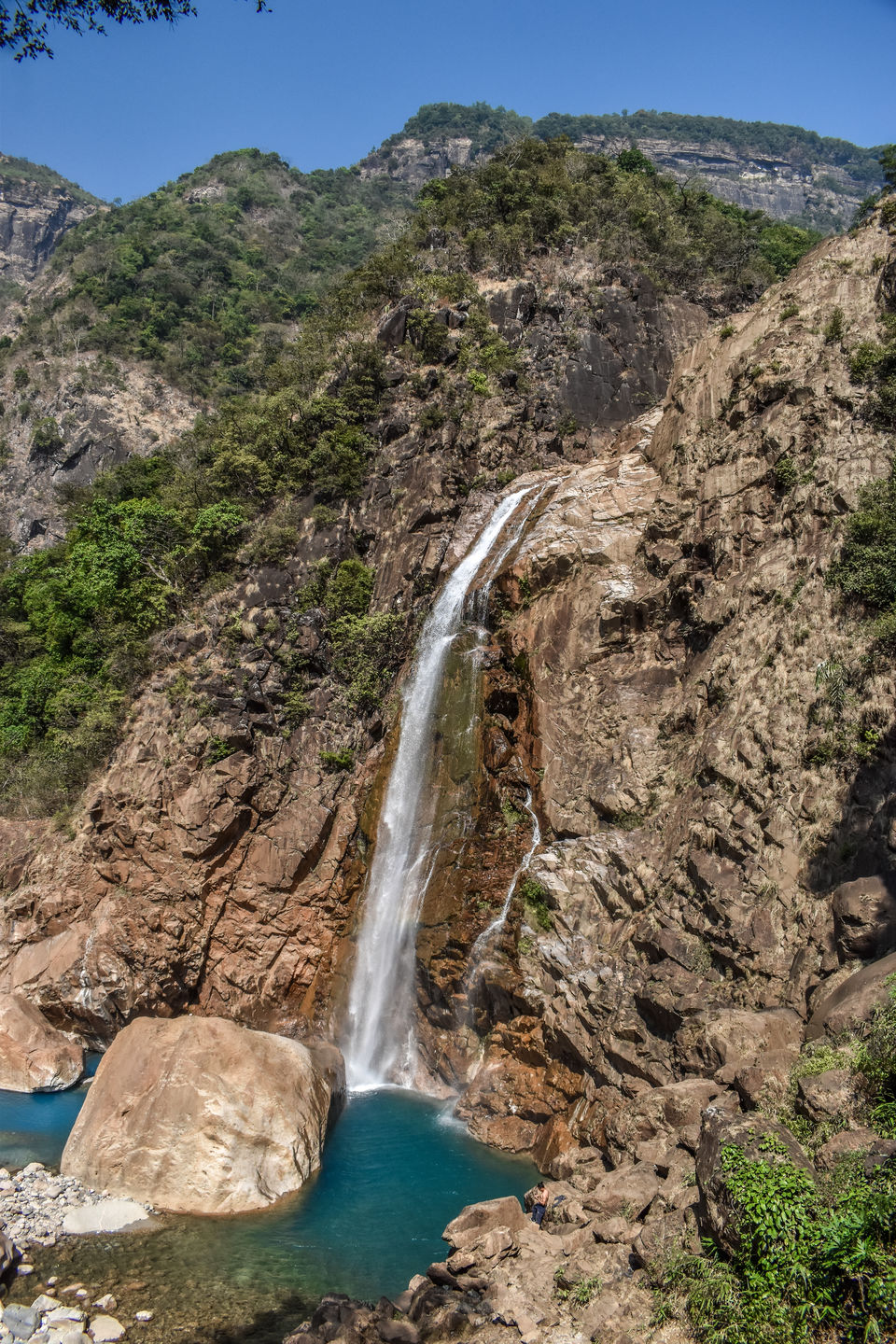 Returning back from Rainbow falls to Tryna car park was a herculean Task. Physical toll started taking on our body and it was difficult for us to continue trekking for longer duration. The break durations started to become longer than the trekking durations.
While we were sitting on one of the benches, we saw a villager from Nongthymmai walking in a very strange manner. At first we assumed he must be high on something. However, we just tried to use the same technique to understand how it felt and to our surprise, it was quite relaxing for the legs.
A short clip of that walking style can be watched via below link.
https://www.youtube.com/shorts/U2zb-DU5W0w
We were able to climb 2000 steps from the village to Tryna Parking in almost only 2-3 breaks.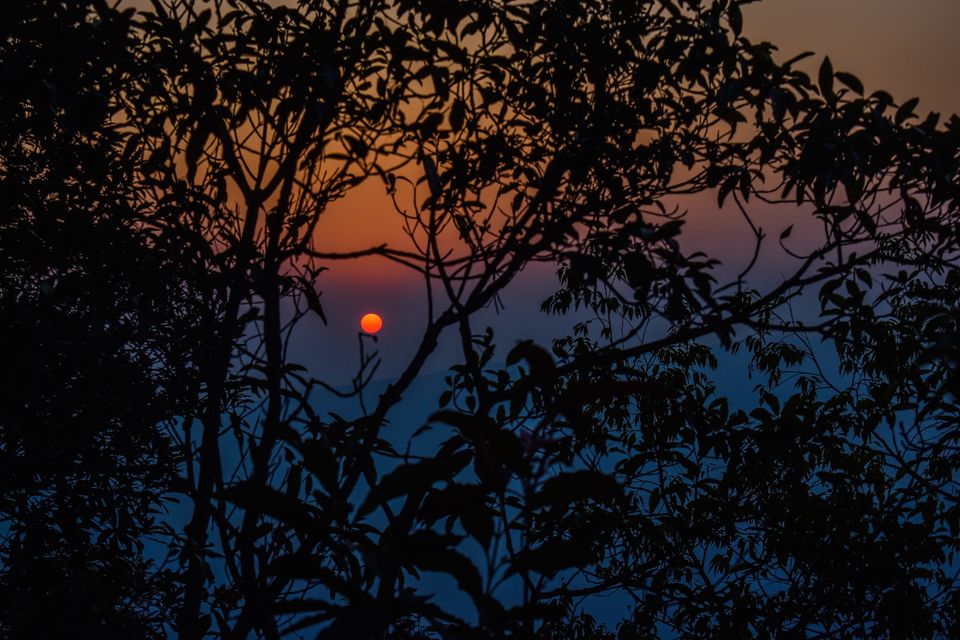 On reaching the car park, we found out that we trekked a mammoth 18 kms (i.e. from Car parking to Double Decker Bridge and Rainbow falls and the return journey).
How to reach :-
It takes around 30 mins from Cherrapunji (12 kms) and around 2 hours 30 mins from Shillong to reach the Tryna Village. The trek duration ranges from approx. 5 hours for only Double Decker Bridge (to and fro) and 7-7.5 hours for Double Decker bridge and Rainbow Falls (to and fro).
Please note that the double decker bridge is closed on Sundays; hence plan accordingly.
Mawsami Caves, Nohkalikhai Falls, Journey to Shillong.
Mawsami cave is a beautiful limestone cave at a distance of 7-8 kms from Cherrapunji town. The caves are well lit and there is no need for the tour guide and torches to be carried. A clear path guides the way through the caves.
The entrance to the cave is quite spacious however it soon gets squeezed into a narrow path. There are places where you will need to bend, squeeze and crawl yourself to out thru the caves. Actually, the cave is quite long however only 150 mtrs of this cave is accessible to visitors and the other part is shut.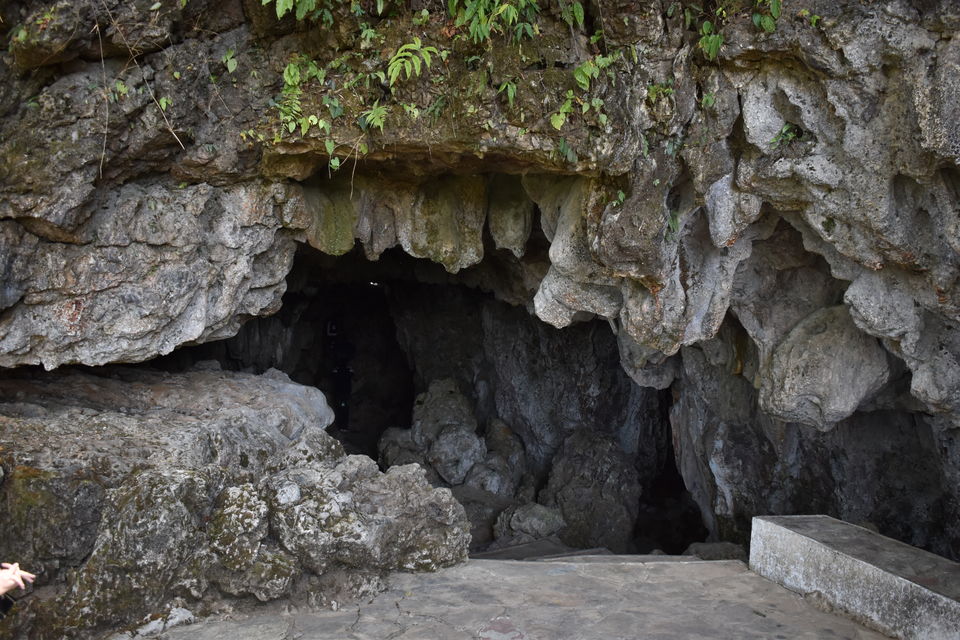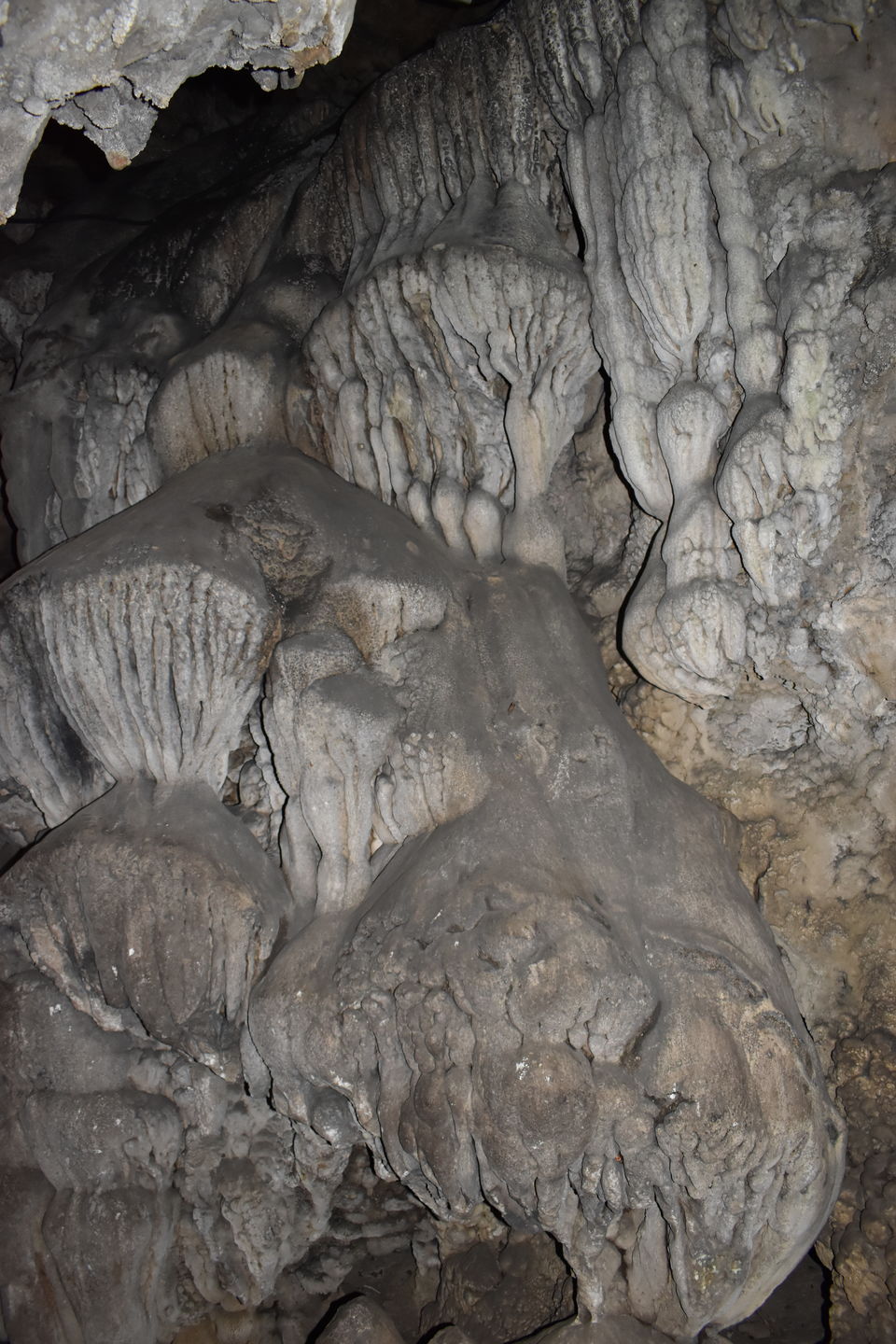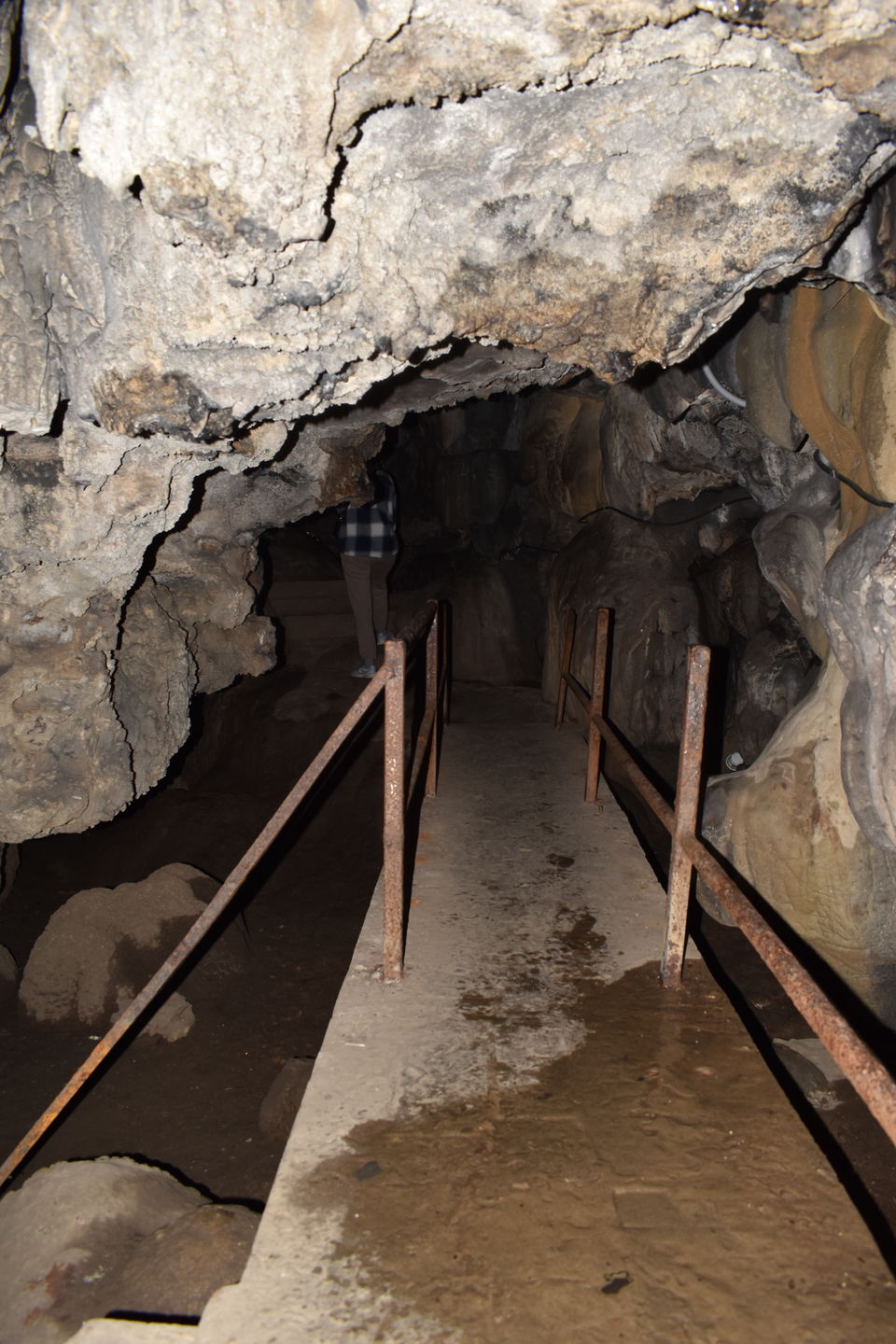 Nohkalikai Falls :
The tallest plunge waterfalls in India is the Nohkalikai falls. Its height is around 340 mtrs and is located around 5 kms from the Cheraapunji town. The waterfall is fed by the rainwater collected at the summit of a comparatively small plateau. The best season to visit the waterfalls in during monsoon season when the waterfall is full force. Also, there are treks from the living root bridge or the view point to the foot of the waterfall; however, a strong endurance is required for this trek.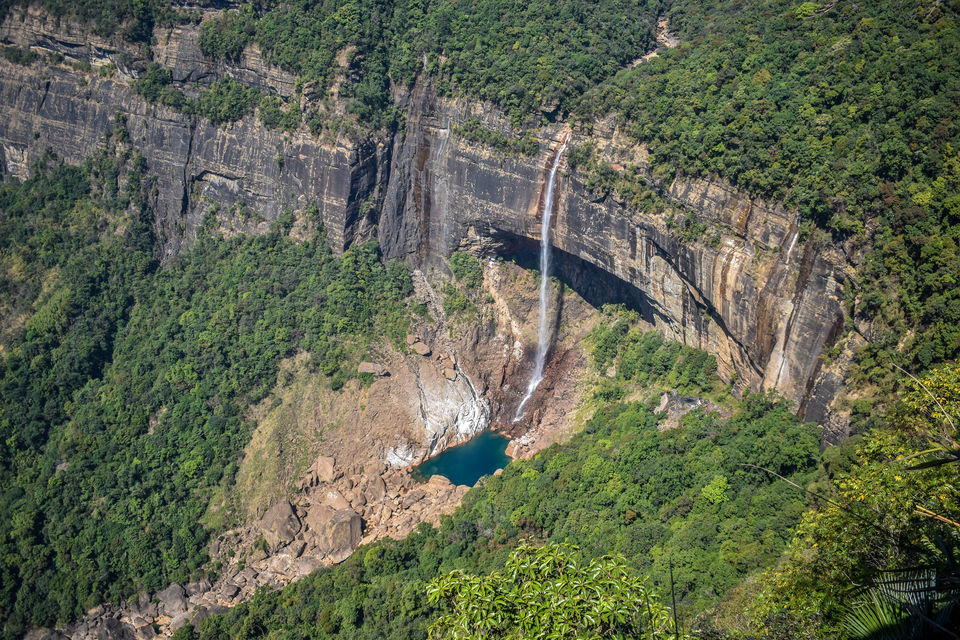 After the Nohkalikai falls we head our way to Shillong.
How to reach :-
Mawsami Caves - Take a cab or hire a car from Cheraapunji. It is around 8 kms and will take around 15-20 mins to reach.
Nohkalikai Falls : Around 5-6 kms from Cheraapunji city centre.
Day 4 ;-
Mawphlawang Sacred Grove, Elephant Falls.
Shillong the capital of Meghalaya is pretty however during our way from Cheraapunji to Shillong, we saw lot of traffic for cars and hence we planned to visit places in Shillong on bike to avoid the traffic. Traffic can go crazy in Shillong hence it is advisable to visit on bike.
As we had visited Meghalaya in the dry season there were not much waterfalls to visit. We had only planned to visit the Elephant falls and the Mawpalawng Sacred grove.
The Elephant falls
The falls is named after an Elephant like stone at its foot. It's a picturesque three tier waterfall which can be accessed from different elevations. Accessing all the three tiers is very easy due to the walkway.
The falls is denoted as Ka Kshaid Lai Pateng Khohsiew by the local Khasi people which translated means " The Three Step Waterfalls" . The first tier is tucked between dense flora and is broad. The 2nd tier is almost like few strands of water; especially in winters due to the receding water level. The 3rd tier is very visible.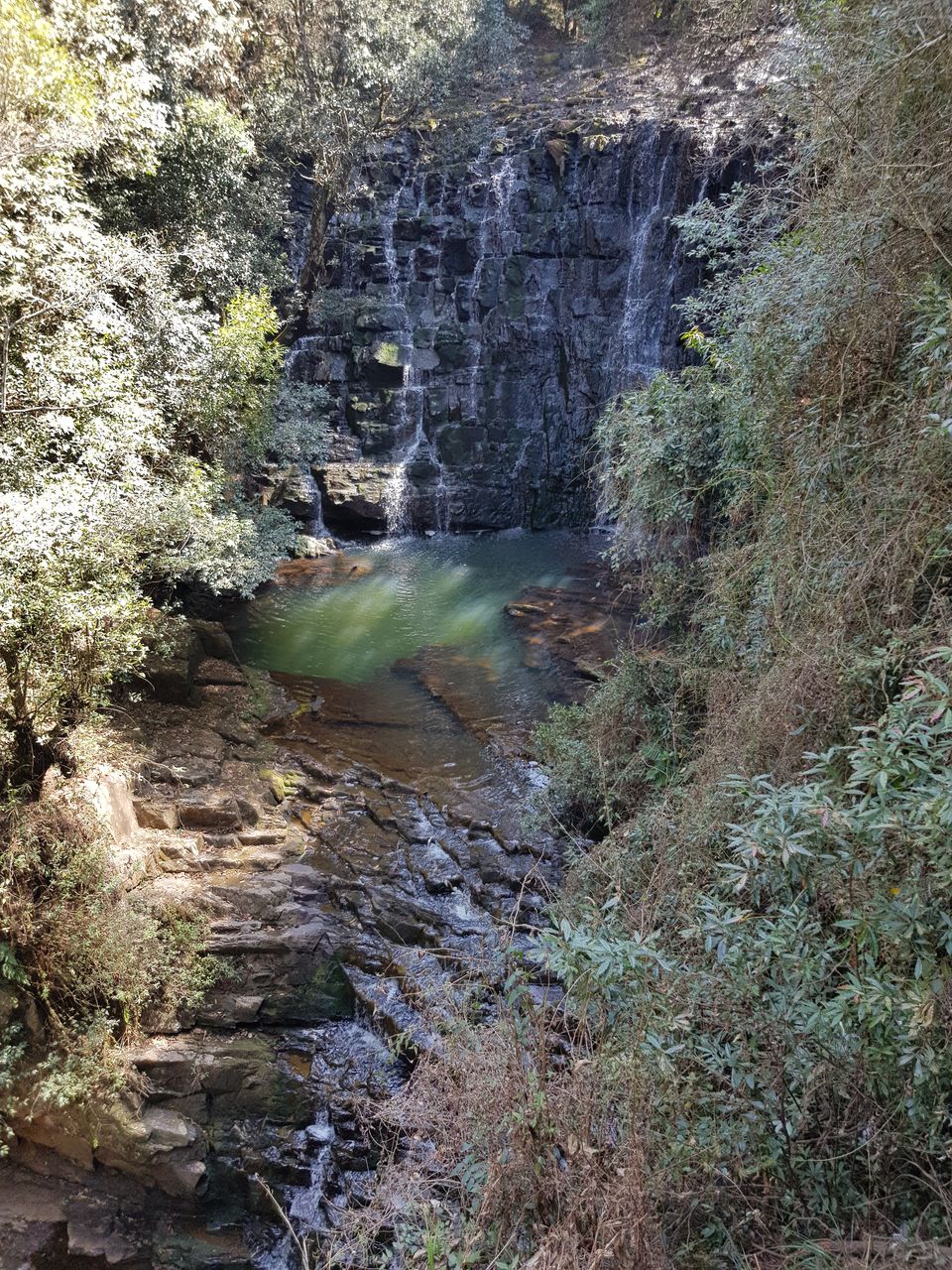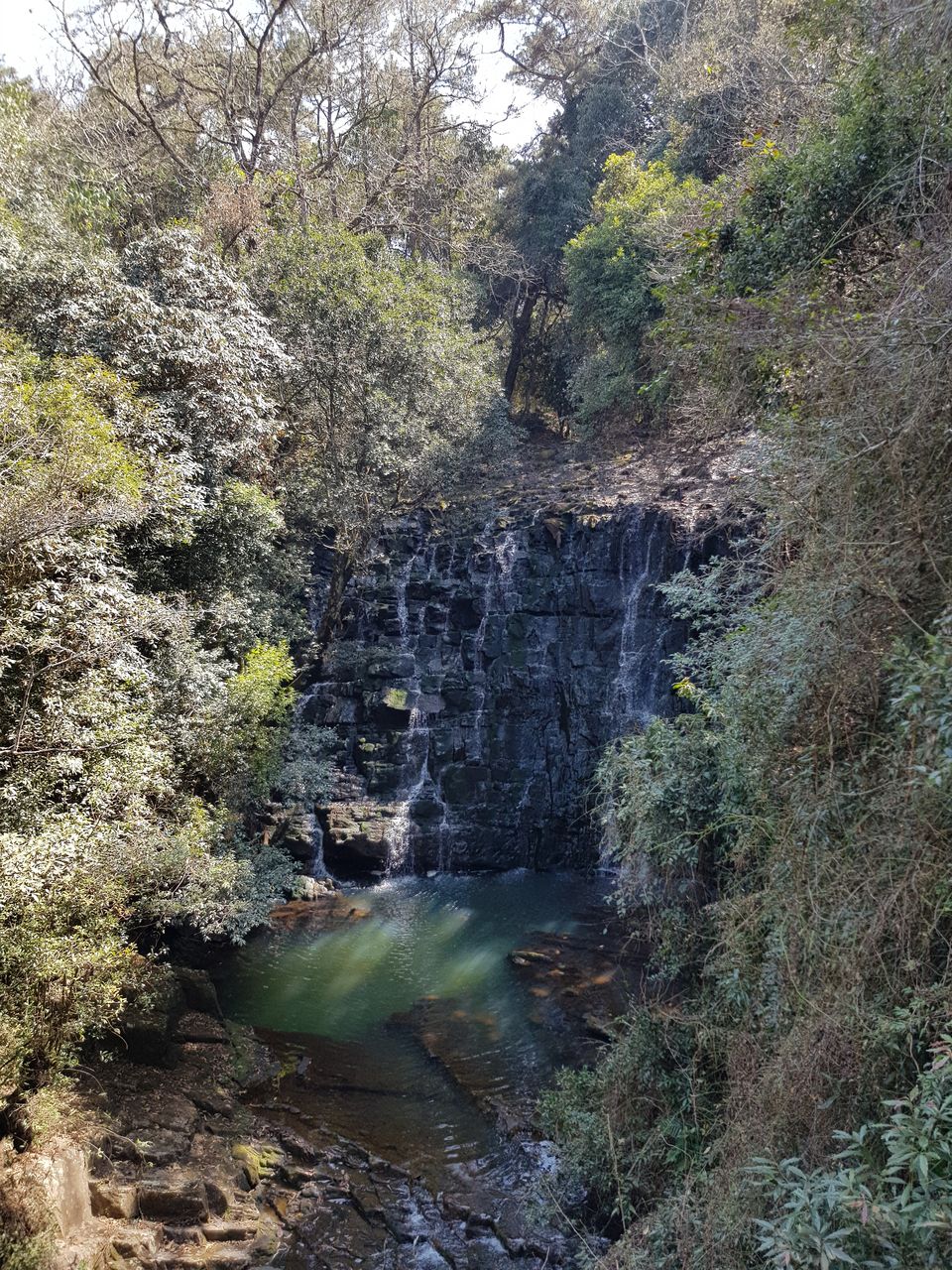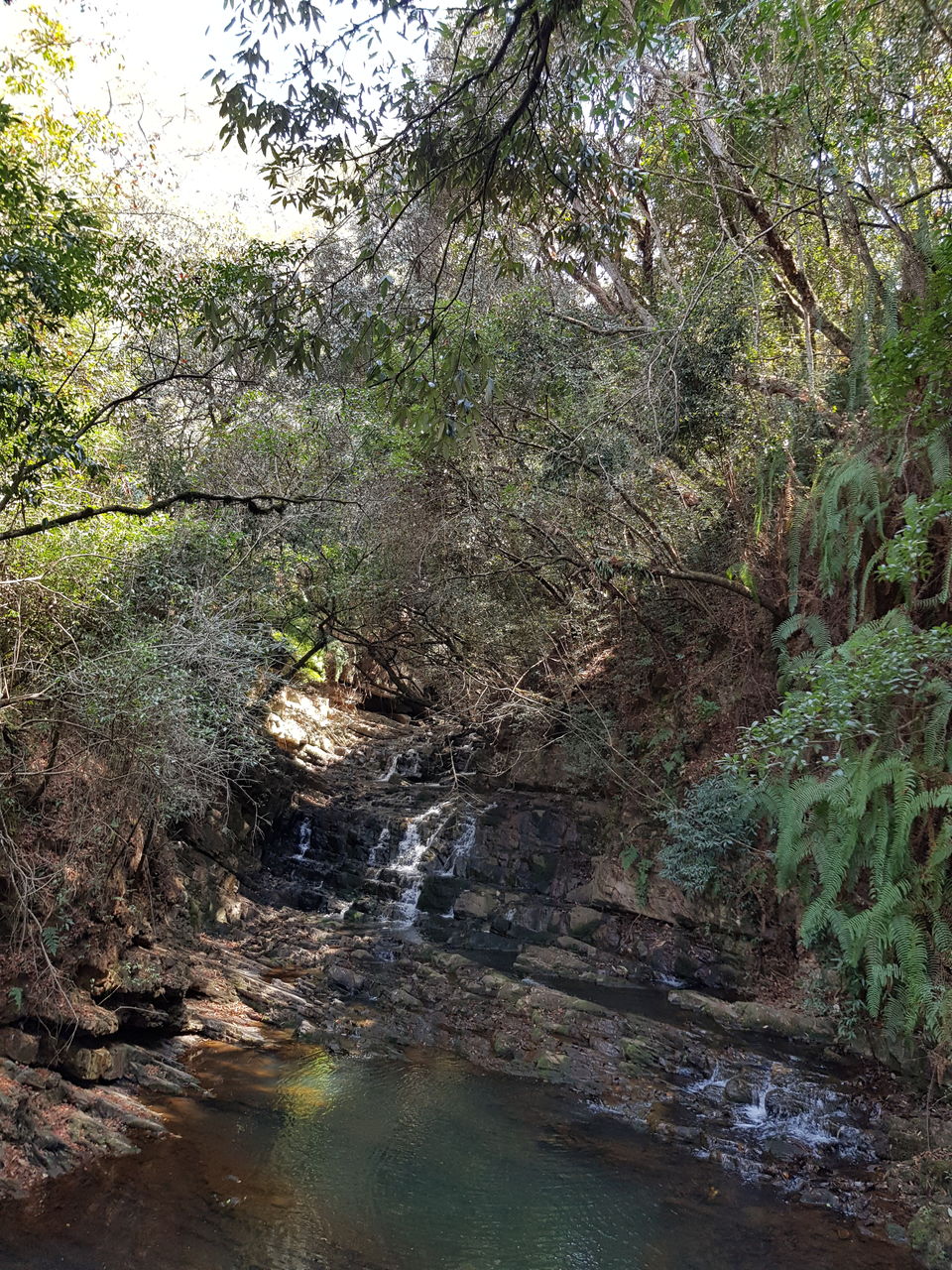 How to reach :
Private Cab / Shared Cabs / Bike – It is located around 12 kms from Shillong City.
Mawphlang Sacred Forest
There are many sacred forests in East Khasi hills and Meghalaya which are closely intertwined with their traditional culture and religious beliefs. Out of all, the Mawphlang Forest is considered to be the most sacred. Nothing can be taken out of this Sacred groove, not a dead leaf, stone, mud, NOTHING. The locals believe that failure to do so may result into fatality. There was an instance in 1970, the Army tried to take out dead logs out of this forest but the truck refused to start. You need to respect the deity else you are bound to fall sick or even may result into death.
A local guide will take you around the forest and explain many small details of this forest. It is said that the Forest has been spread across the same area from generations. It doesn't increase nor decrease. The entry to this sacred groove is marked by lush green branches. Once you step inside, it feels like you are in a different world. There's a different level of interconnections in the trees and plants. Some of these trees are believed to be more than 1000 years old. There are many monoliths which denotes the places of sacrifices. The local tribes sacrifices cocks, lambs etc. to ensure their wishes comes true.
This Sacred Groove is maintained and preserved by the local Khasi people on their own. Feel free to donate some amount in helping them do so. The Tourism board as such do not promote this forest in comparison with the other tourist attractions.
While we were visiting, it was a very strange feeling that even the forest was so dense we could not hear any birds. There was a like a pin drop silence in the forest.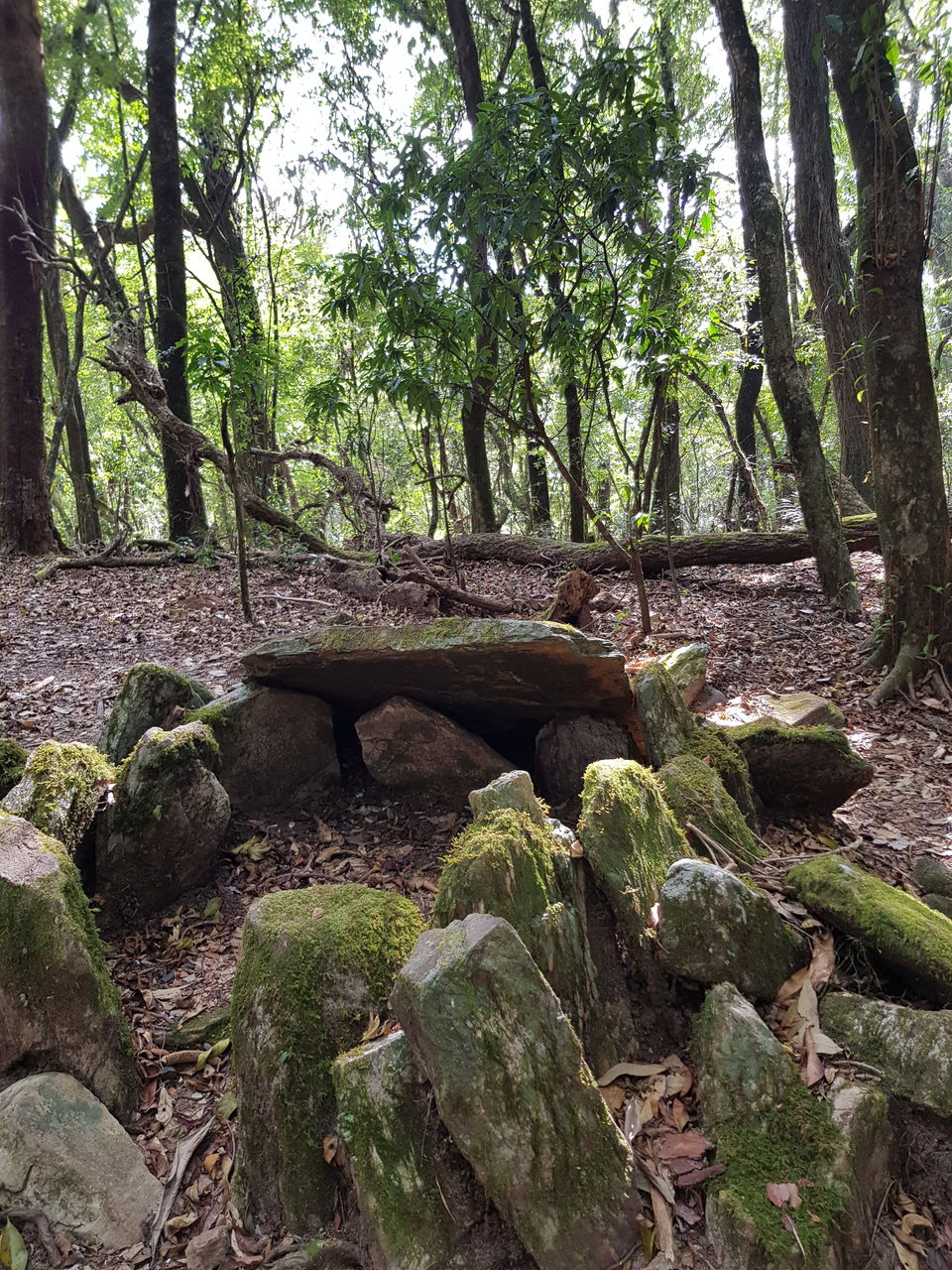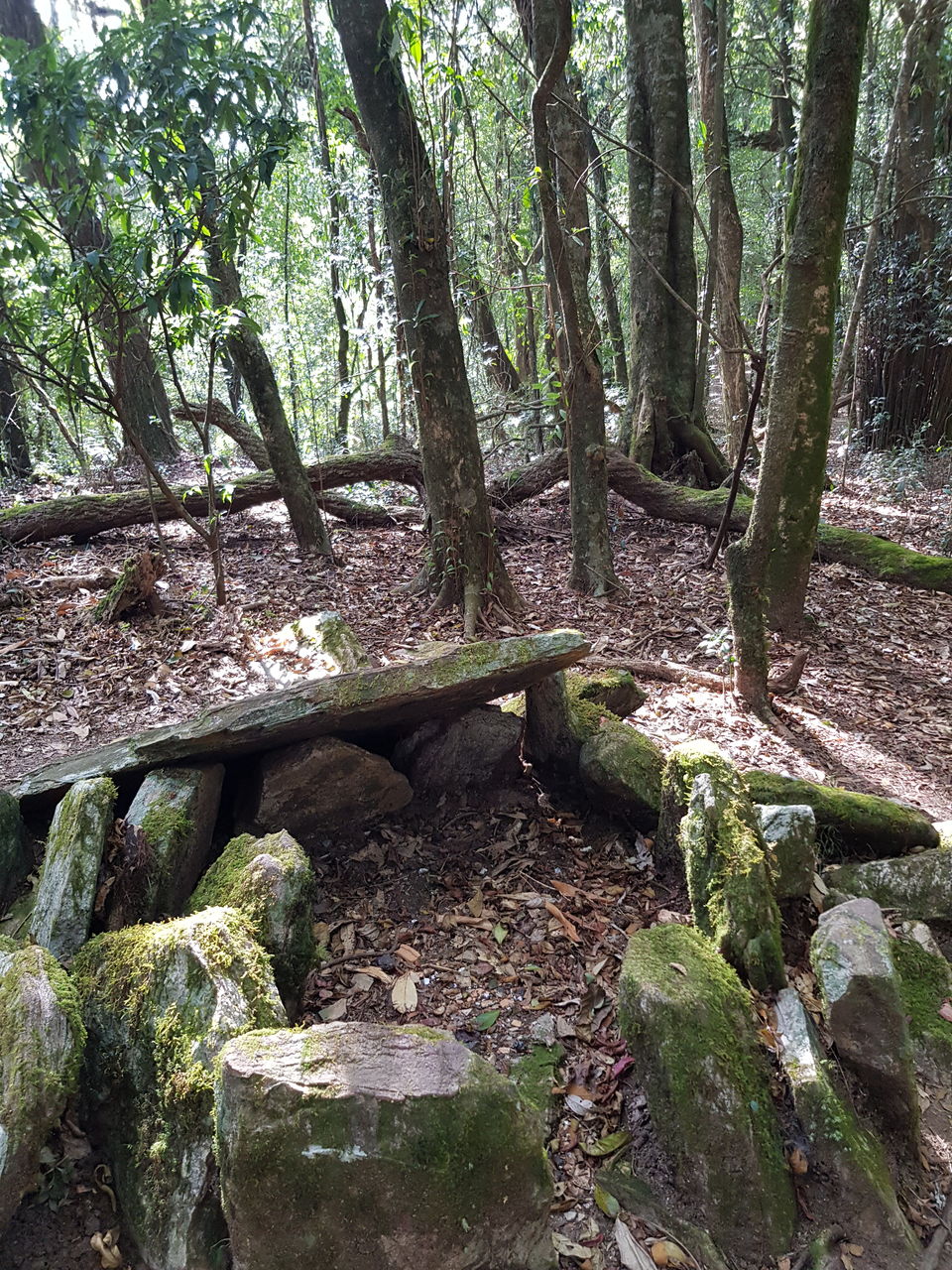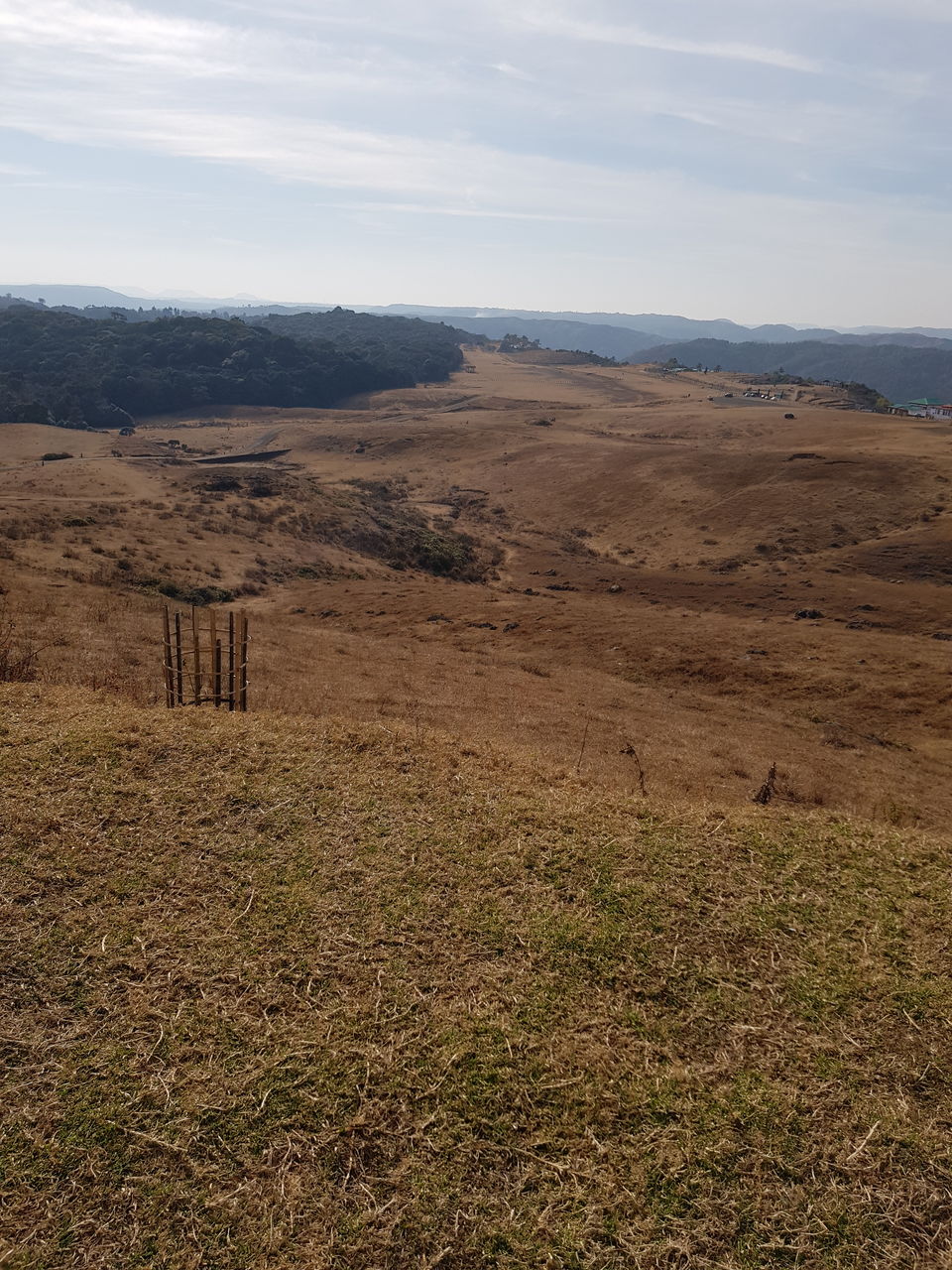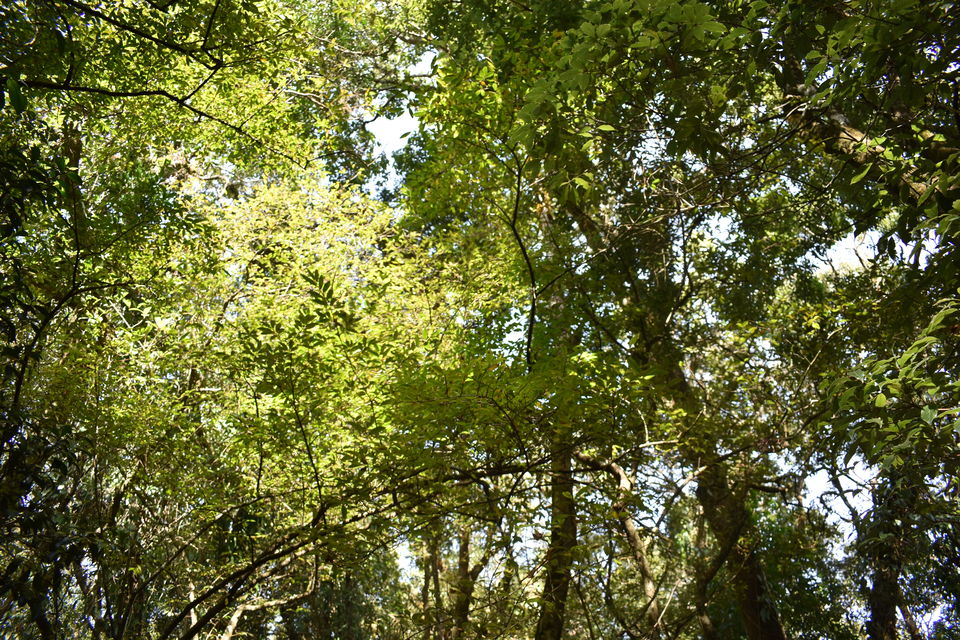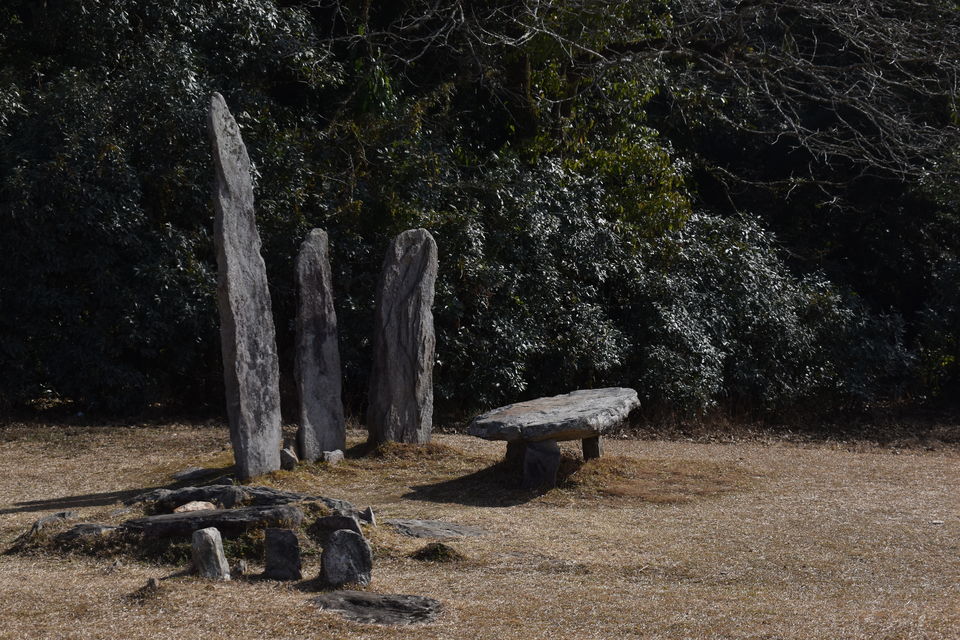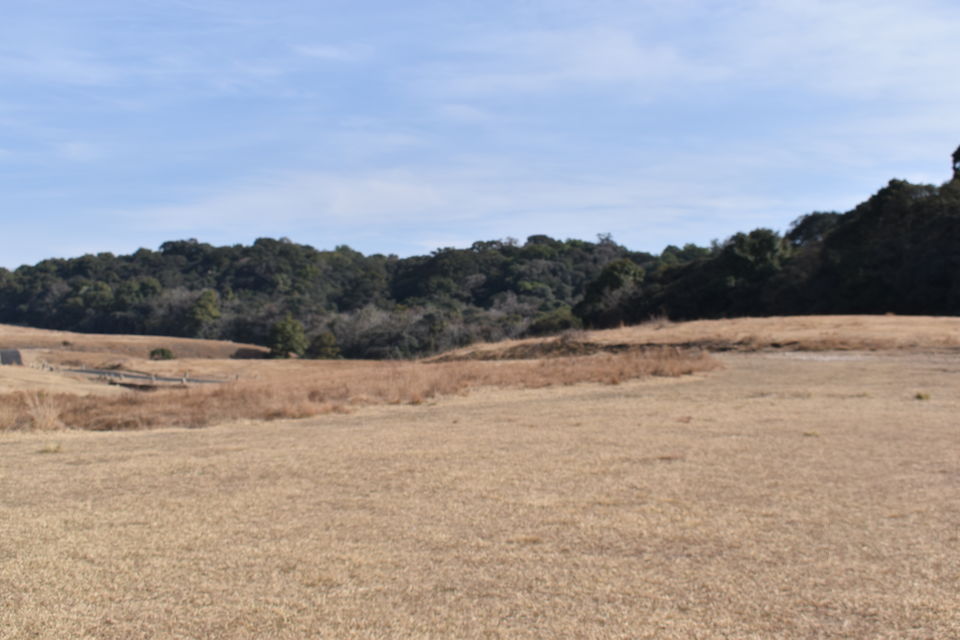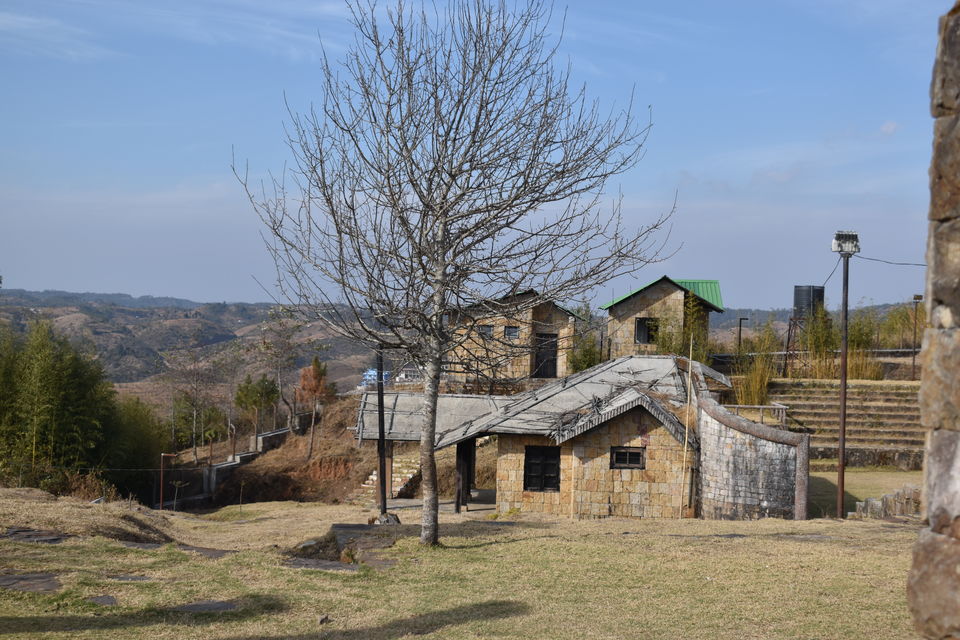 How to Reach ;:
Private Cab / Bike – It is located around 28-30 kms from Shillong City.
The people in Meghalaya are very friendly and warm. The etiquettes, courtesy, cleanliness is something which needs to be admired. The state has many beautiful places to visit; no matter how long you plan a vacation here it will always fall short.