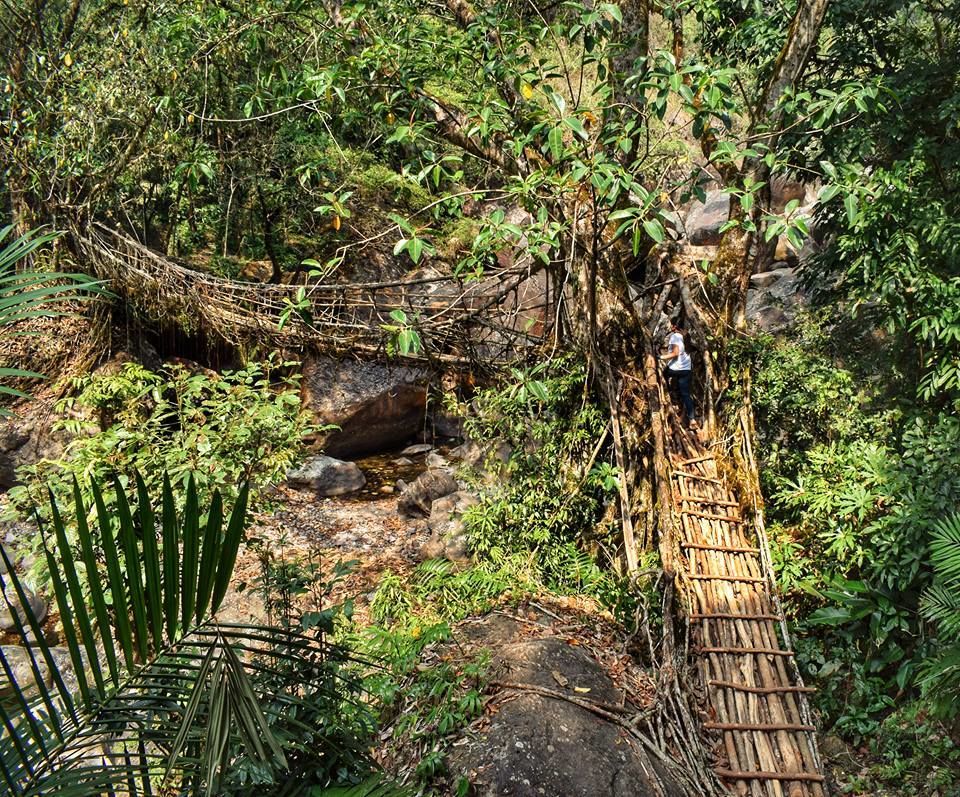 "Hey ! How much further ??", I asked out of breath. My legs turning into jelly after each step. I wanted to give up so badly.
"A few more kms, it's worth the effort. I haven't seen anything this beautiful", said a passing by stranger. Her reassurance made me determined to go till the end, to the most scenic waterfall.
After stepping down 3500+steps to Nongriat village which is known for it's double decker living root bridge, we decided to not waste time and go all the way to Rainbow waterfalls. We dumped our bags in the homestay and dragged our tired self to cross few more bridges and witness the waterfall, we had seen in an instagram post.
The planning
Let me start from the beginning. How did we end up here ? Who was my partner-in-crime. What's on our itinerary ! What made us skip Assam ?
Over a regular picture sharing ritual on instagram, me and a friend were drooling over the beauty of north-east. We had this dream since 2 years now to backpack in this part of India.
To bring it to reality, we went through number of blogs, scrolled across insta posts, googled every single thing, pinged random strangers on instagram to help us with the itinerary. After a lot of phone calls and messages, we were ready with our plan. The plan was to not have an itinerary and follow our heart.
The Itinerary
Day 1 :- Delhi to Guwahati
On Holi, when entire north was revelling in the festival of colors, we were at the Airport, ready to fly.
We had a short layover in Kolkata and reached Guwahati around 7:30. Since our entire trip was supposed to be impromptu, I booked our stay in Guwahati during our layover.
We boarded airport bus and got down at our stop. Our hotel was 10 kms walk from there.
Now you should know that 7:30 in Guwahati is similar to 10:00 pm in Delhi. The roads were empty, shops closed and it was pitch dark. We hurriedly walked in the direction of our hotel, GPS was pointing at. A random scooter passing by would give us goose-bumps. What seemed like an hour, we were finally at the reception. We ordered food and called it a night.
Day 2 :- Guwahati - Shillong
By taxi -> We took an uber to Paltan Bazaar bus station. The best way to reach Shillong from Guwahati is to take shared taxi. Alternatively, you can book a private Taxi to take you to Shillong.
By rail -> There are no rails in Meghalaya.
By bus -> You'll get bus from Paltan Bazaar bus stop. But the taxis are much more frequent and convenient in my opinion.
The ride from Guwahati to Shillong is very scenic. Make sure to take the window seats. You'll pass by the beautiful Umiam lake on your way to Shillong.
Shillong - Sohra
After reaching Shillong we took a private Taxi to Sohra (cherrapunjee). You can also enquire about shared taxis as they ply frequently from Shillong.
Once in Sohra, there are lots of options to stay. Hotels and homestays are plenty. We checked into a Hotel and had lunch at the same place.
Nohklikai Falls
We still had time before it got dark. Booked a taxi for a round trip to Nohklikai falls.
It is the tallest plunge waterfall in India with a height of 340m.
Day 3:- Double Decker root Bridge
We hired a Taxi for full day to take us to Mawsmai caves, Seven sister falls and finally drop us at Tyrna village, starting point for Double decker root bridge trek.
Mawsmai caves
These limestones caves have specially been maintained for tourists to enjoy. With well lit path and pavement it's easy to tread through these caves although the raw natural form seems missing.
Seven sister falls
We didn't have luck by our side and didn't get even a glimpse of these falls. The site was cloudy and even after waiting for 1 hour, we could only see the mist.
Nongriat
The double decker root bridge is situated in a village called Nongrait. There are 3500+ steps which needs to be descended. The trek starts from Tyrna village. It is advised to not carry your luggage with you. There are guides who would try to convince you that you might get lost and hiring a guide is a good idea. Well, chuck that and keep moving. It's a well defined path with several villages in between where you can ask for directions.
Long Root Bridge
This bridge falls on your way to Nongriat. There is a board directing you towards the bridge. You need to pay a nominal entrance fee to access the bridge. Come back and continue your trek to Nongriat.
Natural pool
Once you are at Double decker and have some energy left, it's a good idea to keep walking further and explore this natural pool of water. It's so refreshing and the water is the kind of blue you see in paintings.
Rainbow falls
Further ahead is my favourite Rainbow waterfalls. I haven't seen a waterfall so beautiful. We reached there a little late around 4 and had the entire place to ourselves. Make sure you leave on time as it gets really dark and scary after 6.
We managed to be back by 6:30 to our homestay. It got spooky after 6 and we were walking as fast as our legs would allow.
Day 4 :- Back to Shillong
We got up early and the plan was to reach Shillong by the end of the day. The hike up was 100 times more difficult than the descend. Our legs gave up and the stairs would seem to never end.
Once we managed to come back to Tyrna village, we hired a taxi to take us to Shillong and cover Dawki on our way.
Dawki
Did you know we share the Dawki river with Bangladesh. The boat ride took us around till the border where we could see Bangladeshi's having a good time. The water is crystal clear but tourism has it's disadvantages. You could see packet of lays and bisleri bottles on the river bed.
Shillong
It was almost night by the time we reached Shillong. We checked into the nearest hotel as our legs were in a bad shape.
After popping up some pills to help us with the pain and spraying a heavy dose of "Volini", we hunted for a good place to eat.
And called it a day to start our journey to Arunachal tomorrow.
Where to stay :-
Sohra :- There are plenty of options in Sohra. Homestays and Hotels to suit every budget. You can choose accordingly. I generally make all my bookings through "booking.com".
Shillong:- Again great options to choose from. It's advisable to stay near the market area to get a feel of the place. And to gorge on some good food.
Nongriat:- After crossing the Double decker bridge, there is a descent homestay where you can stay. They will provide Dinner too at an extra cost. You can book this online or once you get there.
Tips:-
Because of zero pre-planning, we ended up spending a lot on private taxis. Which could be saved if you search for tour options within the state. There are tour buses which cover all the major attractions at a pocket friendly price.
It's better to deposit or keep your luggage in car, when trekking to Nongriat. Believe me it's no fun carrying 8 kgs of rucksack on your back.