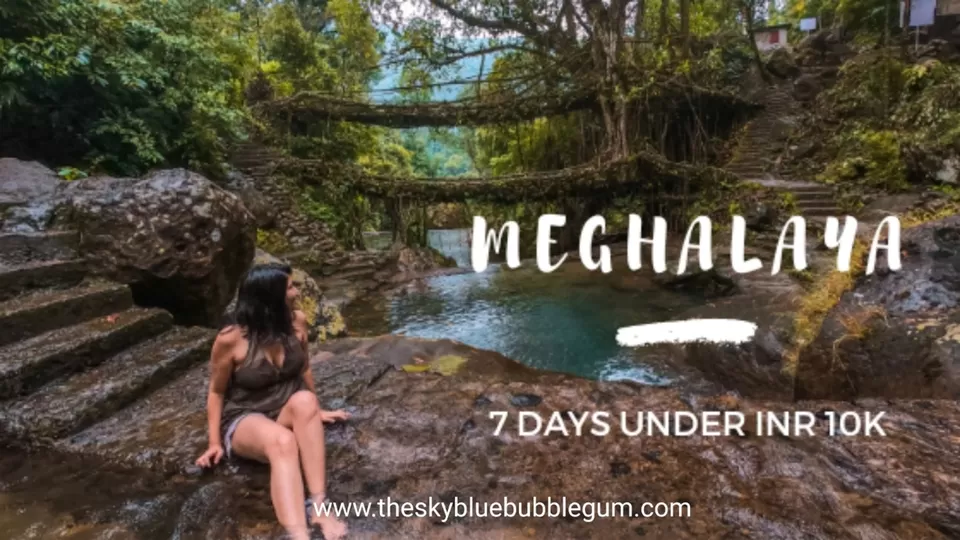 Why should you visit Meghalaya? If you love to relax in nature's lap, look no further and blindly book your tickets to Meghalaya! Limestone caves, fossil prints, botanical architecture, treks, swimming under waterfalls has got you covered! This blog has all the places to visit in Meghalaya.
This newly born state (separated from Assam in 1972) is home to 3 tribes – Khasi, Garos, and Pnars or Jaintias. (You will meet 4-5 feet Khasi men at Nongriat village- excited?! )
Surrounded by mountains and gorging waterfalls, Meghalaya is also perfect for an adventure junkie. Activities like Cliff Jumping, scuba diving, snorkeling, and Zip Lining, etc are available in abundance!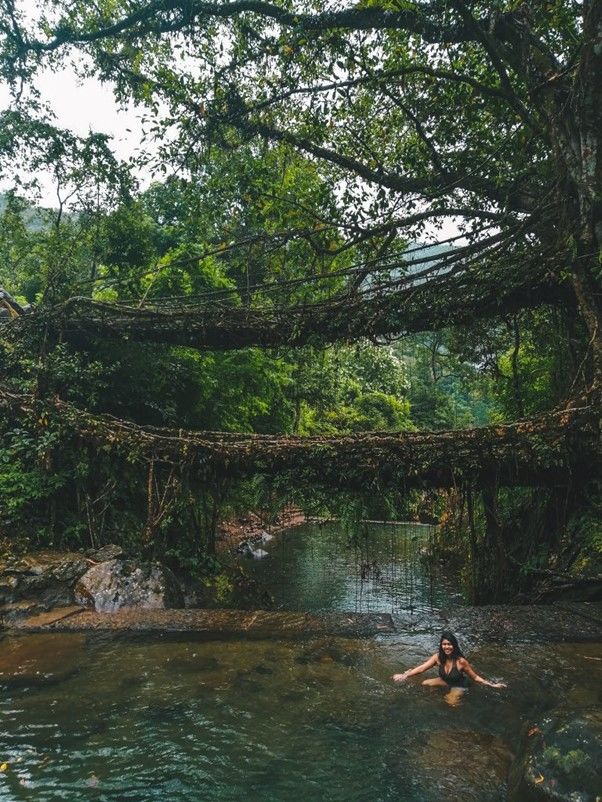 Places to visit in Meghalaya
.
Shillong
Why should you travel to Shillong?
Often known as Scotland of East and the Rock Capital India, this capital city of Meghalaya has an abundance of greenery and houses loads of waterfalls around the city.
.
How to reach Shillong?
Shillong has a domestic airport. However, after speaking to the locals, they advised to not use this airport since the timings change anytime and frequently, thereby disrupting a lot of plans.
The mass prefers traveling from Guwahati airport or railway station since the frequency of flights and trains is more (making it cost-effective compared to the former option).
.
Where to stay in Shillong?
We stayed in the Pegasus Hotel which is in the city center and 10 meters away from Police Bazaar. Colloquially known as PB, it is a share taxi stand and you can travel to Guwahati airport, Anjali point, etc.
Alternatively, you can also stay near Bada Bazaar or Anjali point. These again are center for a lot of places to travel to – viz. Cherapunjee, Dawki, Maysynram respectively.
You can also check out Airbnb / Goibibo / MMT for more options for your accommodation.
.
Things to do in Shillong
This beautiful city is where you can visit Elephant falls, Air force Museum, Ward's Lake, Shillong Viewpoint (you can skip this since you will see a lot of deforested area on which now people stay), Don Bosco Museum, Lady Hydari Park, Rhino Museum, Umiam Lake, Laitlum Canyons, etc.
You can eat at ML 05 Cafe, Dylan's Cafe, Hoite Toit. Check out more food recommendations on Zomato since more cafes are popping up regularly. I would highly recommend ML05 over other places.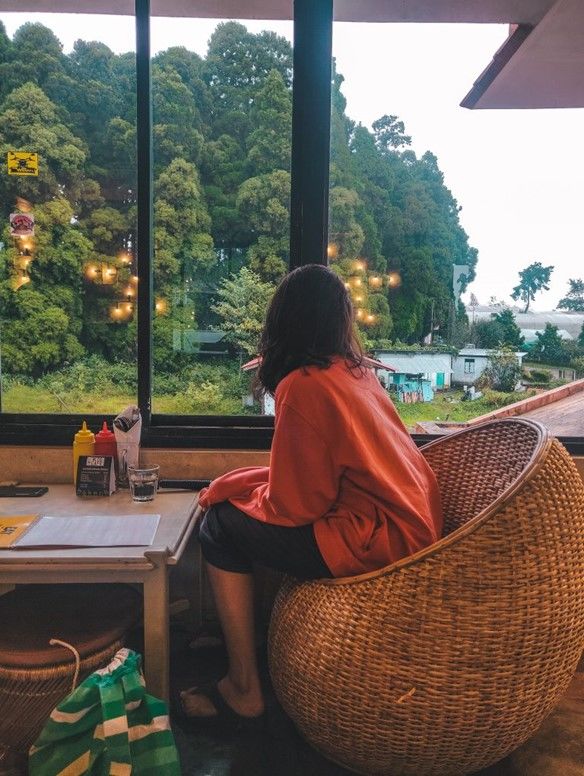 Internal Travel
1. Scooter
You can hire a scooter from Delphie's ( +918415035771 ) which is 4 km from Police Bazaar (INR 150 in a cab).
They charge INR 500 for 5 hours, INR 700 for 24 hours by showing your driver's license and depositing Aadhar card with him.
Petrol charges are not included and there is a pertrol pump just 100 meters from Delphie's.
2. Cab
I would not recommend self-drive since Meghalaya's climate is unpredictable (wrt rains, fog, mist, etc) and hairpin roads are notorious at some places.
The cabs generally charge INR 2000 per day. You need not pre-book and can show up at the railway station or airport and there will be tonnes of cabs waiting for you!
However, if you still want to pre-book you can contact Mr. Parimal Pal – 9862102512 or Mr. Bij 06009275403.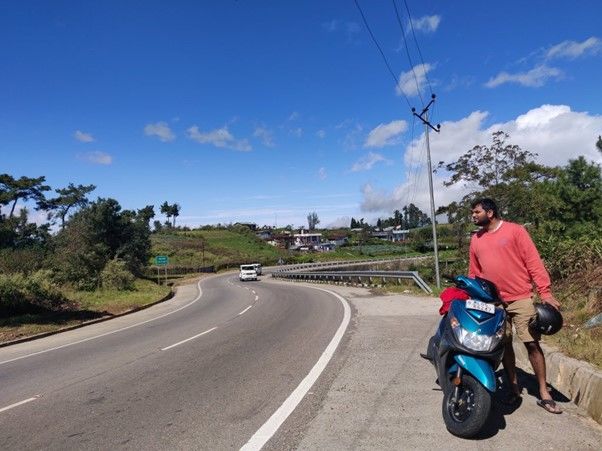 Cherapunjee aka Sohra
Why visit Cherapunjee?
Cherapunjee is generally one of the places to visit in Meghalaya which is breathtaking!
• Sohra was the world's world's wettest place before Maysynram took over the title. There are two more places in Colombia which claim to be the world's wettest place but unfortunately do not have any records of it.
• To witness the fossil prints inside the caves!
.
How to reach Cherapunjee?
54 Km from Shillong, Cherapunjee can be reached by a share cab too from Bada Bazaar (first floor) in Shillong for INR 80 / seat.
Alternatively, you can also take a private cab for INR~2000
.
Where to stay in Cherapunjee?
By the Way hostel is an amazing and affordable option. We just showed up (I tried booking but my email wasn't responded and the numbers on the internet didn't work) and got a bed for INR 250 per person.
In case you show up and the place is full, there are a few home-stays in the vicinity where you will get room to crash in.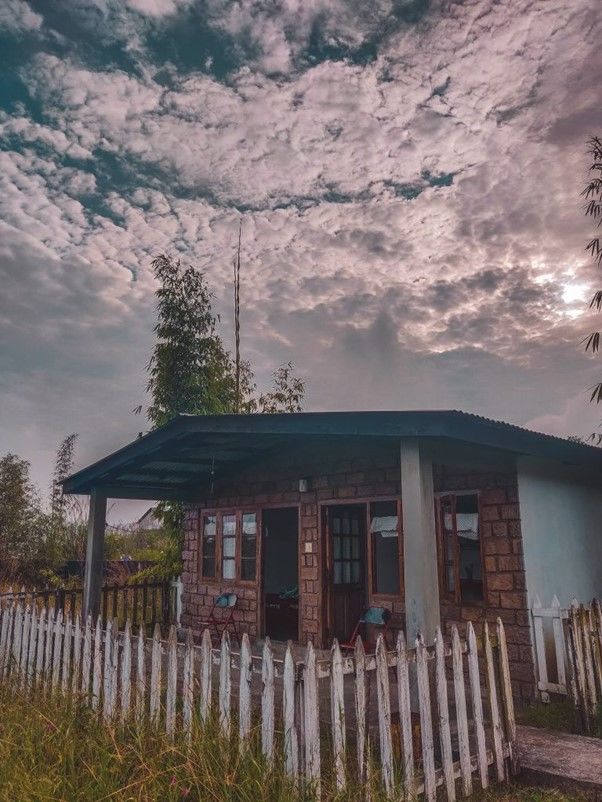 Things to do in Cherapunjee and costs
You can keep your hostel as your base while you explore:
• Arwah Caves (you might need to squeeze in a lot of places to go to the other side, meanwhile do remember to admire the limestones around and check out some fossil prints)
• Masami caves (made of lime and sandstones, you can also see some fossil prints),
• Mawlynnong (if the idea of staying in Asia's cleanest village excites you, you can contact Skyview Homestay +91 9612289359 )
• NohKaLikai Falls – the tallest plunge waterfall (height 1115 feet) in India.
• Seven Sister's Falls – 7 waterfalls from limestone cliffs
The entry fees to most of the above-mentioned places are INR 20-50 per place. Some places will charge INR 100-300 extra for a camera/video camera.
Tip : If you have more time to relax, I would suggest staying at a breaktaking property- Sai – Mika for at least a night and 2 days to explore the unexplored around.
.
Nongriat – Living Root Bridges
Why visit Nongriat – Living Root Bridges?
Deep in the dense forests of Meghalaya, thrives living root bridges! Present all over Meghalaya out of which 11 of them are in Sohra, is a must visit place to visit in Meghalaya.
These are known to be a botanical architectural marvel! The Umshiang Double Decker Root Bridge is built by molding the elastic roots over 250 years by the Khasi locals!
The below bridge was flooded in rains most of the times and hence the locals built another bridge on top it! Viola! Presenting a double Decker bridge to you, guys!
Beat the crowd at 6 am at the Umshiang Double Decker Root Bridge! Get a pedicure by the fishes while you are relaxing there, eh?
.
How to reach Nongriat – Living Root Bridges?
You can take a private cab to Tyrna from Cherapunjee by paying INR 500 for a 40-50min ride by contacting Bij on 06009275403 or ask your home-stay to arrange for one.
Once you reach the base, you've to climb down 3000+ steps which take about 2 hours. Climbing up is the only way out which takes ~3 hours.
Some people do it on the same day (1 – because they do not know there are housing options available there and 2 – some do not have the time)
Pro Tip- I suggest you have leg days daily at your gym or prep yourself in any form of exercise before this trek!
You can hire a porter to pick up your luggage. We paid him INR 700 while going down and INR 1000 while climbing up. Request to not bargain with them since this is one of the ways to run their economy and INR 100-200 does not make much difference to us as it does to them!
.
Where to stay in Nongriat?
We stayed in Serene Guesthouse and paid INR 250 per person. You can contact Mr. Byron on 8787570552 or write to him on byronnongbri@gmail.com. He is quick to respond to your emails / WhatsApp messages.
You can also show up directly and I am sure you will find accommodation in many guest houses around Serene if not there, around the same price.
Pro tip: There are also traditional Khasi houses near Single Decker Living Root bridge around the same cost. I wish I had known this earlier, I would've definitely preferred a Khasi style house over a cement one!
.
Things to do around Living Root Bridge:
• All these guest houses are just 30 meters away from the Double Decker Living Root Bridge!
• Relax in the cool waters while the fishes come and pedicure for your feet
• You can also visit the Rainbow falls which is another 2-3 hours one-way trek away from the Living Roots
• We couldn't do it because 1) Our legs gave up 2) It was pouring making the road to the Rainbow falls very muddy and slippery. Plus, you will need the sun to shine to see the eternal rainbow there.
Costs
• One way porter cum guide cost ~INR 700/-
• A room for 2 costs ~INR 500/-
• A single meal per person would be ~INR 150/-
• Living Root Bridge entrance tickets ~INR 140/- (entrance + GoPro)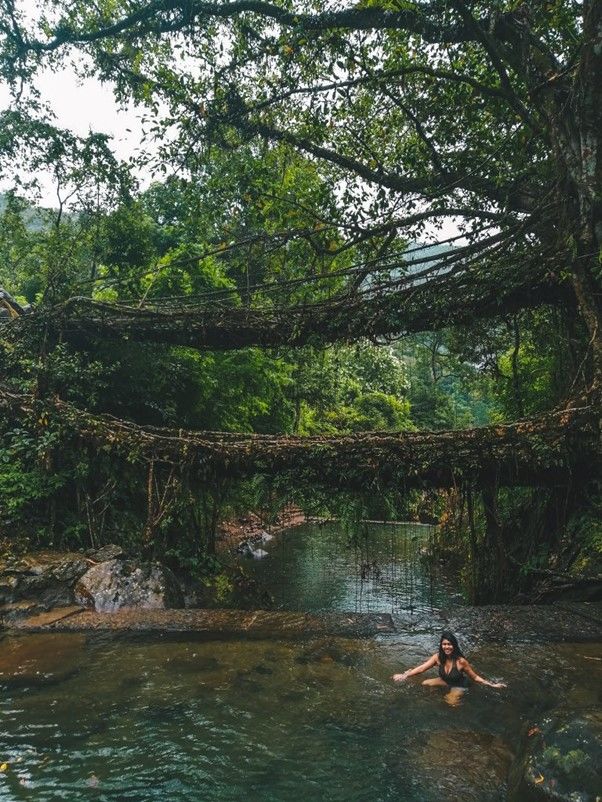 Dawki
Dawki is one of the picturesque places in entire India. Hence, making it the most desirable places to visit in Meghalaya!
.
How to reach Dawki?
You can take a private taxi like us from Tyrna (INR 3000 For 3-4 hour journey) after leaving from Nongriat. There are no share cabs from Tyrna to Dawki but are for Shillong.
You can do either one the caves in Cherrapunjee and / or stop by at Mawlynnong before calling in a night at Shnongpedong.
Alternatively, you also have share cabs from Anjali Parking Point, Shillong for INR 300 or 500 per person.
.
Where to stay?
We had plans of staying in tents right beside the Umnogt river on this Meghalaya trip with Pioneer Tours (9856006437 8787840554 / pioneeradventuretours@gmail.com) but thanks to rains, we had to shift to a guesthouse right opposite the river.
.
Things to do and costs in Dawki
Pioneer Tours have various options for your Meghalaya trip- check them here.
We took 1N2D Package which includes – Riverside Camping, Boat ride + transfers from village to the campsite, tea and snacks, bonfire, barbecue (complementary and on availability during fishing season), dinner, breakfast, and lunch at price INR 2900/- per person
Adventure activities cost extra – Scuba diving: 3000/-, Zipline, Cliff jumping, Kayaking, Snorkeling, Trekking, Rock climbing/ Rappelling cost in the range of INR 300 to 1000 /-
• Dawki is a share cab away (INR 30-50) from Shongepdong where you can get iconic shots of boats over crystal clear waters and enjoy boating too (INR 500-1000)
• You can also visit the Indo-Bangladesh friendly border
• Shongpedang should be preferred since less people know of this place.
• October sudden rains had ruined our crystal clear water sights. Rains replaced it with muddy waters. What a bummer, right?!
.
Why visit Dawki?