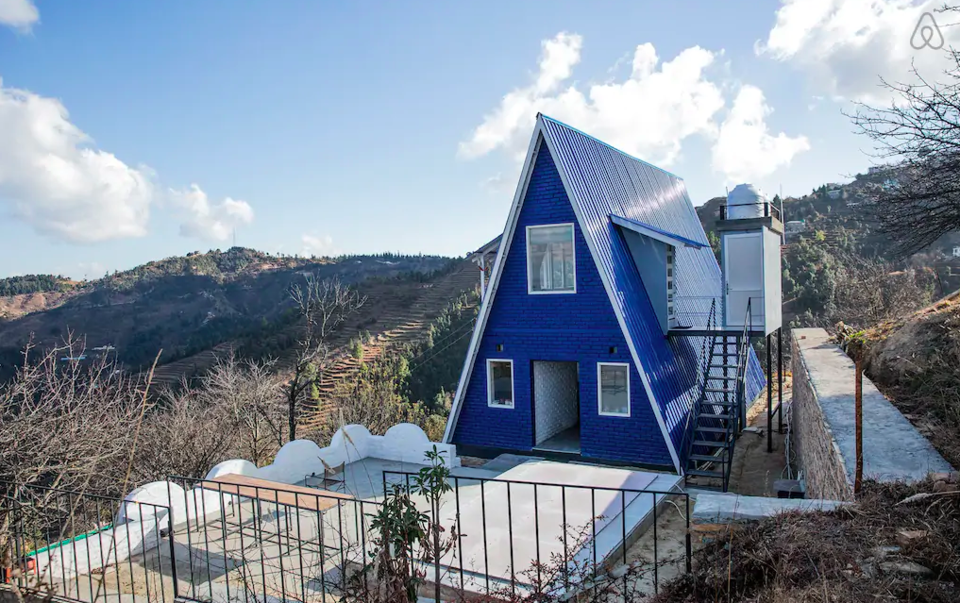 Of all the aspects of planning a vacation, I personally feel that picking the right accommodation is the trickiest. So when you end up finding up an accommodation that it is nothing less than a destination in itself, your excitement is bound to go off the roof. That's exactly what happened on a trip that I took a few weeks back! In the process of going the conventional way and planning a weekend trip to Nainital, I ended up finding a gem of homestay merely 45km from the overcrowded hill station of Nainital — a place that would give this trip a whole new angle!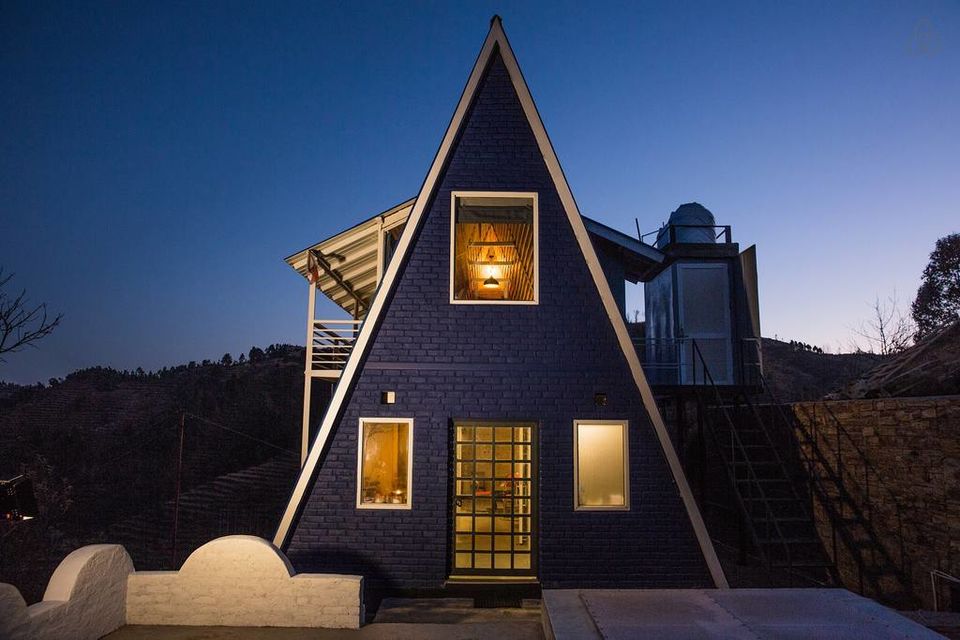 One look at the blue coloured Alpine Cottage and you instantly realise that this one is unlike any other homestay you're likely to come across. As you soon as you step foot inside, you're almost convinced that it is indeed the kind of stuff dreams are made of. The minimalist yet classy decor of the chalet cottage blends with the stunning panoramic views to create an experience reminiscent of a dream European holiday. So if you're someone who's been craving for that perfect mountain holiday, look no further!
Ideal for
The cottage makes for an ideal place to spend a quite weekend with your significant other. Since the property can house up to six people, you can also plan a peaceful getaway here with your family or close friends.
About the property
Perched on an altitude of 6,300 feet above sea level, the blue coloured Alpine Cottage is Mukteshwar's best kept secret. The homestay is easily accessible through the Dhanachuli - Bhatelia - Mukteshwar road and offers uninterrupted views of Nanda Devi (India's second highest peak). Located in a remote village named Sunderkhal, Alpine Cottage has all the elements that will make your vacation one that you won't forget for a long time!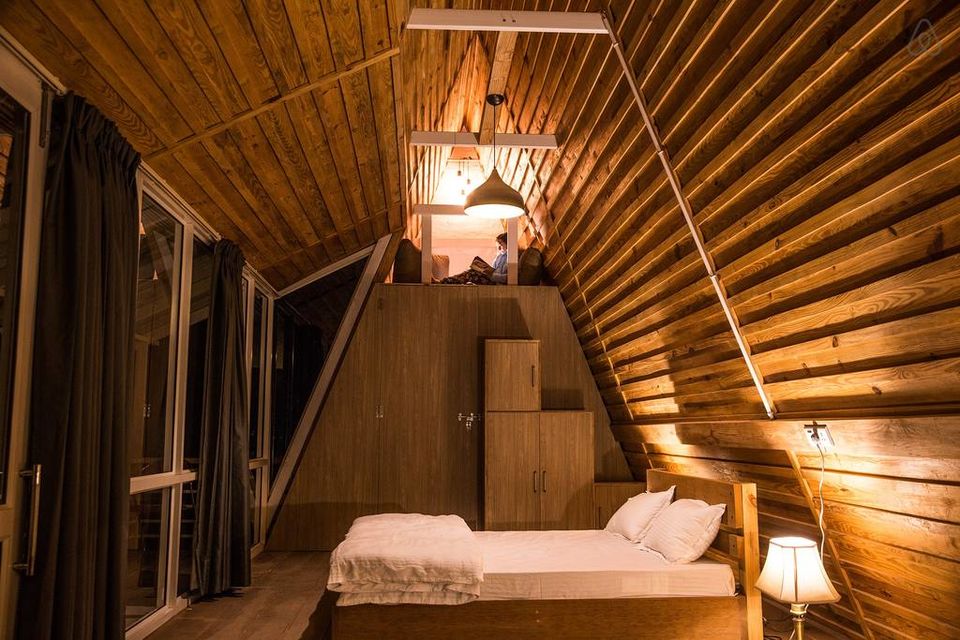 With two cosy bedrooms and a beautiful common space that has two mattresses, Alpine Cottage can accommodate a maximum of six guests. Both the bedrooms in this duplex cottage come with king sized beds, personal wardrobes and reading spaces that will have you completely hooked. In addition, each room has a balcony that offers spellbinding views of the Nanda Devi while the ground floor opens into a huge sit-out.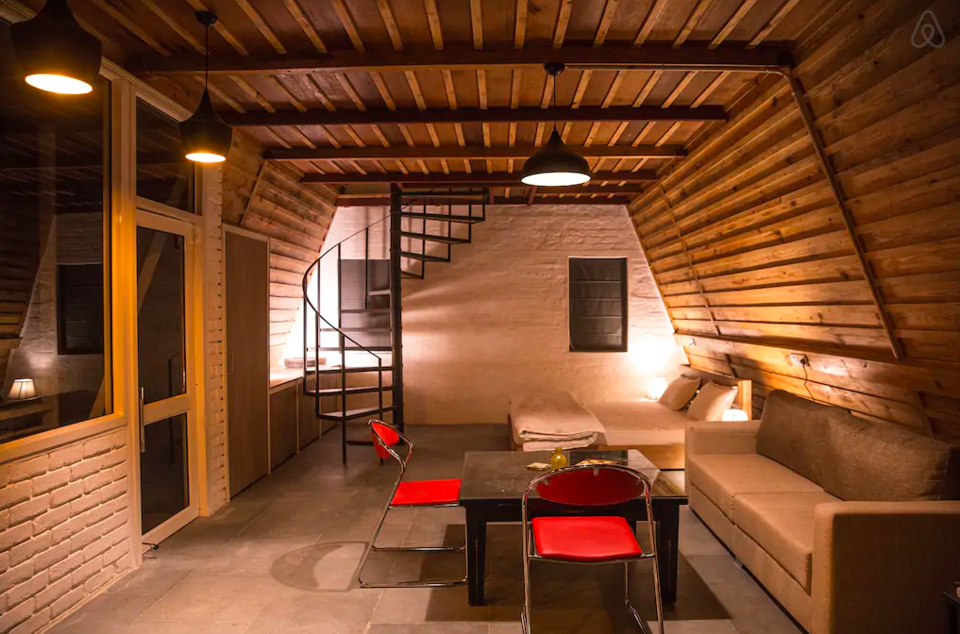 Apart from the ultra comfortable bedrooms, Alpine Cottage also boasts of a dining area and well maintained washrooms on site. While I'd personally advise you to avoid this one, the cottage also has a chic workstation for all the workaholics to catch up on pending work.
Food
Much like Alpine Cottages' overall setting, the food at this pristine cottage is also all about being homely. The property's caretaker Dev Ji ensures that each spread is cooked in a way that it pleases all kinds of taste palates. Despite being simple, the meals prepared here are extremely high on flavour. The very fact that Dev Ji puts all his heart to his work results in meals that will make you feel just at home.
Cost
One of the biggest USPs of this Airbnb is undoubtedly the price tag. A one night stay at the comes at just ₹3,500 per person. And the best part? This price also includes breakfast, lunch and dinner for the guests!
Best time to go
Since Mukteshwar is one of those places which experience pleasant weather even in summers, planning a trip between March to June makes for a great summer escape idea. On the other hand, if you don't mind the biting winters, you can plan a trip between October and March as well.
Getting there
Here's how you can reach Mukteshwar from New Delhi:
By flight: You can catch a direct flight from New Delhi to Pantnagar for about ₹3,500. The property is a three and a half hour drive from the airport (90km).
By road: One can also drive down to the picturesque cottage from New Delhi. It takes about eight and a half hours to cover the distance of 360km.
By train: There are daily trains that run between New Delhi and Kathgodam, the nearest railhead to the property. Post the eight hour train journey, take a local cab to get to Alpine Cottage in two hours (50km).
Ever experienced what it is to live like in a chalet? Click here and share all your interesting travel adventures with the Tripoto Community. Don't forget to check out Tripoto's YouTube channel for the best travel videos from around the world.