Best Flea Markets in Mumbai
Wondering whether India's hot-shot Bollywood capital, Mumbai, has any flea markets? Well there are plenty of flea markets Mumbai has for you. These flea markets in Mumbai not only offer a wide variety of dirt cheap stuff that malls in Mumbai fail to offer but they can be lots of fun to roam about!
Chor Bazaar - largest flea market in Mumbai
Okay! Prepare yourself for lots of haggling You are now ready to enter the most famous flea market in Mumbai. Located in South Mumbai, Chor Bazaar, literally translates into 'Thieves' Market'. You can find all notorious stuff here at very modest prices. It is specially famous for antiques and electronics, imported as well as local.
It stays on from 11 a.m. to 7:30 p.m. and remains closed only on Firdays. It is one of the oldest markets of Mumbai and dates back to around 150 years back.
It is full of stolen stuff which the vendors sell. If you are good at bargaining, you can easily find, grandfather clocks, furniture, brass-ware and other household items at very cheap rates here. Its set in surroundings of very old and dilapidated buildings, has narrow lanes crammed with vendors and shoppers. It is the busiest flea market in Mumbai so you need to be patient and find stuff of your own interest from
Electronics
Hardware
Tools
Meats
Fashion
Footwear
Bronze items
Furniture
Cane goods
Vintage goods
to stolen artifacts. Mini Market and Juma Market are two broad divisions of the Chor Bazaar. In Mini Market you can find a lot of Bollywood related stuff like posters etc. In Juma Market you find hardware, furniture and electronics at dirt cheap prices.
Grant Road is the nearest railway station to Chor Bazaar and by road, it takes around 25 mins. from Chatrapati Shivaji Terminus station to reach here.
Photo by - Santosh Sinha
Linking Road Market, Bandra
Located in Bandra, Linking Road flea market, Mumbai, will bewilder you with the variety of colours and styles in clothes - both Western and traditional, bags, shoes and lots more. Street shopping can't be better anywhere else in Mumbai. If you are looking for the latest fashion at extremely cheap prices, this is the place to be.
It is more fun because it has a string of cafes and eating joints alongside the street market. So you can easily grab a bite while filling you shopping bags. Theobroma, located on the ground floor of Link Square Mall is one of the most famous bakeries of Mumbai.
It is a contrasting mix of cheap street stalls and expensive international stores. From S.V. Road in Bandra to Santacruz, the road is full of shopping stores and stalls.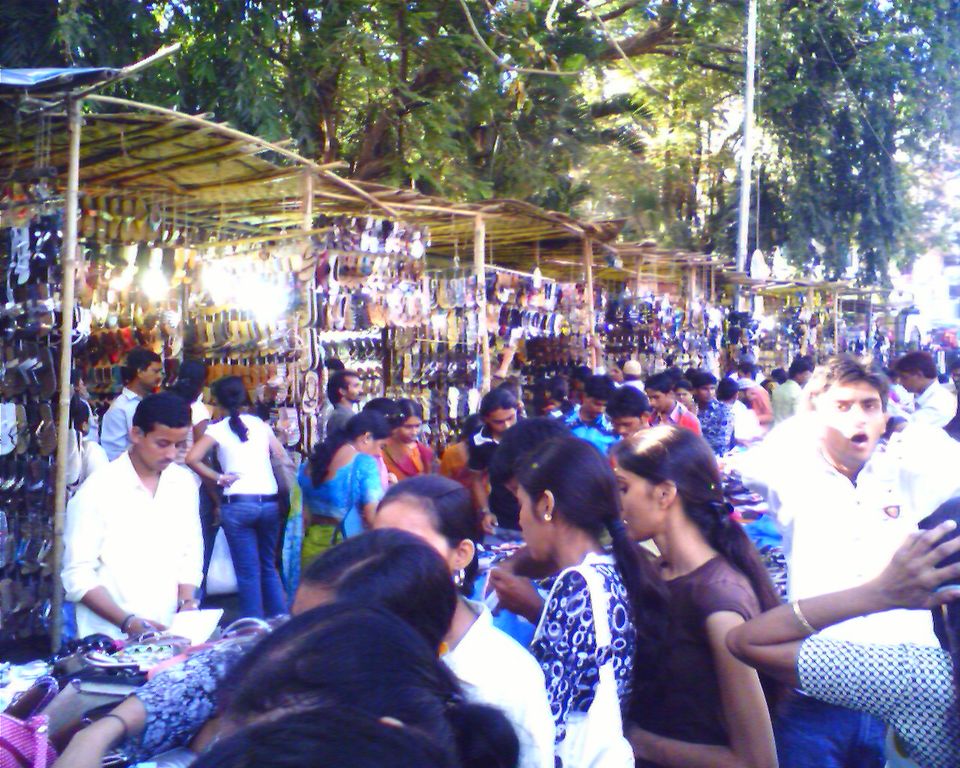 Photo by- Will Luo
Colaba Causeway
Are you a shopping freak? And you are visiting Mumbai? Are you bored of shopping in malls in Mumbai? Then you surely can't miss Colaba Causeway. It is a famous flea market of Mumbai. You find lots of funky as well as traditional stuff here. It is a market brimming with vibrance. It remains opened on all days of the week.
Colaba Causeway is located near Fort and the Gateway of India in South Mumbai. It's close to the Churchgate train station and Chhatrapati Shivaji Terminus (CST) or Victoria Terminus (as it was formerly called).
The shops here start from 11 a.m. and go on till 9:30 a.m. on all days. The street shoping starts from Cafe Mondegar on Colaba Causeway. You are sure to find a lot of funky as well as antique stuff down the lane and even the by lanes have some cool stuff so be sure you check them out too. Apart from this, you find vintage sunglasses at some shops here at quite reasonable prices.
Fashion Street
Fashion Street is the most famous flea market in Mumbai among youngsters and teenagers. There are hundreds of stalls lined up on the street which are full of latest trends of clothes and accessories.
It is opposite Azad Maidan, Karamveer Bhaurao Patil Marg, M.G. Road, South Mumbai and remains opened from 11 AM to 8.00 PM. The amazing thing about Fashion Street is that you find good quality, even export quality stuff here at throwaway prices. The shopkeepers are prone to quote high prices but you can really have a very reasonable shopping spree here if you bargain well.
Dresses
Jeans
Shirts (casual/formal)
Skirts
Accessories (Jewelery, hats, sunglasses, watches, bangles, earrings, bracelets)
Nightwear
Gadgets/Electronics
Traditional wear
Sportswear
Footwear
Local food and snacks
Furniture
are all there in Fashion Street. You are sure to have fun exploring the market.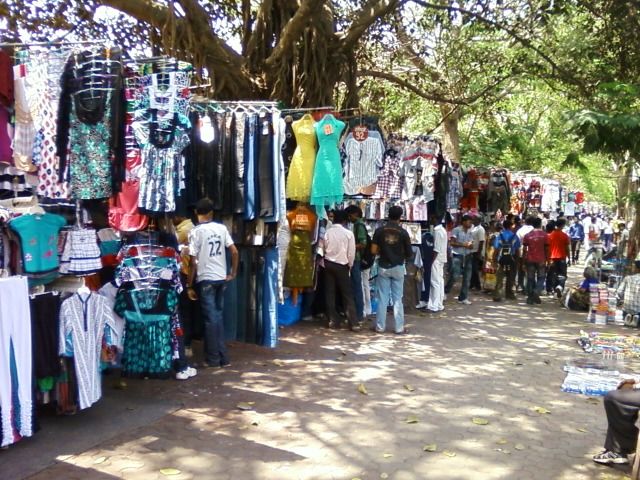 Photo from- wikipedia
Hill Road
Another flea market in Mumbai is Hill Road. Its also located in Bandra and has lots of affordable items to buy from the street. It is between Marks and Spencer store and St. Peter's Church that you can start shopping and you find a number of stalls. You are sure to return with your hands full of shopping bags at the end. It has both street stall vendors as well as stores but vendors only come by 4 p.m. It remains opened on all days of the week and naturally the weekend is chaotic out here.
If you are hunting for footwear, La Judi is the best store for you. It has lots of variety. Srinath store and Riddhi store are full of amazing collection of accessories. Elco Market is entirely filled with fabrics of all kind. For men, there is a shop called Guts 2 which is full of shirts ans tees at very cheap prices.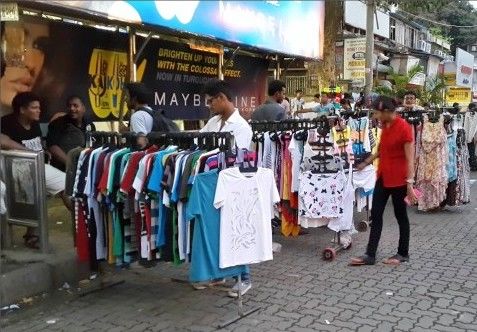 Photo from - grab house
HAPPY STREET SHOPPING! Exploring Mumbai markets is surely fun. :)
Frequent searches leading to this page:-
flea market near me, upcoming flea markets, flea markets near me, flea market in mumbai