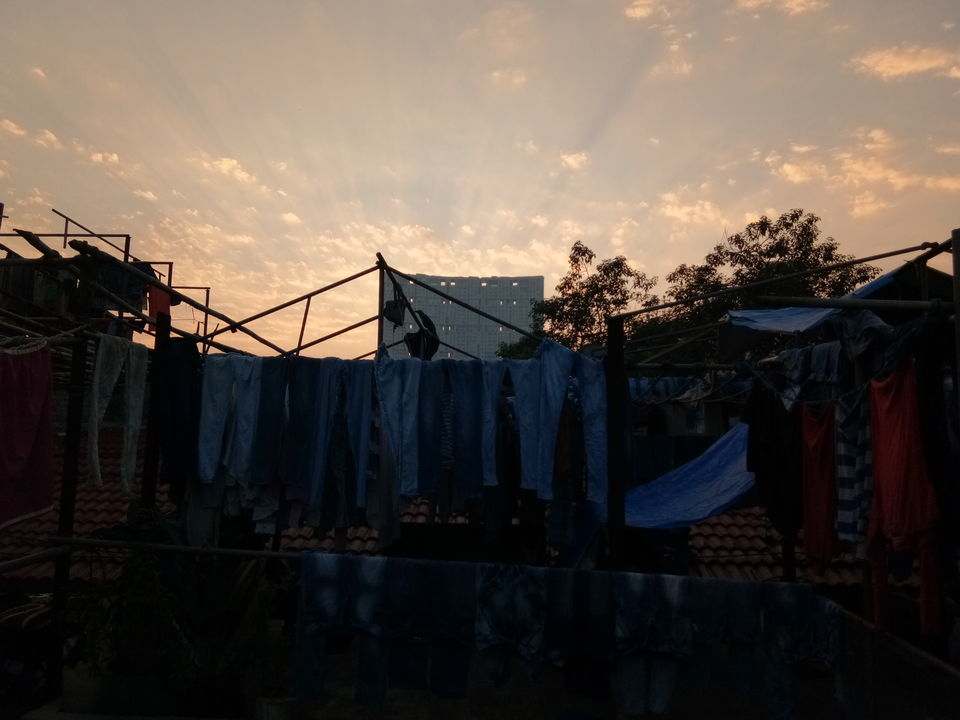 While people in Mumbai come with the weekend plans of clubbing and hanging out at Marine Drive, I came with the wish to explore another face of Mumbai which is wrapped under places like Dharavi, Dhobighaat and weekend hiking along the Shayadris off course.
Initial few monsoon Saturdays were spent trekking to the Shayadris, and sleeping on Sundays - being crowded everywhere and anywhere.
After spending 3 months here and numerous failed morning plans to step into the so called unsafe areas for a single girl, i realized there is not much time left for me in this city i geared my boots to plan soon. Reading a lot about still existing 140 years old and world's largest open air laundromat, I wanted to be there to see how it works.
4 AM Dhobighaat i spoke to a friend of mine. But what happens at 4 AM there he exclaimed. I want to see the change of activities from sunrise to late morning. Because i knew by saying 4 we wont reach before 5 for sure.
Failed morning plans are huge disappointments and i didn't want to miss this. Even after sleeping at 2.30 AM i made to wake up at 4.45 AM, we reached Dhobighaat by 5.15 AM.
The first view was all dark from the MahaLaxmi Bridge and after a short troll inside i thought i should wait till it get some light. While we were dozing off and craving for morning breakfast, we saw a shop open which asked us to wait for 10 minutes when and we could get something to eat. What could be better when a North Indian is served with decent Poha and upma in Mumbai.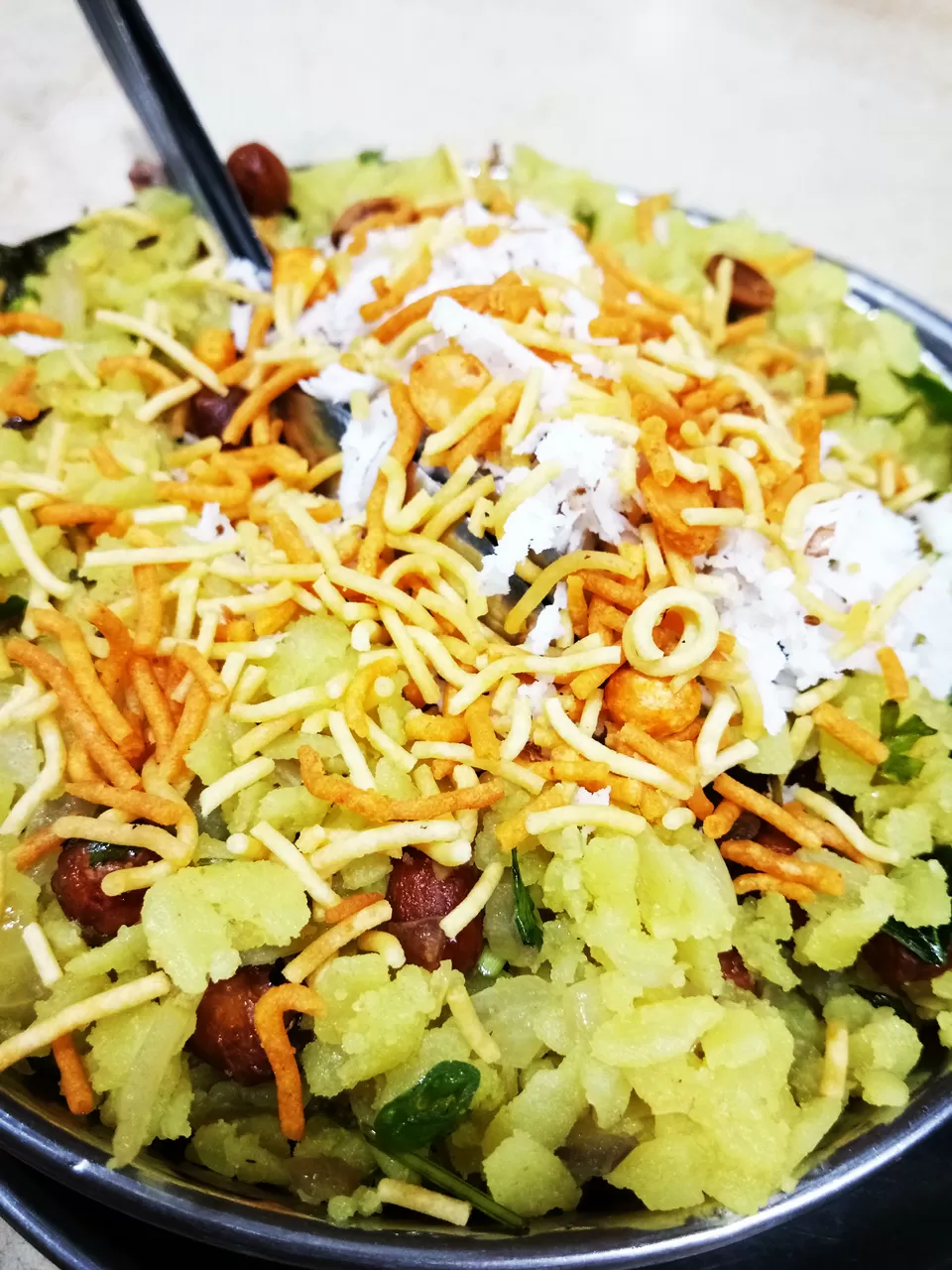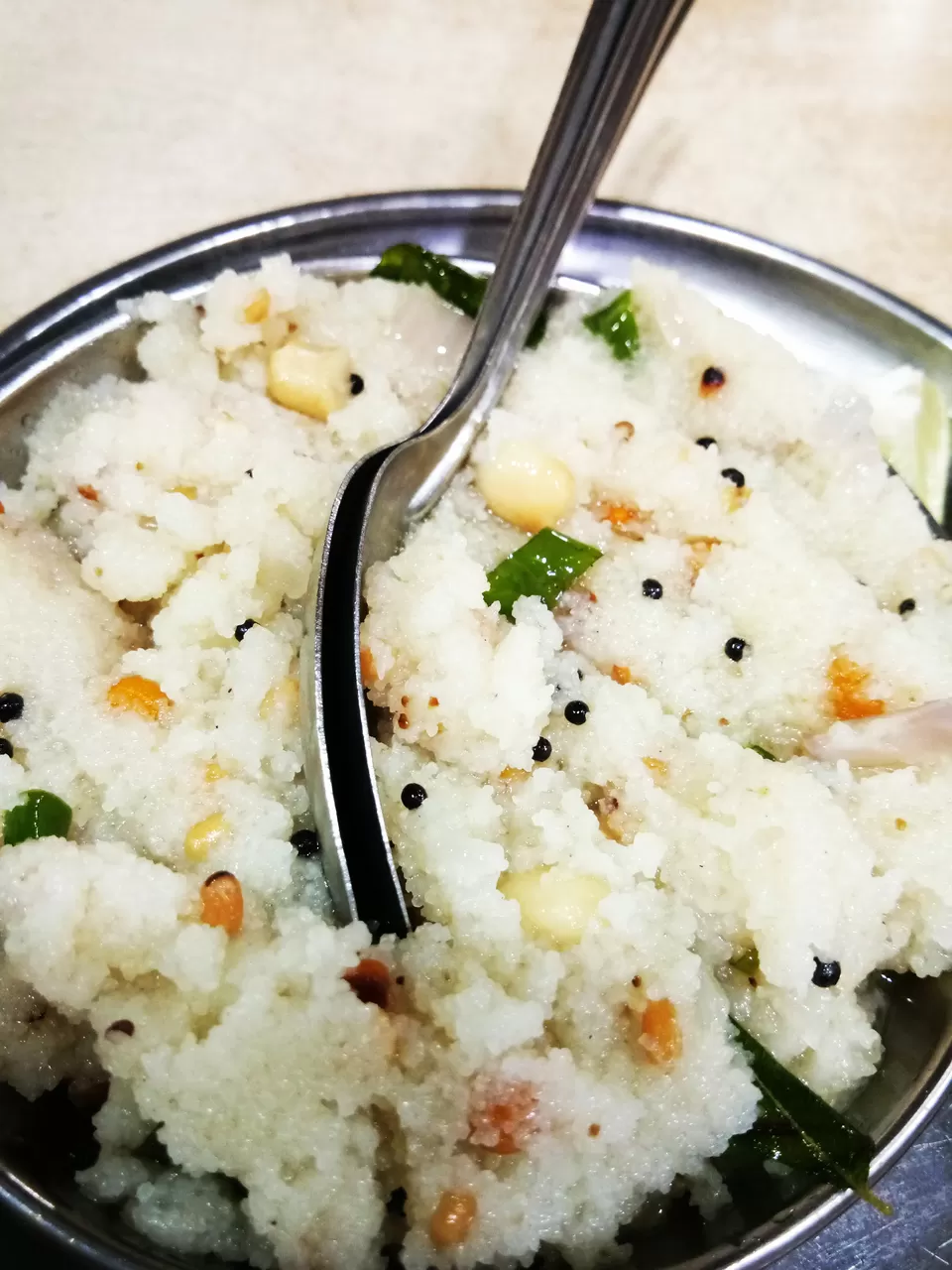 Till we filled our bellies, it was little light and we headed towards the landromat by 6 Am.
The bridge offered totally different view as compared to what it was during dark with the layers and floors of clothes drying on the ropes and slum shanties around it, which only brought numerous questions and chaos in the mind.
HOW do they segregate with respect to colors, type or materials (whites, denims, pants, shirts)?
WHAT happens during monsoons?
HOW the place has evolved in last 140 years OR did the technology changed it?
WHAT is the process behind it- collecting clothes, segregating, washing, drying, putting off, delivering?
WHO are the customers?
I couldn't wait to step down the bridge and entered into the shady and narrow lanes with weird smell leading to Dhobighaat.
Not many people were out when we entered, while some were talking and other few were sleeping on the mats outside their houses or on terraces. It seemed like we were surrounded by clothes hanged on the intricately woven ropes like spider nets which could accommodate maximum clothes. The ropes were connected to bamboo sticks floating in air to slide up and down further forming the storeys of clothes.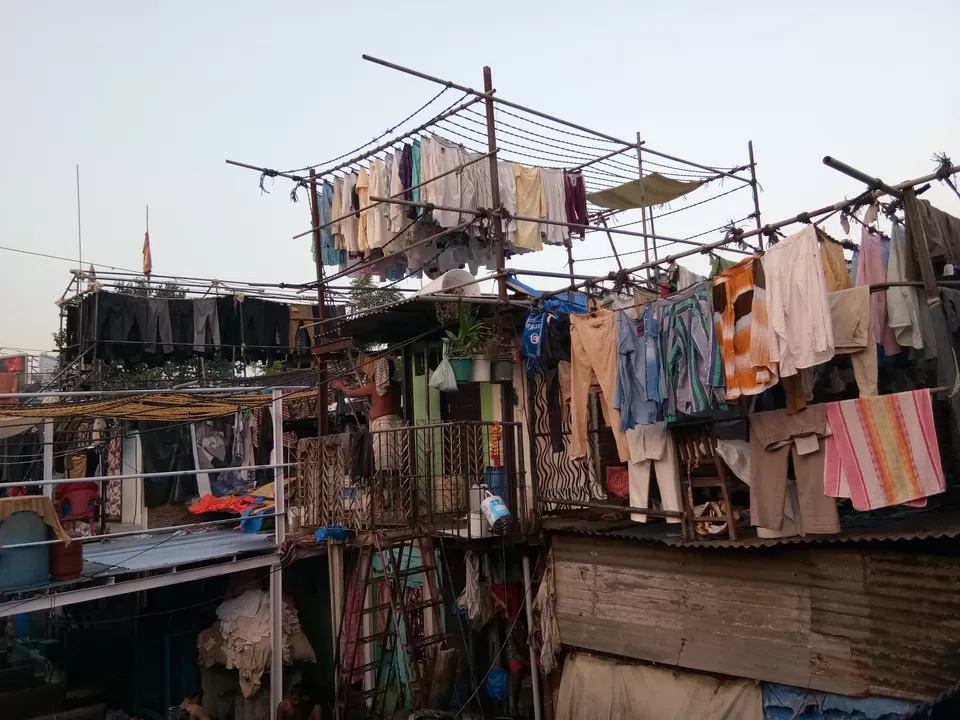 There were segregation of linen with respect to colours, type and material. We came to know that this is because of the customers they have, linen from hospitals, hotels to whole sale stores, to company shirts, and various business clients.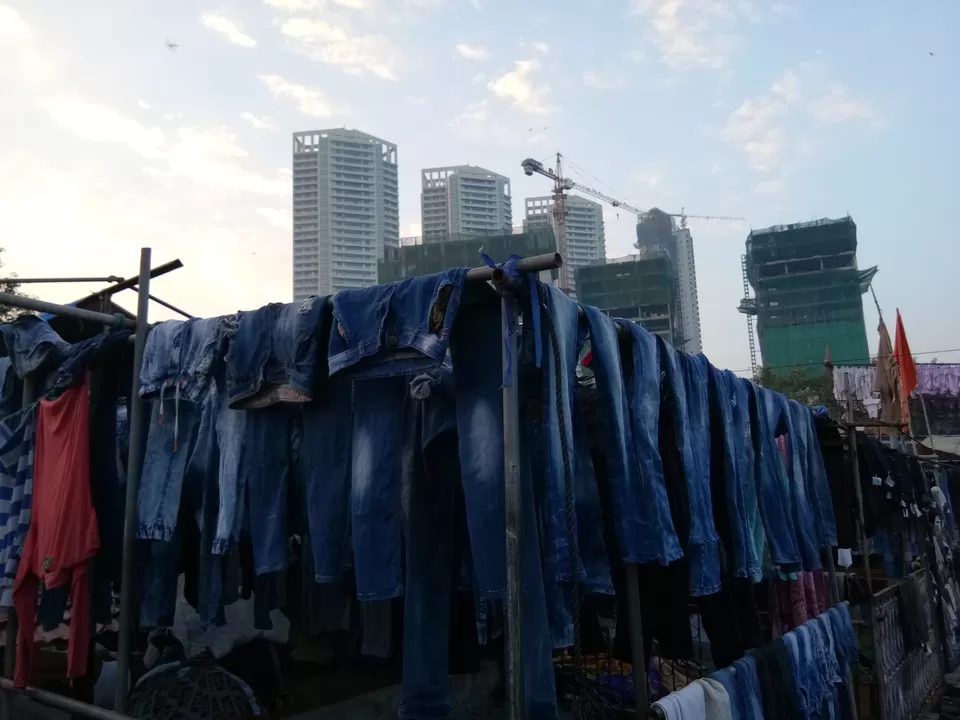 While we were moving inside with small steps, and people gradually started to come out their houses, doing the daily chores we thought to sit on the terrace of a house. On asking the owner of the house if we could go to the terrace,we were instantly said yes. Sun was rising behind the hanged clothes in between the buildings shinning brightly. And we could feel the order in the chaos as if all my questions were coming to halt.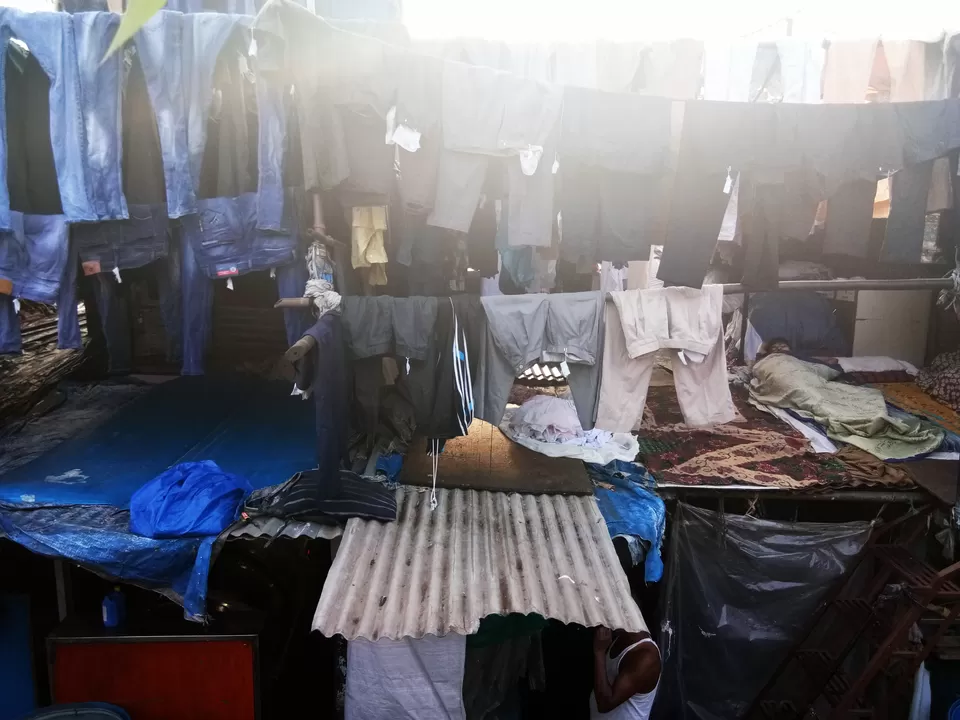 The weird smell was no more, and strangers now became the hosts and storytellers, allowing us to step up the terraces of their houses and told us the agreed old tales of this place. I just wanted to sit for few hours and absorb the sight, sound and smell of the 140 years old place.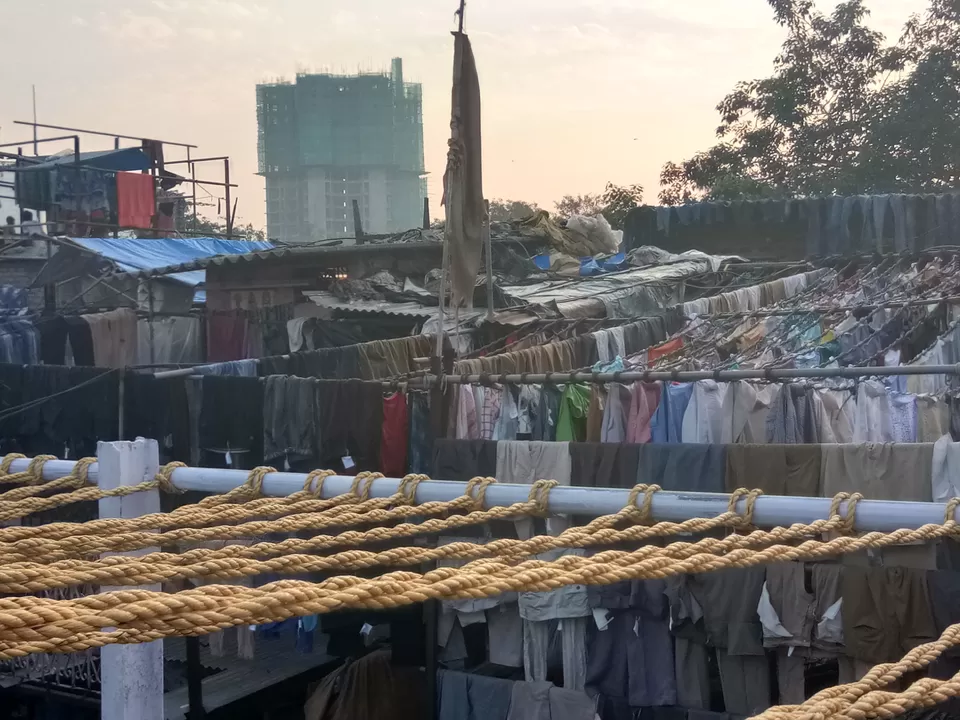 As we came really early we could now see the change in activities and functions of the people from waking up to their daily chores and schedule of washing. By now some people started to wash clothes, while few used washing machines and others beated soaked overnight clothes on flogging stones.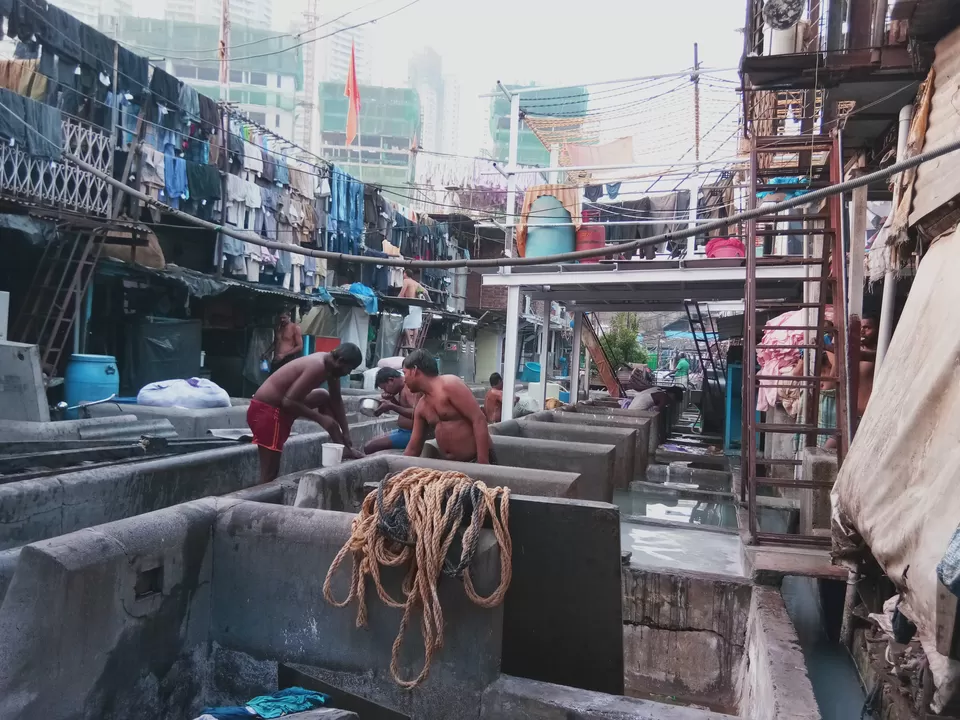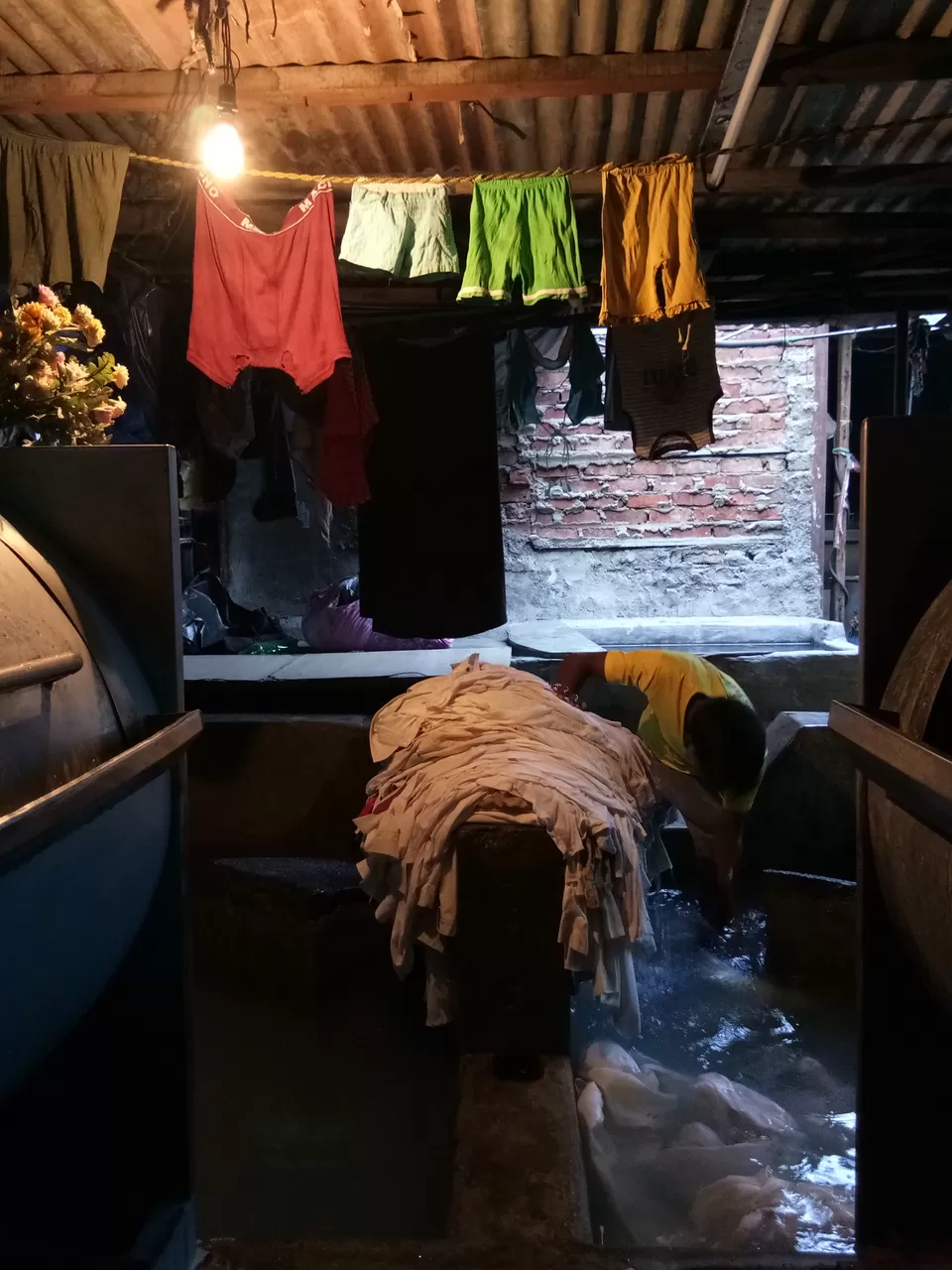 The most beautiful moment of the walk was when, Mr. Rajkumar was telling us tales of the place while he was drying clothes on rope. He explained How technology like washing machines and dryers has took over which defines the statement of luxury now but still drying on ropes is done manually, while few exists without machines and use flogging stones and caustic soda for washing. How this place existed as vast land for washing and drying, but then slowly shanties developed around it to ease the living. How they want their children to be educated so that they don't continue the legacy of becoming the dhobi. We asked him if he could teach us how to dry clothes as they have the different technique in order to accommodate maximum clothes in the least space. After numerous failed attempts we did it half correctly and bid a good bye to Rajkumar Da in the hope of seeing him again sometime.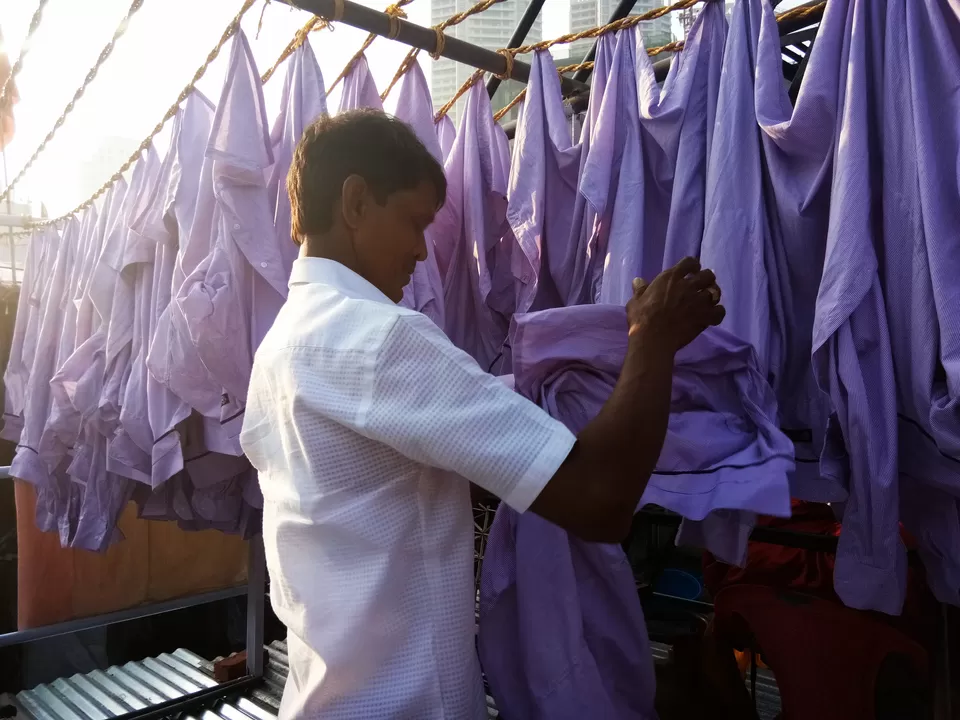 After walking nearly for 4 hours and realizing that we have covered most of the parts also the inner chaos was settled, we headed back on the bridge from where we started.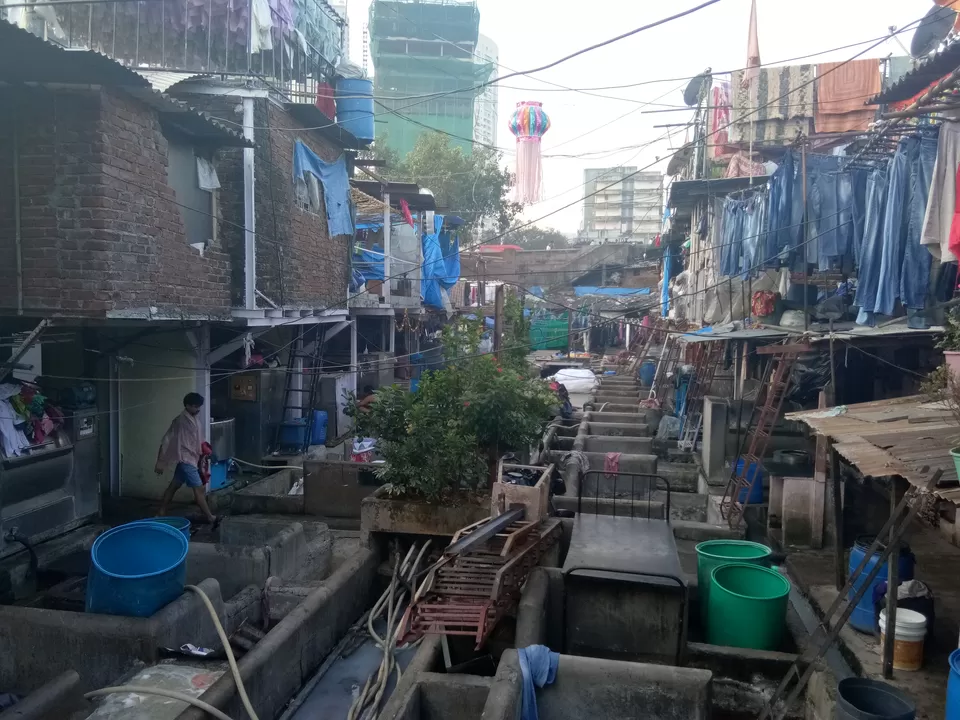 And this time again the view from the bridge was different or may be the view was same but inner feel was changed and halted to peace because we knew the place better now. And we could now relate to various places we went like Rajkumar Da terrace by the color of clothes drying there.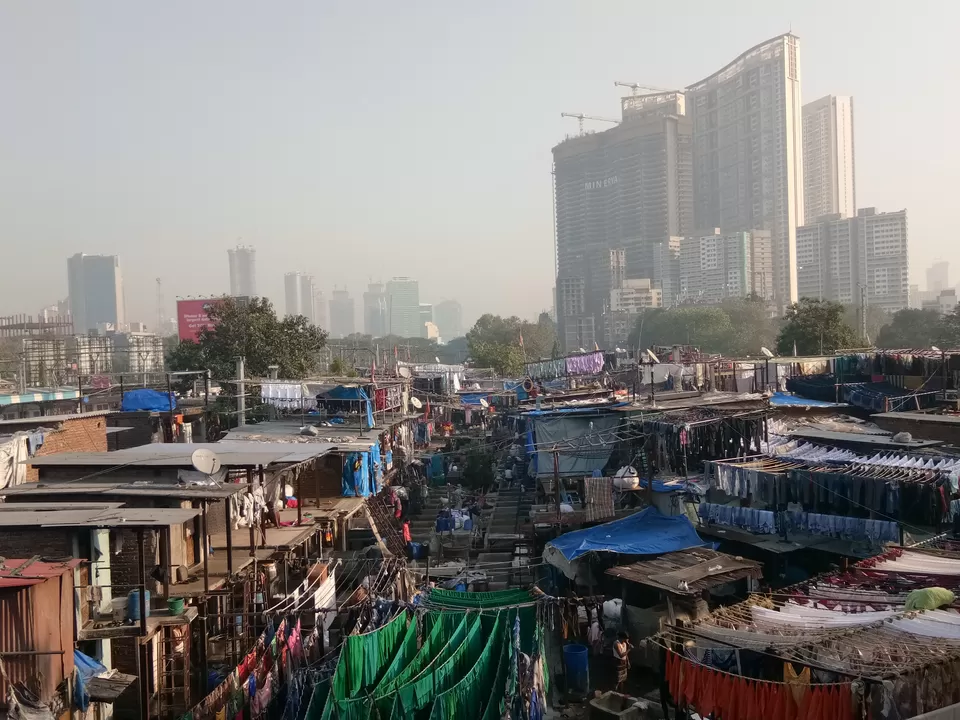 In the hope of visiting again some time during noon and making peace with the mind we bid good bye to the 140 years old laundromat.