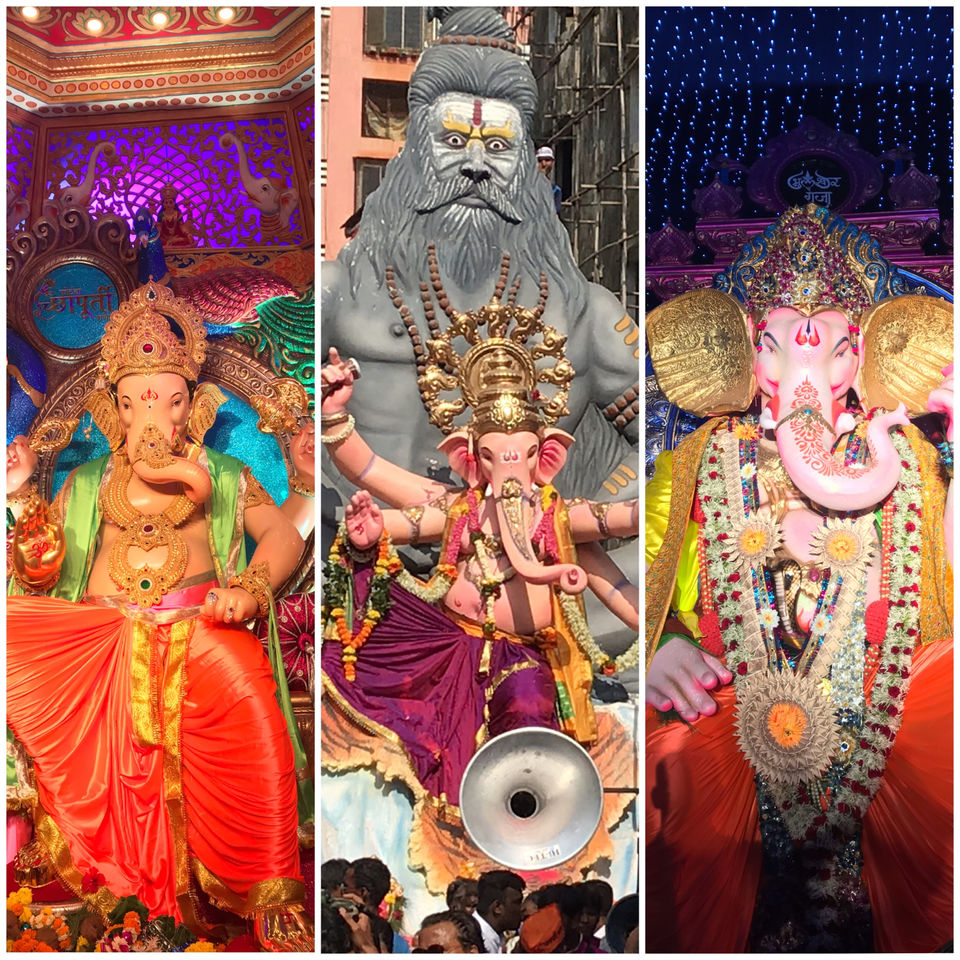 Ganesh, also known as the God of Wisdom, occupies very important place in every Indian's heart. According to Indian mythology, Ganesh aka Vighnaharta is blessed to be worshipped first before commencing any program in India to avoid any mishap. It's believed that Maratha ruler Chhatrapati Shivaji initiated the celebration of Ganesh Chaturthi to promote culture and nationalism among people. Later, Lokmanya Bal Gangadhar Tilak boosted this event to bridge the gap of casteism and bring people together against Britishers. Since then Mumbai has been carrying out the legacy of celebrating Ganesh Chaturthi every year.
This was a little history that why Mumbaikars celebrate Ganesh Chaturthi on a grand level.People from across the globe travel to India to be a part of festivals like Holi, Dussehra, Diwali, Ganesh Chaturthi etc. I also wanted to witness Ganeshotsav with full enthusiasm. So this year, I decided to bring this true. Since it was a planned trip, I didn't face any such problems. Also, I have a very good friend who has been residing in Mumbai for the last 8-9 years. All the arrangements were done. I booked my flight one month prior to Ganesh Chaturthi i.e., on 20th Aug. The only issue I had was the attendance as I'm in VII sem of Btech because classes began on 6th Sep and my attendance was nearly about 50%. I hope you can understand (haha). Moving on, I landed in Mumbai on 20th Sept in evening. Next day, I along with my friend went to Lonavla. I have already published a trip, you can check in my profile. Cut short to 23rd.
The day was here for which I had been waiting for. We ate breakfast, sat on Activa and started roaming on the streets from 10 am only. It was early so there was there was hardly any rush. Meanwhile, we had a photoshoot in South Mumbai (Indira Docks). The area was so quite and beautiful that it resembled some foreign country. After shoot, we went to home, had lunch and took a nap. Although it was sunny, but I wasn't willing to waste the remaining day sitting merely in a room. It was one day affair so we wore Kurta, hopped on Activa and again started to roam at 4 pm. The sun was feeble in stopping me. But this time I was stunned to see the energy of Mumbaikars. Every street I went on, it was Ganesh Jee and his followers dancing to the fullest on a live music. The beats were so good that they necessitated me to dance then and there only. It was exhilaration. It was way better than the music you hear in wedding procession (Baarat). Every idol I saw was unique and magnificent. It requires lot of dedication and efforts to make such beautiful idols. I must appreciate the artists (claps). Moving on, I also had Pan because my friends insisted. There was hardly any space for bikes to pass on roads however, we managed to do so. As the day passed, crowd increased. I was just admiring the beauty of Vighnaharta by going on different streets. Some were gigantic whereas some were small. Big ones were being carried on carts whereas small ones in car. That day I realised how important Ganpati is to Mumbaikars. Be it small or big, young or old, man or woman, everyone got drenched in the divine aura of Ganesha. Mumbaikars eagerly wait for this day every year and these 10 days are the best days of their life. The feeling can't be described. The day had almost come to an end and it was time for culmination. The day went good so far. Now it was time to attend Visarjan. So, we went to Juhu Chaupati around 11 pm. The rush was at its peak. Gradually we managed to reach the beach. Visarjan was taking place in a smooth and disciplined way along the coastline. Family members lifted Ganpati off the cart, carried little far in sea and then released him in the sea. At the same time they prayed and asked him to return next year soon. It was their sacred duty.
Now here comes the role of Mumbai police. Despite of having the crowd in the largest no, the management done by police was the best. It seemed like a normal day to me. Every cop was assigned a role to different locations. Managing traffic and public both at the same time was really applaudable. Be it a sergeant or Senior Inspector, everyone performed their duty honestly. This is something that Uttar Pradesh's police (specially) and other states' police should learn. There are better cities than Mumbai, but every time I visit Mumbai, I feel so good don't know why. So, this is all I experienced. I might not be able to express it fully but I hope you get the sense of my feelings. I recommend everyone to be a part of Ganeshotsav at least once in your life. You forget all your tension and get draped in colours of happiness. The feeling is so pious that you want it to continue for the rest of your life.
So, if planning to go, have a safe journey. Go safe and return safe.
Happy reading.