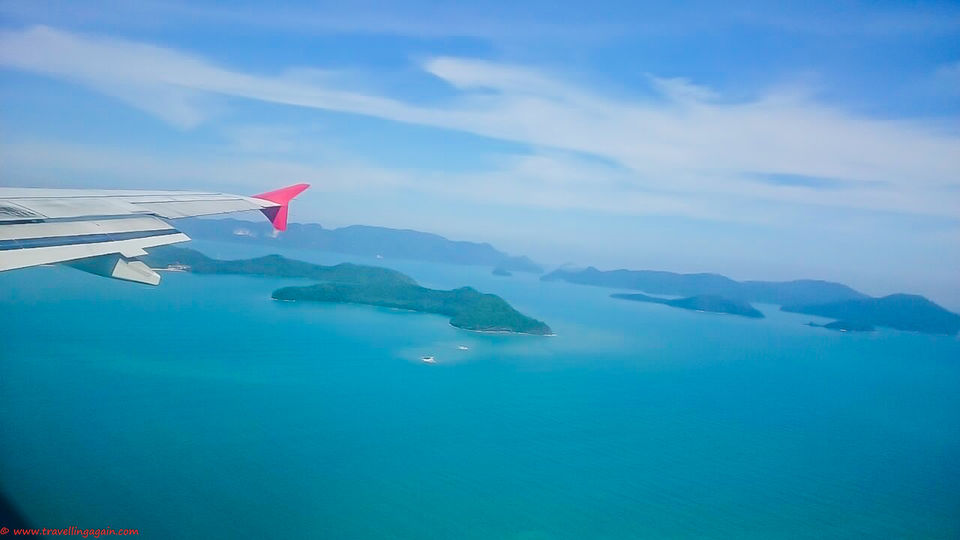 The cost of Air Travel is the biggest part of travel expenditure, and therefore finding a cheap flight becomes very important. For me, the cost of my flight is as important a consideration as deciding the travel destination itself. I'd sometimes change my plans to fly to a destination just because the fare was too cheap to miss out.
The important part is how to find such fares! Here are a few 'not so known' tips which can help you work wonders on your air travel cost -
1) Flexible Destinations – The biggest mistake and the most common approach while searching for a flight, is to pre-decide the destination, which acts just like using an inverted funnel, killing all the opening even before you start.
Instead be flexible on city, region and even your country of travel. There are several search engines which provide the option of searching for flexible destinations. In the search window, you can set your destination to
Everywhere – The search result is a list of Countries sorted by cheapest fares. You can now have a look at which country of your choice is the cheapest to travel to and then proceed further.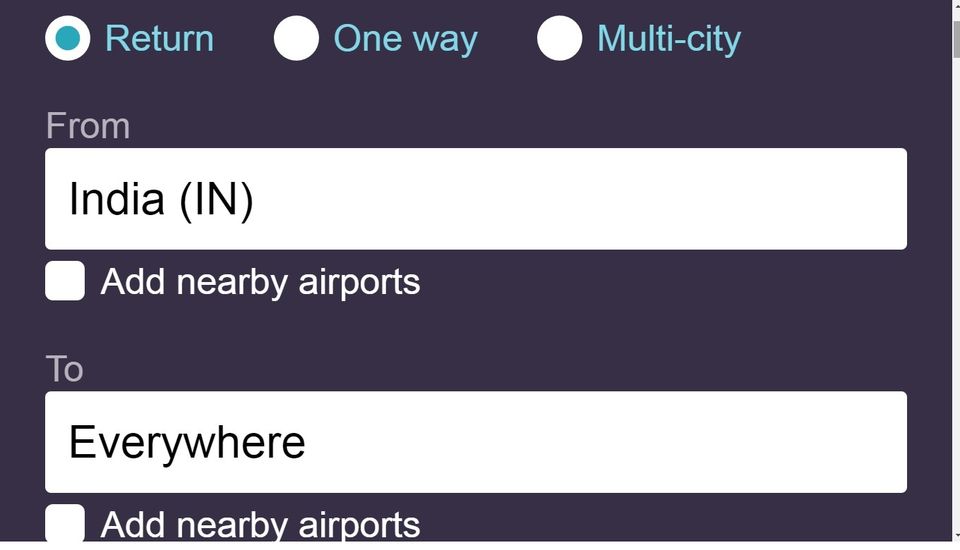 A Specific Country – When you know for sure the country you want to visit, you can set the destination to that country. The search engine will provide you with fares to cities in that country.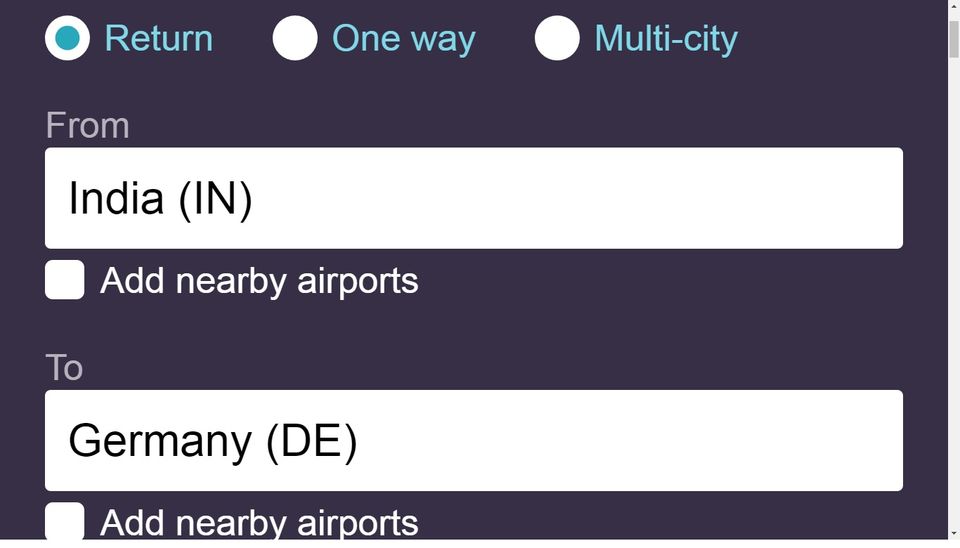 A Specific City – the most usual way we search for flights. Enter the city as your destination and the results are on the page.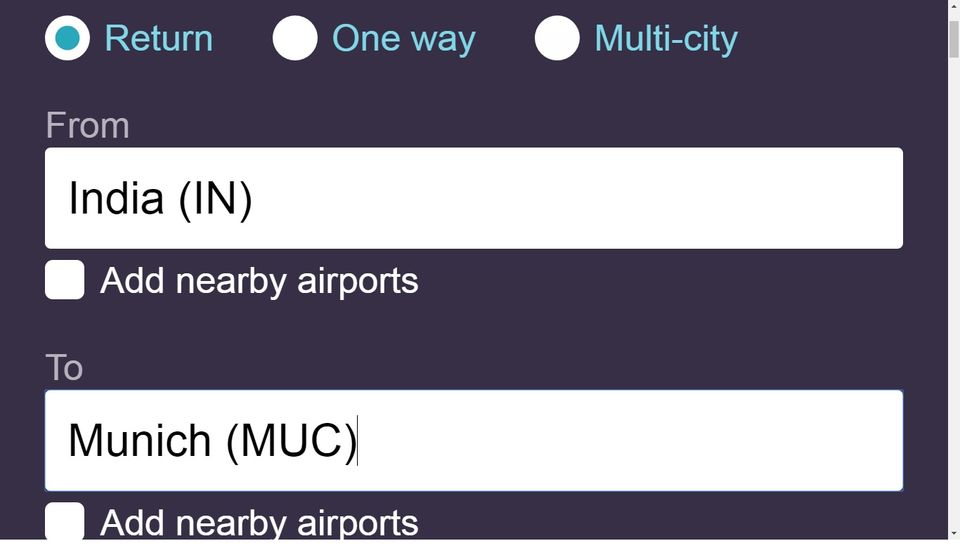 Selecting India in the 'From' field will search all the airports within India for a fare to the selected destination, thus enabling you to know the cheapest source airport as well.
2) Flexible Dates – Not only do we search for specific destinations but even specific dates, one day earlier or later the same flight might be dirt cheap. The same search engines also provide you with the option of searching with flexible dates. This is how it works –
Anytime – When selecting the date of travel you have the option of searching 'anytime', for both outward and return flights, which means the displayed result will have fare list sorted month wise. You will thus know which months are the cheapest to travel to and return from, the destination you are looking for.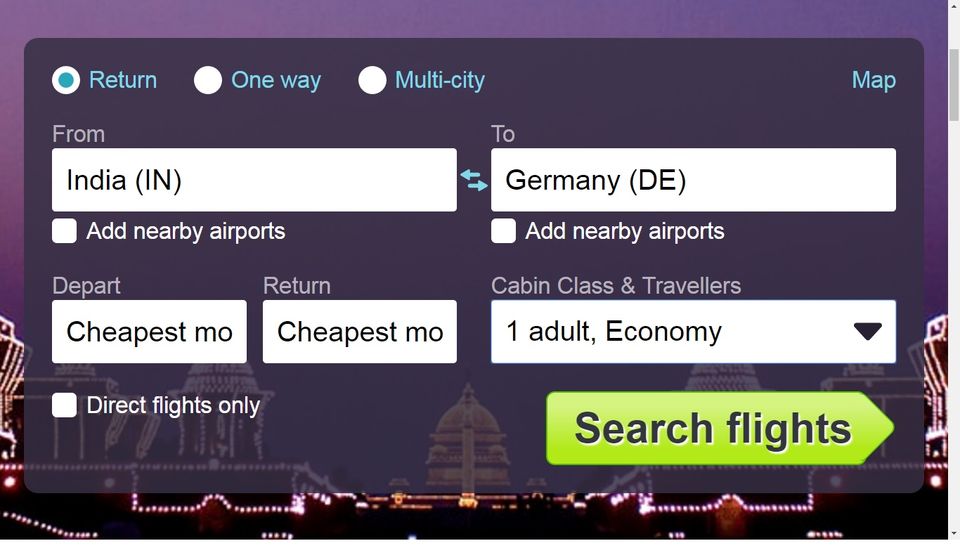 A Specific Month – When you know your travel month for sure, just select the specific months for both outward and return flights, for the desired destination and the result would be a calendar displaying fares for each day of those months.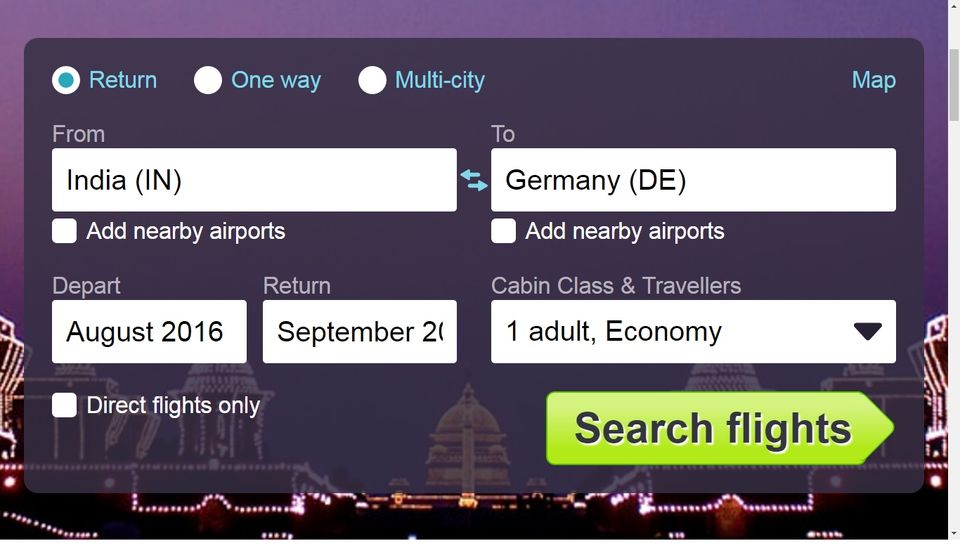 Specific Dates – The usual way to search entering specific dates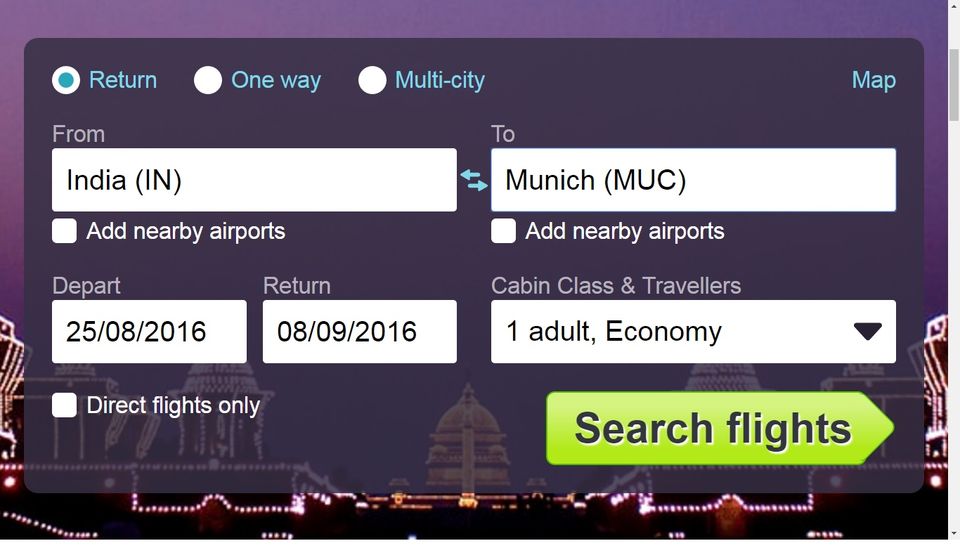 When you wish to plan a trip, the ideal way is to search for travelling 'Everywhere' and during 'Any Period' which gives you an idea of which country is the cheapest to travel to.
STEP 1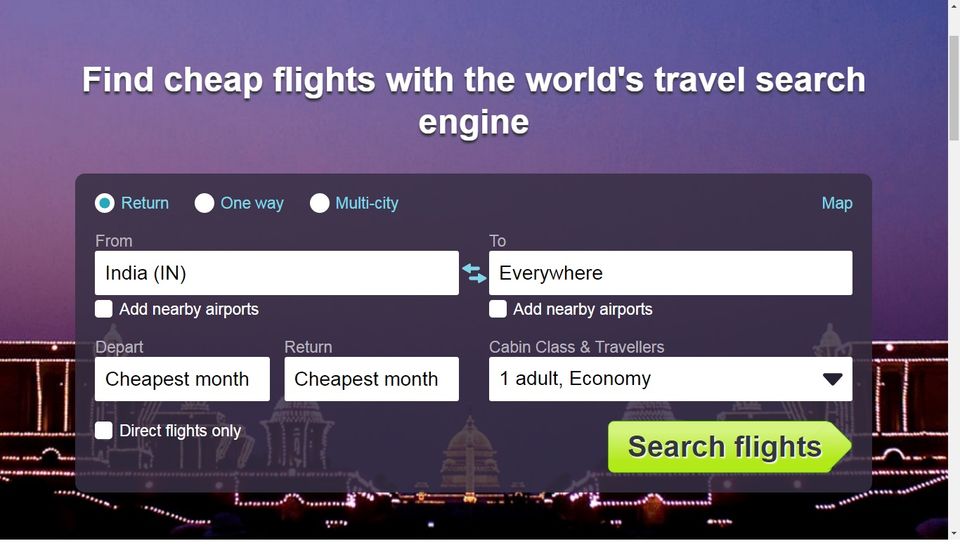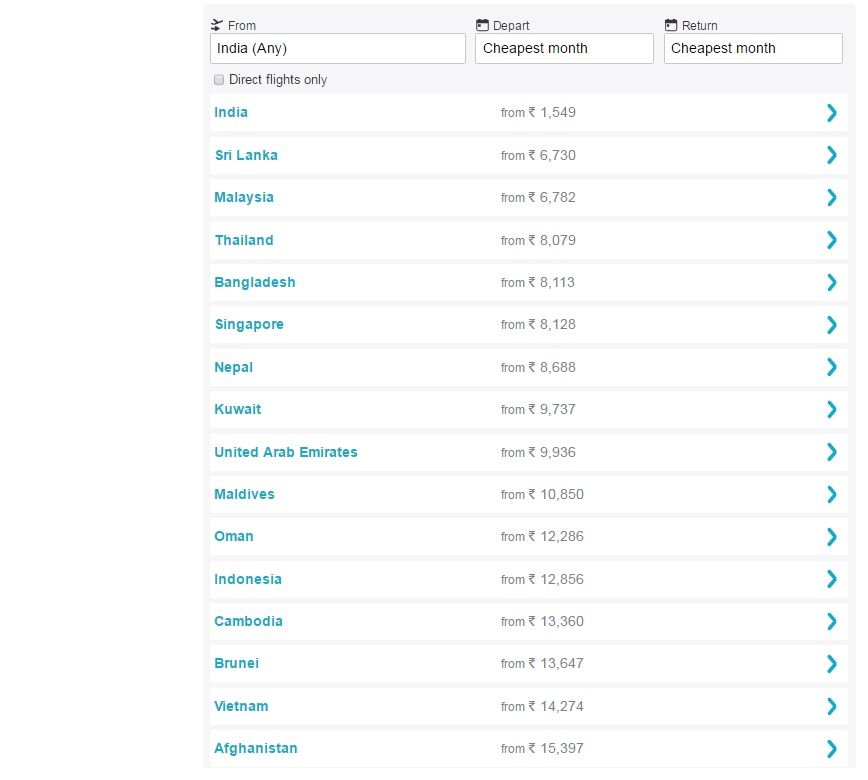 STEP 2
Once you have shortlisted the countries of your choice, you can select a specific country and search for travelling there 'Anytime'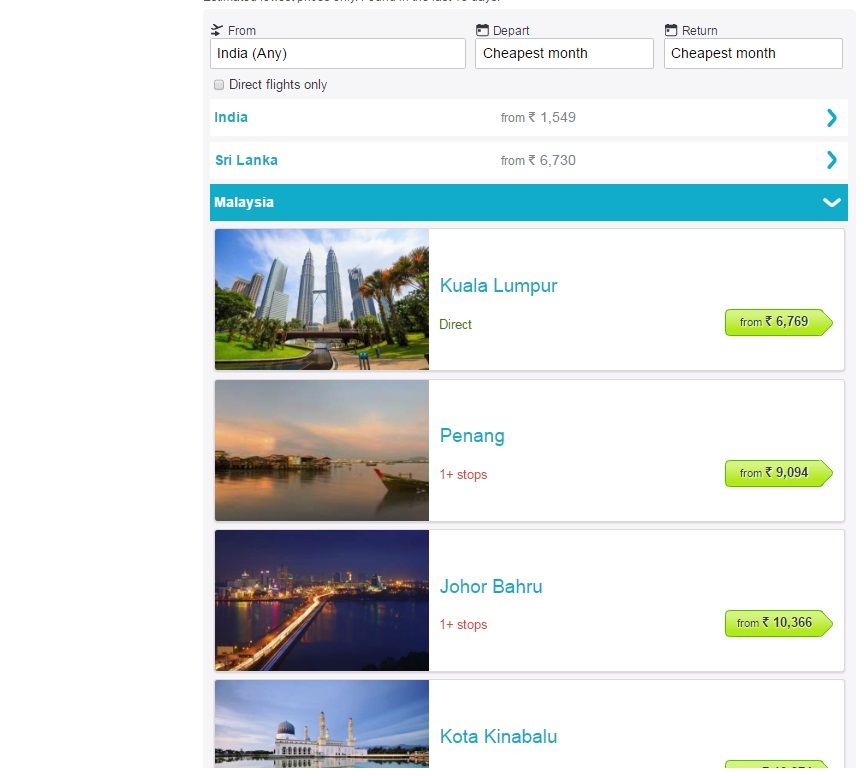 STEP 3
Further, shortlist the results to your preferred source and destination cities.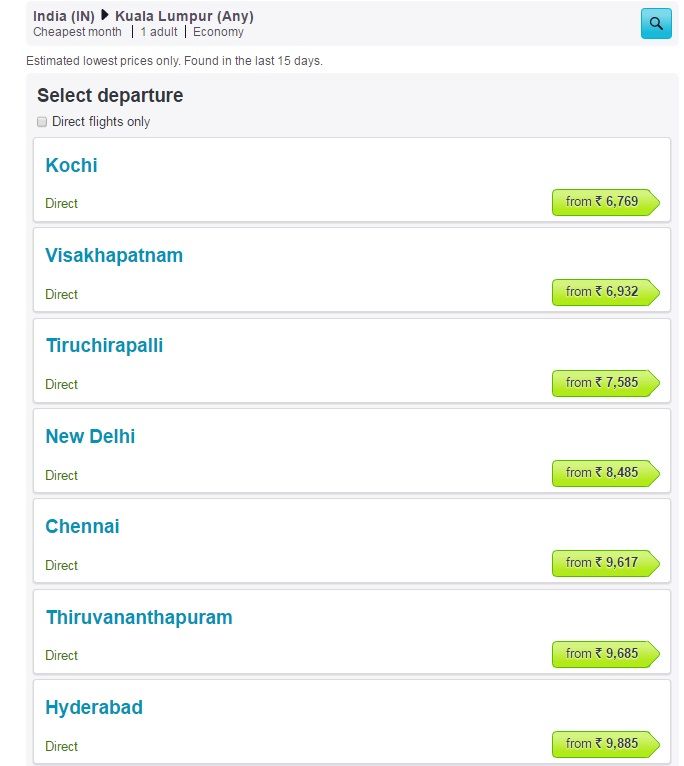 STEP 4
You can then proceed to find the cheapest combination of onward and return flights within those months.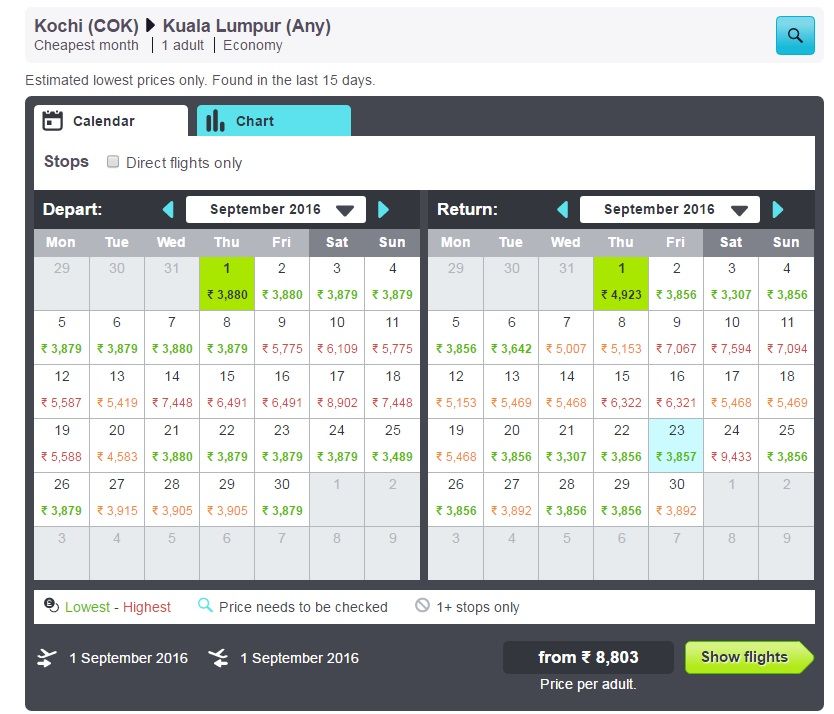 The same can be done with the preferred month of travel as the primary criterion and destination as the secondary.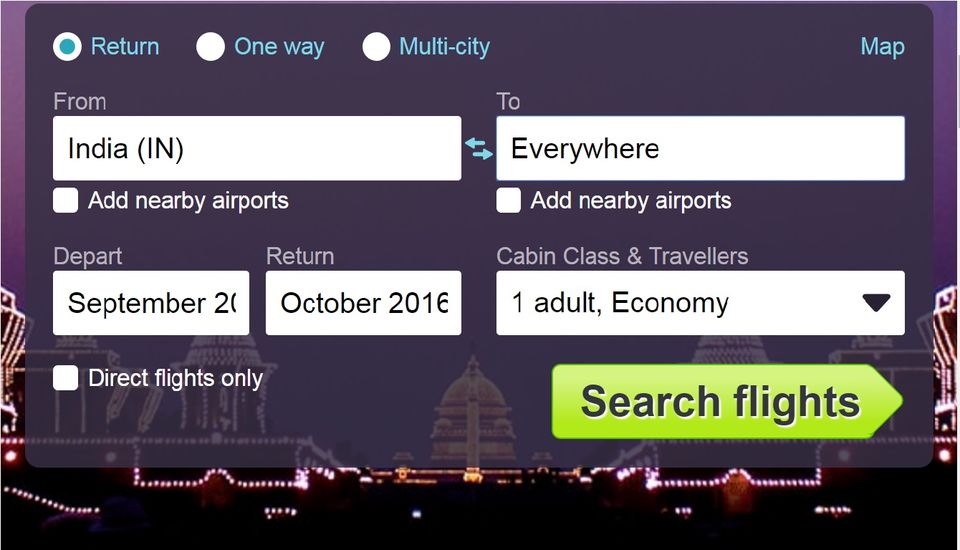 3) Search Engine – Most of the search engines have 'unofficial' affiliate partners and therefore do not always return a fair search result, neither do they provide such flexible searching options. In my preferred search engines, SKYSCANNER tops the list by far as it has always returned the best fares. Skyscanner is a metasearch engine that searches across most of the travel search engines and returns the result, so when you search on Skyscanner, you not only search for flexible destination and dates but also across a large number of search engines automatically, thus making it a very powerful and consolidated search.
Despite that, before I finalise my booking, I also search MakeMyTrip (for travels within India), Kayak (also allows flexible search options) and Momondo, the last two especially for travels outside India; just to make sure no dark spots were left over.
4) Low Cost Carriers and Secondary Airports – Low cost carriers like Air Asia, Ryan Air, Air Europa, Easy Jet, Tiger Air, Nok Air, Malindo Air, Fly Dubai and a lot more, are often not included or priced higher than the actual offering, in the results returned even by such a powerful search engine. The best way is to research a bit about the low-cost carriers operating in the region you intend to travel and then search on the websites of those operators, which might result in a decent amount being saved. I recently booked an Air Asia flight from Kuala Lumpur to Langkawi for Rs 900/-, that's nothing … literally!!
Secondary Airports which are even more obscure can also result in big savings. As an example, all the low-cost carriers in Bangkok operate from the Don Mueang Airport which is often not included by many search engines and is not known to the first time travellers.
Observe the difference in the fares if you wish to fly from Munich to London and Memmingen Allgau airport to London for the same dates. Memmingen Allgau is just an hour's bus drive from Munich City with public transport buses operating at regular intervals –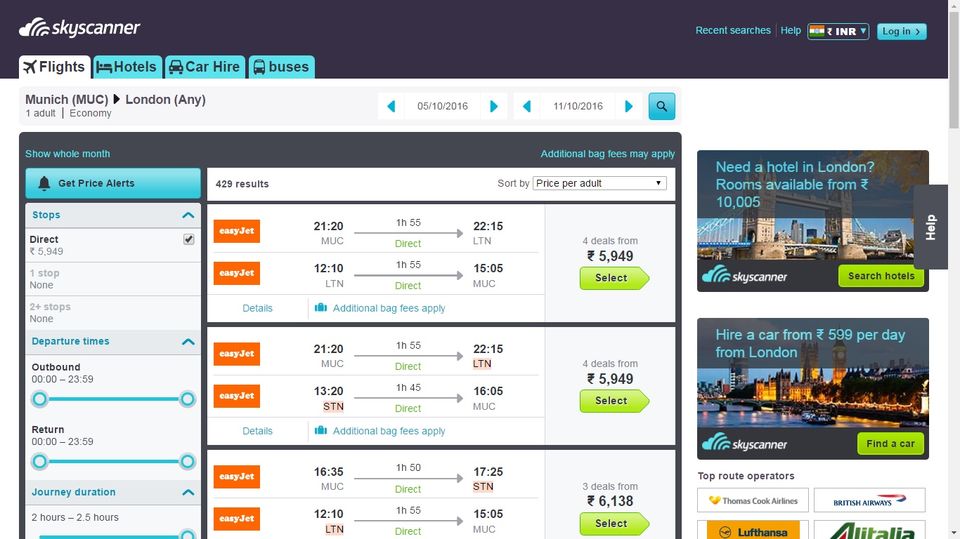 Girona near Barcelona and Basel-Mulhouse-Freiburg near Zurich are a few such examples in this long list of secondary airports. Gather some knowledge about such airports in the region you're travelling, these do not only help save a lot of money but also take you to places which might not be on your travel itinerary at all.
5) Try Alternate Routes – Sometimes the low-cost carriers don't fly directly from your source city to the destination, in such cases try finding alternate routes with one or more layover to your destination, which might result in much lower fares than the direct expensive flights.
For Ex, I recently booked a trip to Malaysia and had two options to choose from
Indore –Mumbai-Kuala Lumpur-Langkawi and return were costing me Rs 25000/-
While
Indore-Mumbai-Kochi-Kuala Lumpur-Langkawi and return aggregated to a total of Rs 21500/-
That is a decent saving of Rs 3500/- or a free Scuba Dive in Langkawi!
6) Days of the Week, Time of the Year and the Cheapest Time Window– Trend as well as my personal experience suggests, that flights on Wednesdays and Saturdays are cheaper than the flights during rest of the week. Flights are also very cheap just before the beginning or immediately after the end of regional festivals, long weekends, school vacations and important occasions etc. Make sure not to book a trip in high season if you like to travel cheaply.
The Cheapest Time Window is the period during which, the probability of airlines giving out the maximum discount on any given route, is the highest. Booking a ticket too early or too late will mostly result in high fares. I have always found the cheapest fares in the window of 4-5 weeks prior to the travel date, earlier and later than that will mostly make you pay higher.
7) Offers on Credit Cards – Although not the best of the cards are available in India, but a few might still save you some money. My American Express Credit Card always has some offer or the other running for flight booking made through MakeMyTrip. I get a cashback of Rs 400 on a one-way domestic booking and 600 on a return ticket. An air ticket from Indore to Mumbai, when booked in advance, which would otherwise cost me Rs 1800, costs me Rs 1400/- the cashback being taken into account. Who doesn't like to fly in the price of a train ticket !!
Some credit cards also add airlines miles of an affiliate airline to your account, for every purchase that you make through the card. You just might have enough miles to get yourself a free one-way ticket to Europe in a few years from the affiliated airline or any of its partner airlines. This is a slow process for an average spender, but you will only realise it's worth the day you book that free trip. A good credit card never hurts.
8) Prefer Indirect Flights – I've seen people always preferring the direct flights, which in my opinion have two major drawbacks. First, they are much costly for sure and second you end up being jet lagged because of the long flight duration and therefore spoiling the first day of your trip. Taking an indirect flight allows you a few hours of sleep at the connecting airport which is a big advantage and also saves you a considerable amount of money.
"The pleasure of buying the cheapest seat on the aircraft is second to none ;-)"