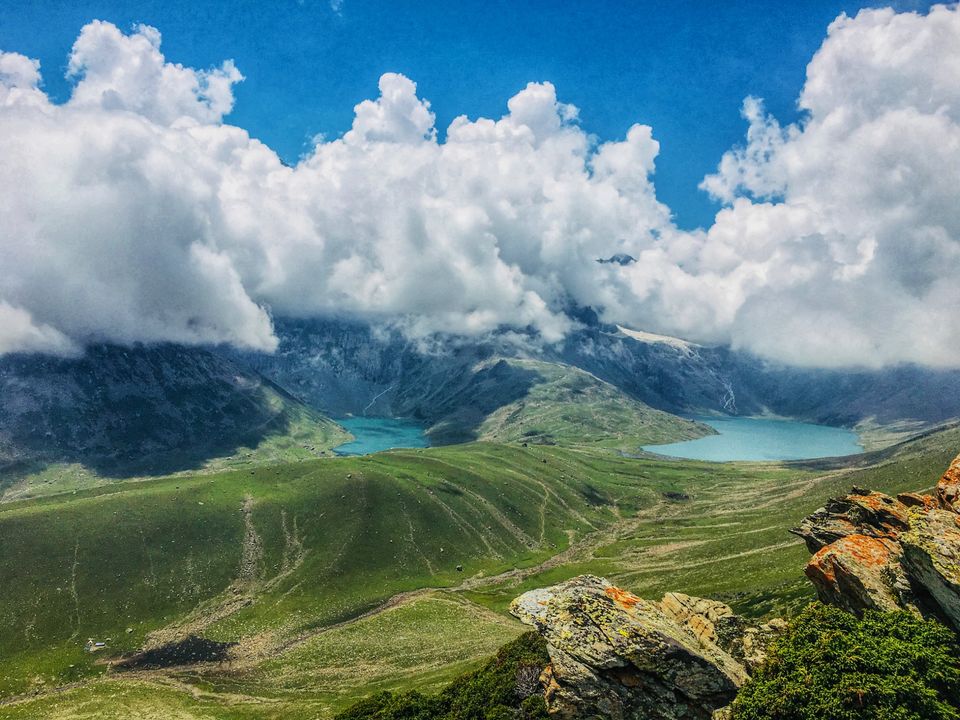 Kashmir Great Lakes trek is considered to be the prettiest trek in India. It does not have a summit but a beautiful journey passing through five alpine lakes; each different from each other; all of them attractive in their own unique way. This trek was on my husband's bucket list since a very long time and he insisted that this be my first Himalayan trek. The reason being the beauty of this trek justified the effort we were going to put in. I was excited and scared at the same time as it was a moderate-difficult level trek but travelling with IndiaHikes made the job a tad simpler.
One day before our trek started, 28 of us flew into Srinagar from different parts of the country for this adventurous journey. Owing to the constant unrest in Srinagar during that time, we weren't sure if the trek would start as per schedule. However, things fell into place and we reached our basecamp on the evening of 5th August. We met our trek leader Naman who gave us a short introduction and an outline of the entire trek schedule. Being used to sleeping at 1am in Mumbai, it was difficult to sleep early but we were left with no choice since the area outside the tent was too dark and scary.
Sonmarg to Nichnai
On our very first day, we had to achieve an altitude of 11,500 ft from our basecamp which was at 9000ft. We started with high enthusiasm following our guide Shakeelbhai and trying to matchup to his pace. The terrain was a mix of ascents and descents through dense forests and beautiful meadows. Naman would keep pouring useful information about the flora and fauna. He always motivated us to keep moving at a gentle pace. By lunch time we reached a small shack atop a plateau and rejuvenated ourselves with a cup of hot Kashmiri Kahwa and a bowl full of hot Maggie. After walking for a couple of hours from there, we reached our campsite at Nichnai. The first day was so tiring that we fell asleep in an instant.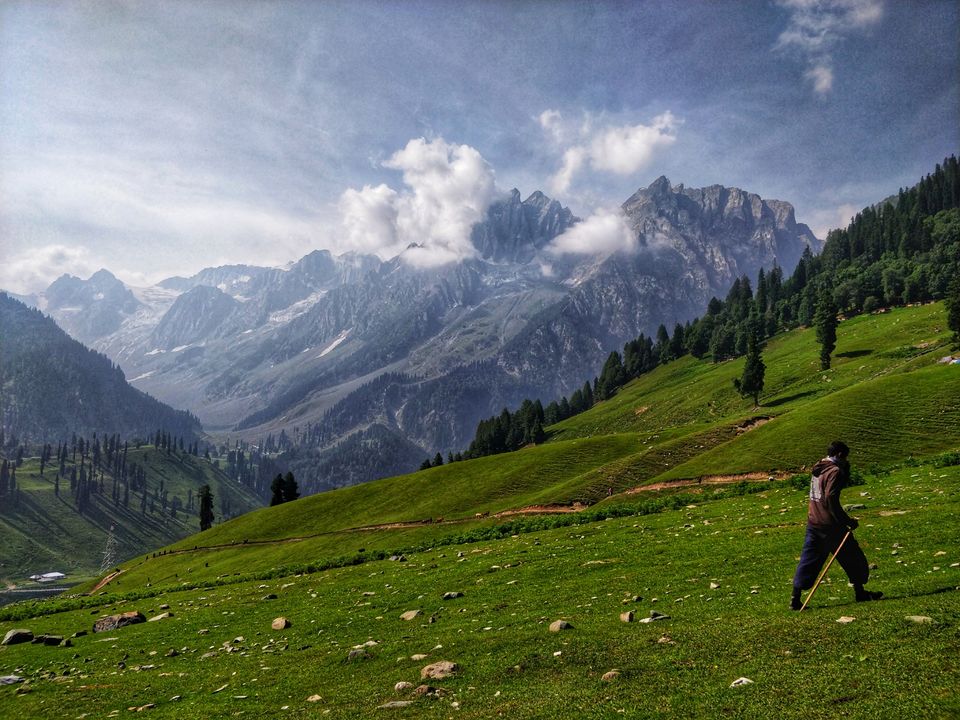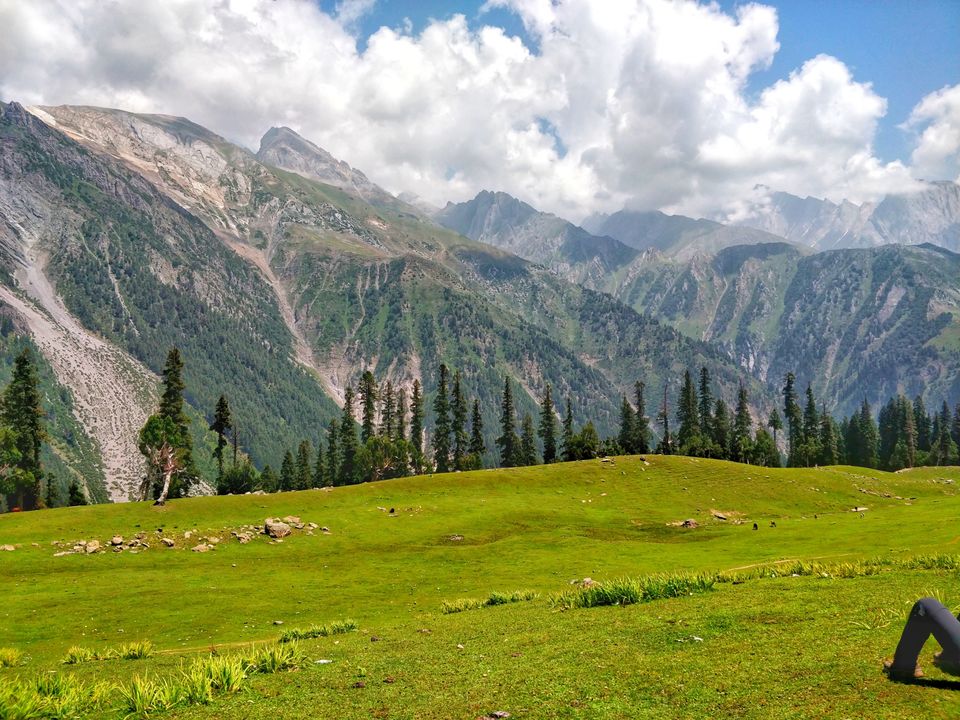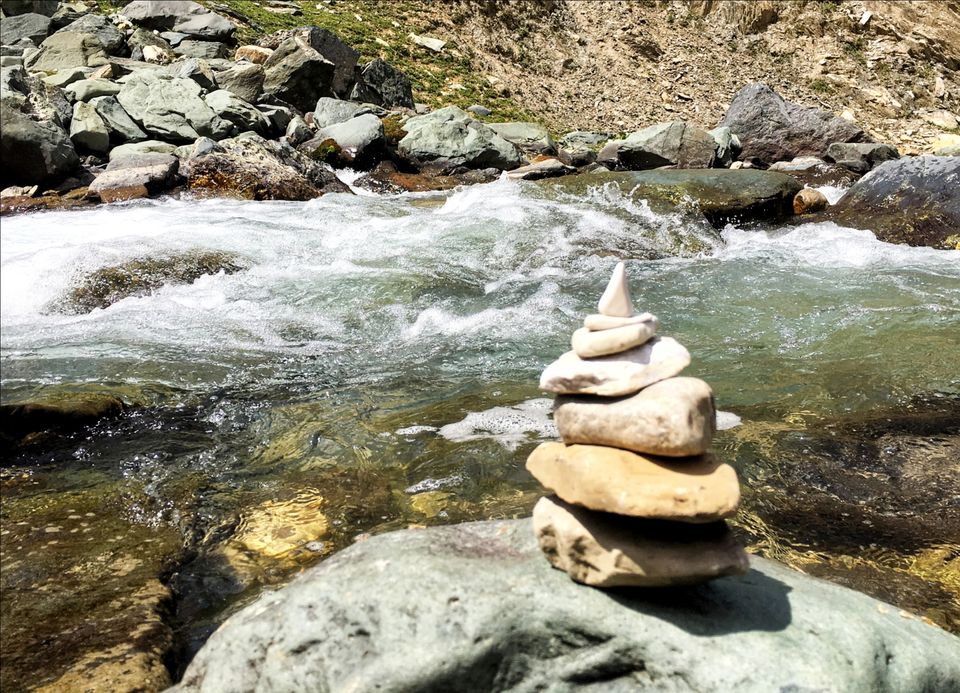 Nichnai to Vishnusar Lake
Our morning routine comprised of having breakfast and unpitching our tents before we left for the next campsite. The trail was going to be relatively easy this time but a longer one. The steep climb during the first one our took away all my energy. And to add to our difficulties, it started raining heavily. This was followed by a very long straight plateau which could have been easier but for the rains. My shoes started getting heavier and I slipped almost 4 times. However, towards the end, the view of Vishnusar Lake from a distance made us forget all our pain. It was truly mesmerizing. After taking some rest at our campsite, we walked up to the lake and were just spellbound by it's beauty. We spent the evening by the lake side taking a lot of amazing pictures and soaking in the calmness of the place.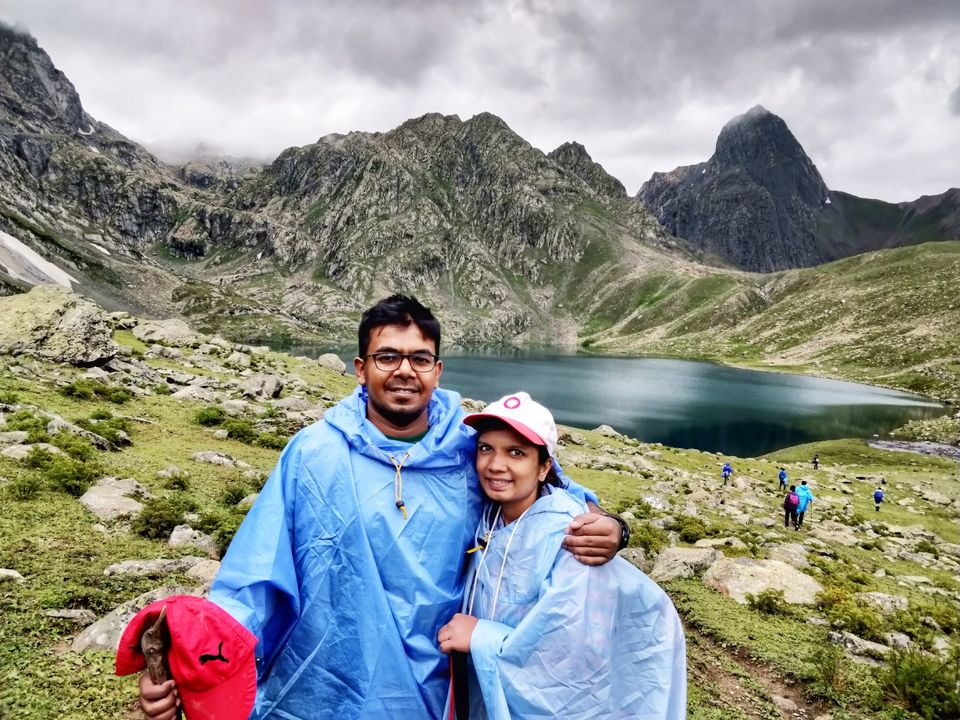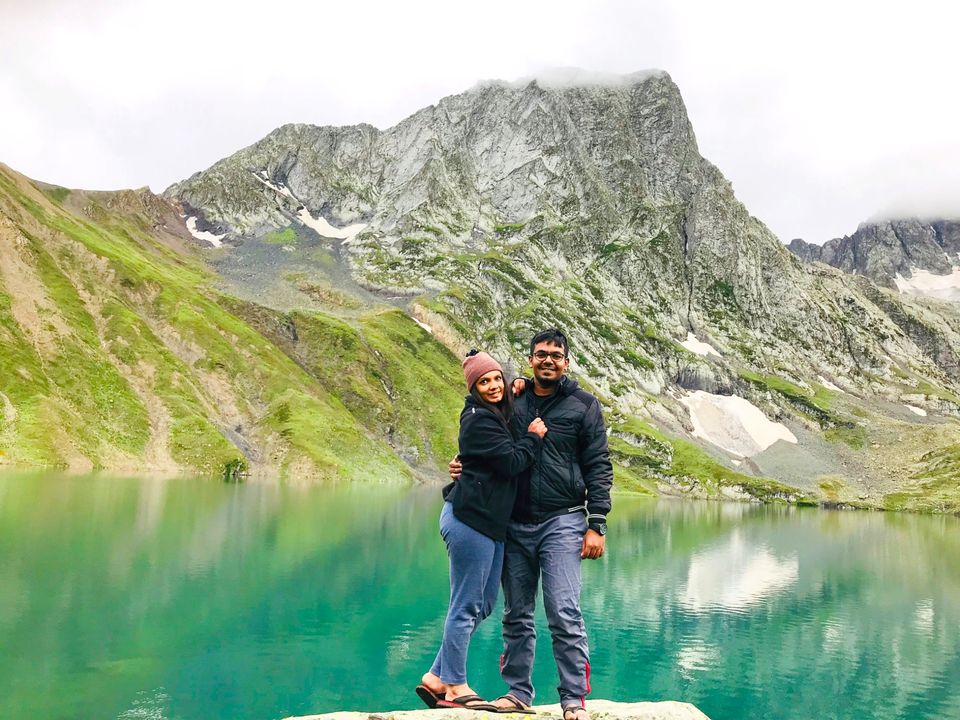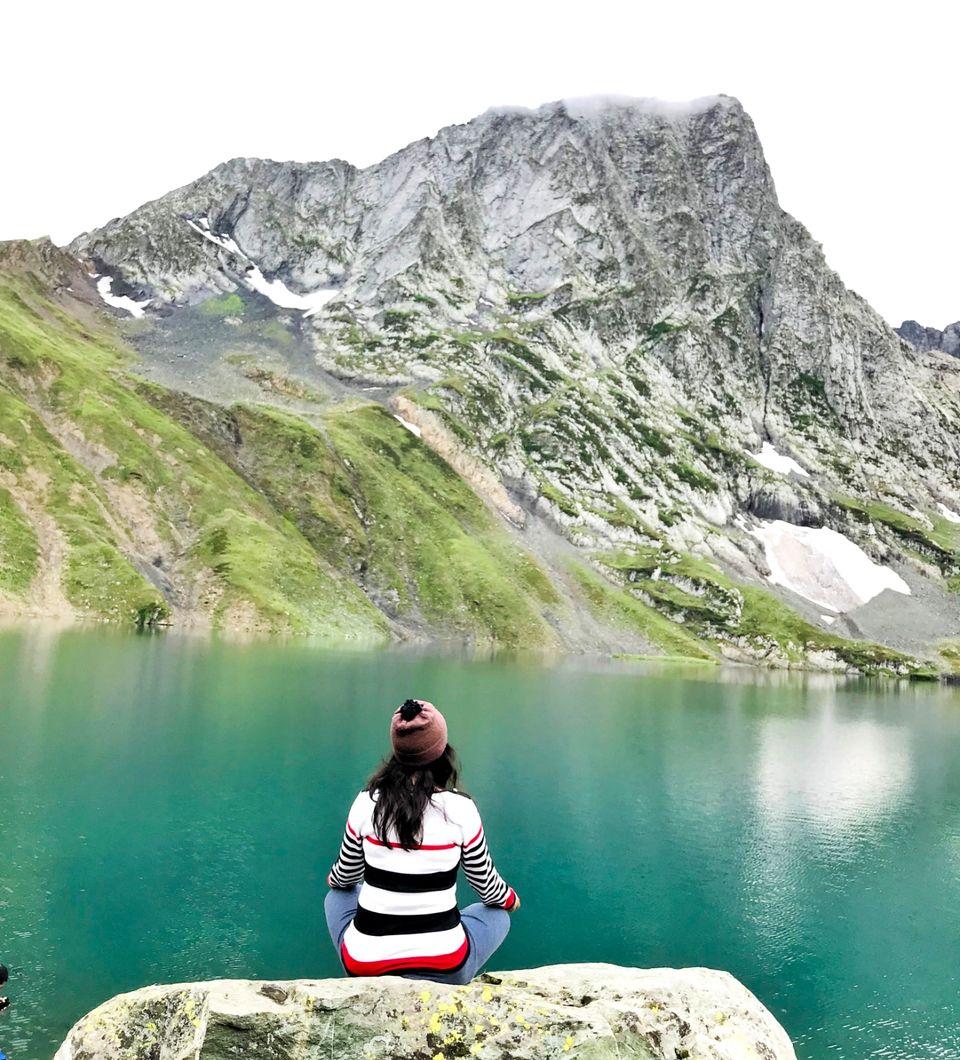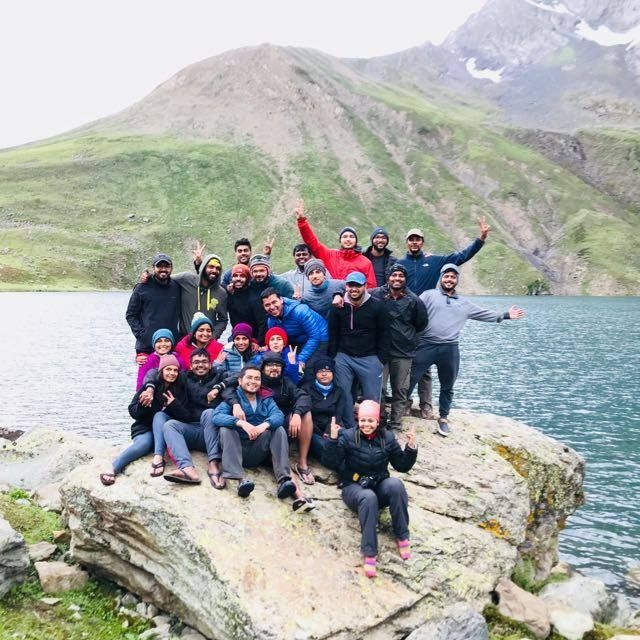 Vishnusar Lake to Gadsar
On the way to Gadsar, just 30 minutes from Vishnusar, comes a point where the twin lakes of Vishnusar and Kishansar are visible together. It was getting difficult for us to climb effortlessly in rain due to the weight of wet clothes and wet shoes. Our ascent continued till the Gadsar Pass - the highest point of the trek at 13,800 ft. However we could not stay there for long due to the strong lightening and thunder as higher altitudes are more prone to getting struck. Hence we started moving towards our campsite and reached there after a long 10km trek in an extremely annoying weather. During our journey, we came accross the Yamsar and Gadsar Lakes surrounded by beautiful valleys on one side and snow clad peaks on the other.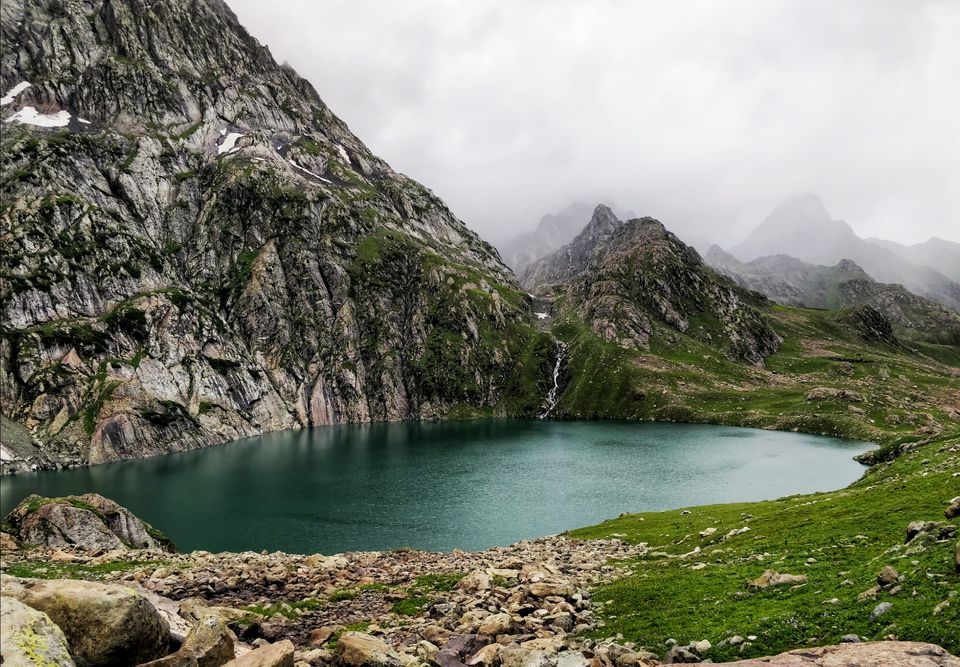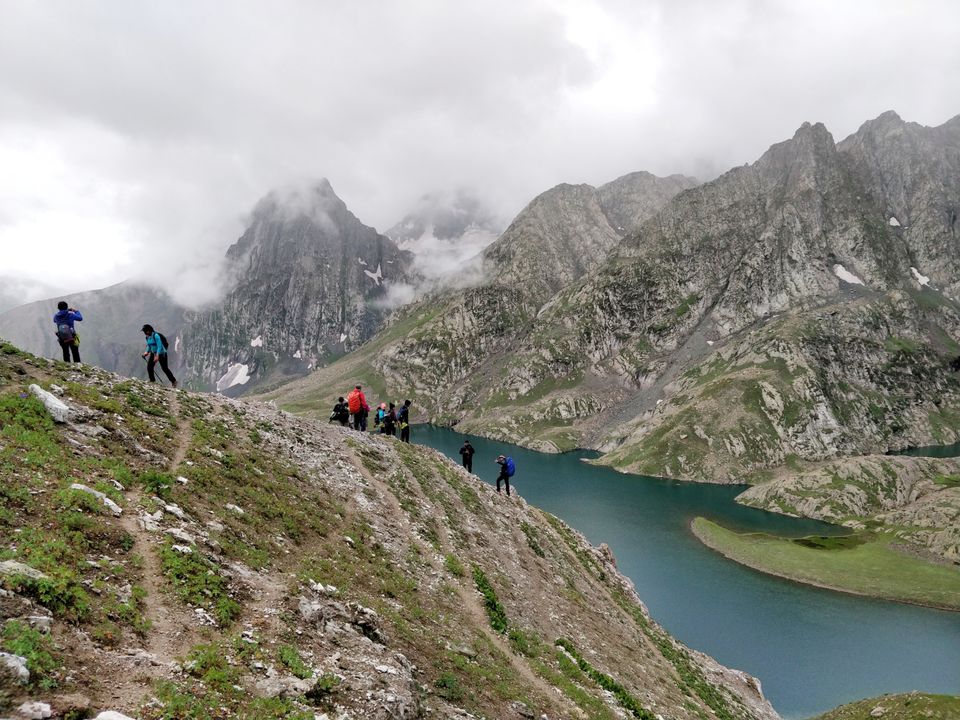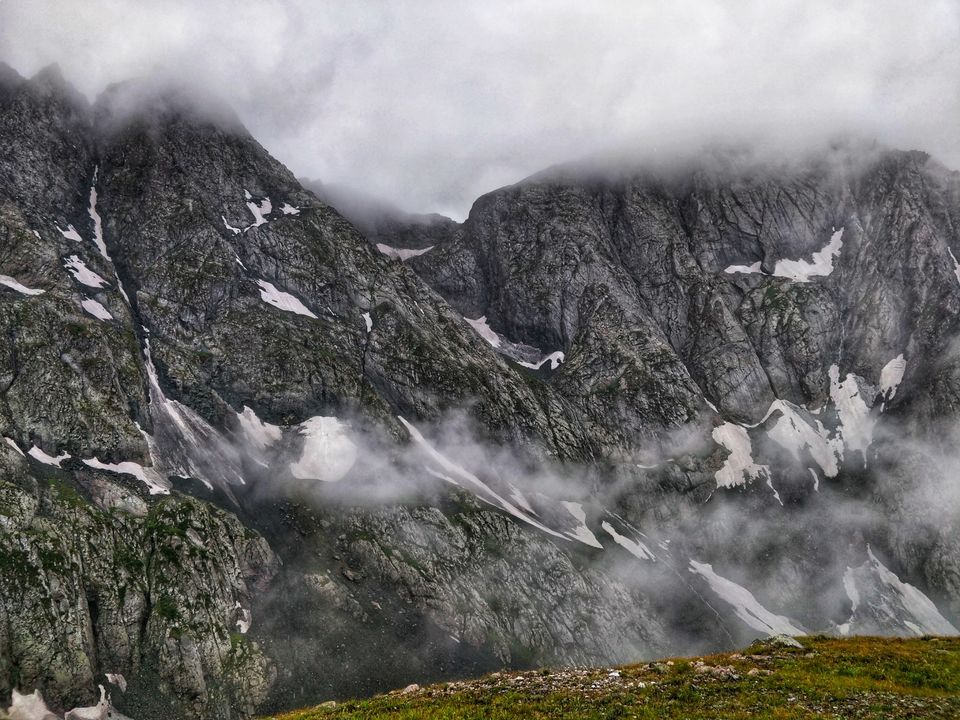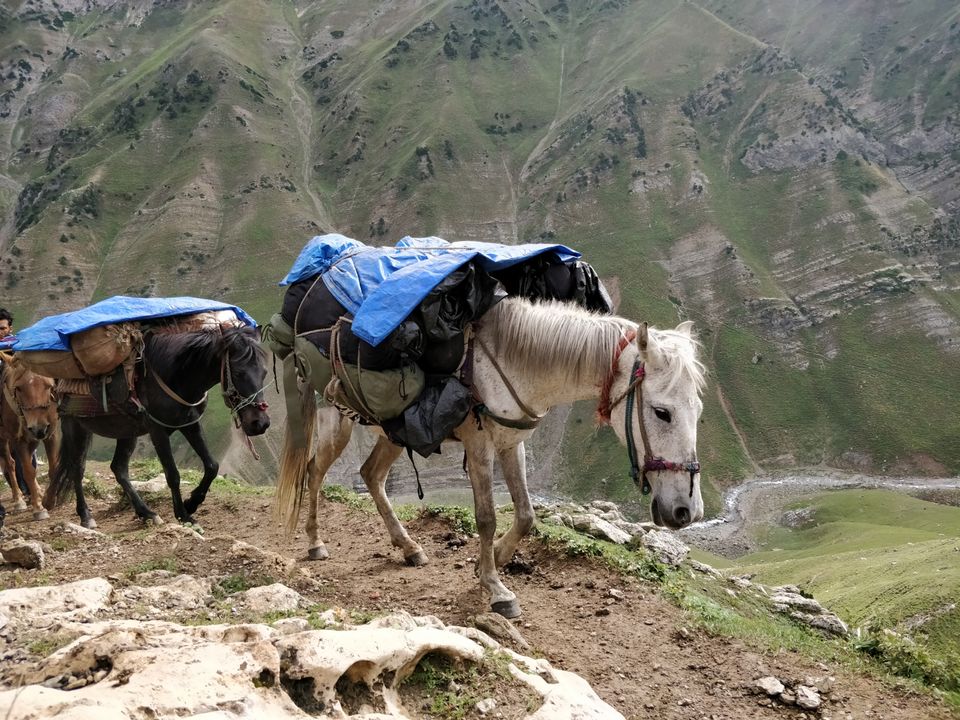 Gadsar to Satsar
By this time, almost half the trek was over and we were comfortable walking for long hours in all sorts of climate and terrains. This morning we got a glimpse of sunlight after two dull days. The initial stretch was quite easy - walking along a narrow path by the edge of the mountain. We did get a few boulders on our way while crossing the streams. It was a short trek and we reached the campsite by lunch time. Satsar is a collection of seven (sat-sar) lakes of which 4-5 are usually visible. A set of two magnificent lakes was at a 30 minute walk from our campsite. However, little did we know that we had to cross a huge patch of rocky boulders to reach the second lake. But we decided to put that extra effort as we didn't want to miss a single view.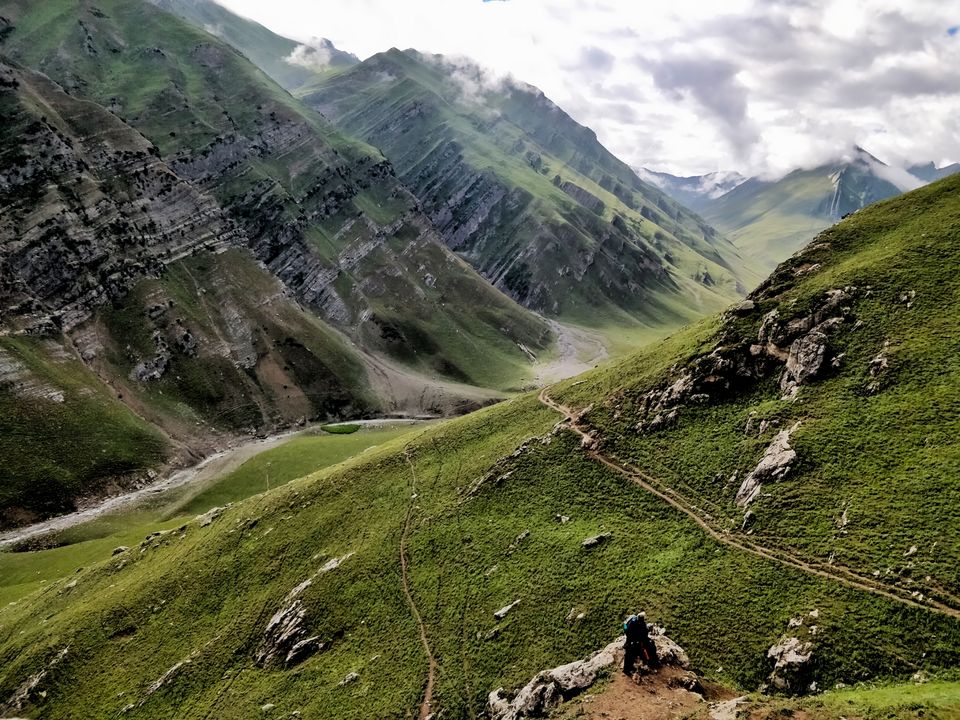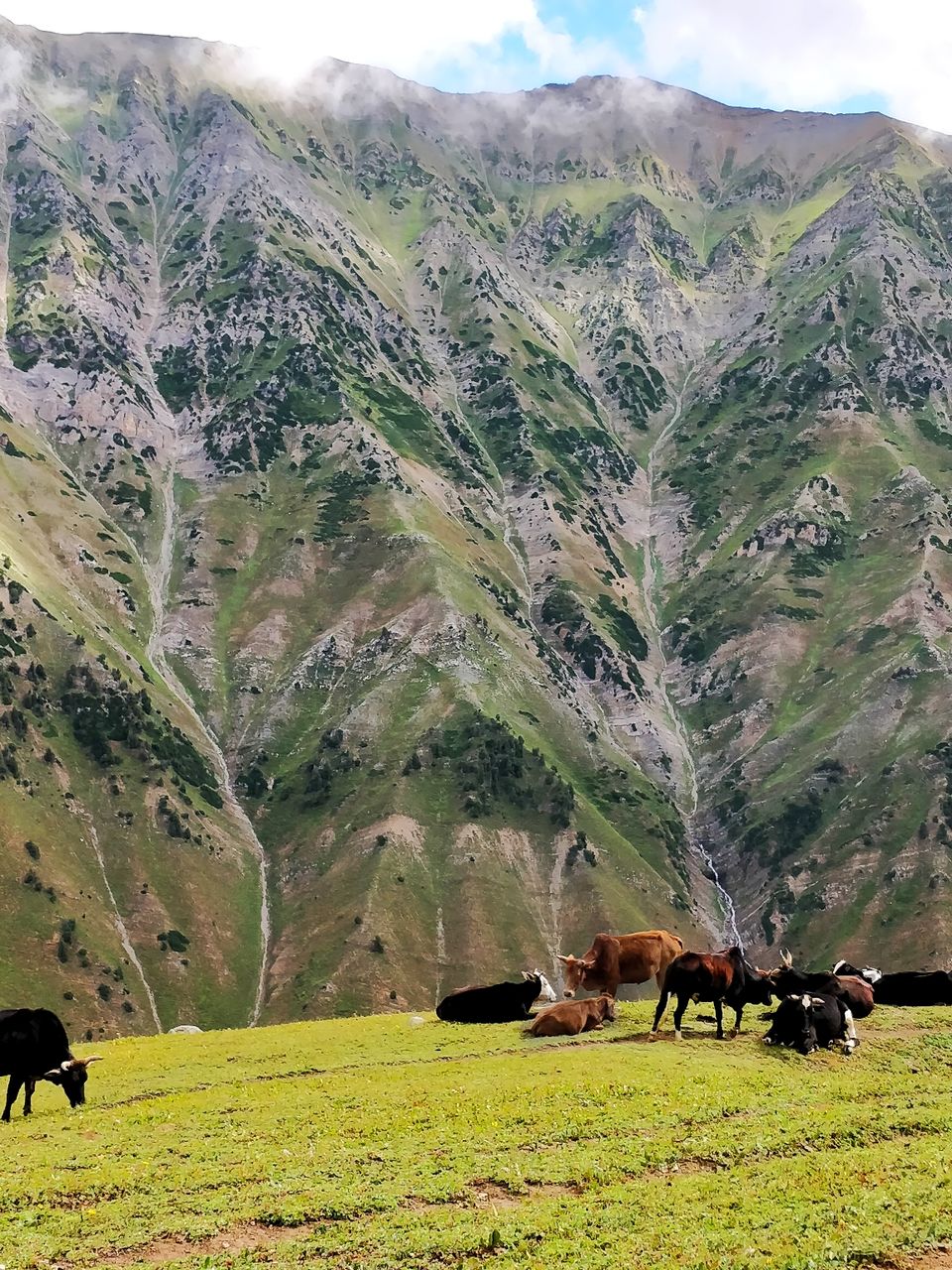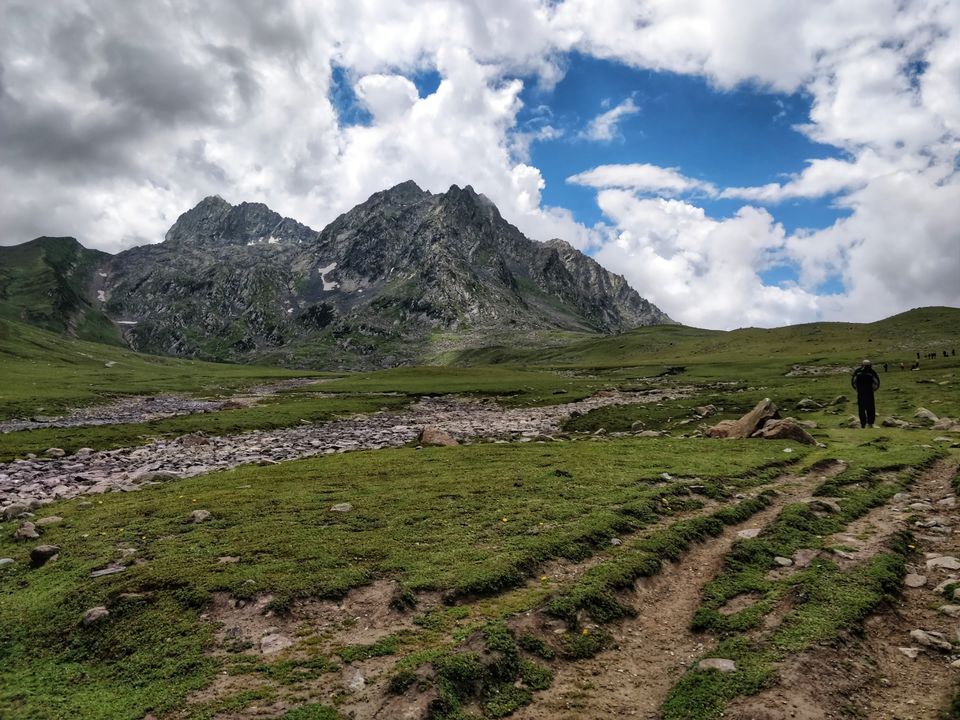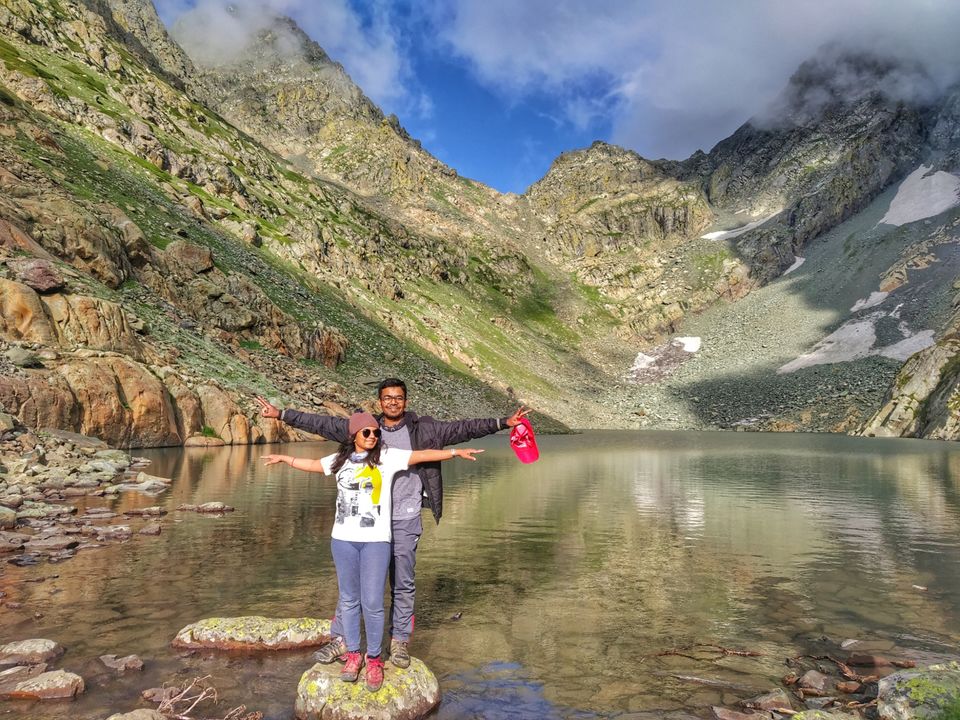 Satsar to Gangbal/Nundkol
The day started with a boulder hopping exercise since the initial 2 hours had a terrain full of rocks. This was a true test of our presence of mind. After a series of ascents and descents, we reached the Zaj Pass (about 13,400ft) from where we could get the best view of the twin lakes Nundkol and Gangbal but it was too foggy to be able to even get a glimpse of the lakes. After waiting for an hour, the skies cleared and the view was beyond expression. The blue lakes, green meadows, and the foggy blue sky painted a breathtaking picture. We descended for another two hours to camp alongside the Nundkol Lake.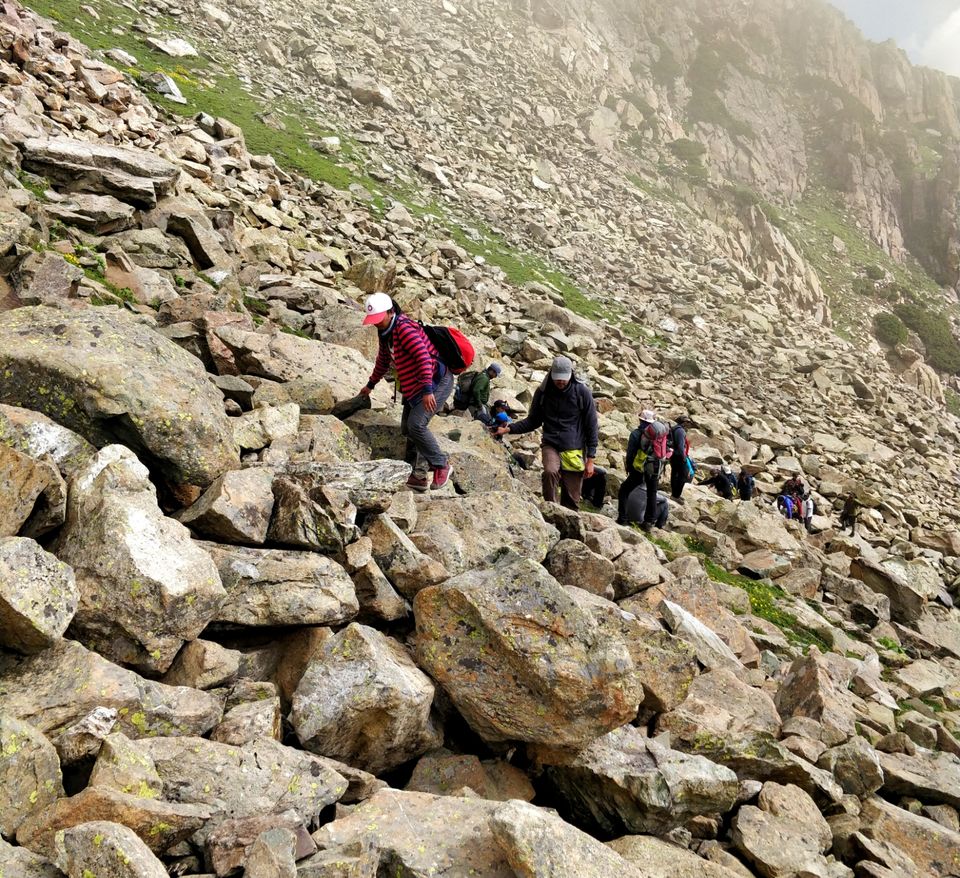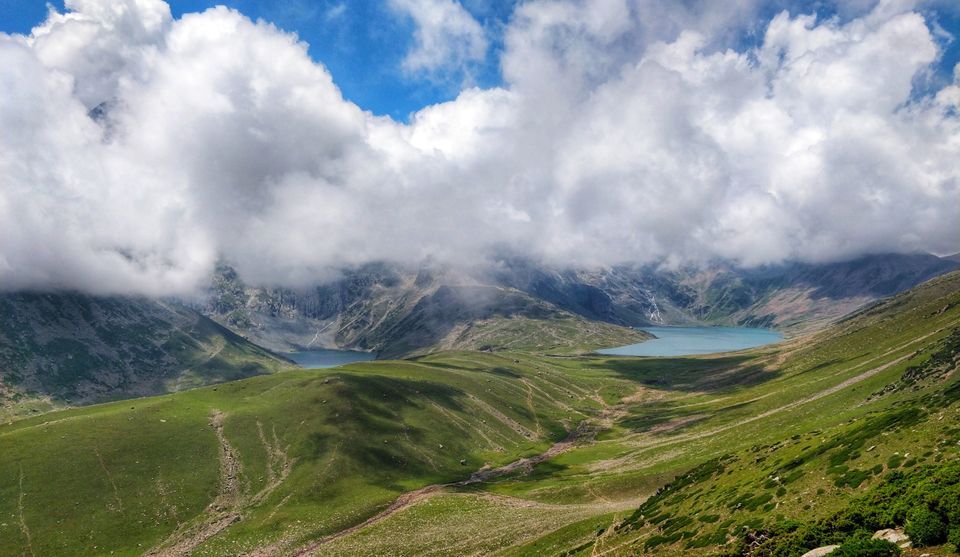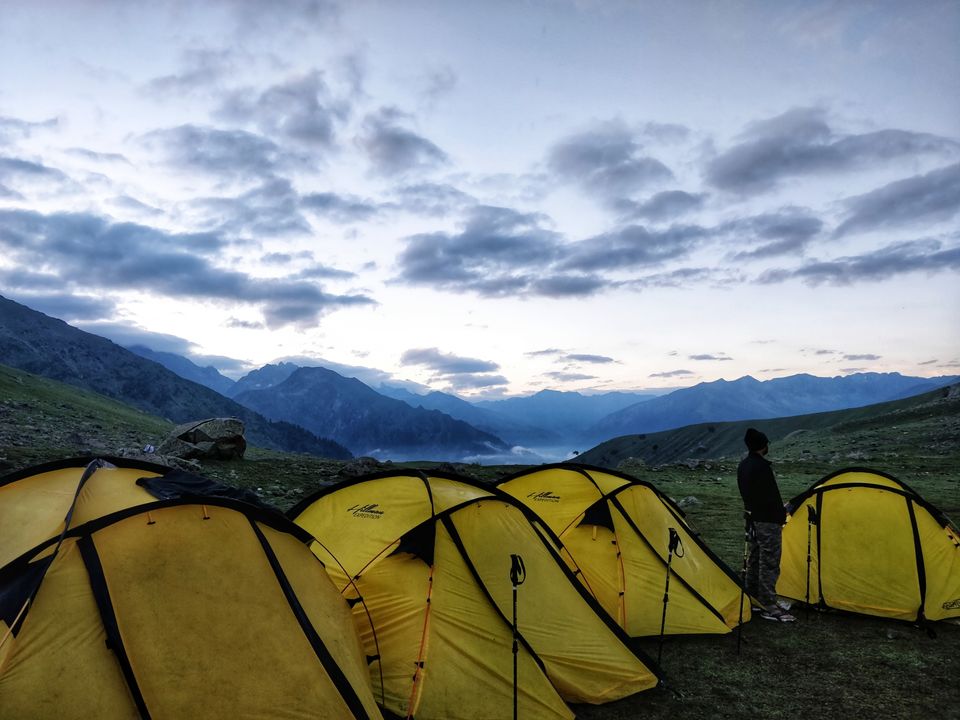 Short Trek to Gangbal Lake
It was a leisure day for us and we were only to trek for an hour to the Gangbal Lake. It is the largest of the lakes in this region where the water feeds in from the melting glaciers. We spent quite some time along the stretch of the lake taking pictures at various scenic spots. The boys took a dip in the lake followed by a refreshing swimming session. We came back to the campsite and spent the rest of the day with some exciting team building activities suggested by Naman. He was a great trek leader keeping the entire group engaged at all times and his experiences about other treks were a treat to our ears.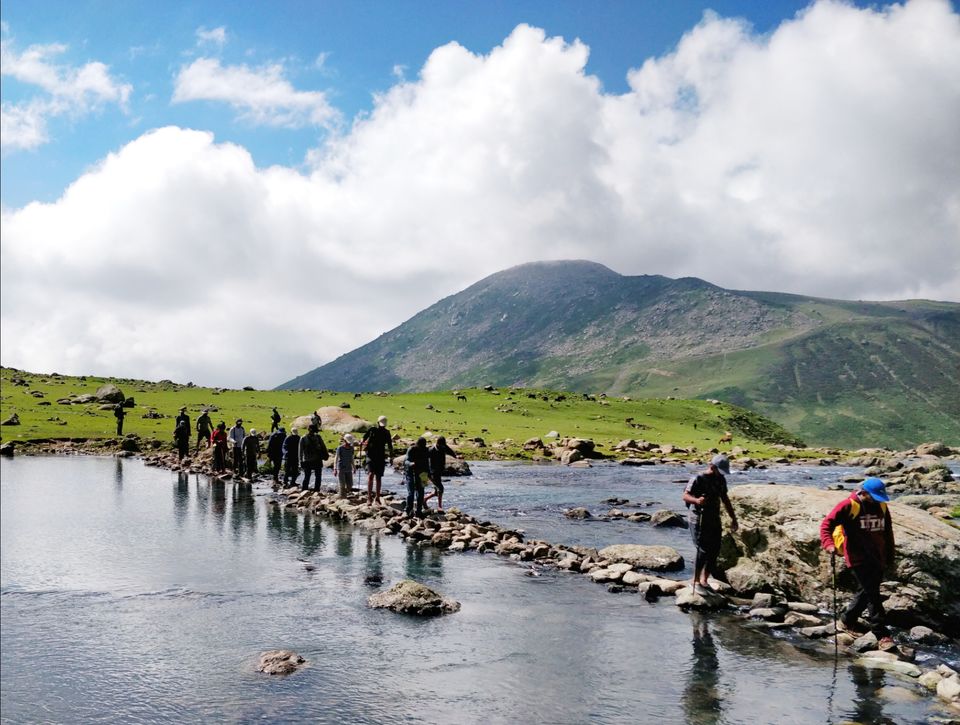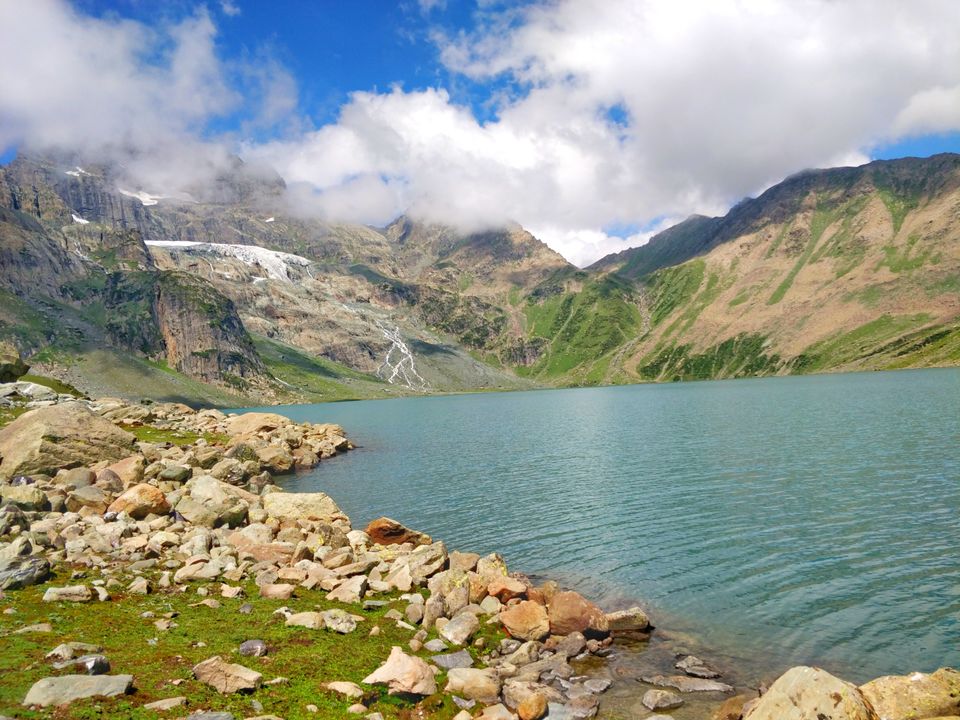 Gangbal to Naranag
We were happy to have reached the last day of the trek and more so because we did not have any more tiresome ascents. Descent would be a cake-walk or so we thought. We started our journey crossing the green meadows into the dense forests covered with tall pine trees. The initial 6km was a cake-walk. But the last patch of steep descent was a whole new challenge for us taking a toll on our knees. For the last couple of hours, we literally dragged ourselves with the motivation that this was the last leg of our journey. We could see the village of Naranag from a very distant point but reached there only after 3-4 hours dropping the height by almost 3000 ft. It was a test of endurance but all 28 of us managed to complete it without any hurdles giving us a feeling of true achievement.
I would never regret my first trek being so difficult mainly for three reasons -
1. It was indeed the most beautiful trek.
2. It made me realize the level of strength I behold and I need to start working towards it more seriously.
3. All the future treks would seem relatively simpler now!