I haven't been able to conjure up any catchy names for this post, so "Mumbai" it will remain.
(There is a very high possibility that any Mumbaikar reading this would promptly throw away his/her phone in disgust by the deep understanding of Mumbai that I pompously proclaim to have obtained in my three-day visit. You would be right too. It is easy for anyone to look at something and string two words together derogating it but living it is an entirely different thing. However, I have a bad habit of writing down what I feel. So, I request you to please ignore my ignorance and move on.)
From my previous post, you would have understood the awe that I had for Mumbai. It's culture, it's buildings, it's people, and all and sundry. Experiencing all these firsthand has given me an extremely different perspective. All that talk about Bombay being the stuff of legends was sadly, just talk.
I had dreamt of visiting 'Bombay', but I encountered 'Mumbai', the concrete jungle. Instead of the quaint little shops and historical buildings, I was greeted by countless highrises and multiplexes. The Bombay in my dreams was an expanse of just about 10 blocks, the area around the Taj, The Marine Drive and Victoria Terminus. Rest of Mumbai is just a hot mess.
The Mumbai Culture
A potpourri of colours, races, religions, and cultures. The slums and skyscrapers go hand in hand. Where there is luxury, there will also be poverty. Being a small town guy, I was amazed by the ubiquitousness of luxury vehicles here, but even more by the sheer number of people who struggled to make ends meet.
The place is aplenty with contradictions. The local trains swarm with vendors selling you headphones for as low as Rs. 50 whereas a small thing like a cap costs Rs. 500 and upwards in Colaba (mind you, they were fake). These were the little things that I felt intriguing and disturbing at the same time. Another funny thing about the place is that, sans makeup, you find it difficult to differentiate between the affluent and the penniless coz both wear torn clothes.
What I have been trying to say for two entire paragraphs is that the rich and the poor coexist here in harmony. Nope, not harmony. They coexist oblivious of each other.
Why Mumbai?The streets of Colaba and the areas where the upper echelon people live have an old world charm about them. Quaint little shopping places and eateries dot these lanes. (Beware, everything here costs 10x more).Simply walking through the streets as the sun goes down gives you the thrill of being in the most happening place in India.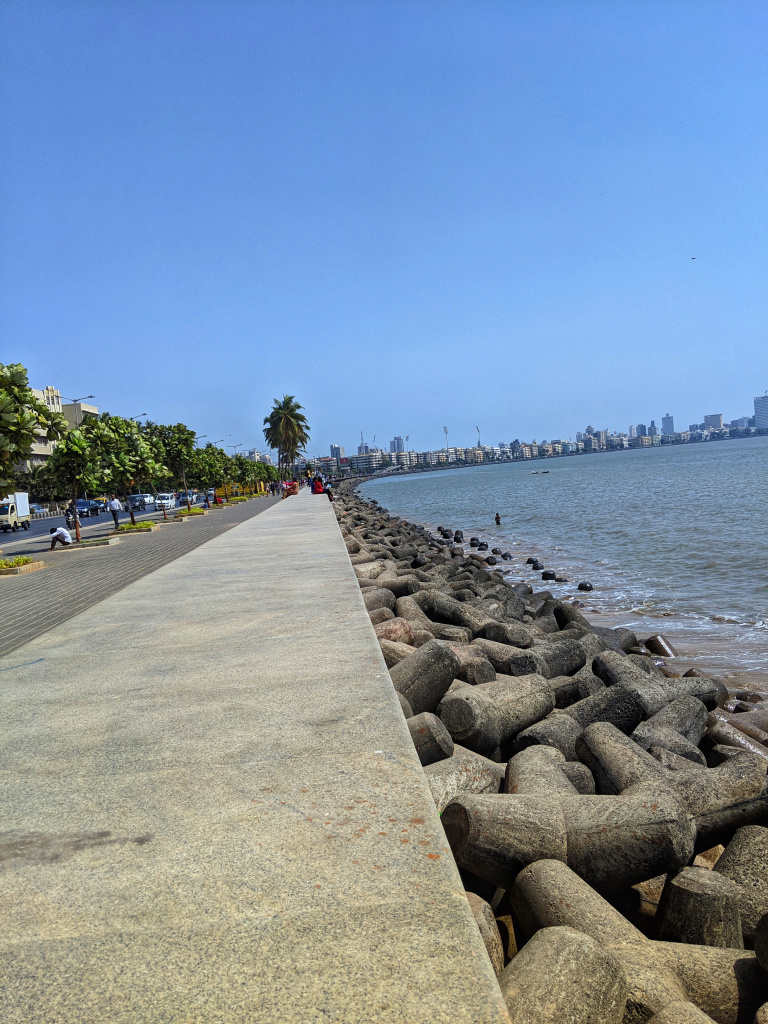 The "Queen's Necklace"Marine Drive, a 3.6 km long Boulevard.
As the night sets in, the crowd thickens. The people of Mumbai are nocturnal in nature. Here, there are markets that stay closed during the day and open at night. 10 pm in these streets everyday is akin to the yearly carnivals elsewhere.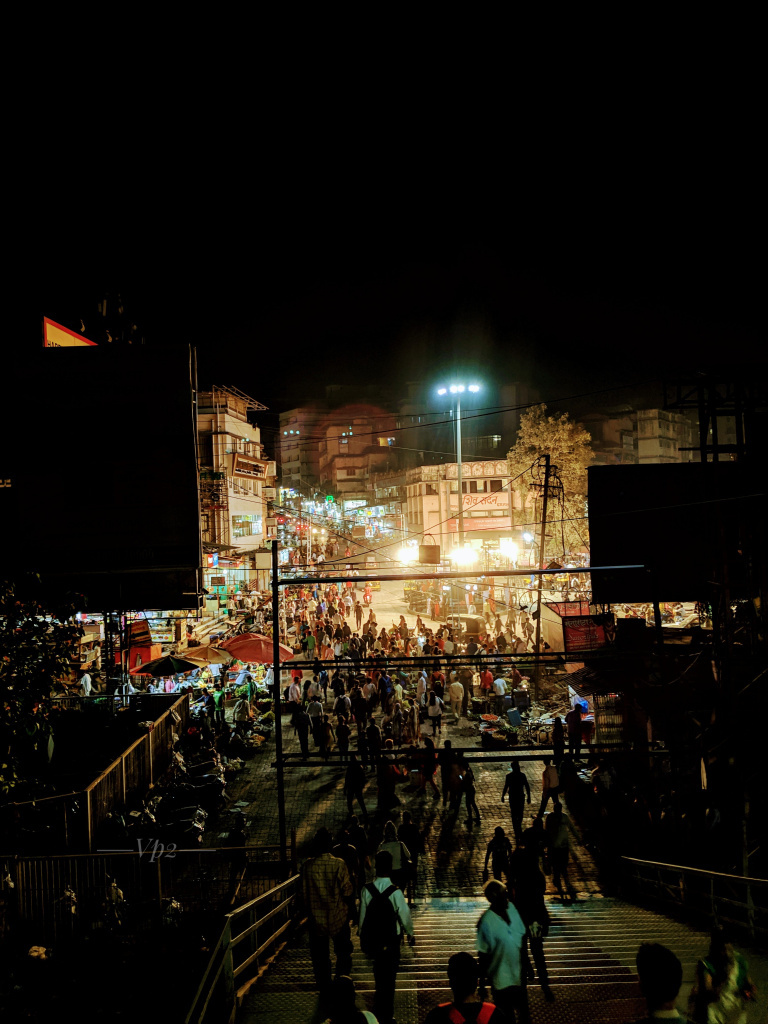 The streets of Ambernath, a town 50 km to the east of Mumbai, at 10 pm.
Why not Mumbai? Everything here is fast. Period. Everyone is running somewhere, and naturally, this attitude rubs off on you too and even you, who came to tour Mumbai, feel rushed.
The local train system which stretches to over 400 km of railway tracks is amazingly efficient. Around 2300 train services operate every day to cater to the daily transportation needs of 7.5 million people. The scales just don't balance! At least 7 people die every day in this so-called 'lifeline of the city'. Travelling in the suburban at peak hours is truly an experience of a lifetime!
Chatrapathi Shivaji Terminus at 8 pm "on a non-office day"
The best thing about Mumbai is also probably the worst. The people here don't nose into others' business. To add more pizzazz to this,
Mumbai breathes freedom.
Are you kissing your girlfriend in public? No problem! Go on! Do you really feel the urge to burst into a song in a crowded bus? Who's stopping you? Show off that splendid baritone!
But as I said, this is also its biggest flaw. What happens if you fall on the road? Nothing! You get help only if you ask for it, otherwise, people are just too busy to care.
The Taj
Perhaps the most famous building in Bombay (I know, I am biased), the iconic Taj Mahal Palace in Colaba is still the most sought after hotel in India (biased again). 116 years on, The Taj continues to defy time, overcoming the vagaries of the weather, the numerous regime changes, and even terrorist attacks. The Taj is special to me. The stories of its resilience in the face of the most devastating terror attack in Mumbai struck a chord in me and it has since remained my favourite. Last month's visit was the culmination of an 11-year-old dream. Not surprisingly, the Gateway of India went unnoticed by me that day.
(For those keeping track, Mumbai is 11th and 12th in my list.Budget : Rs. 6400/- including airfare (Stayed at my cousin's place and made him pay for most my expenses ????)