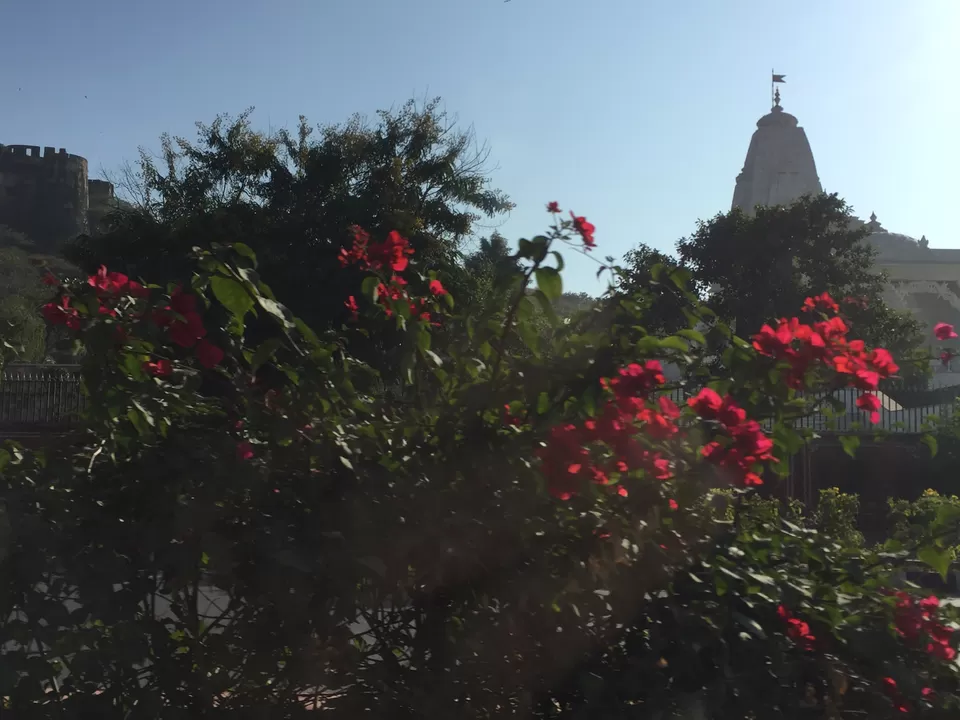 23 January 2022
Route: Western India 2021-22 >Delhi-Jaipur-Ajmer-Udaipur-Bharuch-Mumbai-Lothal-Ahmedabad-Adalaj-Udaipur-Haldi ghati-Ranakpur-Ajmer-Jaipur-Delhi<
Prelude: I am quite fond of travelling and exploring. Talking to strangers brings new perspectives and hence, some time, I do so. My wife Nalini too loved this idea of travelling on road with our own mini-SUV. I am not sure if she shared my vision of exploration, places of tourist interests, ancient temples, monuments, forts, museums related to history. But certainly, her idea included visits to temples of Gods and Goddesses, and may be modern temples like those of malls and bazars.
Every time, I travel I get in to doubt mode briefly. Will everything will go well as planned? Did I do enough to plan our visits? Normally, once I decide the places I wish to visit, then I plan a route that should be more of straight kind. I will avoid the deserted roads.
An idea of travelling was borne when I saw people travelling in caravan van. A friend of mine in Australia did so after retirement for a year exploring the country. I thought of alternative approach that my friend used. Travel 200-300 km each day, rest, explore and then be on road to the next destination. It did not include everything at a place to be seen.
Driving by road needs nerves of patience, determination and stamina. Fortunately, I have all of them, may be in different proportion and more or less in quantity. And with modern cars, we get all facilities of comfortable driving like GPS guidance, automatic gear change and cruise control, besides many others. Indian road infrastructure has improved a lot over the past many years with few patches of roughness or some potholes even on the so called highways. Having spouse with driving skills is a plus point. I am fortunate in that respect.
Advantages of driving own car are many. We can dump all our needs during travel and divert your route the way you like. And if need be, you can hire a driver at any time, if you had enough of driving yourself.
Travel route will also mean exploring possibility of meeting your friends, relatives and acquaintances that you may not have met for many years. Will you like to inform them in advance or know if they are there when you last heard of? Will meeting them waste your time or enrich your travel experience? These questions may cloud your thoughts. It is up to you to decide. As winter sets in December, we intended to escape Delhi's cold weather.
So, with so many thoughts and feelings, we started off finally. Yes, finally. Because the date of departure that you set in the mind will come, no matter whether you are completely prepared or not. I had prepared my checklist for essentials, yet missed stuff from that. So leave something for granted. Not every details could be anticipated or actually picked up. Ensure that you carry all car related documents in print and in digital form along with your identity and credit cards.
With some scolding to be careful and best wishes of elders, we were on our travel in December 2021 and Jan 2022 for a month.
Travel sketch
https://goo.gl/maps/3MyceypsGZgYrg3n9
Day 1 (Dec 20 Mon): We planned to leave early morning at about 6 am during winters when temperature neared 10 oC. With our routine, we left one and half hour late, invoking prayers to Ganesha, the Elephant headed God who takes precedence over everything that is auspicious to start with. As we hit the main road, the first thing that greeted us is a loud sound of horns of vehicles. These came in varying frequency and volume. Over the years, we Indians are used to love them as we are loud mouthed and loud eared. Occasionally, it may be irritating.
We reached first destination, the pink city of Jaipur after 6 hours, with two breaks of 15-30 min each for coffee and snacks. We were invited for a dinner by a friend in Siddharth nagar. We were glad to see his palatial house, with very nice terrace garden and know his passion for farming at his village.
Day 2 (Dec 21 Tues): We visited Ganesha temple in the morning at Moti Dungari and then Laxmi-narayana temple, also called Birla temple at the foot hills of Moti Dungari. Our cab driver (just for local visit) talked about gold and silver that was found in tons hidden in Moti Dungari which was allegedly unearthed during Indira Gandhi's regime.
The morning was cool and sunny and provided much needed warmth during these winter days. Both temples presented deserted look as few devotees had started trickling in early morning. Later, many came in, and most of them were Rajasthani tourists. At times, covid-19 prevention norms were thrown to winds, as face masks came down the cheeks or came out of face and tourists gathered together. Photography with smart phone was common despite ban on its use.
Later, we went to Johari Bazar (market of jewellers), about 4-5 km from Moti Dungari, purchased saris (Indian women clothings) and had lunch of daal, bati and churma at Laxminaraya Bhavan. Street shops had lot of local jewelleries too. Besides, there were many shops for clothings, especially Rajasthani. Lehangas and saris in bright colours were very enchanting and so were artificial jewellery that could weigh as much as in kg. Nalini made the best use of this visit. Photo 2 of Hawa Mahal, a single brick walled palace that is reputed to be windy, and the fort on hill top from temple at start of Johari Bazar.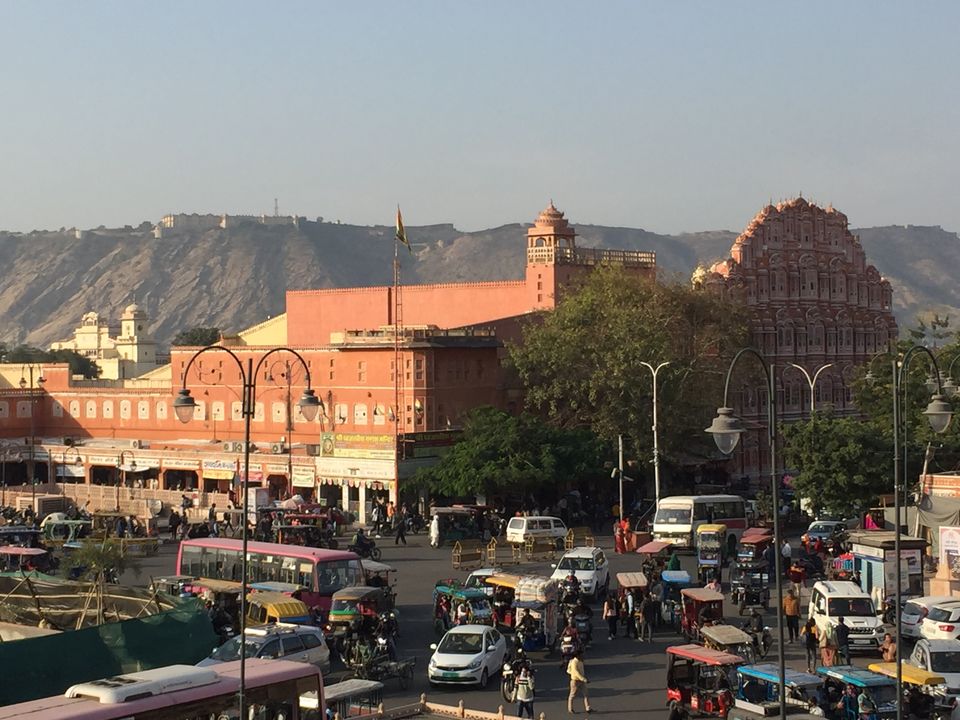 Nalini had invited her childhood friends for dinner. And we had a dinner with one who could manage to come with her elder son. It was pleasant evening, sharing those childhood memories for Nalini.
Day 3 (Dec.22 Wed): We left for Ajmer in the morning. Prior to that, we visited Akshaya Patra temple (an offshoot of ISKON for providing meals to the poor especially children) and then their kitchen that used to serve day meals for the Govt school children. I have volunteered to collect funds for Akshaya patra (plate of food that remains full for feeding the needy) in the past. In view of Covid-19 pandemic, presently this kitchen is supplying only dry ration kits to the parents of school children and thus ensuring nutritious diet to them. Later, we visited a friend of Nalini. She and her husband were happy to welcome us.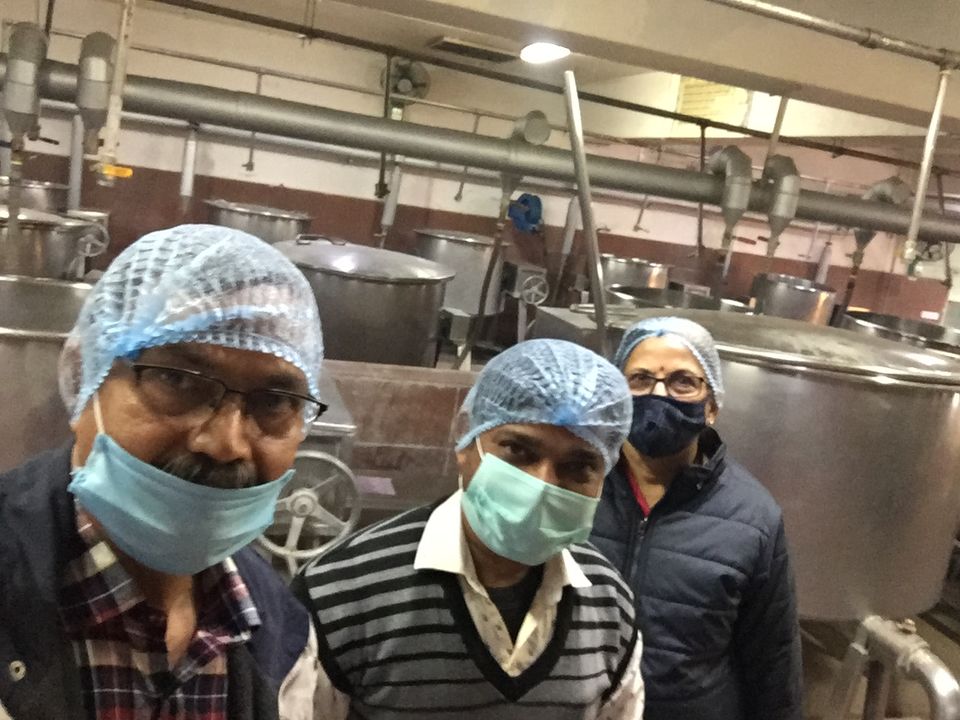 We left Jaipur at about 11 am and reached Ajmer at about 2.15 pm. Road was very nice. We reached our guest house which is located just outside Ajmer, on the large farm area against the backdrop of Aravali hills.
Day 4 (Dec 23 Thurs): We left Ajmer for Pushkar. On the way, we saw a beautiful lake
Equally fascinating were the Jain devotees, some on wheel chairs. This remined me of Shravan kumar who carried his mother and father on shoulders to pilgrimage in our scriptures. We saw a good number of women pilgrims walking on their own either singly or in group carrying a bare minimum on the highway. Jainism is very much dominant in Gujarat and to some extent in Maharashtra. We often saw women taking their cattles for foraging early morning. I did not see men playing cards, while women tended their cattles in the morning as in Haryana.
We visited Brahmaji (Originator God of Hindu faith) temple with a lake nearby. Lake is dirty with cows nearby and flowers being thrown in the lake. The God Brahma has only one temple in India, and that is here in Pushkar, where he is worshipped, while his compatriots like Vishnu and Mahesh (Shiv) has many more. It is a single body with three heads of Brahma, Vishnu and Mahesh who are responsible for creation and functioning of the Universe. It is said that Brahma ji was cursed by his wife Savitri, as he did not wait for her to participate in the yagna (reciting of holy scriptures over fire) and just before start of yagna, married another woman, Gayatri as Brahma could not do so without wife for yagna. This temple is located near a lake which was formed with the falling of one petal of lotus flower on the earth during killing of demon by the God Brahma. We visited Savitri temple, simple at hill top with ropeway. It gave a good idea of Pushkar township from top.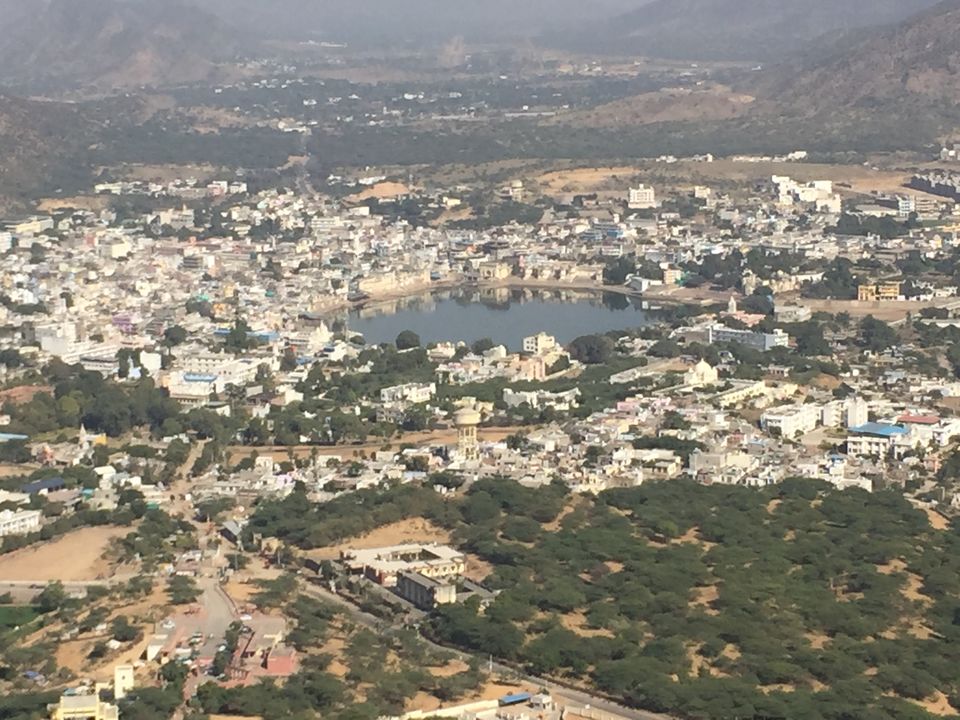 In the evening, we were invited for sumptuous dinner at home of a friend. The house has a very nice water harvesting system with which he collects about 16000 lt of rain water, which is used at 500 lt per month for drinking purpose. This has TDS of 60 while water supplied by Ajmer Municipality has more than 200 TDS. We were served this water for drinking after RO treatment.
Day 5 (Dec 24 Fri): We left early morning Ajmer for Kumbhalgarh. It was pleasure driving through countryside with lots of fruit trees like those of sitaphal (custard apple), guava, mango, neem on both sides of road. Sitaphal was in its fading fruiting season. Nalini bought five sitaphal for about Rs 5/-. They tasted sweet. As we reached Kumbhalgarh, we saw the magnificent resorts cum hotels. We reached Kumbhalgarh at about 2.00 pm. After lunch at its restaurant, we went to see Kumbhalgarh fort, built by Maharaja Kumbha. It is in this fort that Maharana Pratap was born. It is about 500-600 years old. At first we saw expanse of boundary wall of fort (about 33 km long, the second longest after the Great Wall of China) on the right side of entrance gate. There were some temples too. Later, I climbed up the fort on the left side. The top presented magnificent view of fort as well as mountains and valleys. Being the month of December, it was pleasant, as I sweated during this time of winter. Please read my blog for more details and photos on Kumbhalgarh at
https://govindgujar.blogspot.com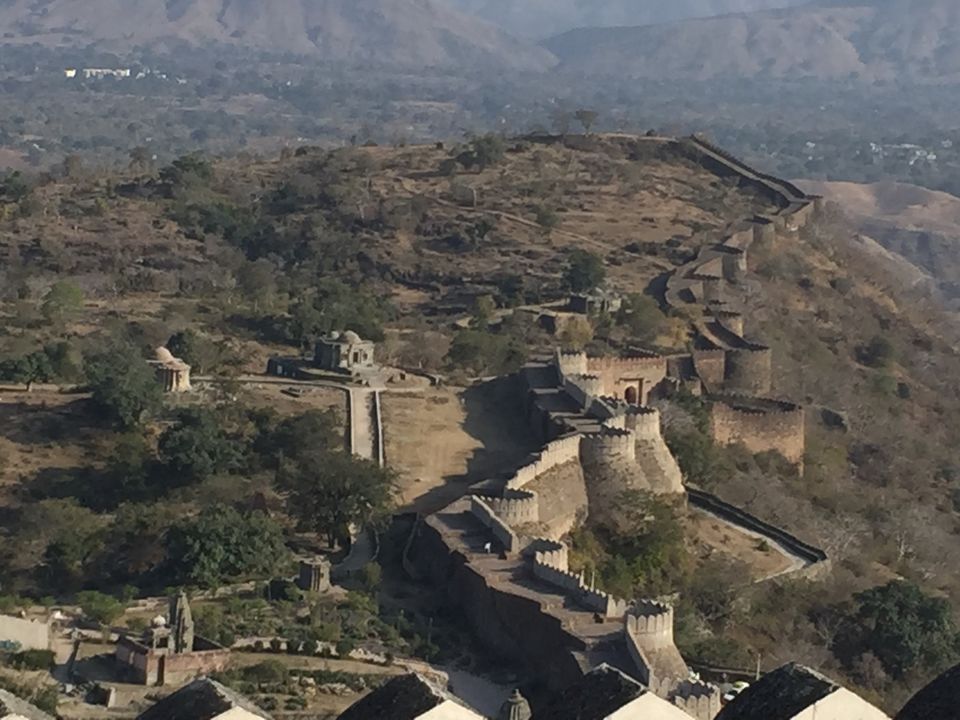 Day 6 (Dec 25 Sat): We left Kumbhalgarh early morning after settling bills of hotel stay. As day progressed, sunshine brought warmth. We had to remove sweater during drive. After an hour, we happened to see the Hingulaj Mata mandir which is our kul-devi (ancestral Goddess). This temple is on a small hill but within a cave. We prayed at the temple early morning and were the only devotees for the morning prayer. Inside cave, there were some bats too.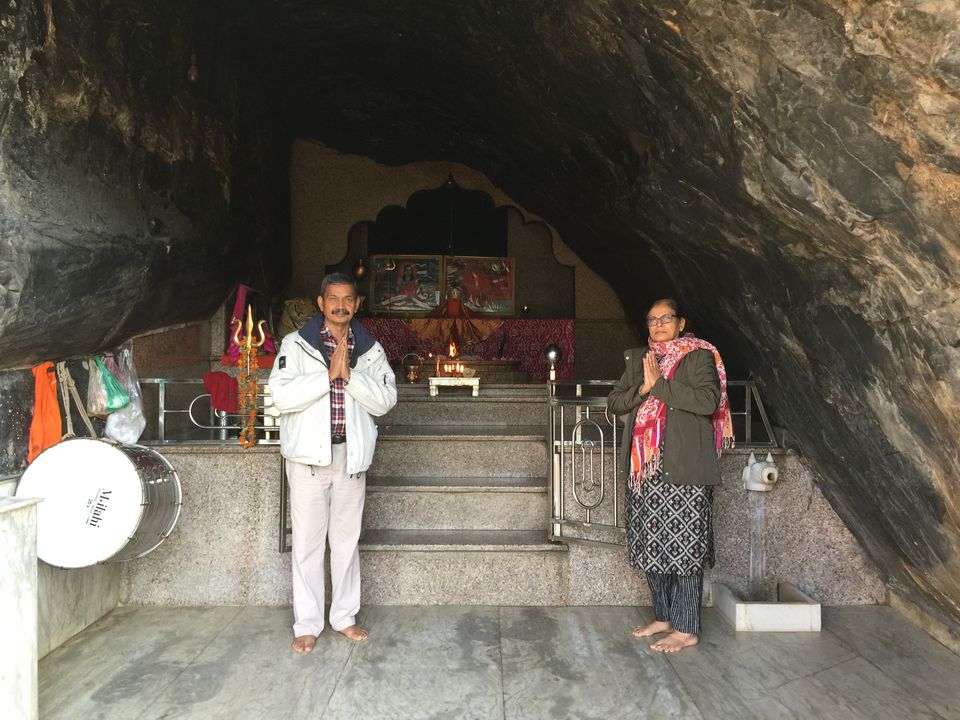 At Hingulaj Mata mandir inside cave on the hill top on the way to Nathdwara
We had a breakfast on the way to Nathdwara. Drive at times was rough as road was not so good. We reached Nathdwara at about 10.30 am, parked our car close to one-side of gate of go shala (cow shed) and went to the Shrinath ji temple.
It was crowded with many pilgrims. It was impossible to maintain Covid-19 appropriate norms. The devotees are not supposed to carry bags and mobiles. God was successfully kept out of our photo collection. It is a Lord Krishna in his teens, all in black with left hand raised to give blessings. This statue was reportedly brought from Mathura, and installed here in Nathdwara about 500 years ago.
Later, we reached Udaipur at about 1.30 pm. We missed Haldi ghati Museum and Ekling ji temple which is outside of Nathdwara and on the way to Udaipur.
Day 7 (Dec 26 Sun): We left Udaipur in the morning at 7.30 am for Bharuch. This is more than 410 km distance, so far our longest journey in one go. It was pleasure driving through various hills, mountains that surrounds Udaipur. It must have been about 150 km journey on the well maintained road with lots of round-abouts and then left side diversion for Modasa, that is on the state highway 5. We had breakfast at about 9.45 am and then via Godhra and Vadodara bypass, we reached Bharuch. We had lunch at Jagdish restaurant near Vadodara. This state highway is not wide, but well maintained with relatively less of traffic. It is only after Godhra that we had traffic to contend with, with more of trucks. We reached at 2.30 pm at our relatives' place in Bharuch.
During this trip from Udaipur, we realised that GPS system of the car did not work or did not guide correctly. I am not sure if this is old version of GPS. We had to rely on our smartphones. We had to seek guidance of local people some time. We had changed our programme, with priority for daughter and grandkids who were having Christmas holidays. Staying with them will be pleasure as it will be reciprocal. We therefore went straight to Bharuch and then Mumbai, rather than Dholavira and Rann of Katchh festival and Dwarka and Somnath in Saurashtra that we had planned earlier.
Day 8 (Dec 27 Mon): We were in Bharuch this day too.
Day 9 (Dec 28 Tues): We left Bharuch in the morning at about 8.30 am for Mulund (East). On the way, we halted at Navsari and met Dr. Zinabhai P Patel, Vice Chancellor of Navsari Agricultural University It was pleasure meeting him after 1994. Later, we visited our family friend Dr. Maganbhai G. Patel. We left Navsari at about 12.30 pm and then proceeded towards Thane-Mulund. Just about 100 km before our destination, Nalini started driving and successfully drove until our destination in Mumbai. Road conditions were good, but traffic slowed our speed to less than 50 km/hr. GPS worked well to show directions correctly. We reached at about 5.15 pm on Tuesday, the 28th.
Mumbai was quite pleasant, sunny and dry. No need of sweater during day or blanket during night.
Day 10-26 (Dec 29 Wed- Jan 13): We are in Mumbai for 16 days, our longest stay with our daughter and her family. We enjoyed for some days with Jiya and Jai, our grandchildren. Then, I had fever on Jan 5 and hence, I was quarantined in one room. Later, this turned out to be Covid19 infection with RT PCR report. With paracetamol for one day, the fever was brought to normal. I maintained oxygen level at about 94-97 and pulse rate of 70-80 per min during this illness. My daughter and family had left for Pune on the day of my infection. I got RT PCR for Covid19 again on the 7th day. Armed with negative report on the 8th day, we left Mumbai for our return journey on the 9th day.
Day 26 (Jan 14): We left Mumbai for Bharuch at 7.45 am in the morning. We had a brief stop after one and half-hr drive at Shri Datta restaurant, with vada pao, sabudana vada, dahi and coffee. Later, we had ubadiyo before Valsad. Gujjus are crazy with ubadiyo as they waited patiently to buy it for more than one hr, and ate it as plain without suppliment of bread at the roadside dhaba. We reached Bharuch at 2.30 pm. Bharuch was decked in festivities of Makar Sankranti (Sun moves northward; God Sun visits his son Capricorn on this day to repair and renew his ties as per Hindu mythology), with ubadiyo (veggie cooked inside earthen pot on wooden fire), undihio (veggie mixed and cooked with frying in oil in a conventional way) and a sweet, jalebi (circular shaped dough fried in oil and soaked in syrup) for food, kite flying for entertainment with festivities in the night with fire crackers, bone fire, dancing and feasting.
Day 28 (Jan 16): We left Bharuch early morning in darkness at 6.30 am for Lothal (a mound of dead) in Saragwada village in the Dholka taluka of Ahmedabad. As we hit the highway, we eventually had a day break at about 7.15 am. Later, after some GPS hiccups taking turns for Lothal, we crossed Vadodara flyover, turned left and followed state highway towards Bagodara. Unfortunately, Lothal appears to be least advertised and visited place as some did not know of its presence. The state highway towards Lothal was very nice with least traffic. We drove at the speed of 100 km per hr for quite some time. On the way, there were fields of tobacco crops, and to some extent, wheat. We also saw transplanting of rice. Besides, there were some vegetable crops like beans, cauliflower. After one hr, we had breakfast at one dhaba (roadside restaurant) and then continued on that road until diversion for Lothal. The lothal road was rural road. On this road, we saw many fields of desi cotton, hardly with some flowering and poor bolls. Besides, some fields were those of sorghum and wheat. This rural road was of about 7 km when we saw a board of Lothal and Saragwada. At Lothal (estd in 2200 BC), we were greatly disappointed as the museum was closed. And it is closed for more than one year for civil work renovation. A villager Mr Suraj offered to show some excavations. A well laid out rectangular brick walled tank filled with water used to serve as dock for boats that traders carried until the Bay of Cambay where the ships plied about 4500 years ago. Indian archaeologist S.R. Rao is credited with discovery of this Harappan civilization site as he and his team dug during early 1950s at the place where big mound of earth stood. Eventually he unearthed this well-built rectangular dock and nearby Acropolis and the lower township. This dock was fed with water from river Sabarmati and its tributary and was about 15 km away from Cambay, sea port. Further away, there are dwellings that stored goods which were traded with countries like Oman, Iran and others. There was a dwelling earmarked for bead factory, another for gold work, elsewhere were burials and small township. At the peak of evolution of this civilization, there were about 1500-2000 people who lived here, with the Chief having his residence away from those of others and commercial complex. It was prosperous town with rice and cotton cultivation. However, due to major flooding, this was completely abandoned after 1900 BC. Skeletal finding of couple along with their favourite goodies at the burial site shows the tradition of burying dead which is different from cremation that we follow for most Hindus in India.
It is said that there was so commonalities between dwellings at Dholavira, Lothal and Mahenjodaro and hence, with detailed studies, Lothal was said to belong to the Harappan civilization or Indus Valley Civilization (2600-1900 BC).
We left Lothal at about 12.30 pm and reached Ahmedabad at 2.30-3.00 pm after having a short break for dal roti. Just before Ahmedabad, there is a famour Ganapatipura where the Lord Ganesh temple is located. We visited this temple. There was a fair crowd of devotees, relatively well organised. I bought a cotton gamcha a pair for Rs 100/-.
We stayed at our friends' home who lived at Bopal, Ahmedabad. Mrs Lamba is a childhood friend of Nalini. Lambas took us to river front of the river Sabarmati which was full of people, with many muslim-ladies in burkha with their families.
Day 29 (Jan 17): We left Ahmedabad at about 7.45 am in the morning for Adalaj, famous for step well built in the memory of Waghela Chief Rana Veer Singh by his wife Queen Rudadevi in 1498. It is also called Rani ki vav (Queen's stepwell). Stepwell is a five storeyed elaborate structure with spiral staircase as well as wide uni-directional staircase. Each storey has elaborate carvings. It is octagonal. It is beautiful. It is said that Mohummad Begda who killed Rana Veer Singh in a battle was so enamoured of beauty of Ruda devi that he stopped her from commiting sati (self immolation after husband's death) and proposed marriage. Rudadevi agreed on the condition that this stepwell would be completed before marriage. The architecture of stepwell therefore has imprints of Mughal culture too. This stepwell is worth seeing. After completion, Rudadevi committed suicide by drowning in the well, as she did not want to honour her commitment which would have been a betrayal of late her husband as per Hindu tradition.
We left Adalaj at 9.30 am and reached Udaipur's City Palace at 1.30-2.00 pm the same day. We had a Pizza at City Palace restaurant that costs me Rs 1003, the costliest pizza that I bought in India in my life. Later, we visited City Palace until 5 pm. We reached MPUAT guest house at about 5.30 pm, about 2.0 km from City Palace, I drove car all the way. It was strenuous as I reached Udaipur. My eyes were strained, body weak and Nalini too was feeling sleepy. I needed some rest, although we had a 10 min break between Adalaj and Udaipur after Himmatnagar.
As soon as we reached our guest house, we took rest in the comfort of our quilt.
Day 30 (Jan 18): We left the guest house at 7.30 am and then reached Haldi ghati museum at about 8.45-9.00 am. The road was fine for the first one hr but later, it was a rural road. The Maharana Pratap Museum was not yet open, although tickets were issued to us, the only visitors. We spent some time looking around rural scenario and statues of Mewar warriors/Maharanas and shops selling mostly Rajasthani merchandise. Later, we saw museum especially video snippets depicting Maharana Pratap's birth in Kumbhalgarh, his upbringing in Chittorgarh and then after his defeat, he was wandering for nearly 21 years until he established his kingdom. He was one who fought Mughal emperor Akbar whose army was commandeered by Raja Mansingh. Maharana Pratap also had muslim commanders. It is a fight for Maharana's motherland and Mughal emperor is invader. If you are around, this place is worth visiting.
A few meters away from the museum, we went to see Maharana Pratap statue riding his famous horse Chetak who died at this site after freeing his master from the capture by the Mughals. This is situated at hill top from where we could see majestic Aravalli hills on all sides.
About two km further, we saw Haldi Ghati (supposedly yellow hilly narrow turns) of about 1 km length where battle was fought. It was reported that so many soldiers died that on rain, there was blood bath all around. It is called rakt taal. In Haldi ghati, some rocks were yellow in colour from which yellow soil came out on scratching. Besides there were reddish and grey rocks too. We did not see lot of yellow soil. We collected few gm of yellow soil.
Later, we proceeded to Ranakpur. Nalini drove this section of our journey. We had to go through rural countryside and hence, although it was about 90 km from Haldi ghati, we took more than two hours. Close to Ranakpur, we scratched a car where we haggled or quarrelled for some time to settle the damage to the other car.
We had lunch at about 2.30 pm at nearby restaurant and then got a possession of room at the dharam shala (residence for pilgrims) of the Ranakpur Jain temple. The room was clean with beds relatively fine with attached bathroom. We had hot water early morning piped from the wood fired cylindrical stove placed outside the building. This was another experience of olden days when water was heated. We later visited at about 3.30 pm Adinatha (also called Rishabhnatha) temple about 750 years old, supposedly to be financed by Dharna Shah, local business who had a divine vision under the patronage of Rana Kumbha of Kumbhalgarh. This temple is beautiful, carved deities on domes. Stone carvings of goddess remind me of the high status given to women along with men in the Hindu civilization. Most of these were in dance format, which is essence in the Hindu temples. There are four major domes around sanctum sanctorum. There are four statues of Adinath ji. It is also called Chaturmukha temple. The intricate carvings of this temple are comparable with those at Dilwara temple near Abu Road.
Later, at about 5.00 pm, we visited Sun temple nearby which is managed by Eklangji trust. Eklangji is a famous temple in Udaipur and many excavations thereby showed up with statues of gods and goddess which are housed in City Palace Museum in Udaipur. The Sun temple (first built in 13th and rebuilt in 15th century) is small simple, with deity God Sun. In front of temple, there is open air auditorium where every year Ranakpur festival takes place. There is another temple (Supaarshvanatha) which has erotic statues.
We had a simple dinner in the mess run by the temple, roti, bhendi subzi, rice, dal and one subzi at 5.30 pm, as Jains do not eat after dusk.
Day 31 (Jan 19): We left Ranakpur Jain temple at 8.30 am after having a breakfast in their canteen. The breakfast was of upma, mungdal, phaphada, tea. We reached Ajmer at about 12.45 pm via Saduli, Gomati Chauraha, Charbhuja. We stayed at the Guest House for one night. The spice crops that we saw now almost a month later were in flowering like those of methi, sauf, or in maximal growth stage. Ber fruits were being harvested and aonla was in final stage of harvesting. Quite happily, the 19th January happened to be commemorative day when the NRCSS Centre was first established.
Day 32 (Jan 20): We left Ajmer at about 7.45 am in the morning. The distance is about 410 km. We had breakfast for 30 min at 9.30 am prior to Jaipur and then drove until we had about 85-90 km left for Delhi. Nalini drove for about an hour on this highway. This section of highway was not good as there were depressions and potholes, besides trucks traffic. Further, Jaipur-Delhi highway had as many as 6-7 toll plazas that charged us bomb for poorly maintained highway. At many crossings here and elsewhere, we encountered a menace of beggers and transgender. We had lunch (photo 19) for about 45 min at dhaba at about1.30 pm and we reached home at 3.30 pm.
Very mouth watering pleasant looking and sumptuous Rajasthani thali-dal, bati, churma, maka roti, raita, papad, baigan bharta, chatni, two subzi, fried green chillies, salad for for very hungry. I was scolded for wasting food. I felt quite miserable as I have been against food wastage either at home and elsewhere.
In brief, we travelled a total distance of 3300 km, spent Rs 20,000 on petrol (rates Rs 95 to 108 per lt), Rs 3,000/- on toll tax, Rs 4,950/- on accommodation and about Rs 4,750 on food, plus other expenses of Rs 25,000/-. We thank ICAR institutes as well as MPUAT for fine accommodation, and great hospitality of our friends and relatives during this travel.