So the idea about going on a solo trip emerged somewhere in 2014 when I experienced that plans with friends were just not getting executed. It becomes difficult to get people together once everybody starts working, move to different cities, people get busy with their own things, and priorities start getting different. And to top it all off, I was someone who had very few friends (can count them on fingertips) , and who would not feel comfortable in a group of 'acquaintances'.
So, it was 2014 was when I started thinking, 'F**k everyone, I will go on a solo trip'.
I remember listing down the places I would want to visit, googling 'things to do in XYZ place' and researching about them. But, it was only in October, 2016 that I finally executed my First Solo Trip.
I wanted to visit Rajasthan and finalized Udaipur, even though I knew it was considered as the most romantic city in India, and I would be going there alone.
You can imagine me as being a mini version of Monica from F.R.I.E.N.D.S., right from planning to execution, I needed to have everything planned to the T. I was planning this for so long – I had decided the hostel I would stay in, places I would visit, the food I would eat – everything.
But just as any great adventurer has to face set-backs in their journeys, here are a list of mine:-
1. I had spent so much time thinking (if I should go or not, what if I get bored, what if..) that the hostel I wanted to stay in, was not available any more.
2. And, I booked my stay in another hostel, but just for a day (thinking would continue to stay there if I liked it)
3. I had spent so much time thinking (what if..) that the flight tickets got very expensive and I could not book them
4. I had spent so much time thinking (what if..) that I booked my bus ticket (from Mumbai to Udaipur) at the very last moment (which was so not me ! I am not spontaneous..)
5. Did not book my return tickets (I don't know why)
6. I had planned to go to work and then board the bus later in the afternoon. But, on my way to work that day, a B-I-T-C-H stole my money (opened my wallet, took out the money I had withdrawn for the trip, kept the wallet back inside my bag). I took this as a 'sign' and almost cancelled my trip!
7. I got a call from the bus driver, ~45 minutes prior to the departure time saying he was waiting for me and would leave without me. Son-of-a-. I frantically left from the office and boarded the bus.
But in the excitement of finally setting out on my first solo trip, I got over all this once I boarded the bus and was very excited about finally 'executing' my first solo (leisure) trip.
Hoping to reach Udaipur early next morning, I had imagined an afternoon lake side lunch in Old City area. But, instead I had Ratlami Sev in the bus because I reached Udaipur only late in the afternoon.
As I approached Udaipur, all I wanted was to get out of the bus and explore the city. I was soo excited - I had no expectations, I was open to meeting-new-people-making-new-friends (as travel bloggers would say) or exploring the city on my own.
On reaching Udaipur, I changed two sharing tempos and reached Dewali area (near Fatehsagar Lake) where my hostel – Backpacker Panda was situated. The heat, the heavy weight of my luggage, the fact that I had to change autos and the crowded sharing autos just did not have any effect on me. I was totally enjoying every bit of the experience.
I checked-in to my hostel (Backpacker Panda), took a shower and with my to-do-list, I left for a 45 mins segway tour (organized by Road Runners) which started from Rajiv Gandhi Park and covered the beautiful and mesmerizing Fatehsagar Lake, Solar Observatory, Nehru Garden, Stone Sculptures and Neemach Mata Temple.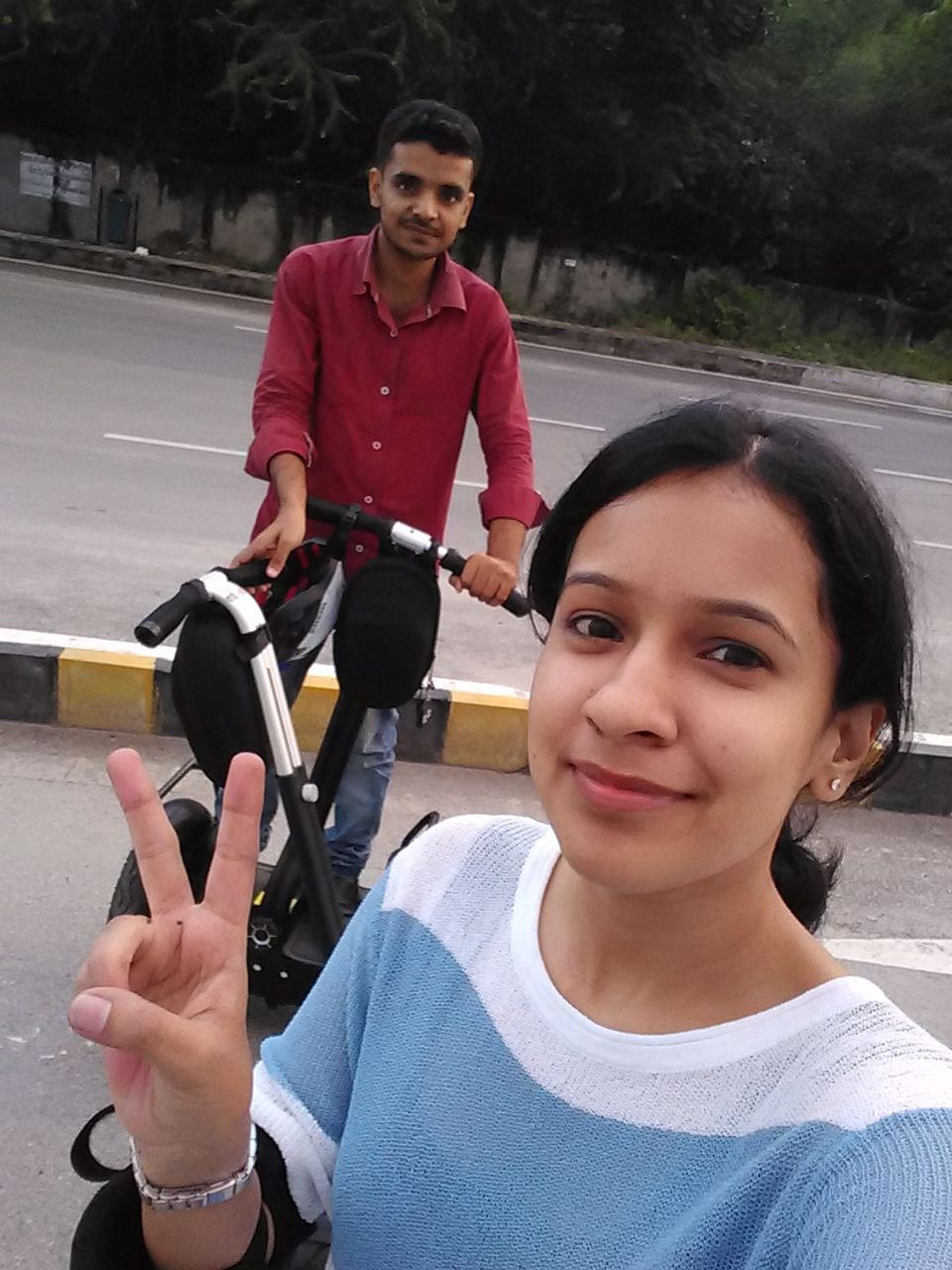 It was dark by the time I completed my tour and I just could not find any public transport from Rajiv Gandhi Park. That is when my Segway tour instructor – Nishant, offered to give me ride to Bambiya Bazaar - the opposite side of the Fatehsagar Lake and I agreed. I basically hitch-hiked. Traveling does make you do things that you wouldn't really normally do otherwise!
I had Vinod ki Kulhad coffee, which had come up as a must try thing during my 'research'. The next thing I wanted to try was thali at Natraj Dining Hall & Restaurant, so I took an auto from Fatehsagar to Station Road.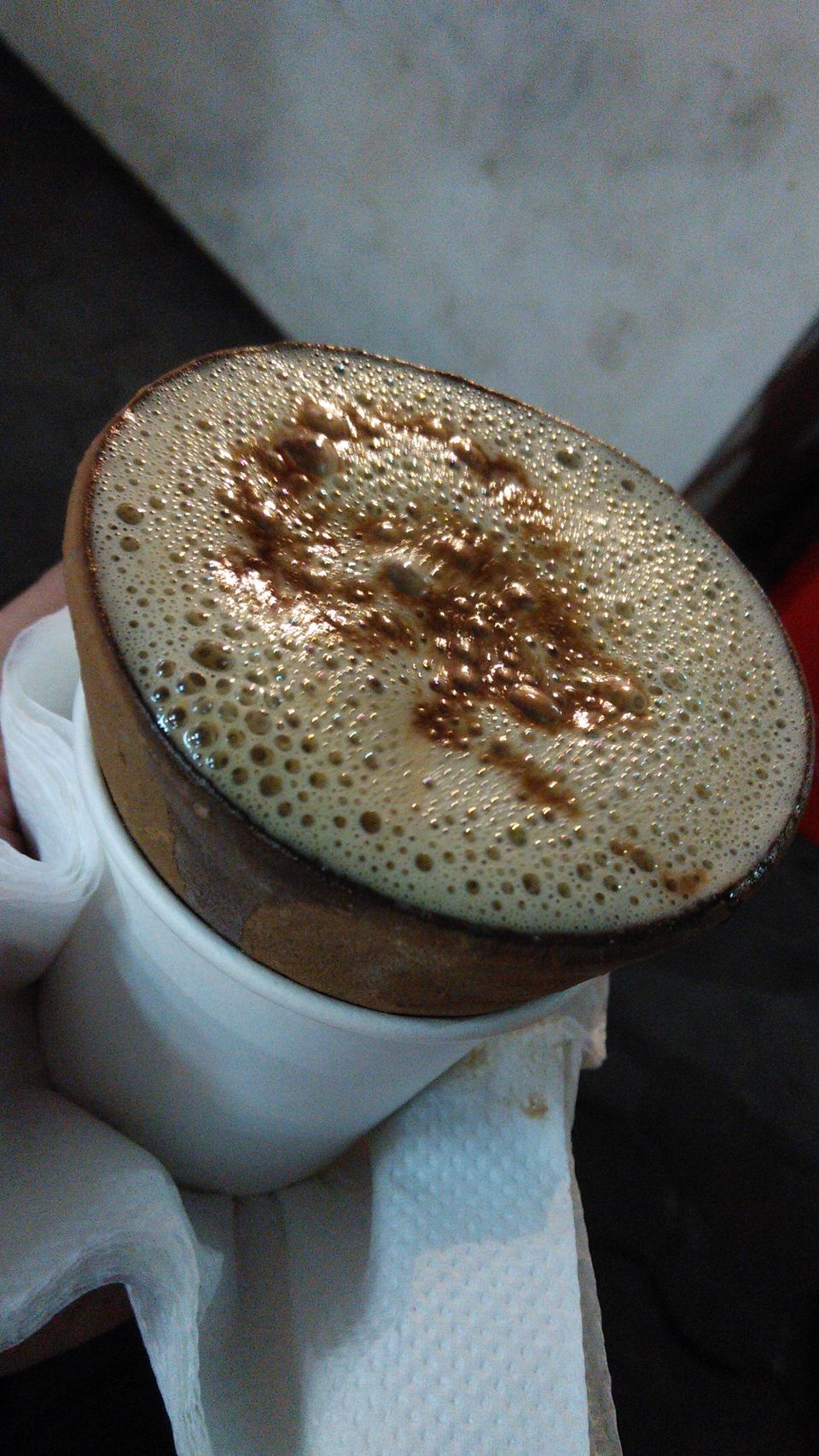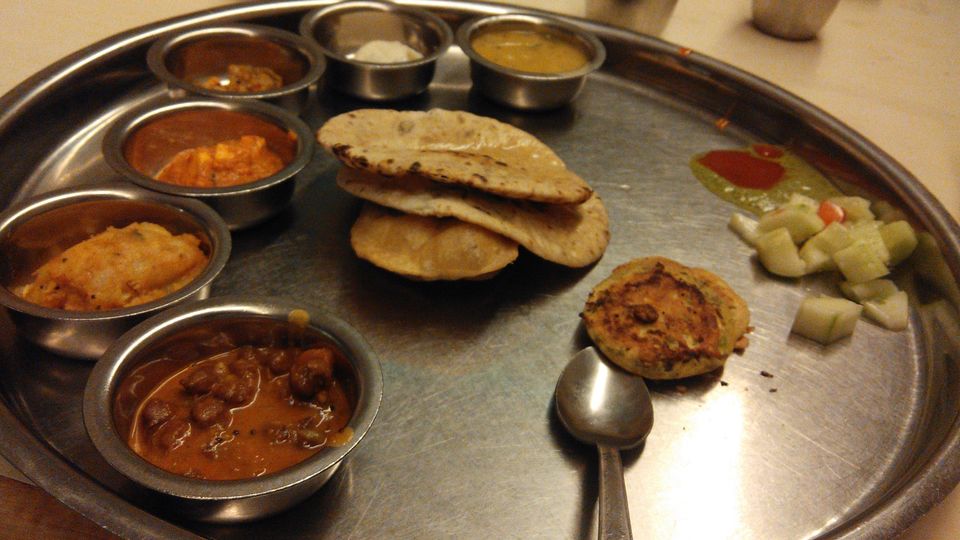 I went back to the hostel, spoke to my parents who were 'freaking out' and then met two guys – Ishant (a Finance professional from Delhi, same age as me who was traveling alone) and Mike (a 35 year old British guy who was traveling across the world on a bicycle!). They proposed hiring cycles from the hostel and going to the old city area the next day. Being my usual uptight self, I refused to the cycling bit and suggested meeting there directly.
The next day, I left for old city area in the morning. I had a nice breakfast with an even nicer lakeside view at Rainbow restaurant (another one from my list) and visited Jagdish temple. Just as I was going to City Palace, I got a call from Ishant saying they had reached the old city area.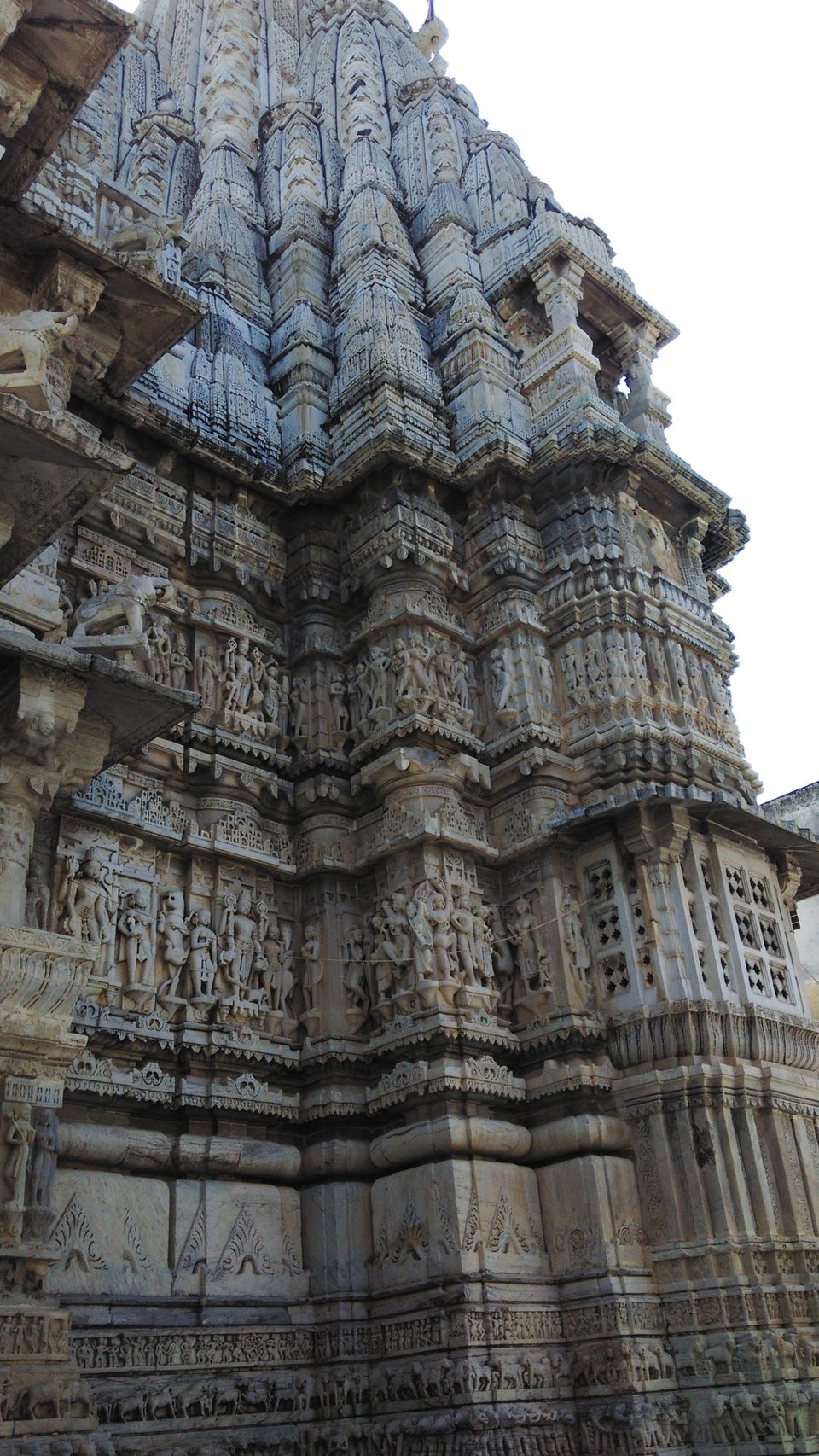 I met the two guys just outside City Palace where they parked their bicycles. Then we headed to Jheel Café (another one from my list) for lunch, roamed around the old city area looking for bike/car rentals as we decided to visit Kumbalgarh Fort and Ranakpur Temple the next day before checking off the most important place – City Palace.
We roamed inside the City Palace campus and then opted for a boat ride on Lake Pichola.
Post this, we went to a ghat to just chill and watch the sunset. That is where Ishant met a girl and got talking to her. Mike and I felt it was best for us to leave them alone and sat on the stairs to talk and watch the sunset.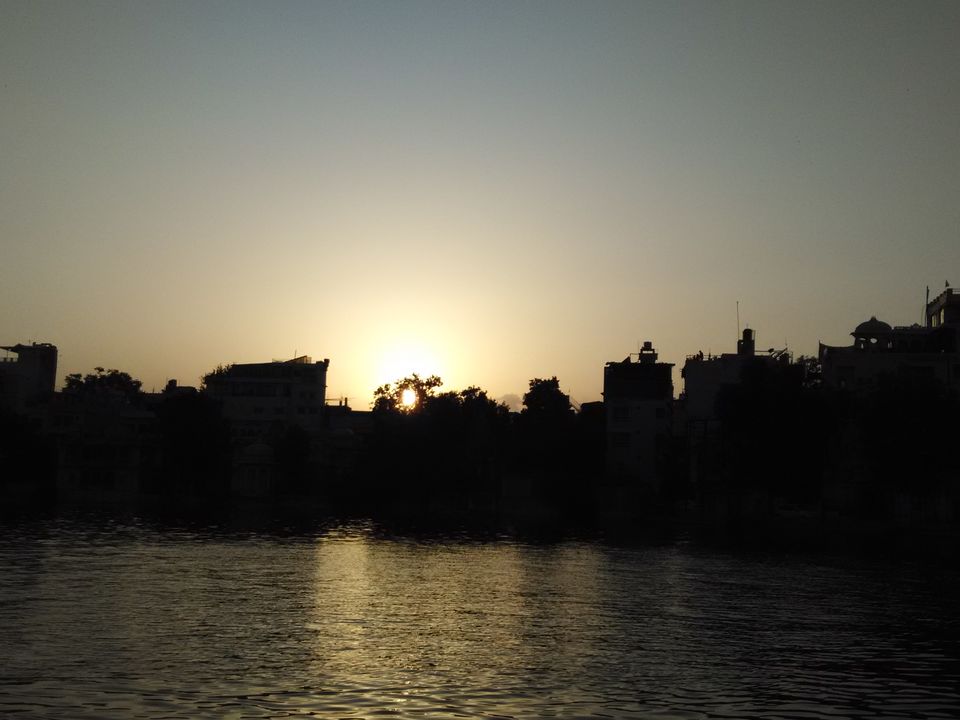 It had gotten dark and both Mike and I were really tired and just wanted to book a cab for next day's trip and get back to the hostel. Mike suggested that we leave – on his (rented) bicycle. I have no idea what had gotten into me but I agreed to his suggestion of riding as a pillion rider! It was definitely a scary, yet fun ride – one of the highlights of the trip. We then went to the next door restaurant for dinner before retiring for the day.
The next day, Mike and I got ready and got to talking about his world cycling trip while we waited for our hung-over friend Ishant. Once Ishant was ready, we left for our day trip to Kumbhalgarh Fort and Ranakpur Temple, located 64 kms north of Udaipur. Before we could leave Udaipur I suggested stopping at Jain Poha Center (again from my list) and it was one of the best pohas (Indore-y style) I had ever had.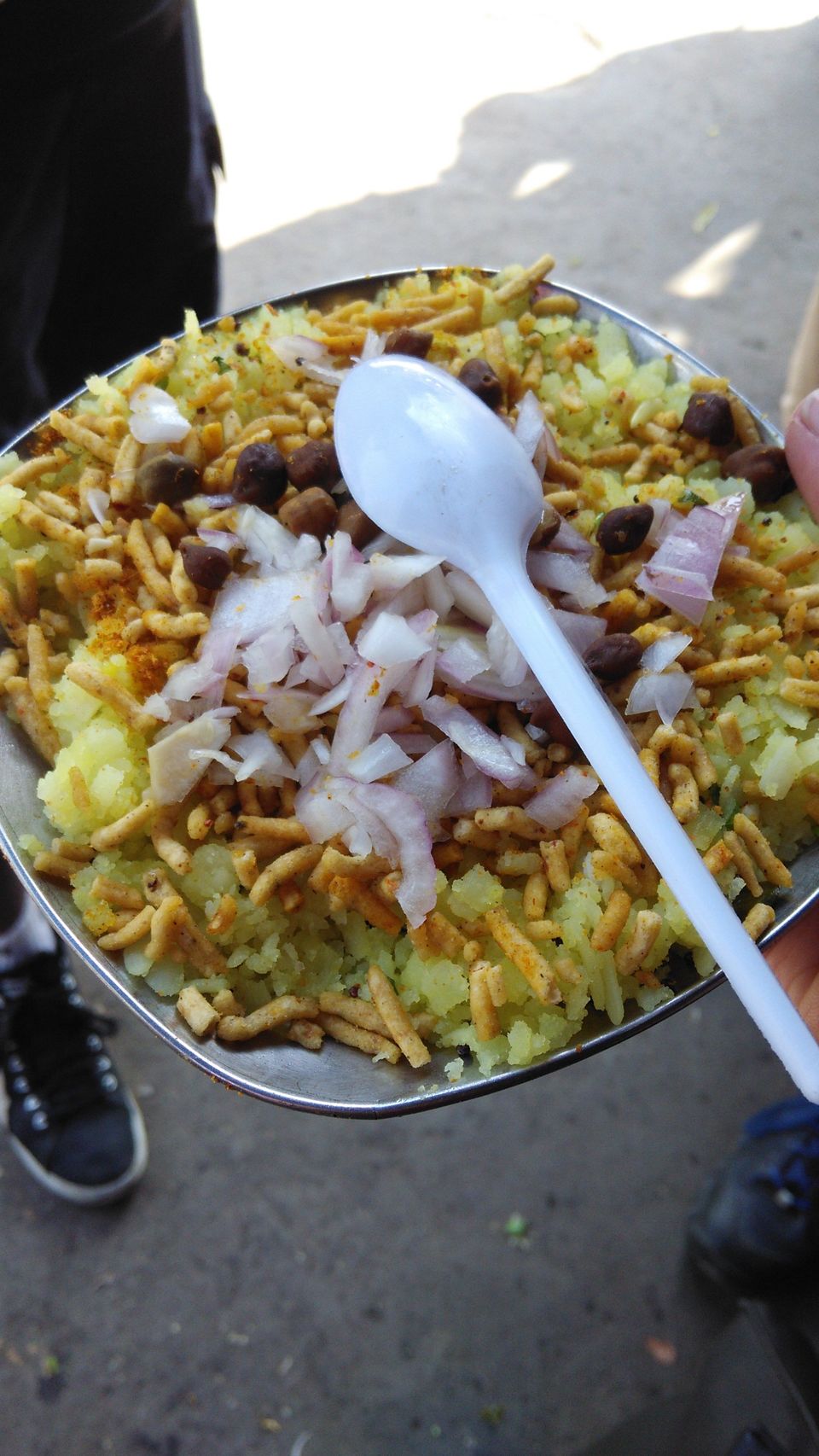 Kumbhalgarh Fort, also known as the Great Wall of India is truly majestic and a brilliant architectural design of Rajput era. I loved the feeling of fresh air on my face once we reached the top of the fort.
For lunch, I got our firangi friend Mike to try the best comfort food and life line of India – Maggi as we had spoken about it while exploring the fort as well.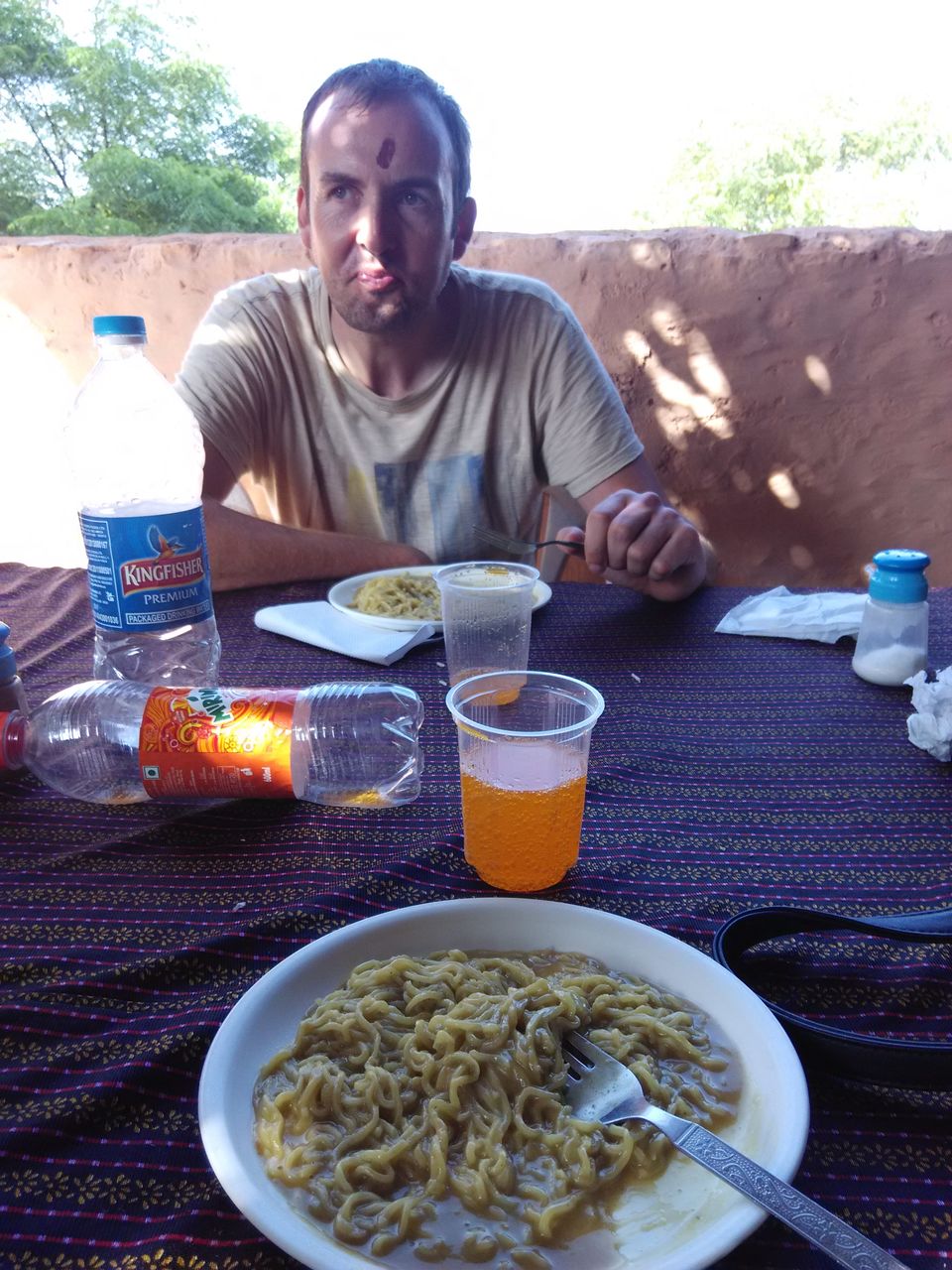 We had lunch and then left for Ranakpur Temple, which was around 33 kms away from Kumbhalgarh. Ranakpur Temple is a stunning piece of art built entirely of marble. The innumerable pillars and ceilings are intricately carved, which makes it mesmerizing.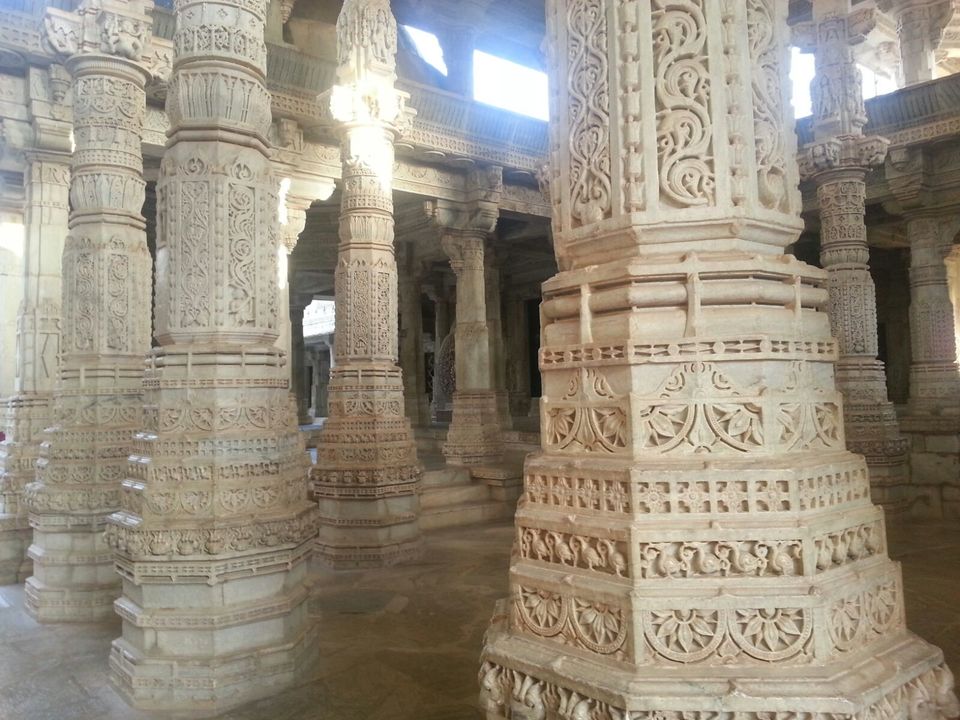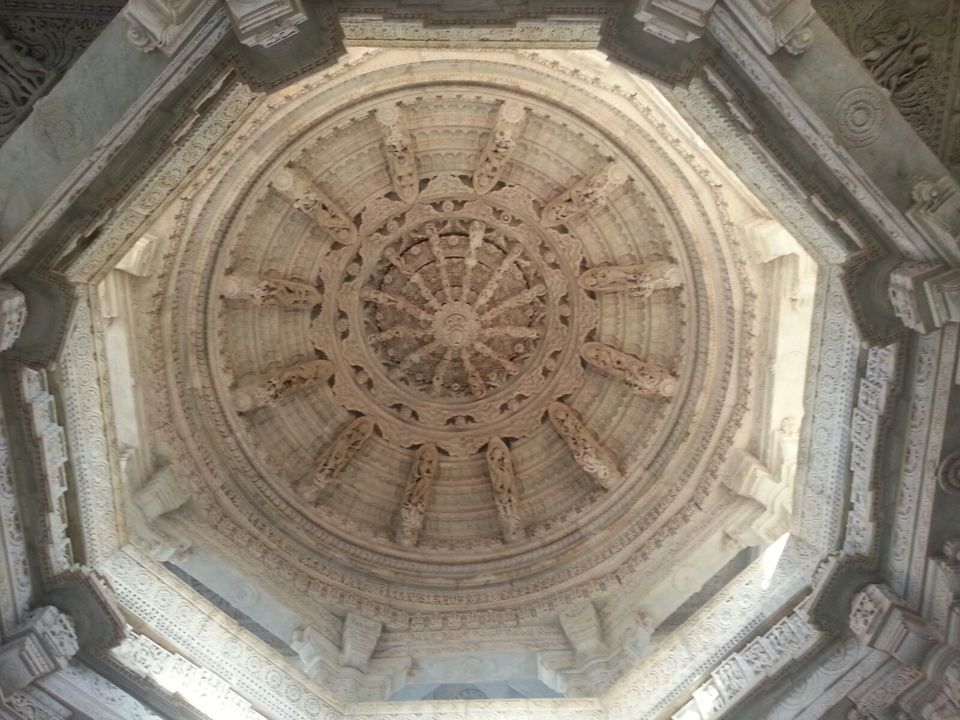 I was thankful to the guys because if it weren't for them, I would not have been able to explore these places on my own (considering the lack of public transport).
On our way back to Udaipur, our cab's tyre got punctured which got be me a bit excited. However, the driver had a spare tyre and we got back on to the road in no time.
On reaching the hostel, I met my new roommates – Ankita and Shradha (two 21-22 year old friends/roommates working with Teach for India in Ahmedabad). That night we three girls went to the next door restaurant for dinner and for a walk near Fatehsagar Lake which gave us some photo opportunities (something I missed while exploring the city with the guys).
The next (and last) day of my trip, I woke up early and went to have poha at a roadside stall near Fatehsagar Lake. I then called Mubarak Hussain Bhaiya (auto wala who took me from Natraj Restaurant to my hostel on the first day) and hired his auto for half a day. I invited my roommates along to Sajjangarh Fort (which unfortunately turned out to be closed that day), Hathi Pol Bazaar (where we shopped for lehriya suit pieces, stoles, and accessories) and Ambrai Restaurant (beauty located on the banks of Pichola which offers breathtaking view of City Palace). Post lunch at Ambrai, I went back to the hostel to pick up my luggage and say my goodbyes to Mike; picked up Gevar for my brother and reached the bus stand well on time to board the bus.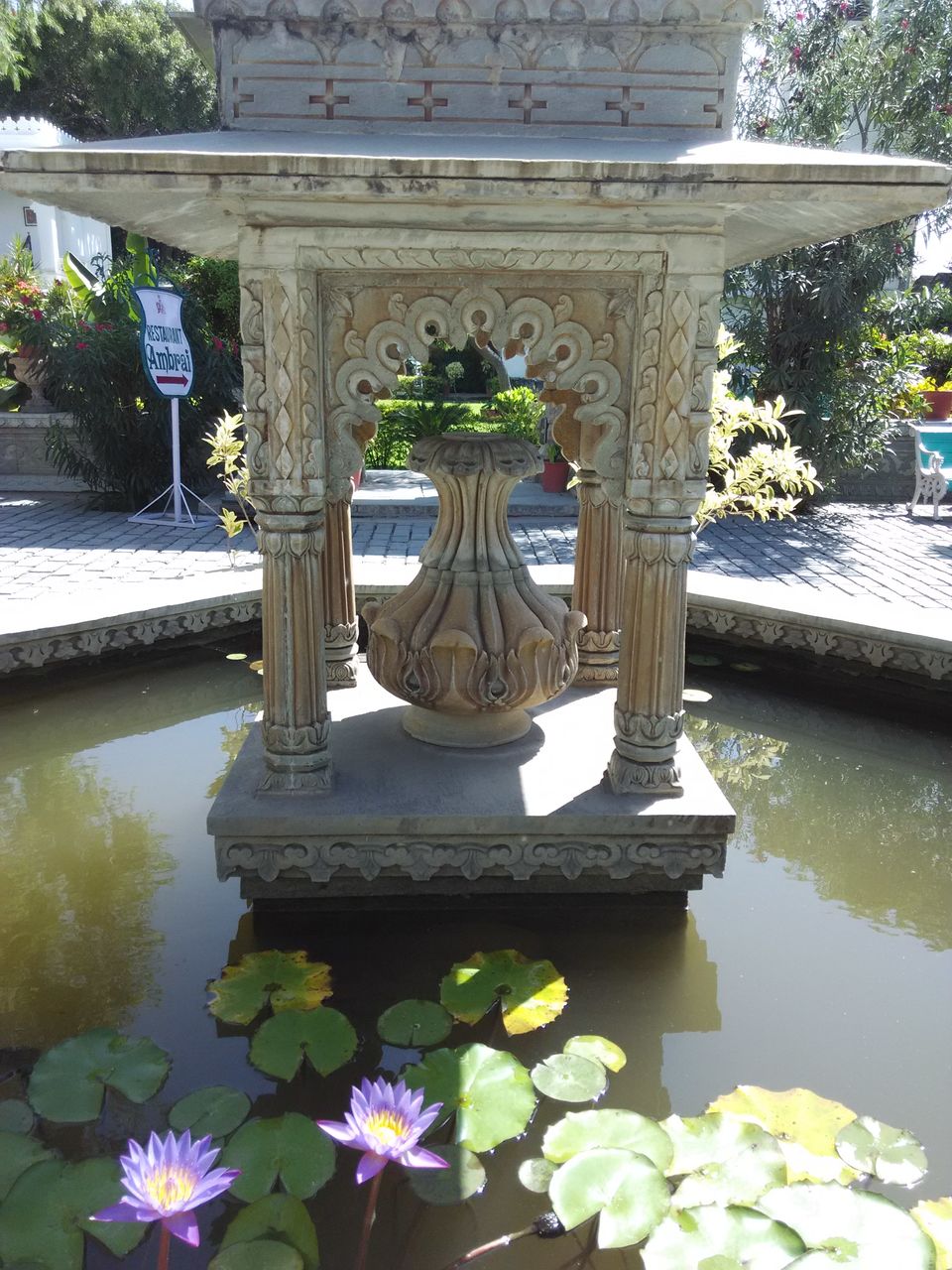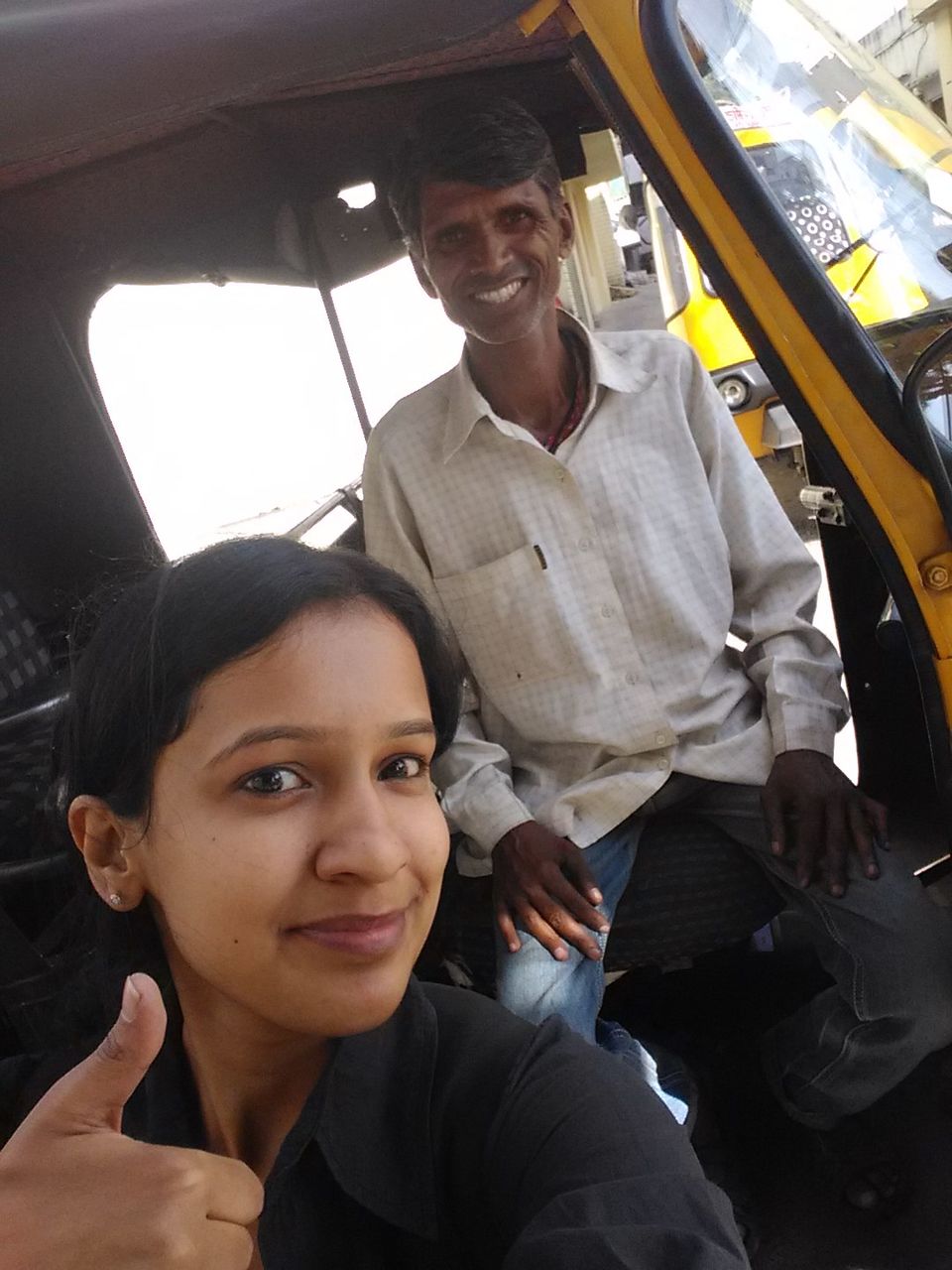 It was strange; anxiety had kicked in as the trip was coming to an end. It is one of the most memorable and special trips of my life which sort of pushed me out of my comfort zone and got me to do things that I would not do normally:-
1. Hitch hiked from a tour instructor in an unknown city
2. Agreed to ride as a pillion rider with a firang whom I barely knew
3. Explored the city with so many wonderful people who I didn't really know
4. Went out on a day trip with two guys I met in a hostel
5. Did not strike off so many important places from my to-do-list
6. Did not shop - in Rajasthan!
7. Did not take enough (pretty) pictures
I was never worried about feeling lonely on a solo trip, I have had meals by myself and travelled alone since graduation/hostel days, went to watch movies alone, shopped alone, explored cities during my official trips alone. But there was something that was stopping me from going alone on a 'leisure trip'.
Finally doing what I had been thinking for so long, I felt a sense of accomplishment. The initial hiccups, and non-conformant to plans and not being able to do everything that I wanted to do, did not seem to bother me. I liked the unpredictability and spontaneity. The trip started with anxiousness (fear of unknown) and ended with anxiousness (leaving the city and people I had known for only three days) with a lot happiness in between.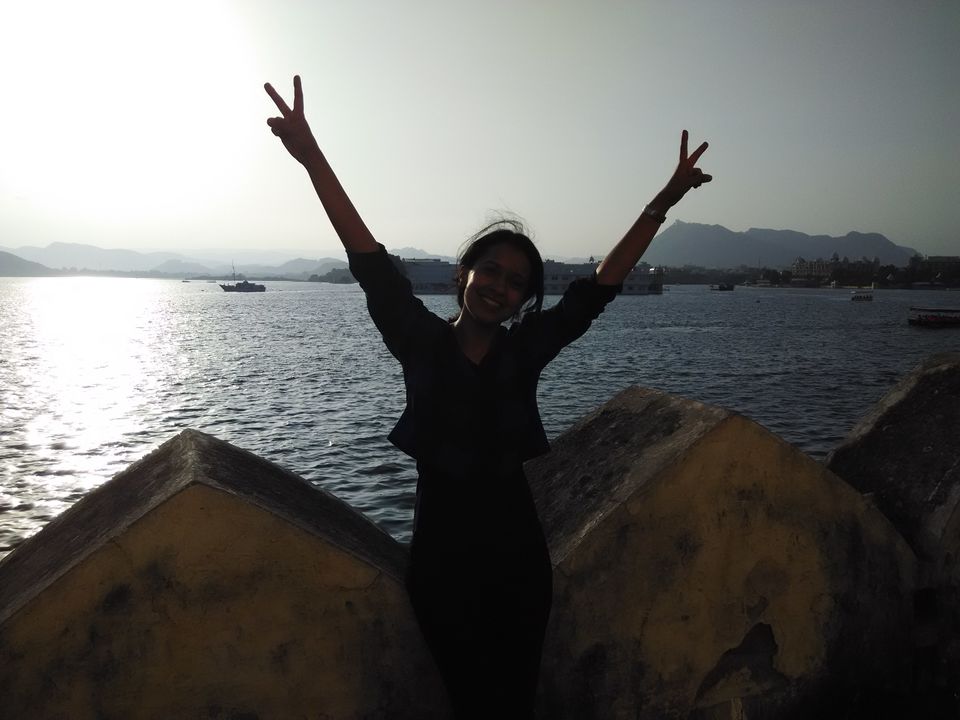 Ishant had rightly said that after completing my first solo trip, I'd be able to fly. And that's exactly what has happened. It got me hooked/addicted to travel. And now I don't think so much before going to another place – I can 'fly' now.
Frequent searches leading to this page:-
one day trip in udaipur, Two day trip in udaipur, one day trip with family in udaipur, best places to visit in udaipur