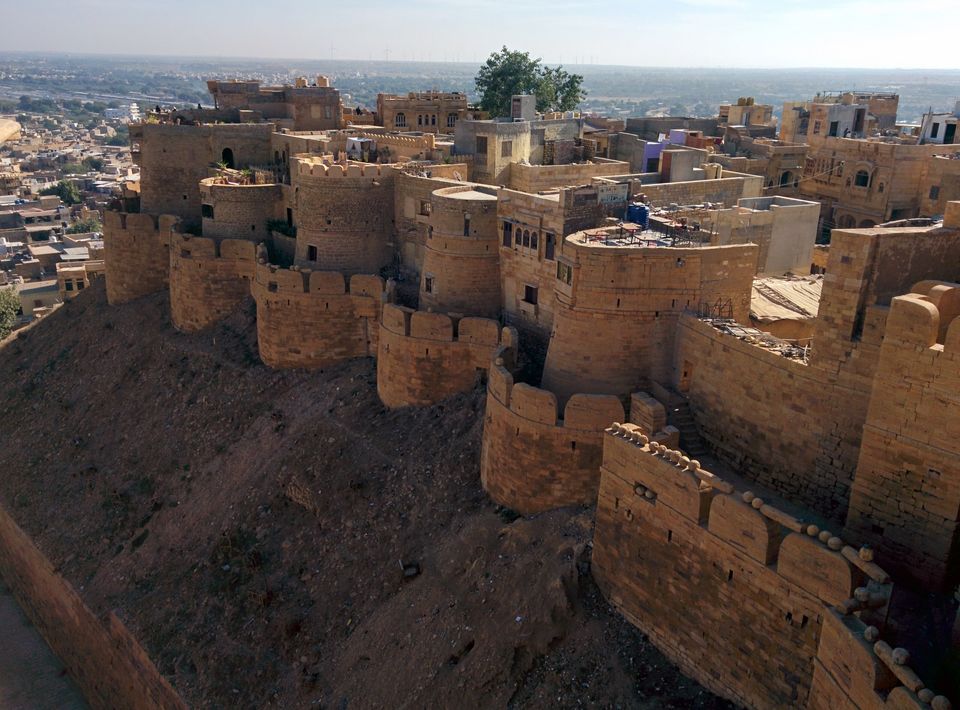 I started off on 9-day road trip from Ghaziabad in Maruti Celerio with my husband on 25th December.
15th December to 15th January is the peak season to visit Rajasthan. It is flooded with both domestic and foreign tourists. Tariffs are doubled and there is a entry ticket for every possible touristy spot! Best time to visit Rajasthan is February as per the suggestion of locals. There are hardly any domestic tourists since children are busy with their school exams in North Indian. Therefore, hotel tariffs are also reduced to nearly half the prices.
Overall we covered approx. 3000 KM in 9 days and it was just my husband who drove throughout the trip since I don't know driving! In Rajasthan, you will be driving mostly on National and state highways. Roads are extremely smooth and well maintained. You will immensely enjoy the driving experience across the state.
Day 1
Ghaziabad to Jaipur
Time taken: 8 AM to 2 PM.
We reached around 2 PM at Amer Fort but because of some diversion we couldn't go there directly. So we went straight towards our accommodation at Hotel Nahargarh Haveli. Since it was Christmas Eve, Jaipur was bustling with locals and tourists. Roads were fully jam-packed. Because of heavy traffic we reached Amer Fort at 5:30 PM when it was about to close! We had already covered up other touristy places in Jaipur in our previous trips, therefore we skipped everything else this time. We wanted to hire a guide for watching around this magnificent fort but because of lack of time we decided to see just the Light and Sound show @ 6:30 PM which in my opinion is a must watch. It is very informative and a perfect visual treat. It gets really cold at night so do carry your heavy jackets along.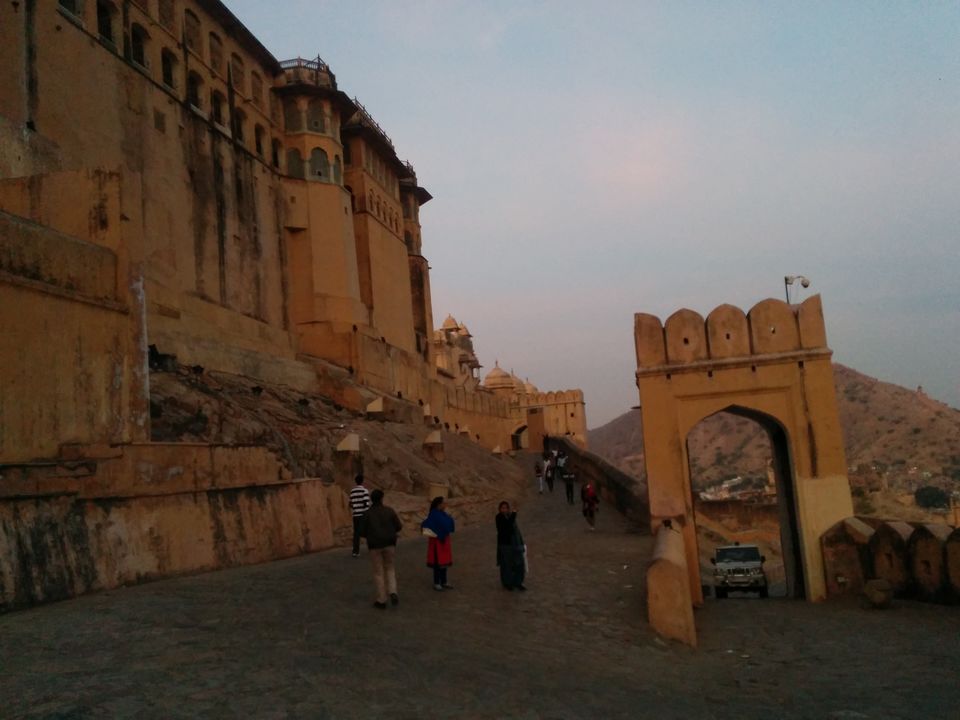 Amer Fort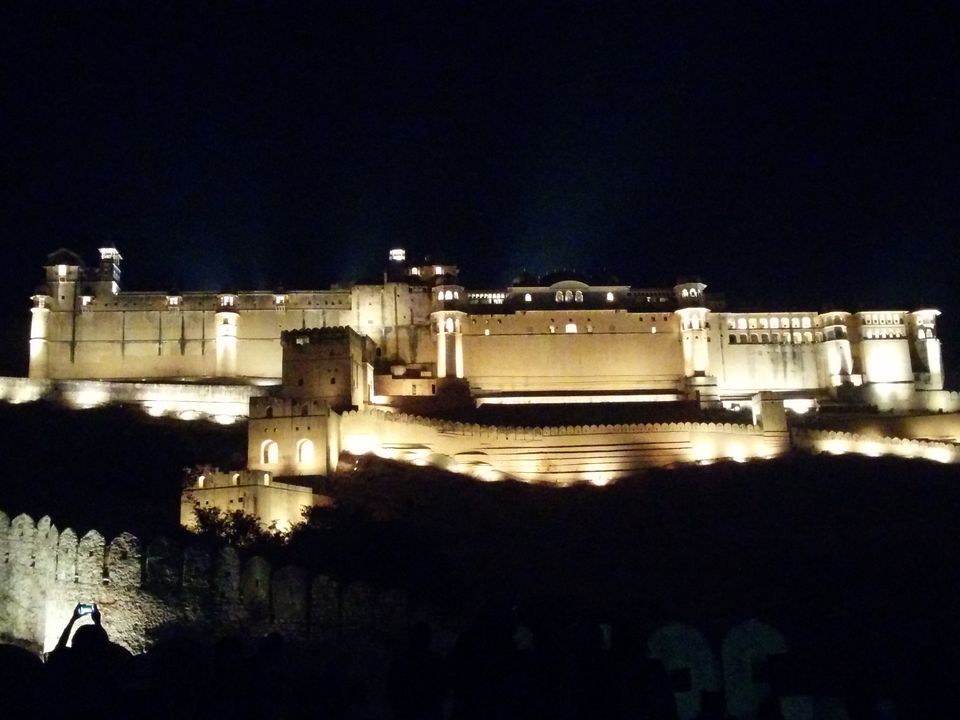 Amer Fort during Light and Sound show
Food & Restaurants: On the way to Jaipur we had breakfast at Old Rao Dhabha. It is just as famous as Amrik Sukhdev Dhaba at GT Karnal Road near Murthal. Very Reasonable prices and delicious food. If going towards Jaipur then you will have to take a U-turn to reach here.
Tried the much hyped Pyaz Kachoris, Mirchi Vadas and Gajar ka Halwa at Rawat Misthan Bhandar in Jaipur but unfortunately we were highly disappointed by the taste. We had dinner at Spice Court restaurant. Had to wait for an hour to get a table. Well, the story was same at all the good restaurants in Jaipur because of Christmas celebrations! Food was okayish and service was pathetic.
Day 2:
Jaipur to Ajmer Sharif
Time taken: 9:30 AM to 12 PM
We couldn't go inside due to herds of people pushing each other just to enter the shrine. Secondly, you are not allowed to carry bags and cameras along. There are lockers provided but that place was too dingy and we didn't find it safe enough to leave behind our valuables like cellphones or cameras. So it is better to leave everything in your car before you plan to visit!
Ajmer to Pushkar
Time taken: 1 PM to 2 PM
Pushkar is a very small town having lots of temples and mostly inhabited by Brahmans. As soon as you enter Pushkar, you will be followed and stopped by many local guides coaxing you to hire them with false promises of taking you inside the Brahma temple even before it opens (it reopens by 3 PM). On top of it, they will scare you by telling that one has to walk for 3-4 KM to reach the temple and only they can take you there by a car!
Well, ignore all their claims and go straight for the parking area near Pushkar mela grounds. No cars are allowed beyond this point since Ghat area starts from here and runs all along the Pushkar Lake and Brahma temple is also nearby. This part of Pushkar will give you an absolute old world charm feeling and is laid with web of small bylanes, twists and turns.
Best way to enjoy Pushkar is by exploring the old town on foot, taking random turns and getting lost in its streets and hopping from one ghat to another. Old Rangji temple is another architectural marvel which seems quite ancient. You must include Pushkar in your itinerary of Rajasthan trip!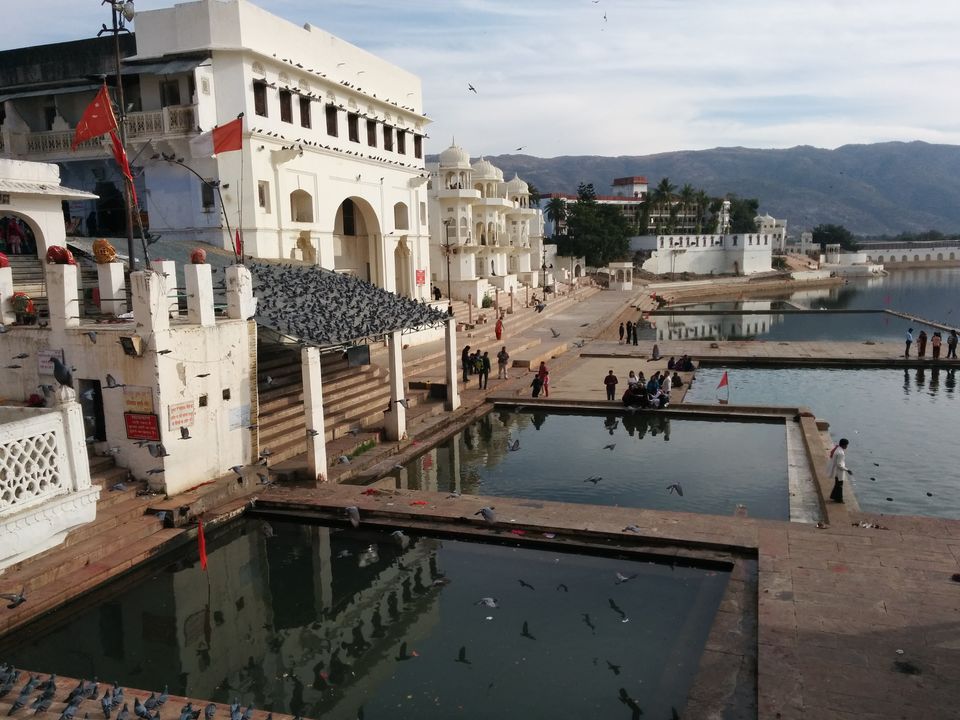 Ghats of Pushkar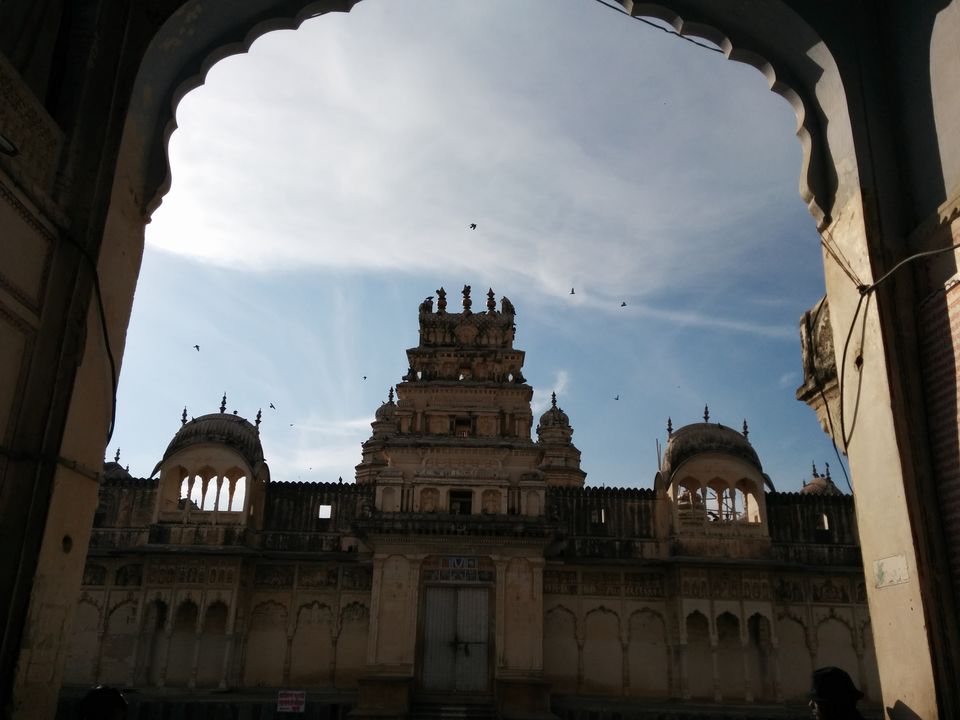 Old Rangji Temple
Pushkar to Beawar
Time taken: 5 PM to 6 PM
We stayed at a friend's place in Beawar for a night and we got to experience the amazing hospitality of a Rajput family. This was undoubtedly the best highlight of the whole trip.
Food & Restaurants: Kadi Kachori and Malpuas at Halwai Gali just opposite the Gau Ghat are not be missed for anything in this world! They are simply the best you will have in Rajasthan. Then we had papad pyaz ki sabzi at Radhe ji restaurant near Varha Ghatt which was also one of the yummiest delicacies we had on our trip.
Day 3:
Beawar to Jaisalmer
Time taken: 9 AM to 3 PM
We took the route via Beawar-Barr-Jodhpur-Jaisalmer and roads are excellent. On reaching Jaisalmer, we left for Desert Safari at 4 PM. It was booked for us by our hotel owner at Mud mirror guesthouse located just beside the Jain temple inside the Jaisalmer Fort. It was organized by Marwar Luxury group in Khuri village.
I had been earlier to desert camps in Sam village. Sam has hundreds of desert camps and it looks more like a colony and is highly commercialized. Therefore, we decided to try desert camps at Khuri village instead this time. There were only 2 desert camps that I could spot. Minimal tourists and definitely to be chosen over Sam. The cultural night and food at Marwar luxury desert camp was also fantastic and we thoroughly enjoyed it!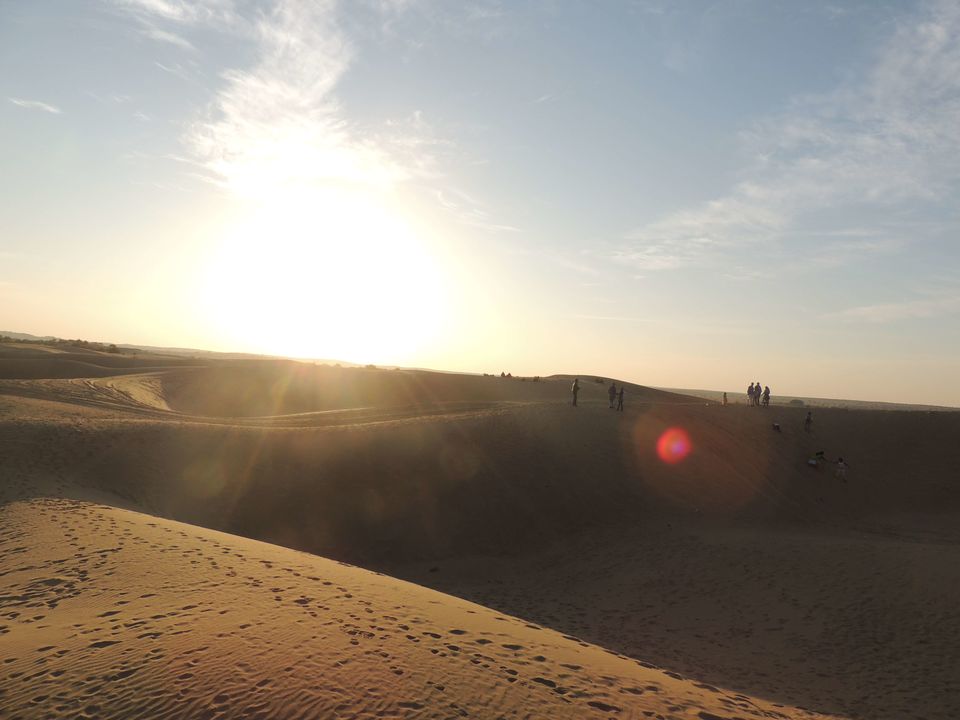 Sand Dunes in Khuri Village
I would highly recommend staying inside the fort as it is altogether a unique experience. You can roam around and wander in its bylanes at midnight till the dawn as it is completely safe inside. The view of golden city from the rooms and roof tops was mesmerizing!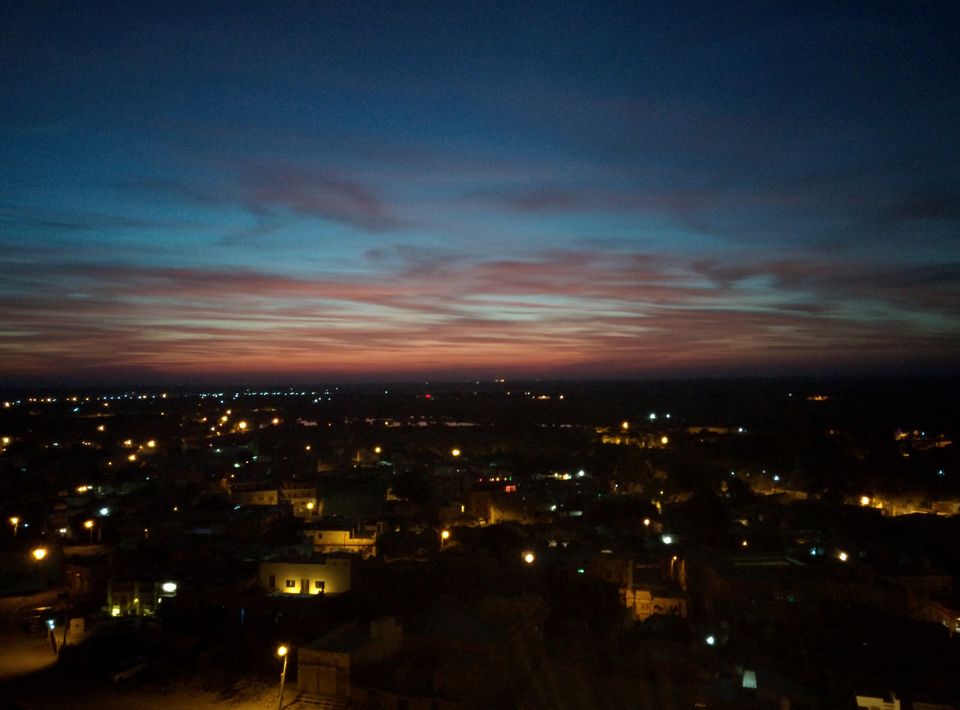 View of Jaisalmer City from hotel room inside Jaisalmer Fort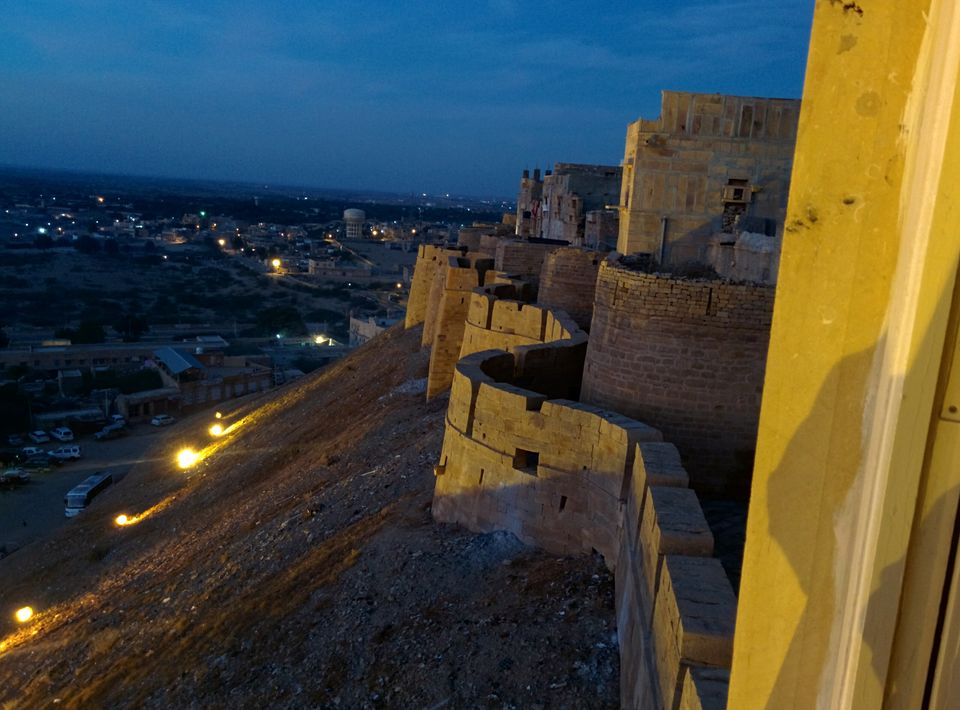 View from hotel room inside Jaisalmer Fort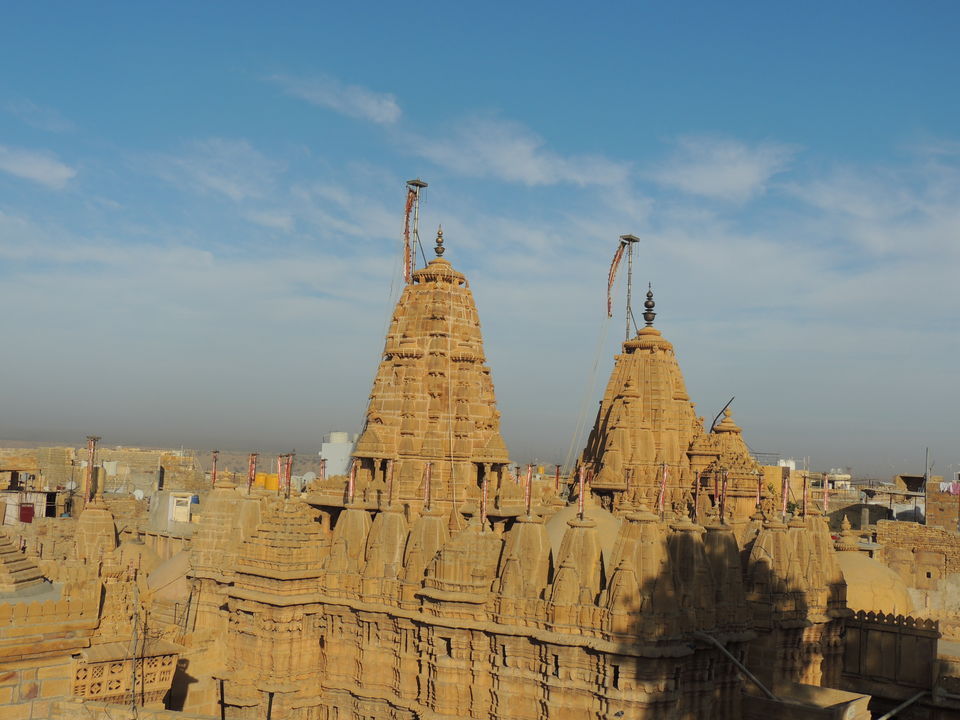 Jain Temple captured from Hotel's terrace
Day 4:
Jain temple opens by 7:30 AM. Since our guesthouse was located within a stone's throw of the temple, we were the first one to enter it at early morning. It's a beautiful temple and a stunning piece of architecture. Very neat and clean, well maintained temple. It is advisable to come here as early as possible before maddening crowds gets queued up.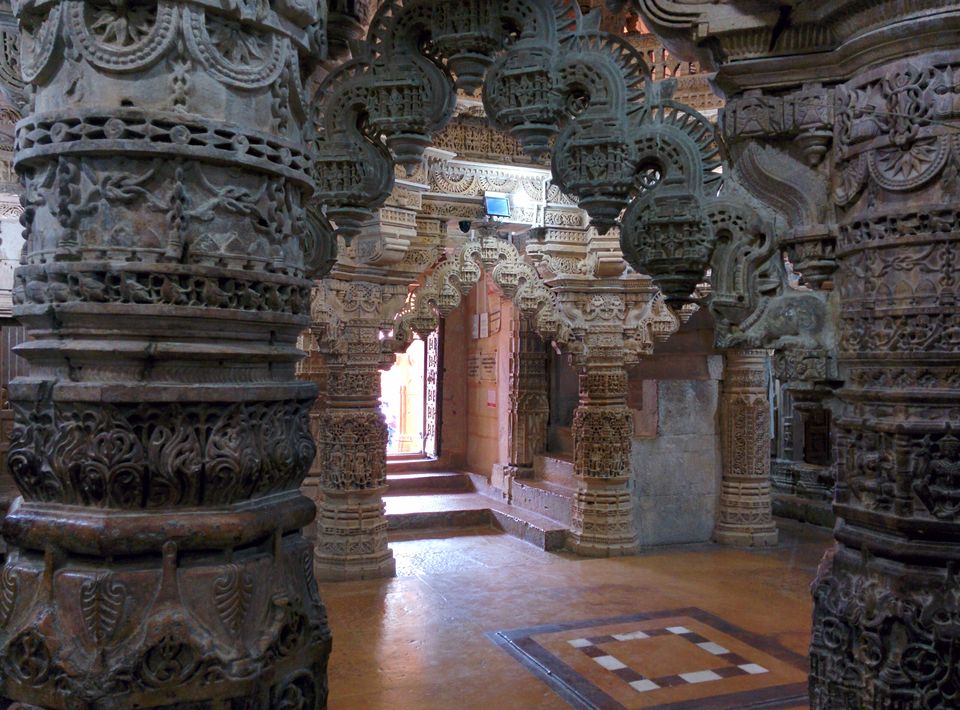 Inside Jain Temple
Next we went on to see City Palace and Canon View Point. Guide is not required for this one. Post this we walked up to Patwon ki Haveli. This place offers wonderful view of entire golden city with mighty Jaisalmer fort in the background.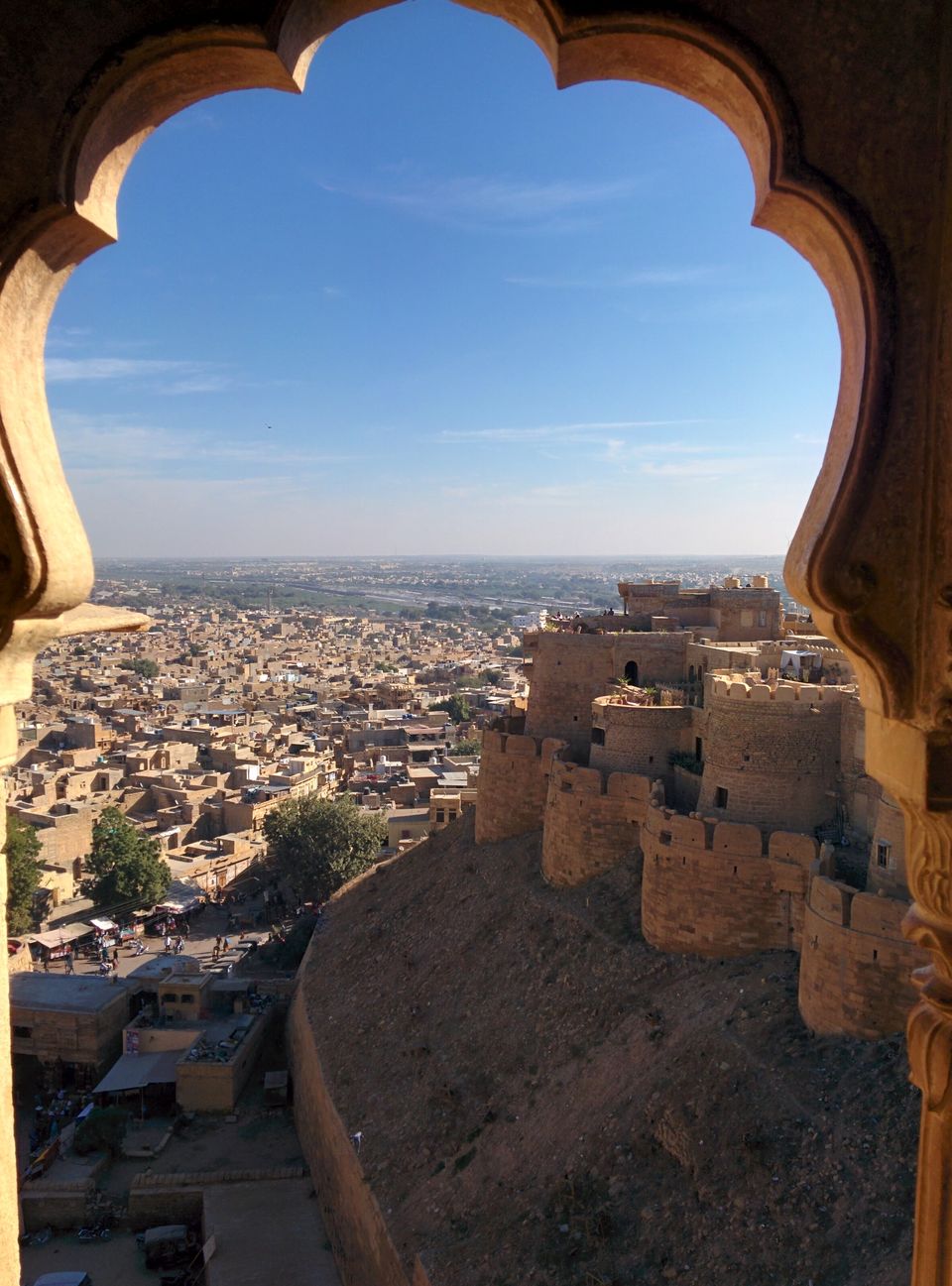 View from City Palace inside Jaisalmer Fort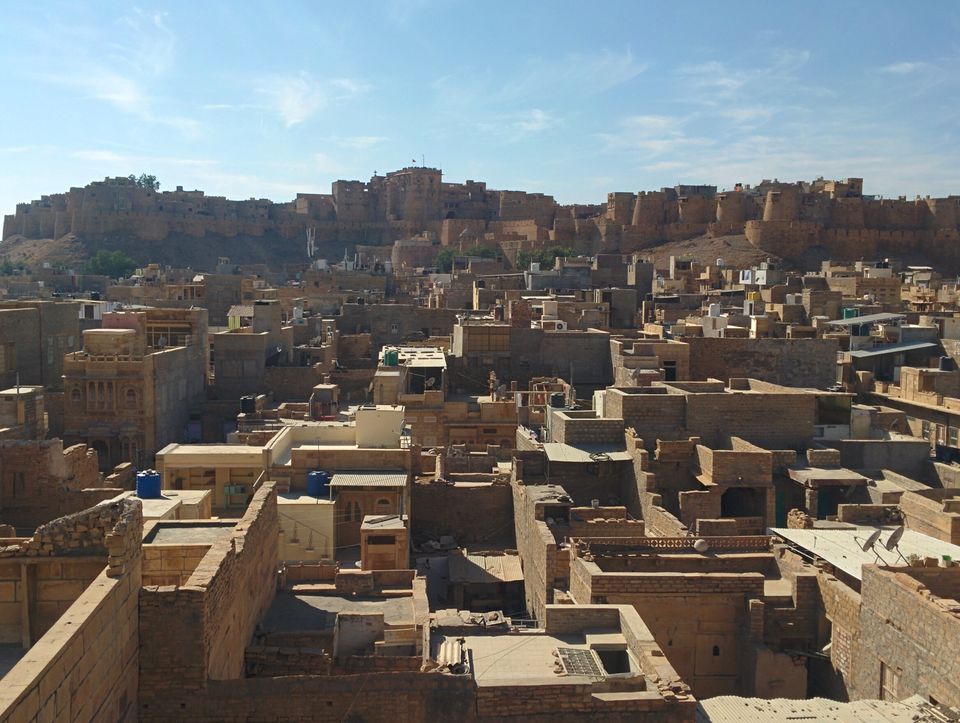 Golden city of Jaisalmer with Fort in background as viewed from Patwon ki Haveli
After this at around 1 PM we left for Tanot Mata temple in our own car. It took us 2 hours to reach there. More than the destination it's the journey which makes it enthralling. Roads are good except for few stretches and goes straight through the barren desert with barely any traffic. During 1971 war Pakistani army dropped around 450 bombs but there was no harm to this temple. There are unexploded shells put to display in this temple. This place is now managed by BSF Soldiers.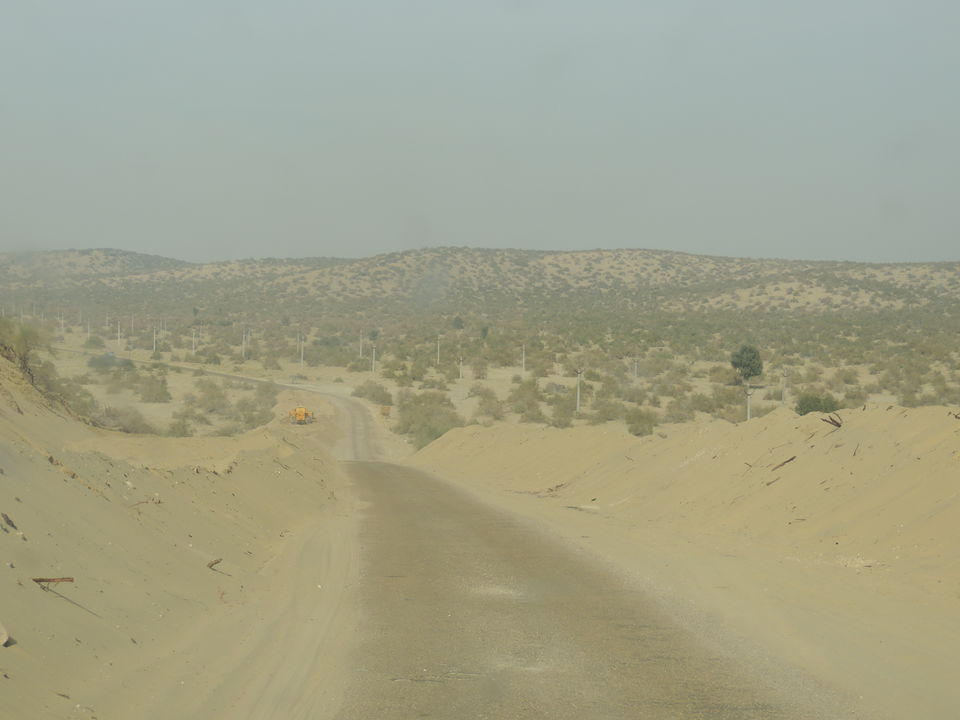 Enroute Tanot Mata Temple
This temple is very close to Indo-Pakistan border, hardly 20 KM from here. You will need prior written permission to go till border which can be acquired very easily from BSF headquarters located in Jaisalmer itself.
After staying for 15 mins at the temple we left for Longewala. It took us around 1 hour to reach here from Tanot. Road is single-lane and this journey is even more exhilarating since it is extremely remote area with absolutely no inhabitants and there are only barren sand dunes as far as the sight goes. Longewala is the actual place where Indo-Pak war of 1971 was fought based on which Border movie has been shot. Real captured Pakistani tanks and jeeps are put to display here. There are Indian bunkers as well. This place is also maintained by Indian Army.
Tanot-Longewala Tour is a must if you visit Jaisalmer. We left from there at 5 PM and reached Jaisalmer back by 7. Road from Longewala to Jaisalmer is even better.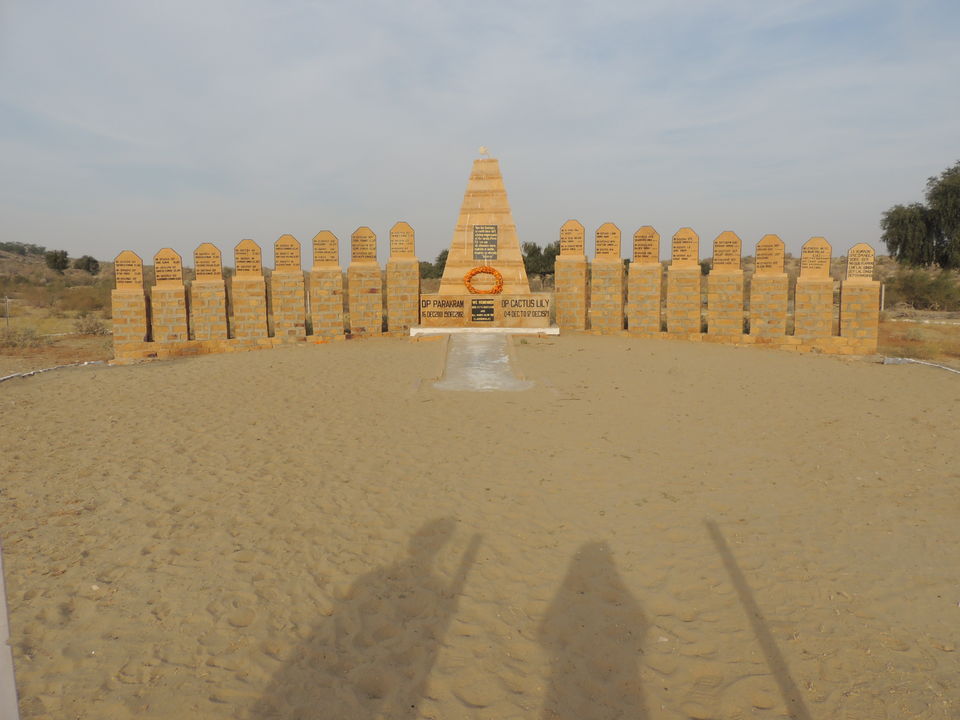 Longewala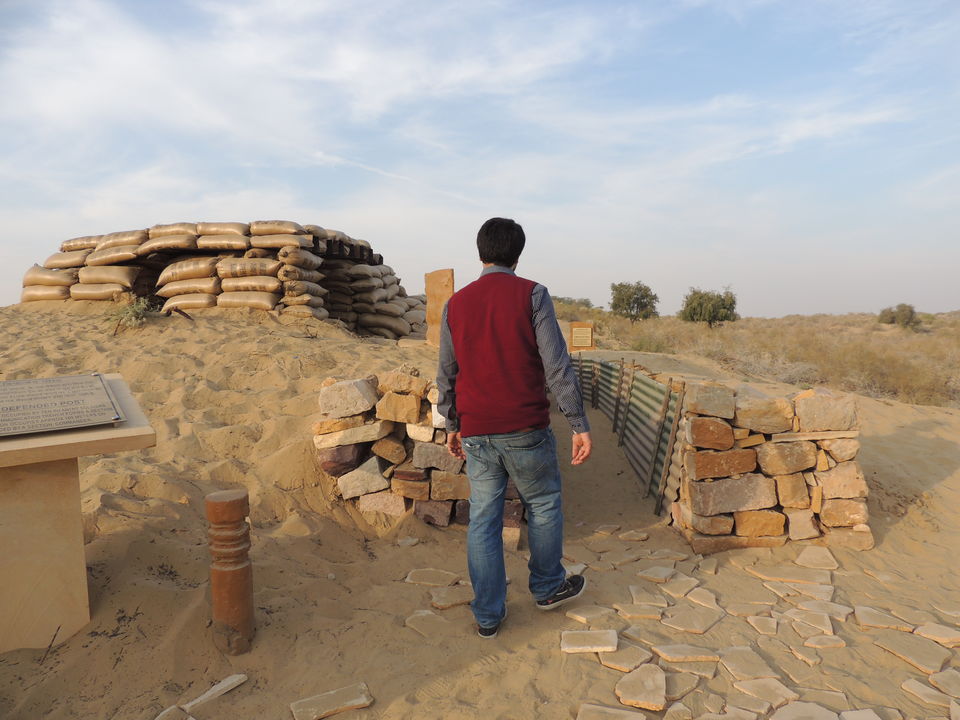 Actual Bunkers of Indo-Pak war of 1971 at Longewala
Food & Restaurants: Had Kachoris and Bread pakodas packed for lunch from a local Halwai/Misthan Bhandar and had it on the way to Tanot.
For dinner we went to Hotel Pol Haveli and had authentic local cuisine like Kair Sangri ki sabzi, Kadi pakodi, Bajre ki roti, lassi and bajre ka churma as sweet dish. Food was simply delicious. Very hygienic, freshly cooked in home-style. And excellent hospitality shown by the humble owners of this place was the cherry on the cake!
Day 5:
We left for Kuldhara village by 9 AM. It is an abandoned village which is now in complete ruined state. It has a very sad story associated with it. It is said to be once inhabited by Paliwal Brahmins. Diwan Saalem singh in King's court had an evil eye on a Brahmin's daughter and wanted to marry her forcibly because Brahmins would never agree to marry off their daughters to Rajputs. So, all the villagers left en masse overnight to prevent Diwan's wrath. This village is believed to be cursed therefore never inhabited again.
Some of the houses and temples have been resurrected to give an idea of architecture that used to prevail here. I really liked this place and would highly recommend visiting here once.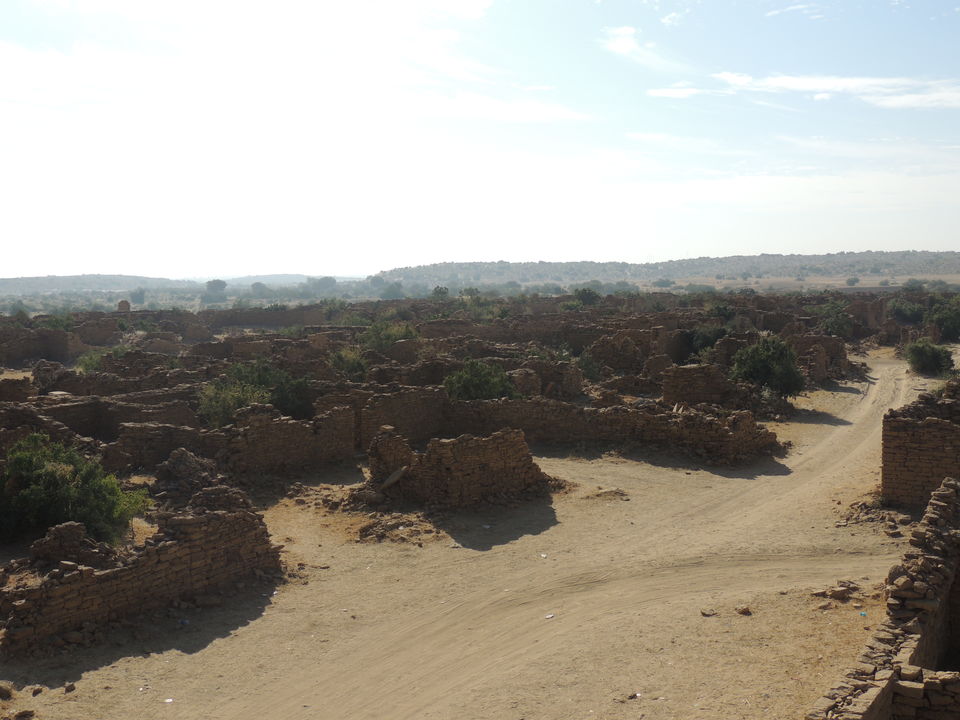 Ruins of Kuldhara Village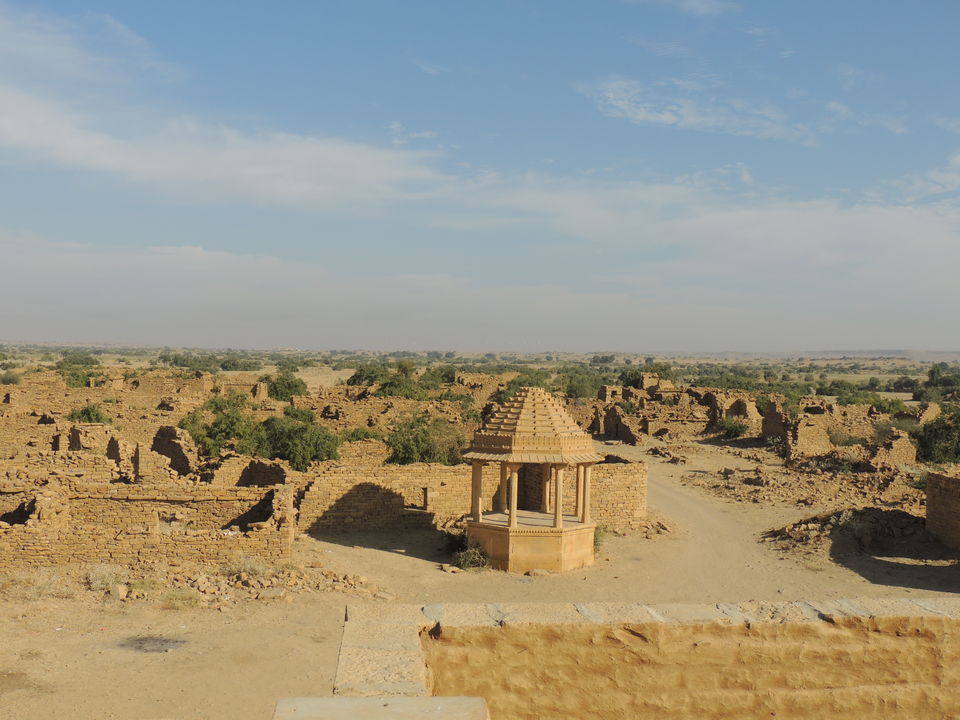 Ruins of Kuldhara Village
Post this we went to Bada Bagh. This is the cremation ground of royal family of Jaisalmer having lots of cenotaphs. Again an amazing piece of architecture but badly maintained and perfect place for photography enthusiasts. It is quite peaceful here since it is located a little out of the Jaisalmer City.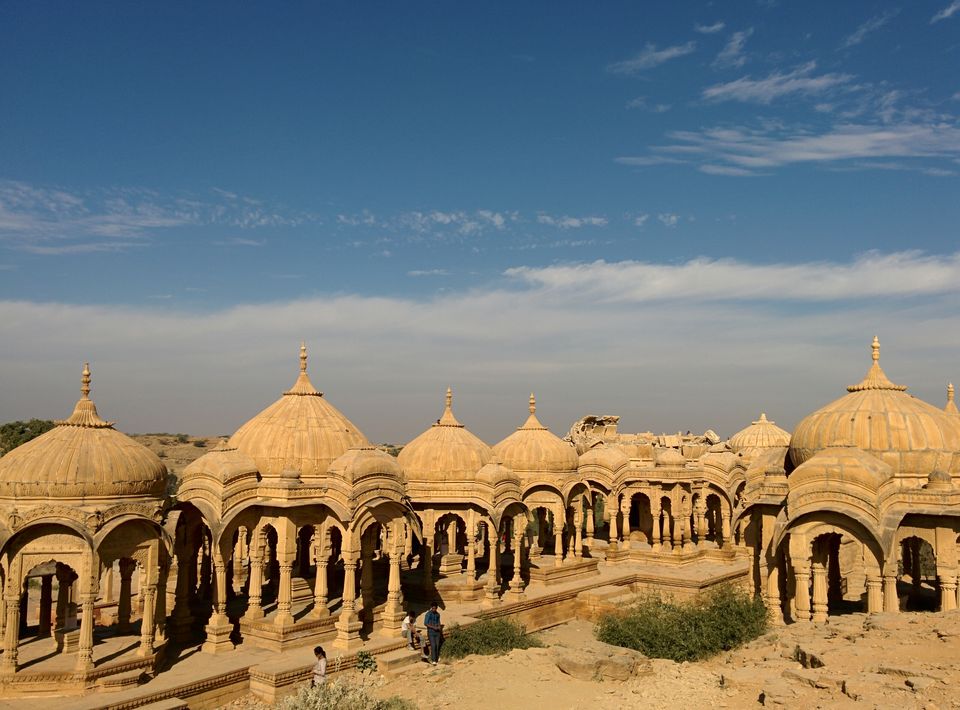 Bada Bagh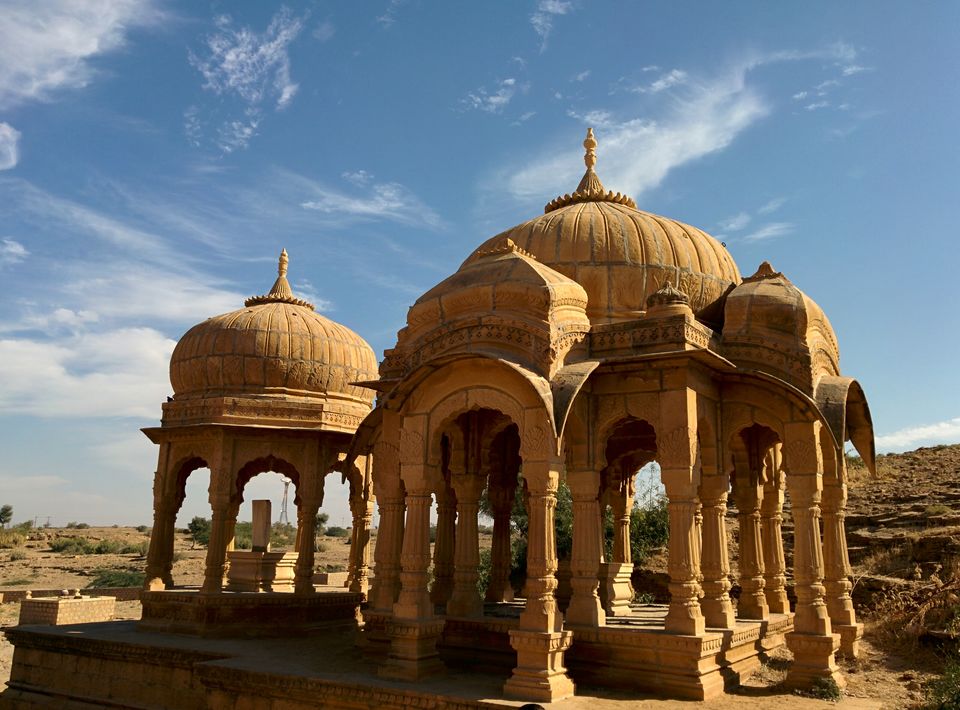 Cenotaphs at Bada Bagh
After this we left for Jodhpur.
Food & Restaurants: In Breakfast we had Poha at a vendor shop called Jai Parshuram Chat Bhandar located just outside the entry gate of Jaisalmer Fort. And then mouthwatering moong dal kachoris at a vendor who put his cart just beside the famous Bhaang shop. Both these places were recommended by our hotel owner and we are immensely thankful to him for this! DO NOT MISS these delicacies!
Jaisalmer to Jodhpur
Time taken: 12 PM to 4 PM
We stayed at Hotel Indrashan in Jodhpur. It is basically a homestay. Nothing luxurious about this place but still quite comfortable and host offered good hospitality. There were corporates from Gurgaon and cycling enthusiasts again from Gurgaon amongst other guests who were staying here. So, we had good interacting session over breakfast!
Umaid Bhawan Palace had closed for visitors by the time we reached so just explored the area around and then left for dinner.
Food & Restaurants: we decided to go Hotel Pol Haveli for dinner after reading good reviews on TA. We found this hotel totally overhyped since food wasn't as great as expected. The only good thing was view of Mehrangarh fort from rooftop restaurant.
Day 6:
Checked out from hotel after breakfast and left for Mehrangarh fort at 9 AM. It's a well maintained, grand and a beautiful fort. Spent around 2 hours in exploring it and one can have full view of blue city from one of the canon viewpoints.
Jodhpur offers lots of other adventure activities as well like zipping in fort which takes around 1.5 hours to complete. Also, there was waiting of 1 hour so we decided to skip it since we had to leave for Udaipur same day. Also, one can enjoy hot air balloon rides in Jodhpur. You would need 1 whole day to cover up all these.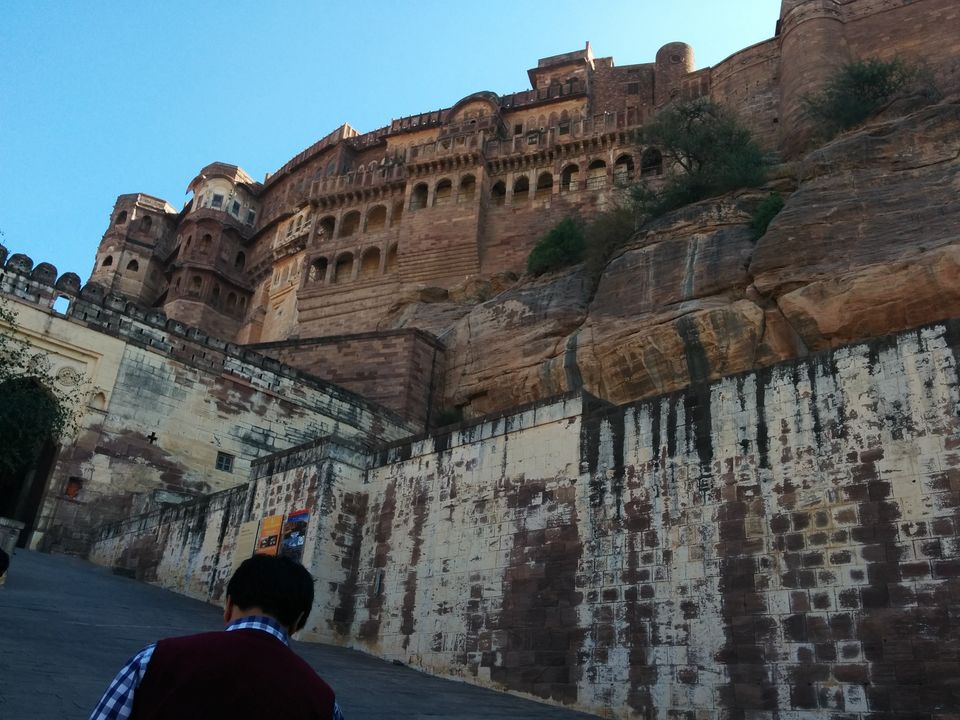 Mighty Mehrangarh Fort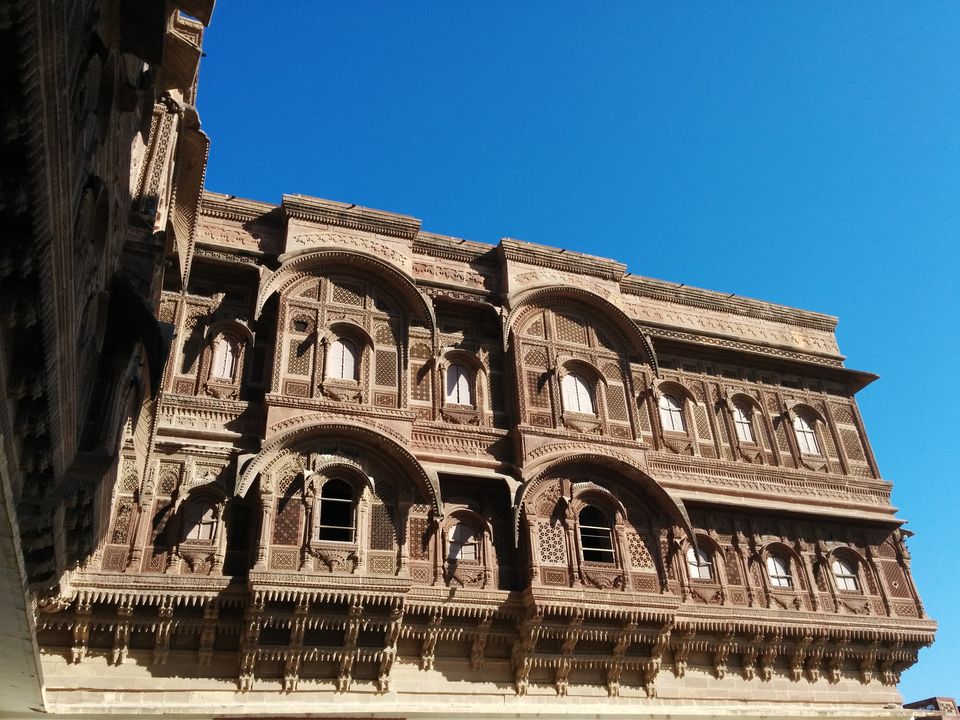 Inside Mehrangarh Fort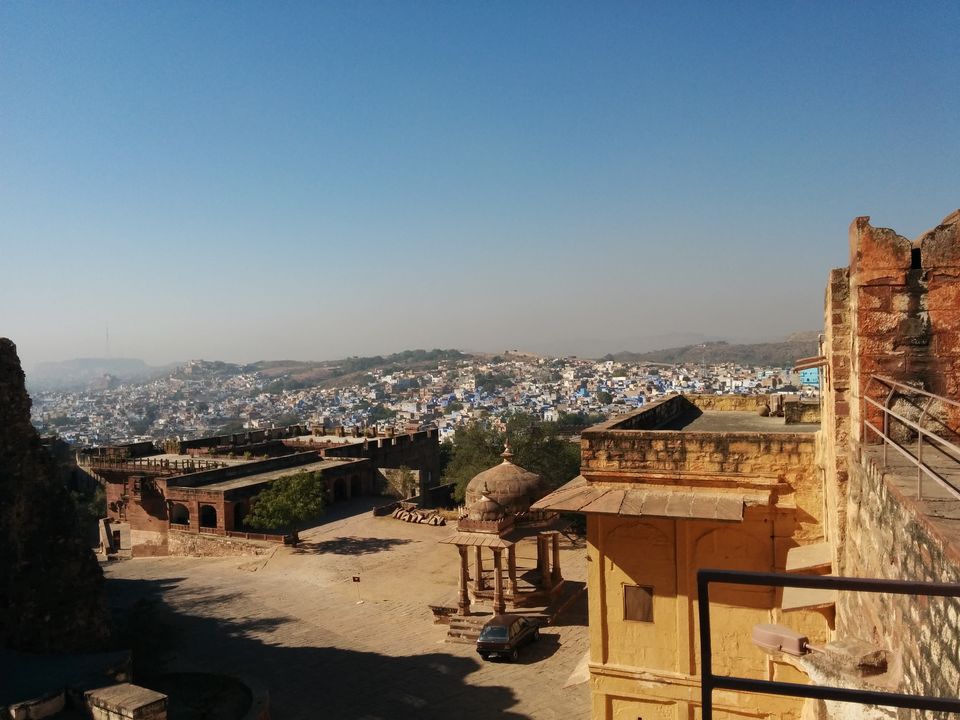 View of blue city of Jodhpur from Mehrangarh Fort
Food & Restaurants: Had lunch at Restaurant Crossroads. Food was good and quick service.
Left for Udaipur at 12:45 PM
Jodhpur to Ranakpur
Time taken: 12:45 PM to 4 PM
On our way to Udaipur we halted at Ranakpur Jain temple. It is literally a craftsmanship marvel. A grand temple carved out of marble stone with so many pillars and each one sculpted with religious stories. You have to pay for taking along your cameras or mobile phones inside. Audio guides are available which are quite informative. You can easily spend 2 hours in exploring the breath taking beauty of this temple and it is really peaceful inside. One should not miss it on the way to Udaipur!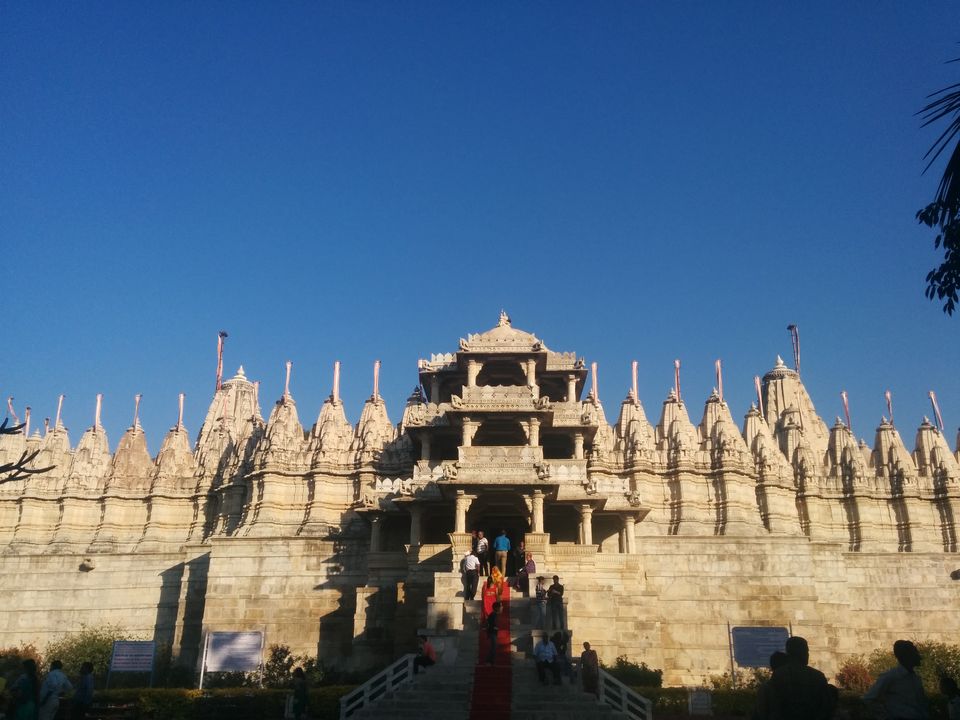 Rankapur Jain Temple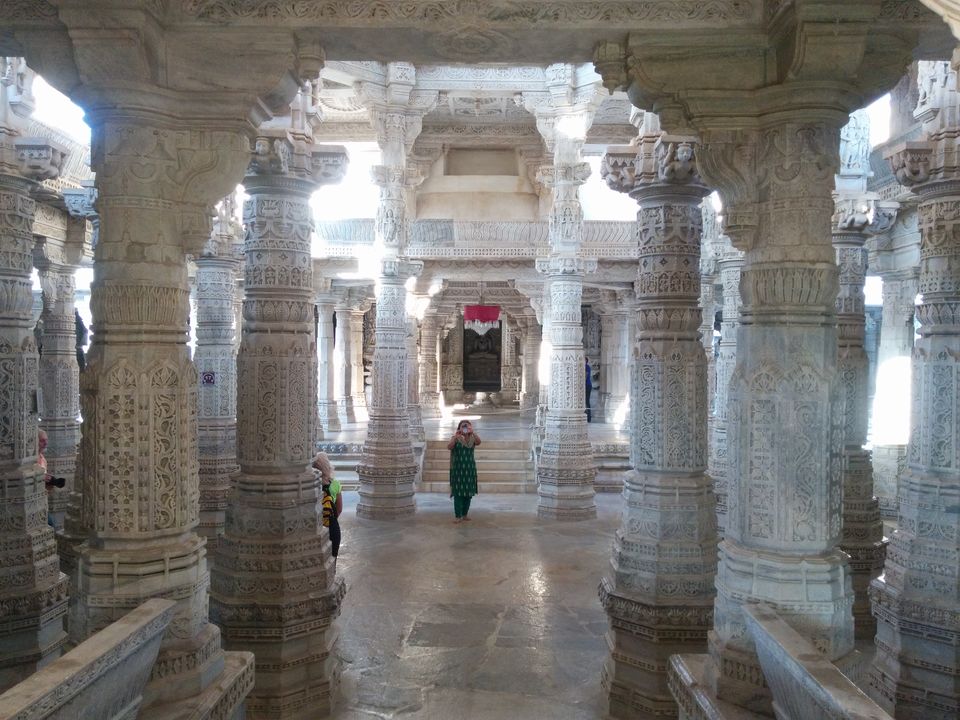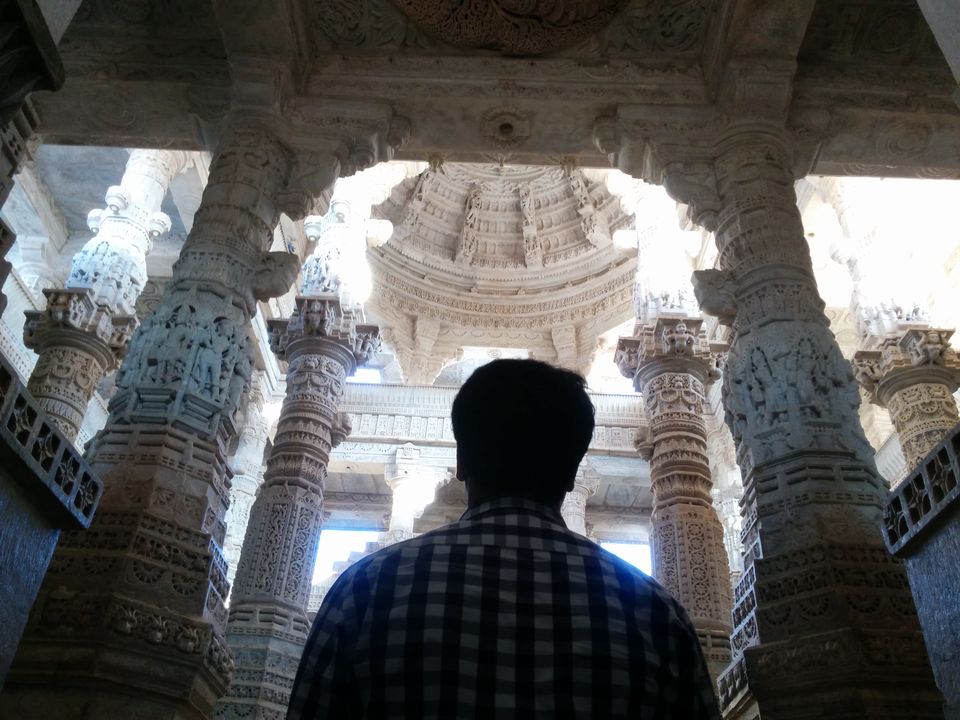 Inside Rankapur Jain Temple
Ranakpur to Udaipur
Time taken: 4 PM to 6:30 PM
You will come across Kumbhalgarh Fort on the way to Udaipur. Fort closes by 5 PM but there is light and sound show at 7PM. We thought of attending this show therefore had almost covered half the way uphill to fort. But road was bad since at some stretches it was still under construction. So, we decided to skip it would be difficult driving on such road while returning late at night and that too when there was not even a single street light on the way!
Because of this de-touring it took us longer to reach Hotel Lakend in Udaipur, our next abode for 2 nights! This hotel is comparatively a new property situated just beside Lake Fatehsagar. The location is the USP of this hotel. You don't need to go anywhere in case you want to spend quality time or dine just sitting beside the beautiful Udaipur Lakes! Rooms were also luxurious. It's a beautiful property and not very expensive considering it was New Year eve and Udaipur is flooded with tourists during this time! Only problem was service and food!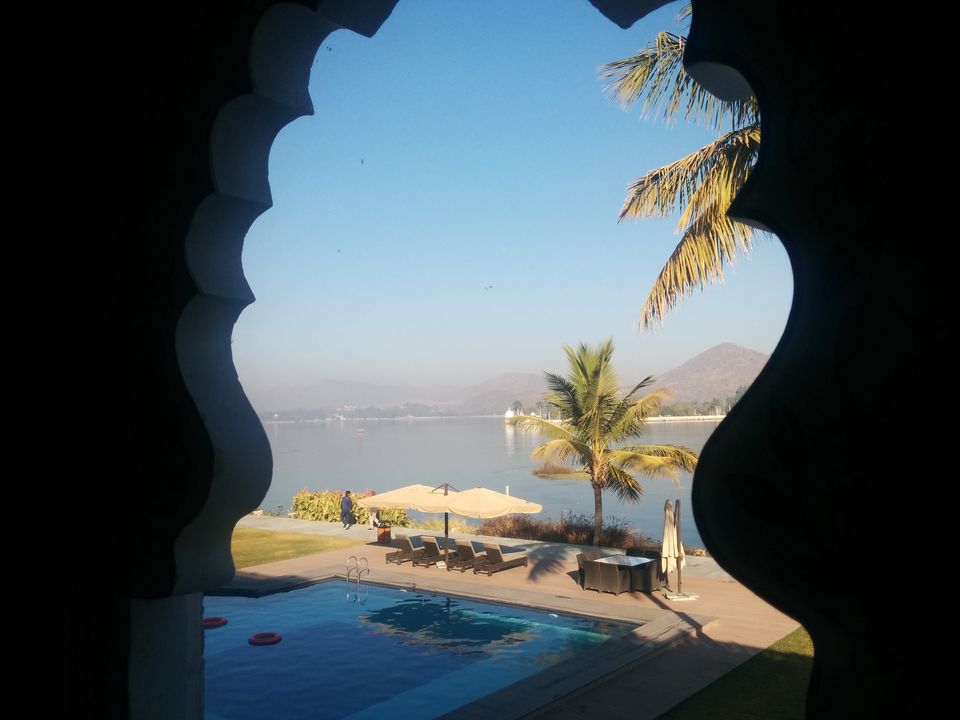 Hotel lakend situated at the banks of lake Fatehsagar in Udaipur
Day 7:
Left for Kumbhalgarh fort at 10:30 AM post having breakfast at hotel itself which was bad! We hired a taxi from hotel since my husband was in no mood to drive and wanted to give some rest to his legs!
We reached at 12:45 PM as our driver was too slow and greedy. He wanted us to spend whole day with him so that he could charge us more!
Well, Kumbhalgarh fort is again a grand fort situated on a hill top. This fort cannot be located until you reach its gates and credit goes to its location and clever construction. It is not well maintained by government unlike other forts in Rajasthan. Because of this you will get unrestricted access to every nook and corner of this fort which makes it a good adventurous experience! You must hire a guide otherwise you will be lost and also would not come to know the great history behind this fort! But please don't forget to bargain with guides!
View from top of this fort is spectacular. On one side of it you will see Mewar region having lush green mountains and Marwar region on the other which is covered with arid sand dunes! 38 KM long wall around the fort is the main attraction of this fort which is 2nd largest in the world after Great Wall of China. You can walk along this wall, well as far as you can! It's a must visit!
We spent almost 2 hours here. Do not forget to wear good shoes as there is lot of climbing and walking to do. Also, good shades and water bottle are must to carry along.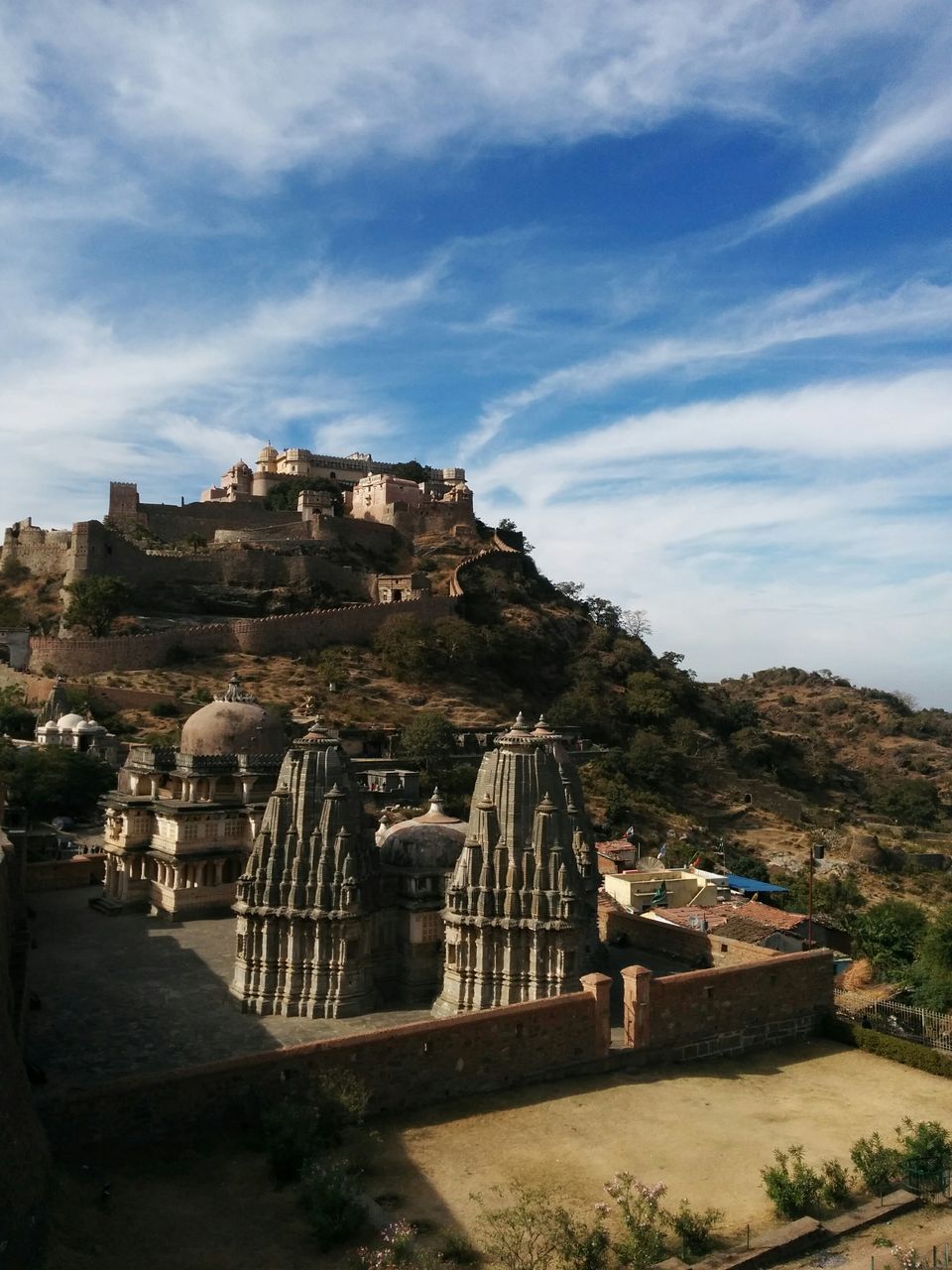 Kumbhalgarh fort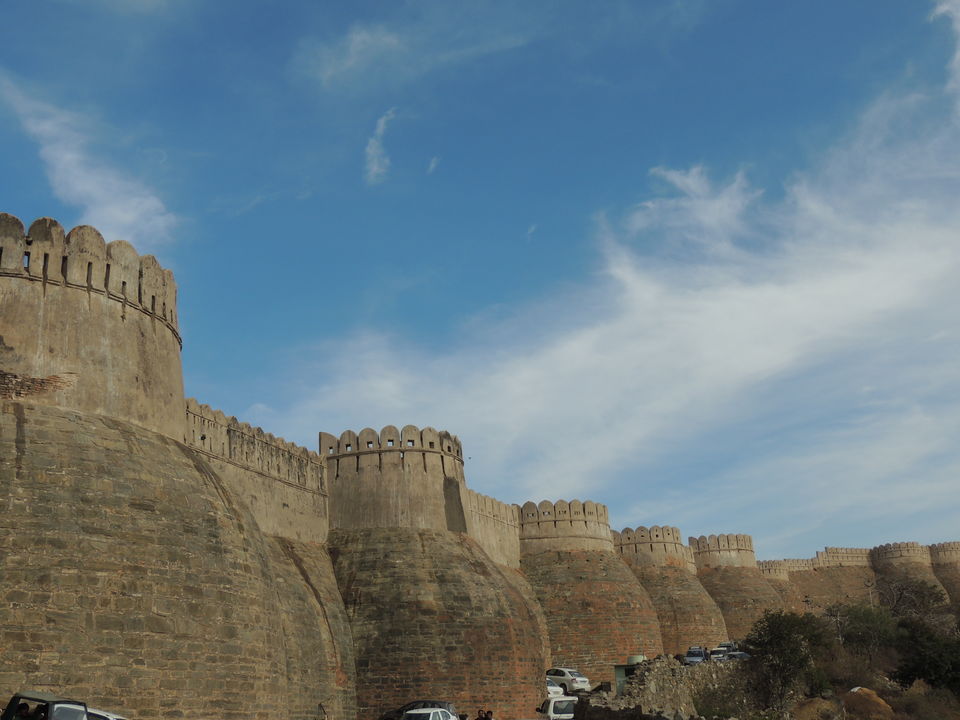 Outside view of wall of Kumbhalgarh fort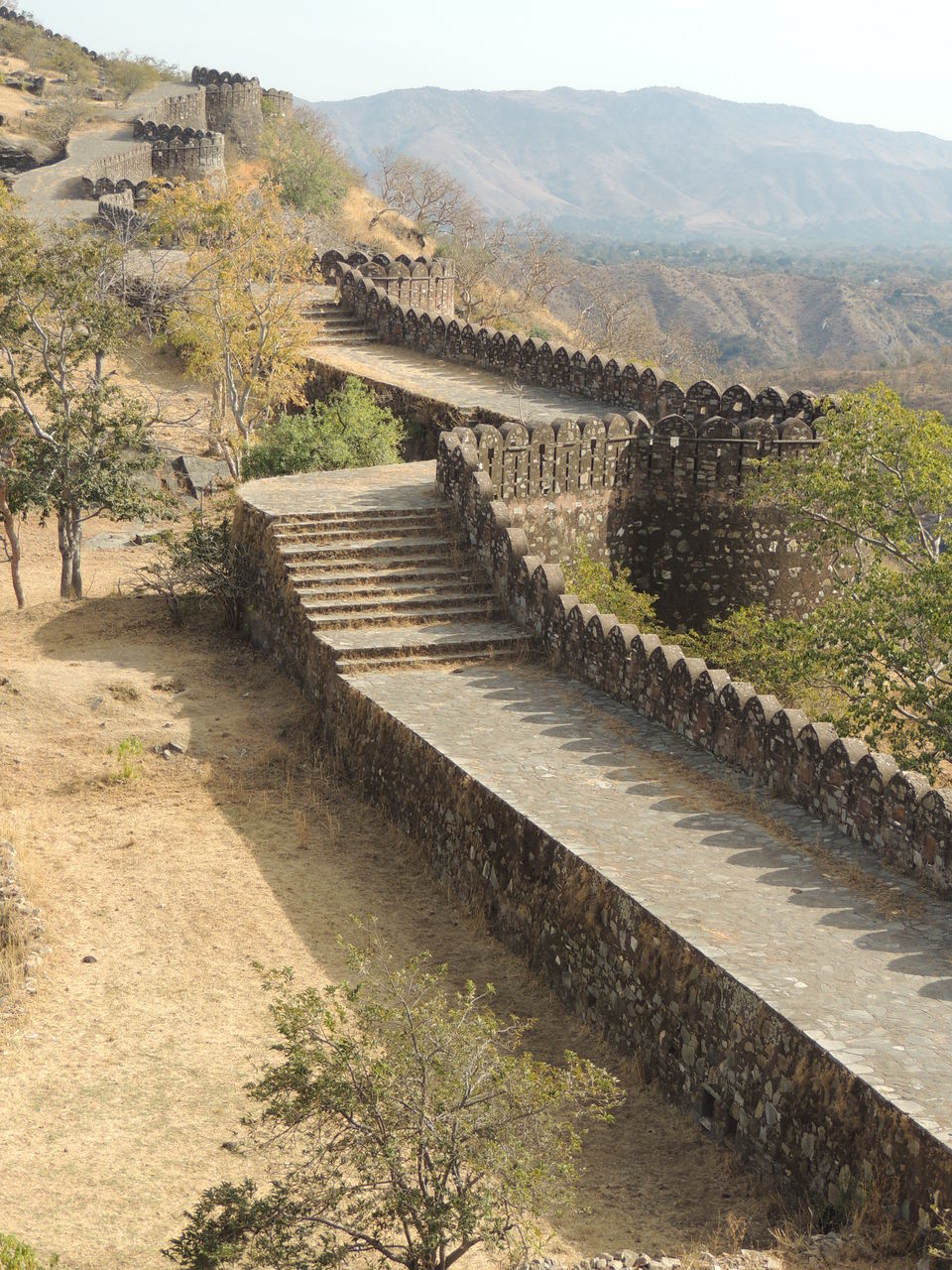 Wall of Kumbhalgarh fort
We came back to Udaipur by 4:45 PM. We walked around different Ghats situated along Lake Pichola and spent rest of the evening at Gangaur Ghat!
Food & Restaurants: Had supper at Grasswood restaurant. It's a small café situated on Gangaur Ghat. Apple pie is a must have here!
Each and every popular restaurant and hotel in Udaipur was pre-booked for 31st December night. And unfortunately Hotel Lakend's management had asked its resident guests to pay whooping Rs. 7K for gala dinner incase they wanted to dine by the lake and none of us were informed about this at the time of reservation!
So we landed up at Rajbagh Restaurant located just beside Hotel Lakend and on the banks of Lake Fatehsagar.
Day 8:
Today was the day to explore local attractions at Udaipur. 1st on the list was City Palace. Entry ticket is Rs 30 but rest of the places inside it are insanely over-priced! For museum, entry ticket is Rs 250 per person and for Crystal Palace it is Rs 550. Skipped both of them!
Post roaming around city palace we went for boat ride to Jag Mandir for which fare was Rs 400 per person. Experience was worth the money since boat ferries you around all of Lake Pichola. You will get full view of City palace, Lake Palace, Hotel Leela and Udaivilas. Jag Mandir is extremely beautiful and serene place.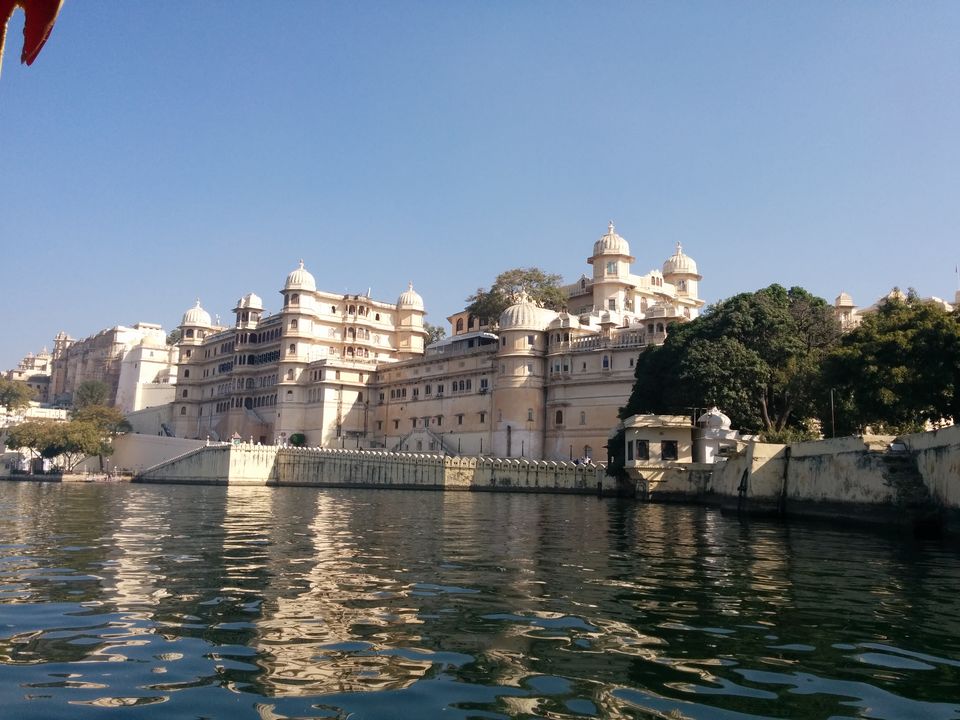 Lake Pichola and City Palace
We left Udaipur at 1 PM.
Udaipur to Chittorgarh Fort
Time taken: 1 PM to 3 PM
This is the largest fort in India. Locals still reside in the fort. It has proper roads built inside so you can take your car along. A guide is a must. There are many forts and temples inside and you can commute in your car from 1 point to another. Most parts of the fort are ruins now and is not maintained by government.
Guide will take you to Meera Temple where Meera bai used to pray Lord Krishna, Vijay and Kirti Stambh, Rana Kumbha Place which is a complete ruin, a historic place where 16000 women along with Queen had jumped into pyre of fire to escape wrath of Mughals post king's defeat, Rani Padmini's palace which has a heart-wrenching story behind and finally the awe-inspiring battlefield.
Spent almost 2 hours here. I did not like this one as much as I liked other forts in Rajasthan, may be because it is in poor condition now.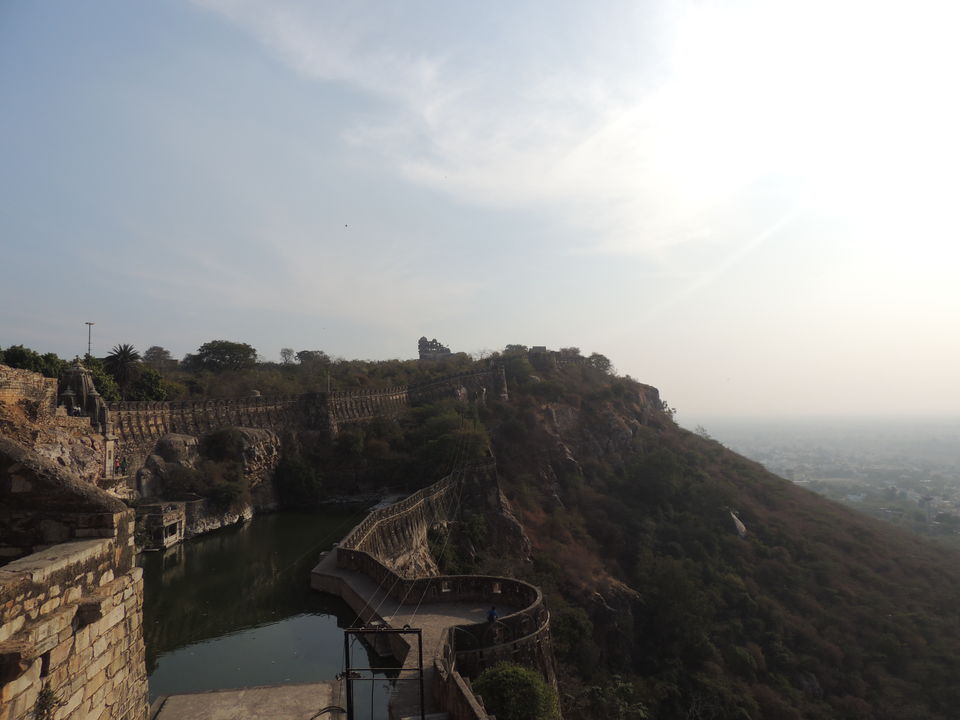 Inside Chittorgarh Fort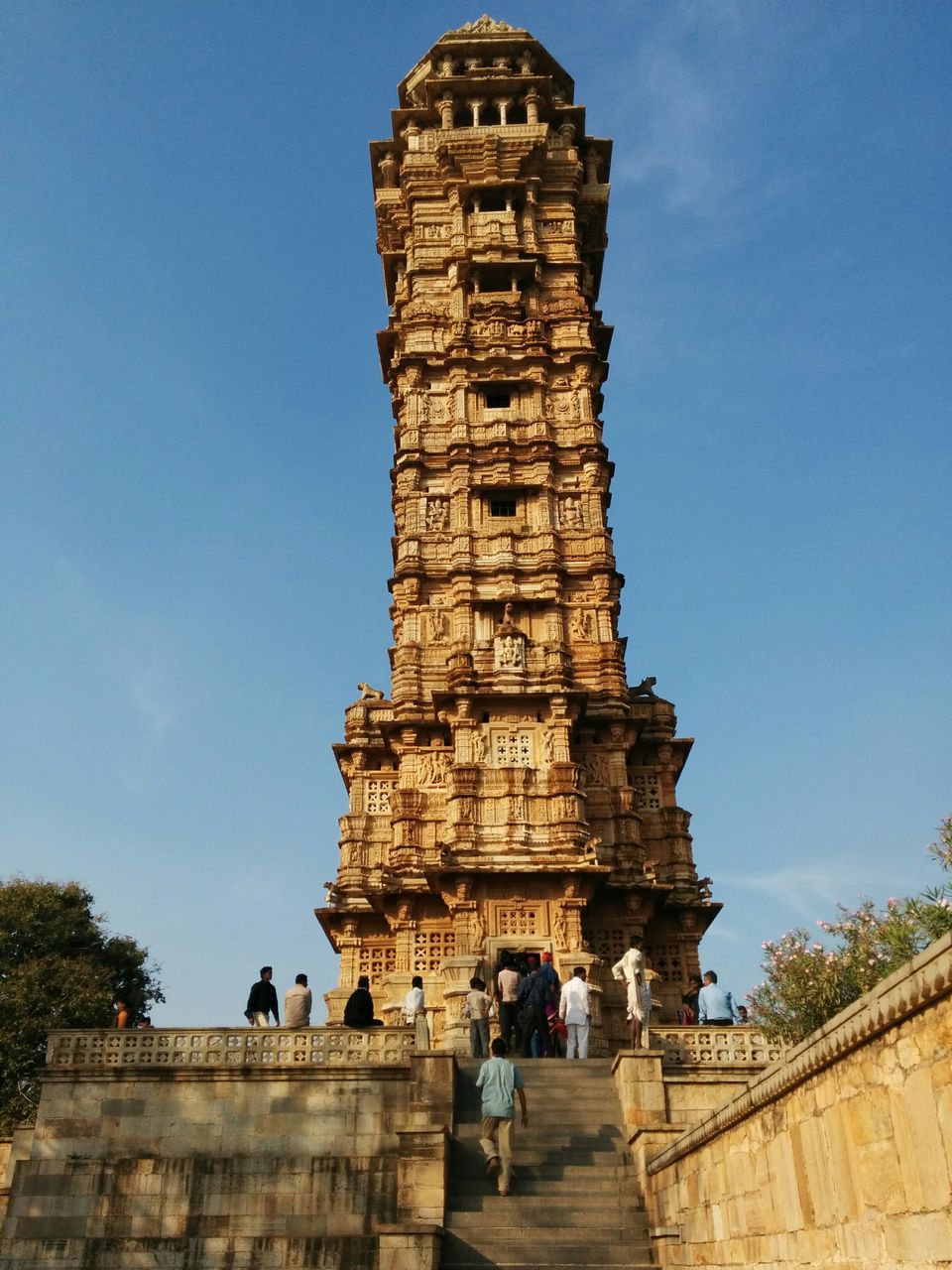 Vijay Stambh inside Chittorgarh Fort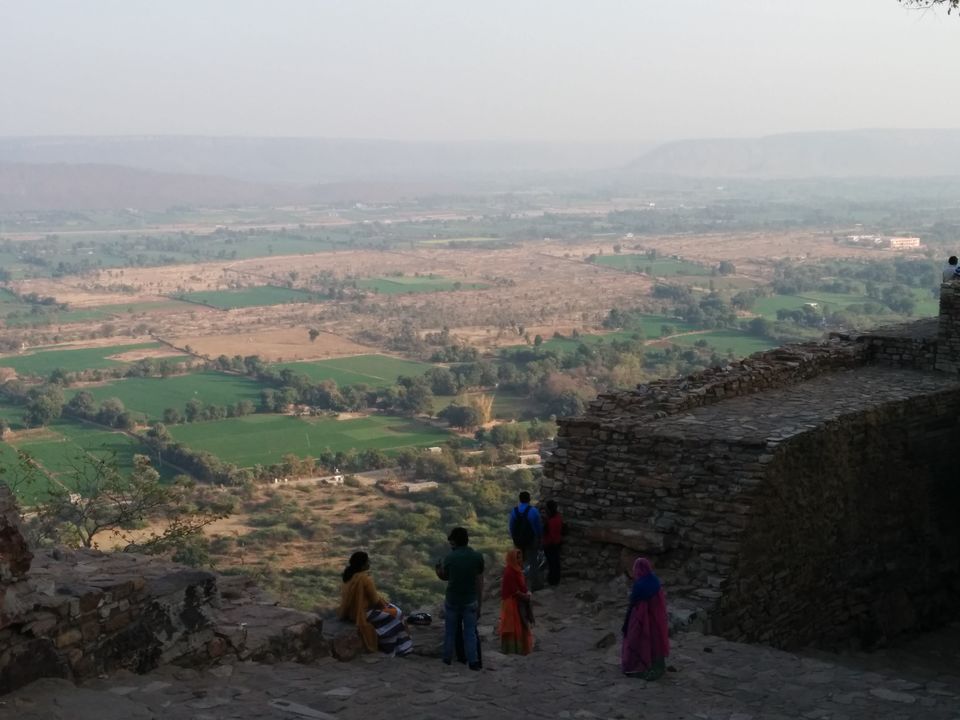 Battlefield of Chittorgarh Fort
Chittorgarh to Jaipur
Time Taken: 5 PM to 9:30 PM
On the way back to Jaipur, we stopped at Dhaba Highway King which is located at Ajmer-Jaipur Border. Food was fresh and delicious!
Day 9:
We went for shopping at Bapu bazar-Maniharon ka Rasta in Jaipur. This place is wholesale market for Lac bangles. There is so much of variety and such beautiful bangles that you will feel like buying everything you come across!!
Post having some local savories like Pyaz and dal kachoris, we left for Chand Baori.
Jaipur to Chand Baori
Time Taken: 12 PM to 2 PM
Chand Baori is step well and is an unbelievable piece of architecture. Perfect symmetry of steps around the well is exquisite. Unfortunately, tourists are not allowed to go till bottom of the staircase. It is a must visit if in Jaipur!
With this our trip to Rajasthan came to an end! Though there are still so many places we would like to cover in our next trip, mostly the wildlife sanctuaries!
We took route via Yamuna Express highway to reach back Ghaziabad. It took almost 5 hours to reach home!
Frequent searches leading to this page:-
Best time to visit Rajasthan is February, Ghaziabad to Jaipur, rajasthan road trip, rajasthan itinerary for 9 days