So we got the rooms, freshened up a bit, rented bikes and left for Mirjan fort. Although no reference to the construction of the fort is found, contemporary writings reveal that this fort played a dominant role in the Vijayanagara period.
The fort is in a pretty good condition with mostly all the turrets and walls intact. There were huge wells on the fort that really caught everyone's eyes but except that there was nothing much to see. So without spending much time there, we left for Paradise beach.
To reach Paradise beach you have to do a little trek and at first, I thought okay let's start but the interesting thing about the trek was that we weren't sure if we are going right because there was nobody else except us and the paths were too narrow to be thought right of. So I started leading the trek even not knowing myself I told my friends to follow. After a series of 'let's go back', 'this isn't the right way', 'we will be lost here', the sun is setting it's dangerous', we still kept going through that jungle and finally saw a most delighting and picturesque view. That scene, the infinite sea, the horizon, the sound of tides heating the rocks, the peace in that air was the reward anybody will ask for.
THE ABILITY TO KEEP GOING WHEN YOU FEEL LIKE QUITTING WILL TAKE YOU TO THE PLACES YOU NEVER IMAGINED.
And I just literally experienced this. The sea from up above the hill looked soothing to my soul. It goes the same in our daily lives I guess, we have to keep going in something even if it is not giving us the results we expected to reach the places only we know are there.
From there we went to kudle beach chilled there for some time, had dinner on the beach shack, some of us left early as they needed some things and markets in Gokarna close early. It was past 10 when we left for the hostel, It was already dark, nobody on the roads, no street lights, dense forests by our side, only noise there was off my bike.
So we were leaving for the hostel and a man stopped me and asked for help, confused me wasn't able to understand a thing. I looked around and there was a family waiting by the side of the road. So he started to explain the situation, actually, that family parked the car somewhere and walked to the beach by an unpaved road and due to high tides that dirt road went under water in just a matter of 2 to 3 hours. So one of them asked if I can help find his car, It was a pretty scary situation considering the conditions we were in. I was hesitant to take a stranger with me on those roads.
One thing I firmly believe that there are no such things as ghosts and monsters in the dark, the only monsters that exist are in humans and it's very hard to believe somebody in those kinds of situations But still, I decided to help him. My friends stayed there with his family and we started the search. Eventually, after just 15 to 20 minutes of searching on those dark roads, we were able to find his car. He thanked me a lot and I felt really good that I helped someone today in spite of my scary thoughts and distrust towards other humans.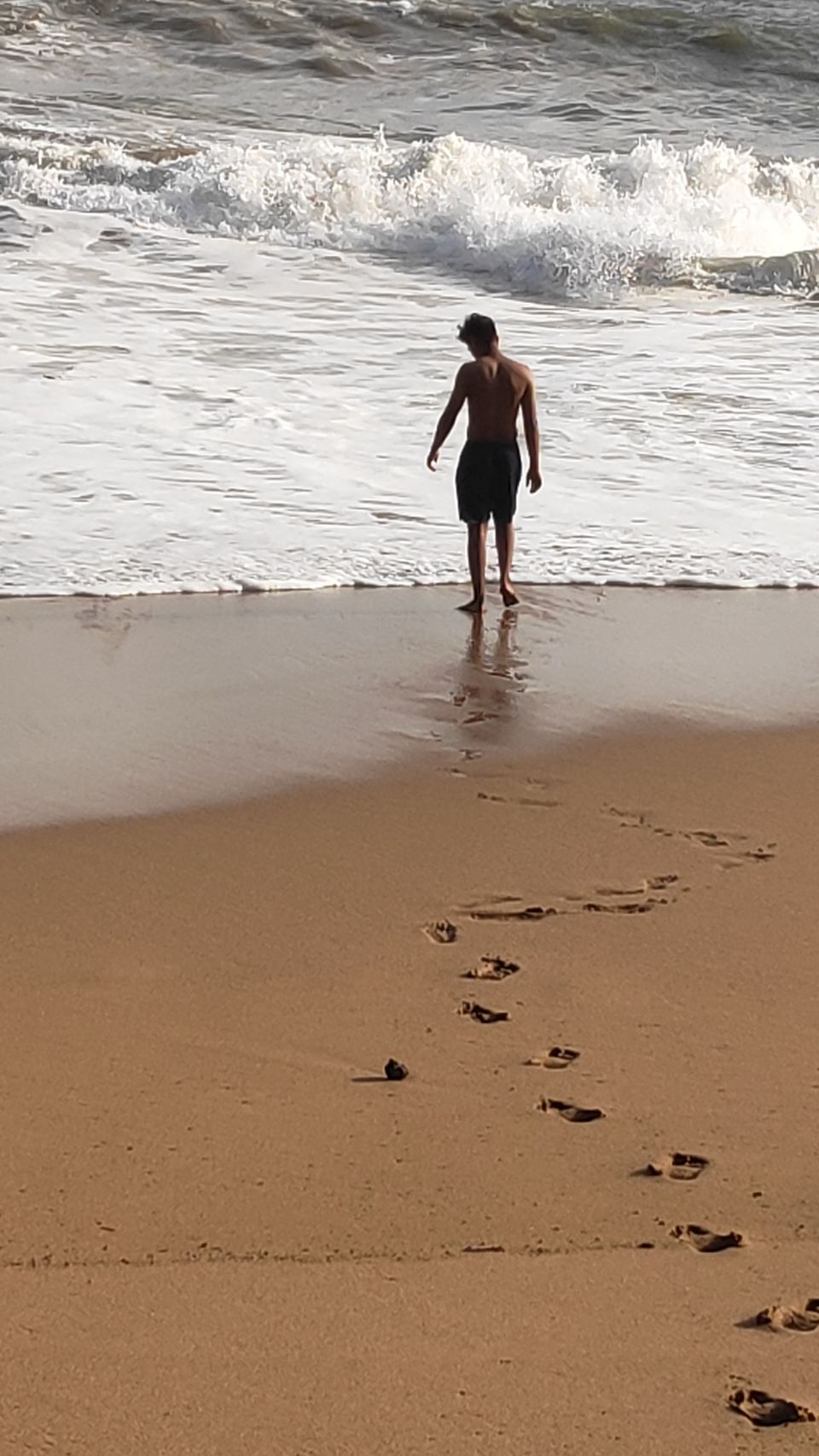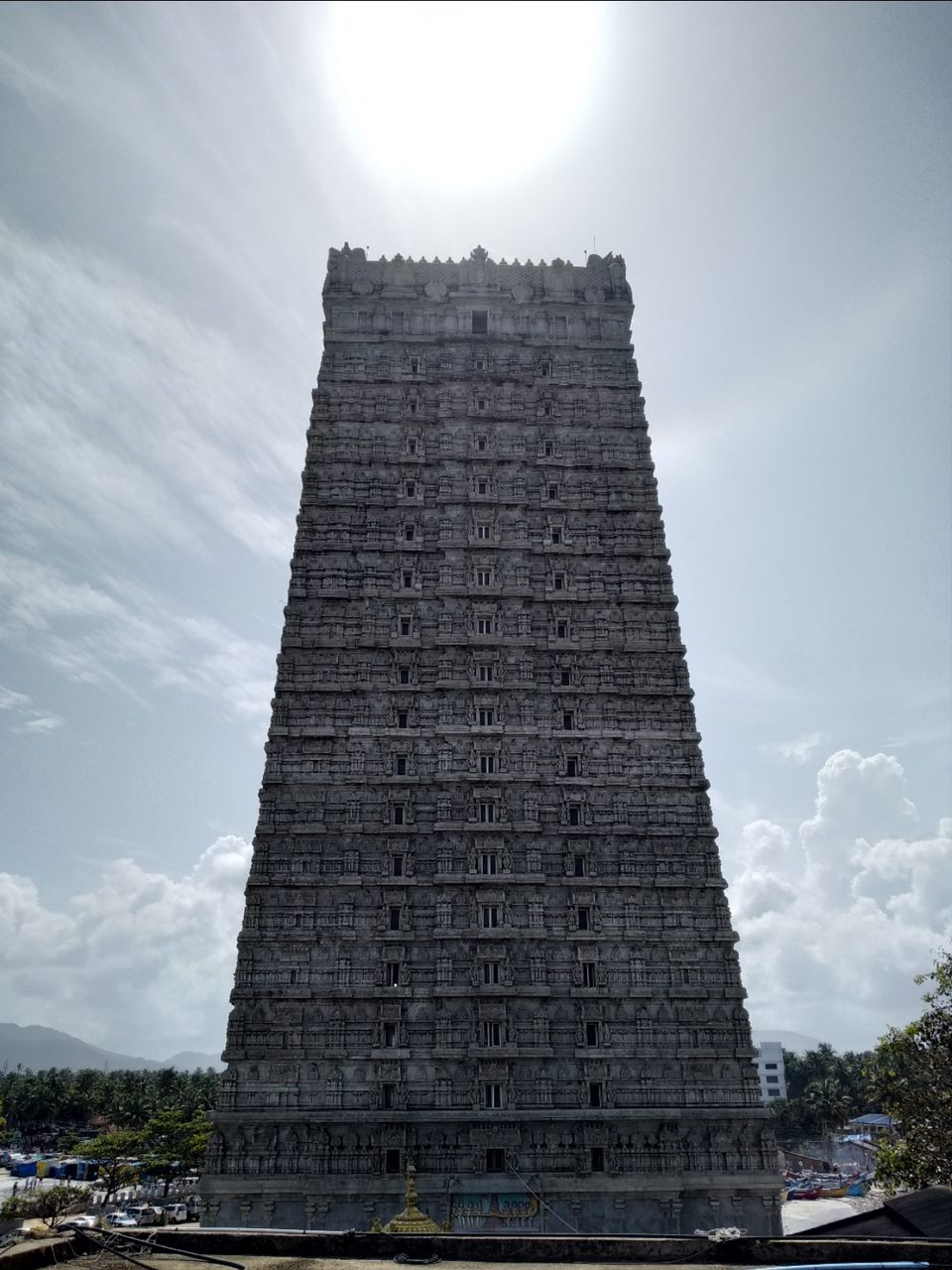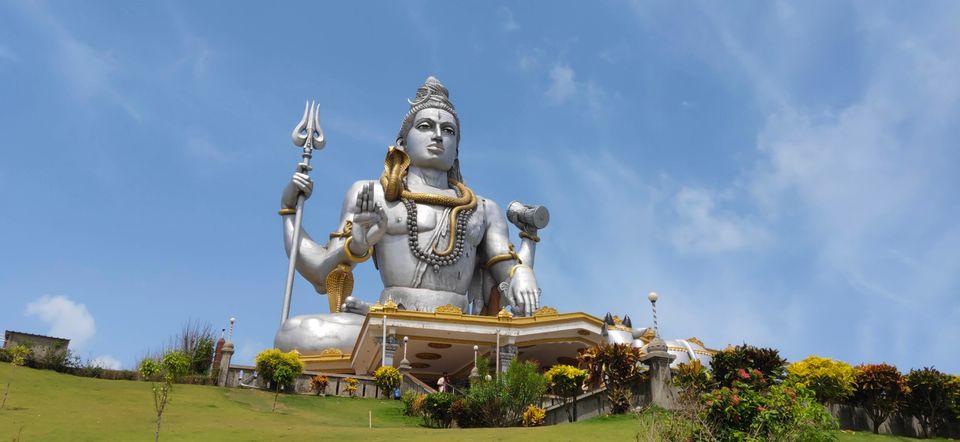 The destination was Murudeshwar temple. It's around 80 km from Gokarna, There is an effigy of Lord Shiva said to be the second tallest after Kailashnath temple in Nepal.
We reached there around 10 am. and it was totally different than any temple I have ever visited. I am not interested in visiting temples much. The only reason I went there was the effigy of Shiva but I must say it was a different experience. The people were calm, nobody was rushing and even nobody was forcing you to buy things for pooja.
In the evening we just laid back on the main Gokarna beach. Relaxed for some time and explored the local Gokarna markets. It's a small town with no big markets and mostly vegan restaurants and if you want to eat non-veg very fewer options are available and it's expensive so there's nothing you can do about it.
Gokarna is a place for you if you are tired of the overcrowded beaches and over-touristy places in Goa. The best time to visit is from October to March when the weather is mostly sunny and the temperature is around 32°C.
This story started when our engineering was about to finish and like every group of friends we also wanted to have that #onelasttime trip. Discussions started, where to go? when to go? What will be the budget? And many more talks and arguments that always happen in a group. ( I am sure many of us will relate to the argument thing.) We did literally a virtual trip of India from Himachal to Rajasthan to Kerala and finally, the places decided were Goa and Gokarna.
No trip is ever completed without problems and this one was no different. From cancellation of the booked villa to the cancelled bus and the refund amount stuck in the payment portals, we somehow managed to get this all together and boarded the bus. Just when we started to enjoy the journey another call came from the hostel in Gokarna that they have some policy not allowing a group of more than 4 and they will be arranging for four of us and other four's accommodation will be in the nearby hostel. It was our mistake also that we didn't check the terms properly but at least they could have called earlier to sort this. So here we were again, 8 of us wanting to enjoy together in a situation like this. We talked with the property manager but he told that there would be no other way so at the last moment we had to shift to a different hostel. We were lucky enough to get the rooms nearby and we shifted there.
A little something about Gokarna, It is a beautiful little pilgrimage in Uttar Kannada district in Karnataka, famous for its pristine beaches and classical temples. Gokarna literally translates to Cow's ear and the main deity here is Lord Shiva with the Mahabaleshwar temple just along the beach.