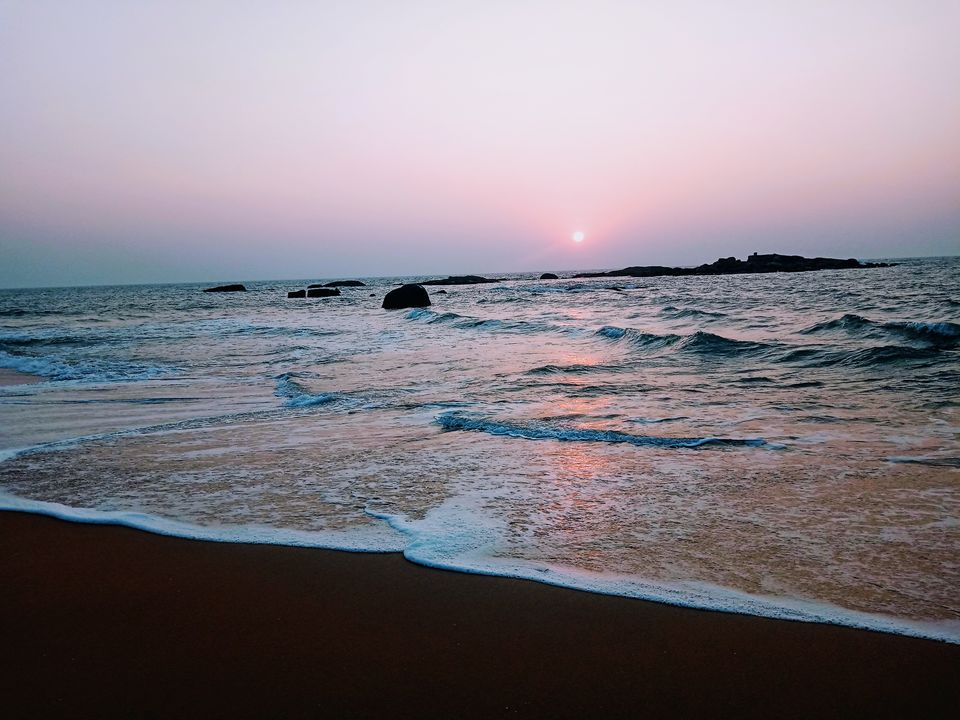 GOKARNA!!
After planning 'N number of times & cancelled confirmed tickets & Stay in the month of November, I was in Gokarna on 6th of Jan early morning at 4:00 a.m……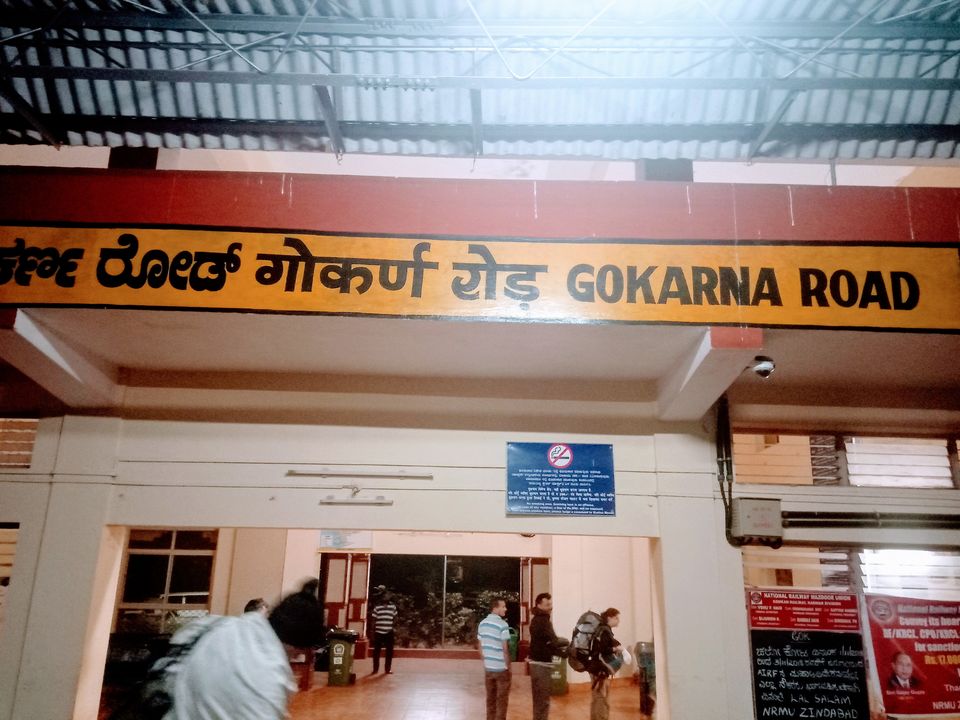 Stay: Zostel & Trippr Hostel
No. of Days: 3 Days
Travel: Mumbai to Gokarna by MATSYAGANDHA EXP & return from Karwar by MUMBAI EXP
Internal Travel: by scooter rented in Gokarna from Aryadurga Bike rentals [Main Road, Gokarna, Karnataka 581326, Mob: 090363 17219]
Places explored: Gokarna Main Beach, Kudle Beach, OM Beach, Maha Ganapathi Temple, Kudle Hilltop, Koti Teertha, Murudeshwar Temple, Mirjan Fort, Honey Beach, Half Moon Beach, Full Moon Beach (Paradise Beach), Middle Beach…..
Places Missed: Yana Caves & Vibhuthi Falls & Mahabaleshwar Temple
Budget: 6,300/- all inclusive
As usual the train was late by hour & it worked for me, because the hostel doesn't allow early check-in…I had booked two-wheeler over phone & best part is it is open 24 hours…So I picked up & reached my hostel & had to do time-pass till 11:00 a.m….
Day – 1
After check-in & getting fresh I started my day & started hunting restaurant for lunch where I could have some local cuisine. Its strange there are only few veg restaurants in Gokarna…
I saw the Menu card & to my surprise there were hardly any options only meal (Thali) & Dosa & I went ahead & ordered veg Thali (hoping for authentic South Indian Thali) but it was pathetic…& after lunch I was feeling drowsy as I didn't get sleep in night & afternoons were super-hot to step out in Gokarna…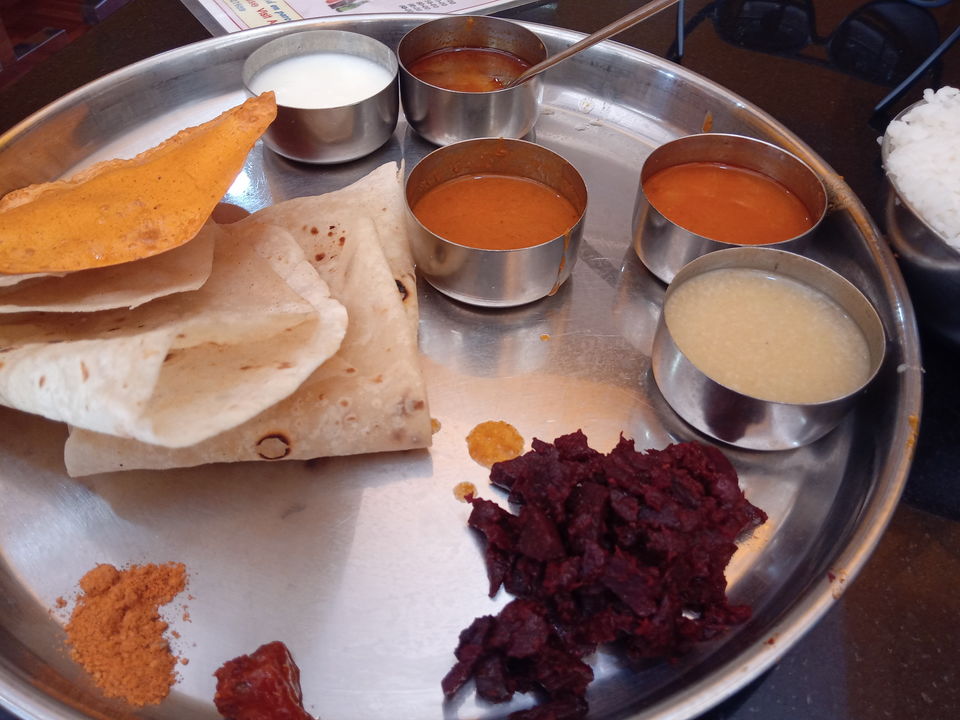 1) Kudle Beach…
It is the most popular beach amongst tourists with Shacks… It is very clean beach & you will find lot of people indulge in various activities as in Volleyball, Foreigners playing different music instruments, Beach Tennis, Flying Disc Catching, People taking stroll & swimming in beach….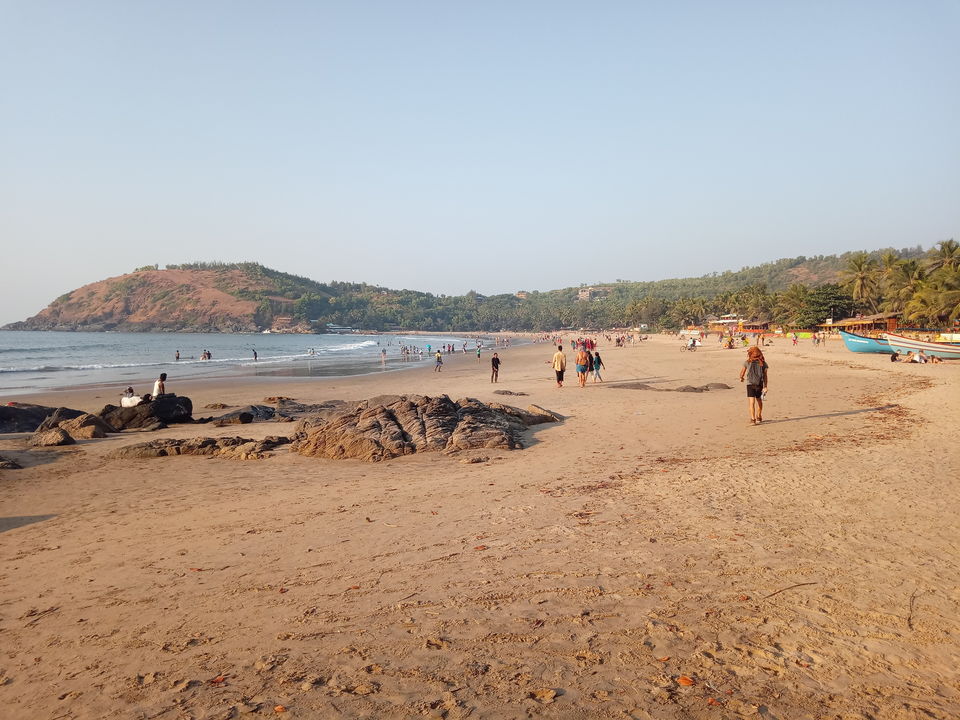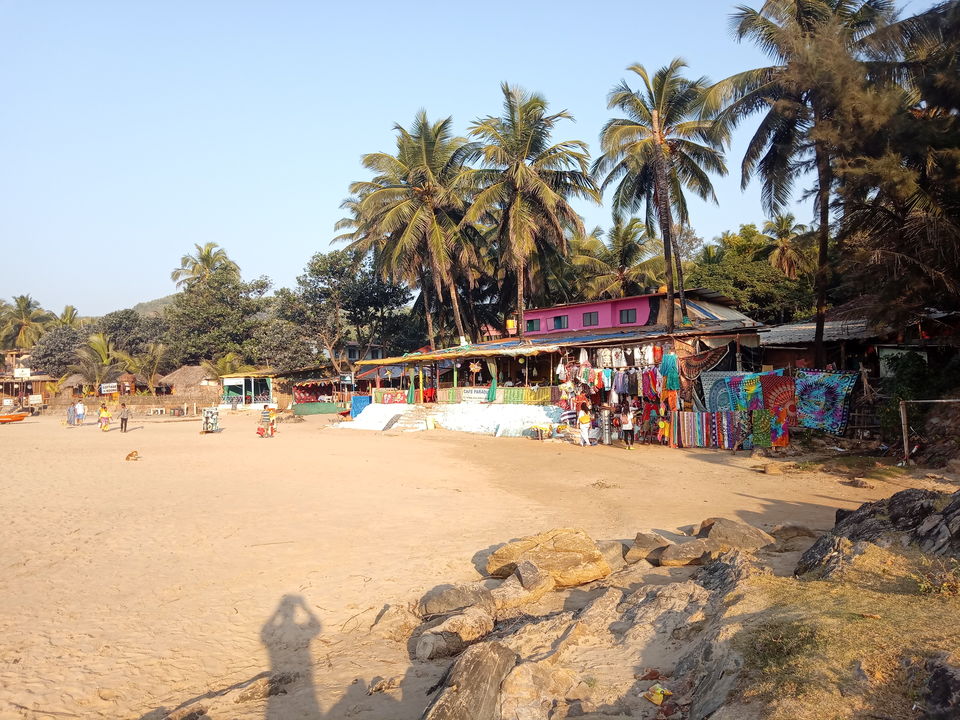 At the end of the beach you can find rocks & which makes the beach more beautiful…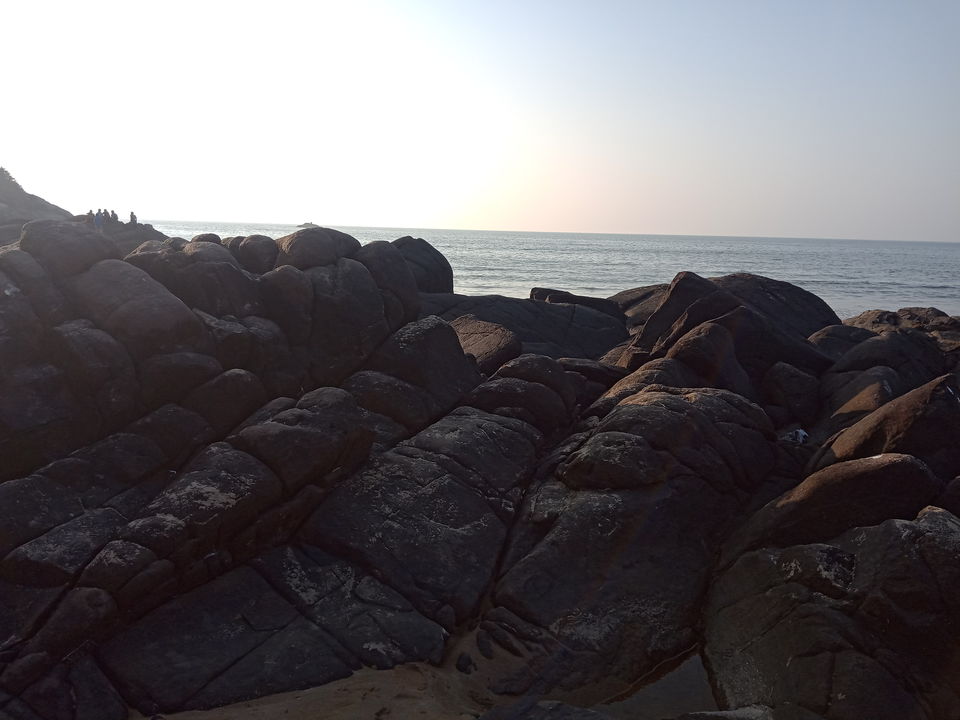 To my surprise, Foreigners put up bazar & sell different stuff, including food & also you can find 1 Firangi Baba who will tell you your future... :-p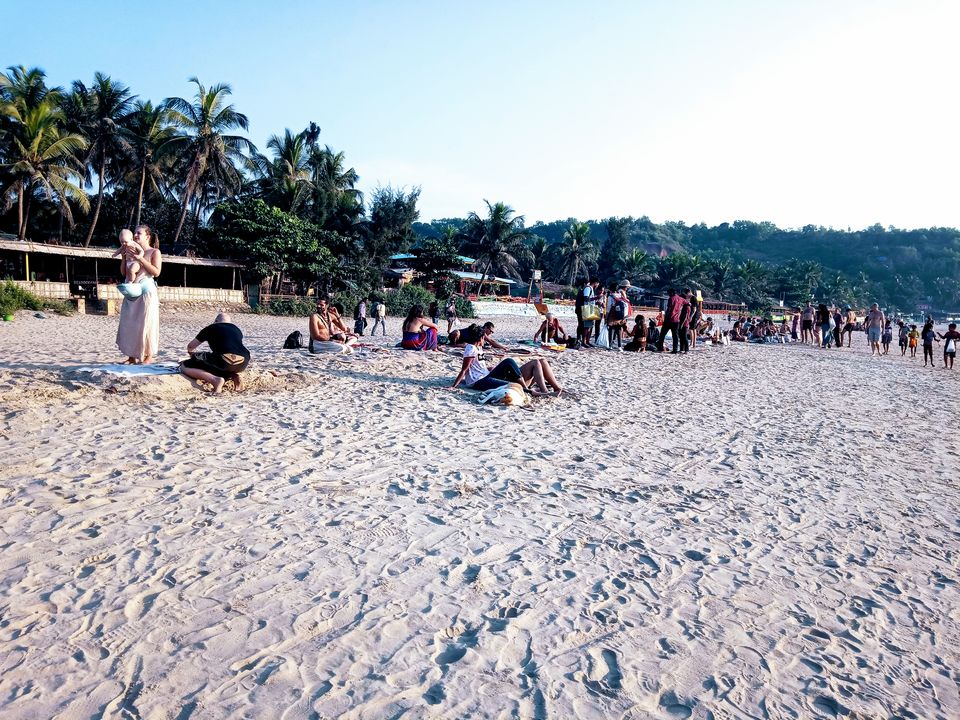 2) Lord Hanuman Birth Place…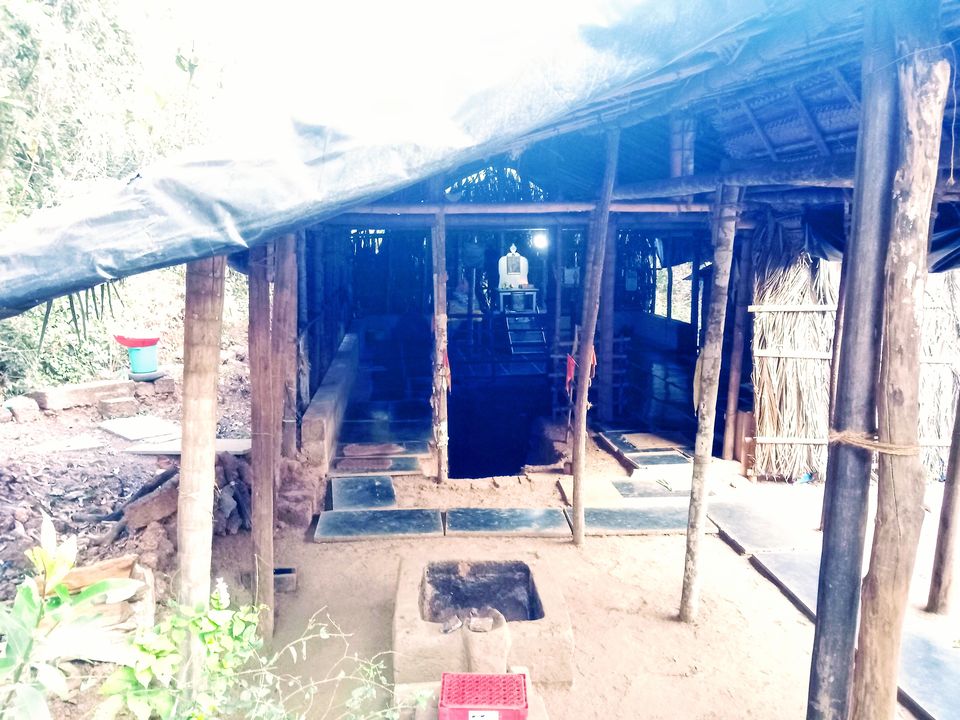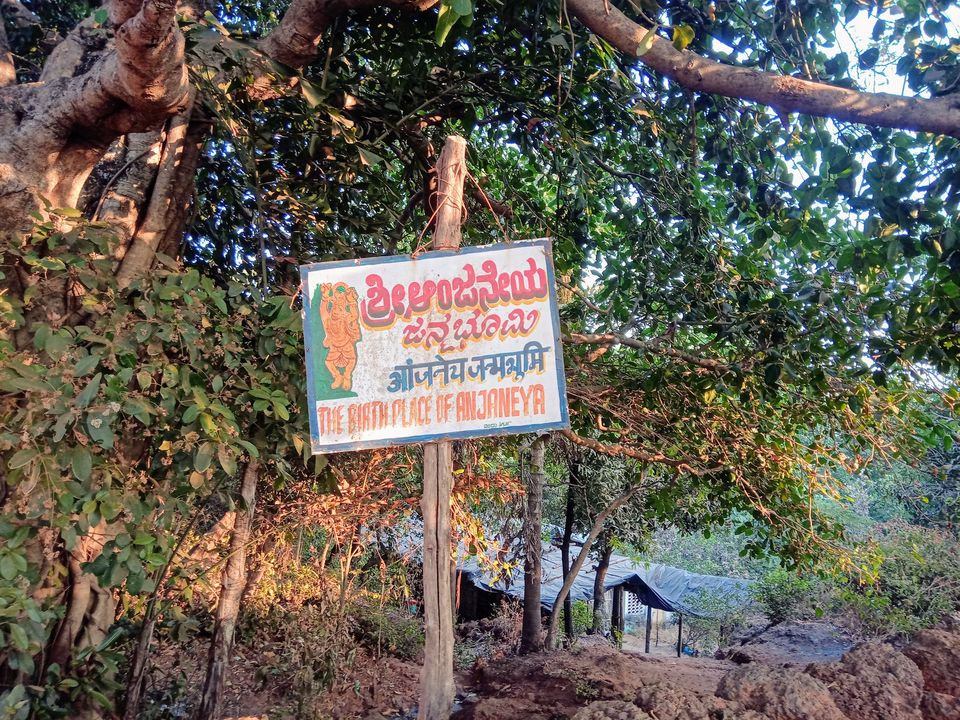 3) OM BEACH…As the Beach is in the shape of Hindu religious letter 'OM'… It is famous for water activities, but I couldn't find anything… The beach also has rocks… & perfect place to witness sunset & enjoy the beauty of nature…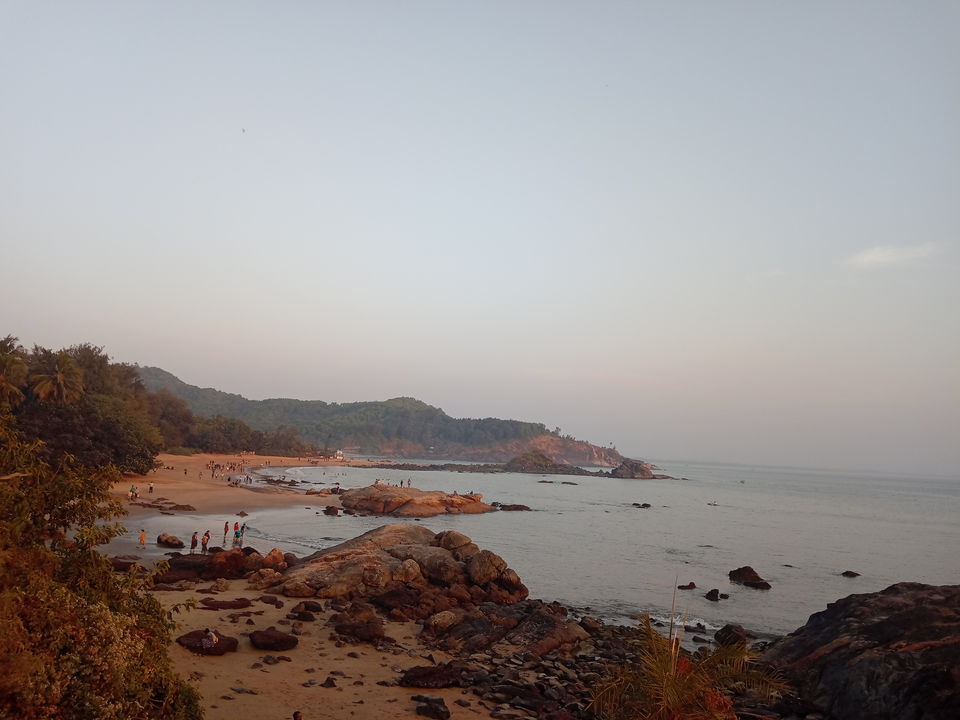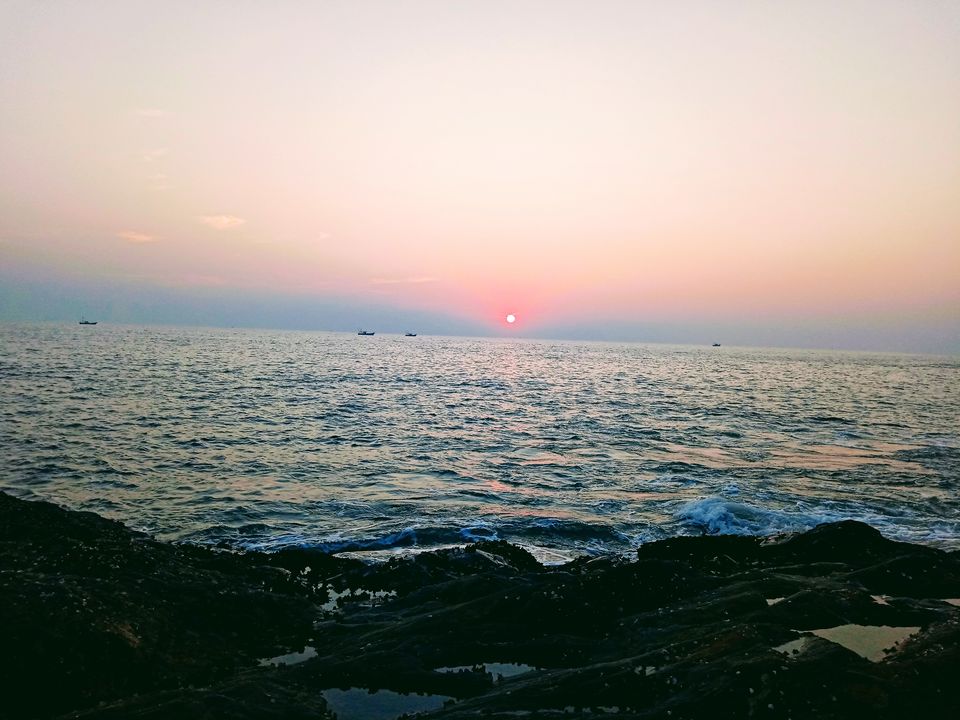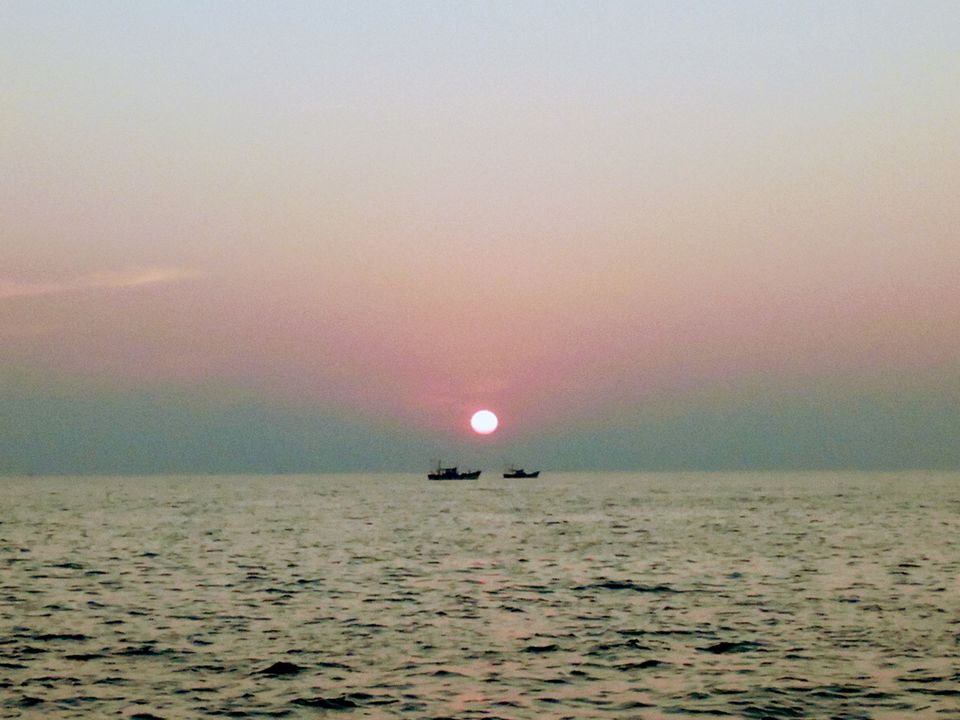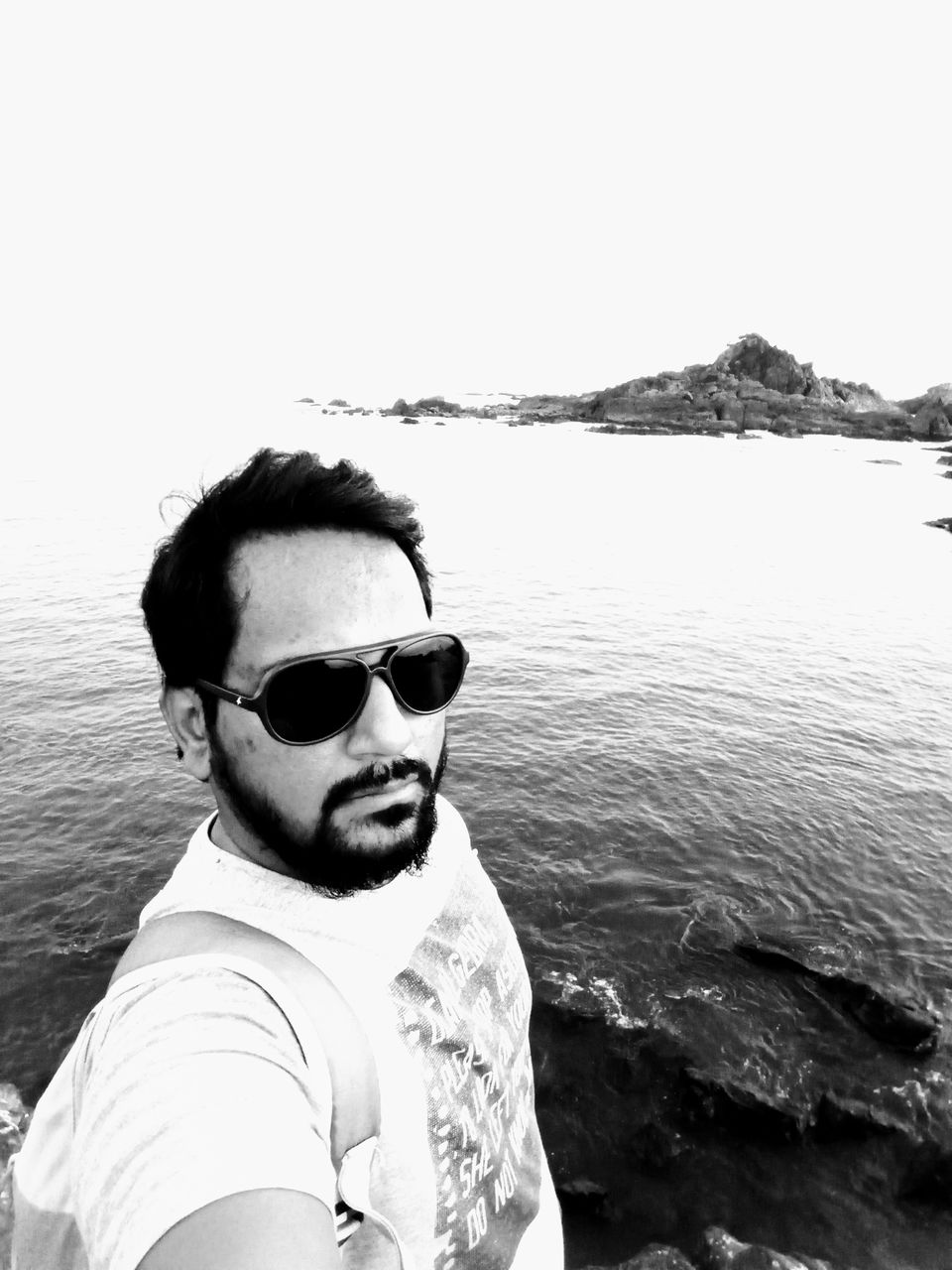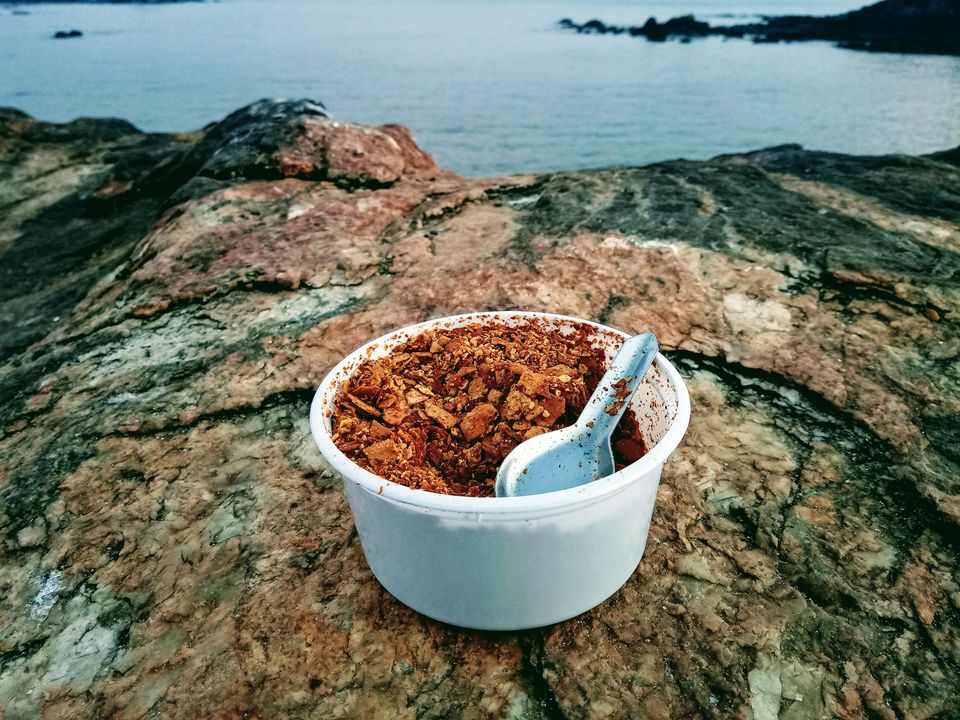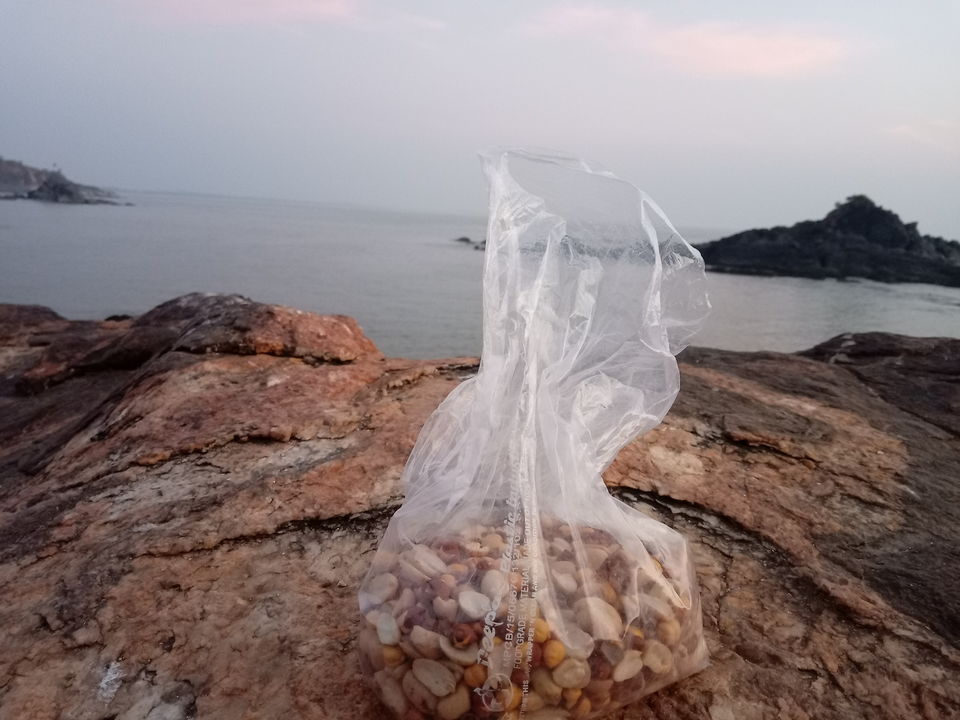 4) Mahaganapati Mandir… Very Old-style temple, located in the heart of city & next to Mahableshwar Temple…its very peaceful, must visit...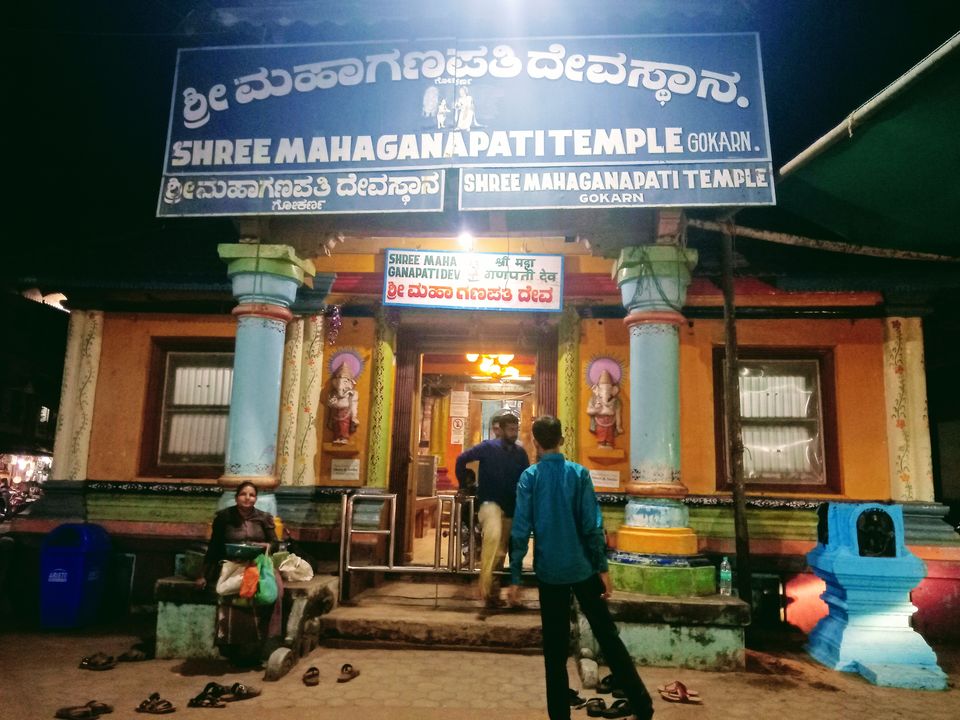 5) Mahableshwar Temple… I think Gokarna is famous for this Lord Shiva temple & is one of the most important pilgrimage site in India…very close to Gokarna Main Beach… They have weird rule for devotees… U r not allowed in shorts & even Foreigners are not allowed…. So yeah, I was not allowed as I was obviously wearing shorts…I did visit next morning will my denims, but it had very long que… it must have taken minimum 2 hours & I didn't have patience to wait for 2 hours in que…. So, I decide to skip…
DAY - 2
6) Murudeshwara Temple… 80 kms from Gokarna city… It's a lord Shiva Temple & has 120 feet statue & is surrounded by water from 3 sides, which makes it scenic…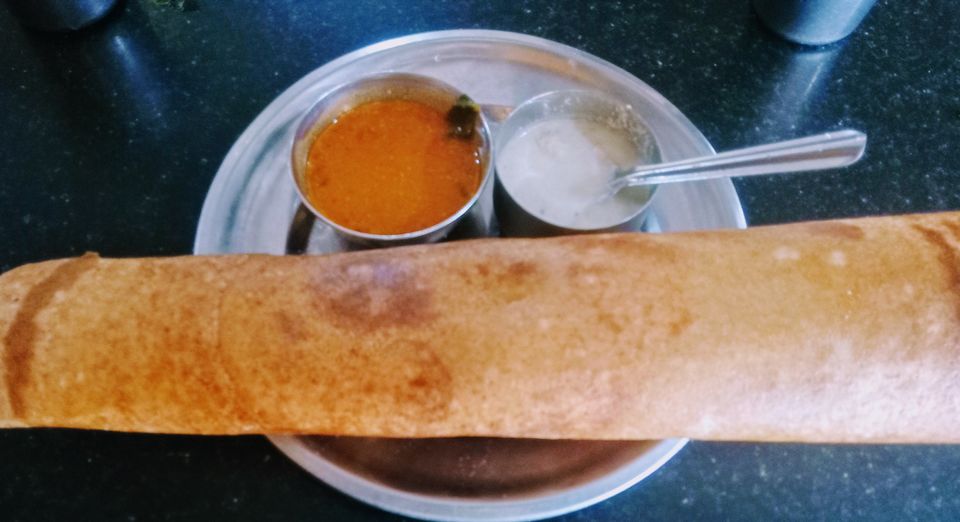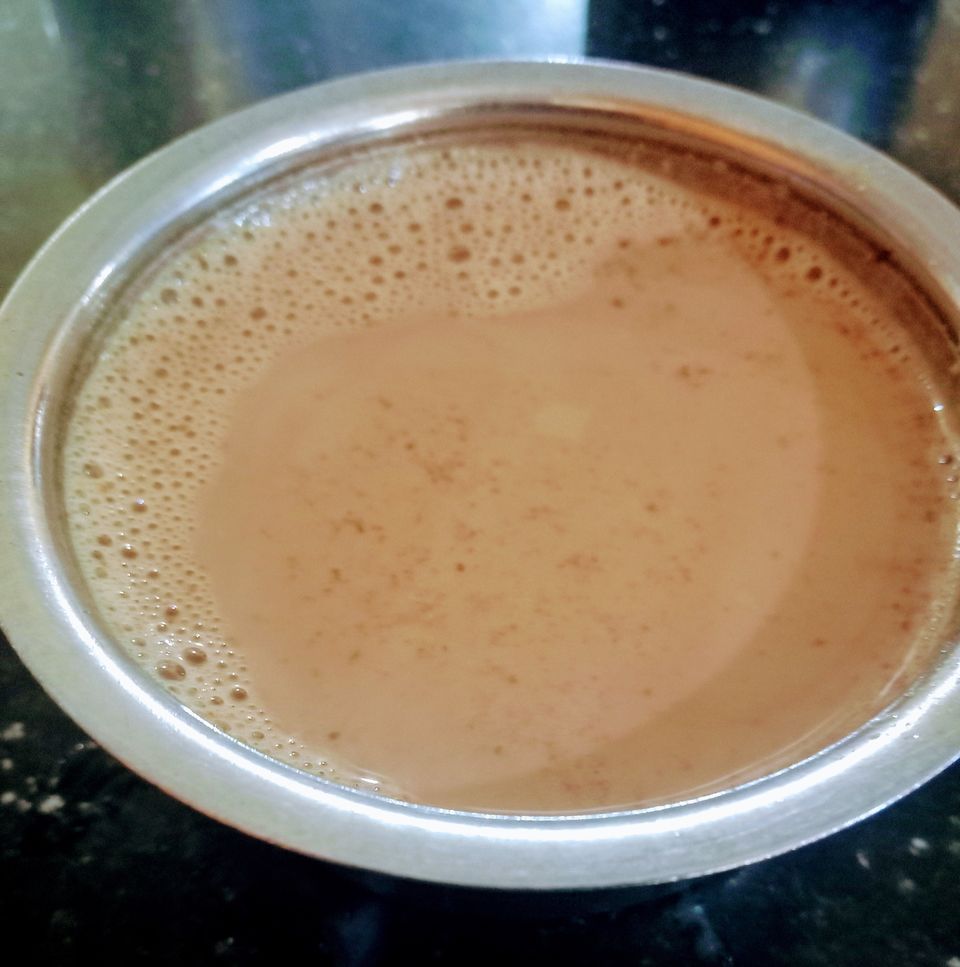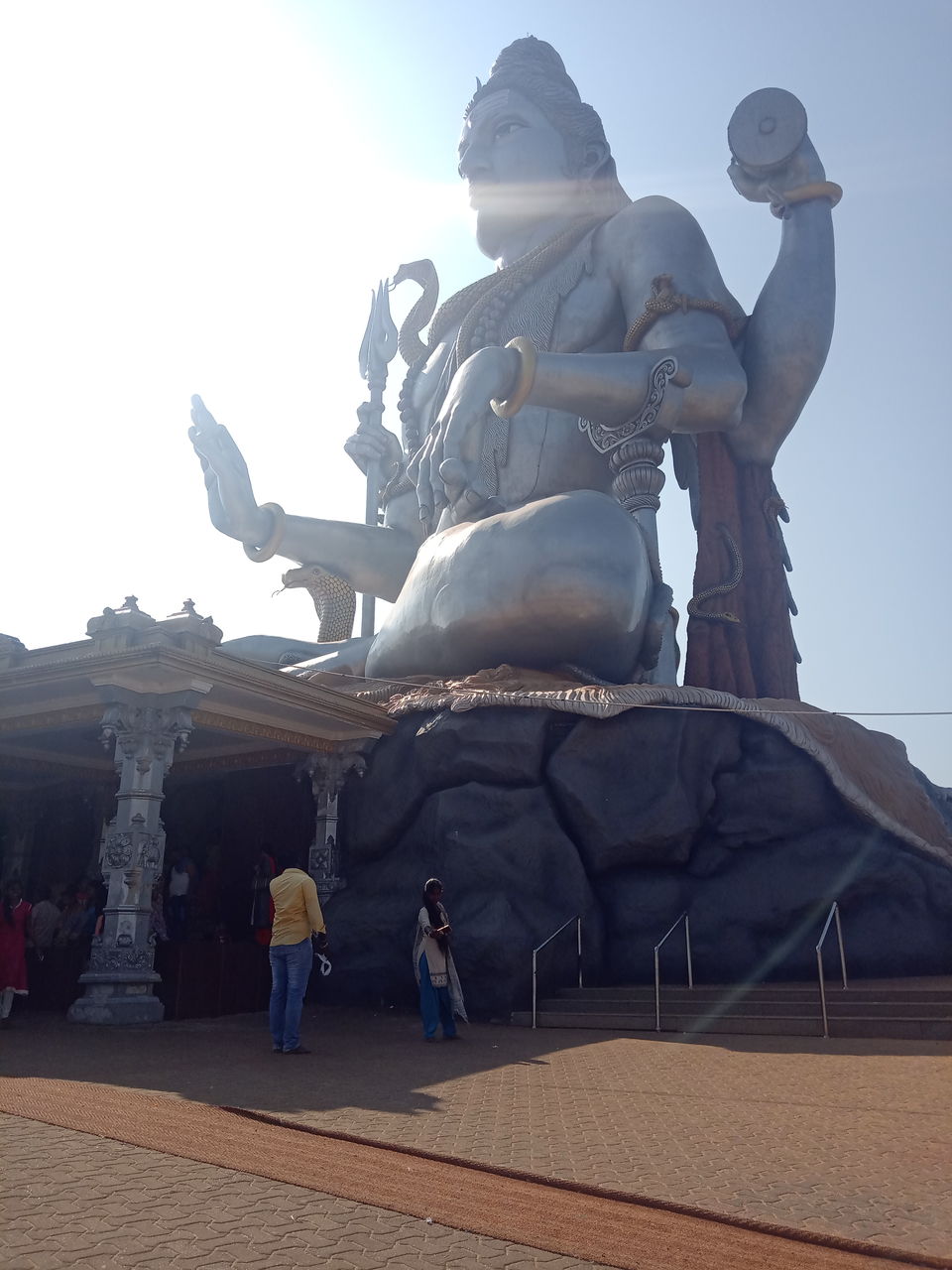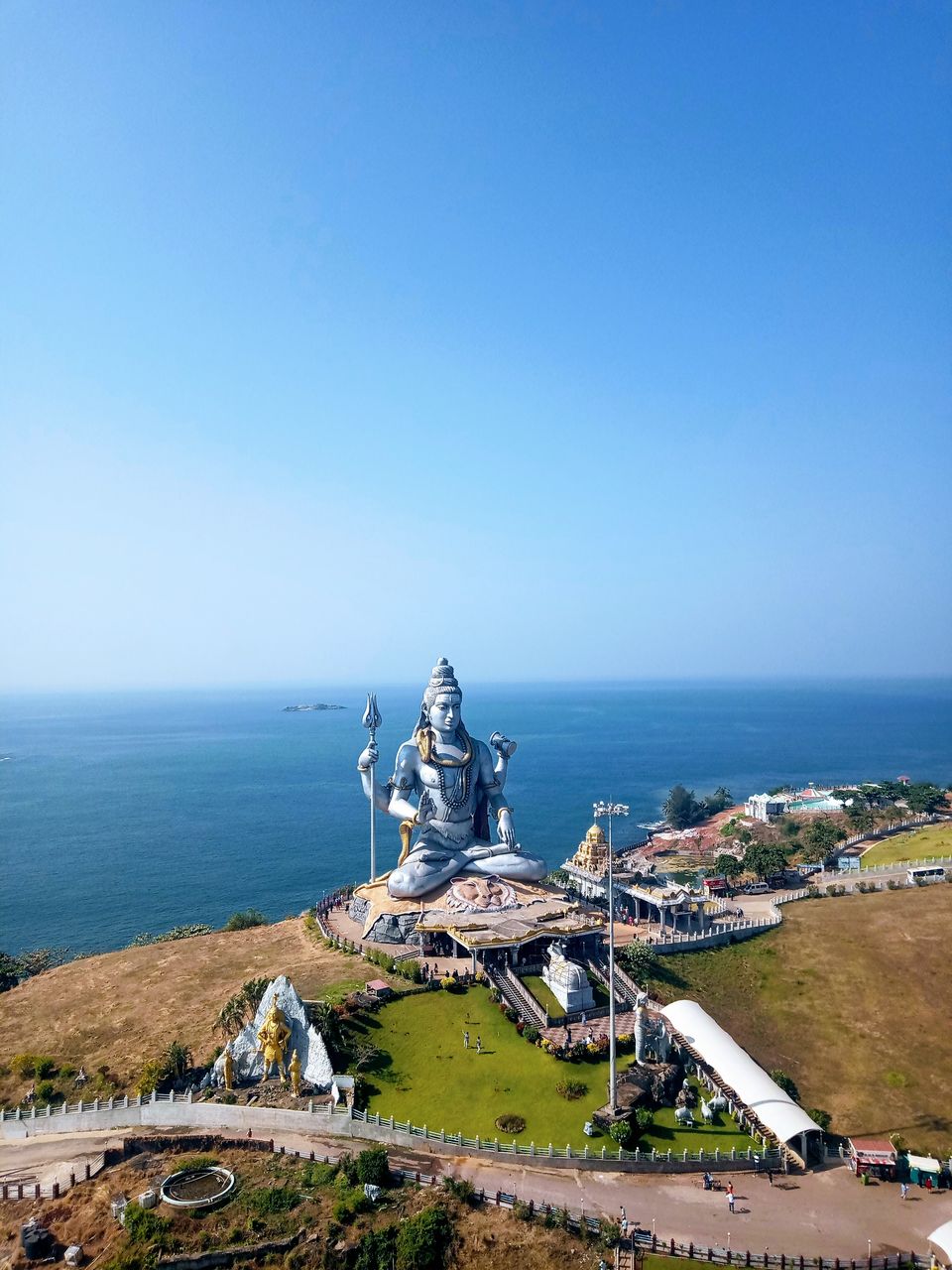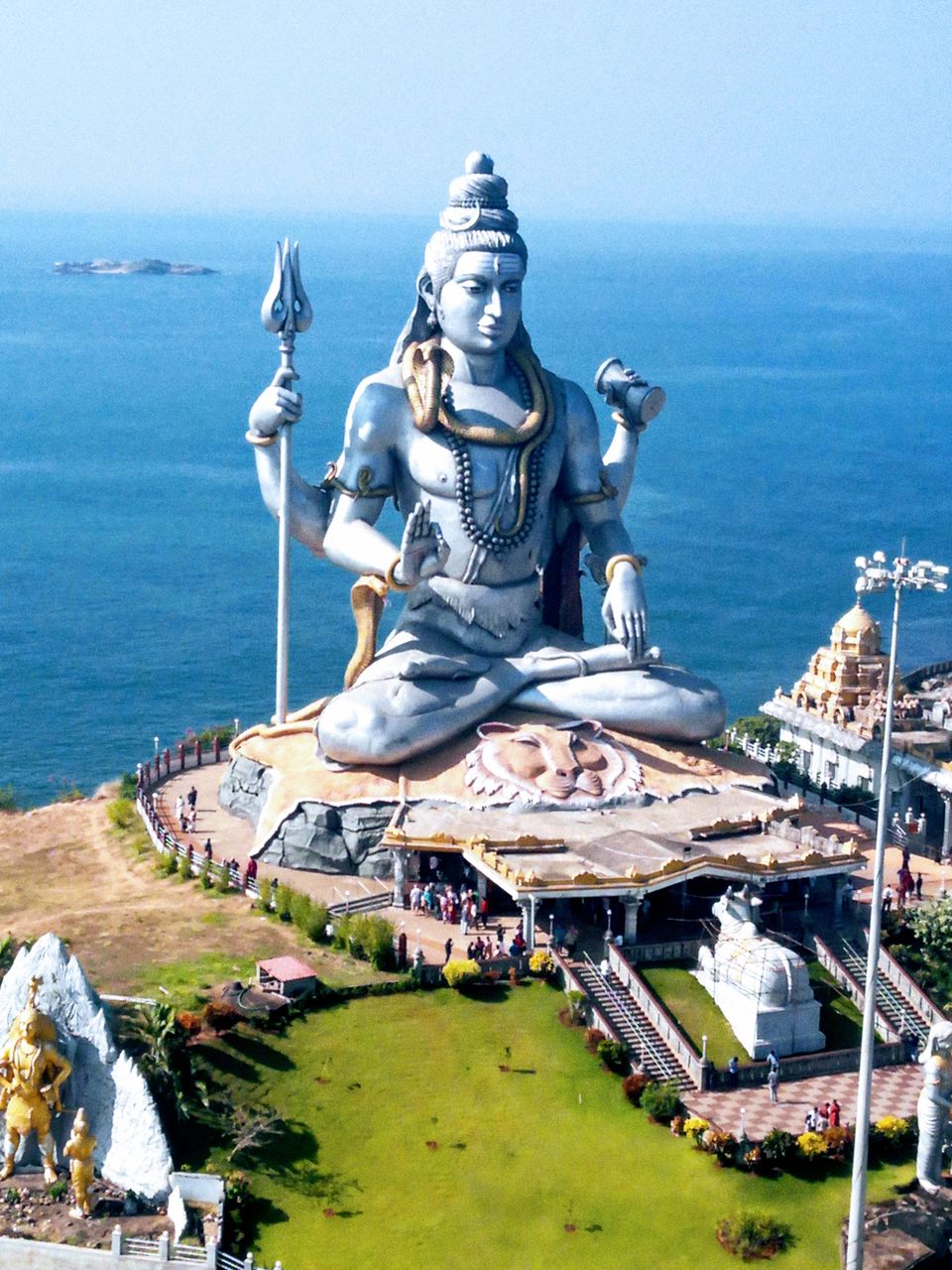 It also has 20 story building (Raja Gopura) at the entrance & devotees can go to 18th floor to get the aerial view & enjoy the beauty of temple & statue…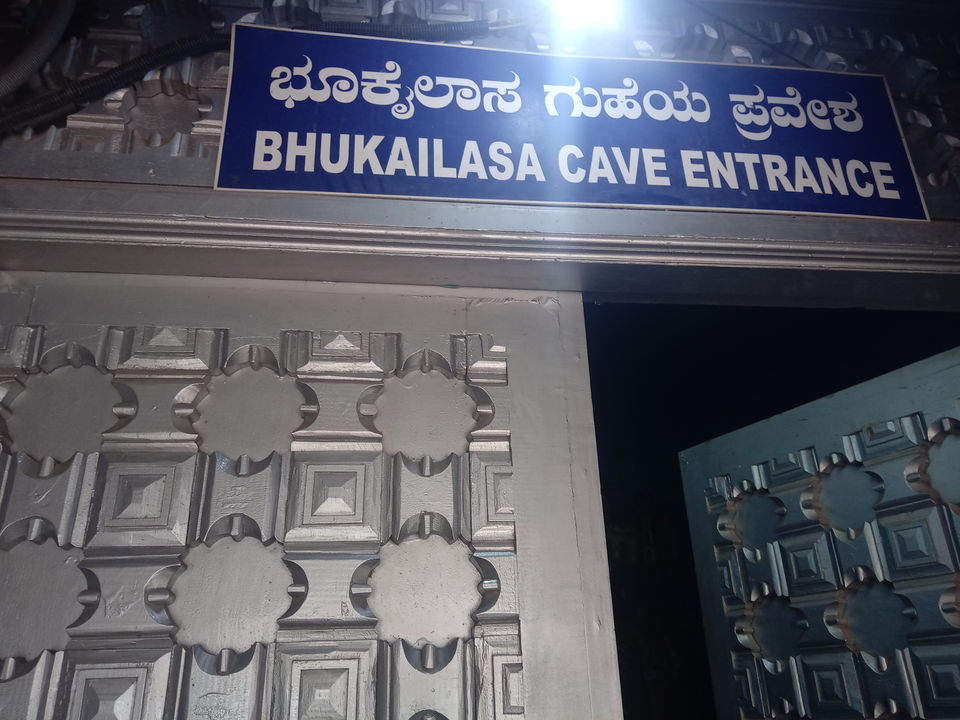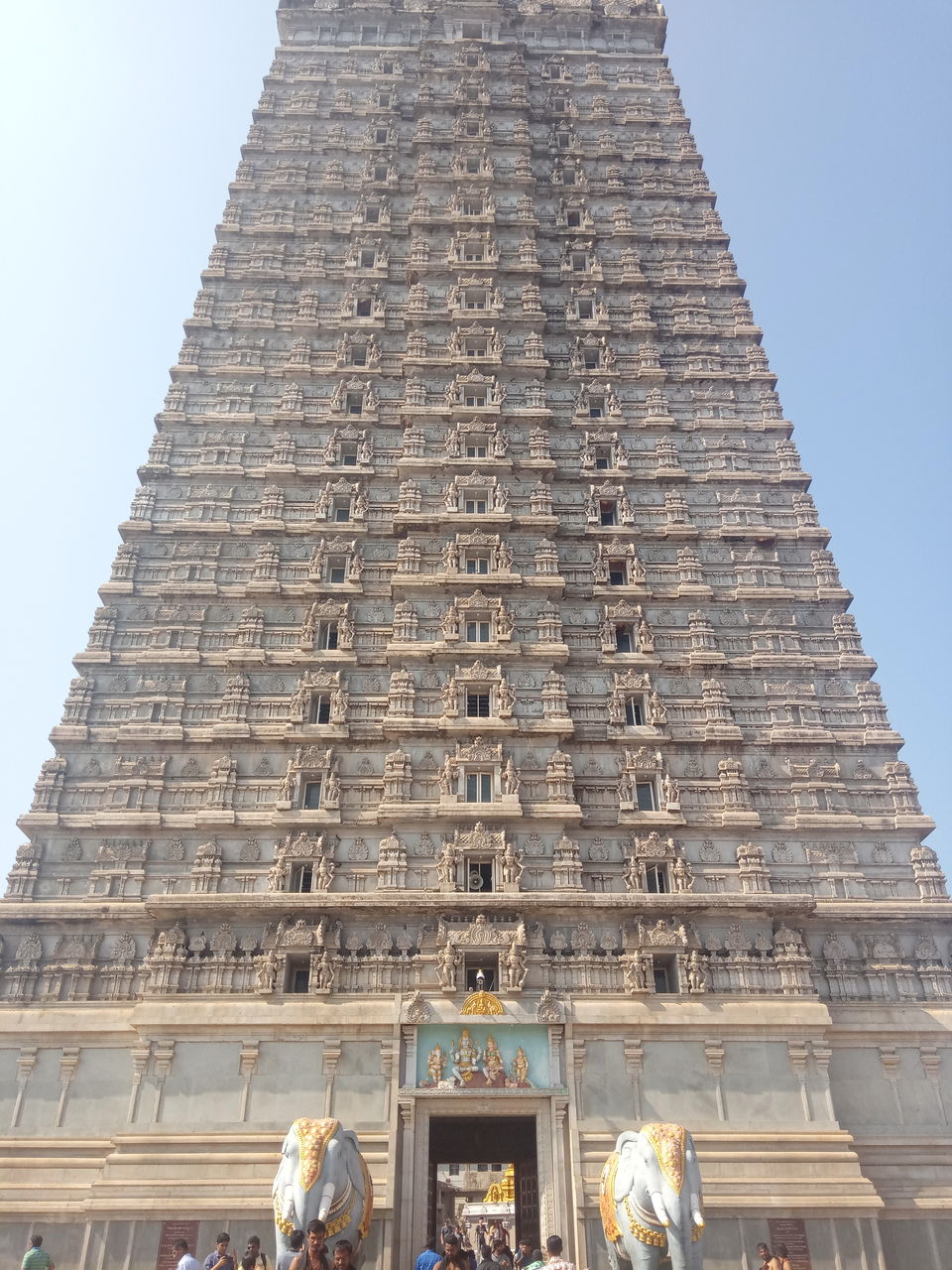 The temple also has artificial cave – Bhukailasa Cave, depicting mythological story of AatmaLinga – How Ravana took the AatmaLinga from Lord Shiva with sculptures made of POP…
If you like adventure than you have the option for Scuba Diving & Snorkelling at Netrani Island which starts from Murudeshwar Temple…www.netraniadventure.com
1-day package – Rs. 5,000/- & Overnight stay package – Rs. 5,500/-
7) Mirjan Fort… built by Queen Cheenabhardevi – Pepper Queen of India…It's a dead fort & nothing to explore… you can definitely skip this...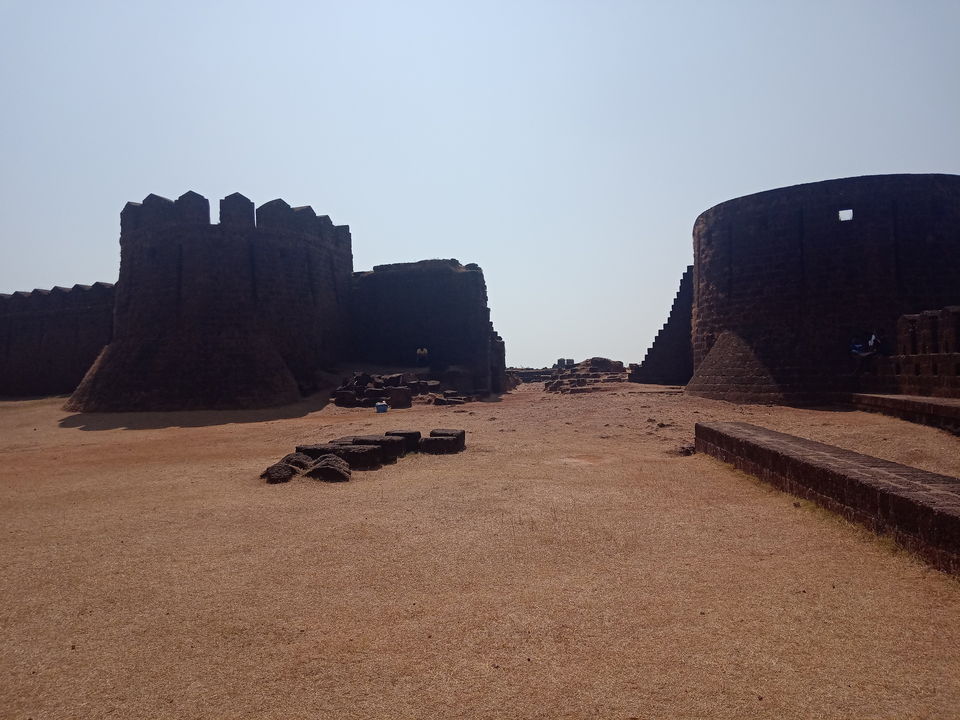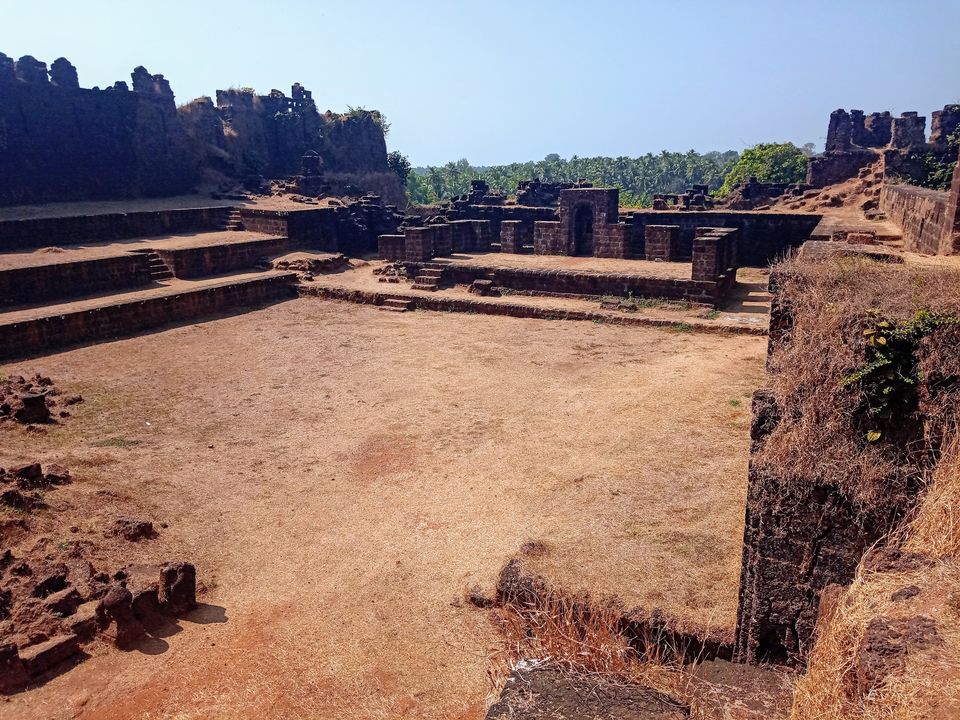 8) Honey Beach… Explore the Unexplored…. 13 kms away from the city, secluded from the rest… The best Beach I found in Gokarna as it very peaceful & you can witness the amazing Sunset... It has 1 small cafe also, which is not even visible from top... You have to travel by ferry (u need two-wheeler)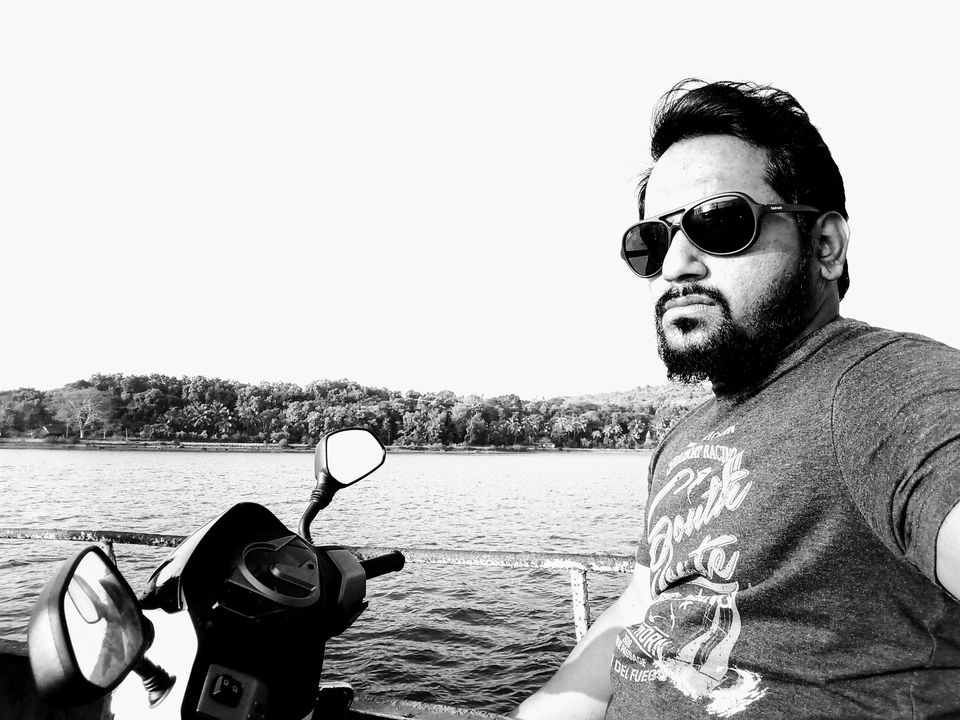 I reached around 5 in evening & I was shocked to see there was no one on the beach… not even stray dogs or birds... I was bit reluctant to go down & explore & I was scared…
Finally… I decided to step down & I was able to witness sheer beauty of nature as I was alone on Beach... I had the best time on this beach & witness the most amazing Sunset of my life….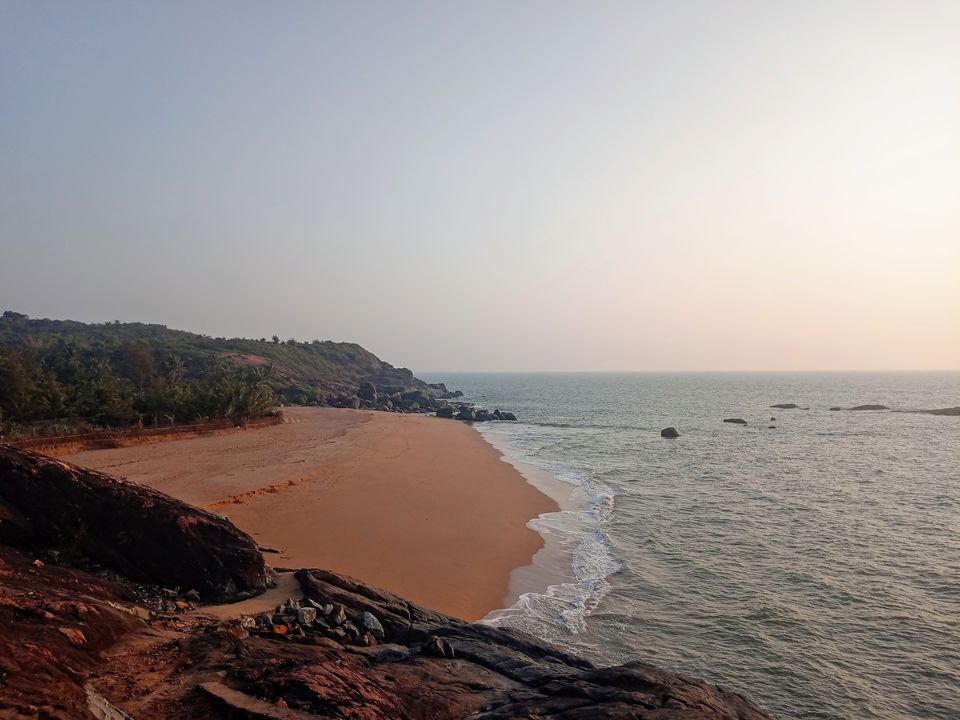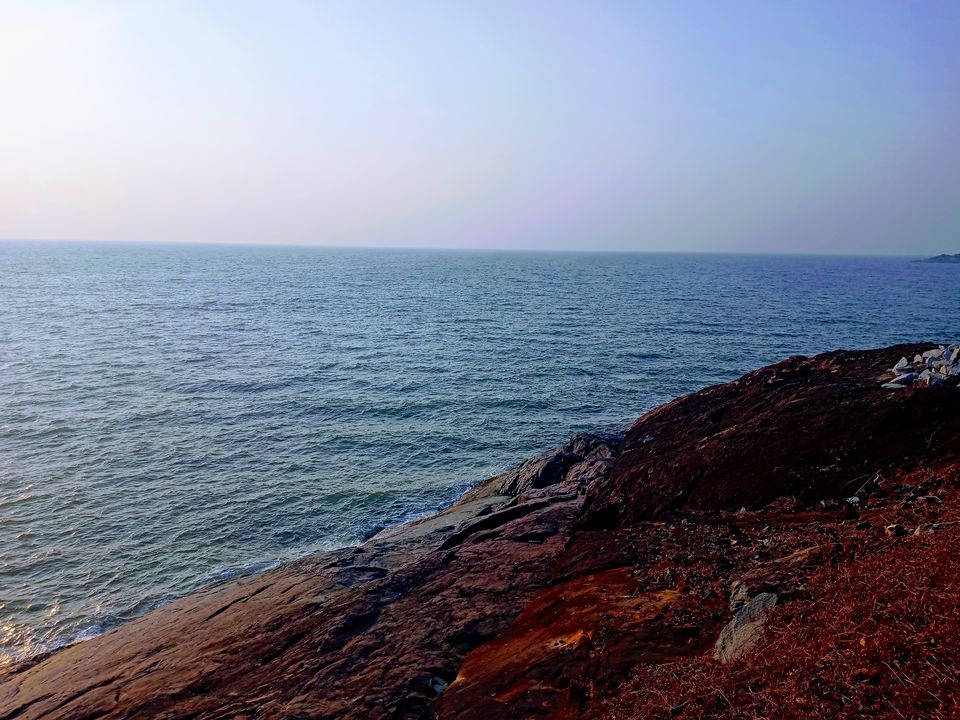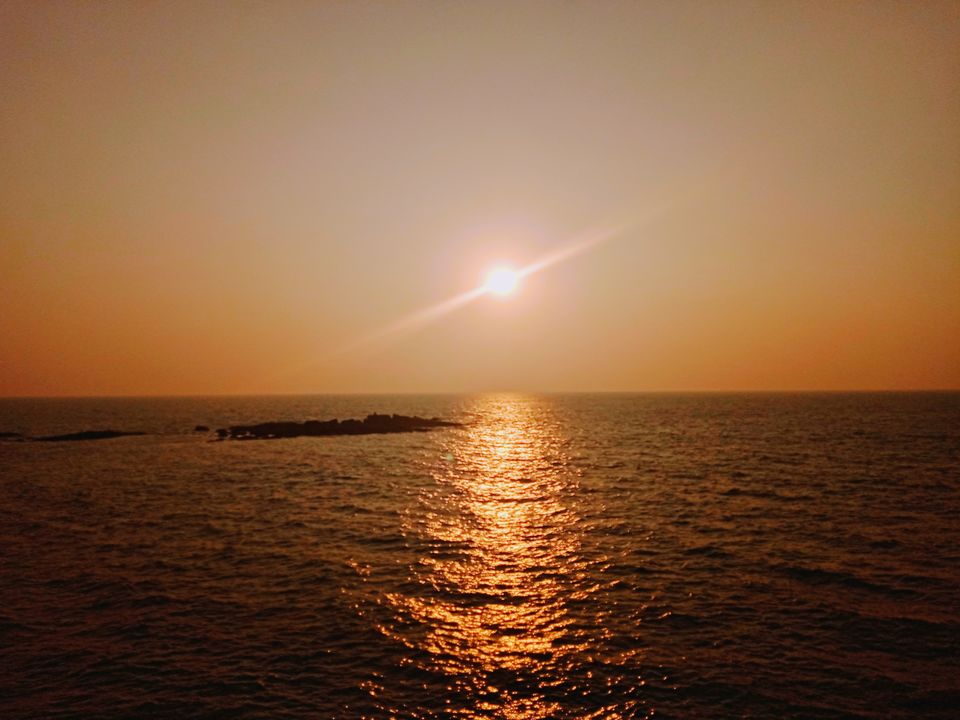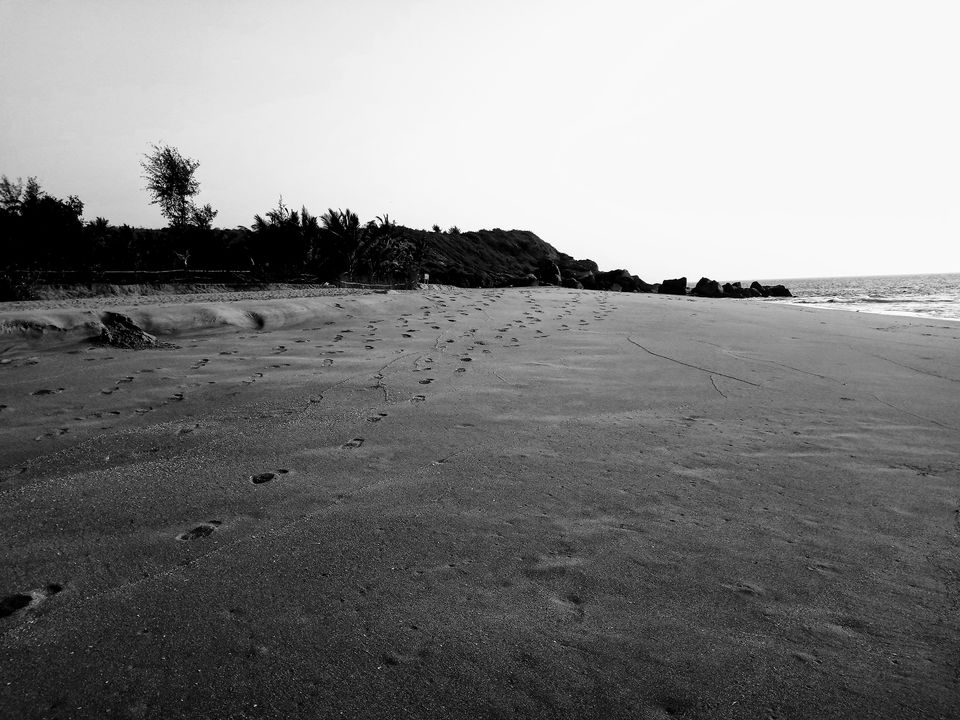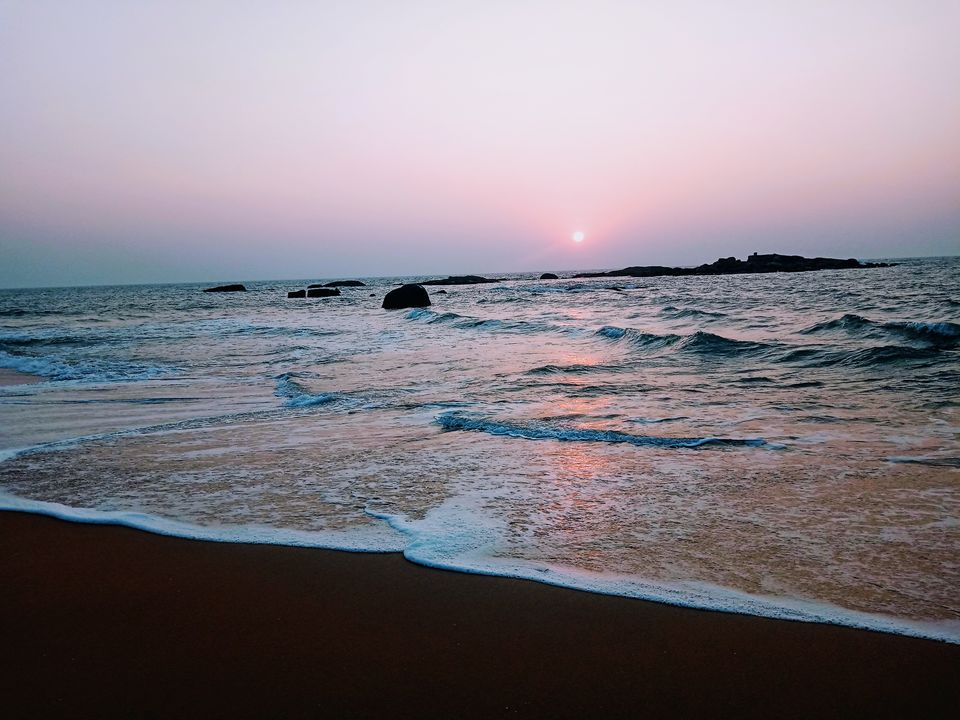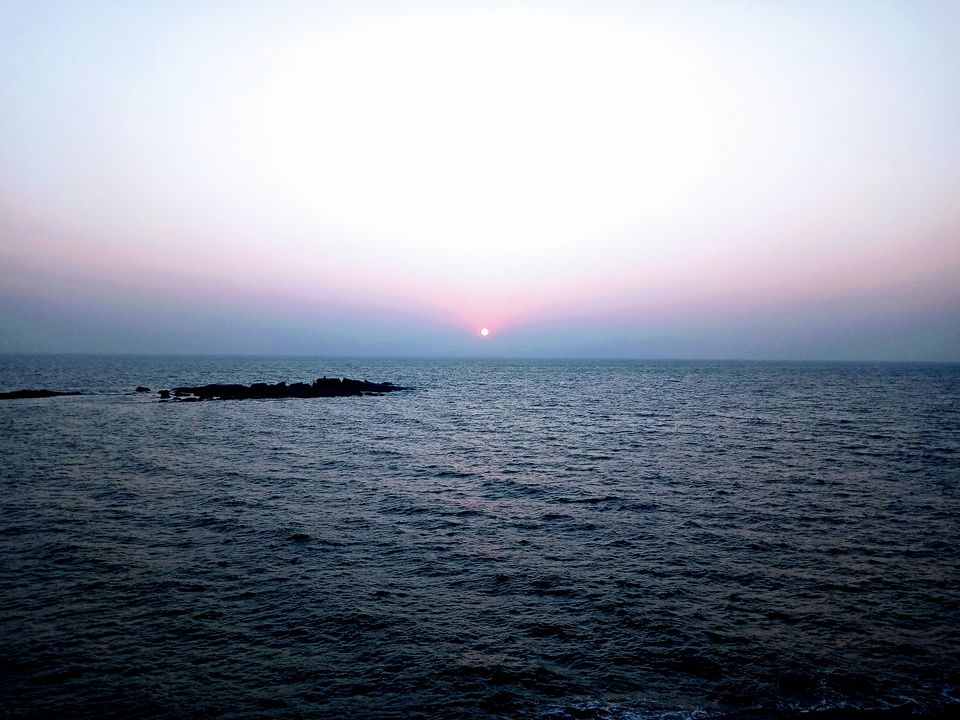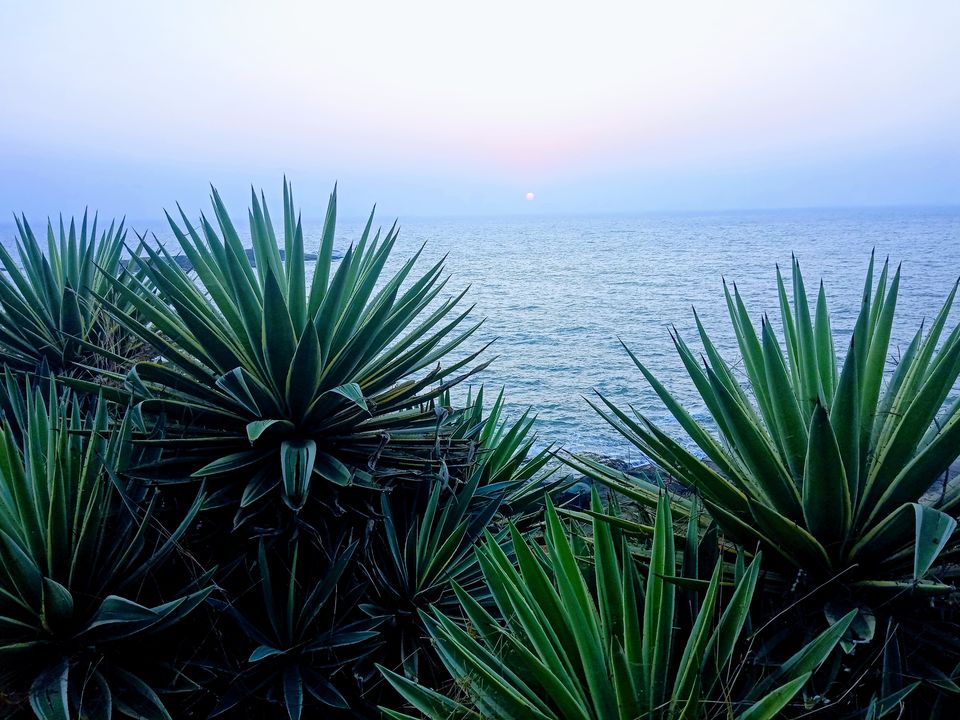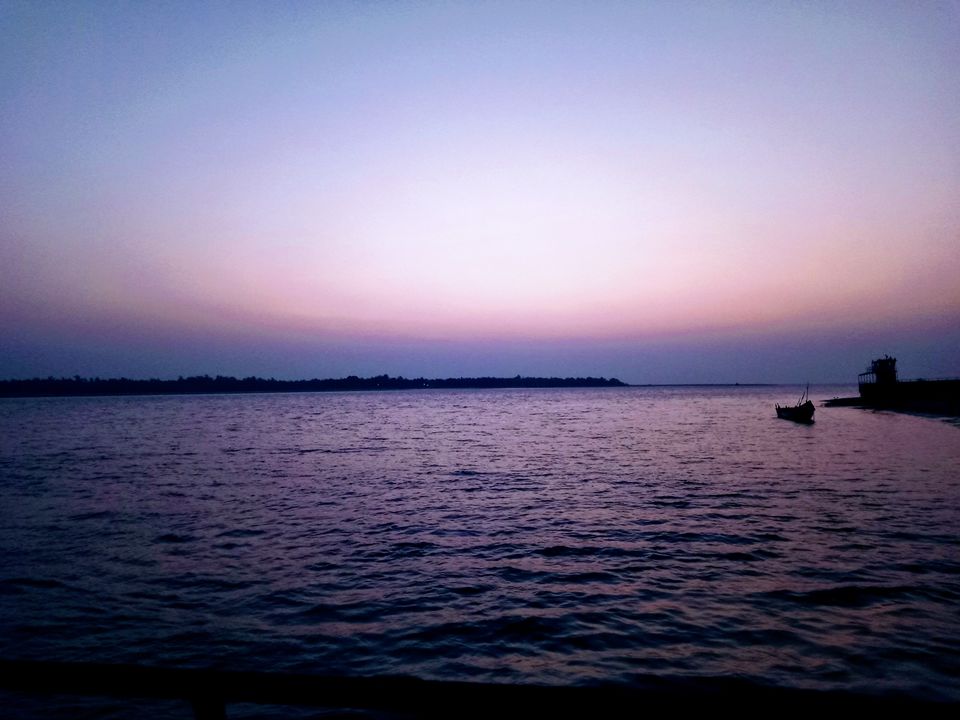 The last ferry is at 6:30, otherwise you have to travel all the way from Ankola & the distance is apporx 45 kms..
9) Koti Teertha… artificial pond… but I didn't feel the vibe or energy of the pond... its very similar to Baan Ganga in Bombay
DAY – 3
I was mulling over last night whether to go for Yana Caves & Vibhuti Falls as I got to know that Yana caves is closed due to some power issues & I was not sure whether the falls will have water as its winter season….
Other wanderers in the hostel also had the same questions in their minds & so I thought to better skip these & went ahead with my love for Beaches, the Half moon & Full Moon (Paradise Beaches), where all the wanderers want to be….
10) Half-Moon Beach…
These beaches are secluded from the activities of the town & also free from commercialization…It is in the shape of Half-Moon & hence gets its name…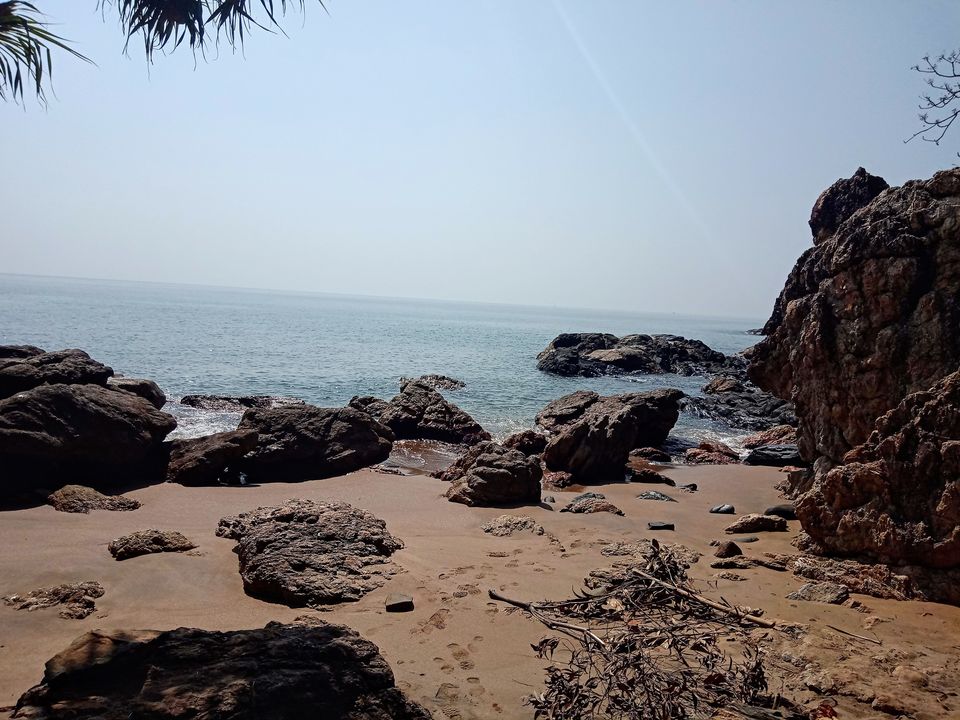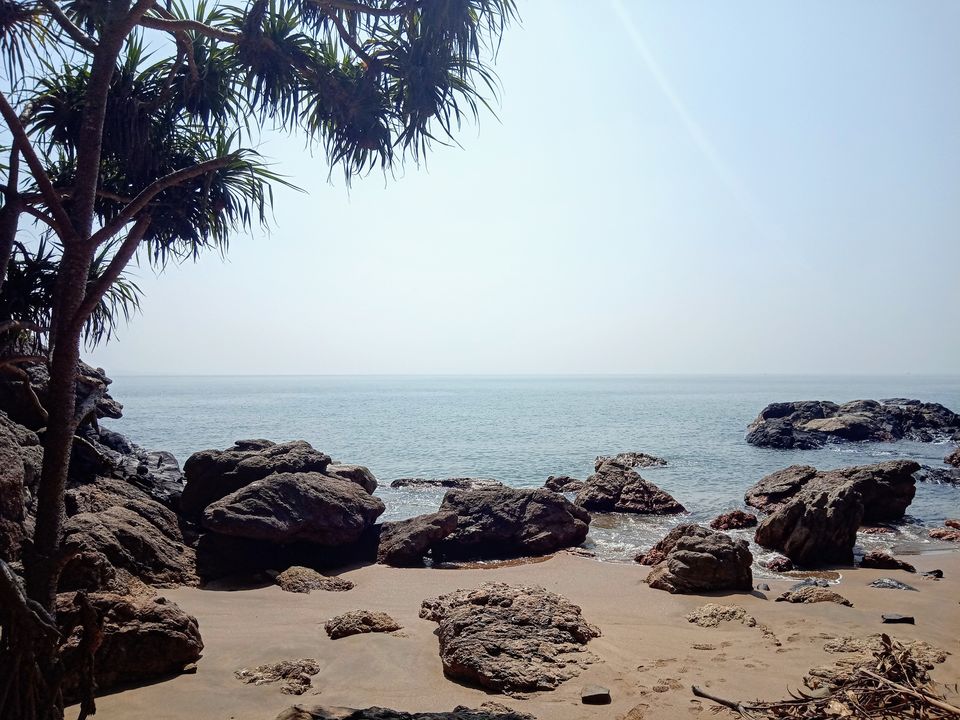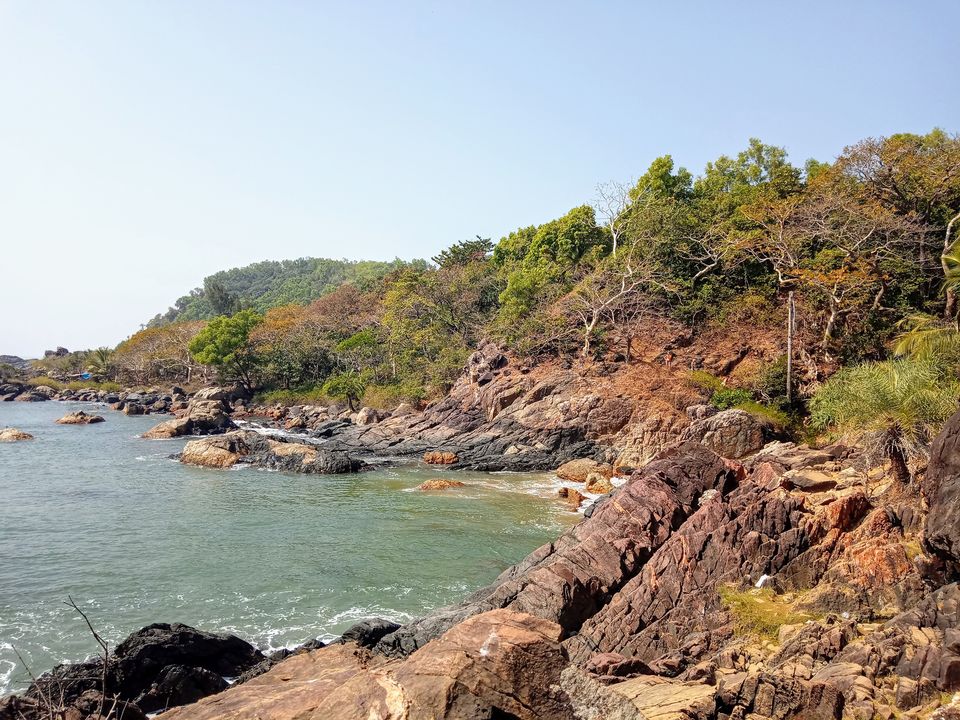 There is no direct entry to Beach by vehicle & hence it makes pollution free too…
You have two options to enter the beach viz; through boat from OM Beach or you will have to ride till Belekan & park your two-wheeler there & trek for almost 4 kms (return) to cover both the beaches
The Beach is a place in paradise from where you can gaze at the horizon for hours & hours & enjoy the scenic beauty of Arabian Sea… Also the place has minimum crowd & is ideal for getting lost in your own world…The nearby cottages are occupied only by foreigners as the owner of the café's don't want to let to Indians… Don't understand the reason of this biasness…
11) Full-Moon Beach (Paradise Beach) ….
This Beach is heaven for the wanderers who are finding a solace away from the civilization…
Somewhere in between Half-moon & Full moon trek route…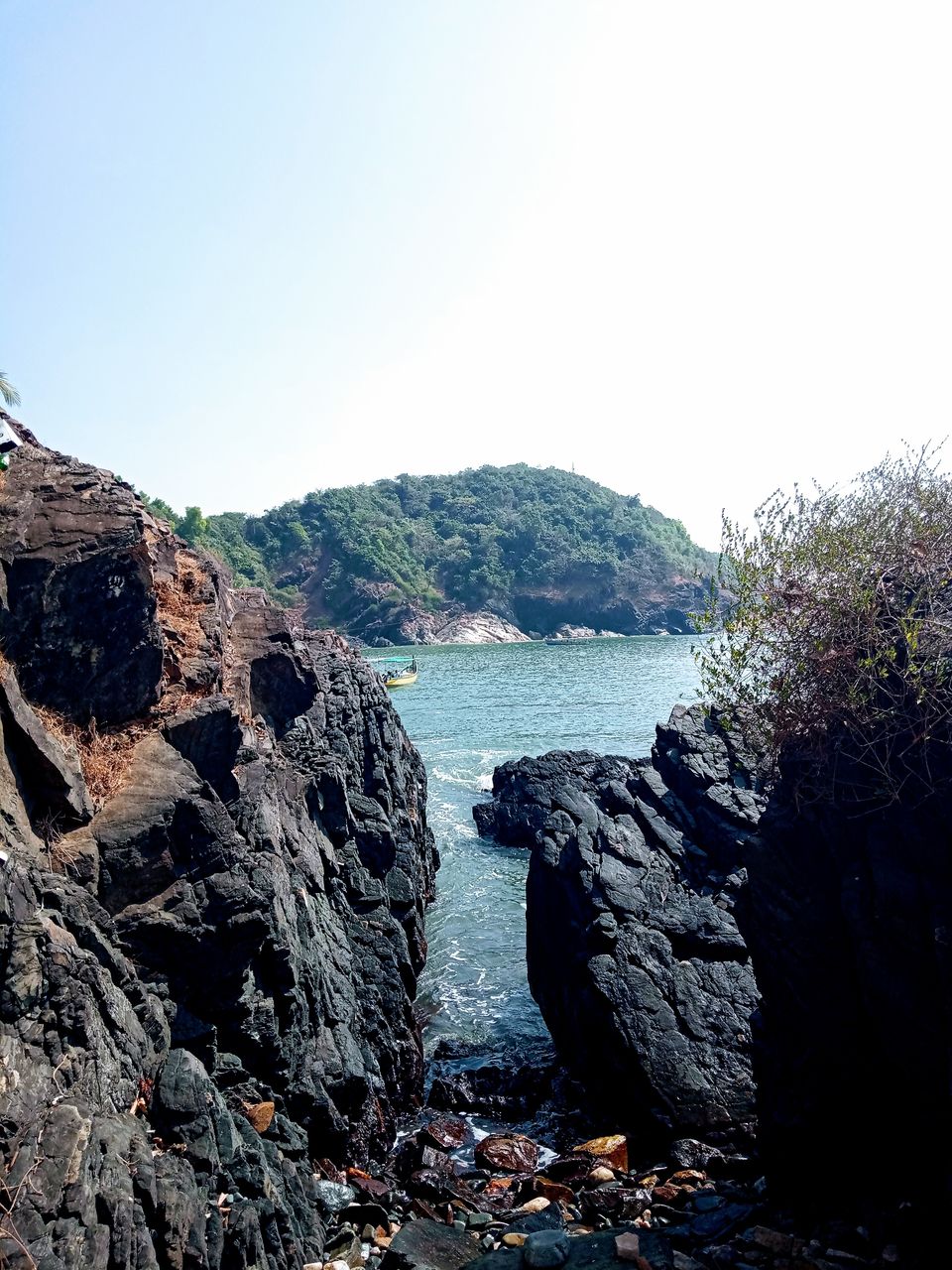 Finally, I decided to get into the sea….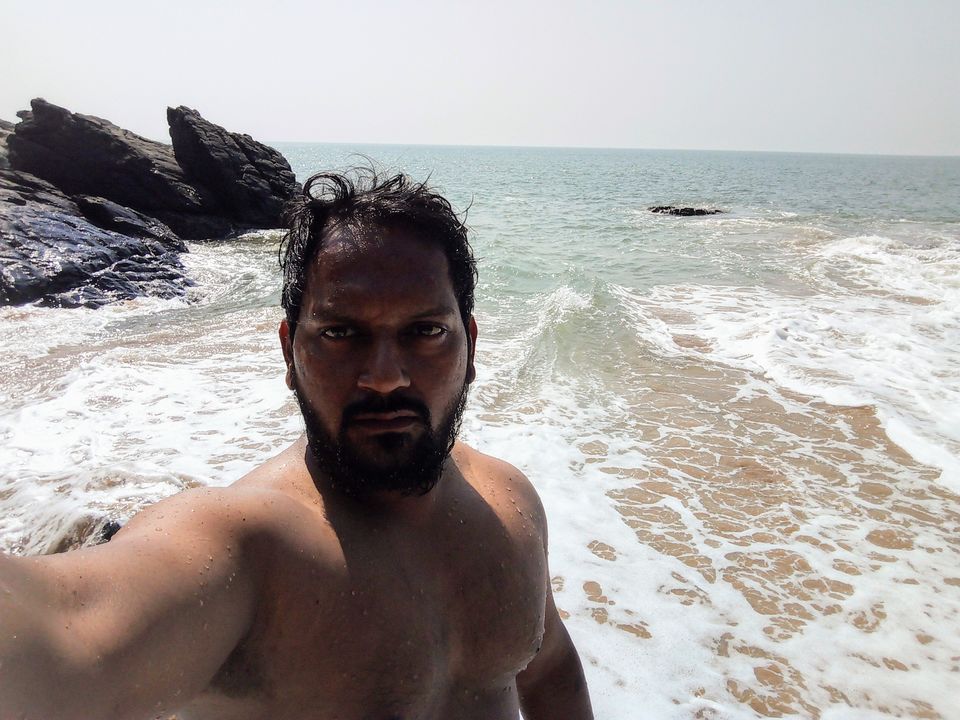 You will find lot of Hippies (Firangis) putting their tent & having their own time with trance music on their Bluetooth speaker…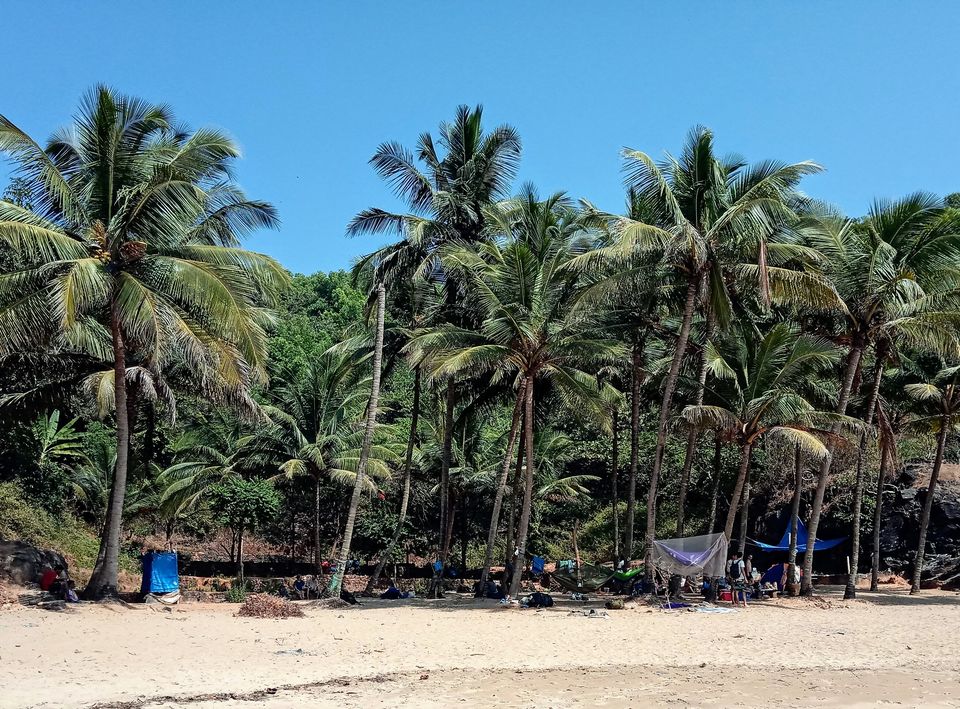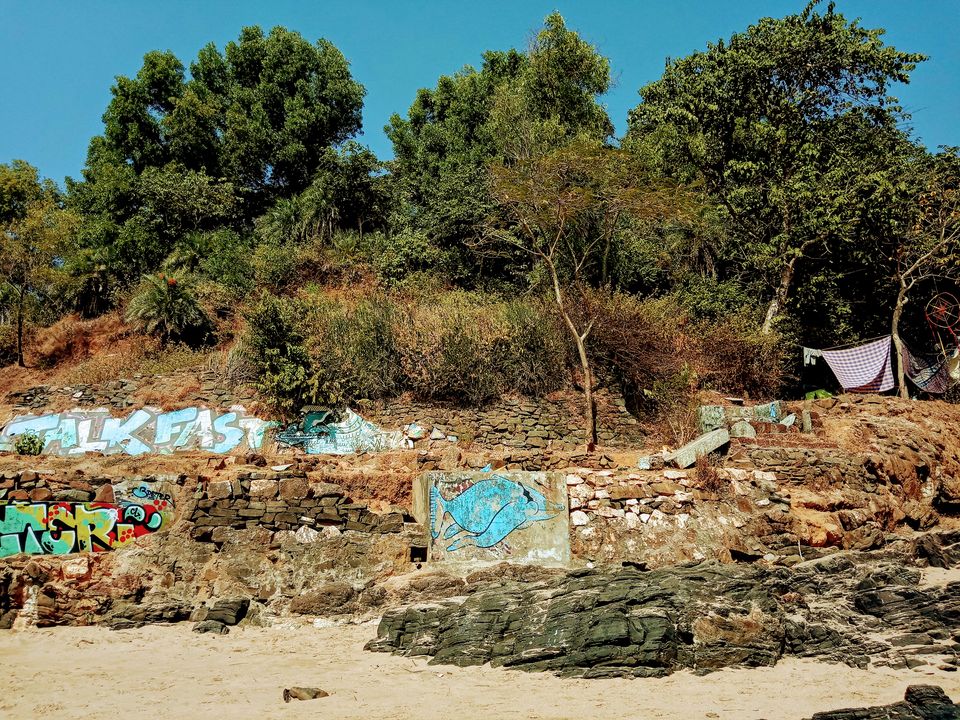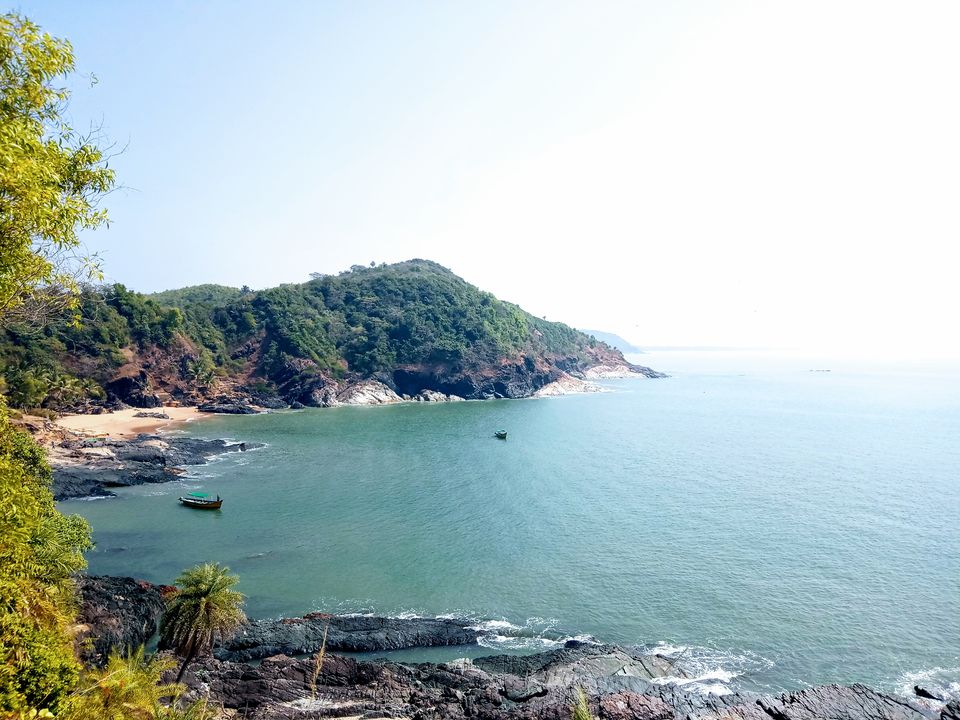 One of the wanderers whom I meet in Ooty he had described me the beauty of Paradise Beach & asked to do camping in night whenever I go… But its not safe to do so if you are alone & I didn't find anyone who was up for this idea in the hostel where I was staying… And putting up Tent is also illegal & cops might come to raid...
12) Kudle Hill Top..it
It gives the aerial view of Arabian sea & kudle beach from the hill top & makes it perfect place for sunset… The trek is only a km (return)…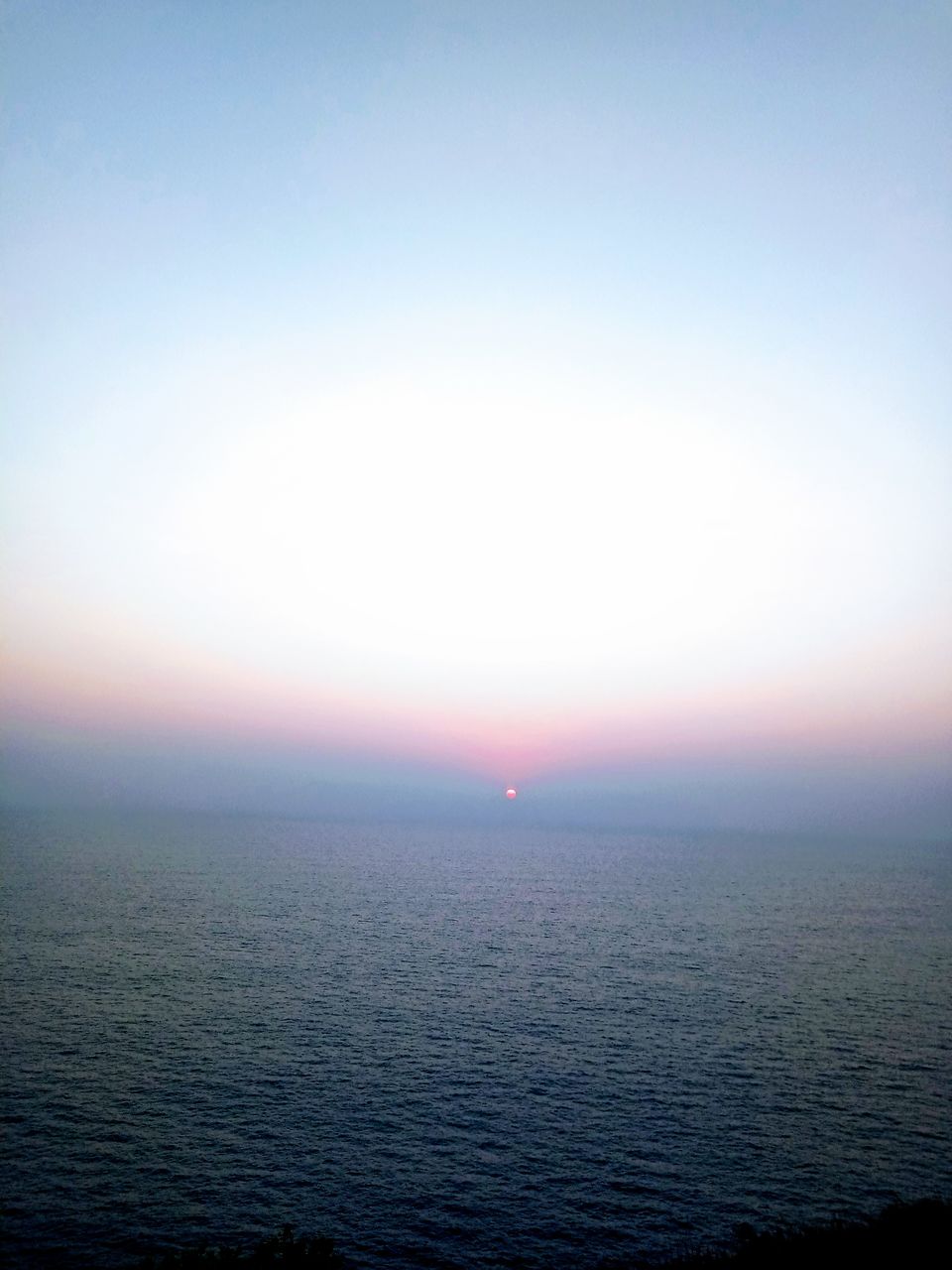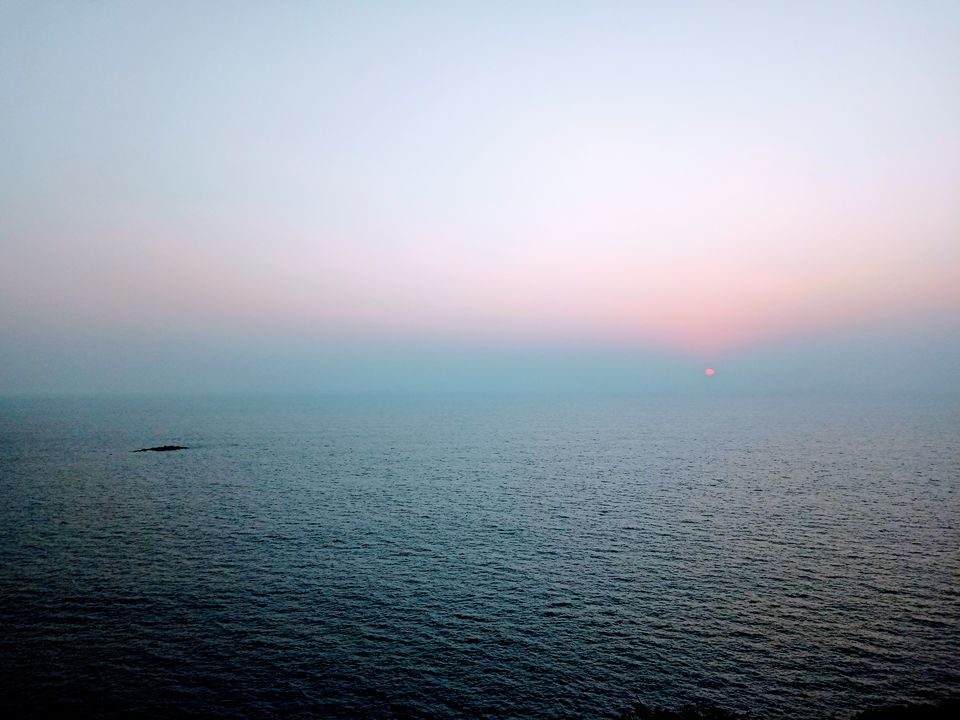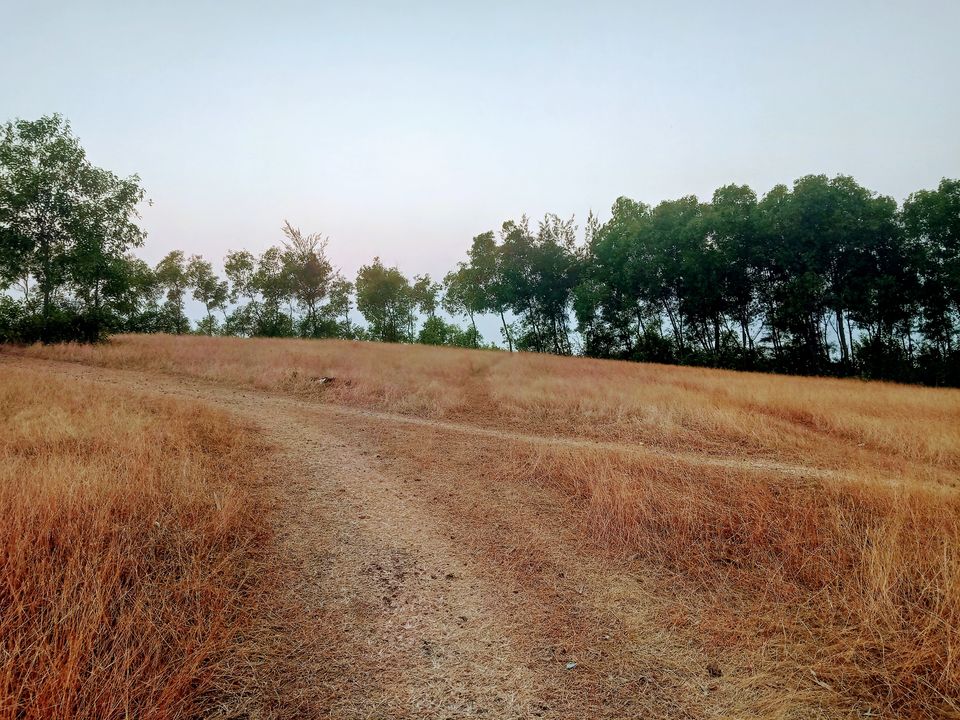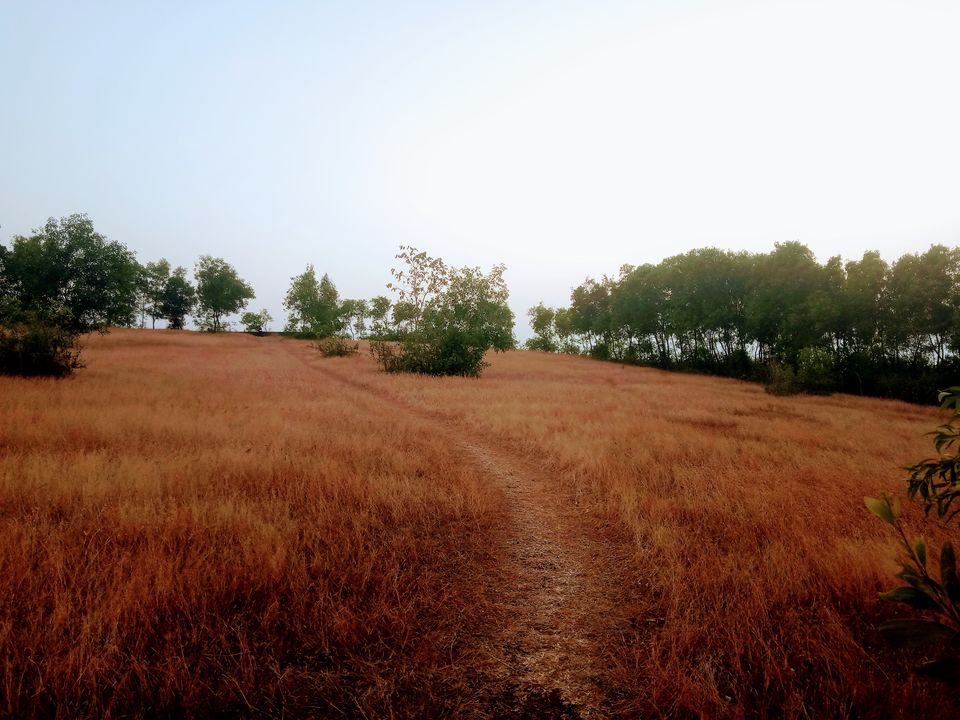 My stay at zostel was over as I had 2 days booking & I had to move to the other Hostel trippr which is on Middle Beach.. best part is right on the beach & entrance is only from the beach…It is the longest beach of Gokarna & you will only find Foreigners….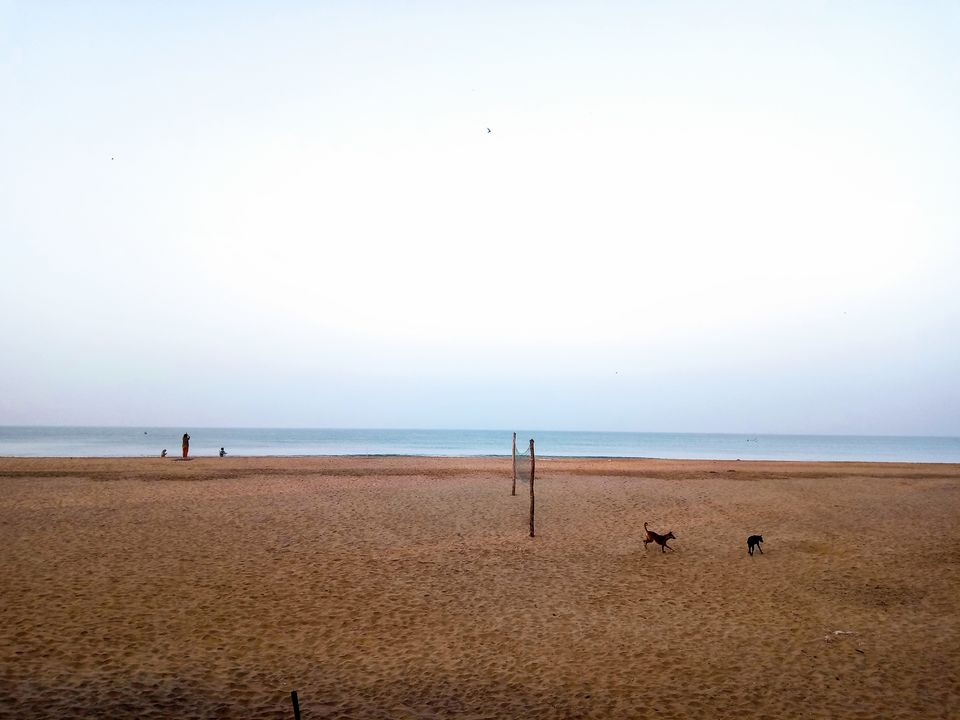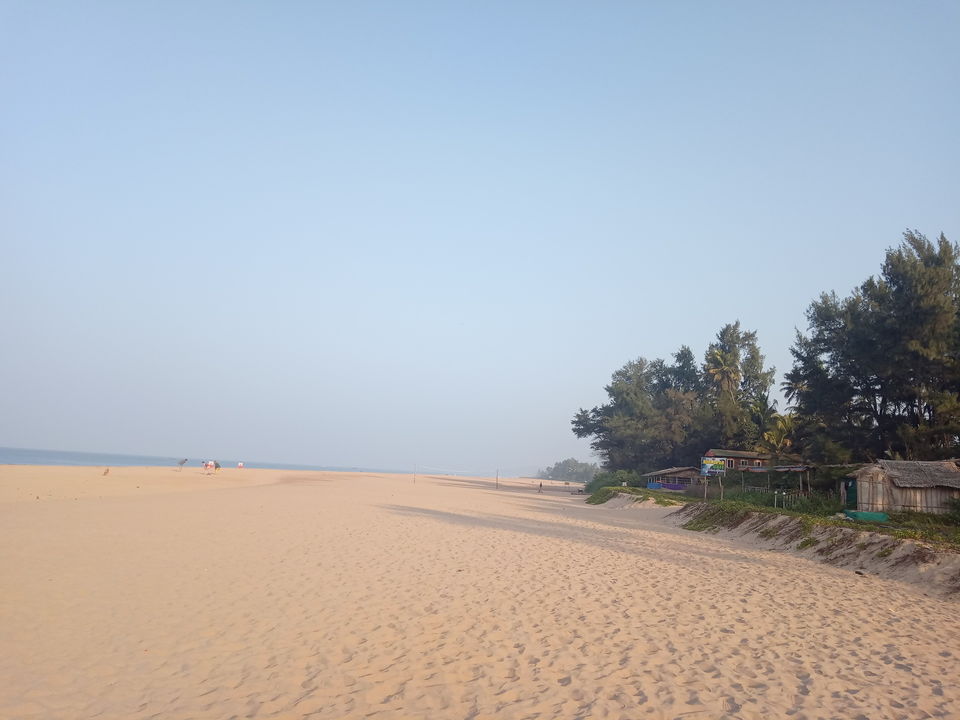 Again, this beach is also very clear, beautiful & peaceful….
Overall, I had good time in Gokarna… enjoying nature, Arabian sea, Sunset & amazing Beaches… Good place to get lost in your own world & despite of Beaches & Foreigners, this pace is peaceful… (unlike Goa which is more of parties, boozing & lot of commercialization)
No comparison though between Goa & Gokarna… as I can visit Goa 'N number of times & explore new things every time…