11 months later and here we were, just about to complete one year of marriage, myriad options tossing between us. Where to go to celebrate? Our anniversary gift to ourselves. Alaska? A cruise to Bahamas? Costa Rica? Oh that has Zika virus right now. Iceland? Tanzania and Zanzibar? But, visa formalities? Will we get everything done in a month with 2 hectic work schedules? Me and my husband started searching for welcoming countries giving Indians Visa on Arrival.
I had always dreamt of going to Tanzania. But Serengeti-Mara is a complete ecosystem and quite similar. And, so the option of Kenya giving Visa on Arrival was as good. The migration would be in July and we could have our chance to see the world famous spectacle of millions of wildebeest and zebra crossing the Mara river, as the crocs, hungry for a long time, wait below the waters. And Kenya It was.
So, started my frenzied itinerary preparation and at last count, I had almost 80 mail exchanges spanning camps/tour operators/travel forums (got the best information) asking quotes/suggestions/ itineraries.
I have tried to recapture our journey below. This is just the itinerary, and the essence of living in the wild just cant be captured on paper.
Delhi - Nairobi - Fly to samburu - 2N at Samburu - Fly to Mara Naboisho - 2 N at Naboisho- Drive to Main reserve - 1 N at Main Reserve - Fly to Nairobi - Delhi
We wanted to have the best African experience and decided not to take mini van safaris as were given by various tour operators. As with our most trips, I chalked out my own itinerary. I have covered Nairobi in this post.
23 July 2016: We took our Etihad flight out of Delhi to land at Abu Dhabi and onwards to Nairobi. Pleasant flight, horrible vegetarian food though. We were at Jomo Kenyatta Airport, Nairobi by 1 pm on 24th July where our hotel, Savora Panafric (good deal on Makemytrip) had sent a car to pick us. Great hotel, good location and value for money. We had applied for e-visas online and it was pretty easy, saved a lot of time. Just a stamp on our passports when we reached and we were ready to go.
We reached the hotel around 2 pm to find our room decorated with swans and cake.
Rested for our bit, and then John from the travel concierge desk took us to Giraffe Centre, about 45 mins from the hotel. I had my first sighting of Pumba from The Lion King'. Alas! the warthog didn't look as cute as the movie.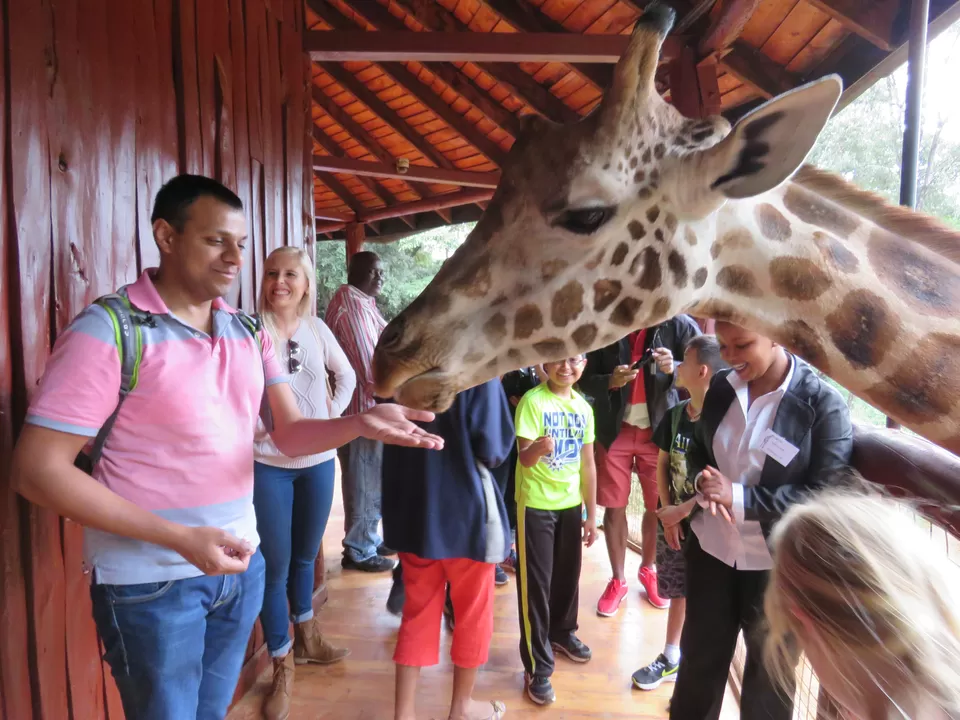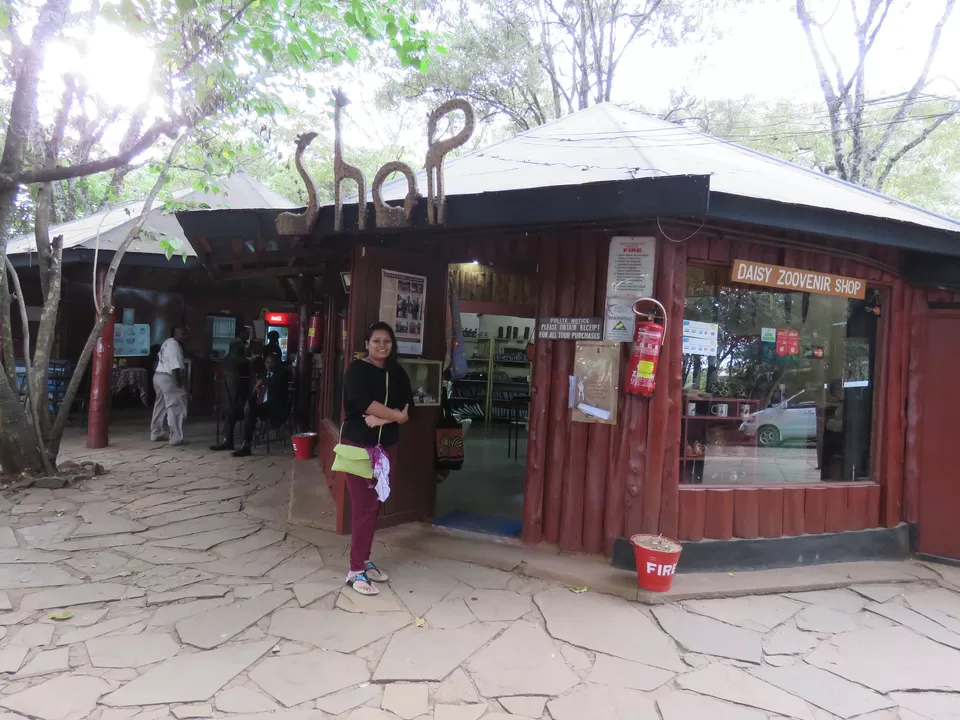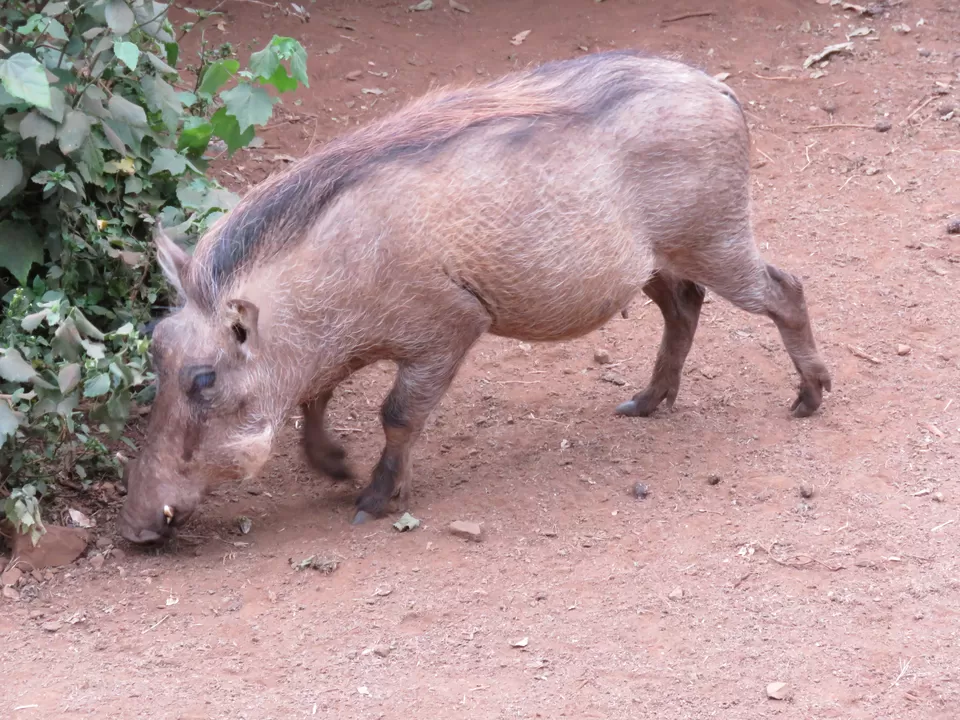 The showstealer were the Rothschild giraffes and the centre had arranged to put acacia in buckets so that visitors could feed them. It was quite an experience to watch some people putting the acacia root in their mouths to get a version of kissing the giraffes photos. Frankly, I didn't quite feel like to have some giraffe saliva up my mouth. But yeah, it was cute to feel their long tongues sticking out and licking the acacia out of your hands.
Living at Giraffe manor would have been stuff beyond dreams, but the cost @USD 400 per person per night wasn't quite feasible. One can try for their afternoon tea activity to interact with giraffes and see the property, less crowded. I didn't get any slots. Giraffe center @USD 10-20 PP is quite a great alternative:)
Day 02-04: Samburu Game reserve
Day 04-05: Mara Naboisho Conservancy
Day 06: Masai Mara Main reserve
I will cover these separately for these are the best part of Kenya and complete trips amongst themselves.
Day 07: Nairobi National Park
We had seen everything we wanted to see and experienced more than words could every say in the last 6 days. Except one. Two horned Rhino. I have been to the North East India and had my fill of seeing the one horned rhino. But, a two horned one was unique to Africa.
Surrounded my skyscrapers, Nairobi national park is quite a novelty. For I cant think of wild animals roaming freely inside a sanctum, separated just by an electric fence from the human population.
John was there to pick us at the Wilson airport on our last day in Kenya. We reached the airport around 11 am and asked him to take us to the national park before we took our flight in the night.
Established in 1946, Nairobi national park was Kenya's first and is located near south of the centre of Nairobi with an electric fence separating the park's wildlife from the metropolis. As per wiki, the proximity of urban and natural environments has caused conflicts between the animals and local people and threatens animals' migration routes.
Despite being small, it has a large and varied wildlife population. But we were short on time, and were fixated on the rhinoceros. Unfortunately, when we reached, the last bus for the safari had already departed. I was crestfallen. However, the park had an option of a private vehicle safari. We just looked with huge eyes at John and whoa, he agreed to be our safari guide.
Very carefully, he took our sedan inside the park. We kept driving for 2 hours and saw the lions, zebras, giraffes and elephants. No sign of rhinoceros. We had lost hope of seeing one too. We turned a corner, and I said, look another elephant. But, just then we spotted his face. It was a two horned rhinoceros, and so near. It crossed the road to move to the other side of the grass. Stood there for some time and then walked away inside the taller grass, but not before giving us a perfect shot. Nairobi National Park didn't disappoint.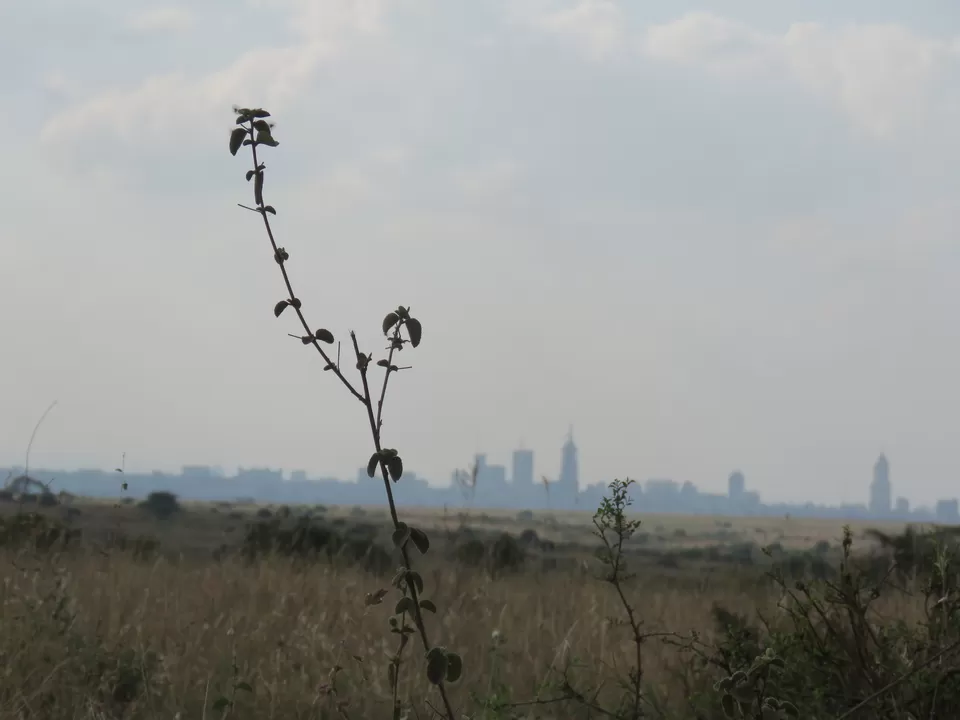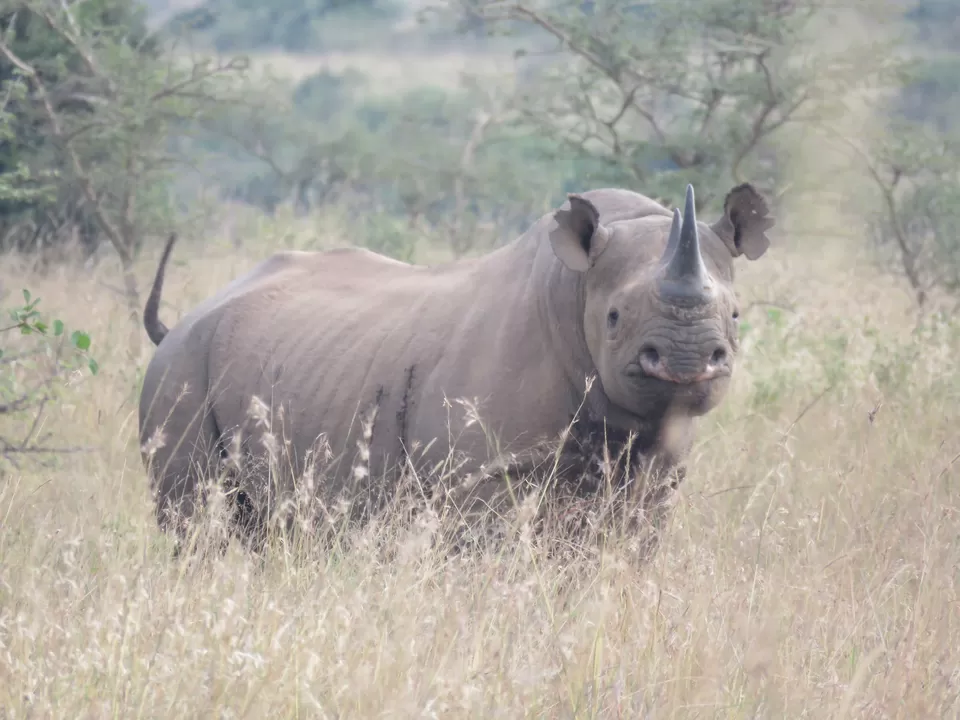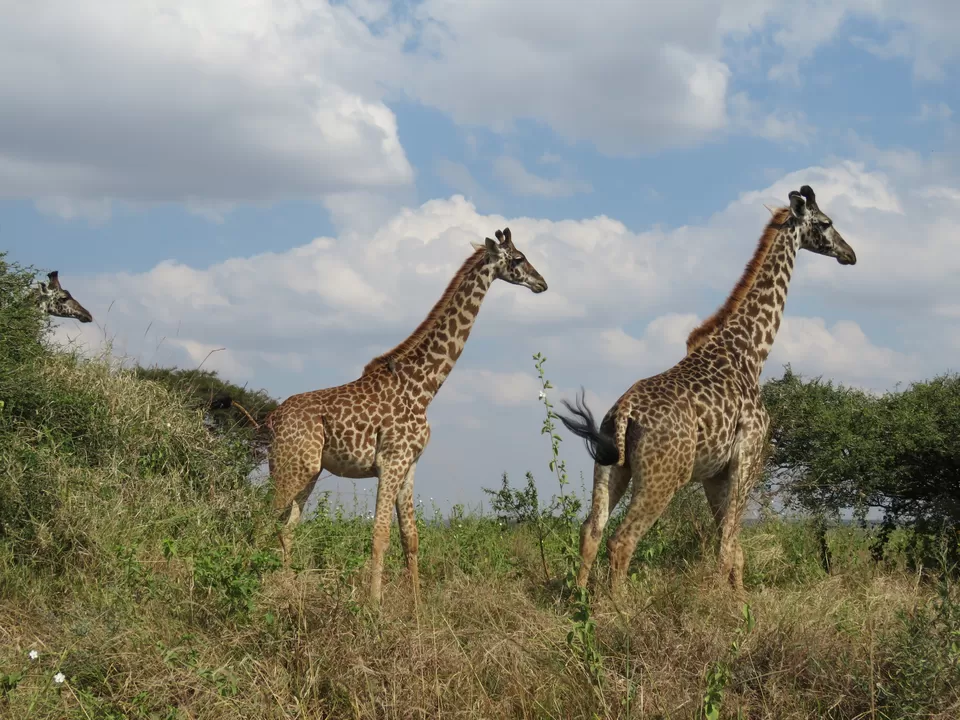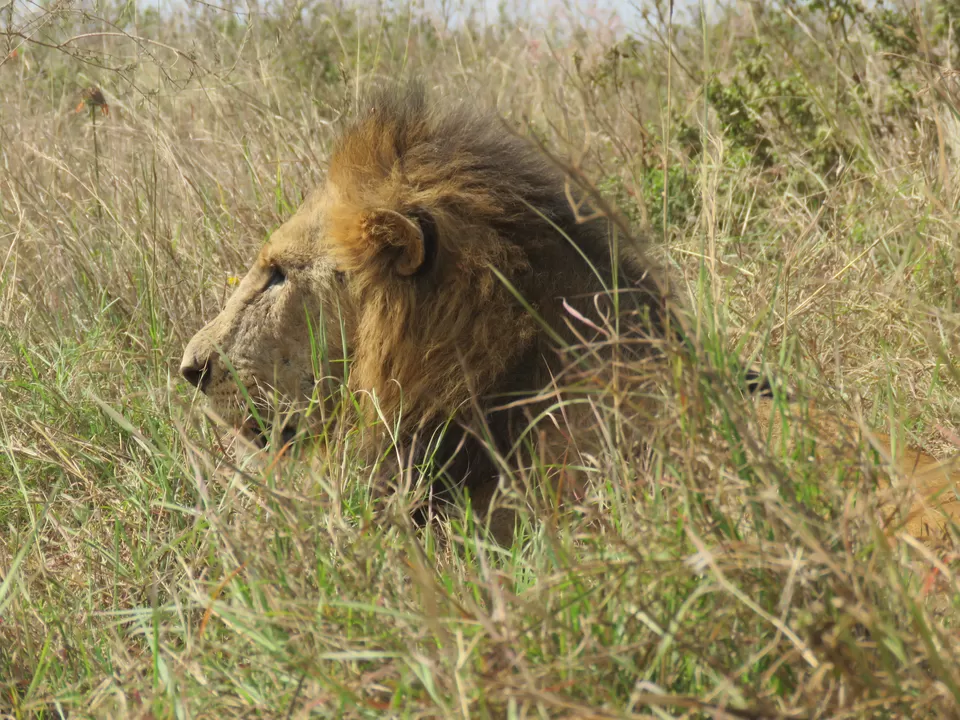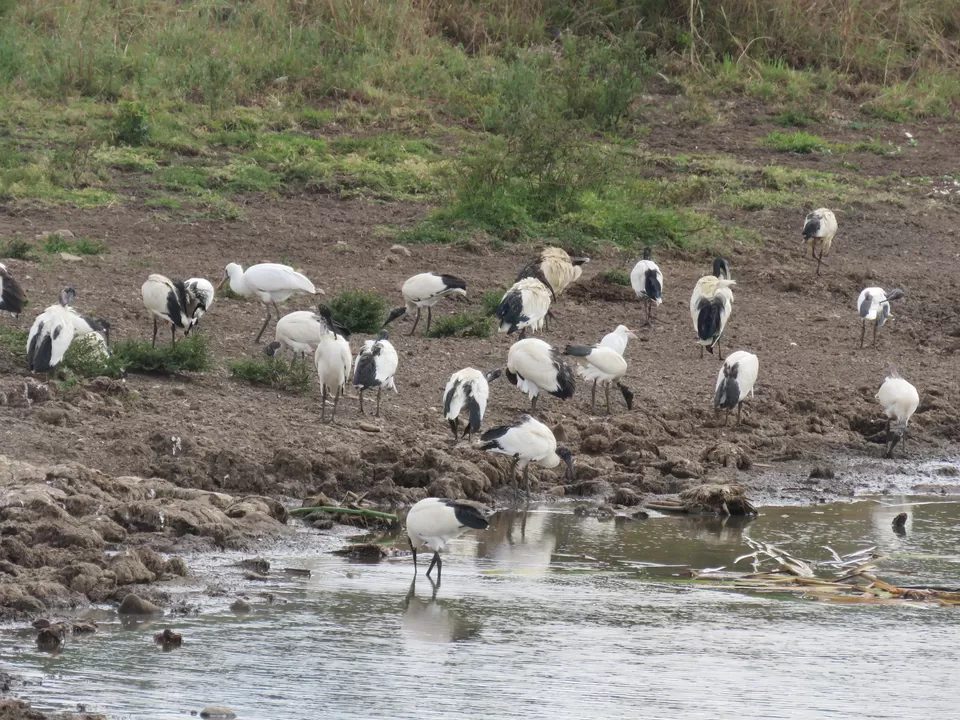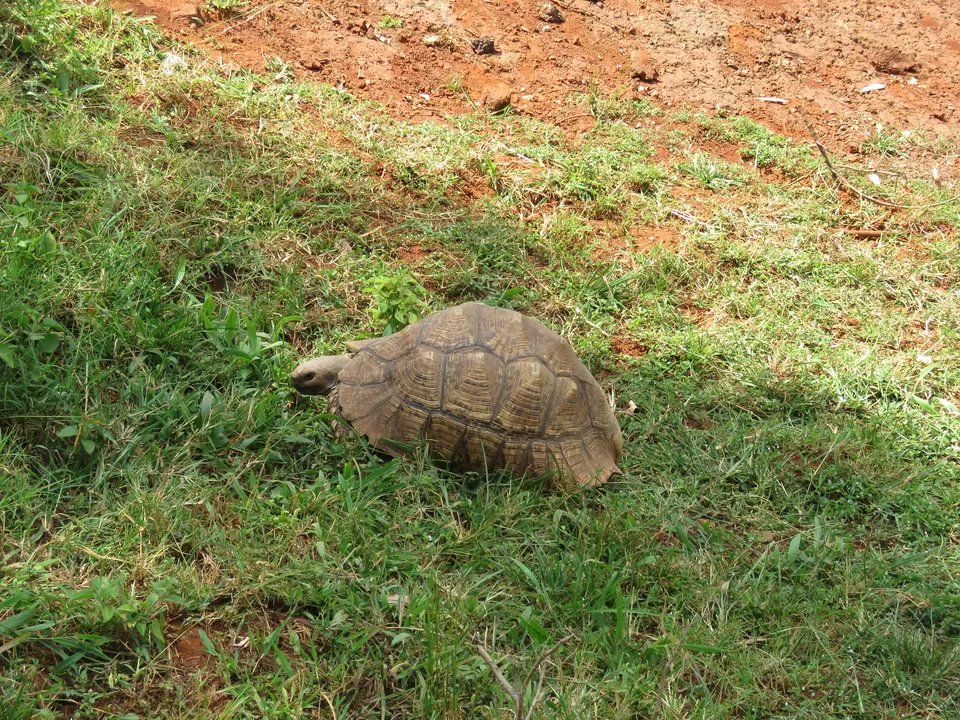 When visiting by a private vehicle, make sure to take a map from the ticket office. The signage inside is not so great and we were lost a couple of times.
We were back at John Kenyatta airport in almost an hour and a half to catch our emirates flight at 10 pm.
Kenya, the reality is indeed more beautiful than the imagination.