"If I have ever seen magic, it has been in Africa." - John Hemingway.
These words are so true!
It's nearly a month that I've returned back from Kenya, but I'm not yet over the post-trip blues! Africa is like that magical land where mysteries unfold - and I believe that for all travelers, it's surely one of those dreamlands to be explored at least for once in a lifetime!
Well, to be honest, when we think of Kenya, probably the first thing that pops up on our mind is the picture of the elephants, giraffes, zebras, and lions! No wonder, that's the most popular image we've grown up seeing and it has made a mark on us. But when I traveled to this gorgeous East African nation, I was mesmerized by its beauty and taken aback to see that there's so much in Kenya that just the wildlife!
Unlike others, who usually have game drives on the top of their Kenya bucket list, I visited the country for a completely different reason. Fortunately enough, I got the opportunity to volunteer for a childcare project in the outskirts of Nairobi, at a place called Kikuyu and got to spend a month exploring the country, apart from serving the tiny tots at the Makimei Children's Home.
A major part of my weekdays was occupied with the service work that I was doing, although I did have the evenings and weekends for myself to explore. I'm not sure how many of you out there (reading this blog) would be keen on associating with something as wonderful as volunteering, but I would surely suggest you to visit Kenya, at least for once in a lifetime.
Spend some time in Nairobi, one of the most unusual capital cities!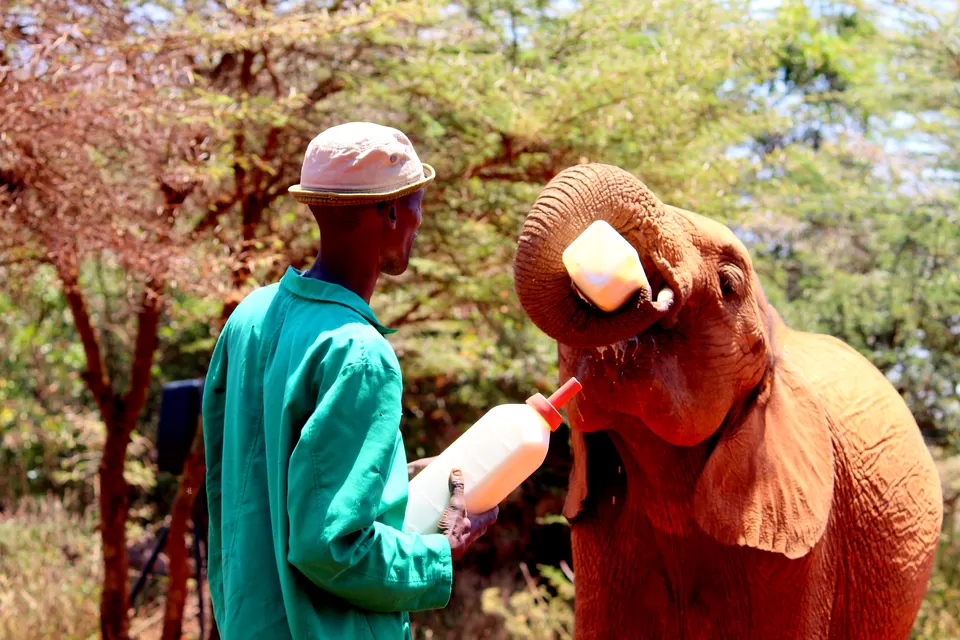 Popularly known as 'the Green City in the Sun', Nairobi is the only capital city in Africa that's housing a National Park within the city's boundary! Set alongside its southern suburbs, the park is right next to the city and I actually got to see zebras and giraffes while I was on my way to the accommodation from the airport.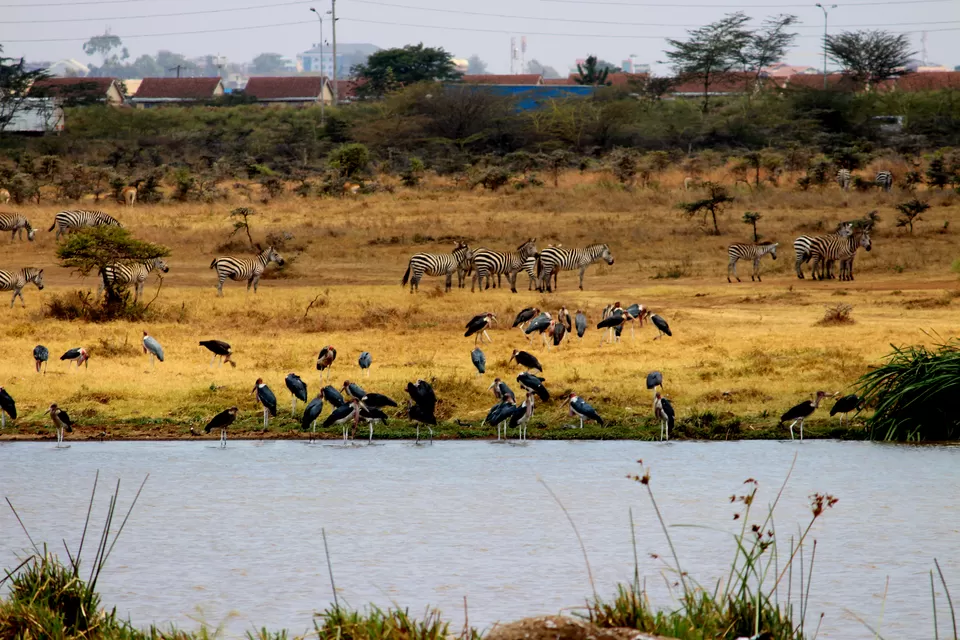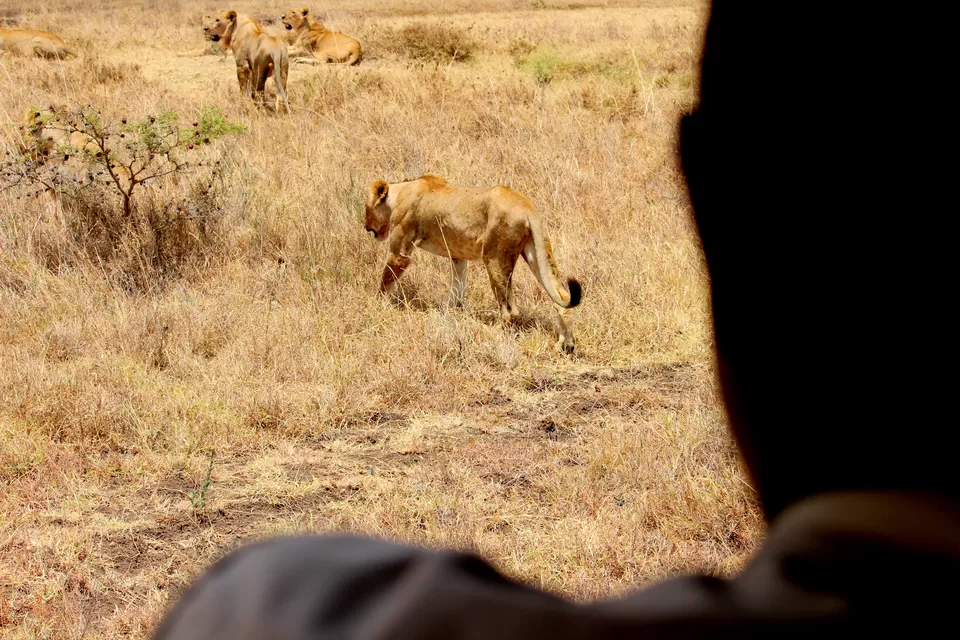 Seeing wildlife with a backdrop of the city skyline can be somehow incongruous – but that's what makes the park special. Wide open grass plains and scattered acacia bush play host to a wide variety of wildlife such as the Critically Endangered black rhino, lion, leopard, cheetah, hyena, buffalo, giraffe and diverse bird-life (over 520 species recorded).
It is an absolutely magical experience to see lions hunting in the morning and in a few minutes you are in a fancy shopping mall in the same city!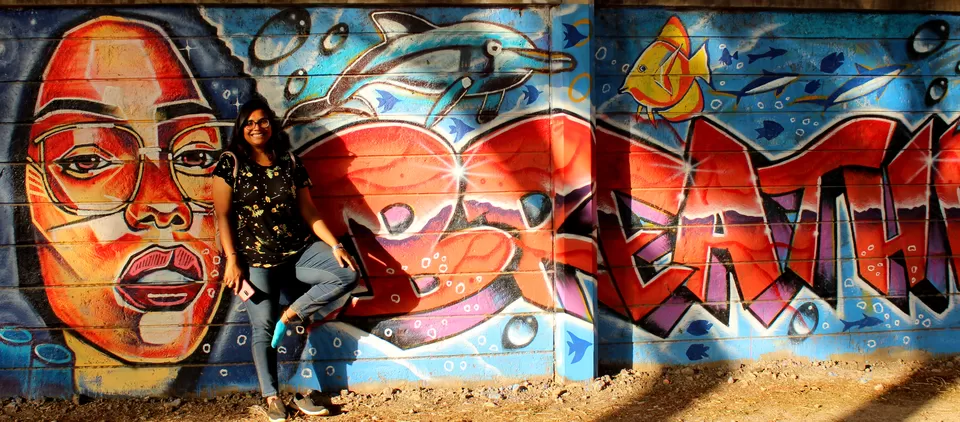 And it just doesn't end there! During my first 48 hours in Nairobi, I had hopped across the Giraffe Center where the Rothschild Giraffes are sheltered and the David Sheldrick Elephant Orphanage, where I ended up adopting baby ele Kiasa! I also binged at Carnivore, one of the best restaurants in the city and explored the graffiti-laden streets leading to the Railway Museum, where the ancient coaches of Kenya-Uganda Railways are displayed.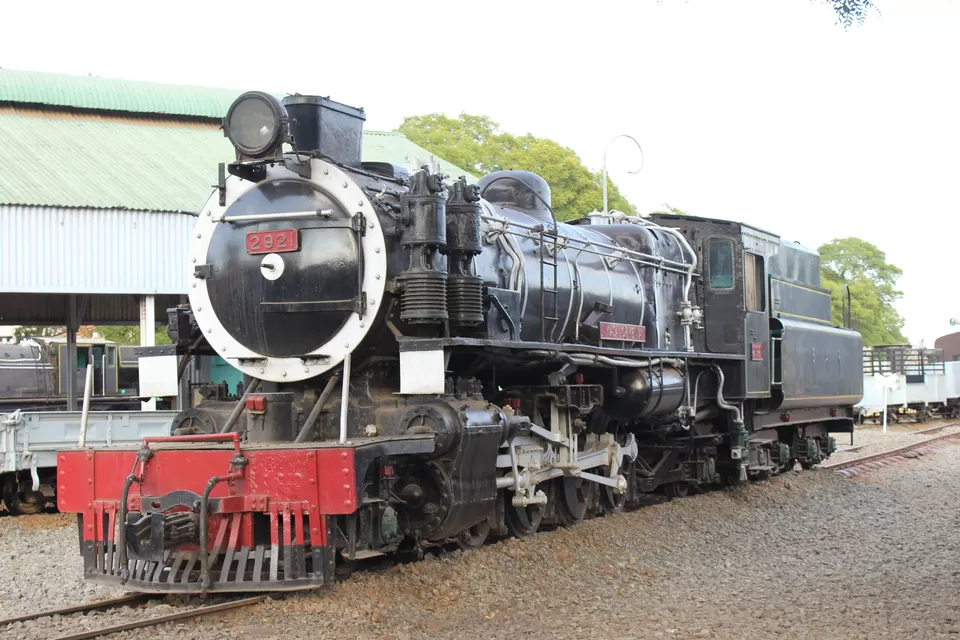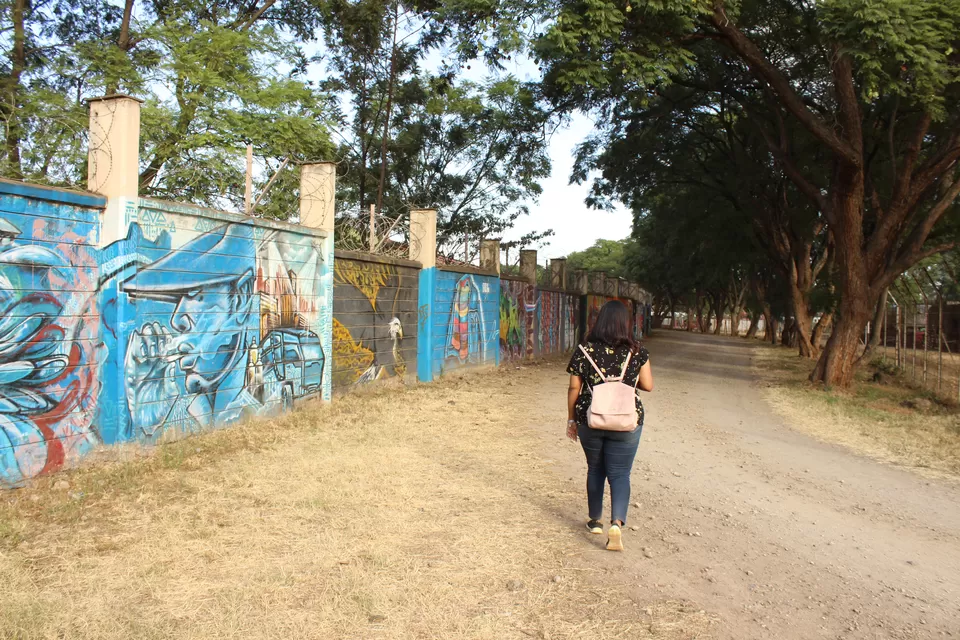 It seemed that time was passing by the wink of an eye, and there was so much more to be explored…
"It's really beautiful. It feels like God visits everywhere else but lives in Africa." - Will Smith.
Hike through the gorge and witness the amazing works of nature at Hell's Gate National Park.
Out of all the National Parks in Kenya that are mostly infested with carnivores, this is the only one where you can walk through or probably cycle around! (Surely, no carnivores here!) This not-so-popular yet unique and immensely beautiful National Park is named for the intense geothermal activity within its boundaries.
Spectacular scenery including the towering cliffs, water-gouged gorges, stark rock towers, scrub-clad volcanoes and belching plumes of geothermal steam make it one of the most gorgeous atmospheric parks in Africa.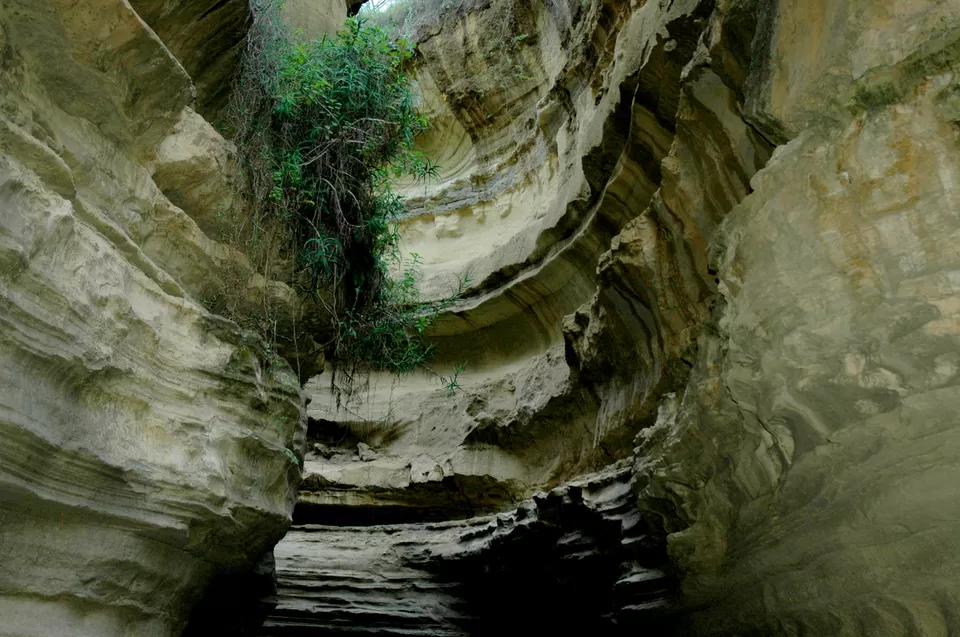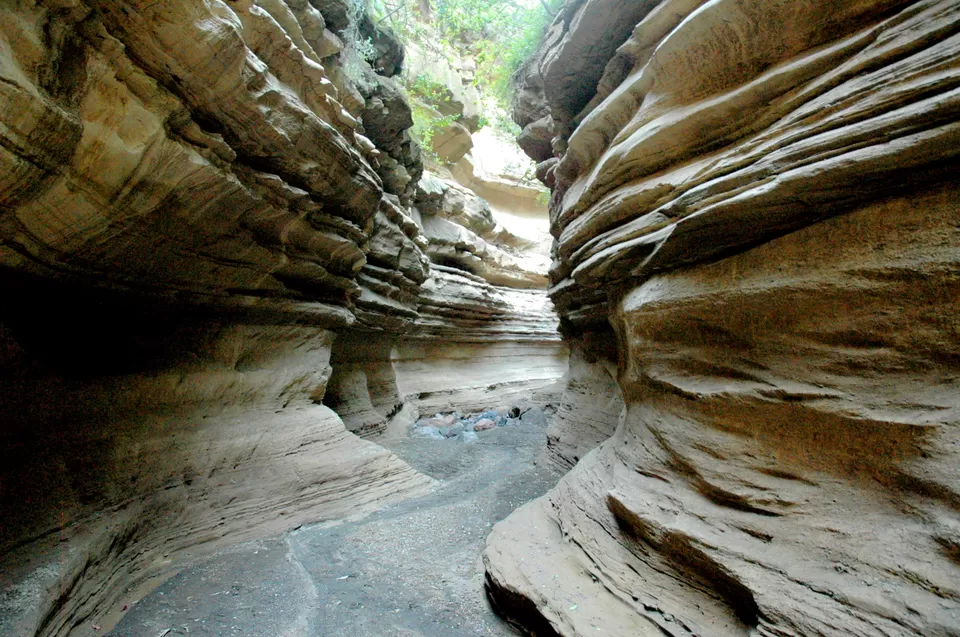 Back in the days, when Mt. Longonot had erupted, the lava flowed into Hell's gate and ash can still be felt around Hell's Gate. The comprehensive Olkaria Geothermal Station, the first of its kind in Africa, was established in 1981 and generates geothermal power underneath Hell's Gate from the area's hot springs and geysers.
As I walked through the gorge, amazed by the boiling hot water flowing through creeks with algae of different colors growing beneath them, the guide told us that the tribal folks usually carry eggs while they are here with there cattle, and often, they boil eggs in this natural hot water and enjoy their lunch!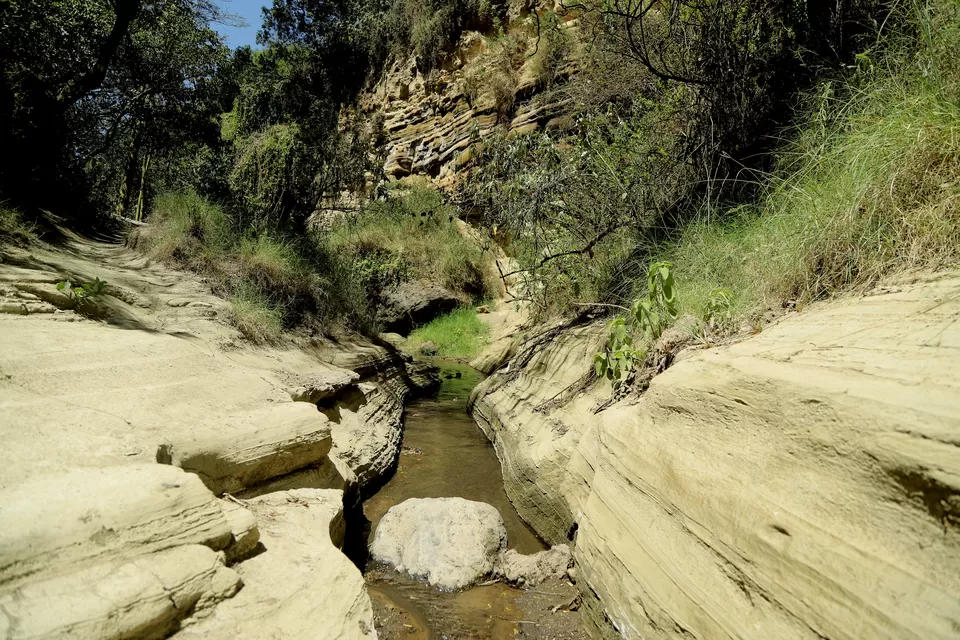 Well, everyone knows about the Grand Canyon in North America, but I'd urge you to visit Hell's Gate - just to witness the geothermal activities happening in this part of the world.
"One cannot resist the lure of Africa." - Rudyard Kipling.
Travel the Kenyan way - ride on a Matatu!
London has red buses, New York has its taxi cabs, the Philippines has the Jeepneys, New Delhi has rickshaws, Bangkok has Tuktuks and Nairobi has its matatus!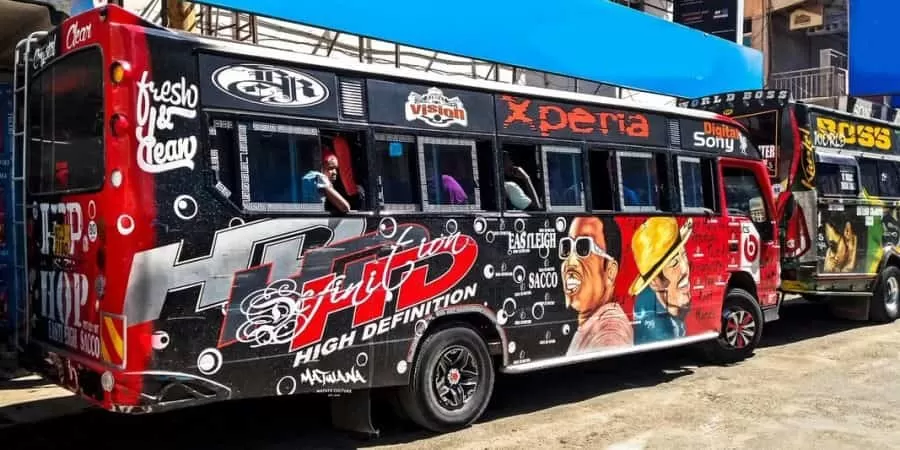 Matatu is kinda' funny word that's used for mini buses, which are used as public transport in Kenya. Public transportation is the norm for the majority of the population and matatus play a critical role in providing city dwellers with transport. A unique feature of matatus is the outlandish art on their body.
Nairobi matatus are a sight to behold, especially for first-time visitors. Graffiti from pop culture, music icons, and contemporary topics adorn the sides of the matatus in a show of artistic prowess. The more colorful the van, the more famous it is and the more likely it is to attract passengers. In the outskirts, you'll find matatus with animal prints usually!
In the initial days, I was a little skeptic of traveling in the matatus, as they looked over-crowded! But later, I figured out that it was the most interesting means of traveling, especially because you'd feel like a celebrity sitting inside amidst the locals! Matatus have evolved to become more than just a means of transport - they are now considered as a cultural phenomenon!
Well, you'd never find a matatu anywhere else in the world - so to enjoy a ride, you gotta' visit Kenya!
"If there were one more thing I could do, it would be to go on safari once again." - Karen Blixen.
Sunsets, Elephants, Kilimanjaro and more - Exploring Amboseli's safari trails!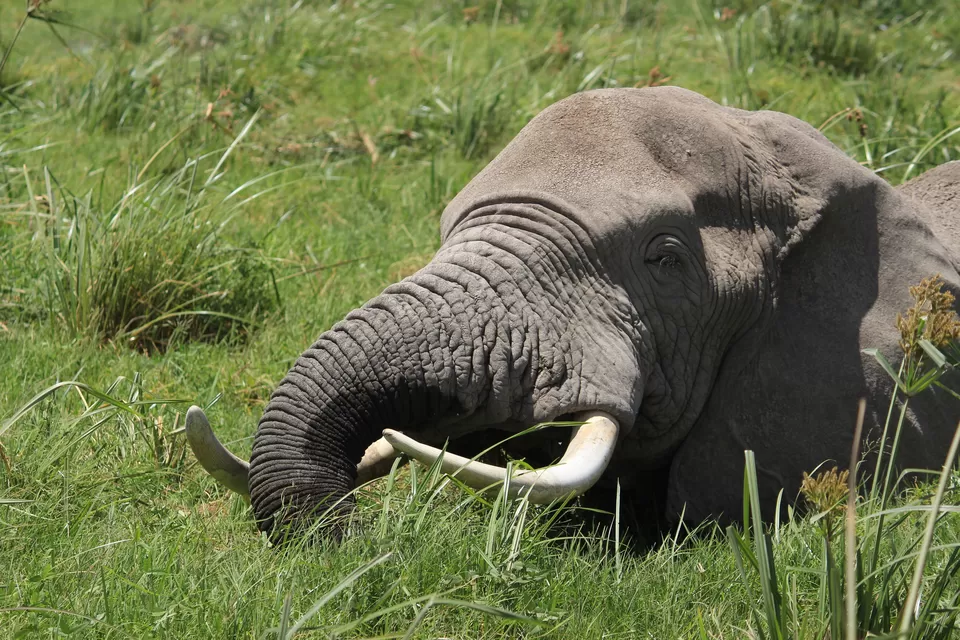 While Maasai Mara National Reserve is more popular for game drives, Amboseli National Park is nowhere less! However, not many tourists would go there, as chances of spotting lions, cheetahs and leopards are very thin. But what you'd miss if you skip Amboseli is the breathtaking views of the elephant herds, crossing in a line, with Mt.Kilimanjaro at the backdrop! (Getting goosebumps, right?!)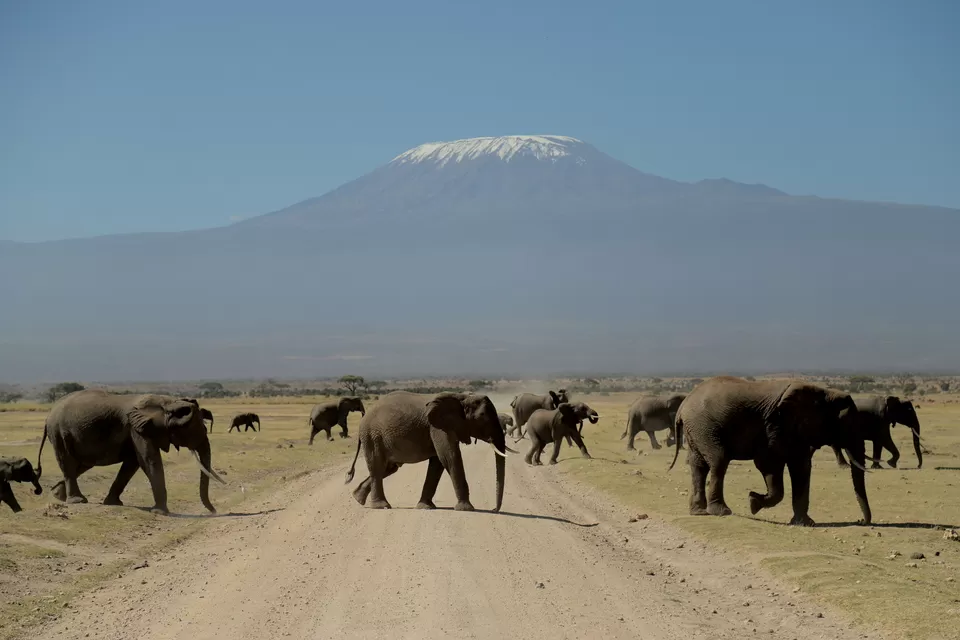 Amboseli is the only region in Kenya from where you can get such a great view of Kilimanjaro - the highest free-standing mountain in the world. I did turn out lucky to spot lions and hyenas there as well, but what was absolutely spectacular was the herds of elephants which I got to spot in different areas across Amboseli. It seemed like all the elephants of the world have come here to attend some meeting - and I'm not kidding, I saw more than a thousand elephants in those couple of days!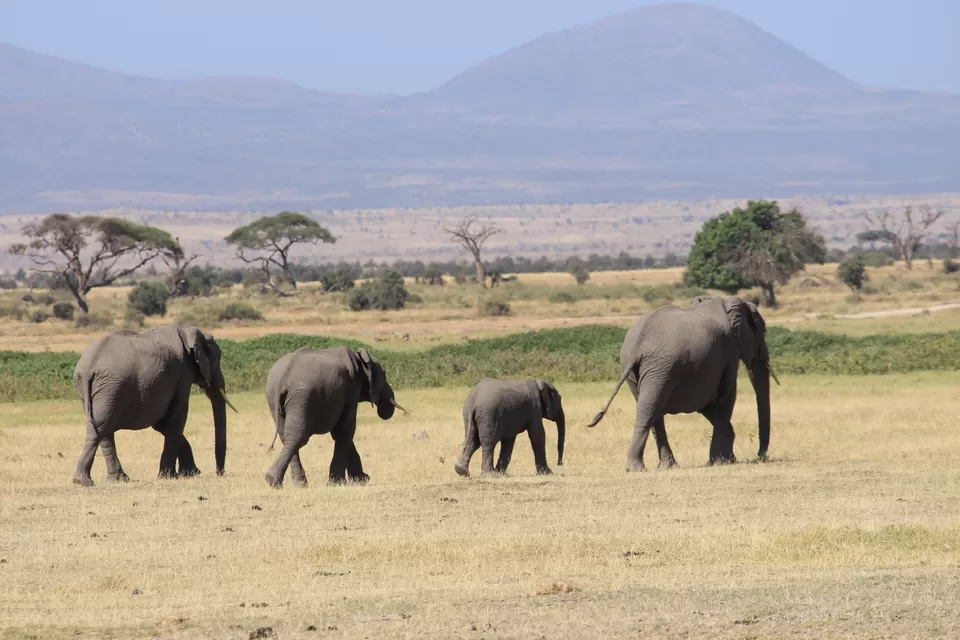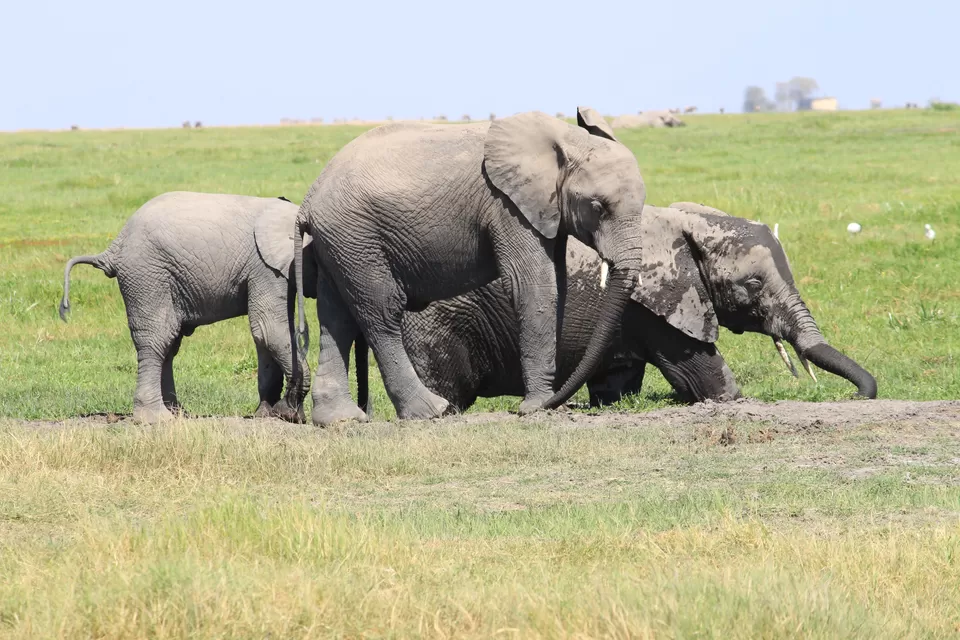 And the sunsets in Amboseli have left me spellbound, again and again! The African sun, with all its glory, painted the sky with all shades of scarlet and red and orange and yellow, before paving the way for the moon to take over the night sky.
"Africa has her mysteries and even a wise man cannot understand them. But a wise man respects them." - Miriam Makeba.
And of course, you gotta' go for a game drive at Maasai Mara!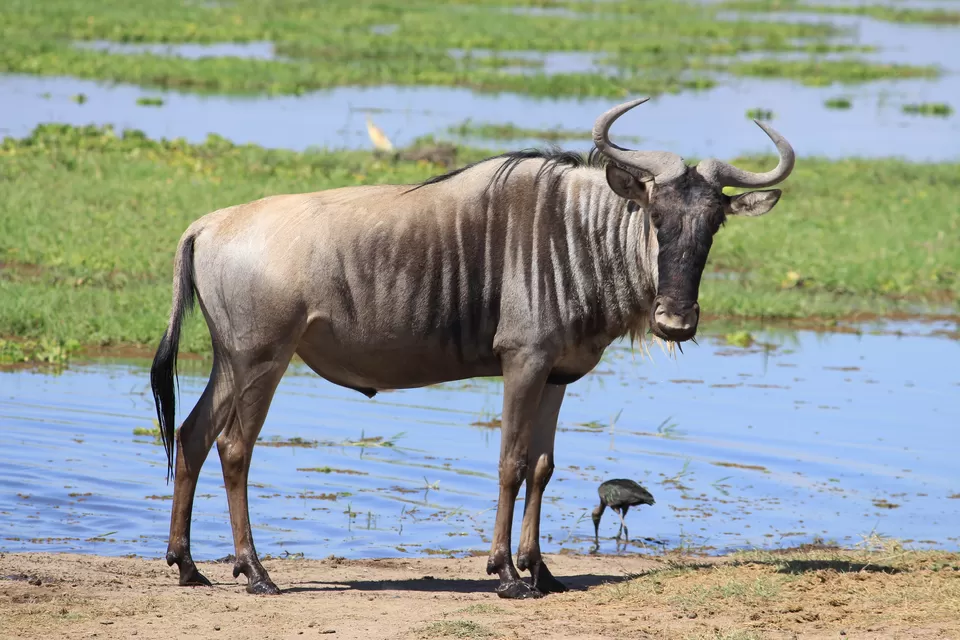 Known as 'The safari mecca of the world', there's no way that you can miss Maasai Mara game drives! Not only for the Big 5, but the vast stretches of Savannah grasslands and the diverse wildlife thriving in this part of the world can leave anyone awestruck! And to be honest, no matter how much see those Instagram pictures or watch Nat Geo shows, the experience of getting closer to the animals in their natural habitat is something that can't be put into words!
As my guide talked about the adverse effects of human-animal conflict and also climate change and how it's affecting the wildlife, I figured out that one can actually opt to stay here for longer and choose to work for the conservation of the Big 5 in this region. The number of animals has starkly reduced in the last few decades, and it's time that we looked beyond game drives and offer to play a part in protecting Mother Nature and her creations.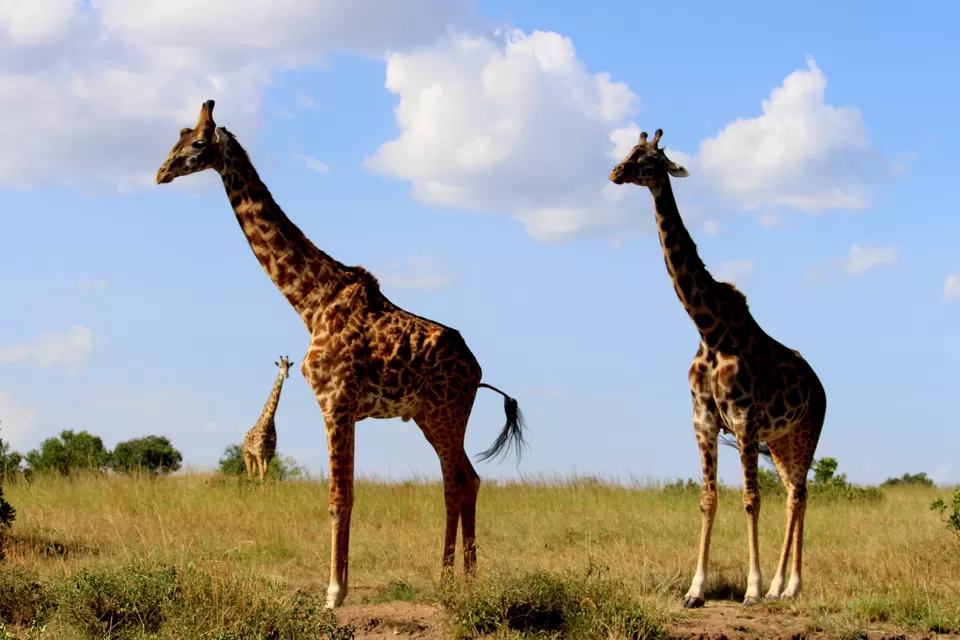 It's just not about the animals, but for the Maasai tribal folks as well. For years, these people have lived a secluded life, away from the chaos of the civilized society, and I was absolutely stunned to see the way they live, even today! With no electricity and mobile phones, they still live in a community formed by their own people and cattle, away from the cities. They are extremely talented when it comes to stone sculpting and wood carving - which now has become a source of their income. They are happy with whatever little they have and they did teach me the fact that you don't need a lot to be happy!
"I never knew of a morning in Africa when I woke up that I was not happy." - Ernest Hemingway.
To say the least, your experience in Kenya will surely be one of the best that you've ever had (trust me when I say this!) and you'll return back home with lessons that would serve you for life! Traveling to Kenya will help you to witness the beauty of the land where humankind first came into being, enjoy the unique geographic diversity, expose nature's different characters, and unveil things that you've never even imagined before!
There were times when I felt that some movie was going on, and I was a mere part of it - observing how others are doing! It felt like everything is just moving on, at its own pace, and I'm stuck in time! Kenya - indeed, is like that, and you must visit this country at least for once in your entire lifetime.