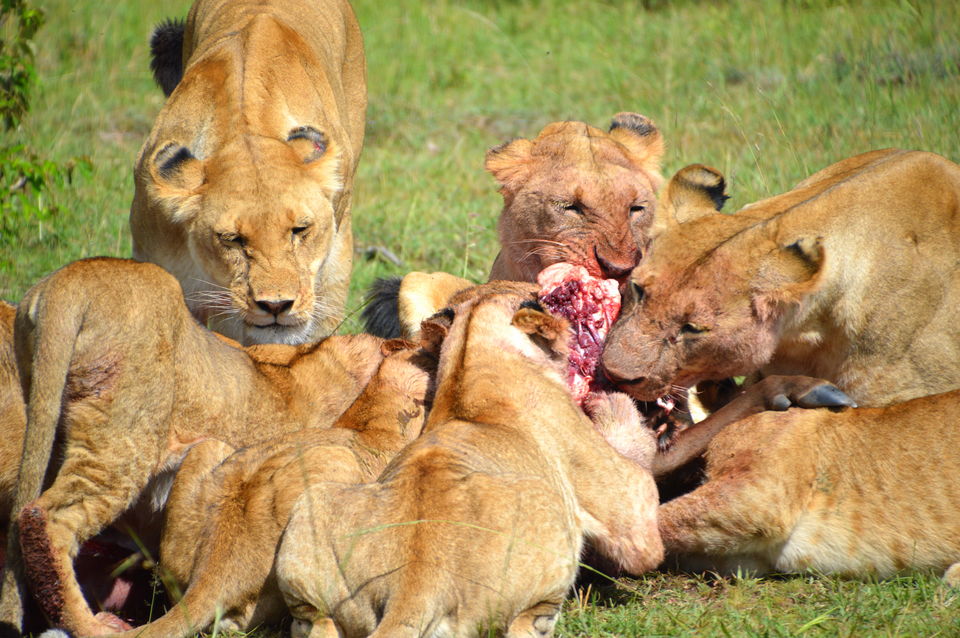 This was the third day in Masai Mara, we were supposed to start the date with an early game drive of 2 hours. To be honest, it wasn't a very eventful drive today. I guess we had seen all the action on the previous day itself. We again saw the pack of four lioness whom we spotted the very first day. A group of Hippos was crossing a small river, we saw some baby hippos too. To save us from boredom, there was a Cheetah resting underneath a tree. We had to exit the Park, as it was already the time for our breakfast. Also, we had to leave for our next destination which was going to unfold many other hidden gems of Kenya. Next, I visited a Masai Village which was one of the main highlights of my trip. Further to that, we started for Lake Nakuru en-route visited the Lake Naivasha. I will give the details of these destinations in my upcoming blog. Stay tuned and thanks for the read.
Jambo!Its 6:30 AM local time..I am at Jomo Kenyatta International Airport, Nairobi. Thanks to Joffrey for picking me up at the airport and dropping me to Absolute Safari Office in Nairobi.
From here, my Kenya tour began. It was approximately 6 hours journey from Nairobi City to Masai Mara via the Great Rift Valley. I joined some more travelers and our driver Patrick on the way to Masai Mara. We reached Miti Mingi Camp, Masai Mara around 3:45 PM, when we still had enough time for a short evening game drive. We started for the game drive at 4:45 PM, when there was still a while for the sunset. As this was just going to be an introductory short game drive, I wasn't expecting to see many animals. But, as they say that the animals are totally unpredictable, the evening turned out to be totally different than what I had intercepted.
As soon as we entered the park, we encountered zebras, wildebeests, thomson's gazelle, impalas, topic, Cape buffaloes and the magnificent giraffes. Thereafter, our safari guide Patrick got some information over his radio from other safari cars. We immediately rushed towards that location. What we saw was an absolute delight and totally unexpected. A lion sitting on a tree, which is a very rare thing to do by lions. Patrick told that he is very young, approximately 2.5 years old, who must have recently got separated from his mother to hunt alone in the wilderness. Few minutes later, we saw a pack of four lionesses. Soon after, saw a small elephant family with mother and baby elephant. So many things to see in just 2 hours, that was definitely a well utilized day.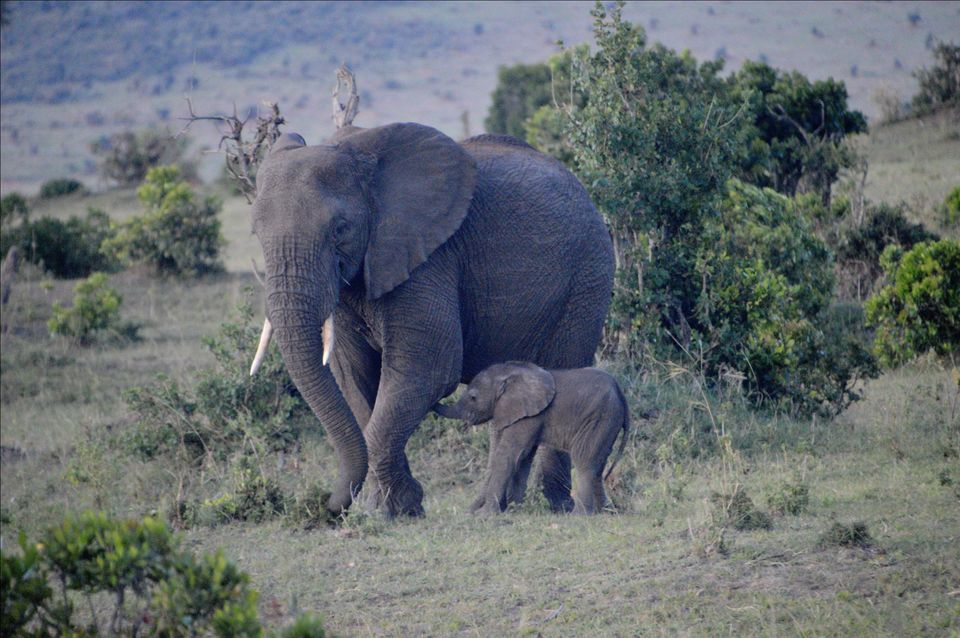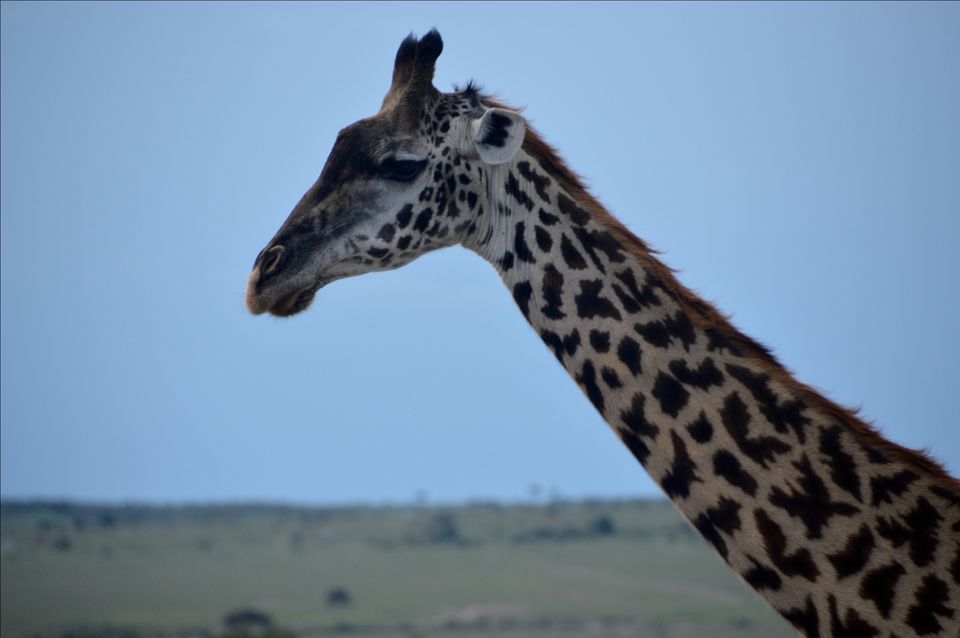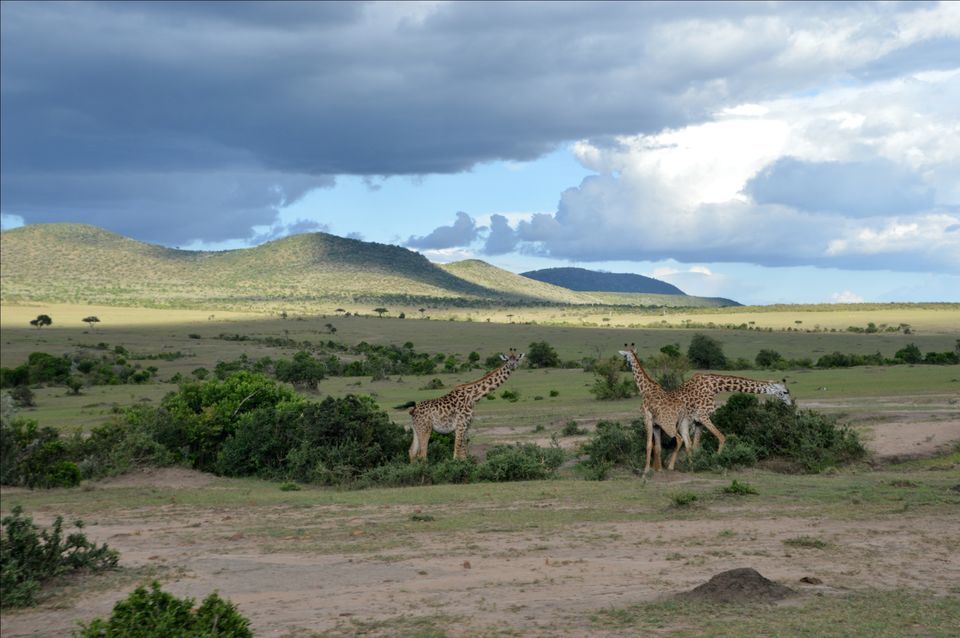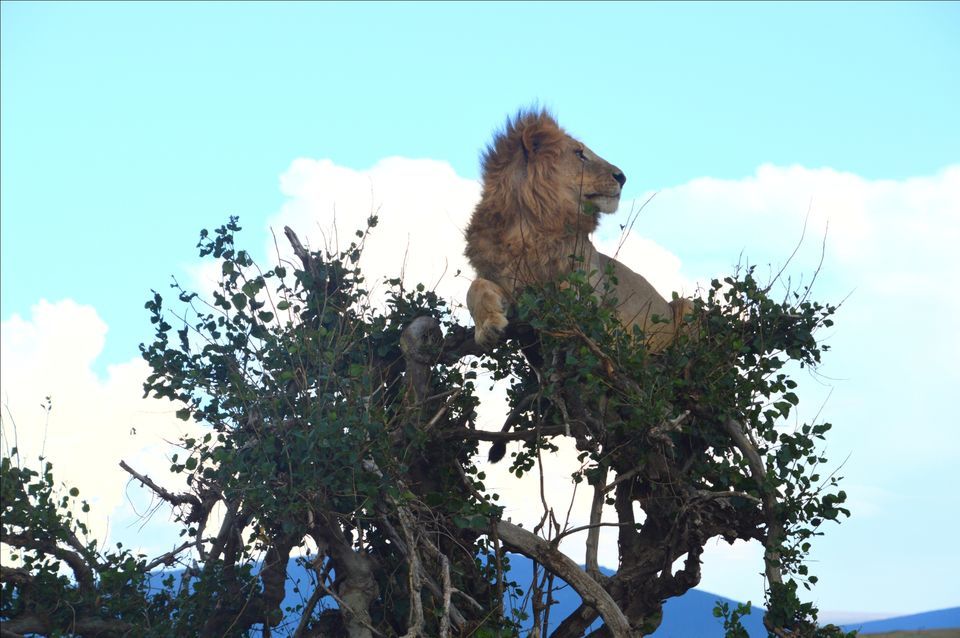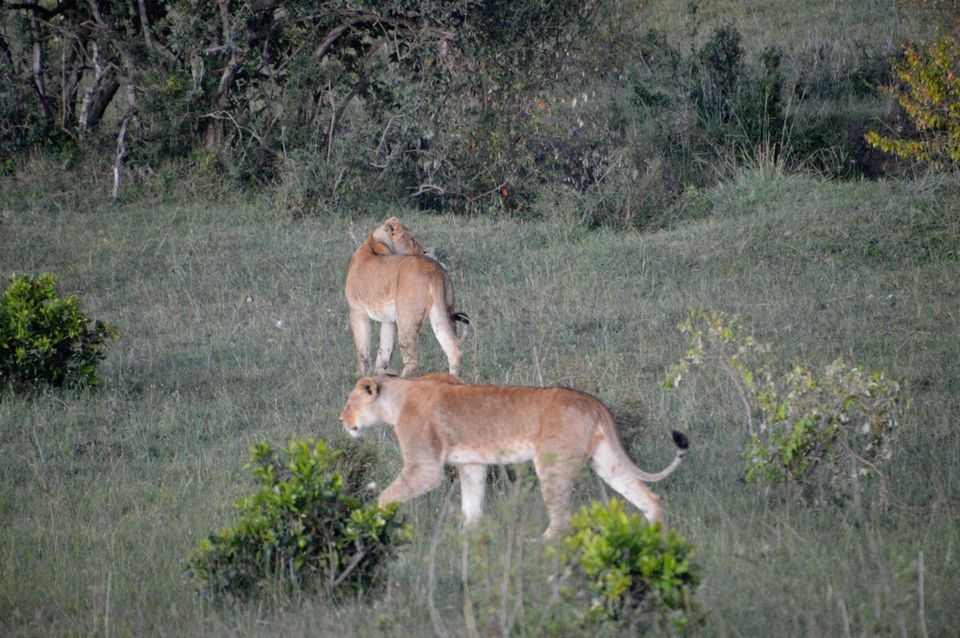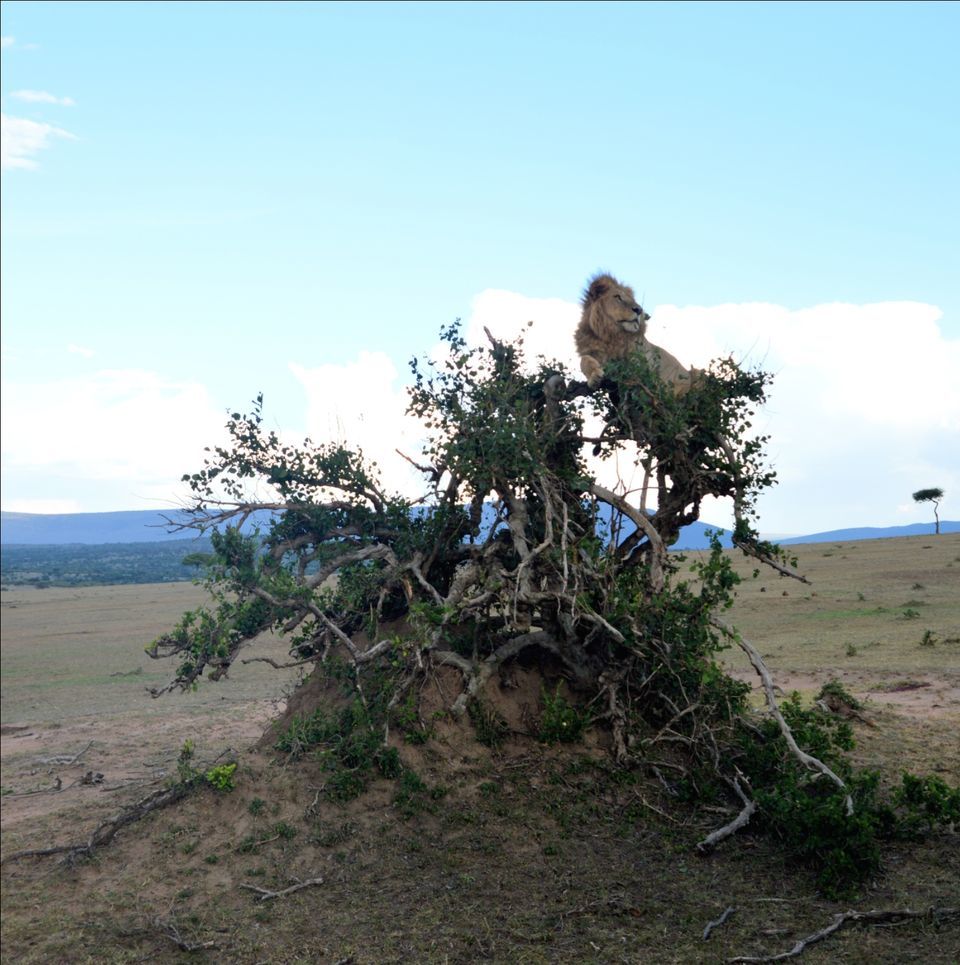 Today was going to be a big day. After having our breakfast, we started around 8 AM from Miti Mingi Camp and entered the Mara National Park which was only a kilometer away from the camp. We had no idea that very soon we are going to see the King and Queen of the jungle having their breakfast too. Only after 15-20 minutes of entering the park, Patrick again heard something on his radio and rushed his car. What we saw was totally jaw dropping. A Lion was feasting on a Masai Cow accompanied by a Lioness (Pic: 2-1, 2-2). Our driver Patrick caught a perfect spot for us to watch this sight hardly from a distance of 20 feet. We had enough time to cover this event in to our cameras and into our memories. After a while, we exited from the hot spot and gave other cars also a chance to click the two magnificent beast enjoying their morning meal.
We carried on with our game drive in search for more good sightings like this.
When we were busy looking at the sides, a Lioness came walking right in the middle of the road in front of us, walking very casually as if she is hardly bothered by our presence. She walked right beside our car, so carefree as if we did not exist.
After few minutes of driving in the jungle, we spotted a Leopard resting on a branch of a tree. Patrick told us, that spotting a Leopard is as hard as finding a nail in an ocean. We can only spot a Leopard when it is on a tree, otherwise when it is on the ground for hunting, it just dissapears like a donkey in a fog (2-11).
Patrick was again rushing some where and we could here some excited voices over his radio. At a distance, we could see people in three cars were gawking into something, but it wasn't very clear what they are looking in to. When we approached nearer, the sight simply blown our minds. A pack of eleven lionesses were feasting on a wildebeest which was still alive when we reached. It was all happening just approx 40 feet in front of us. Our guide Patrick as usual went to the best possible spot from where we can cover this whole episode. Just when we thought that we witnessed the best action ever, to keep the thrill rising, a herd of 30-40 buffaloes came to chase away the lions and stop them from finishing their meal. This was totally unbelievable and washed away all our previous notions about the lions and buffaloes both. Never knew that an animal like buffalo can stand against the King of the jungle and challenge them to finish their own kill (Pic 2-4,2-5,2-6).
Thereafter, we saw some resting Cheetahs under a tree (Pic 2-7) and started heading towards Mara River where in the month of August and September the very famous Great Migration takes place. On the way to the river we saw a solo Giraffe grazing on the only tree we could see around (Pic 2-8). A herd of elephants in the green plane was also a sight not to be missed (Pic 2-9).Upon reaching the river, as it was late November, the migration had already reached Serengeti, Tanzania. We could see some Hippos Mara River enjoying sun (Pic-2-10).
After departing from the river, we saw a loan lioness resting under a tree. As Masai Mara has very few trees, these lions struggle for finding some shade. After few minutes we saw another family of around 10-12 lions resting under bushes. It was around 1:00 PM and it was their resting time. We also spotted that Giraffe from very far away on our way back and it was still grazing on the very same tree.
It was time for lunch now. Our driver Patrick took us to a place which I assume was far away from wild animals specially the big cats. We got down our cars, had lunch and relieved our gallbladders too behind a bush which was definitely relieving.
After lunch we started heading back again. Out of Big 5 (Lion, Elephant, Leopard, Rhinos and Cape Buffalo), we were yet to see Rhinos. Since it was just the second day of my 10 days long Safari Tour, I hoped to see them on my tour later. But as soon as I started regretting not having to get to see all Big 5s in one single day, our driver Patrick left the tracks and went off road by approximately 500 mts. A very shy duo of mother and baby Rhinos were trying to hide in the bushes around 100 mts away from us (2-12). They were really the most shy of all the animals we saw till now. The baby Rhino was hiding behind his mother and was really adorable (at least from far). Patrick gave us ample of time to satisfy our photographer instincts and started heading towards the exit. Very contrary to how we all were in the morning, we all were very relaxed on our way back. But as if just to jolt us all again, just around a kilometer away from the exit gate of Mara National Park, we witnessed two Cheetahs grabbing a Pumba. You must be wondering if it's just me who is so influenced by Lion King movie, that I am calling a Warthog as Pumba. But no, Pumba the warthog in Lion King movie is so famous that in Africa, they have all actually started calling it by this name. Anyways, coming back to the two cheetahs, I believe that this was truly an extra lucky day for us, that we witnessed the kill being happening as well. Considering that this was happening less than a kilometer away from the Park's gate and our camp was just a kilometer away from the Park's gate, this was going to be a real scary night. After all, we don't do Safari Camping every day right? This is all a part of the adventure which makes it even more exciting. After having a sumptuous dinner at Miti Mingi Camp, we called it a day.