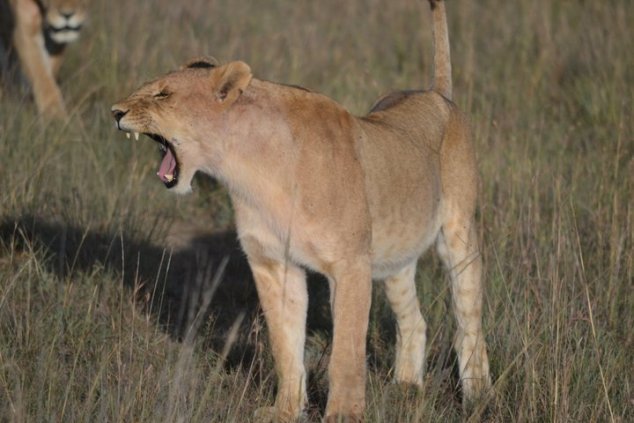 8th May Start to a journey which I had not thought at that time or even earlier when I decided to take Kenya as a vacation, in my 'wildest' of dreams to be half as exciting, adventurous and thrilling...
On Board Kenya Airways to Nairobi from Bombay at 3 am - flight was delayed by more than an hour due to runway being closed! Anything new - not quite! Flight was quite better than expected in terms of service. Got 2 miniatures of absolut ???? Landed nairobi @ 630 am (Kenya is 2.30 hrs behind us) arnd 35 mins late.. Bought Glenn and Grey Goose from duty free- Good times had just begun!!! Visa formalities took an entire lifetime and so did the morning tea at a nearby restaurant but was worth it with phafda and jalebis (can you imagine- Thanks to Gaurang & Sejal), theplas, boondi and all time favourite khakhras !! Left frm their only arnd 9am and the destination was Masai Mara Game Reserve - the largest jungle safari arnd the world - Its in the southern hemisphere (equator cuts across kenya)... Tanzania is to the south of mara and quite close - herds of grazing animals migrate to Tanzania startng Apr and come back to Mara after Jun. On the way the predators chase these grazers and hunt them Some interesting facts about mara- 646 sq miles of spread - its a savannah forest - no dense bushes but grasses whch were arnd a feet tall but would grow to 4 feet In another 3 mths of monsoons!!
Last year 123 million gazelles, zebras and bush backs had been counted by the authorities! Also 40000 lions!! Even 3-4 mths are not enough for covering the entire reserve and we had 2 days - so you can imagine how lucky we ought to be to spot the Big 5!! And that too during this time of migration!! Other animals - elephants, wild buffaloes, hyenas, giraffes, hippos, watucks (wild pigs), jackals, ostrich, some more beautiful birds
The journey is arnd 300 kms with 86 kms of no road - passing thru small villages and potholes - no, craters actually...driving on almost 2 wheels on the side slope of the road and zig zag all the way.. We were travellng in a 8 seater van (2 of them) - we had close to 35 bags among 4 families!! Was actually cursing at that point - the decision to take kenya on the itenary.. Not only was the road bad but sunrays were so harsh that at some points my T-shirt could hv toasted a bread!! It took us arnd 7+ hrs to reach the Masai Mara and the journey was one of the toughest! However on reachng the resort, we were very pleasantly surprised with the size and ambience...
We had stayed in Mara Sarova Games Resort - it had tents - very luxurious but small. No regrets though..since we had only 2 days and were hardly going to be in the room We had a very quick lunch and left immdly for the game drive (US$ 30 per person per drive) It was already 5 pm and did not hv enough time since the reserve closed by 630 pm but still we went ahead... We were not lucky enough that day and could spot feew gazelles, elephants, zebras on the way. Another van spotted a lioness and were damn excited but since we were on the other side (the vans' drivers/guides use walky talkies) we could not go..
Though on the way back to the resort we saw something quite amazing for us - first true experience of a kenyan safari!! 10-12 giraffes at a distance of arnd 8-10 mtrs...can you imagine?? The best sight is when they gallop away - its like a slow motion in real life. Hv captured some videos. They have an amazing sense of protectiveness - infact that's true for all the animals. Out of the grp, there were 3 of them who used to wait for each other when either wandered away and again gallop further!!!! Their neck bone whch is taller than almost all of us.. They sleep for 10 mins to a max of 2 hrs only. We were a bit disappointed that we did not see the lions and leopards... But this is a game of patience and we had to have lots of it.. On returning to the hotel we had good dinner - with options of jain and veg food...and finally we were all too tired to enjoy the GF and GG!! Hit the bed straightaway since had an early morning game drive..
10th May We had to start at 630am and right on dot we did... Our driver told us its got to be "lions' day" and it really did turn out to be one! While we spotted the gazelles, wild boars, again but it was a group of 12 lions and cubs that made our day (at least we thought so). The lions were roaming around our van and sometimes the cubs were playing with their dad!!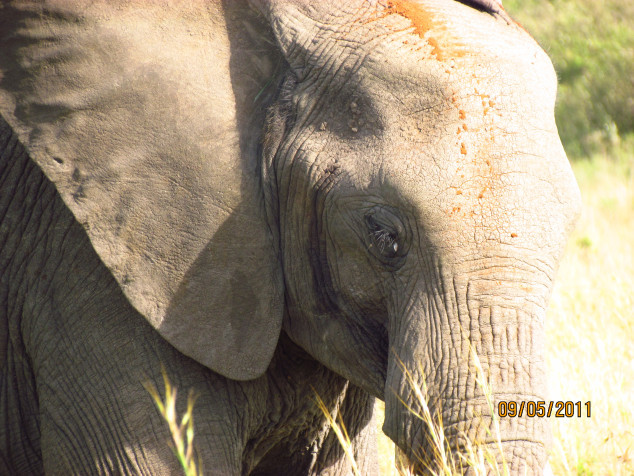 We also saw a group of african elephants- 2 elders and 3 calves... The best part was the way they were running away the flies - they were using their trunk to pick up the sand and sprinkle on their body. African elephants are a lot more wild and dangerous as compared to their other counterparts! We came back at arnd 930am and were excited to have spotted the lions!! Then we had a regular round of breakfast and lunch.. Our next game drive was at 4 pm and we headed straight to a water body whch was pretty far in the reserve to spot hippos. Enroute, we could see a hyena
sitting right near the road - we were told it is the most dangerous canibal - it can break human bones with its strong jaw! On reaching that place we saw arnd 8 odd hippos ranging frm 700 kgs to 1.5
tonnes!! Huge creatures - but herbivorous and stays inside the water whole day since its skin is allergic to sun rays. With that weight, they can still float!! We returned back to a place where the other vans had almost seen a 'kill..' We missed it though.. We were told it was a great (that might sound mean)site when the group of lions and cubs encircled 3 buffaloes and luckily they managed to escape frm the deadly situation!! Still, what we saaw was nothing we cd imagine - we saw arnd 15 lions circling our vans for close to 20 mins.. One of the lion was sitting like a king and there was a lioness nearby.. Other bunch of them had cubs around them playing with the elderlies!!! We hung around here for more than 20 odd mins.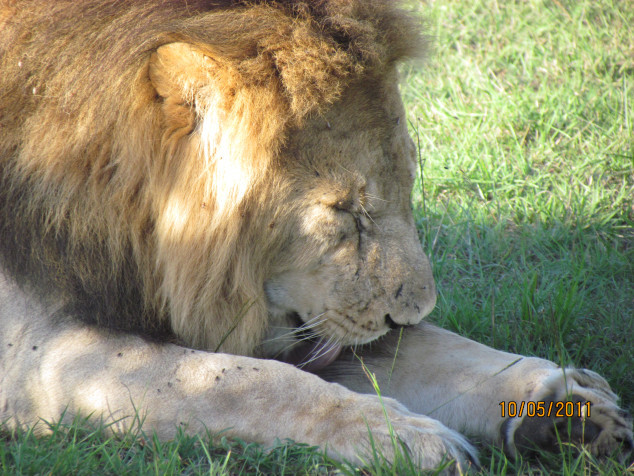 Finally returned to the resort and it was the end of a great day... Spotted the big 4 - rhino was still left!! People told us that we were damn lucky to spot the leopard!!! Next day we were to leave for Lake Nakuru at 7 in the mrng.