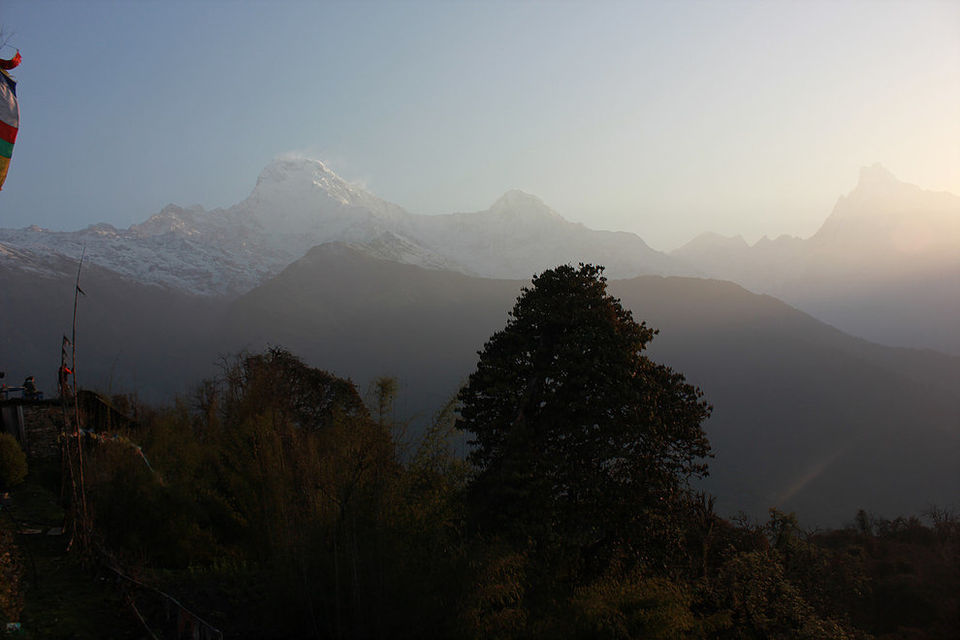 1. How to reach:
(a) With enough time but constraint on budget you can opt to travel over land. There are several different routes to enter Nepal from India. You can either take a bus from Delhi to Kathmandu or from Varanasi to Kathmandu by train or bus or via Sunauli border crossing (Ghorakpur, UP to Bhairahawa, Central Nepal) or via Raxaul border crossing (Patna, Bodhgaya or Kolkata to Birganj, Central Nepal) or few other border crossings according to your convenience.
For extensive detail please refer:
https://www.tripsavvy.com/how-to-best-travel-from-india-to-nepal-1539177
(b) Fly directly to Kathmandu from Delhi, for good deals check Skyscanner or other such websites.
2. How to navigate around Nepal:
(a) Bus: Buses are a good option to commute between cities. The roads are dusty and badly maintained (but if you are an Indian it will be a cake walk for you - if you can get my drift ????). Even budget wise buses are a very economical option.
(b) Mini vans: I would not recommend this mode of transport for the weak hearted, even though the frequency is good and is the cheapest transport option. The divers are reckless and rash (they just cannot let any vehicle pass them or even tolerate seeing one in front of them). But if you have a strong heart and apatite for dangerous living then you could try it (most locals do and so did I).
(c) Flight: For a few cities there is the option of flying (for example Kathmandu to Pokhara). But this is considerably an expensive option compared to traveling by road and usually are not on time (being delayed endlessly and you reaching the destined city almost at the same time as the bus - not really managing your time effectively).
(d) Around the city: take a map or download an offline map and start walking. Best way to explore a city is by foot.
PS: Taxi from Airport (Kathmandu) to Thamel will cost you between 700-1000 (NPR).
3. Where to stay:
(a) Budget traveller: There are many hostels all around Nepal and most of it cost you just 250 - 300 (NPR) for a dorm bed. Also, if you have it in you to bargain then you get single rooms for almost the same cost (but all this is in the cities).
(b) luxury traveller: I have not explored the luxury stay options but there are a lot of 3+ starred hotels too for you.
Places I stayed:
Kathmandu
Happily Everafter hostel
Famous house Kathmandu youth hostel
Puskar Guesthouse and Backpackers hostel
Pokhara
The Northface Inn
Puskar Guesthouse and Backpackers hostel
Hotel Trek and Climb (It was the cheapest accommodation for us at a cost of 600 Nepali rupees/day for a double bed room).
4. Trekking in Nepal:
Anyone wanting to trek needs to get a permit from Nepal govt, it is known as TIMS or ACAP permits.
You can get these permits individually in Nepal tourism board, Kathmandu or Nepal tourism board, tourist service centre Pokhara, if you are travelling on your own (without a guide and a porter).
The tourism board in Kathmandu is working even on Sundays (but don't know about Saturdays). For SAARC countries the permit fee is considerably low. Please carry photos (Passport size) and itinerary of the trek with route.
If you are not up for the task of running around for the hiking permits you can always contact an agency (there are many of those too, but I am don't know the details as I dint contact one) who do it for a nominal fee and even provide a porter and trek guide.
For more information on TIMS and ACAP permits refer:
https://www.lostwithpurpose.com/tims-card-kathmandu-nepal/
http://www.seetheworldinmyeyes.com/travel-diary/south-asia/nepal/nepal-tims-acap-and-park-permit/
http://www.visitnepal.com/trekking/area_permits.php
https://www.eyesonnepal.com/about-nepal/tims-and-trekking-permit-in-nepal.html/
5. Budget:
This is very personal to most people and depends on how they want to spend and on what they want spend thus it can cost you anywhere between 20,000 - 60,000 for 10 days depending on your preferences.
Annapurna Base Camp Trek
Things to pack for 12 days of Trek:
Clothes
· 3 hiking (dry fit) Shirts and 2 track pants
· 1 really warm, comfy and rain proof jacket
· 1 warm and snow proof hiking pants
· Hand and leg warmer
· Bandana, scarf and warm or woollen cap
Trekking gear (basic)
· Cap or hat
· Glares
· Sunscreen
· Water proof hiking shoes
· Rain cover for the bag
· Water purifying tablets
· Walking sticks (buy cheap ones in Kathmandu)
· Easy to handle/carry Camera (optional)
· Pen Knife or Lighter (optional)
Meds and stuff
· Personal meds and essential meds
· Diamox

· Glucose/Electrolyte
· Knee support
· Crepe bandage
· Band-Aid for shoe bite
Others
· Maps
· Music (optional)
· Cards/other small games (optional)
· Toiletries
Do's and Don'ts
Do's
· If you are planning on skipping porter and guide (good for you) but set a pace for yourself, plan your itinerary extensively and try to reach your decided destination (but don't sweat it if in the beginning it's a little difficult).
· Carry a map (it helps).
· Carry dry fruits, nut and other snacks (like granola bars). Anything that is rich in protein.
· Walk slowly, its not a competition, take a break if you need and drink loads of water.
· Get up early and start hiking early so as to cover more area when there is day light and also you usually tend to walk faster when you start early. Also, in the rainy season it tends to rain in the afternoons (which you can avoid if you start early).
· Carry enough water and make sure you have easy access to it. If you don't have water purifying tablets then keep a clean kerchief to filter the spring/flowing water (we did that and it dint kill us).
· Be mentally prepared to climb a lot of steps (feels like steps go on forever), but from my personal experience I feel steps are way better in comparison to normal uphill climb.
· It gets colder as you go higher up the mountains so make sure you have warm clothes (I cannot stress more on this!).
· There is no way of changing or getting more cash after you start your trek so have enough cash on you (and as you go higher up the food and water also gets expensive).
Don'ts
· DO NOT compromise on your trekking gear or warm clothes just because you don't have a porter and you will have to carry all the stuff because YOU WILL need them as you ascend higher up the mountains.
· Don't loose heart if you are a little slow in the beginning couple of days, you will pick up pace as you walk on, just set your pace and keep walking.
· Don't stop if you have stamina and can cover some more area because the more you cover the day before that much will be lesser for the next day.
PS: For more stories and travel hacks keep watching my space (https://www.barefootdairies.com/).
HAPPY TRAVELLING TO YOU.