A visit to a national park makes for the perfect adventure holiday with family. It isn't unsafe or scary, yet makes you squeal in pleasure when you spot a deer strut by and pumps your adrenaline at every chance encounter with a tiger or an elephant. The whole family together in the midst of wild nature brings you closer and creates memories that you fondly think of years after. Nepal's Royal Chitwan National Park is described by Lonely Planet as "one of the best wildlife-viewing national parks in Asia", making it an excellent option for an active family adventure.
First established in 1973, Chitwan was Nepal's first national park. Bundled at the foothills of the Himalayas, the park became popular as a wildlife getaway once Unesco gave it 'World Heritage' status. Today, the reserve is a 932 sq-km protected area of marshland, forest and grassland, surrounded by Rapti and Reu, two tributaries of the Narayani River. The park's exceptional beauty, characterised by its lush vegetation and natural landscape, make this small place one of the most visited in Nepal by families.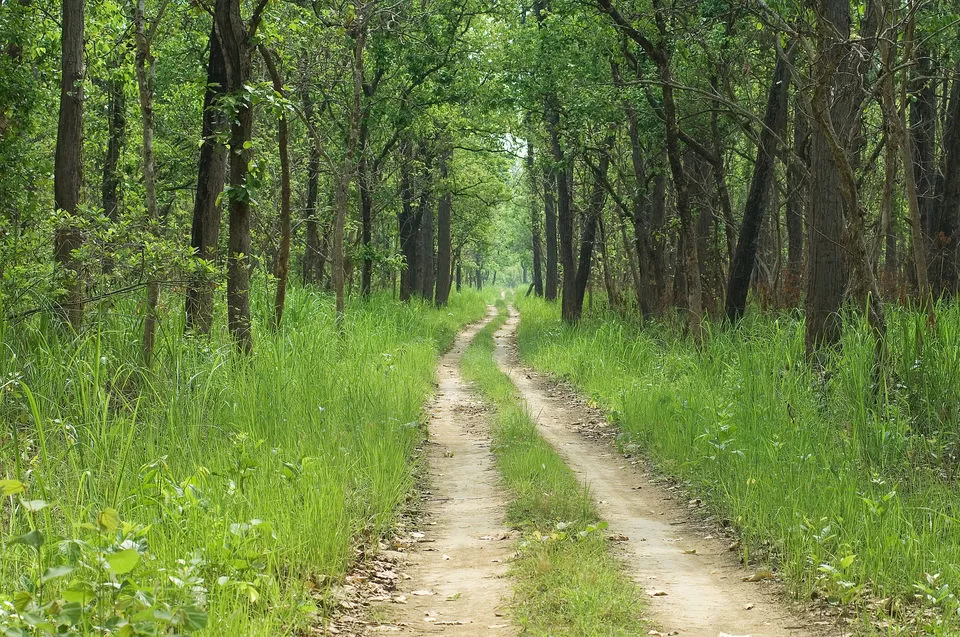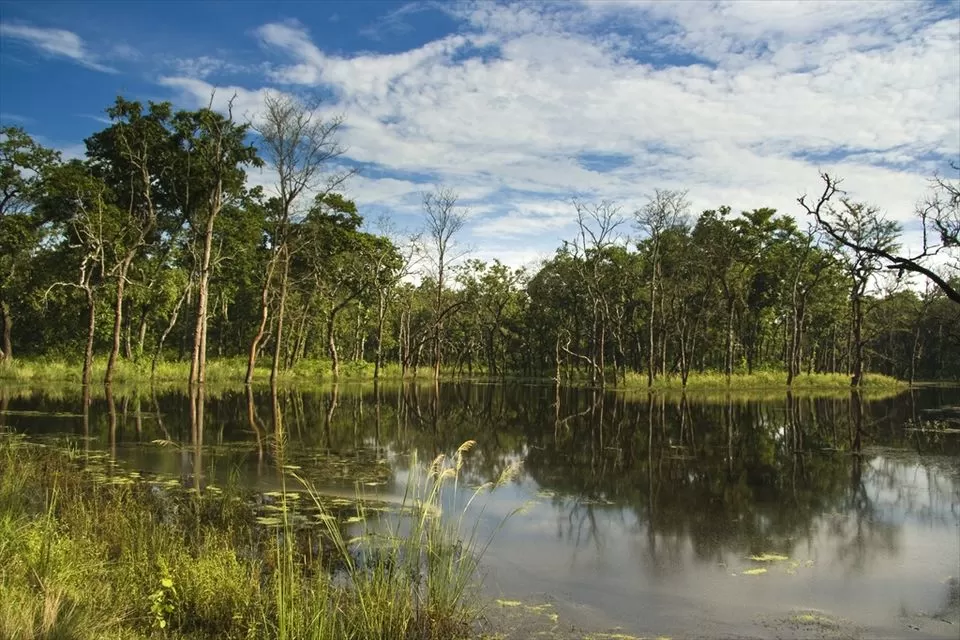 What to see at Chitwan National Park
With over 600 single-horned Asiatic rhinoceros, Chitwan, Nepal is one of the best places to see these unicorn-like creatures. It is also home to 55 amphibians and reptiles, and 60 species of mammals. This, however, was not always the case. The animals at Chitwan were neglected during the Maoist insurgency and a significant number was lost to poachers. Thankfully, the population has grown since then, and both the rhino and tiger numbers have gone up.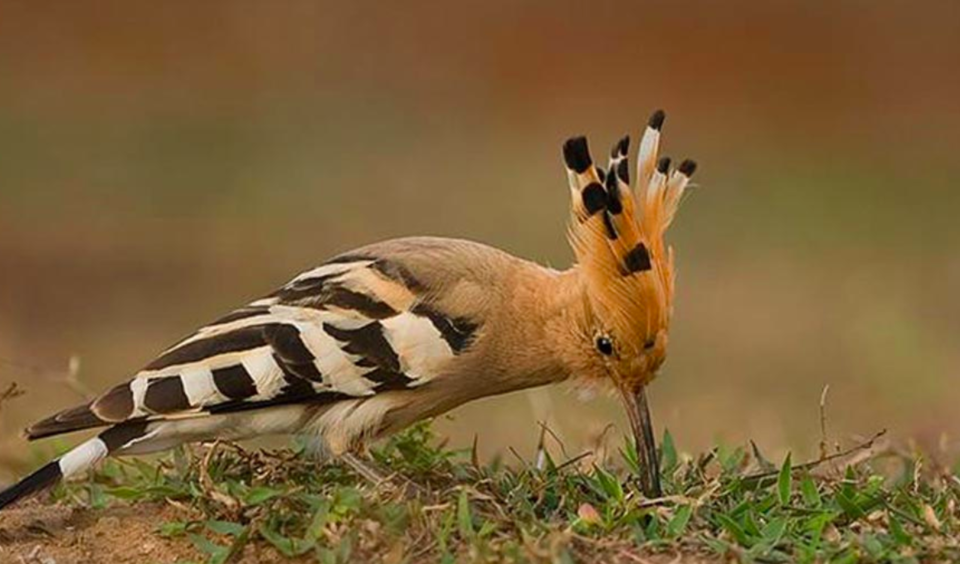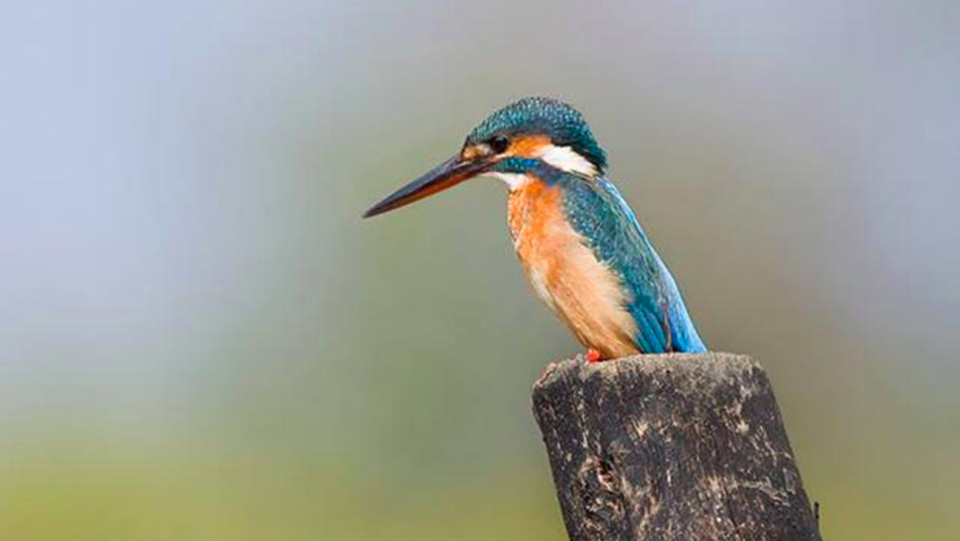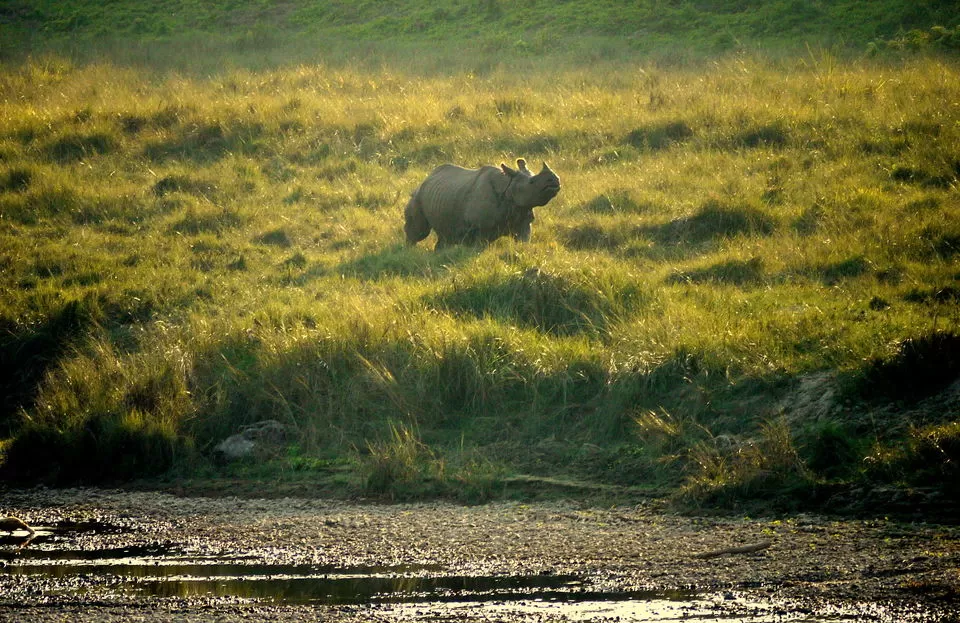 So go to Chitwan, Nepal for the wildlife – the deer, monkeys, elephants, and snakes hiding somewhere in the elephant and kans grass. Wander around for a chance to spot a leopard and even the royal Bengal tiger if you are lucky. Take a canoe ride on the Rapti River to be introduced to the elusive gharials and the long-necked storks and egrets.
The rich and varied habitat of Chitwan, Nepal is also home to many other exquisite birds, around 544 species, such as greater coucals, stonechats, squawking bulbuls, Oriental darters, goosanders, Bengal pittas, several varieties of grass warbles and many others.
What to do
The tall grasses and trees of Chitwan National Park hide many secrets within it, and the only way to uncover them is to go into the heart of the jungle. Here's how:
Walking safari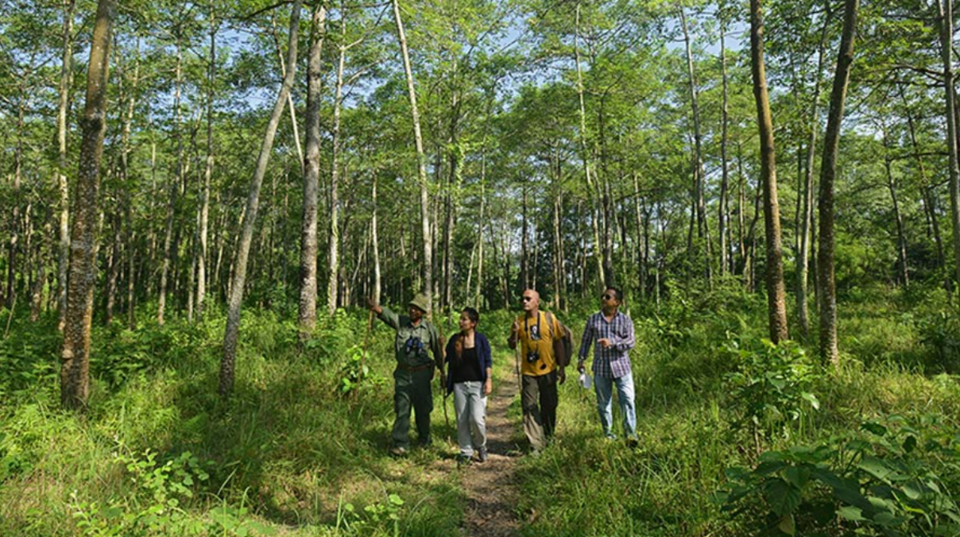 Chitwan, Nepal is one of the few places where you are allowed to walk through the park's core area. This brings you as close as you can get to wildlife and makes for a super memorable experience. You can walk on an existing trail or chart your own path with a guide. There are half, full, and even multi-day safaris to choose from. If you are fearless, opt for overnight tours, which take you deeper into the jungle.
Charges: You'll have to ask around for the current rates, but last I checked, a half day tour cost ₹1,400 per person, while a full day tour will set you back by ₹1,800.
Jeep safari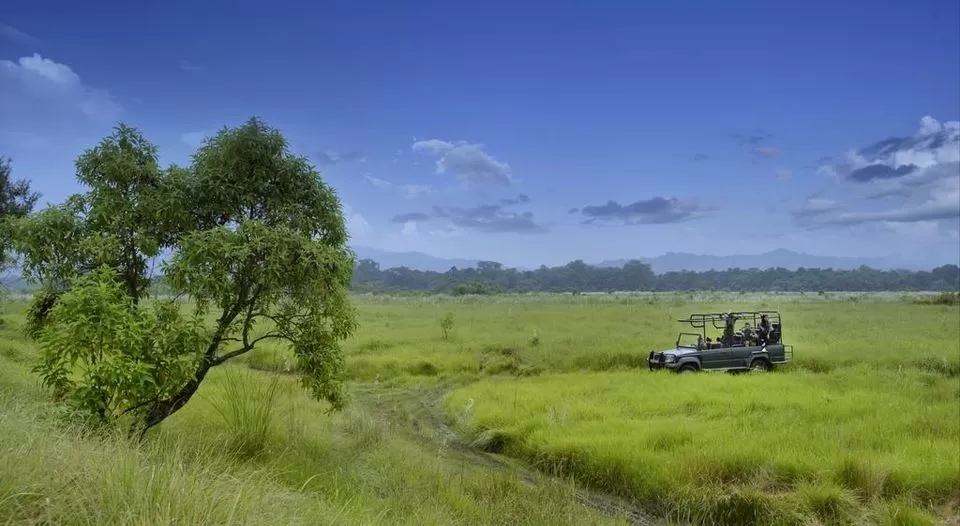 The joy of sitting with your family in a jeep and pointing out different animals scurrying through the jungle is unmatched. If walking through the forest scares you or you are short on time and want to get deep inside quickly, go for a jeep safari.
Canoeing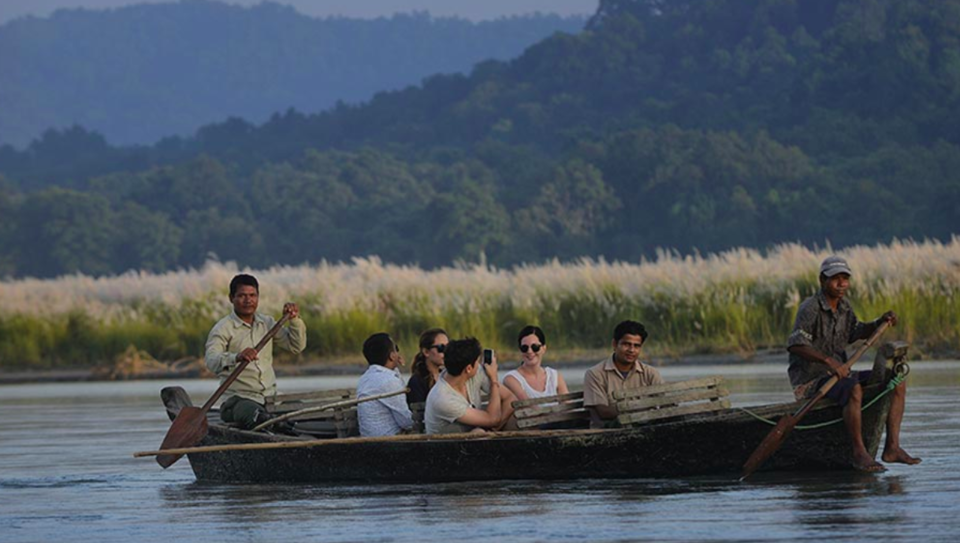 If you can manage to wake up early, a leisurely canoe ride down Rapti River is truly mesmerising. As you sit in the wooden dugout canoe, you will spot all kinds of birds flying by or perched on the banks of the river. Since morning is a very quiet time, many animals will be out drinking water or splashing themselves, which makes for excellent sighting opportunities.
Visit a Tharu village
Tharu are the indigenous people of south-western Nepal, native to the Terai region. They settled down in villages around Chitwan National Park after it became a part of the government protection programme. Walk around in the villages (don't worry, they won't mind), and witness their traditional life. The ethnic group lives in houses with thatched roofs and clay walls and is happy to strike a conversation with visitors.
Accommodation
Staying inside the national park is banned, so no lodges or hotels operate there. Most backpacker-friendly, budget resorts and guesthouses are in the town of Sauraha, located on Rapti River's northern bank. But with family, you can splurge a little and find more luxurious accommodation on the outskirts of Sauraha. One fabulous option is the Barahi Jungle Lodge, which is set in the Tharus village, on the banks of the Rapti River.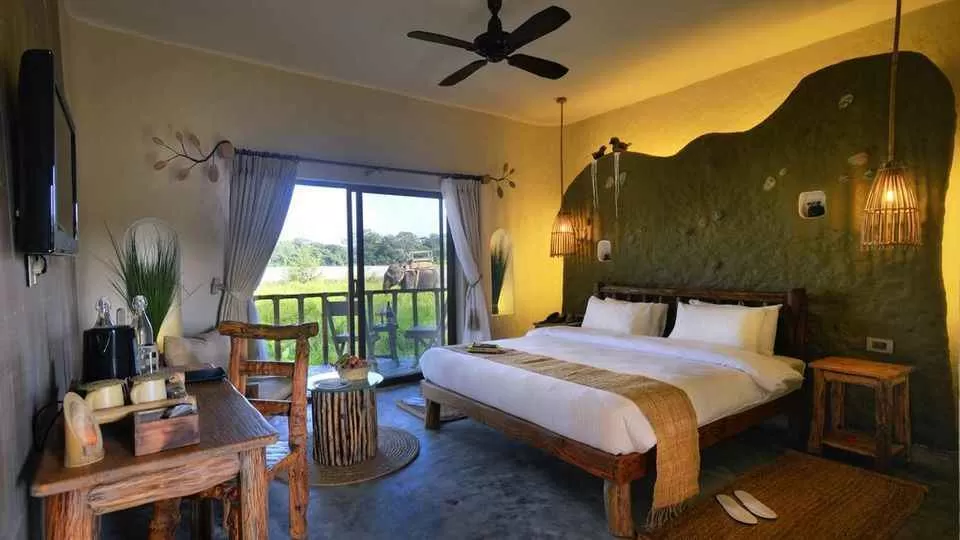 The 34 deluxe cottages of the lodge are connected by cobbled stone paths and surrounded by towering greenery. Each room inside the cottage has beautiful traditional furnishings made with bamboo, wood and elephant grass. Opt for a package deal here, which includes stay, food and various activities such as a jeep safari, canoe ride and local entertainment. A suite with a private pool for two adults and two kids starts at ₹39,000. Click here to book now.
Or if you want more stay options around Chitwan National Park, check here.
Entrance fee
Indians have to pay an entry fee of ₹200 per day to enter Chitwan National Park. For foreigners, the fee is ₹500. This has to be paid at the ticket office, located on the Sauraha side of the park. Call ahead on 056-620405/580072 to know the timings of the tourist office. It is advisable, though, to let your guide or guesthouse handle your entry ticket. In fact, more often than not, the entrance fee will be included in your stay and safari package.
Weather
The temperature in the months of October to March hovers around 25°C, making it the most suitable time to be at Chitwan. January, February and March, however, are the best months to see animals, as this is when the villages trim the almost 8-m tall elephant grass all around, improving visibility tremendously.
How to get here
By air: You can get a flight to Kathmandu in Nepal from all major Indian cities, though the cheapest airfare is from New Delhi starting at ₹9,200. From Kathmandu, a local bus will take you to Sauraha for around ₹600 in four to five hours.
By train: Take a train from New Delhi till Gorakhpur Junction. From there take a local bus or jeep to Bhairawa. It'll take about three hours and around ₹55. From Bhairawa, you can take either a bus or jeep to Kathmandu.
Have you been to Chitwan National Park in Nepal? If yes, write your own account on it and help inspire other travellers to discover its beauty.
Frequent Searches Leading To This Page:-
chitwan national park nepal price, chitwan national park in nepal, what to do in chitwan national park, chitwan national park things to do