That perches in the soul and sings the tune without the words...And never stops - at all - Emily Dickenson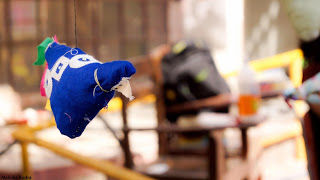 Nature has endowed humankind with so many beautiful gifts. One such blessing is the rainbow of birds. Birds are a symbol of hope, their twittering and chirping is a source of happiness for many, their hopping and dancing is an eye captivating picture, their singing is like a river of merriment and their flight is the symbol of freedom.
People with an acute observation can spot variety of birds even in urban dwellings. A city like our capital where there is so much of hullabaloo, is home to variety of birds. This metropolitan which is famous for its people, food, streets, fashion, metro life, heritage tourism and a lot of things, has got various bird sanctuaries, biodiversity parks, ridge areas in
and around the city for all the nature and bird lovers and photography enthusiasts. But an interesting fact is that, if you are an ardent observer, a variety of birds can be spotted into the very heart of the city outside the bird sanctuaries. In my daily life, while walking on the roads of Delhi or sometimes just sitting and having a cup of tea outside, I personally have spotted and clicked a variety of birds within the city. I am sharing a few pictures of the birds that I was able to click around me. Let's have a quick birding tour through my eyes.
Laughing Dove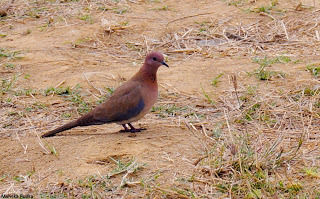 I always used to hear about laughing dove from my father and every time I heard I used to get curious because of its name. And finally one usual day I got my chance to spot this bird and since then I have been lucky enough to spot this bird pretty often. Look at it's smiling face!
Yellow-Footed Green Pigeons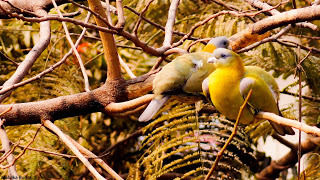 State bird of Maharashtra, this bird is called Hariyal in Marathi. These pigeons are my neighbours and whenever they feel like they come in my balcony to greet me. The sighting of these birds make my mornings pleasant.
Green Bee-Eater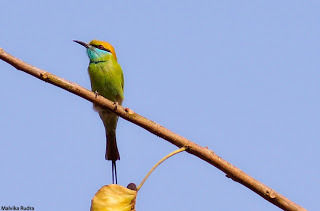 I spotted this green bee-eater in my college campus and the very next day I carried my camera to my college to click this beautiful bird of the bee-eater family. After watching the activities of this bee-eater and patiently waiting for almost half an hour, this bird finally gave me permission to click some pictures.
Brown-Headed Barbet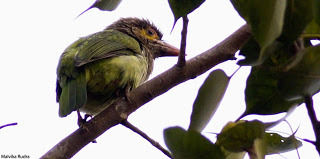 This little one may resemble a leaf at first sight and knows very well to camouflage. To spot this bird was a fresh experience for me.
Asian Pied Myna
Mynas are quite common to spot in Delhi. But this one was a bit uncommon for me as I have always spotted common mynas and this was the first time I had clicked pied myna.
Some other birds that I have spotted around me in the city are Bulbuls, Jungle Babblers, Collared Dove, Common Hoopoe, Indian Roller, Drongo, Tree pies, Magpies, Purple Sunbird, Common Myna, Common Pigeon, House Sparrow, Indian Robin, Indian Grey Hornbill, Wagtail, Barbets, Brahminy Starling, Lapwings, White-breasted Kingfisher etc.
So this was my birding experience in Dil valo ki Dili and my journey continues further. Certainly there are more birds out there that are yet to be spotted and clicked. All we need is to observe and we all can have an amazing birding experience within this beautiful capital of India So next time you go out just keep one eye on the trees and one of course on the road. 
Happy Birding!
This post was originally published on The Colourful Ocean.