If you never go to Spain, don't worry Aurangabad is the place where you can experience at least two festivals just like in Spain.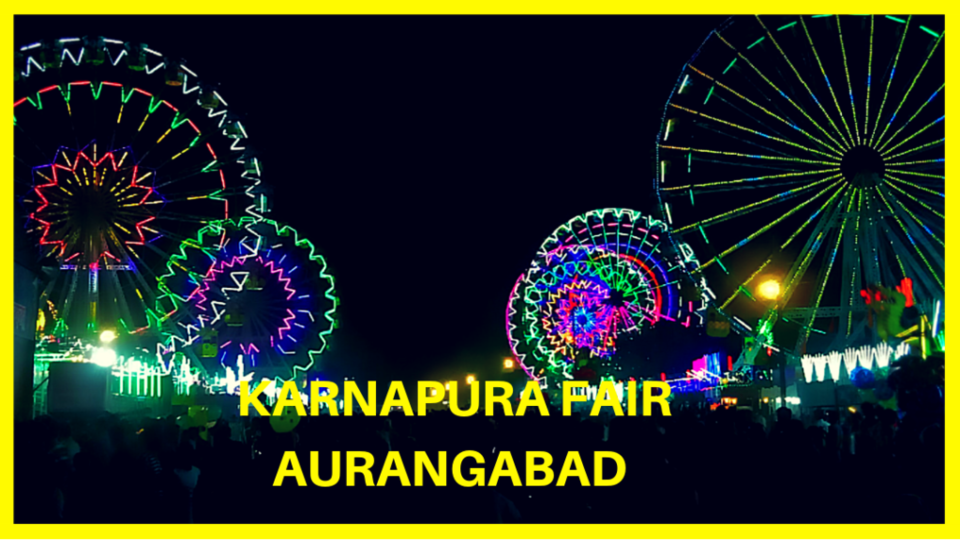 India is a religious and cultural country. A lot of festivals are celebrated by Indians in different seasons of the year as in different parts of the country as per tradition.
In Aurangabad many national and local festivals, Events are celebrated by the local citizens. But some festival celebration style is too different from other state festival celebration. The following are the main festivals of Aurangabad.
Sagar Festival of Aurangabad (Bull Running festival)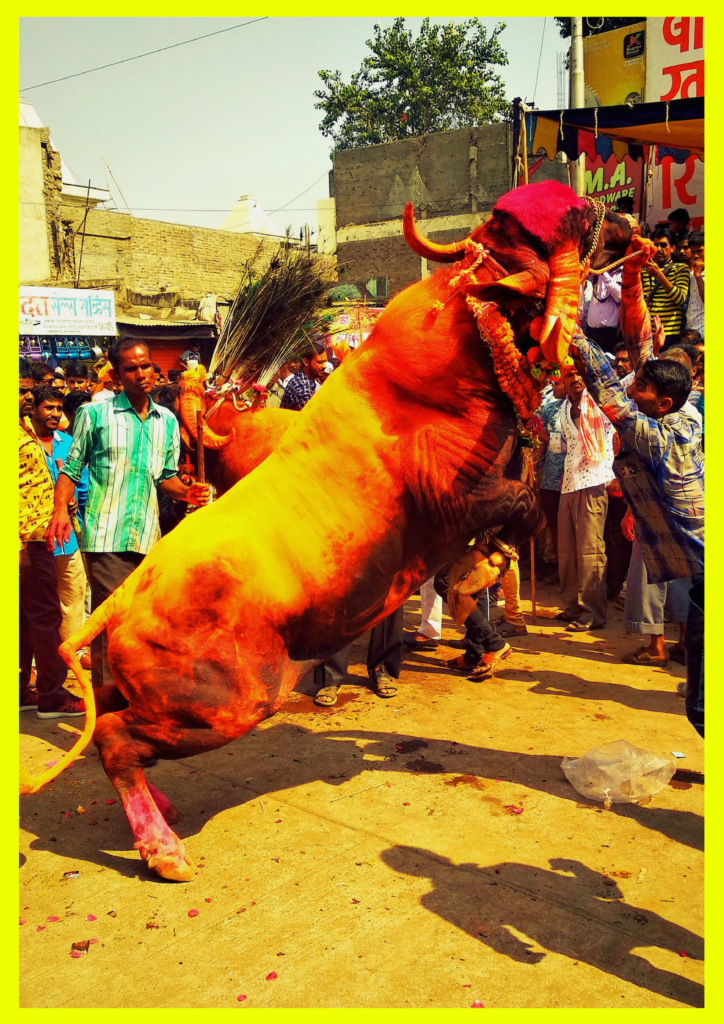 I think you have never seen the festival like this in your life, Sagar of Bull is the local festival celebrated by a citizens of Aurangabad. It is celebrated on the Diwali Bhaiduj day every year. It is kind of Bull Fashion show.
This festival celebration style is like a Pamplona famous festival in Spain. The owner of Bull and Buffalo decor their animal with the design of flowers, colours and do there '' on that day for their health and safety.It is a very old tradition and showing to other people how my animal different from others by health, style of running, attitude, decoration and much more. With Bands and music, the bull running rally starts in the morning at Rajabazar area of Aurangabad City. This festival also held in BIBI KA MAQBARA on same day evening time.
'Karnapura' Fair Festival of Aurangabad
It is the festival of goddess Durga.It is nine-days festival celebrated in all over India. The goddess DURGA is seen in nine different forms Avatar on each day of Navratri.
It is the biggest fair 'MELA' of Aurangabad celebrated during the October month usually during Navratri. There is the temple of 'Bhavani Mata' goddess in karnapura. People came from all over the city for nine days to do worship 'Pooja' of a goddess.
Navratri 's nine days are celebrated at karnapura fair.It is the biggest fair of this city full of joy, colours, food, tradition, energy, business, Adventure game & rides, etc.
Every year we wait for this fair because of the size of this fair 'MELA' is too big and conducted in open space ground.There are many attractions for children's and youngster like adventure rides of giant wheel 'AKASHJHULA'and 'Maut-ka-kuwa' entertainment and many theme rides are available.This fair attracts every person in Aurangabad as it is full of enjoyment & uniqueness of this fair.
You can enjoy food, different rides, shopping etc. With your family and friends in our school time, we go in the early morning for 'Darshan' of Goddess. There are different shopping options for different segments of ladies, children's, and men's. It is the best window shopping option for peoples as you can get electronic items, clothes, accessories, decoration items, pooja items. etc in lower rates.
If you visit Aurangabad during Navratri time you must go and experience this fair.As it is nearby to the railway station and bus stand.
Dahihandi Festival of Aurangabad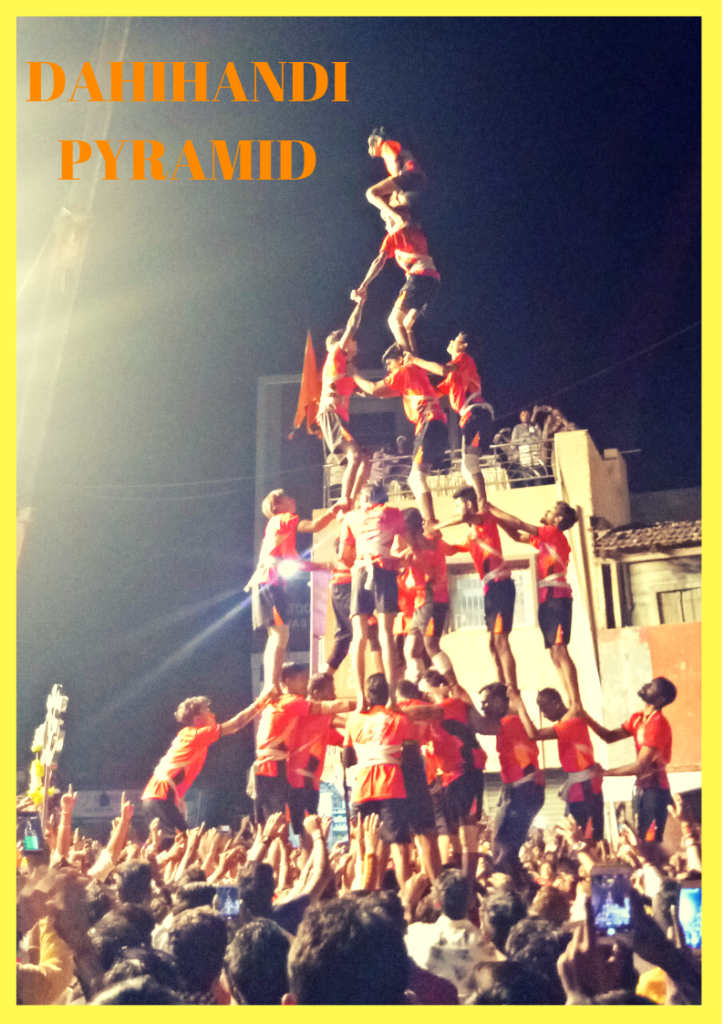 It is the second largest festival celebrated in Maharashtra on occasion of Lord Shree Krishna Janma and it is known as Janmaashtami . Dahihandi is celebrated in many areas of Aurangabad.It is the festival of teamwork. Dahihandi is a mix of 'Dahi' [curd] and 'Handi' [pot]. DahiHandi is broken by the group of people through the human pyramid. It is also called the Human pyramid festival.The pyramid is built by climbing on each other's shoulders in a circular manner which is popular as 'Govidna Pathak'. These groups of youngsters travel around the city to break more and more Handis as possible.
In Aurangabad many Dahihandi organisers organized Dahihandi and with lots of a prizes to attract Dahihandi pathaks.
Music Masti +Dramaa+Energy
Without music any festival is incomplete. So a lot of music bands and Dolby are organized. The youngsters dance on music and enjoy this festival.
Where to see this festival in Aurangabad some popular places.
Connaught place.
Aurangpura.
Gulmandi old city.
Holi Festival of Aurangabad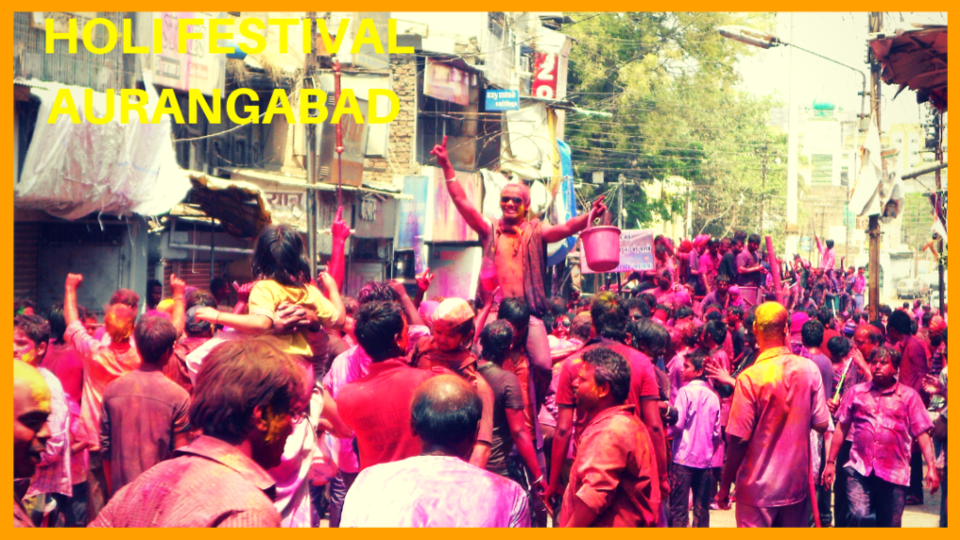 Is the biggest festival of India celebrated all over India and it is one of my favourite festival. Every year we gather to celebrate this festival in Aurangabad because the celebration style of this festival in Aurangabad it is to different and it reminds the La Tomatina festival in Spain.You can take the experience of La Tomatina during this festival in Aurangabad. People splash the colours; throw the water on each other with water cannons in a different manner.
The playing style of this carnival parade is unique than other carnival parades. On this occasion, the peoples gather by a team.It is kind of war type celebration through bands playing music.In morning parade starts with different 'Mandal' groups of people and start the celebration from 'shaganj' area of Aurangabad. Sitting on Tractor and walking through roads they meet to other 'Mandals' greet meet each other say Happy Holi by throwing the colours through by water cannon 'pichkari ' and 'Mug'.The throwing style of watercolours is too different And the only thing more crazy of this fest a giant water fight as I say by water cannon & mug they enjoy the fest but it reminds you of la Tomatina festival. To witness this festival you have to be in March month in Aurangabad city.
Some Tips:
Don't wear good clothes and a loose t-shirt.
Carry mug or water cannon 'Pichkari', Wear goggle, Wear shoes, and reach morning time between 10:30 a.m.
AJANTA ELLORA FESTIVAL
This event is organized by MTDC each year to encourage tourism in Aurangabad and rest of Maharashtra. It is the historical capital of Maharashtra so many tourists all over the world come here.This festival is medium to show our culture, tradition, present and past art.In this event, many cultural activities like Dance, Music, Singing, and much more are performed by local and national artists.
Its celebrated between September to October month usually. Many celebrities are invited to entertain to tourists .the festival is all about our art & culture and tourism.
Location: it conducted at two or more location .main event is inside Soneri Mahal & Ellora caves.
I'm happy to share my experience with you; you can also experience this all festivals of Aurangabad and witness of it source.