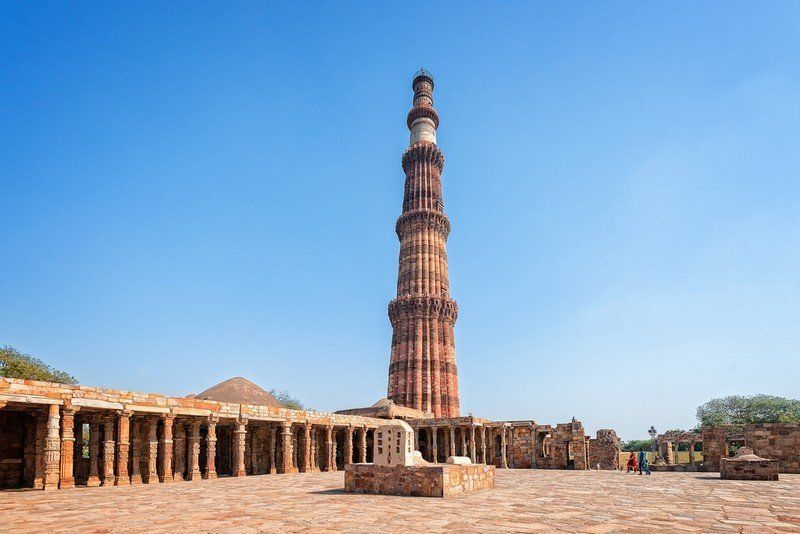 Top 10 Historical Places in Delhi: Delhi is a historic city along with the capital of India.There are many historical places in this city. So let us tell you about 10 important historic places to visit in Delhi.Here you can read Historical Places in New Delhi to visit as well as some historical facts and general facts about the Places.
1. Lodhi Garden
Located near Safdarjung, Lodhi Garden is a huge park spread over 90 acres. There are many memorials of the Lodi dynasty. Lodhi Garden offers a very relaxed feeling of enjoying the morning and evening walks. If you are a nature lover then you will love this place.
2. Nehru Place
Nehru Place is India's largest IT market in the southern part of Delhi. There are thousands of shops in mobile and computers here. Here is the work of thousands of kinds of digital printing, computer software, computer repairing. If you are a young man and technology has great significance in your life, then you have to come here.
3. Humayun's Tomb
Humayun's Tomb, this historic monument is a great example of Persian architecture. This mausoleum is the first such monument where the red stone has been used on such a large scale in making a tomb. The tomb of Humayun has been declared a World Heritage Site by UNESCO.
4. Red Fort
The Red Fort built by Mughal ruler Shah Jahan is located in the heart of Delhi city. This is the place where the Prime Minister of India addresses every Indian on August 15 and 26 Jan. The Red Fort has many dome buildings which are called palaces.
5.Qutub Minar
The Qutub Minar in Mehrauli area of Delhi is a 73 meter tall red stone and a 5-story tower built of marble. There is an iron pillar in the Qutub Minar complex. This place was also shown in Amitabh Bachchan and Tabu's movie 'Chini Come'.
6.Chandni Chowk
Chandni Chowk is one of the oldest and busiest markets in India. This market is spread around the Red Fort. This place is very much liked in girls because there are hundreds of shops available for decoration. Due to the wholesale market here, businessmen come here from every corner of the country.Paratha street here has great significance for those who like to eat food. The concept of Chandni Chowk was introduced by Shah Jahan's daughter Jahanara Begum.
7. India Gate
Made in Delhi, India Gate is a martyr monument dedicated to remembering 82,000 Indian soldiers who were martyred in the first world war.The name of these soldier is on the stones in India Gate. The parade passes every year on January 26, on Republic Day. There are several parks near India Gate where many people come in the evening to roam around. India Gate is a famous monument of India.
8.Bengali Sahib Gurudwara
Bangla Saheb is a fairly large gurudwara. Bangla Sahib was originally a bungalow of King Jai Singh, ruler of the 17th century, which was later converted into a gurudwara due to the miraculous powers of the treatment of Guru Harkishan Ji. There is a lake of water in this Gurdwara And whose water is considered very holy.
9.Akshardham Temple
Akshardham means God's house. This is an enchanting huge temple. This temple has been adapted to Vastu Shastra and Panchoratra Shastra.The main building of this temple is 43 meters high, 96 meters wide and 109 meters long. Akshardham has a surprising fountain show in the evening, in which the lifespan of a human being from birth to death is shown with a wonderful combination of water and light.70% of the tourists coming to Delhi are sure to visit Akshardham.
10.Connaught Place Market
This place is a defaulter place to meet friends. Where you can buy accessories by putting huge bargains. Central Park is in the center of Connaught Place, where the national flag flows over 207 feet high. 'Rajiv Chowk' is the busiest metro station in India, under Central Park.
Friends, what do you think which is the best place in all of these in Delhi, you must tell us your opinion in the comments.