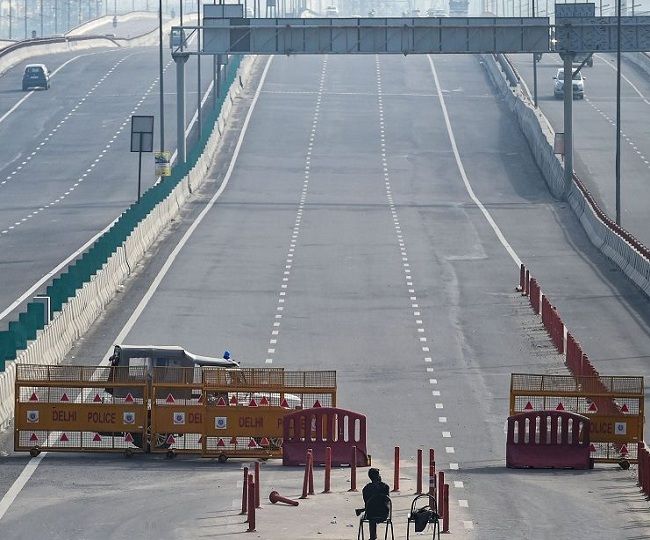 In an effort to control the rising number of COVID-19 cases, Prime Minister Narendra Modi during his address to the nation on 24th March 2020 announced that India will go under a complete lock-down for 21 days starting midnight.
Curfews are likely to remain in place as PM Modi stressed on the importance of staying at home under all circumstances. Essential goods will be available during this period. As of now, the number of active cases of coronavirus in India stand at 469.
Previously Delhi was asked to observe curfew starting 24th March 2020 with some relaxations, according to reports. Borders of the state were be sealed and people in emergency services were to be given curfew pass to continue work.
On 22nd March, Delhi Chief Minister Arvind Kejriwal had imposed Section 144 of CrPC with effect from 9 pm on 22 March to midnight of 31st March 2020. Additionally, Indian Railways Minister, Piyush Goyal on Twitter announced that no passenger train will run till the end of the month.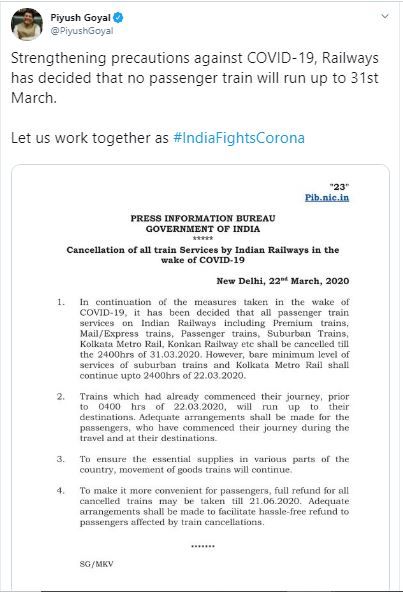 According to reports, as many as 75 affected Indian districts are going under complete lockdown till 31st March 2020. Click here for the list.
Prime Minister Narendra Modi, in his address to the nation on March 19, 2020 had announced that the entire country will observe Janata Curfew or mass self-imposed isolation on Sunday, March 22, 2020 between 7.00 am to 9.00 pm, as WHO had declared coronavirus to be a pandemic recently. In light of the Janata Curfew, Delhi Metro will also remain closed for the day.
In an attempt to curb the spread of the deadly Coronavirus, the Indian government earlier suspended all tourist visas to India till April 15, 2020. In addition to these measures, railways and civil aviation shall suspend all concessional travel except students, patients and the differently-abled.
More importantly, no scheduled international commercial passenger flights shall be allowed to land in India for one week, starting from March 22, 2020.
Previously, Arvind Kejriwal had declared an epidemic in Delhi and has ordered all schools, colleges and cinema halls to remain shut till 31st March 2020. He has also made disinfecting all public places, including government, private offices and shopping malls compulsory. Adding to that, the Cheif Minister has ordered vacant flats owned by Delhi Urban Shelter Improvement Board to be used for quarantine.
According to reports, the Ministry of Health and Family Welfare in India, after a meeting involving several key ministers and the Union Health Minister, Dr Harshvardhan, issued a statement saying that all the visas issued for travelling to India have been suspended till April 15, 2020. The suspension, however, comes with an exemption for diplomats, officials, UN/International organisations and employment or project visas.

Since the first case of the infection in India was confirmed on January 30, 2020, the total number of confirmed coronavirus infections in India are now being reported as 315.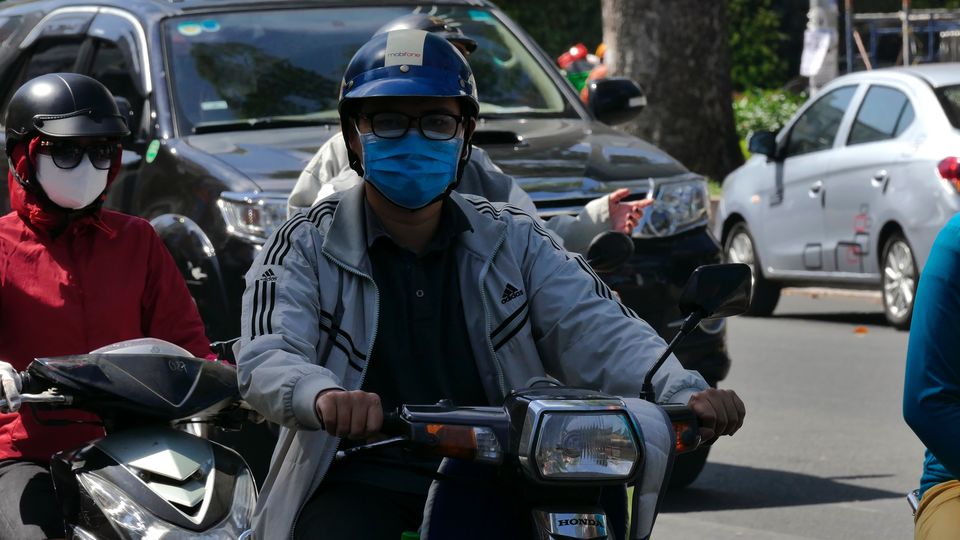 The suspension came into effect from 1200 hours (GMT) on March 13, 2020. Additionally, the communique has placed orders to quarantine all Indian nationals who have returned from COVID-19 affected nations namely China, Italy, Iran, Republic of Korea, France, Spain and Germany–after February 15, 2020 for at least two weeks.
If you or someone you know is travelling amid coronavirus outbreak, check out this link with all useful tips and precautions and stay safe!
Think we missed out on something? Tell us about it in the comments below. Or write about it here on Tripoto and earn Tripoto Credits
Get travel inspiration from us daily! Save our number and send a Whatsapp message on 9599147110 to begin!