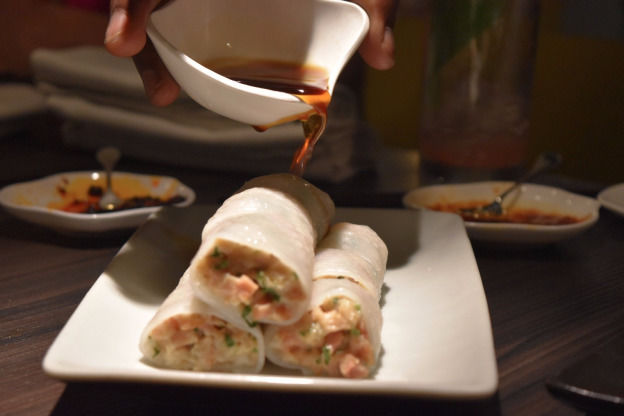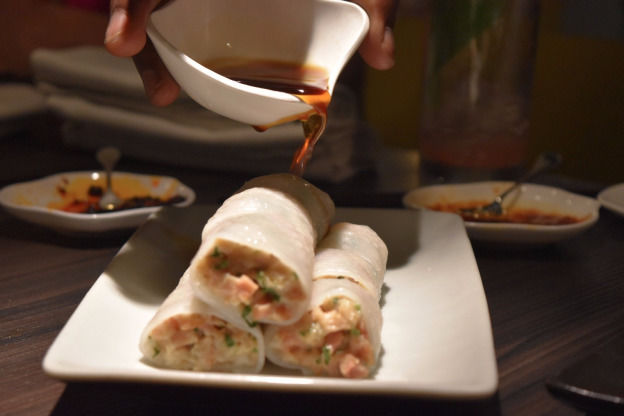 "Afterall, Life is delicious when you pull up the chair and take a taste" !
Once you step inside the Ambience mall, Vasant Kunj, you know it well enough that it's going to burn your pocket,be it shopping or eating at a good restaurant. "Yauatcha" is one among the many, located in a corner of the second level of the mall. This restaurant does not require a second thought for their take on-"Cantonese cuisine".
So, let me give you a detailed insight to what this luxury dining has got for the rich class of people and for foodies who wouldn't mind burning their pocket.
Out of so many restaurants, I picked "Yauatcha" for the review for a stomach full and content dinner.We were however, swiftly escorted to our table by the nice courteous service staff member who even guided us through the menu.
Ambience:
It's dimly neon glow and dark facades are perfectly offset by the glass partitioning to one side that contributes to the restaurant's airy vibe even by evening and has a long bar at the other end.It has a capacity to accommodate approximately 137 people and has the crowd of a good class of people.
Staff and Higher Management:
We barely had an interaction with them. Even the staff did not make an effort to attend us timely so after having placed an order and having done with it, we literally had to look here and there for the staff to make sure that he sees us and comes and takes the next order. The service was indeed very slow and even got frustrating at times which kept us at bay from ordering the main course and just being done up with their starters and drinks.
This place will never disappoint you when it comes to their dim sums-ranging from steamed,pan-fried and fried being available in vegetarian and meat select and for a wide range of their drinks.
Drinks:
We had ordered a glass of orange and chilli smoothie which was a good blend of orange juice,palm sugar,chilli,mint and lemon grass ( although,the lemongrass was not a necessity). We also ordered a glass of plum cut larissa smoothie which had grapes,plums,fruit syrup,oolong tea and apple juice in the right mix. The virgin mary mocktail was indeed very nice. I have seen a very few restaurants come up with this drink as a perfection,apt for my taste buds. Overall, we were content with our drinks.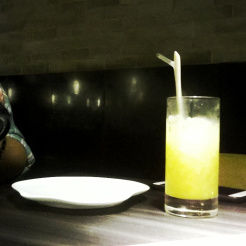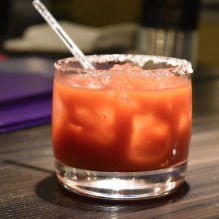 Dim-Sums :
We tried their Chicken and Prawn sui mai, vegetable shanghai Dumplings at first, which clearly reflected the artistry and silken touch that goes into making each of these babies. Each one of them looked stunning, made with the sure touch of a master craftsman.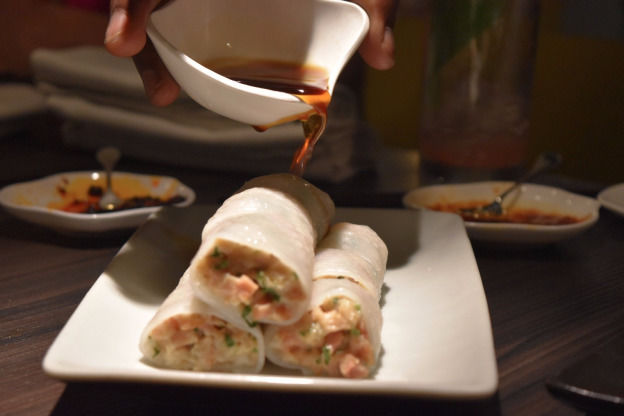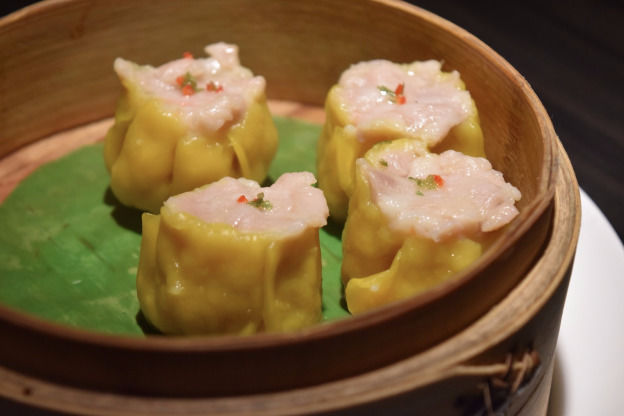 Having finished both these starters and craving to try for more of their range in "Cantonese Cuisine", we also ordered a chicken cheung fun, crispy spicy vegetable cheung fun and chicken wrapped in pakchoi. The Chicken wrapped in pakchoi was just too good. My favourite among all. It was very well presented to us and it was a dish that I had tried for the first time and truly relished it. I could have definitely gone for more had my stomach permitted me to do so..( hahahahha...)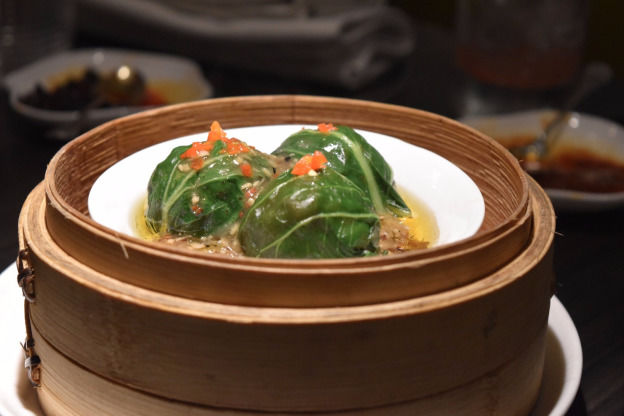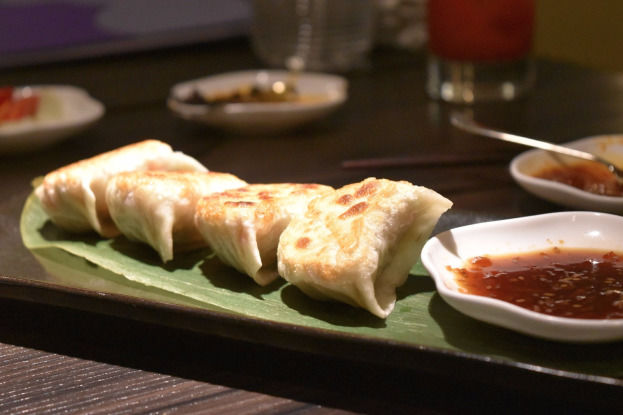 Desserts:
This being the best part of our meal (and I am sure your's too....)
At the end we were presented with a curated dessert platter which included three flavors of ice cream, religieuse,six french macaroons, milk choco praline and mango mascarpone gateaux.
Macaroons...Ahhh..those gorgeous,little French cookies-delicate and pretty. They were fluffy and delicious. And they were so super cute!They were perfect with not a single crack in any batch.They were fresh and delicate but too sweet for my taste buds.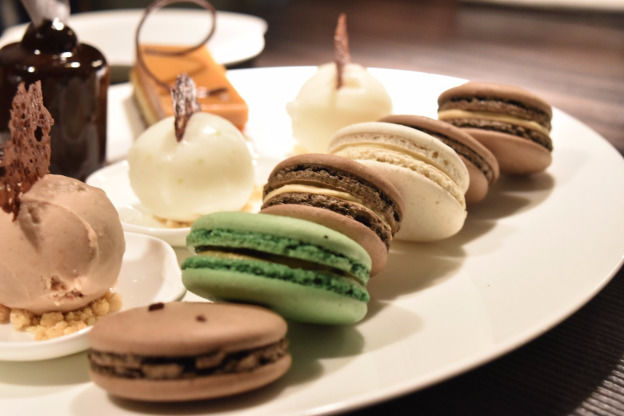 The milk chocolate praline, was my favourite (sure, it's gonna be your's as well...! ). The Sacher biscuit on top was a commendable way of presenting it. Very delicate and soft and dissolves in your mouth right then. Tempting and mouth watering...You need to get your eyes off it inorder to resist it.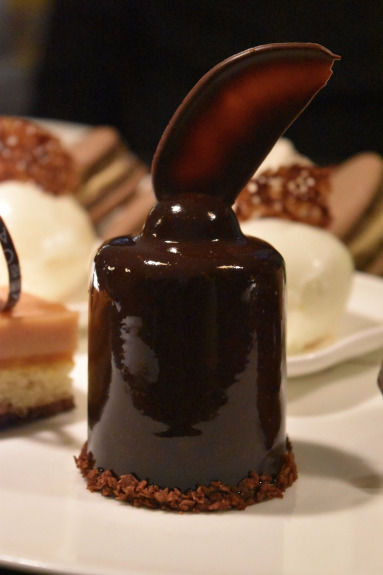 The religieuse, had a good presentation with a disc shaped on top having "Yauatcha" written on it but, was a little hard. Didn't find it fresh and I would not like to go for another try of it.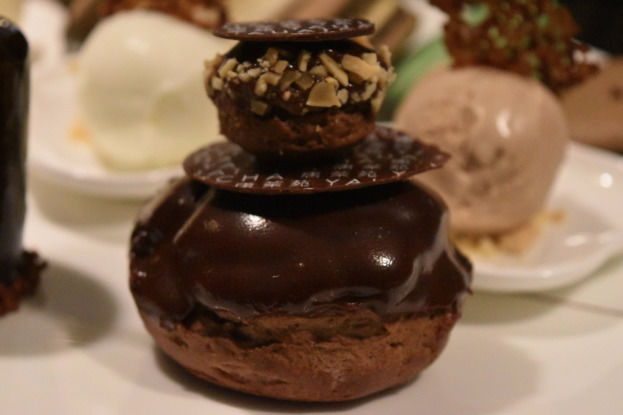 Mango mascarpone gateaux- Soft and delicate and a bit crunchy...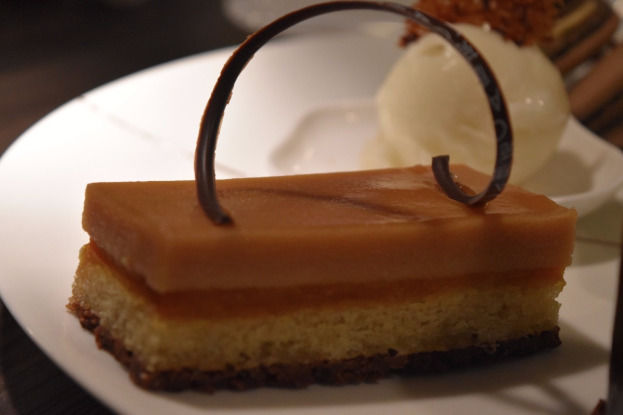 If you are having the crave for "Cantonese food" and like to try out their deep fried dim-sums, then you can give it a thought of burning your pocket.
The service needs to improve and also the higher management needs to make sure that each and everyone there is attended properly.
It might leave some of you with a content heart and happy taste buds but as for me, I was a little disappointed with some of their dishes and might think of considering it the next time.
Highly Recommend: Chicken wrapped in pakchoi, Chicken and Prawn sui mai and milk choco praline.
(Feel free to comment.....)