Dim sums done so right~
Rating : 5/5
Not your standard desi "Chindian" restaurant next door!Big Wong is an upscale take on contemporary Pan Asian-Jap cuisine with some excellent sushi concoctions that converted a sushi hater like me into someone who has fallen head over heels. A brilliant effort to serve exquisite food at rather reasonable price and excellent over all dining experience.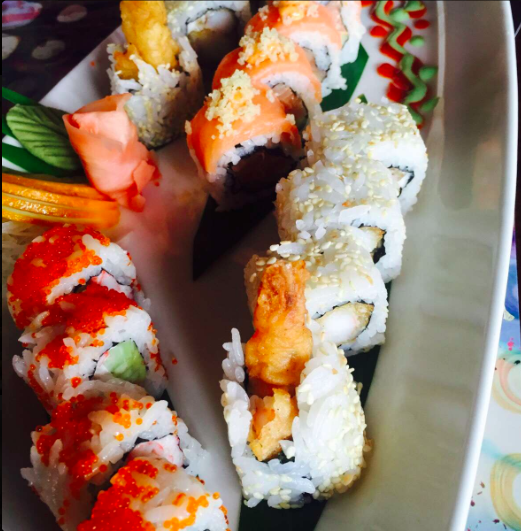 Ambience : Not too ambitious or fancy, Big Wong keeps it simple and humble. Done up in darker hues in a reasonable space in Epicuria Mall, the restaurant sits in panache with standard seating and closely laid out tables.
Service: The usp of the restaurant is good food, quick food. Naturally the service is fast and the servers are on call and efficient. Food arrived in surprisingly good time and piping hot!
Food: Lets talk the talk now! Utter redefinition of dim sums ! a very smart take on the menu which consisted of some superb pairings and concoctions which are hard to not love!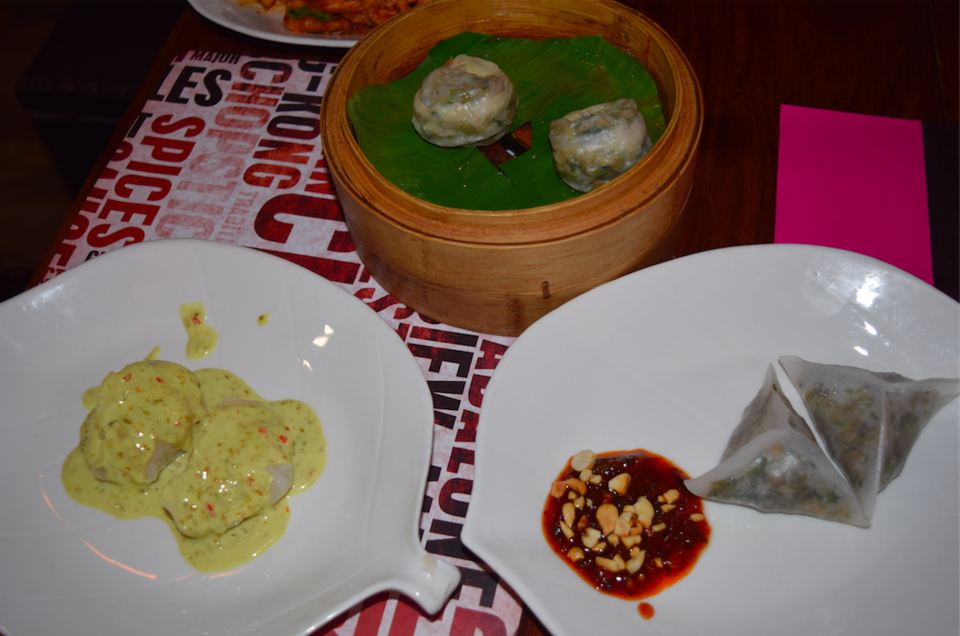 Starting off with a variety of veg dimsums, Spicy asparagus and vegetable dimsums Thai herbs stand out with magical popping flavours of lemongrass and basil dominating a rather innovative concoction of flavours. Don't be deceived by the simplicity of these little crackers.
Gulping these down and making way into the chicken dim sums,
* Chicken Thai herbs is the mingling of soft and crunchy textures (from the nutty Thai herb sauce) and a gorgeous sticky sweet spicy herb sauce to lick the last morsels. . Instant gratification on consumption. Beautifully assembled and delicate on the palate with wonderful ingredients
* Chicken Sui mai is standard with bold favours and a bite best paired with spicy Schezuan sauce.
If you're a seafood lover, Big Wong seafood dumplings take the cake. My personal favourite with gentle fillings and bold tickling sauces that make sure the party in your mouth is an everlasting one.
* Prawn curry dimsums are divine with soft meaty fillings and a creamy Thai coconut sauce with notes of basil and fresh coconut and chilly. Love at first bite. The sauce smells like it was conceived in the perfumed earthy roots of the coast.
* Prawn Hargao is much subtle and light on the palate with clean unadulterated flavours of the meat.
Ebi Tempura Roll Sushi with praw and mayonnaise was bloody fantastic with the right strike of flavor and just a tinge of sweetness. The pickled ginger served on the side elevated the dish even further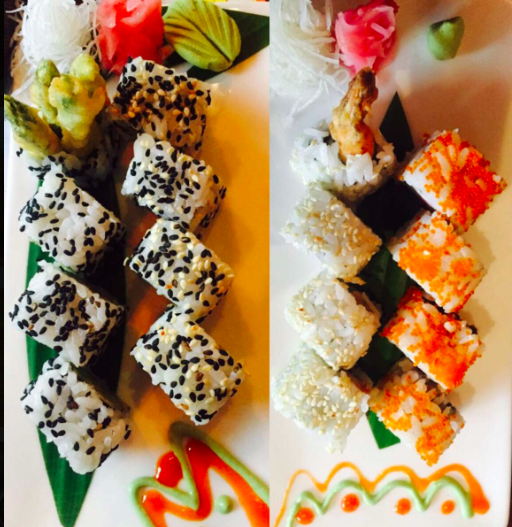 Steamed Fish in black bean sauce tasted alright. Could have been better on flavor and less on the salt.Thai Chili chicken was cooked alright with a wonderfully balanced glazy sauce.BW Special cheese wonton is just plain heaven. You got to eat it to believe it. A clever dish combining fried dough with orgasmic Philadelphia cheese filling. Food dreaming now! Stir fried chicken with greens, Served with scallions and beans in a light garlic soy sesame sauce makes for a delightful companion. Tasting fresh and very light this was one of my fave dishes.
Chicken Thai basil is made well with tender chicken slices, heavy basil notes and handful of minced garlic. Flavours spot on. Caught up in this meat orgy, We avoid any apoplexy in the form of rice or noodles and order Exotic vegetables in Hoison sauce which dominates both our palate and our table. Considering a vegetarian nothing in front of hard core carnivores this gravy was immensely flavourful with deep dark sweet Hoison notes mixed into crunchy exotic vegetables. I licked it to the last drop. #word.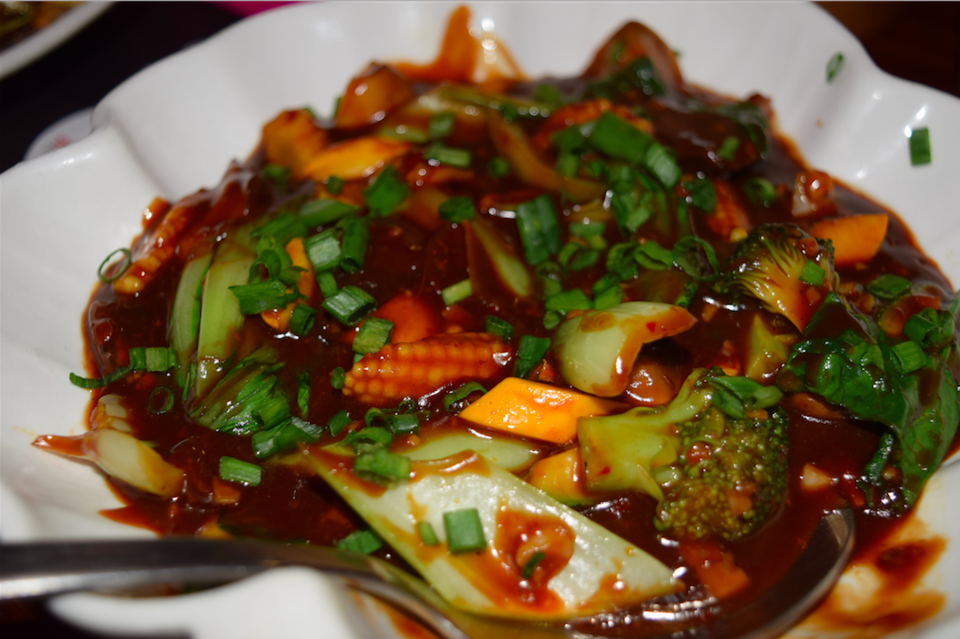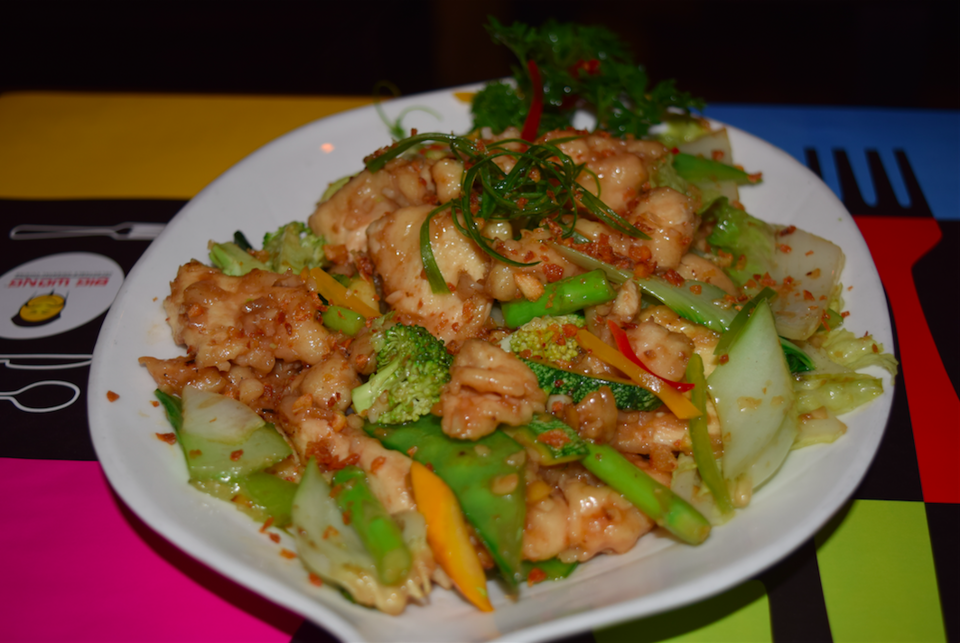 Verdict: The restaurant offers rather different Thai Chinese menu where the food is created for a flexible palate and flavors that appeal to children and adults alike. A clever take on serving contemporary Chinese and Thai with not so predictable elements.The dishes are moderately spiced but hugely flavored that leaves behind a party on the mouth and you get up with a heavily satiated tummy and not such a light wallet as one would expect! Oh and they are awaiting their liquor license to flare things even more !
Cost/person : Rs 800
Will I visit again? Yes
This blog was originally published on Sukhmani Sakhi.