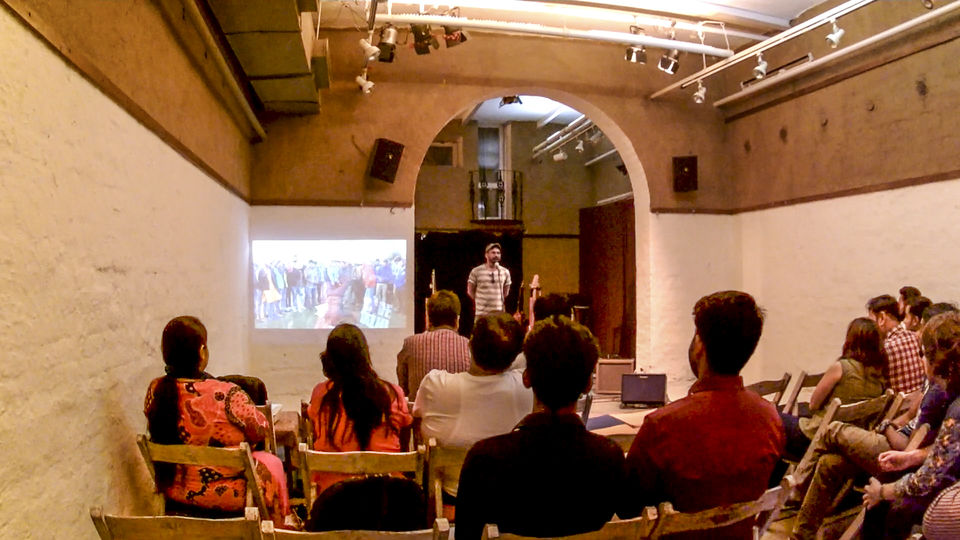 Stuck with a layover at IGI on your way to Sydney? Or are you stopping-over for a few days before you head-off to Ladhak? Delhi air is in a bad-shape sending schools of both domestic-and-international travelers in a flurry of confusion.
Every year smog grips Delhi with remarkable punctuality around October 25-November 10 and then again around December 25 - January 10, making it really difficult to venture outdoors. But don't lose heart. Delhi is not just the Red Fort or the Qutab Minar. Here's how to make the most of your stay.
First things first:
Get your act together. Don't panic. Get your hands on the best quality surgical-mask you can get. Preferably N95 or higher. Most pharmacies in Delhi have beefed-up their stock, getting one should be easy.
The rest:
Use the metro for going around the city. The indoor air-quality of a metro is better than the outside. Buenas tardes! Avoid early mornings, air-quality-wise we've had a few bad ones lately. Instead, choose late afternoons for your outings, the air starts to get better around that time. Carry water! Keep hydrated. The lack of it can make you feel sick since you'll be breathing from inside a mask. Also, water would help circulate much needed oxygen around your body. Eat well. Protect the eyes! Use a good pair of glasses that cover most of your eyes. Exposing your eyes to this air will cause irritation and possibly infection.
Ready to Roll? Here we go:
1) Snow Mastiii: want to experience snow in Delhi? Head off to this Italian themed shopping-mall called the Grand Venice Mall at Greater Noida. The temperature is set at -12 degree centigrade. You can enjoy skiing and other snow related activities. One can stay at this park for upto 60 minutes for INR 800. More details here: https://veniceindia.com/booking/snow-mastiii
2) Indoor-film screening: movie-buff? Good news for you. The Directorate of Film Festival keeps coming-up with these awesome film festivals, most of which are free and are screened at the Siri Fort Auditorium. More details here: https://dff.nic.in/
3) Book Launches, Talks, Exhibitions and Workshops: want to upskill or get your creative juices flowing? Head off to the India Habitat Center, India International Center or Triveni Kala Sangam. You can check-out their program schedules here: i) https://www.indiahabitat.org/programmes; ii) http://www.iicdelhi.nic.in/User_Panel/Programs.aspx?TypeID=1076 and iii) http://trivenikalasangam.org/events/
4) Theater & Plays: or would you rather watch a play? Great, head-off to the Shri Ram Center for Performing Arts or the Akshara theater . You can check-out their schedules here: http://shriramcentre.org/ and https://www.aksharatheatre.com/shows. You can book tickets online from bookmyshow.com (oh, by the way did you know you can buy monument tickets on bookmyshow now? And at a discount too?)
5) Zangoora: credited for being the longest running stage show in India, Zangoora, a bollywood musical has run more than a 1000 shows. You can watch one at the Kingdom of Dreams. More Details here: https://in.bookmyshow.com/events/zangoora-kingdom-of-dreams/ET00005338
6) Museums: Delhi has a number of museums like the Air-force Museum, the National Museum, the National Gallery of Modern Art, the National Science Center, the Nehru Memorial Museum, the Kiran Nadar Museum of Art, among others.
7) Volunteer: Did you know you could help make candles at the Blind Relief Association? The Blind Relief Association or the Blind School has an indoor candle making facility which is always in the need of volunteers! Or head off to Amar-Jyoti Charitable Trust a school catering to children with multiple-disabilities and offer to assist in a class. If you go there, don't forget to try the freshly-baked cookies and muffins of the school bakery! Make the world a better place as you wait for the sun to shine!
8) Love Delhi: No, not the verb but the noun. Love Delhi is a group of infectiously energetic young change-makers in the city who like to get together and celebrate music, dance and poetry. Their events are free for everyone to join. Follow their page on Facebook for updates.
9) Movies & shopping: If nothing else works for you, a movie or some retail therapy might just be your thing. Delhi has a number of amazing shopping-malls to choose from. Go ahead, seize the day!