Delhi had begun to get to me a little and I was itching to leave. I can't decide if it was the traffic, the pollution or the rising temperatures but I was desperate for some peace and quiet. I first heard about Mary Budden several years ago when my mother's dear friend left a brochure with gorgeous photos of the snow capped peaks. Then, when my friend Sugandha Das from college decided to run the estate for the owners. I was really happy when they said they had availability for 3 nights and on one morning, I got onto the Delhi Shatabdi to Kathgodam with a friend and off we went. Almost 5 hours later, we arrived at Kathgodam and a driver was waiting for us to take us to Binsar. Mind you, we were only about halfway to our destination. We stopped on the way for a few tea breaks, for photographs and twice because the mountain air was pure and delightful. We arrived at the Estate around 4 pm and boy, were we exhausted. My knees were hurting from sitting around too much and I couldn't wait to get my walking shoes on so we could go for a long stroll into the woods.
The Mary Budden Estate is located in Kumaon, nestled between the beautiful Himalayan Range in the state of Uttarakhand at a height of 8000 feet. The property lies within the beautiful Binsar Wildlife Sanctuary, a beautiful refuge for animals which spans an area of 47 square kilometres. The fauna-rich area was declared a sanctuary in 1988 thanks to nature-loving locals who pressured the State Government to do something about the burgeoning encroachments. Binsar is home to leopards, Indian red fox, jackals, pine martens, langur, Himalayan black bear, porcupines, and 200 species of birds, making it a true biodiversity hotspot. It is the ideal place for those looking for a digital detox due to limited connectivity or for those who want to practice their photography skills in nature. While there are 5 resorts inside the sanctuary, Mary Budden had been on our checklists for a while because of its old world charm, and the fact that it offers a stunning view of the valley below, as well as unparalleled privacy.
The property is managed by Serena Chopra and her 9 staff members who whip up delectable home-cooked meals. This consists of an array of cuisines, which can be prepared to your liking, or even enjoy a traditional Kumaoni meal which consists of Ragi roti, mountain spinach, turmeric raita, and pink ghee. The staff is very well-trained and extremely polite, exuding the kind of warm hospitality we seem to have forgotten in the big city hotels. Mrs Chopra also has 5 super friendly dogs and 2 cats, all of whom are constantly looking happy to cuddle with guests or play a game of fetch. You can go on long walks, do some yoga, trek up to zero point or bundle up and read a book (or three)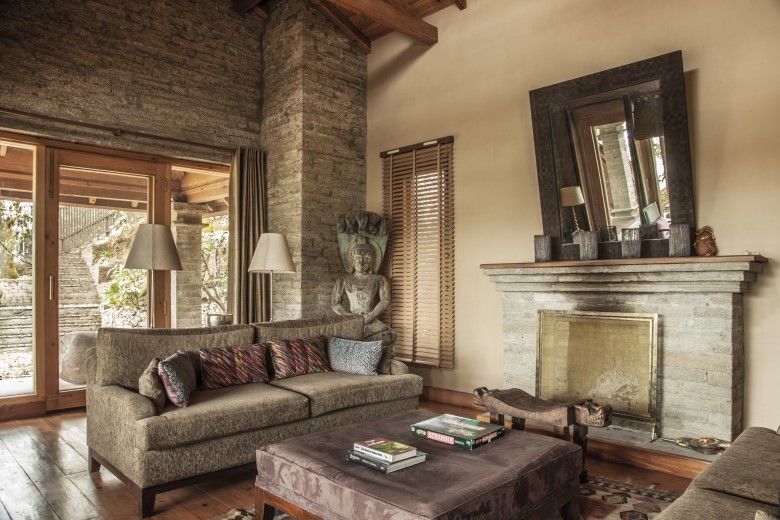 Mary Budden is not heavily marketed or promoted and we don't think we saw a single signboard about it while we were on our way. When staying at this well-kept secret, you won't run into a single soul if you want but can ring a bell if you need service. The place is a farm-stay, with cozy rooms and fireplaces that can make the most active people not want to get out of bed.
The Estate can be eerily quiet for those used to the cacophony of Delhi and other metropoles but you have the crickets, frogs, and cicadas for company! If one room in your cottage is occupied, Mrs. Chopra does not rent out the other rooms, which guarantees your privacy. Thanks to the pin-drop silence in the Estate, we slept like babies, night after night. In the springtime, the rhododendron blooms all over the hills and the fallen flowers seem to form a red carpet, welcoming guests to Mary Budden. It's amazing how such a bright red colour melds with the blue sky, the green grass, and the muddy earth. There are several activities to do in and around the Estate. Mrs. Chopra can organize morning Yoga, a nature walk/birdwatching with naturalists, badminton, table tennis, board games, bonfires, or trips to the nearby Jageshwar and Chittai Bell Temple. We highly recommend birdwatching, as Binsar is listed as an important Birding Area by Bird Life International. The Jageshwar Temple is home to a 9th century Jyotirling, while the Chittai Temple is dedicated to the deity, Golu. For those who are more adventurous and want to exercise, you can trek to Zero Point at 4 am in the morning, a great vantage point from where you will be able to see the snow-covered mountains on a clear day and even watch the sunrise.
While Binsar is a long drive from Delhi, it is more than worth it. You will get to see some spectacular views of Nanda Devi while en route but if you don't care much for car trips, you can break your journey by spending a night at Jim Corbett National Park. If you go in the winter, be prepared for it feels several degrees colder than the weather report states thanks to the misty mornings and evenings but make sure you don't feel guilty for being sloth-like and only hanging out near the fireplace. It is the perfect spot for honeymooning couples who are comfortable with spending a little bit of money for that home-away-from-home experience.
We spent most of our time curling up with a cup of homemade masala chai and a book in a hammock under the winter sun while at Mary Budden and can't think of a better way to unwind. I woke up bright and early the next morning to the sound of rainfall and opened my door and saw the clouds weaving magic right in front of my eyes. I requested the staff to help me light the fireplace because I was beginning to get cold and I clearly hadn't carried enough woollens. This place can be pretty pleasant and chilly in the evenings (even in the summer months) so do yourself a favour and pack an extra layer or two. I borrowed a jacket and we went on a guided trek to zero point. Zero point is an easy trek for even the unseasoned exerciser. If you don't feel inclined to go trekking or on a long walk, you could also try some acroyoga in the shala or in the gardens.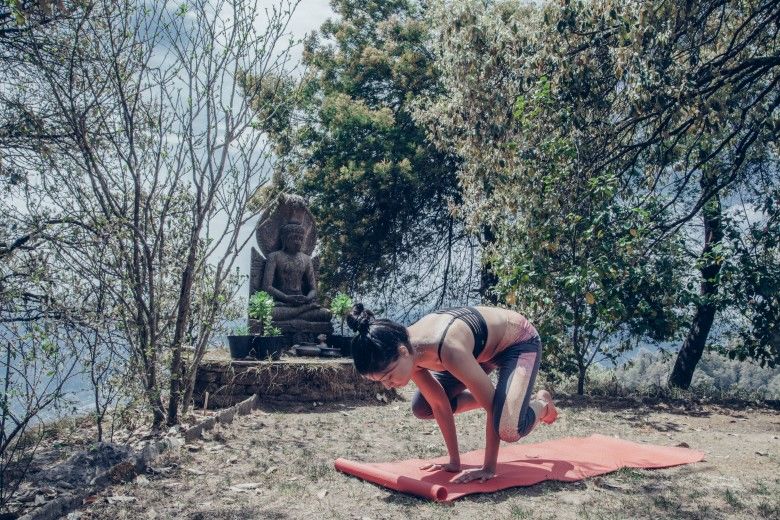 Verdict: If you want a break from city life and don't mind a digital detox- I can't recommend this place anymore. From couples, parents with young children, solo travellers or writers; this is a place for everyone. You can spend hours in the forest, surrender to the healing power of nature, feel grounded and return to the city feeling invigorated. Special thanks to Serena Chopra, Sheetal and the team at Mary Budden for making this trip a memorable one. I can't wait to attend one of Samara's yoga retreats and spend more time with the dogs on my next trip.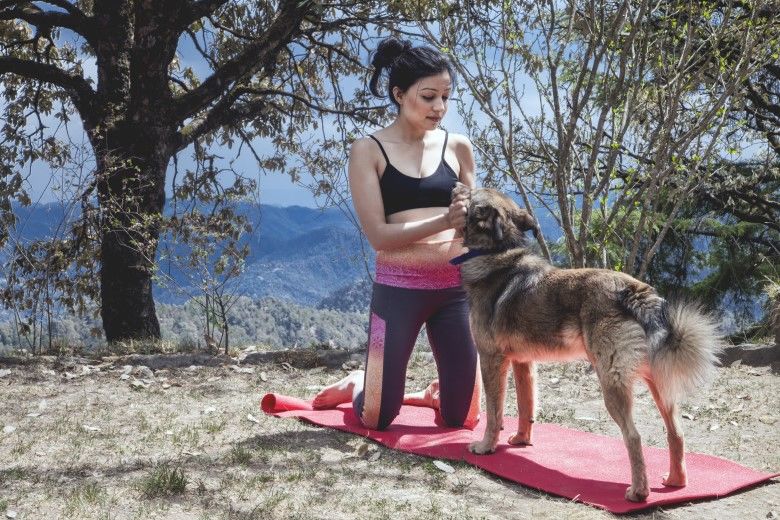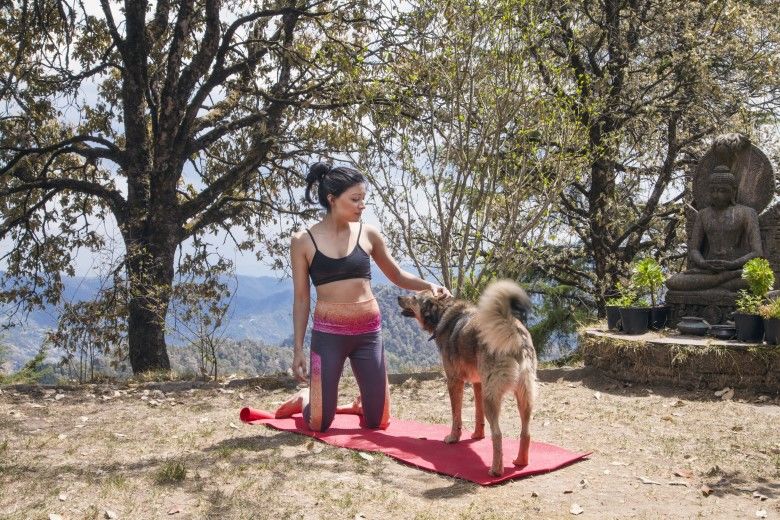 Quick Notes: Mary Budden Estate The Binsar Wildlife Sanctuary P.O. Ayarpani District Almora Uttarakhand India Website- http://www.marybuddenestate.in/
Photos- Aryaman Dixit Portfolio link