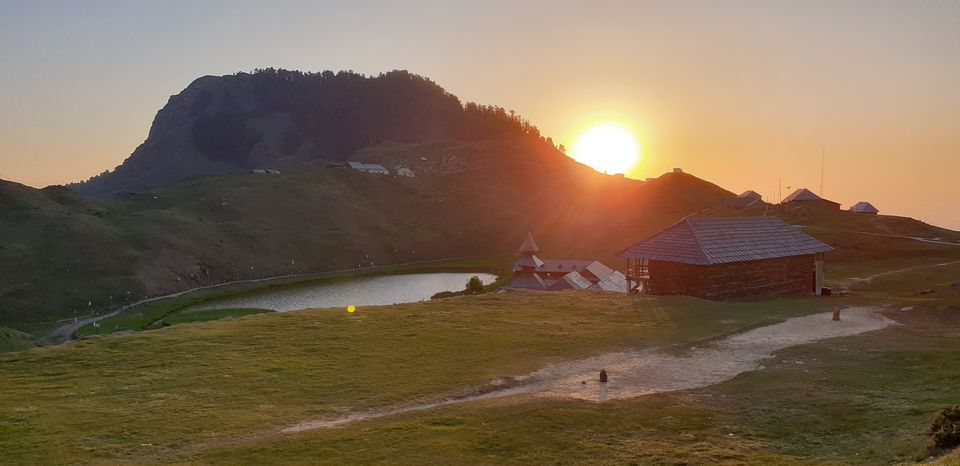 It all started with the idea of unwinding when I was too occupied with work and was desperate about going on a hiatus.
My sister recommended going on a weekend trip. I heartily agreed to it and both of us started looking for exciting destinations. We found an array of options for a two day trip. Eventually, we settled on travelling to Prashar lake; a place popular for the lake and its picturesque beauty.
We booked two tickets from Delhi to Bhuntar costing INR 2494 in total and embarked upon our journey on 3rd May, 2019. Bhuntar, as you know is the central point and you've got to pass through it if you are commuting to Manali, Manikaran or Kasol. However, we got down at a place called Panarsa which is 47.2 km away from Mandi considering we had booked our travel package with flysports based in Panasar. The package came in quite pocket friendly costing INR 2658 per head. It was a fair deal encompassing food, camping and trekking; sleeping bags and tents were also arranged by them. There was no extra pay. The guides at flysports were really hospitable; they packed us delicious sandwiches, bags of chips, biscuits and some chocolate bars to savour enroute.
The journey
Before we set off for the trek, we were dropped to the starting point of the trail at Jwalapur village in a van. My sister and I were joined by two more girls and the guide, thereby, expanding our group to 5 in total and all geared up to experience the enthralling journey. We began trekking from that point with trekking sticks, some snacks and each of us carrying a heavy backpack and a bottle of water. We started marching ahead around 12:30 pm and reached around 5:00. So, it took us four and a half hours to trek uphill covering 9 km. We halted many a times to click pictures; posing at times to be in the frames and alternatively capturing the scenic views. Despite over 500 clicks, we couldn't get enough of it. The trail passes through a dense forest. We stopped by the waterfalls, streams and rhododendron trees, and so on. It was a delight to watch and hear water gushing out of the rocks amidst the cleft in them, the sheep and goats bleating and grazing grass. There were points where we filled our bottles with sweet and naturally chilled water. We spotted some points where we had to take off our shades as it was quite dark; thick deodar (Cedar) and pine grooves restricted sunlight from entering the forest, consequently making it dark and silent – an amalgam of quietude and eeriness. The creepiness propelled us to move our feet faster, LOL! On covering 4 kilometres, we broke for lunch when we relished the snacks.
After 20 minutes, we continued to trek and repeated the pattern – walk, stop, click pictures and so on. Later, we reached a juncture where there was no track and we could only see the steep hill. We played some good motivational music to push ourselves up the hill. In about half an hour, we reached the top to discover a proper road route directing us towards the lake. We saw some vehicles running ahead of us on the road. Well! It was quite gratifying to realise that we had managed 9 km, all on foot. Bravo!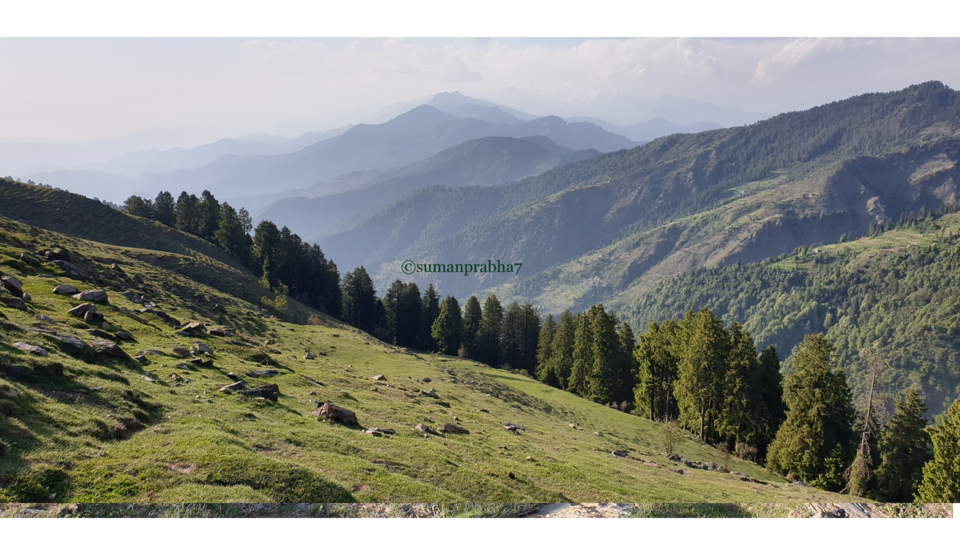 Soon we found ourselves encircled by beautiful meadows spread across wide areas; It was humongous and exposed us to some eye treats; we saw flock of sheep grazing grass. They were hundreds of them. The view was pristine! It reminded me of the old bollywood song – aaj unse pehle mulakat hogi, phir hoga kya, kya pata, kya khabar .......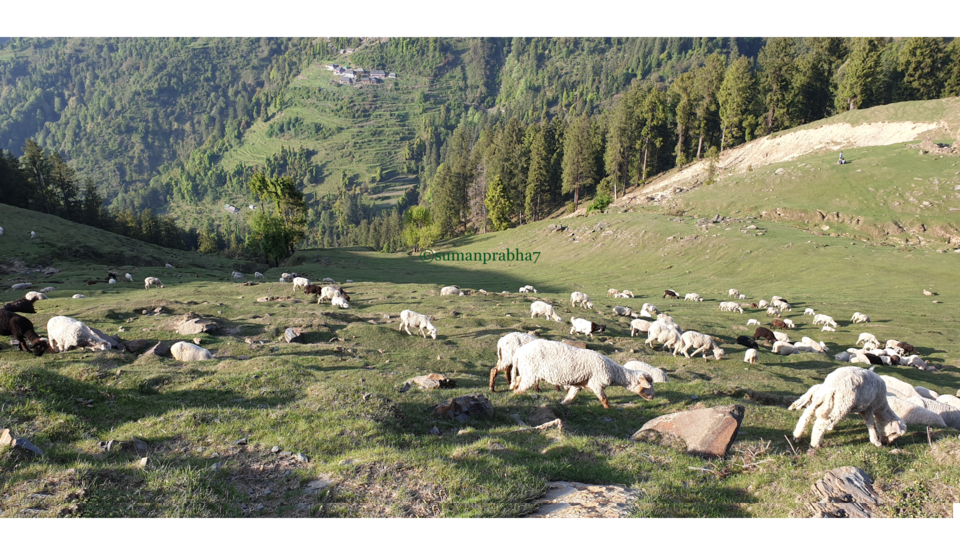 The destination
Finally, at 5:00 pm, we reached the camping area where we were treated to Maggie and chai. Gradually the temperature dipped and it got chilly; we quickly changed and descended to visit the temple and the lake – our ultimate destination. The guide showed us around and enlightened us with the myth behind the temple and the lake. It is believed that Sage Prashar meditated on the banks of this lake, therefore, it is known as Prashar Lake. Besides, it was Bheem, one of the Pandava brothers who had shaped the lake. As the story unfolds further, after the Mahabharat war, Pandavas were returning with Lord Kamrunag and when they reached this place, Kamrunag was spell bound by the the tranquil surroundings and decided to dwell there forever. So, Bheem plunged his elbow on one of the mountains and creates a big dent in the land and voila, the dent got its name - Prashar Lake.The depth of the lake still remains to be a mystery as no one has been able to figure out how deep it is.
Post the temple visit, we headed back to our camps and took forty winks. The guide woke all of us by flashing torch lights on our tents – a smart way to wake people without generating noise. They even thrilled us with a bonfire, we placed our chairs around the bonfire and grooved to some good music where in the other groups joined us too. Well! We didn't mind that at all. The bigger the group, the merrier! It was followed by dinner comprising rice and dal, other options were kadi chawal and rajma chawal. I settled on rice and dal. The food was simple and scrumptious. Next, we headed back to sleep and woke up to the sound of children playing cricket around the temple. Once again, we went on a photography spree in the similar pattern followed by paranthas and chai for breakfast.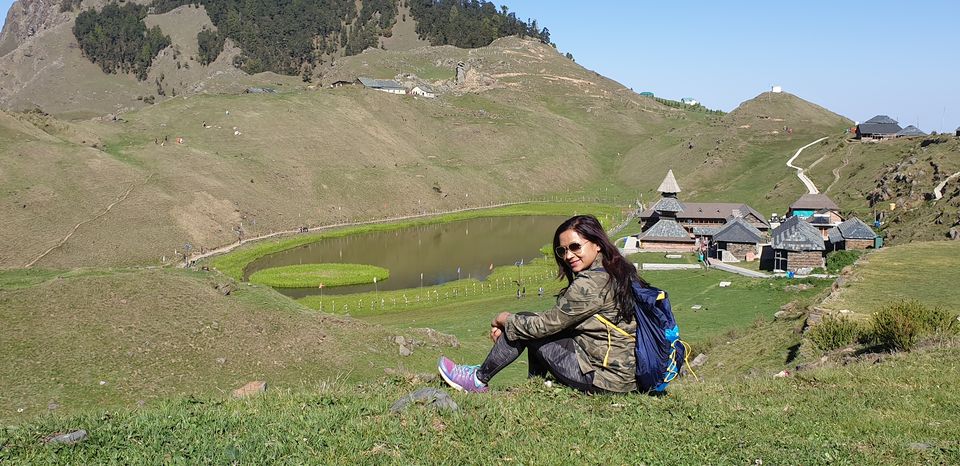 By 9:30, we were all set to return with our trekking sticks and headed back to the trail, the journey downhill was comparatively less tiring and we collected conifers, some of us even captured pictures of animal skulls for dental studies. In due course, we completed the trek and rode off in the van only to reach our home stay. We got fresh, ate lunch and rested until we caught the bus at 8 pm for Delhi. We returned to Delhi on 6th May, Monday morning to be greeted by Delhi pollution.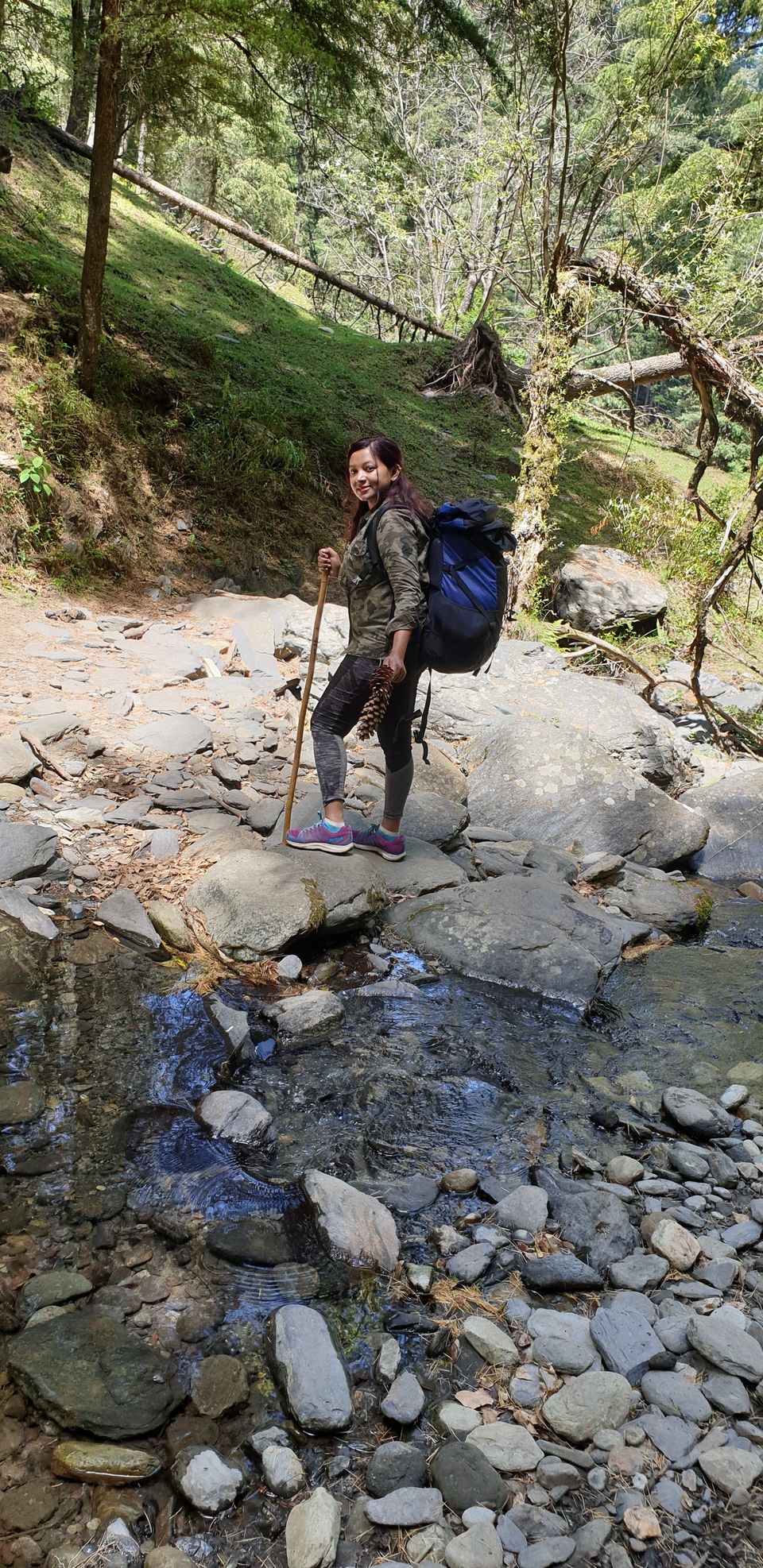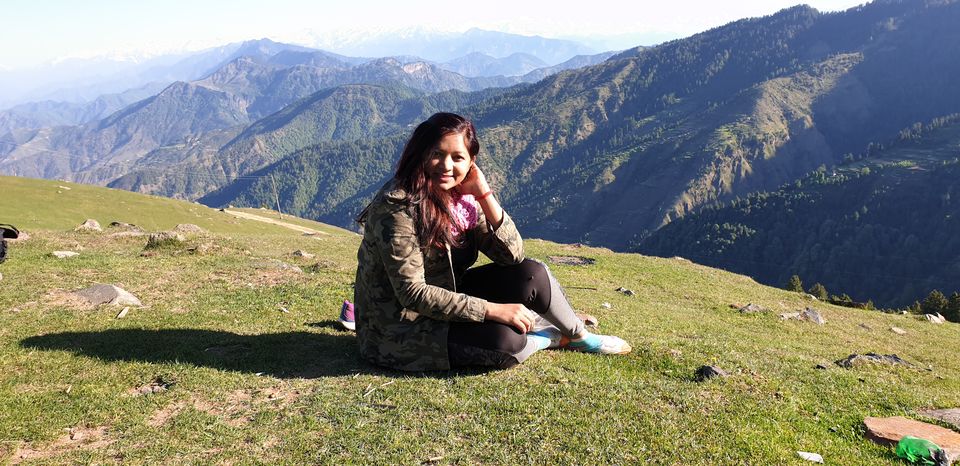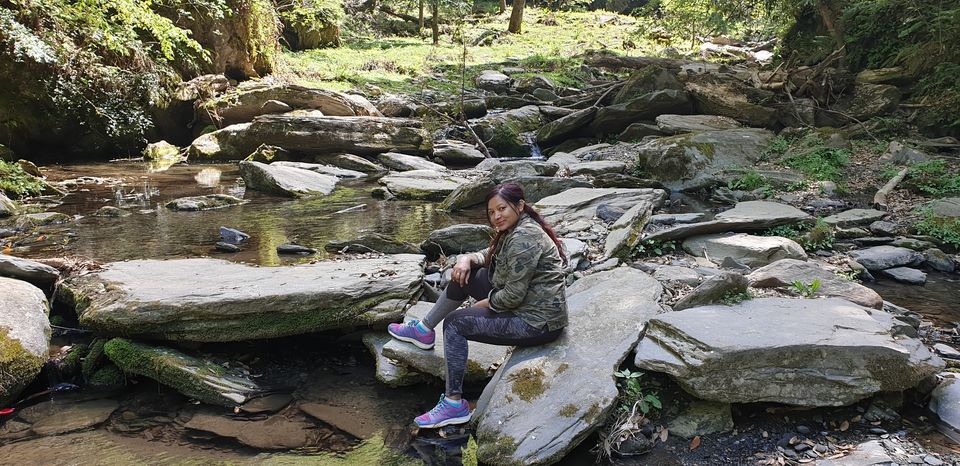 One of the most enthralling trip is over now and I am still gushing about it.
Well! Until I talk about some other destination, remember
"The world is a book and those who do not travel read only one page." – Augustine of Hippo
How to reach( from Delhi)
By road: Buses ply from Delhi on a regular basis
Duration : 11 to 12 hours
Distance : 489 kilometres if you arrange your travel from Bhuntar
Budget :
We made it in INR 5,500 including travel, food, camping, trekking and local transport.
Bon voyage!