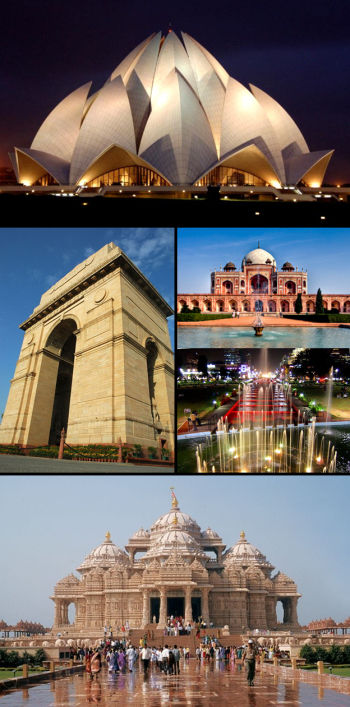 Dilli, Dilwalon Ka shehar hai.. (Delhi is a city of kindhearted people) is often said while describing the capital city of India. But of late due to various levels of crimes happening in the city people from smaller as well as metropolitan cities get apprehensive while traveling to Delhi. But if one decides to travel safe and smartly then the uncalled for situations can be avoided. So here are some tips for first-time travellers to the city which is a perfect amalgamation of old world charm, bureaucratic corridors and exquisitely designed good hotels in Delhi.
Get that Hotel Right!
I remember my first tryst with Delhi, unknowingly on an autorickshaw driver's suggestion I had taken up a hotel at a far off location from my examination venue. Obviously I had to face a storm off troubles before reaching my destination. Another thing to note is that being a metropolitan city, there are all sorts of good hotels in Delhi including ultra-luxurious hotels, budget hotels, boutique hotels and then some 'simply avoid' hotels. If you plan to do lots of sightseeing in Delhi and nearby cities of National Capital Region (NCR) like Gurgaon, Noida etc. then it is best that you find hotels near Delhi railway station. The Railway station is located in almost the centre of Delhi and so is connected well with all parts of Delhi NCR through public transport and cab services. Some of the hotels in central Delhi are Eros Shangri La hotel, The Imperial, Ashok hotel, The Leela, Radisson Blu Marina, Crown Plaza, Oyo Rooms (Nehru Place), Hotel Ajanta Delhi etc.
Shopping Places in Delhi:
Apart from the hoards of huge malls there are several traditional markets in Delhi for one to explore. For clothes and other home decoration stuff the markets which are a big hit among the larger chunk of people are Lajpat Nagar, Sarojini Nagar and Greater Kailash 2 Markets. Apart from this there is INA market for raw non-vegetarian stuff and other food items. But the Godfather of all markets in Delhi and most other markets of Asia is the market of Delhi 6 as it is fondly called. The Delhi 6 market includes wholesale markets of different commodities used in day to day life like Sadar Bazaar, Khari Bawali, Chandni Chowk, Chawri Bazaar etc.
Places to Eat in Delhi:
Dahi Bhalla, varied Parathe, and sumptuous non-vegetarian delights like Nihari are available in Chandni Chowk area. Apart from this try the Kathi rolls from Khan Chacha restaurant in Khan market. Tandoori Momos in Satya Niketan area and finally Sarvana Bhawan & Andhra Bhawan for South Indian delicacies are a must try.
Leisure Activities in Delhi:
There are many sight-seeing places in Delhi itself like India Gate, Lotus temple, Akshardham temple, Parliament house area, Qutub Minar etc. Apart from this Delhi has a solid night-life and then for talking about children amusement there is  Adventure Island in Rohini.
Safety tips while travelling in Delhi:
For travelling safely in Delhi, first of all, beware of pickpocketers and even be careful of your stuff kept in your hotel. Check for any hidden cameras in the hotel. Do not take lifts from any unknown person. Dress rightly as per the norms of any sightseeing places you are visiting. For women, it is advisable not to travel alone in the night. If you are an international tourist then carry your passport copy and identity proof along with you at all times.
Hope this quick fact file about Delhi holds good for first-time travelers to Delhi. Further if you know some info that I have missed out on (especially the eateries) then do write to me.
Originally published here.