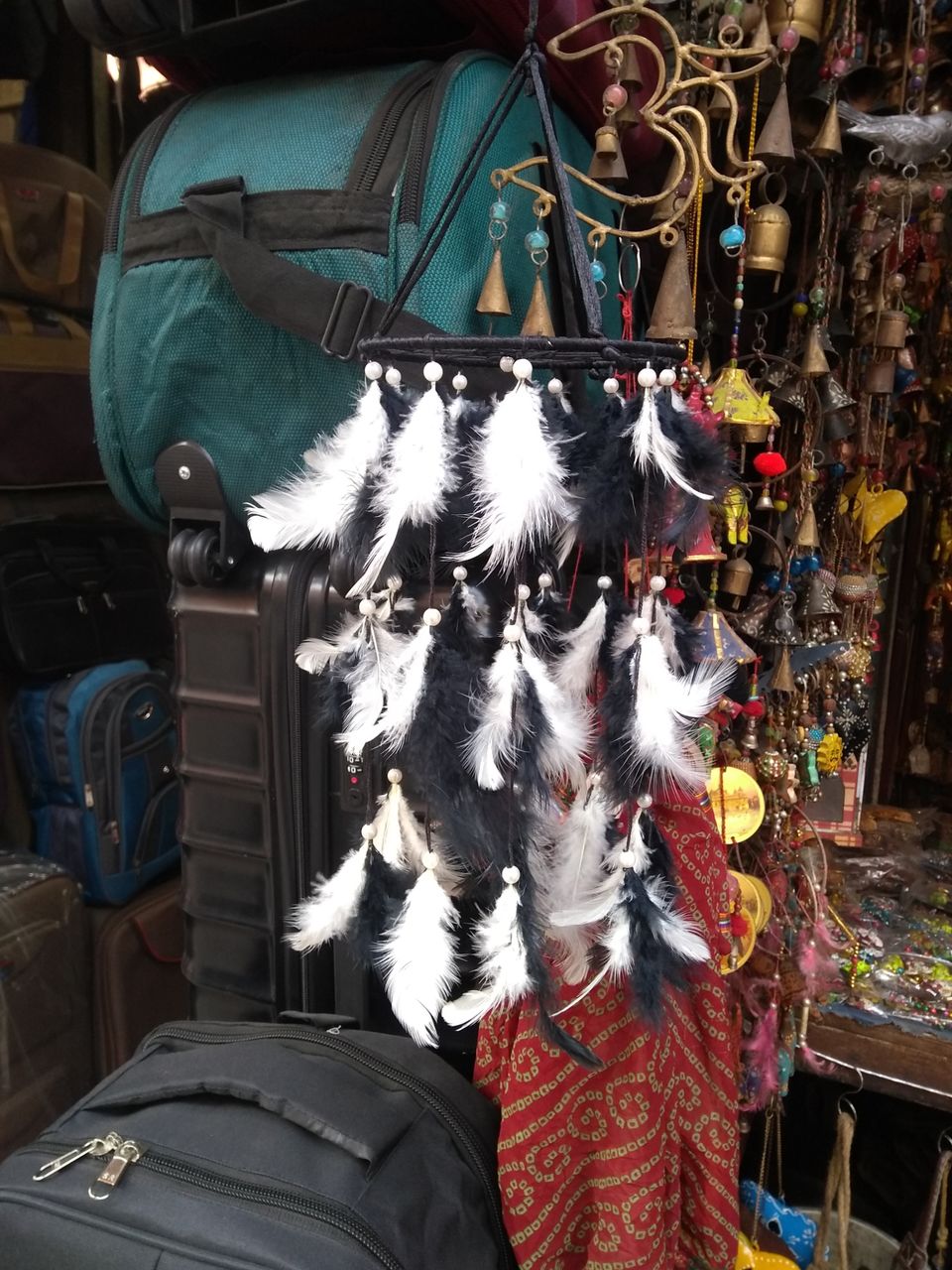 I came to Delhi, for a period of 10-15 days, for a winter internship. Little did I know that I would end up creating a long "To-Do" list of 25-30 items that I wanted to do in Delhi.
I had to be at the internship from 10 in the morning to at least 5 in the evening. I came to Delhi on 20 January, Monday; took two whole days surfing through articles about what to do in Delhi, the rare-hidden gems of Delhi, and unique experiences that one could get only in Delhi.
One of the biggest help in my journey was the wide-spread metro network that expands almost across the entire city. I was living in Malviya Nagar, and had easy access to almost every place that I had to go in Delhi.
On 22 January, Wednesday, after I got free from my internship; I went to Gurudwara Bangla Sahib. The easiest and most economical way to reach Bangla Sahib, is to get off at Patel Chowk, and either take an auto from there or a walk if you're comfortable with walking. I spent around 30-45 minutes at Bangla Sahib, then walked to the Prachin Hanuman Mandir, a 15-min walk from Bangla Sahib. The Prachin Hanuman Mandir, one of the oldest temples near Hanuman Gali, has idols of different deities. The Rajiv Chowk metro station is at a walking distance from the Hanuman Mandir, I walked to Connaught place, took a metro and reached home, ending the first day of my solo adventure and striking-off two items from my list.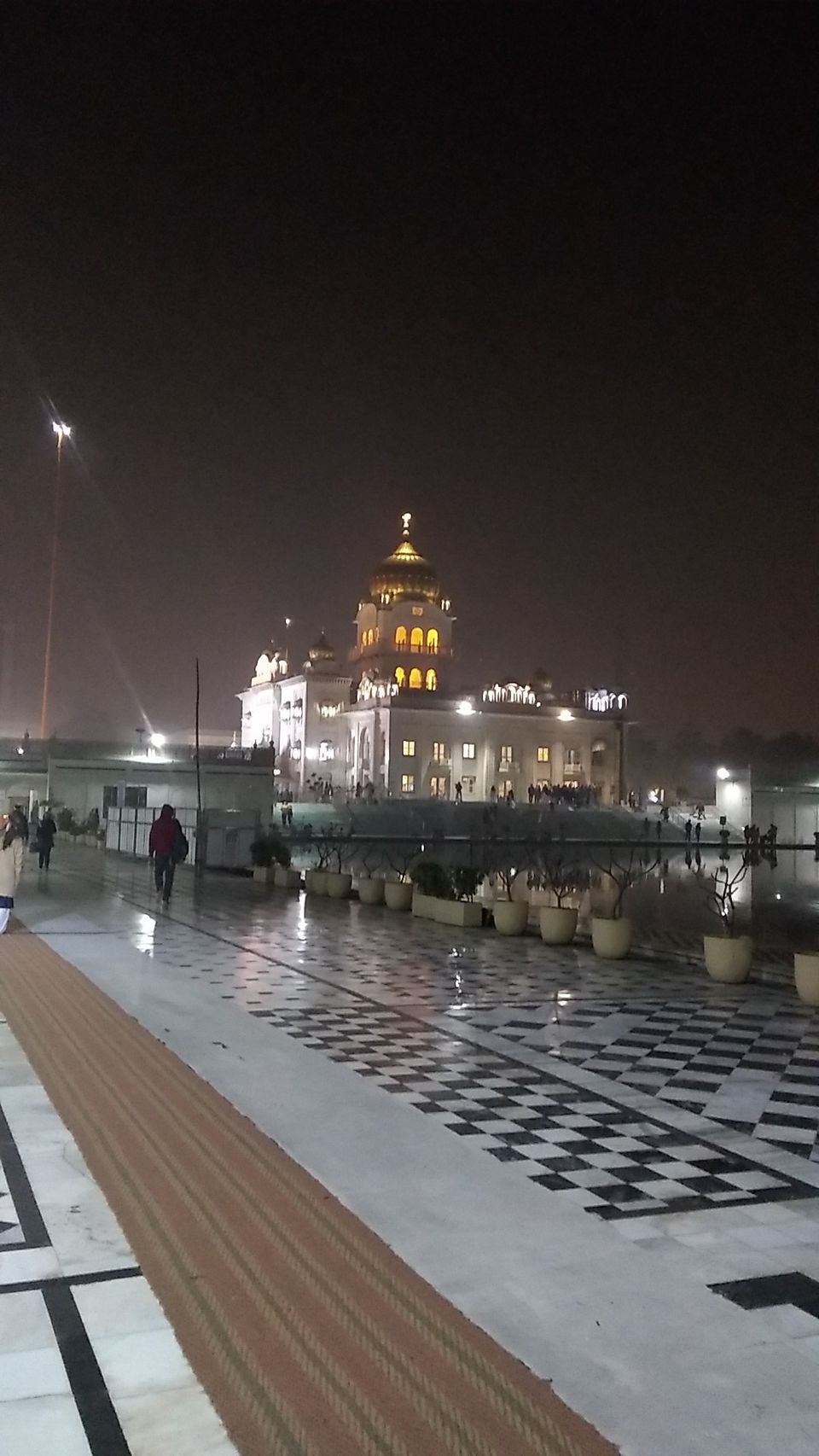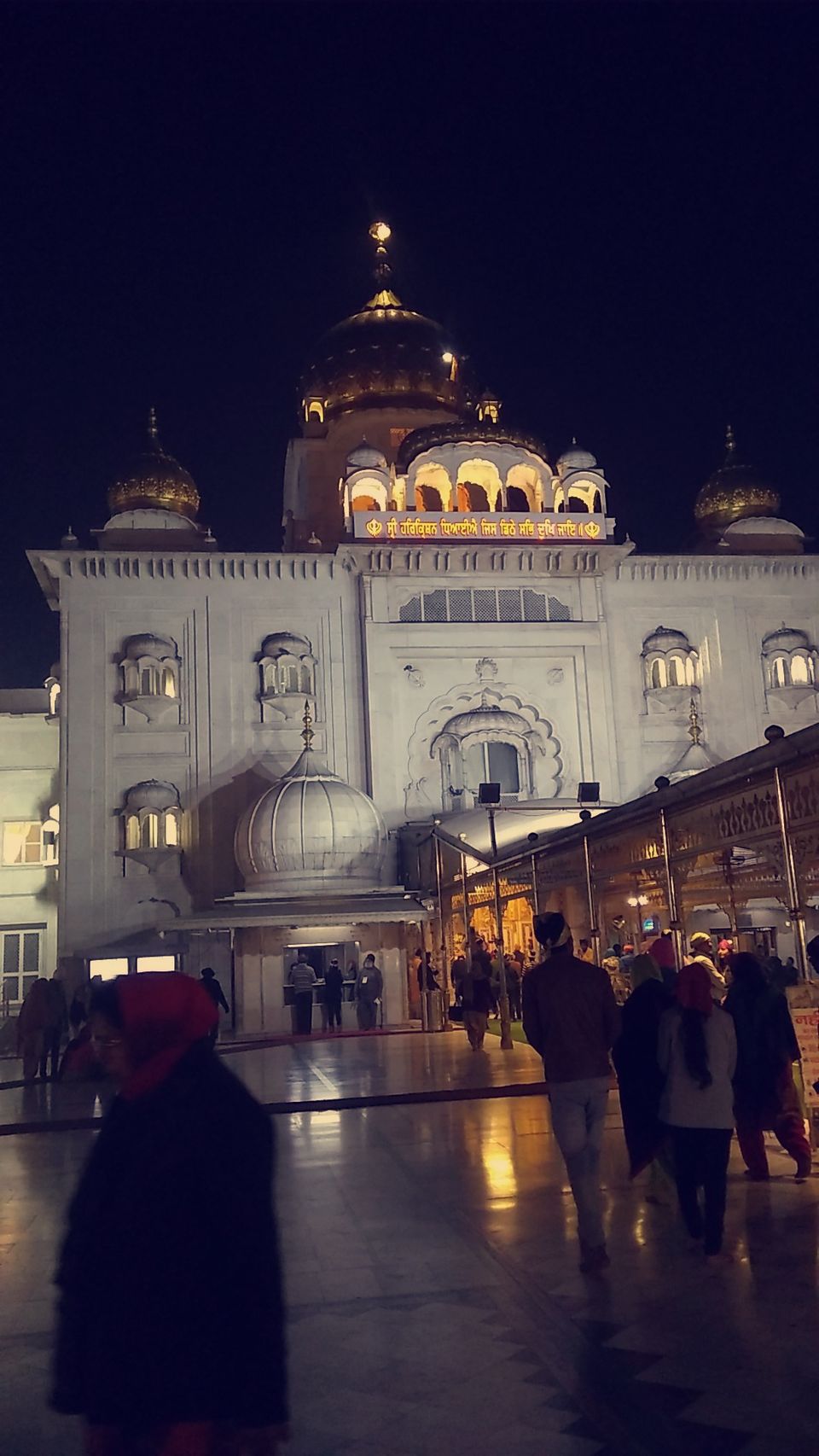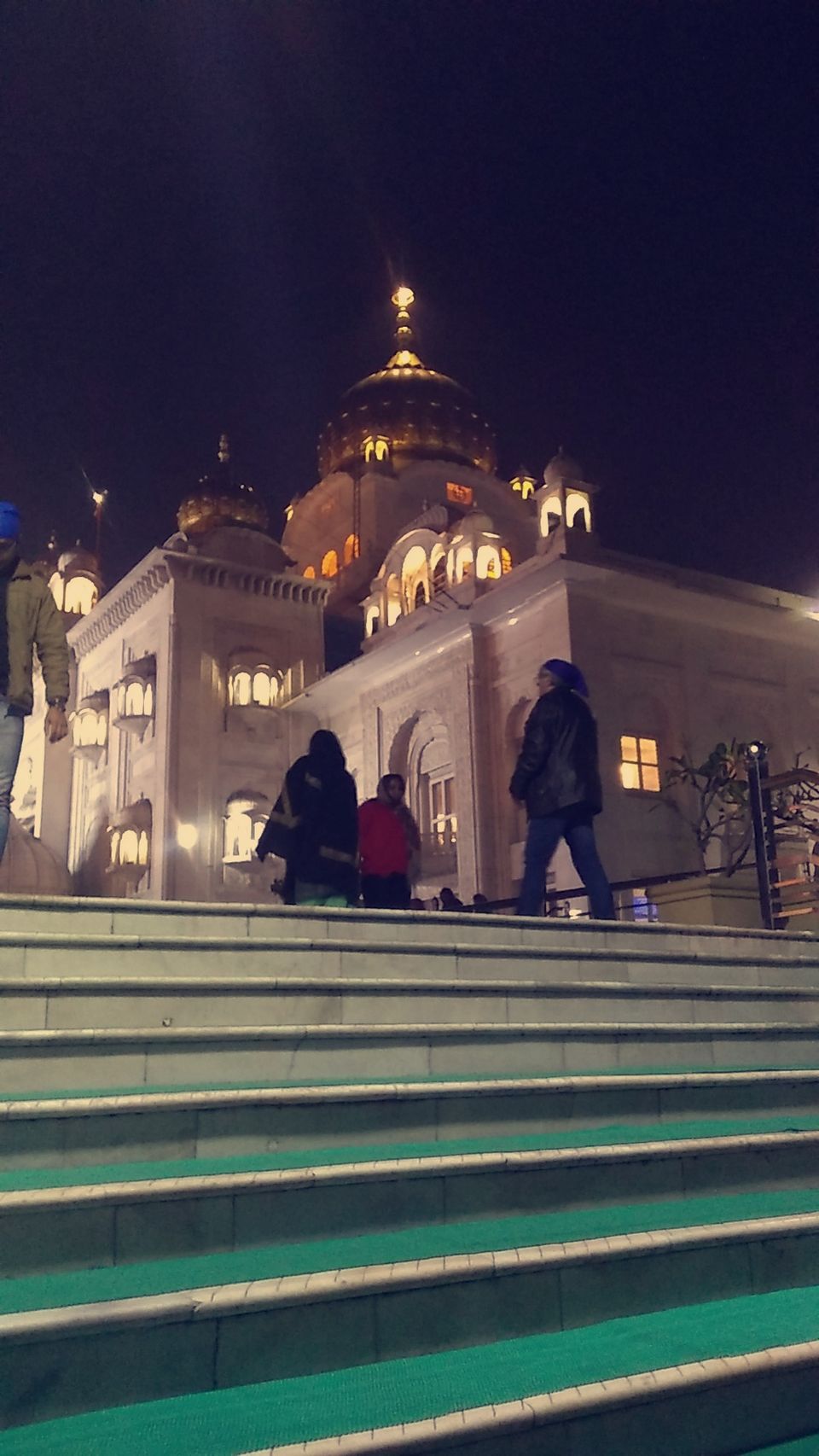 On 23 Jan, I had decided to visit the Hauz Khas Village in South Delhi. It was quite close to the place where I was staying, also was considered to be one of the most hip-places in Delhi, with a lotta great cafes, social hangout spots, secret alleys, and inking parlours. I got off at the Hauz Khas metro station at around 6pm, took an auto an reached Hauz Khas Village(one can also get off at the IIT metro station and take an auto from there as well). One of the things that I wanted to do in Hauz Khas was to go to the Kunzum Travel Cafe and The Hauz-Khas Social, the former cuz it attracted tourists from different parts of the world, and served as a hub for exchange of cultural ideas and practices, and the latter cuz it is one of the places shown frequently in bollywood movies, and trust me it's worth all the hype it gets. After these two places, I went around for a stroll through the streets of Hauz Khas. I stumbled across so many infamous places that don't have the recognition that they deserve. I came across numerous tattoo parlours, cheap bars, authentic indian-homemade stores, and a lot more. But some of the places that really caught my attention were the Gypsy Shelter cafe: where "apparently" foreigners participate in singing hindi hymns and songs, located at the far end of a narrow street near Social, Little Goa, where one could literally find all kinds of STUFF(I know you know xD), Pagal records Store: one of the most awesome places selling antique-vinyl records, home decoration stores and a lotta other CRAZZZYY places. After being completely mind-blown by the vibe of the place, I took an auto and ended my day.
24 Jan, this day I had decided to go to one of the most upcoming-hipster places of Delhi, Champa Gali. The name sounds a bit lame, however once you reach the place you don't wanna leave the place at all. Hidden in really quite surroundings near the Saket metro station, this is one of the rarest Gem that Delhi can offer. I reached the place at 7:15, and was awestruck by the sights I had seen so far. The street begins with the Foresta cafe on one side, and the Nerdy Indian cafe on the opposite side, after passing these two cafes and taking a right turn, the really beauty of Champa Gali unfurls itself. Wall paintings, Murals, cafes, bookstores, homemade stuff, so much to see. First I went to a place called JUGAAD, a store that sells homemade-authentic Indian items made by Housewives. The next stop was the Jugmug Thela, one of the most beautiful cafes I had ever seen, with an option to sit either inside or outside the cafe. This was followed by the Blue Tokai Coffee Roasters, one of the most amazing coffee I've ever had. Lastly while coming out of the place, i decided to have a last snack at cafe Foresta, where I had a Mutton-Seekh burger and a Paneer Tikka Sandwich(yep, I can eat a lot :p).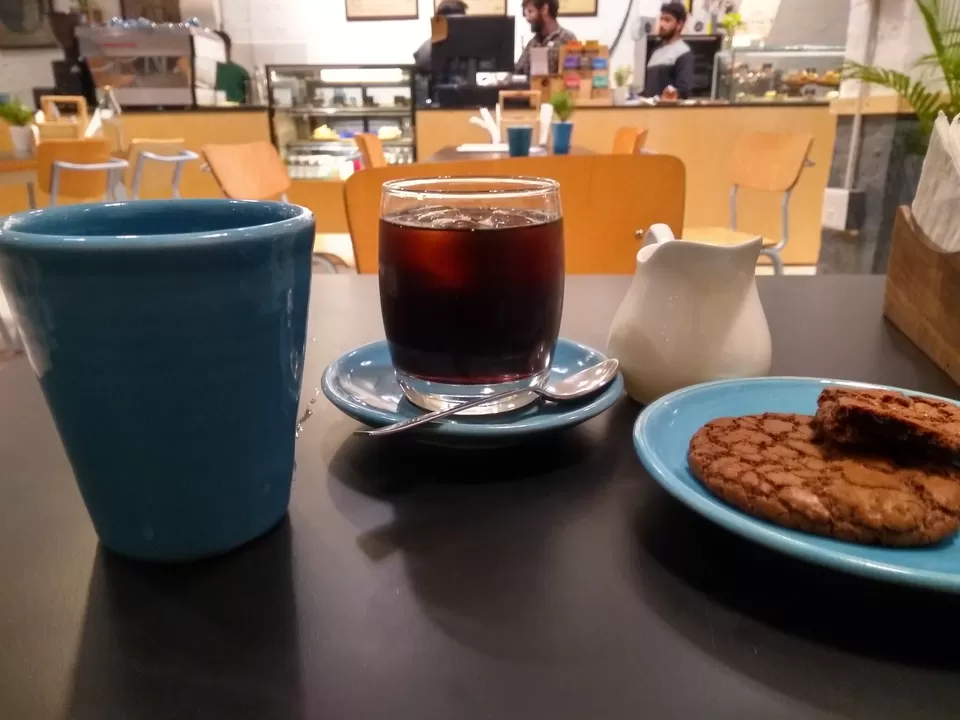 25 Jan, I had the whole day to myself, so I decided to take a walk across the markets of Purani Dilli. I began the day by going to the Agrasen ki Baoli, one of the most amazing architectural marvel, located near the Barakhamba metro station. Then, I got off at Jhandewalan metro station, visited the Sankat Mochan Dham temple, which has a 108 feet high Hanuman Statue(yep, the one shown in almost all movies based in Karol bagh). After that, I took an auto to Karol Bagh, one of the cheapest markets in Delhi. One can buy first copies of all brands here, and electrical items can be purchased at Ghaffar Market. Don't forget to eat at Roshan di Kulfi, mwahhh. After exploring the entire lengths of the market, I took an auto to Paharganj. For those of you who don't know, Paharganj is one of the most famous places for cheap shopping, cheap liquor and cheap hotels. This is the reason why Paharganj is one of the most loved places by people coming to Delhi for a day or two. At the end of the Pahargannj Market, is the New Delhi metro and railway station. I took a metro from there and reached the Chandni Chowk metro station. Chandni Chowk is one of the most loved markets, mainly cuz of the cheap shopping, the architectural places located nearby, and definitely cuz of the AWESOME FOOD<3. After reaching Chandni Chowk, I straightaway went to the Jain Temple of Naughara: the painted doors of Naughara are one of the most amazing eye-catching sights of Old Delhi. This was followed by eating Kachauri at the Jung Bahadur Kachori Wala, Paranthe in the Paranthe-Wali-Gali, Jalebis at the Old Famous Jalebiwala, Kulfi at the Kuremal Mohanlal Kulfi Wala and finally Brain Curry and Shami Seekh Kebab at the Karim's Hotel near Jama Masjid. After this amazing food-fest, I took a metro from the Chawri Bazaar metro station, located in the central market area.
26 Jan, Sunday and Republic Day, hence a lotta market areas were closed, so this wasn't as busy and happening day as the others, but still was one of the best experiences I ever had. I had lunch at the Khan Chacha restaurant in Khan Market, then went straightaway to Lodhi Colony. Lodhi Colony is famous for the Lodhi Art District, where the walls outside the houses are painted an serve as an amazing place for hangouts, or to beautify your instagram feed. All walls in this colony are painted from top to bottom with various murals, anecdotes, ancient stories and what not. Definitely one of the most eye catching places, known to a few in Delhi.
This is how my 5-day Delhi-exploration trip ended. I had a lotta new experiences, met a lotta new people, made so many new friends, and would not mind doing it all over again. There are still a lotta things in my list that I couldn't do: Majnu ka tilla, Dilli Haat market, Pragati Maidan, Akshardham, Humayun's Tomb, Lajpat Nagar, Sarojini Nagar, Hazrat Nizamuddin Dargah and many more; anyways, more for next time.
~Tathastu~