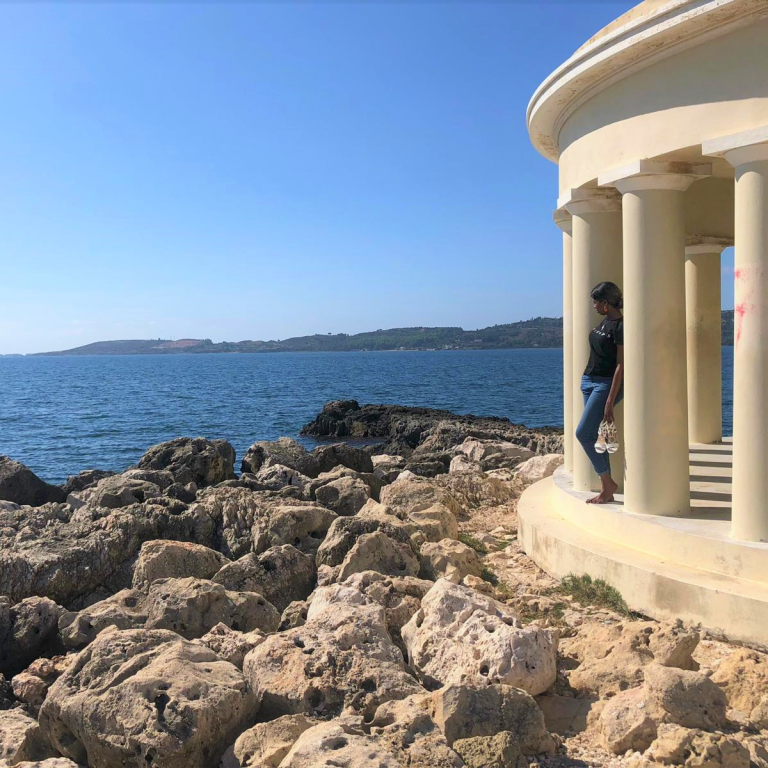 You can read all about my other adventures here and watch my latest vlog here!
__________________________________________________________
"Why are the hills here so steep?!" my friend and driver, Naj says, as we make our drive from the little airport towards the villa.
It's around 2200 hrs, and the entire island is engulfed in darkness.
The narrow streets do not have lighting, and it's a struggle as we climb higher and higher into Argostoli.
"The higher we go, the better the view. Wait for the view in the morning" I say.
We were about to be spoiled for landscape.
Kefalonia
The biggest of the Ionian Islands, Kefalonia is as diverse as it is vast. It is thickly forested with olive and pine trees, brimming with gorgeous white-sand, shingle and pebble beaches, turquoise seas, tranquil blue caves, cosmopolitan Venetian-inspired towns, mountain villages that hold true to tradition, picturesque ports and yacht-filled marinas.... and is bursting at the brim with heavenly, heart-stopping sensational cuisine...
They call this the wildest of the Ionian Islands... and I dont know why, but yes that speaks to me.

With just 3 nights to get under the skin of Kefalonia, and a rough idea of what we wanted to do, we came up with a game plan to tackle the island - which ended up being one of my favourite places to visit in Greece so far.
Kefalonia Island: Argostoli
Our first stop was to pick up a rental car. Kefalonia is extremely mountainous and many of the natural sites and quaint towns are spread out. In my opinion, having a car here (and in most of Greece) is a must in order to see all of the wonderful places on offer.
Pulling up at Villa Luna in Argostoli, we had to double take at the sheer size and space of this place.
Indulge me here.
Imagine 3 huge balconies wrapped around the building, the bottom floor private balcony alone being probably double the size of any master room in London, so high up that you have an unobstructed, unfiltered view of the city, lagoon and mountains.
Imagine rooms that are modern, airy and tastefully decorated, with an en-suite bathroom complete with a bathtub.
Imagine the entire property is set on a cliff way above sea level. The gleaming yachts bobbing in the harbour are in the distance, and you see sheep and farms and countryside far around you.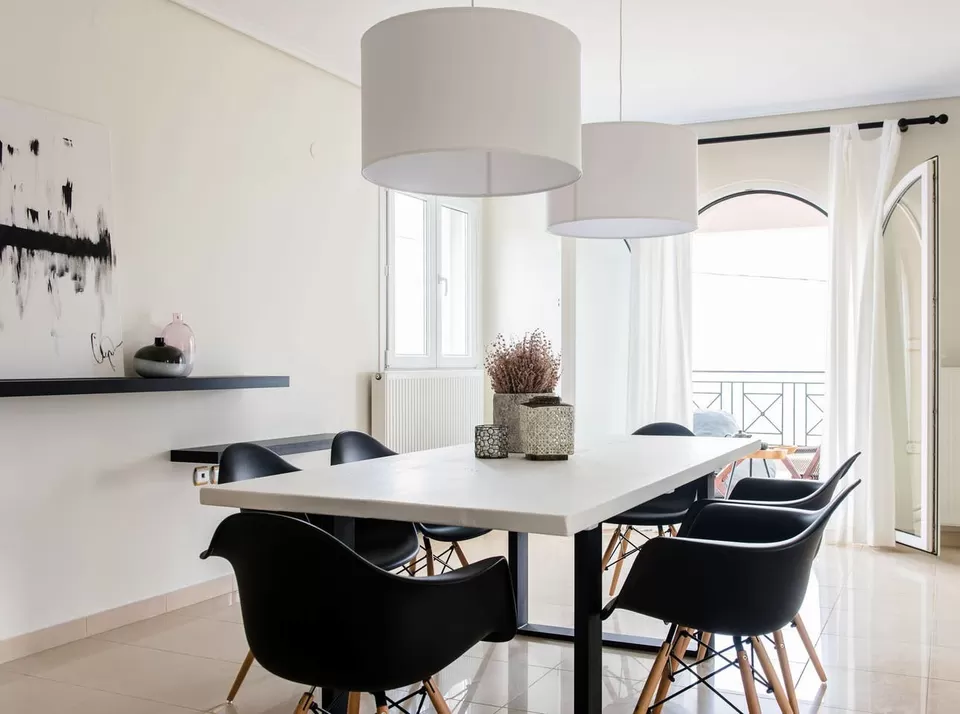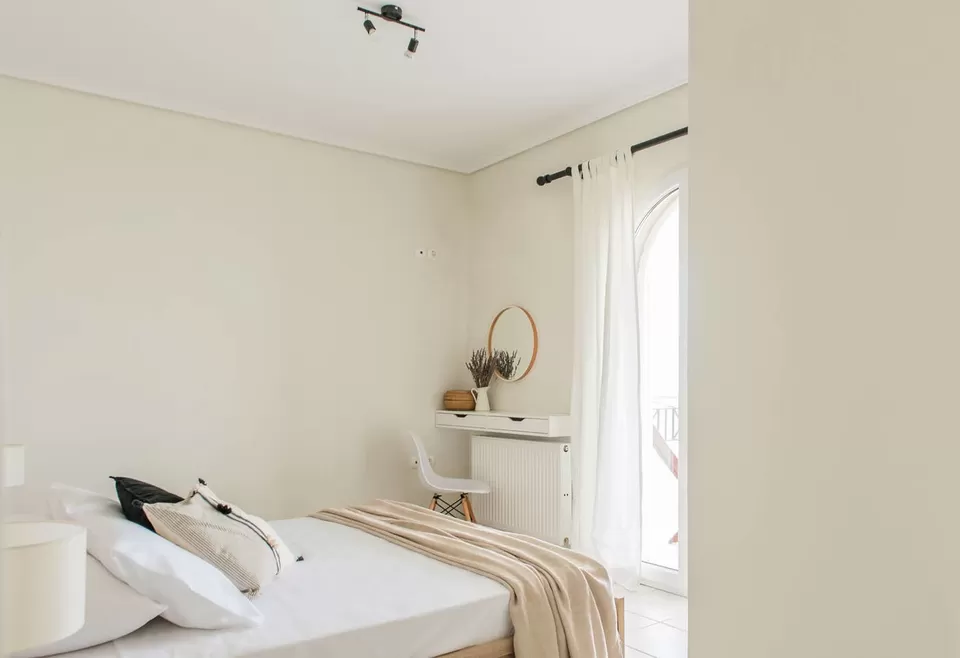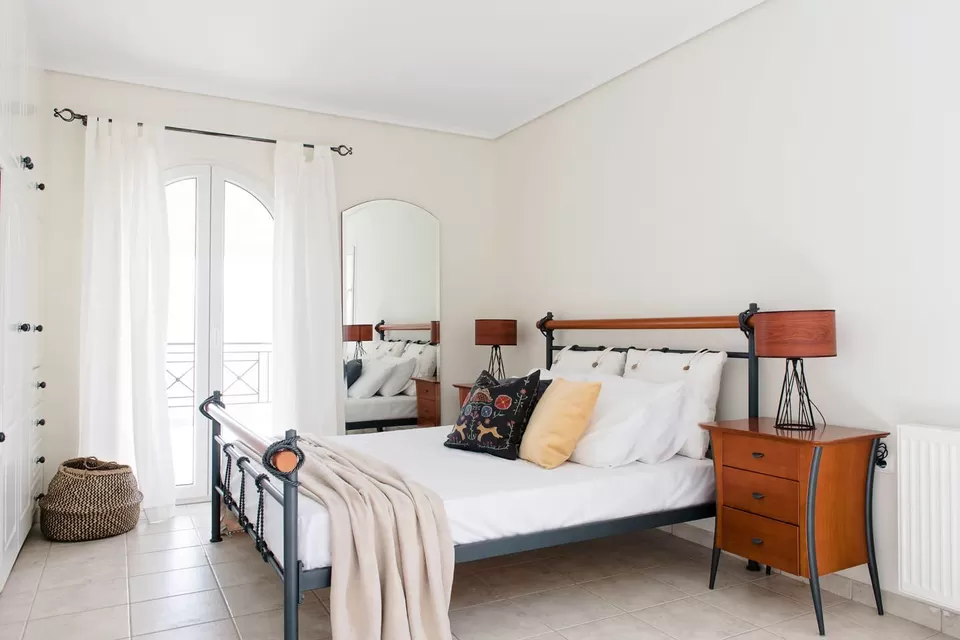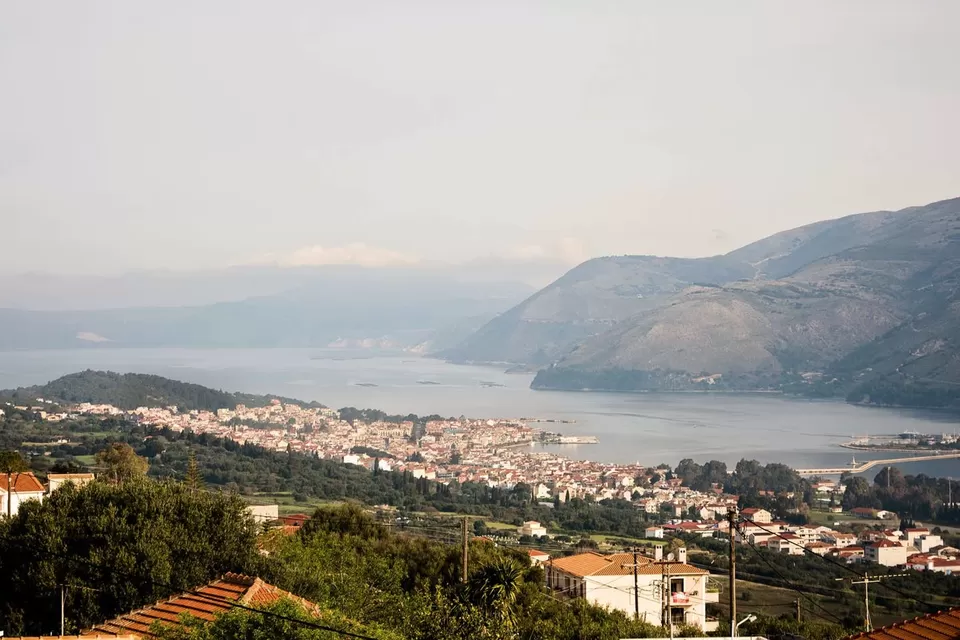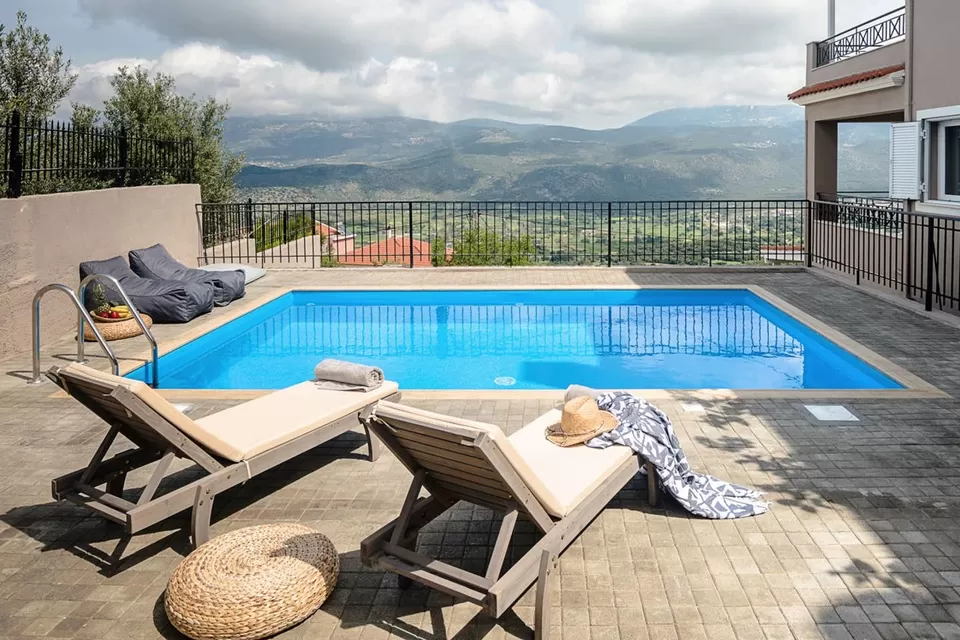 In the distance, but not far enough, are the overpoweringly magnificent Ainos mountains. Known as Monte Nero due to its thick forestation of dark Kefalonian tree (Abies Cephalonica), it's the tallest mountain of the Ionian islands with an elevation of 1,628 meters (5,341 ft).
If you stare at it long enough, you get totally engulfed. Imagine having that right at your doorstep. Imagine no sounds but crickets and silence. Maybe the slight shuffle of leaves. A clean private pool gleaming and a lime and orange tree in your garden. Imagine this is home for 72 hours.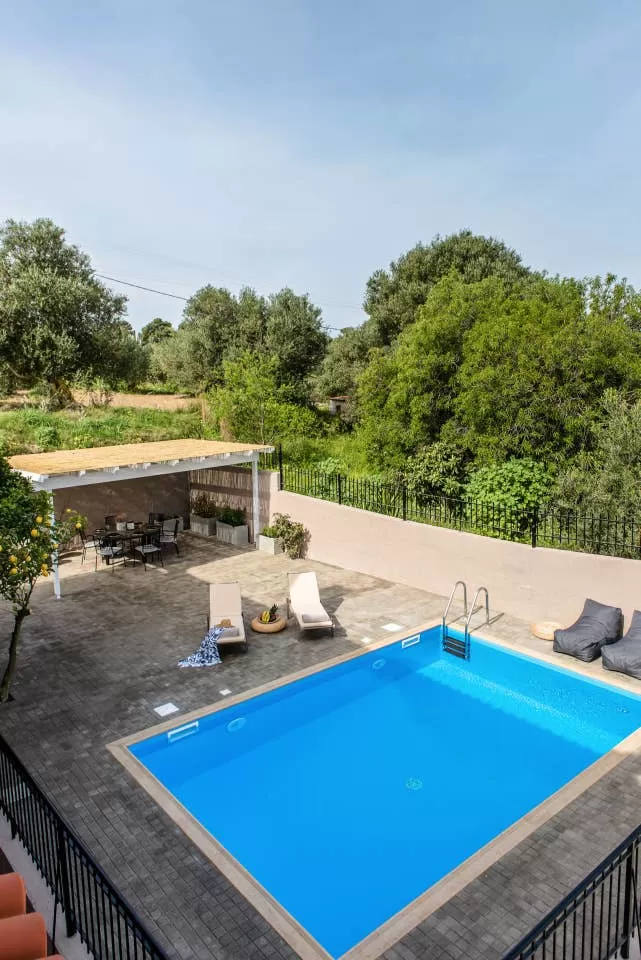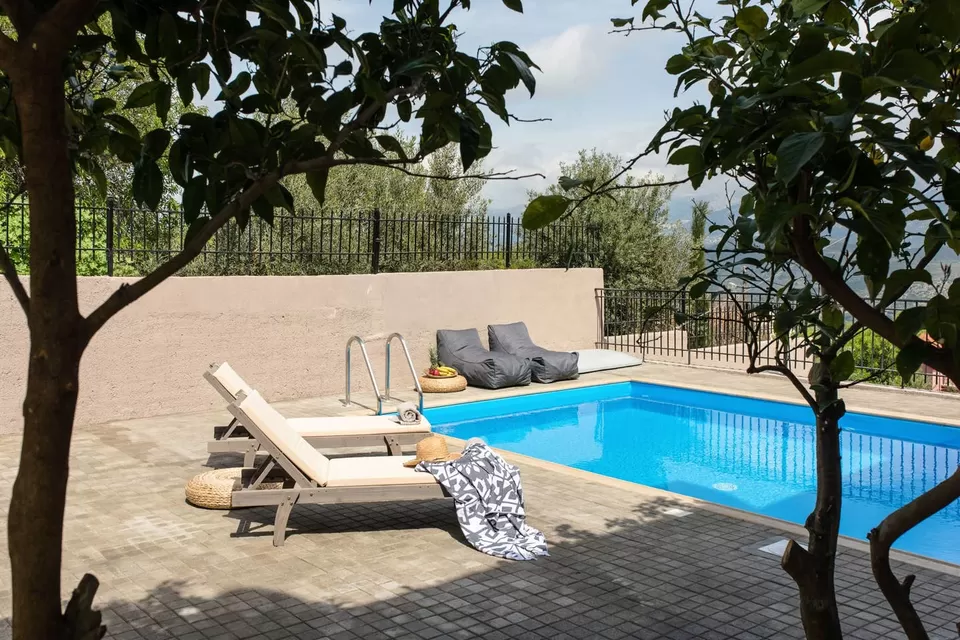 We found it difficult to peel ourselves away from the villa and our mesmerising views, but there was much more of the area to discover. First up, the food!
What We Ate
There wasn't much choice in the city for halal food.
We tried La Pasta Premier Restaurant in the town square. They've got a great outdoor seating area right in the square that accommodated our table.
Our server, Ilyas, has been in Kefalonia for the last 26 years and is from Albania. He visits when he can, but prefers the islands heat and relaxed environment. I can see why.
I order a Fresh Margerita pizza to subside the hunger and a glass of fresh juice. As plain as it is, it tastes great and the atmosphere is very chill and relaxed. It's definitely not prone to the odd cat rubbing your leg looking for scraps. If you drop food too, expect a flood of pigeons to pounce and congregate around. Good luck getting rid of them once they learn you are weak!!
We stocked up our fridge with everything our eyes recognise from Tiritompas Mini Market - a quaint little place not too far from the airport.
We also make a stop at the Grill House Restaurant ΤΟ ΨΗΣΤΗΡΙ in Lakithra at one point, to order the traditional Greek Gyro dish. It is a sandwich traditionally made using lamb, beef, or pork combined with tomato, onion, and a yogurt sauce in pita bread. It's fairly similar and in fact derived from the lamb-based doner kebab we all know and love. The Greek dish is made from meat cooked on a vertical rotisserie like a Shawarma or tacos el pastor. We all order one to go, and obviously the meat is replaced with chips and pink sauce. We take 10 home and I kid you not, it's so heavy on the stomach and large in portion that 72 hours later, remnants were still in the fridge.
The Grill House is open from 4:00PM onward until late and even offers free delivery to nearby areas.
We also had a great home-cooked meal of mac and cheese and pasta bake. The feeling is surreal when your sitting at a table with your friends, with what feels like the tranquillity of the city and mountains at your doorstep. Needless to say, I put my only skills to use and took charge of the washing up and cleaning. Top tip: travel with people who can cook. Or follow a YouTube video LOL!
What We Did
72 hours of relaxation was the goal and intention.
72 hours of deep, raw conversations, laughter and lounging in the sun ensued.
I definitely wanted to go Scuba Diving but Fiskaro is a 50-minute drive from Argostoli and for only one driver in the group, it proved difficult. I'll be back in 2020 to do this though - hold me to it! Even if I go alone! I wanted to see the famous Lighthouse of Saint Theodoroi too and see if there was a way to perhaps climb it. If you've read my Barcelona post, you'll know I am obsessed with the sea. The real sea.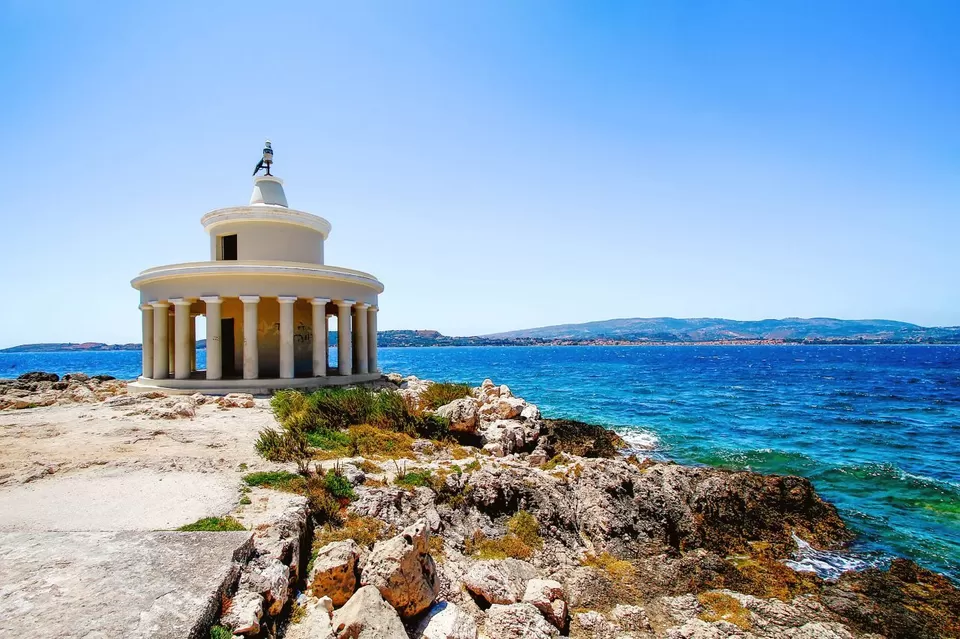 Not the sea at a port/harbour or the one under a bridge.
The crystal-clear warm waters of the ocean that you can dip your toes in and see the sand at the bottom.
I can sit there for hours in nature and truly relax.
The lighthouse wasn't too far up the coast, and at 1300 hrs, it stands basked in sunlight on the corner of Fanari. We sit, I climb down onto the sharp rocks and dip my feet in a pool of starfish and small fish. The sun beats down at 28 degrees. I could stay in this one moment, forever.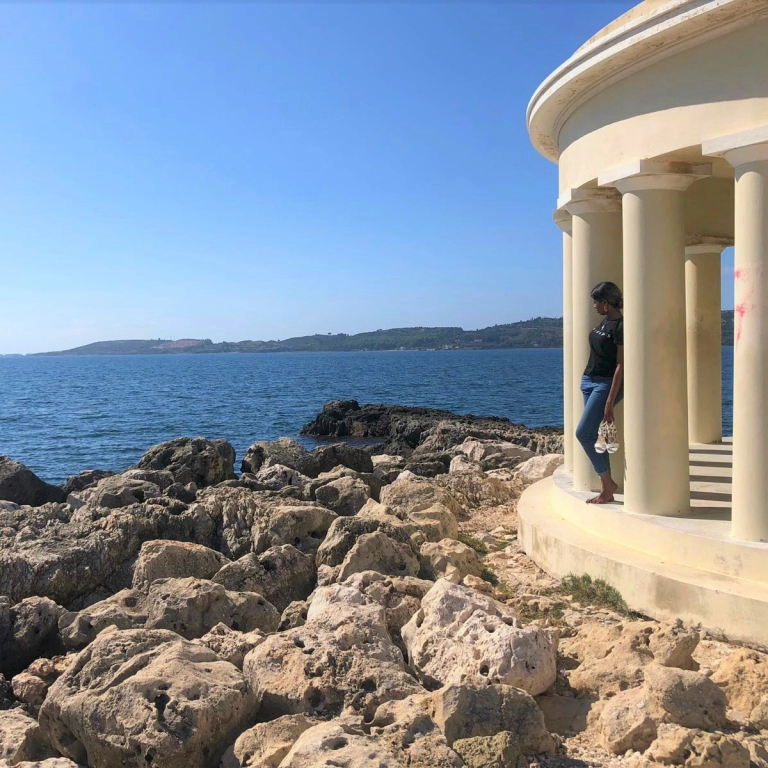 We stopped by the Lighthouse on the Monday morning after going to the Argostoli Harbour to see the sea turtles. The turtles are incredible, I've never seen one so up close in real life. You can't reach down to touch them - the knashers on them could probably take your arm off in one swoop.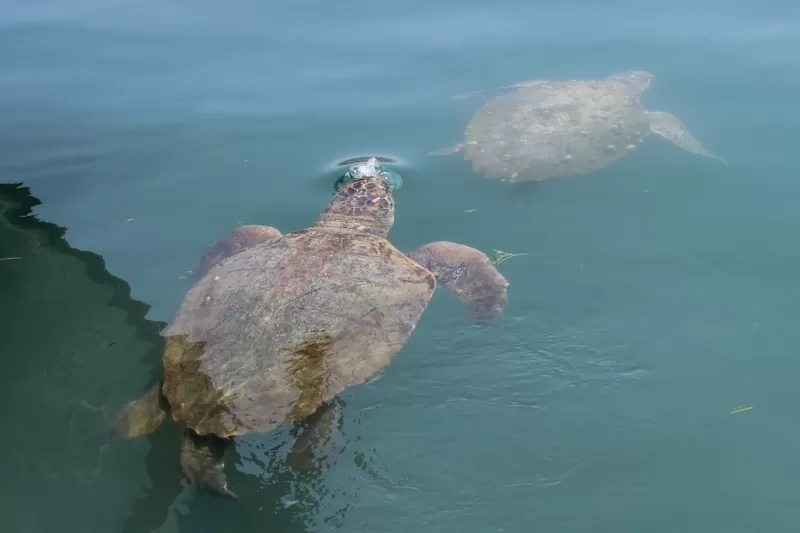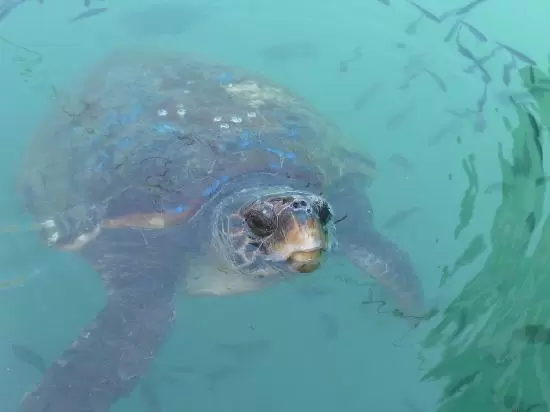 We also head down to Makris Gialos Beach, 10 minutes from our villa. The lively, sandy beach has clear water and offers water sports. Shoutout to the @kefaloniawatersports on Instagram for hooking us up bigtime though!
We arrived pretty late in the day to the beach to explore. The watersports section had closed and the only speedboat bobbing in the water was used to collect stray paddleboards and jet skis. We ask for a quick 5 min tour and experience on the speed boat.
After a brief conversation with the owner, he caves and says he'll give us a quick experience. We can go only 3 at a time though as seating is limited and dangerous. So, we climb in, and within minutes, were looking at 360◦ ocean, the sunlight glinting into our eyes and the purring of the engine filling the air. Kyriakos owns the water sports company and comes to Kefalonia 6 months at a time for the summer period. He lives in Athens and has been to London once - and hated it.
"I'm not a city kind of guy" he says, "London reminds me of zombies."
Were inclined to agree.
"The only way I'd even go back is if I could take a slice of this with me" he says, waving his hands at the vastness of the still sea and the roar of the ocean.
"Do you reckon we can drive a little" we ask, and to our surprise he allows us.
We drive the boat to the White Rocks Beach not too far away. This white beach is unreachable by foot or car and can only be reached by boat. Steep cliffs hug and engulf it from both sides, and the white sand remains undisturbed and smooth. The inner child wants to go do somersaults and kick it about, and a part of me wants to preserve it forever.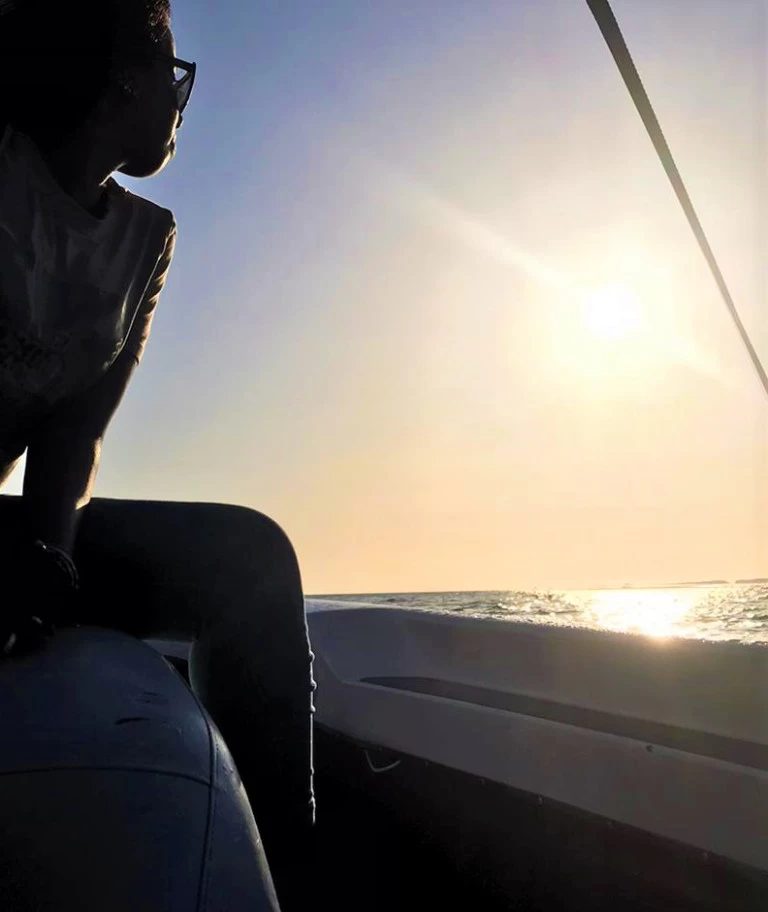 It looks marvellous.
Kyriakos let us take turns and drive the boat at various speeds, doings laps on the ocean. The sun is very low, and the sharp turns are making waves of sea salt wash over us. It feels surreal. He looks so relaxed letting us control the boat and I think that relaxes us more. It all feels so surreal. I think between the fits of laughter at the poor navigation, were all just in awe and I'm just grateful for these moments with my friends.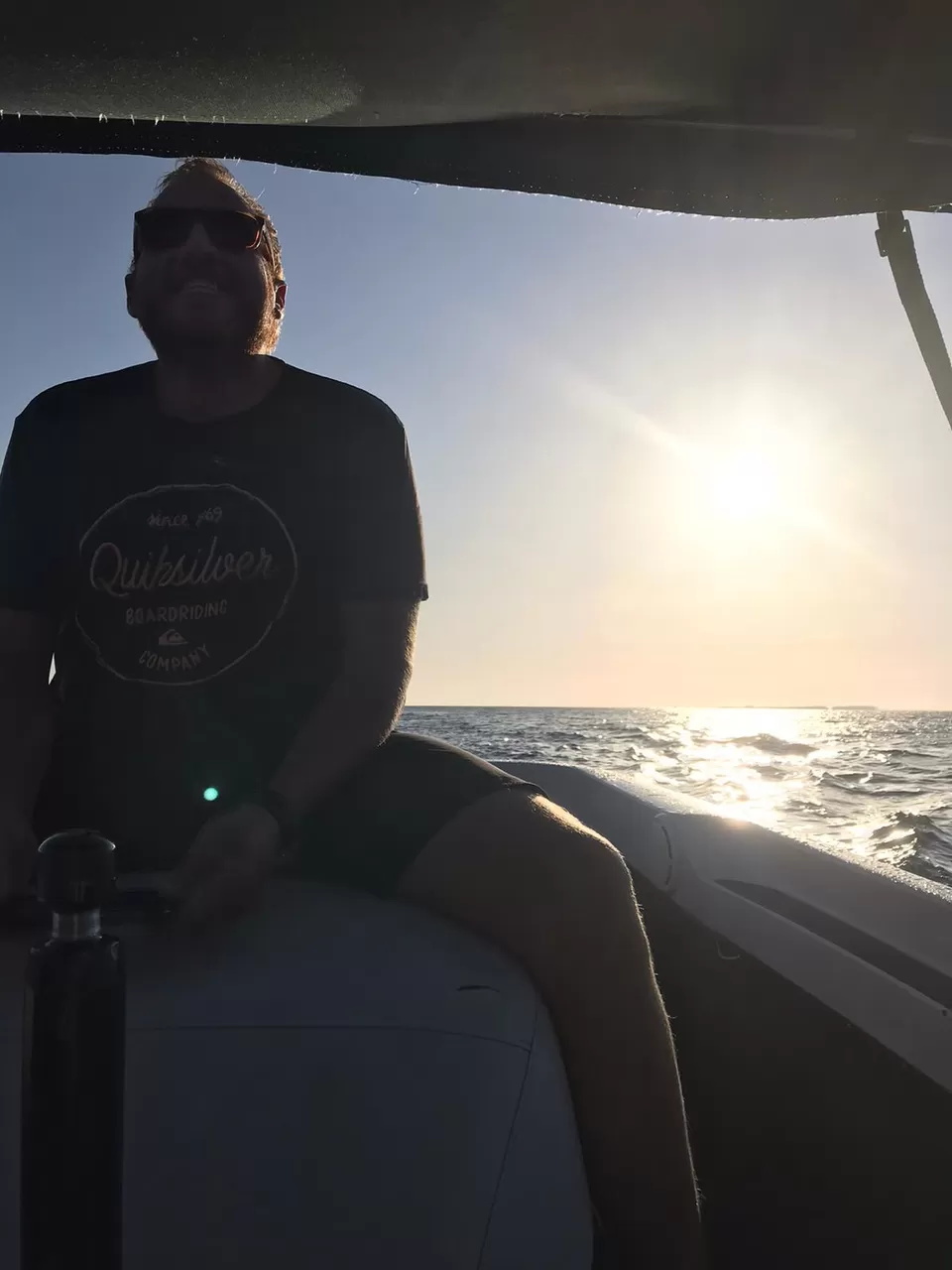 When I'm back, I'll try paddle boarding or canoeing with these guys for sure.
After some sunning, we leave to find some souvenir shops and food.
That's all I really explored in the city.
I read my book, had a very loud and competitive games night and a peaceful movie night, brushed on my swimming daily in the private pool. I feel recharged, re-energised and rejuvenated.
Disclaimer: I took a Gimbul Osmo pocket with me but left the charger (boo!) so no video uploaded from this trip. Believe when the Kefalonia video finally gets posted, it'll be incredible! I cant wait to go back and explore the country to the full!
Sometimes nothing goes to plan, and sometimes the chips your dealt are better than the ones you planned for.