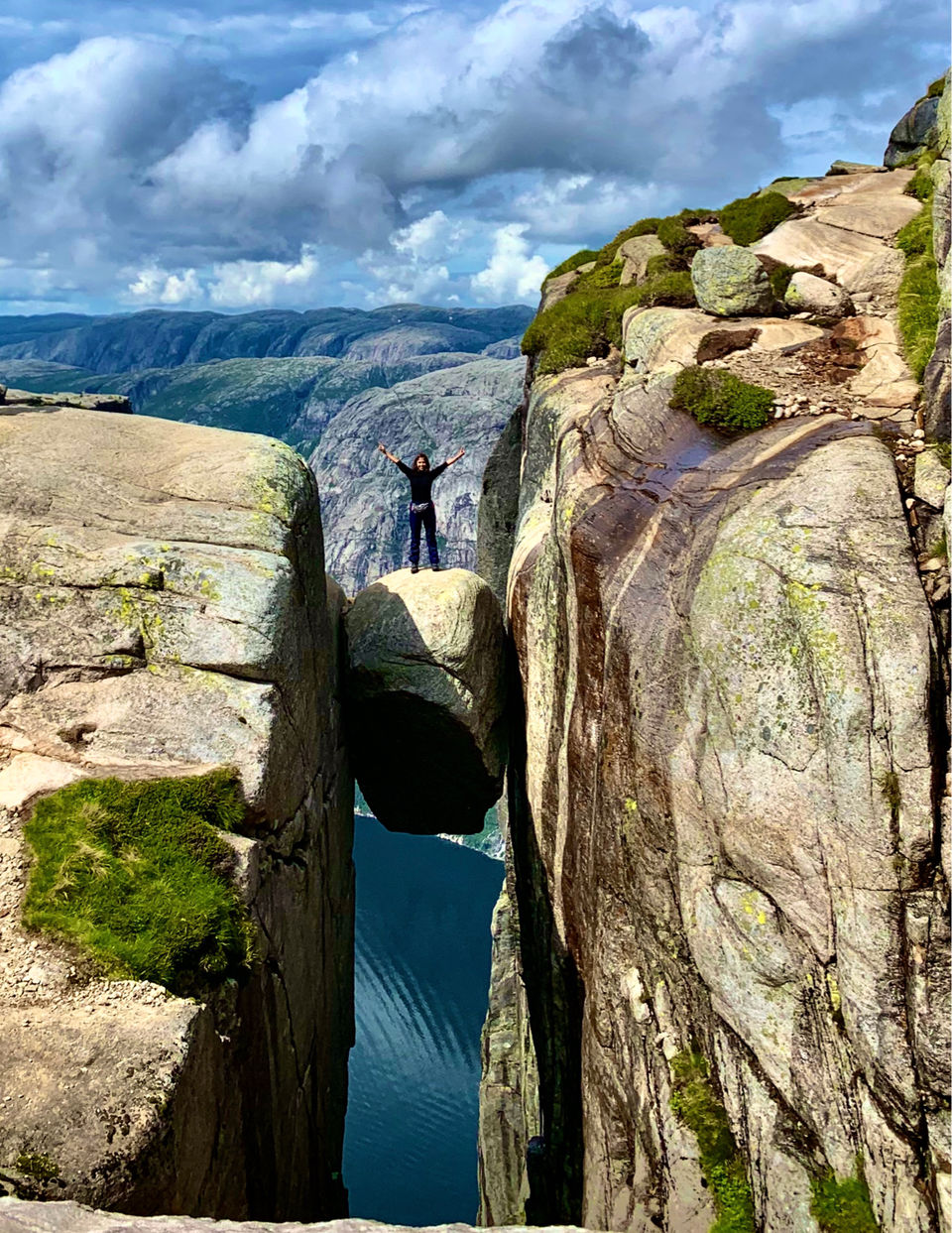 Kjeragbolten
Distance - 11km from Øygardsstøl parking Area (go and back)
Time - up n down 5 hrs (including breaks)
Difficulty - demanding
Location - Kjeragbolten is highest peak in Lysefjord, Stavanger
Tansport :- Either you can drive car or take bus from Stavanger. There is 2.5hrs of journey by bus from Stavanger to Kjerag parking/Øygardsstøl. Bus departs in morning and return to Stavanger in evening. We booked our ticket with go-fjords. And I must mention 2.5 hrs of bus journey is awesome, you will witness some panoramic view of nature.
Weather and clothing - Always check weather before hike and do not trust more than 2 days of forecast. Avoid hiking in rain because the trails becomes more slippery and steep.
Always Wear layered and warm clothes, May be you will sweat in beginning But it can be chilli and windy on top. Kjerag weather can be very unpredictable so must carry rain-jackets and pants. Wear comfortable clothing, because you will be needed to use your legs and hands to max limit, So do not wear jeans or everyday clothing . As the trails are steep, slippery and at some points you need to pull yourself so you need a Good Hiking boots, preferably with ankle support.
Food and drinks- bring enough food and water both for whole hike.
Hike starts directly from Øygardsstøl parking. There are 3 steep uphill climbs🧗‍♀️during the trails, so your hike will be like Up and Down. In every uphill climb there are some places where you have to pull yourself with chain. it's necessary to be in good physical shape before you start the hike. If you completed first uphill climbing from parking then you are fit to go to kjeragbolten hehehehe . But don't think other uphills is going to be same as first one , they are even more steep and slippery but eventually you will manage . After last uphill hike , trail is plain till the bolten.
Kjeragbolten :- now pull yourself together and keep your legs calm and if you have vertigo/hight fear then try not look down, just climb to bolten see the person who is clicking your picture and come back. Do not rush, if you needed relax little bit before you go to bolten. Yay it's done ✅
Note : please zoom some photos to see the how steep the hills are , as phone camera doesn't show the actual depth.