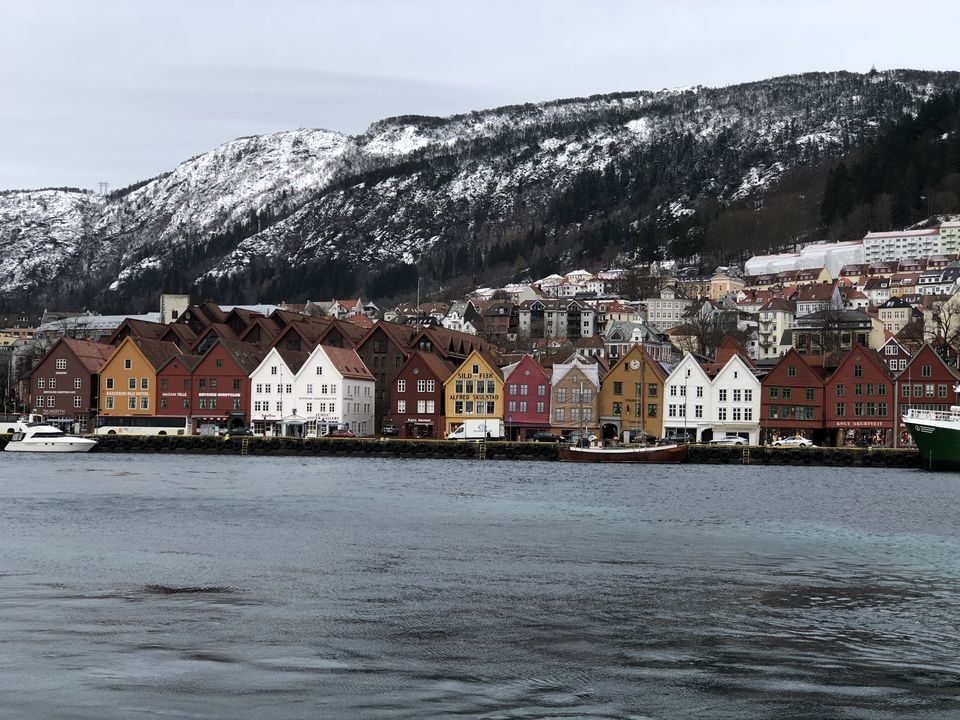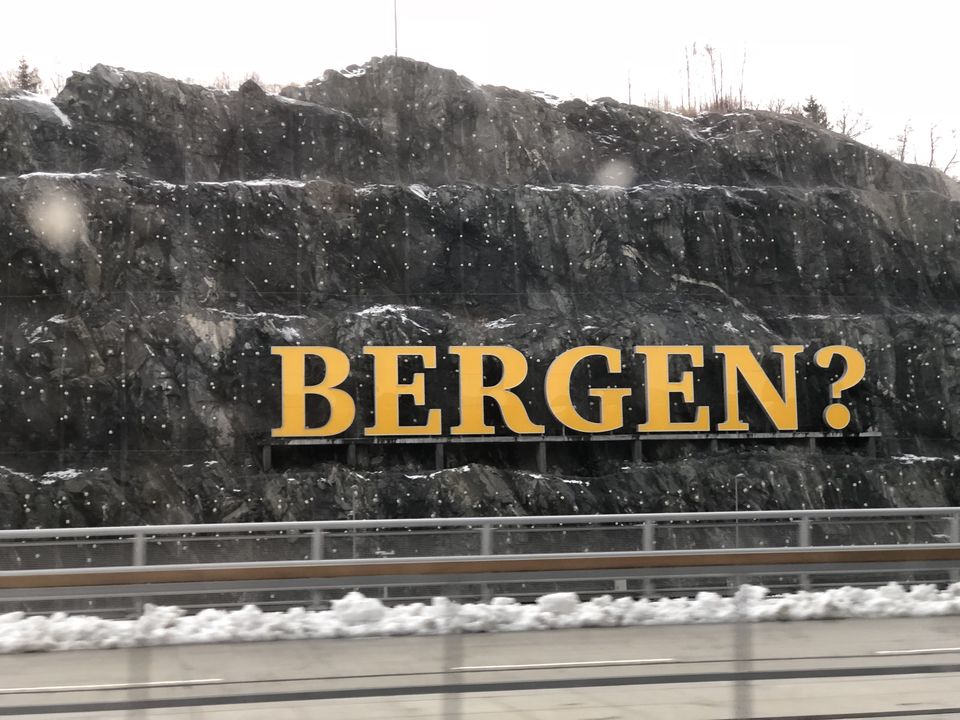 Why Sheldon Cooper is so crazy about trains?? Well! Even I found myself in so much love with our train journey from Oslo to Bergen. After spending 2 days in Oslo we headed to Bergen and chose train as our transport which turned out to be one of most pleasurable journeys of life so far. What we saw in whole journey was like a wonderland. We enjoyed snow caped mountains, small towns drowned in snow, white feather over almost everything with some colorful peaks of houses and other architectures, which looked like kids peeking out of home to see our train moving fast, stabbing thru these mountains. Train was nice with inside cafeteria filled with snacks, juices and other sweet perks. Seats were quite comfortable & huge windows give you proper view of outside so you don't miss anything at all. We only had one couple with two kids with us in same compartment, most probably locals going for skiing. Overall this 6-7 Hrs. journey was very quiet, scenic, luxurious & romantic as well when you have a beautiful company.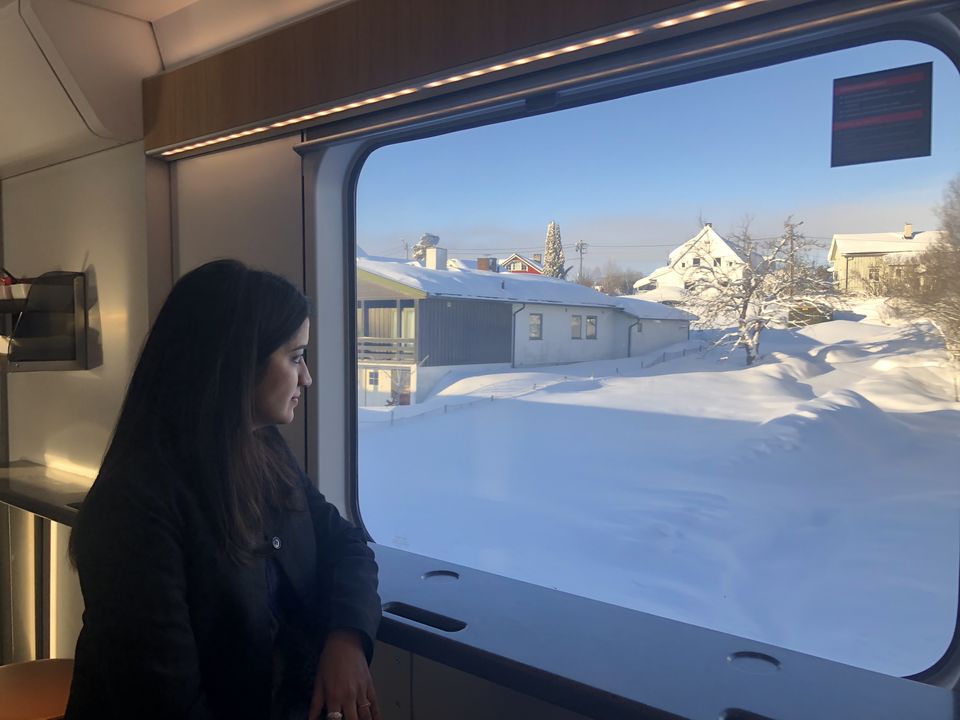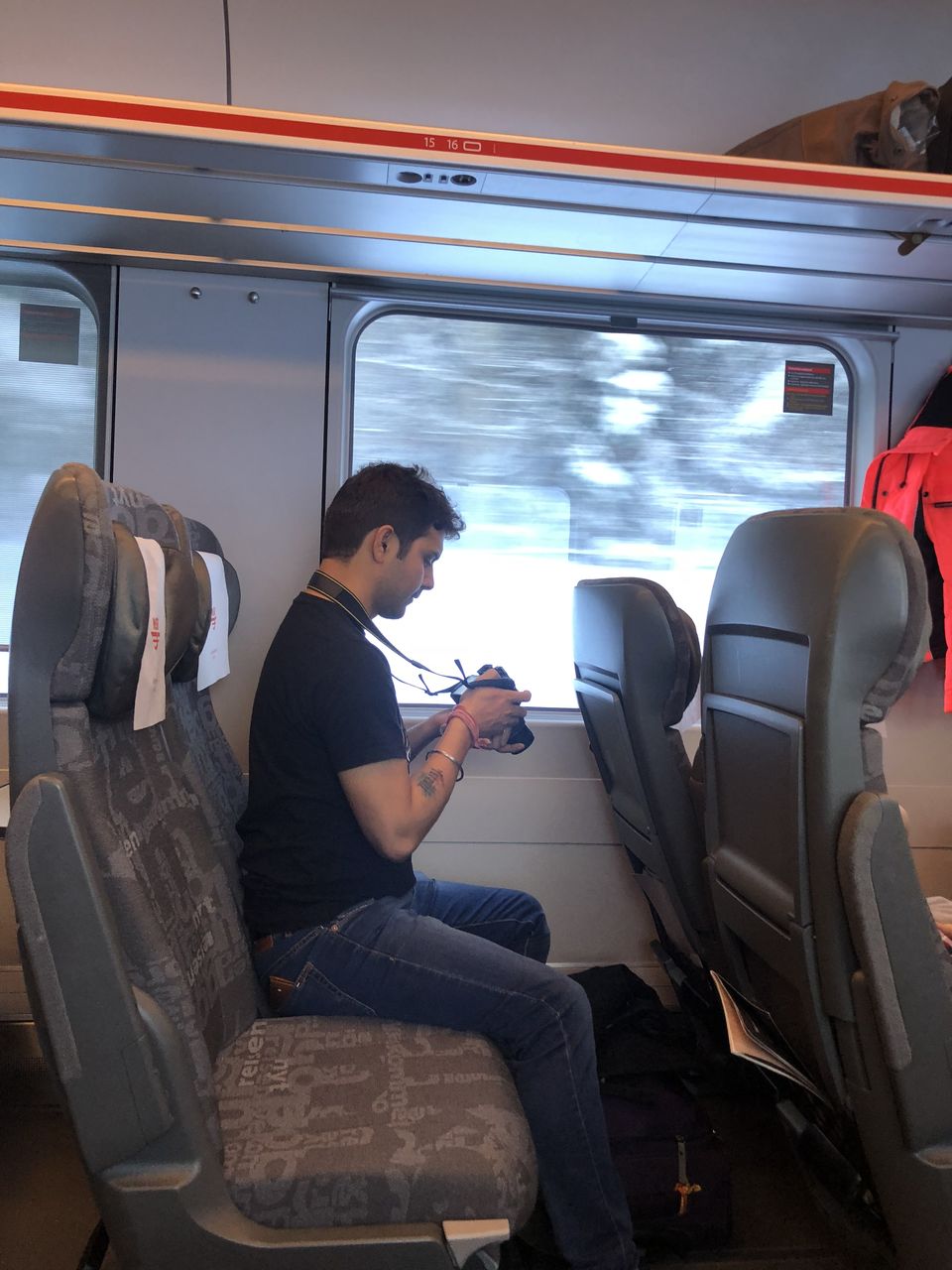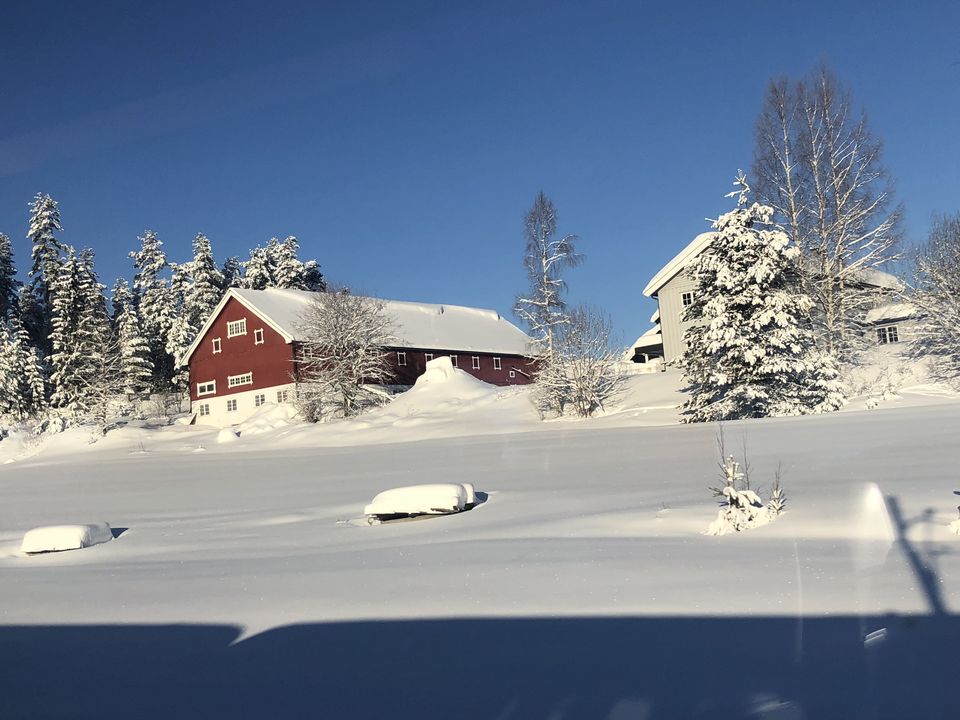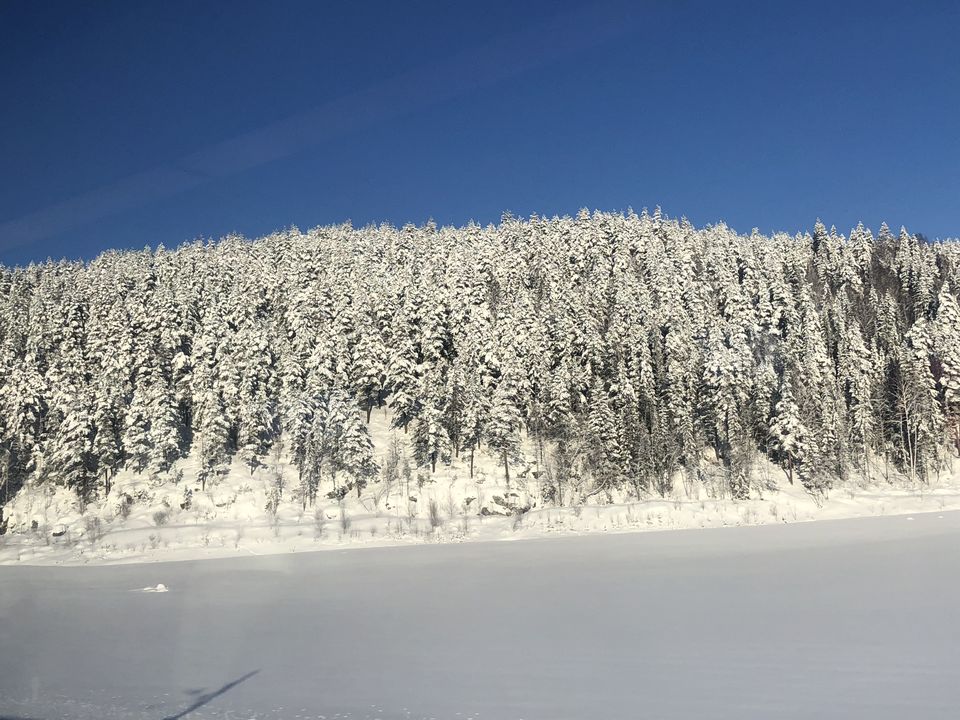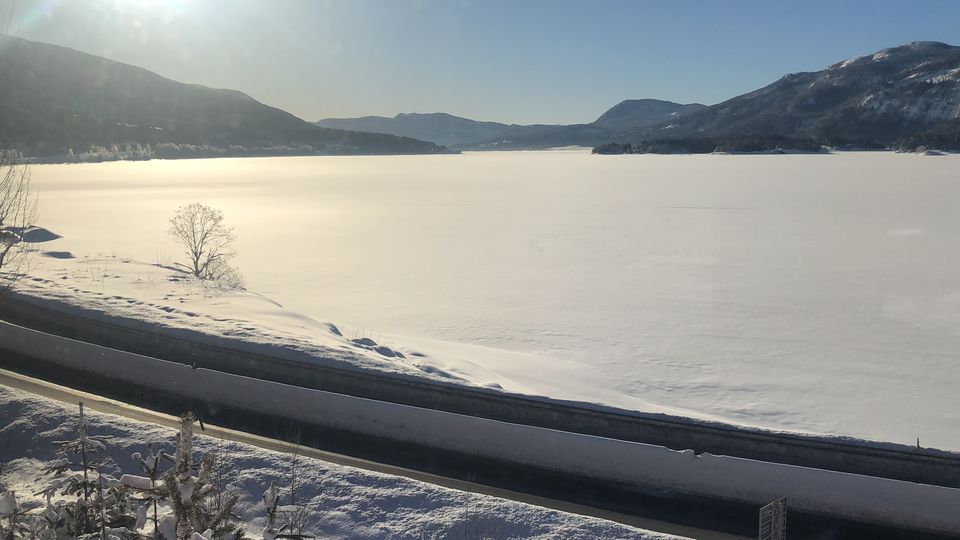 We reached Bergen station, which is situated within the city, in afternoon at around 2PM. Got couple of pics clicked and quickly rushed to our Comfort Hotel Holberg, situated at a walking distance from famous Bergen Harbor & Bryggen. It was very decent budget hotel on the second street from Bergen Harbor and around 2 kms from City Centre. This is the second largest city of Norway & we found it more beautiful than Oslo may be because it was quieter and we can relate it to the mountain villages we have been to. Both of us always liked mountain town than bigger cities. We had one and a half day to explore Bergen which was not enough but manageable to explore major attractions of this city. First thing that we decided was to have Indian lunch and visited this Punjabi restaurant on streets behind Bryggen. Believe me it was the most expensive meal we had till now & it had no taste at all; in short we regretted it the moment it arrived so we decided to not have Indian food throughout our travel in Norway.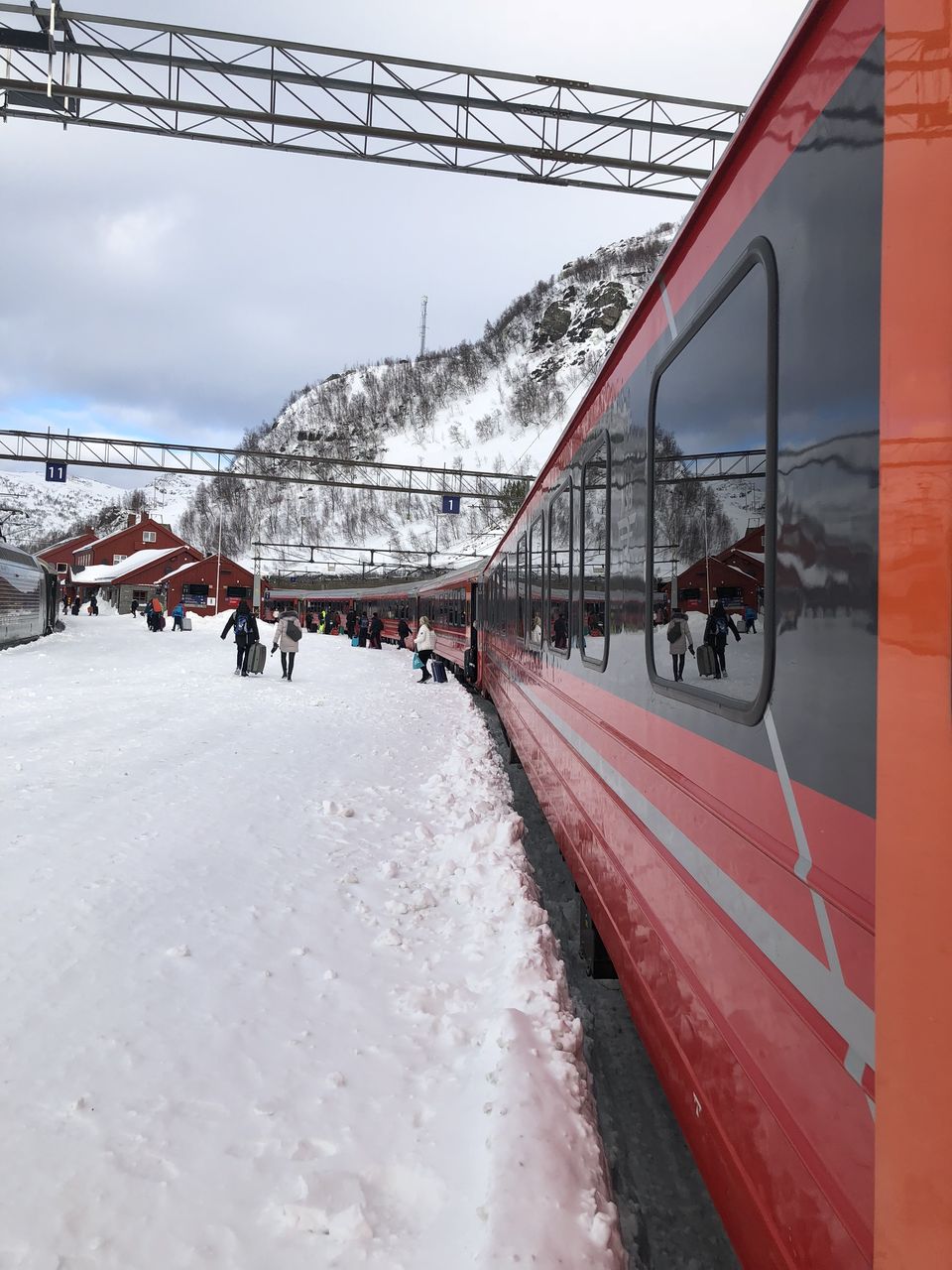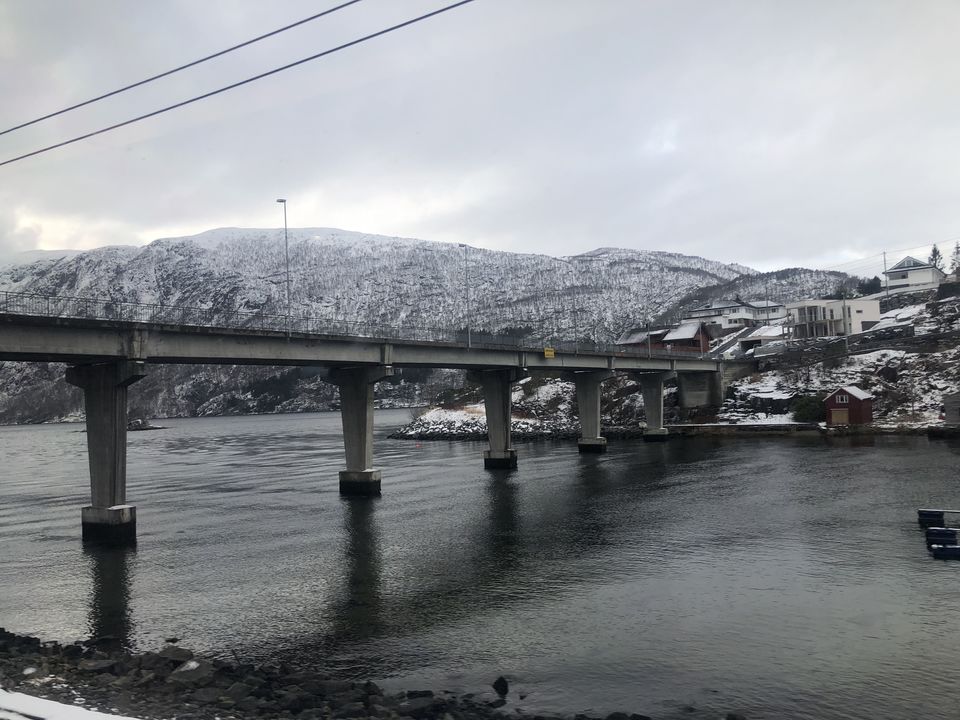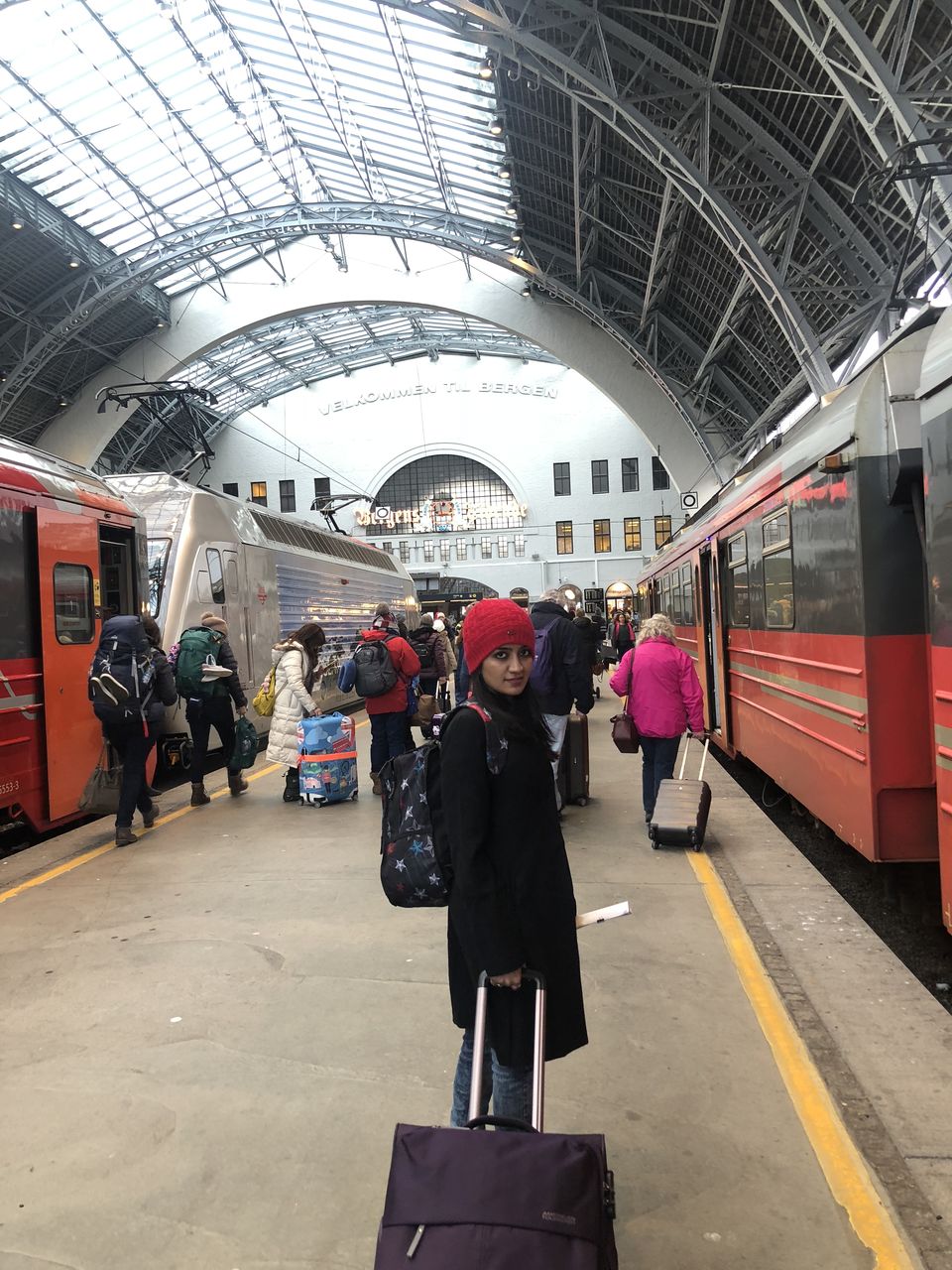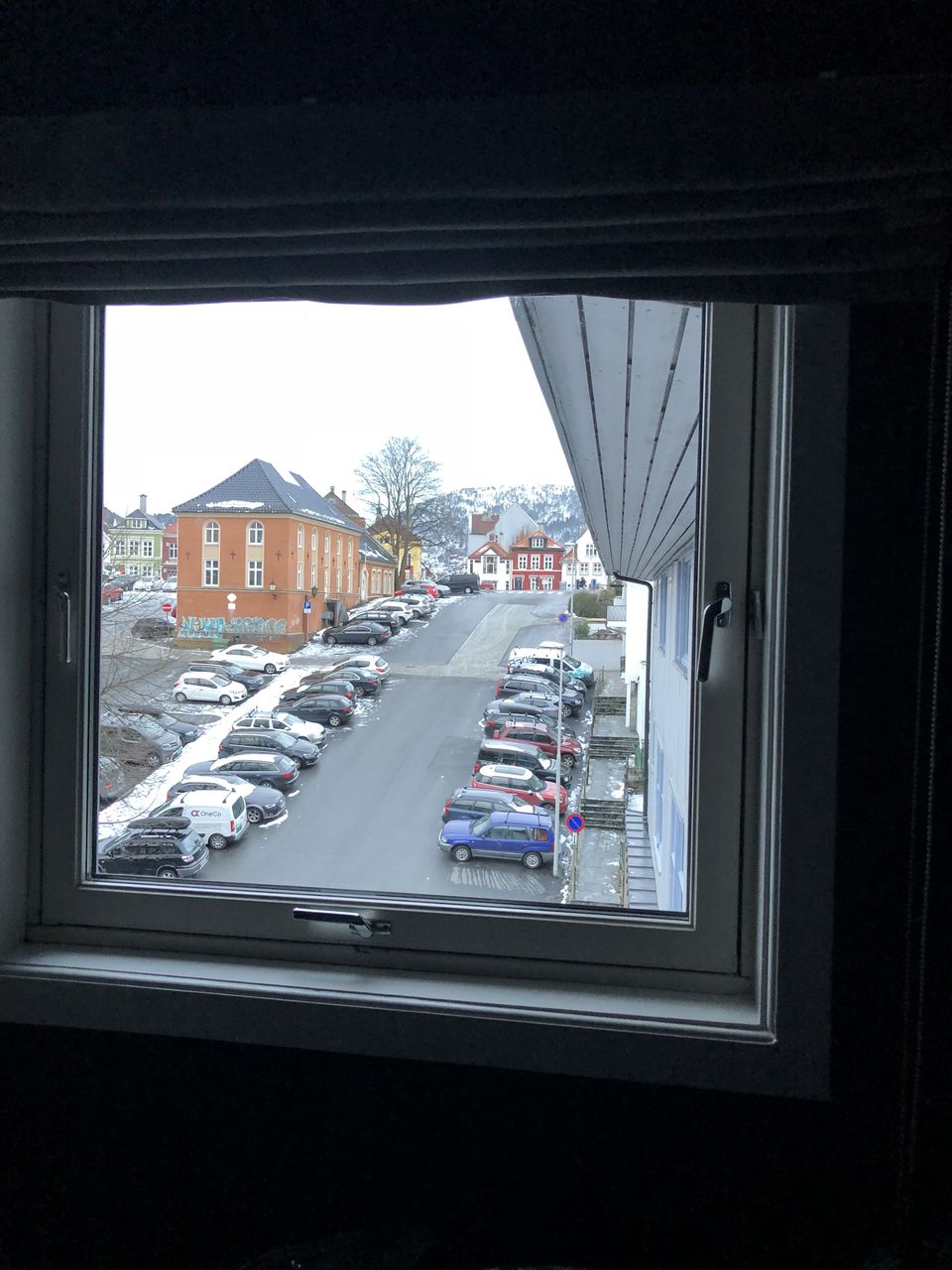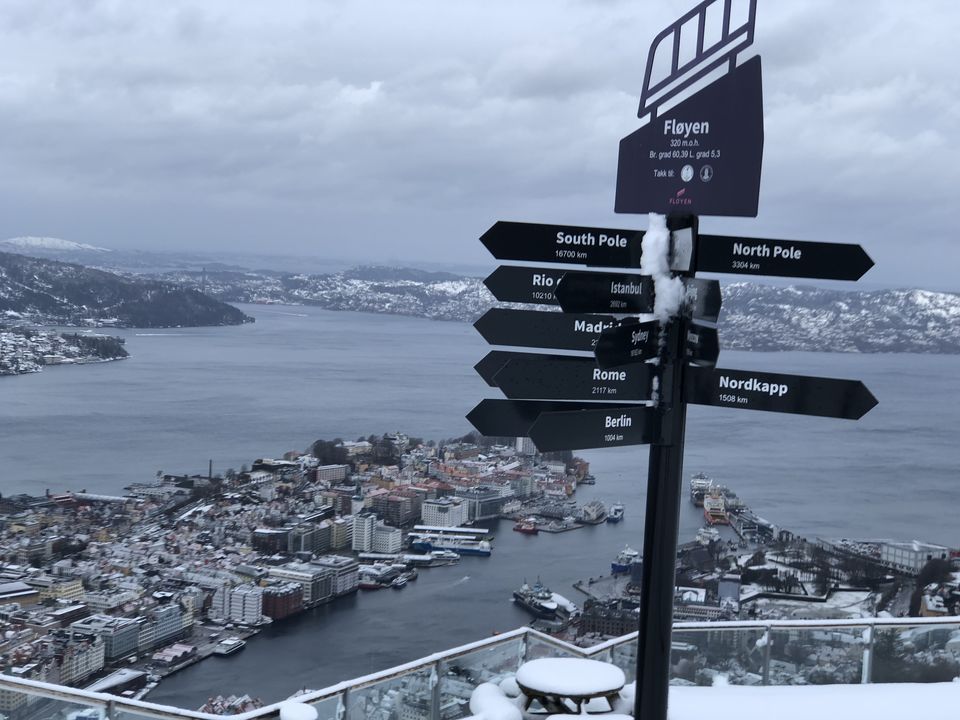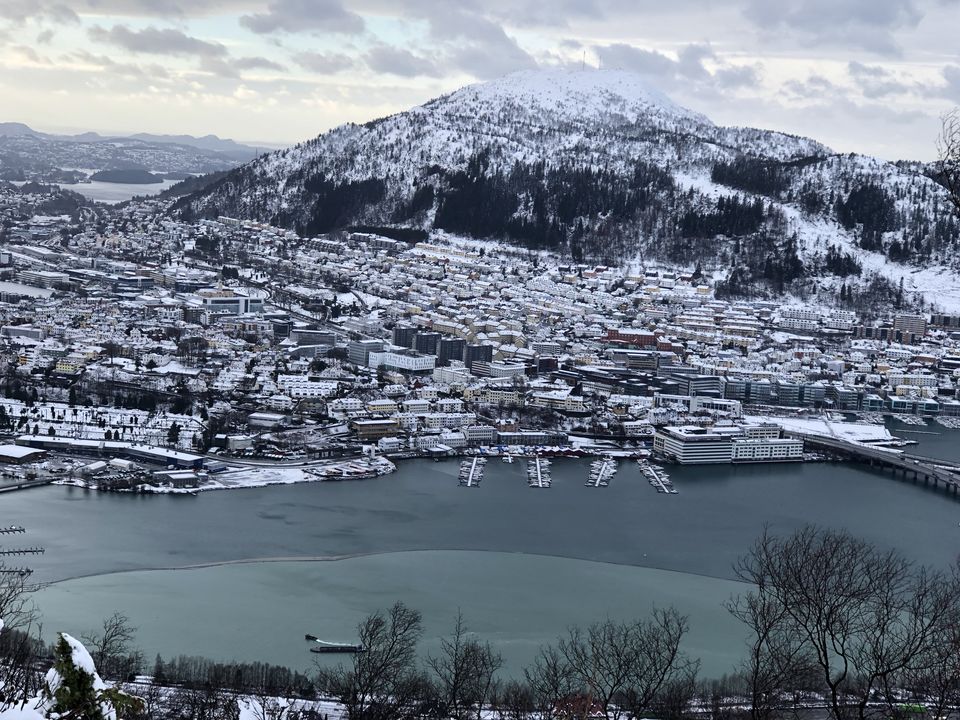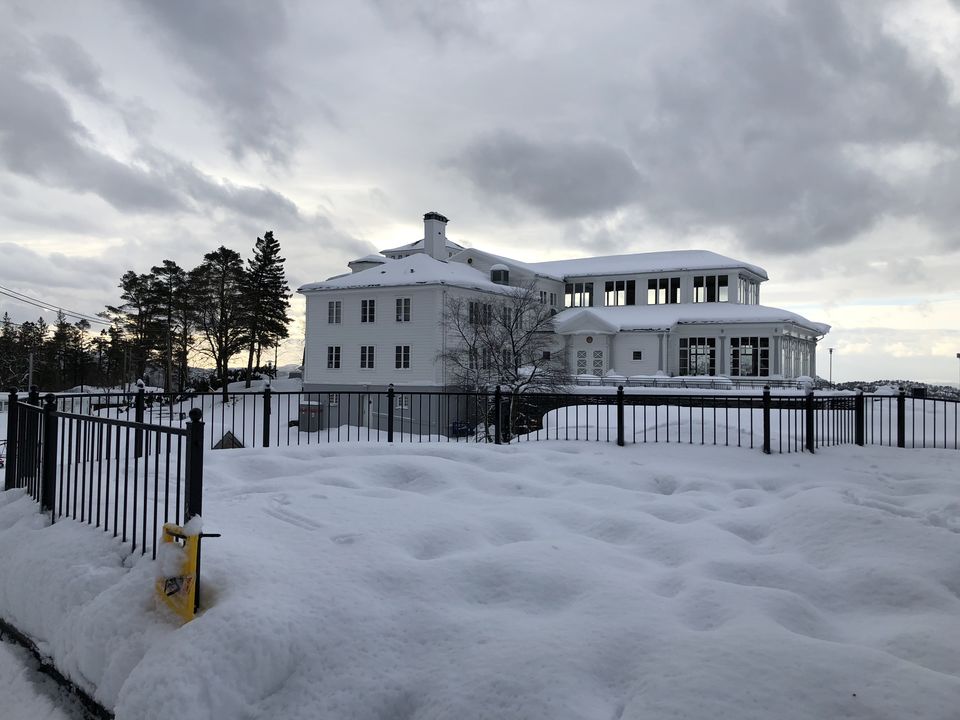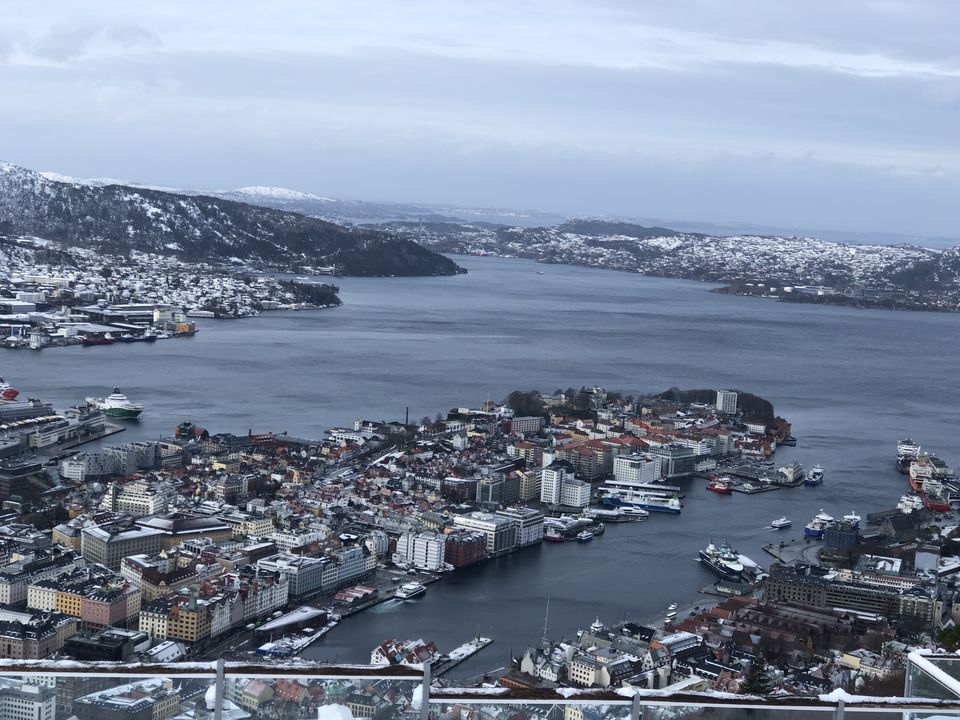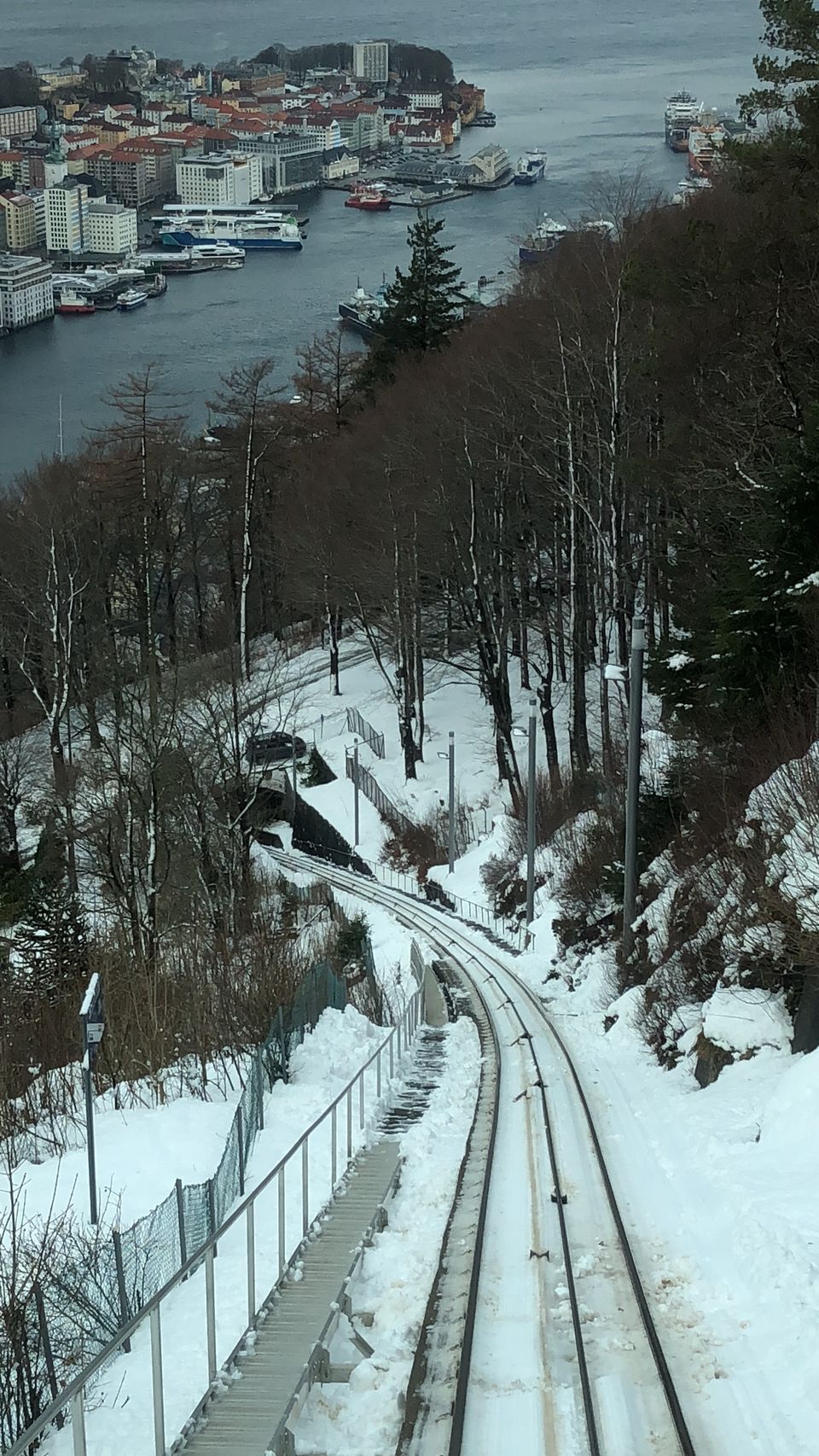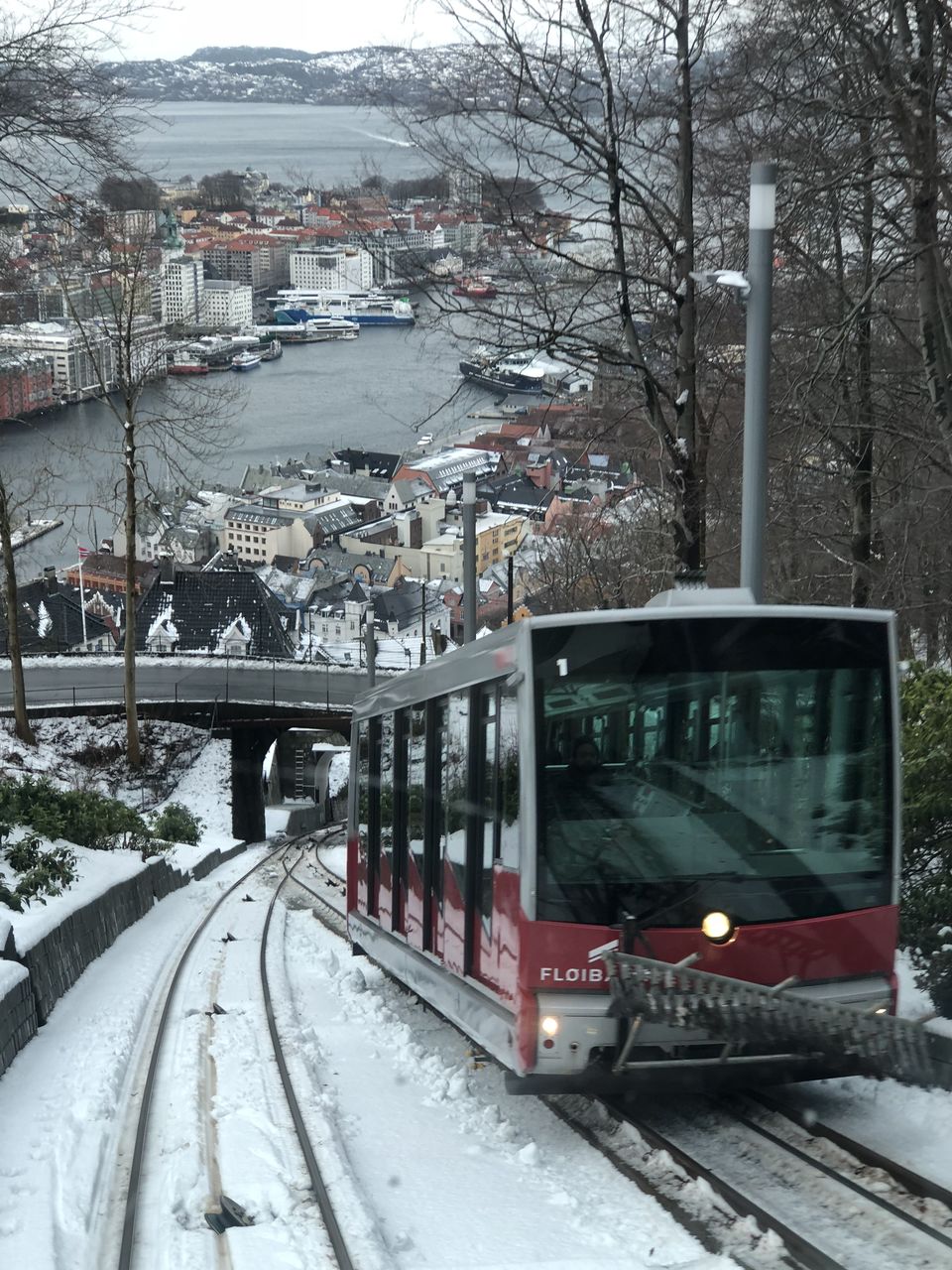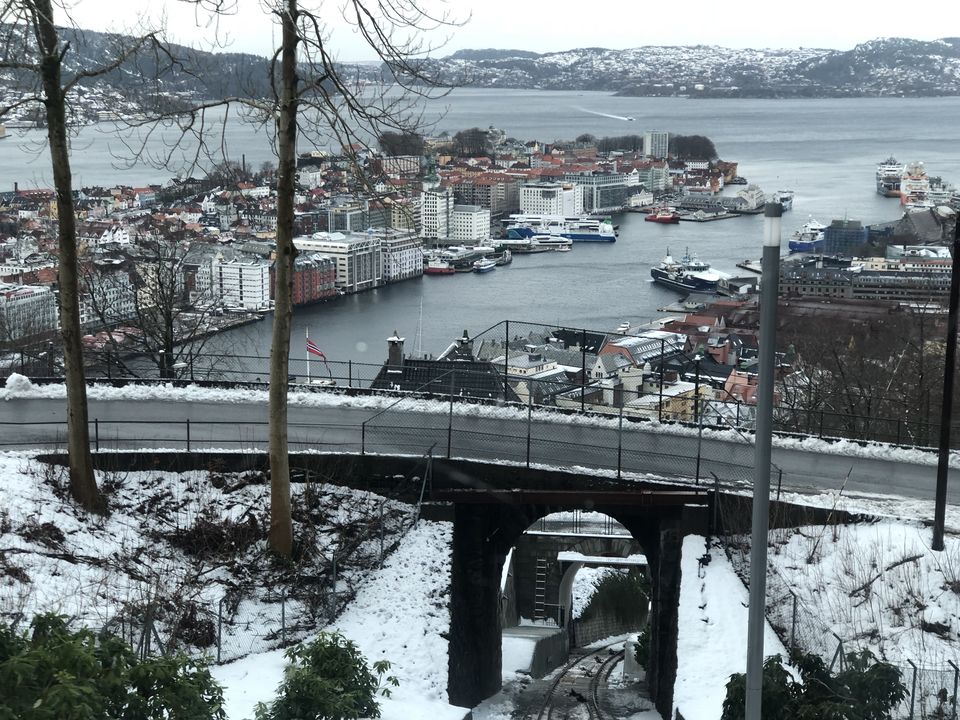 Next we had our Bergen Pass so decided to visit Mount Fløyen (Fløibanen funicular) first. Situated at 1300ft, this city mountain is connected with Bergen thru an 850 meter electric cable farnicular/train & It stops at 3 stations (Promsgate, Fjellveien and Skansemyren ) in between. Very strong chilling heavy winds were waiting for us once we reached on top; thankfully they got a small coffee plus souvenir shop. Make sure to sit in front seat of this cable car to get more view. Once you are at the top this place will give a perfect view of Bergen Harbor, Bryggen & almost everything on one side of city (including our hotel) With only couple of tourists and mountain fully covered deep in snow, we decided to trek backside of mountain so we can have proper view of other side of city. On our way we met the same people we had met on train working on clearing snow from the trek. All of them were in their 70s & were working voluntarily to keep it clean and easy for us after their retirements. We felt so grateful & touched with their generosity. Talked to few of them & shared couple of stories. Passing by these generation old great guys, we then saw dozens of kids having fun on the slopes of trek with their snow boards. Most of them looked same to us with same cuteness and both cheeks looking like two tomatoes….. Adorable. When we reached back side of mountain with a view of some long city bridge, it was hard for us to even walk in that strong & bone chilling wind so decided to head back towards city to kill our hunger again with some Mc'D burgers. We wanted to visit Mount Ulriken as well but that was closed due to bad weather- maybe next time. On the way back we roamed around city center, where shops were closed mostly so decided to have a tour of local train using our Bergen pass. We just boarded the train and stopped at different stations talked to few people and kept roaming around without any purpose…. Were just mapping the city in our mind. After a while when almost the whole city was inside their homes, we reached our hotel to have few drinks & sleep.
I am not an early morning person but when I am on travel I wake up early to use every minute I have for the place. After feeding ourselves well in breakfast we reached to the most famous and colorful place of the city- The Bryggen. These historical wooden structure buildings, also a world heritage site, delight you every step you go deep inside the wooden alleys. In these buildings, you will find cafes, restaurants, museums, hand woven clothes shops and many local artifacts shops showing the history & culture of this place. A good place to start your local shopping spree. Once done we took a bus towards Bergen Aquarium, which is also the largest aquarium in Norway and has its own feed feeding timings for tourists where you can be part of a great experience guided by local caretakers of aquarium. I had such an experience feeding a full grown crocodile and believe me the powerful thrust I felt on the feeding rod while feeding this beast, took me by surprise totally. You can also enjoy playing with penguins and seals here. There are so many varieties of snakes and other animals here which will take you hours to explore if you are an animal lover. After that we visited Hansetic and Edward Gieg Museum- quite a place we can say.
Time to go to our Hotel after exploring almost whole city by walk. We had to catch our flight to Tromso in the morning for the most awaited gem of our trip- The Northern Lights. But Bergen is definitely one of the places where I can think about spending the life time. Cheers to Bergen.
Just few tips- Don't forget to take Bergen Pass. Most of the places you can explore by feet or cycle.
Don't wait for evening to explore as mostly things are closed in winters.
Follow to find the adventure of Northern Lights in Vikings & Fjords III (Tromso).