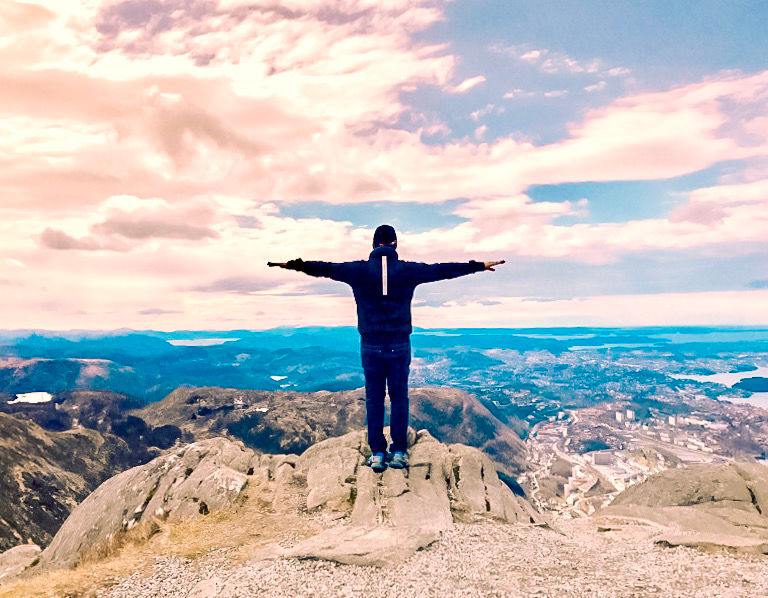 Bergen is a compact city nestled between mountains. Bergen's centre is filled with historical brick and wooden buildings, winding cobblestone streets, a huge central park, Gothic churches, and little squares. Bergen is rich in scenery and amazing things/attractions to do. In the harbour, there is a fish market where you can eat some of the best fish in the country and visit some of the most beautiful, UNESCO heritage - fjords of the world.
Must-do things in Bergen:
1. Visit the mountains:
Bergen is surrounded by seven mountains and a visit to one of the mountains is a must! Take the funicular up to the top of Mount Fløyen and enjoy the great view of Bergen and the surrounding area. The large viewpoint is the best spot for taking panoramic pictures of the city. There is also a number of nice trails and paths for hiking. The highest mountain (Urliken) can be reached with Ulriken Cable Car just outside the city center.
2. Visit Bryggen:
Bryggen ("wharf" in Norwegian) is one of the oldest parts of Bergen and consists of beautiful 14th-century Hanseatic League's trading Empire, including some of the few remaining wooden structures. There are a lot of narrow alleys and pathways to wander around. Most of the buildings are tourist shops, and much of the woodwork is original and it's pretty amazing to look at. This area inspired the city of Arrendelle in Frozen and is just beyond charming.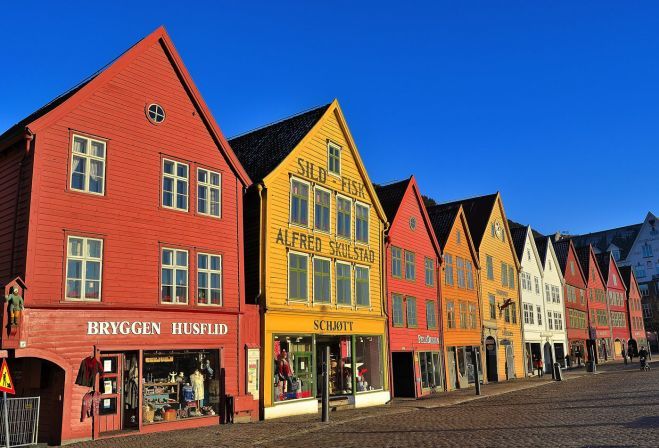 3. Visit Bergen's Fish Market:
Bergen's fish market is a culinary treat. Located right downtown on the wharf, it's easy to visit. There are vendors there all day, though you'll find more in the morning. Take advantage of the vendors who are more than happy to give out free samples if you just want a taste. Make sure you try the salmon and caviar. We tried some amazing Fish and Chips and Prawns dish at " Fish Me " restaurant right next to the fish market.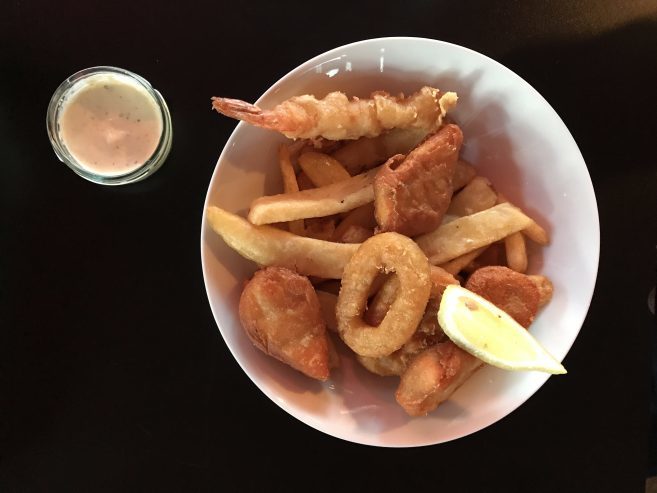 4. Explore the beautiful Norwegian Fjords:
Bergen itself sits in a fjord, but it would be a shame to come to the west coast of Norway and not take a boat through one of Norway's most picturesque fjords, many of which are within day-trip distance of the city. Depending on whether you have only three days in Bergen or have some more wiggle room in your schedule, you have two options for seeing fjords from Bergen. The easiest and cheapest one (550 NOK, or about $65 per person as of January 2017) starts near Bergen's fish market and explores the stunning Osterfjorden for about four hours during the day ( for more information) and the other one (recommended) is to opt for Norway in a Nutshell tour.
You can find more details about Norway in Nutshell tour and enjoy some secret tips to get perfect scenic views during the journey in our blog: Norway in Nutshell tour and Flam - Heart of Norway in Nutshell tour!
Things to know before travelling to Bergen:
Bergen is also famous for getting 270 days of rain per year. Make sure to check the weather forecast before planning a trip! We were lucky enough to get beautiful clear sky and bright sunny day around Bergen and we really loved it. Bergen is a fun place, with a lot of history and great food.
In Hordaland County, the public transport details are not synced with google maps. Hence, the best way to travel within the city is by Foot else you can opt for Bergen card which gives access to lot of attractions and activities along with all travel options. And if you do not wish to do all the activities and attractions you can also buy a regular 24 hour travel pass and get access to all the routes and details about the transport by downloading SKYSS-official App available at App Store or Play Store. for more information.
How to Save Money (Norway being the expensive country):
Norway is notoriously expensive. As baseline prices go, coffees are a good 1-2 Euro more than they would be anywhere else in Europe with alcohol at 4+ Euro excess. This is where you plan well and buy some beers in duty-free or carry from your home country.
Our choice: Clarion Collection Hotel Havnekontoret - This Nordic Choice Hotel is right on the water, and has a delicious breakfast. We were luck to get an amazing deal at booking.com and we really enjoyed this hotel. !
One of your biggest travel expenses and time-consuming tasks is booking accommodation, and we all want to save time and hopefully some money when searching for deals online.
Whilst there are plenty of websites these days to help you search for accommodation, some are more trustworthy than others, and some are easier to navigate than others.
1. Choice Hotels:
Choice Hotels, are proud to help you find hotels that make it possible for you to connect with the people who matter most. Whether you are seeking leisure or business hotels, around the globe, with more than 6,400 hotels in over 35 countries and territories their hotels are never far from where you need to be. These are best choice to save money and get to live in some beautiful style hotels!
Explore more about Choice Hotels and Book Today!
2. Booking.com:
I'm sure you are already familiar with , they are my all time favourite with lot of different types of accommodation you can book on their website: , ,, Villas,and
In my opinion, not only are they are the best hotel booking site, but the best accommodation website.
3. AirBnb:
It is an online marketplace and hospitality service, enabling people to list or rent short-term lodging including vacation rentals, apartment rentals, homestays, hostel beds, or hotel rooms.
Unforgettable trips start with Airbnb.
now and earn a discount coupon for your first booking.
As we found that the flight from Budapest to Bergen was reasonable at , we did not hesitate even once to book our flights instantly. Click here to book your flight or car rentals for anywhere in the world!
Norway in Nutshell tour , Exploration to the Norways most spectacular Fjords. , perfect place to enjoy one the most scenic train journeys of the world: Flåmsbana Railway.Disclaimer: This post contains affiliate links, which means I receive a small compensation if you make purchase using these links. However, it will cost you exactly same or sometimes less. This money goes towards maintaining the website.