...and gazing over from the World's End!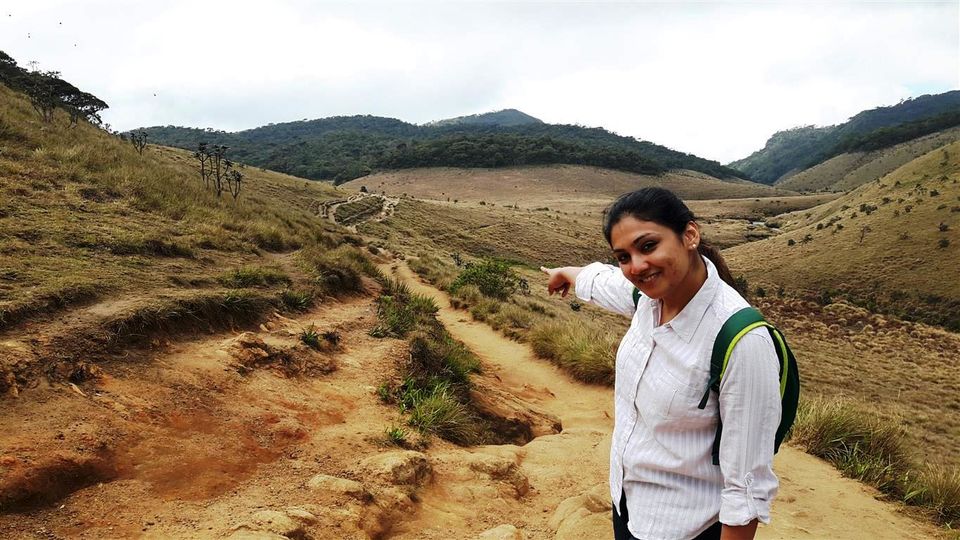 Foggy mornings, misty days, a vast expanse of montane grasslands, narrow unspoilt nature trails, water cascading down the huge rocks, silence of the forest, whispers of winds, and the exhilarating views of panoramic landscape from the edge of a cliff – experience all this in one day at one place – the Horton Plains National Park!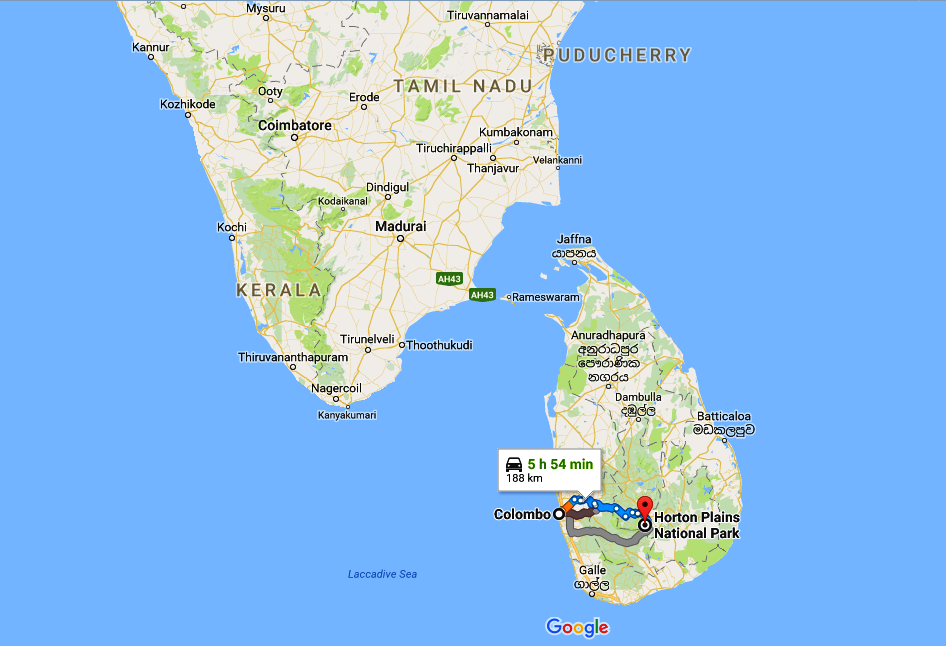 I had reserved the second day of my stay in the beautiful city Nuwara Eliya for a walk through the Horton Plains National Park. Located in the central highlands of Sri Lanka, the Horton Plains features on the list of UNESCO World Heritage Sites. It is a must-visit place if you happen to be in or around Nuwara Eliya. I stayed at a posh bungalow Gregory Lake Inn (their Facebook page), which is available at a budget price. The stay is comfortable, food served is tasty, the views are beautiful and the owner Sajith Mendis is very kind and cooperative.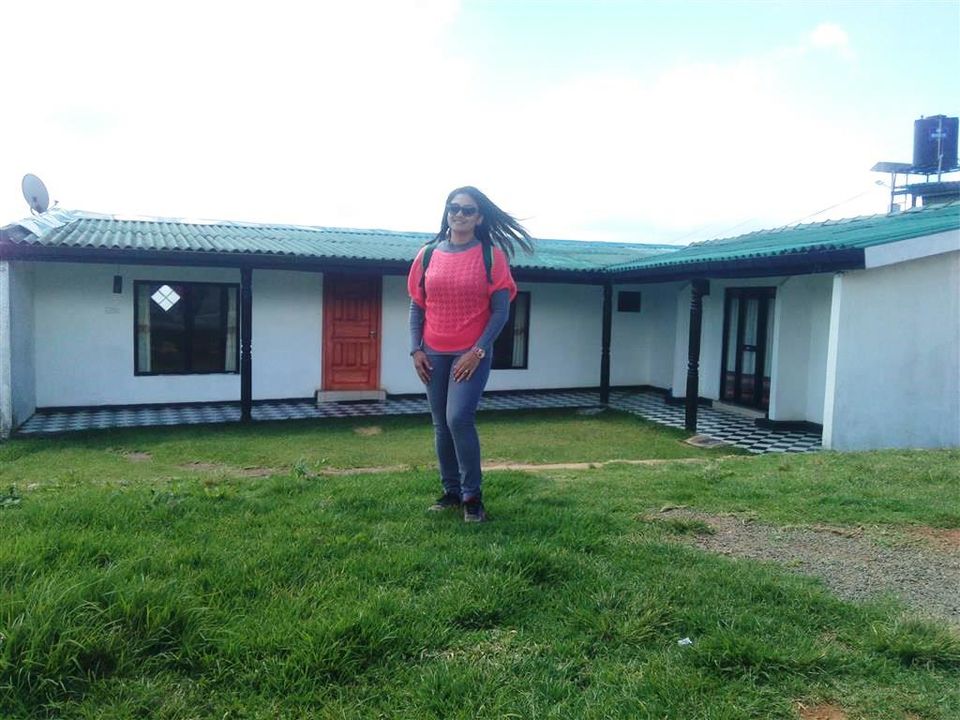 I started from Nuwara Eliya at around 9 am in an autorickshaw (locally called "tuk tuk"). Traveling in a tuk tuk is fun and economical. The road to Horton Plains is uncrowded, and at times you are the only one on the road. As it was a foggy morning with sudden showers, I could not enjoy the sights along the road.
Thanks to poor visibility, I reached the Horton Plains in two hours. At the entry gate of the Horton Plains you are supposed to buy entry ticket (It is hefty for non-Sri Lankans) and pay for vehicle parking. It cost me around Sri Lankan Rupees 3500/- for one person into the forest and tuk tuk parking. My tuk tuk driver, a very sincere guy, Upali stayed in his tuk tuk as I ventured out inside the park.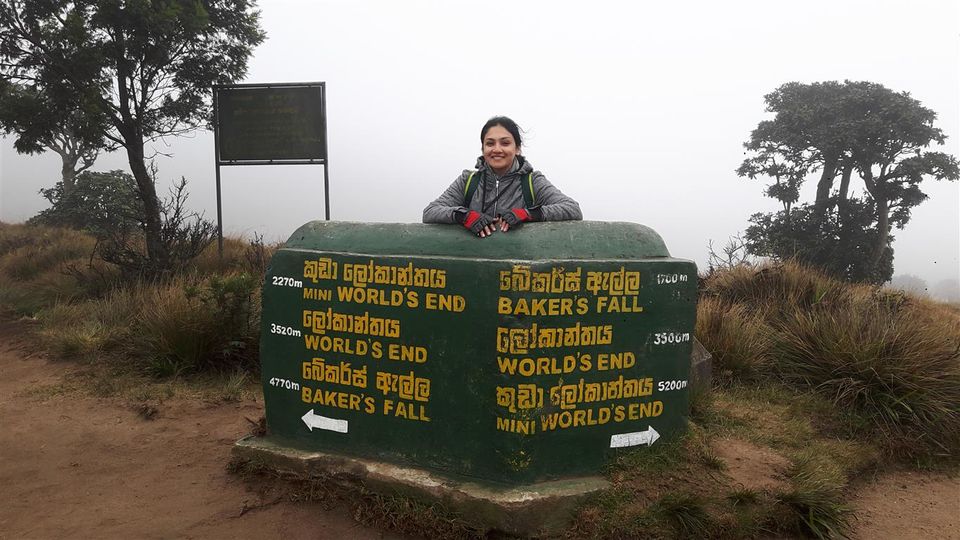 There is a quick check of your belongings. You are not permitted to carry polythene bags or inflammables (matchsticks, lighters). Smoking is prohibited and punishable. You are allowed to carry water bottles (not plastic ones), snacks/lunch, cell phones, and cameras at no extra fee; remember, there no charging points in the park :)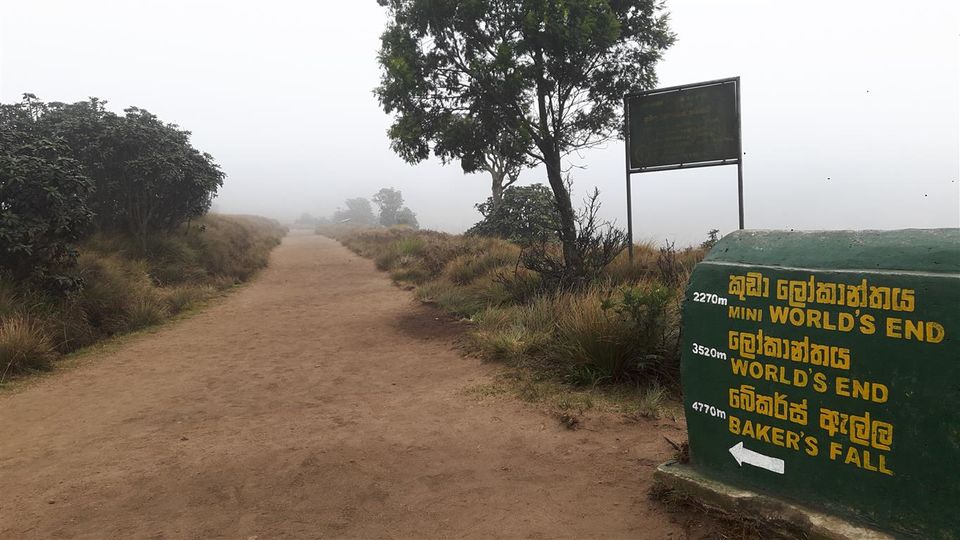 The park is open from 6 am to 6 pm. People from around the world are seen here. Some tourists were seen returning from the trek, perhaps they reached here at the crack of dawn. I wonder if they were able to see the beautiful landscape as it was completely dark until 8 am and then a thick cover of fog until 12 pm.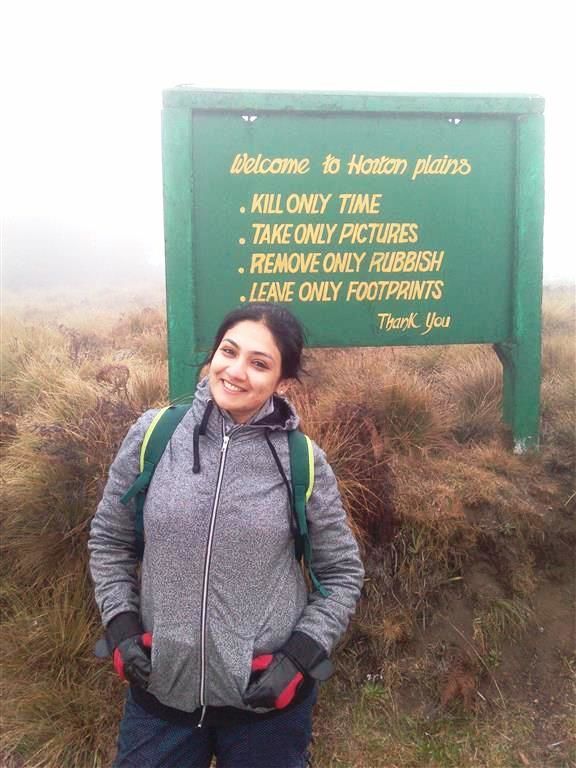 The Horton Plains National Park is a plateau (not mountain) situated at around 7500 feet. You don't have to climb, rather keep walking; enjoying the beauty of Mother Nature. The weather was absolutely exciting despite the fact that the dense fog was blocking the views.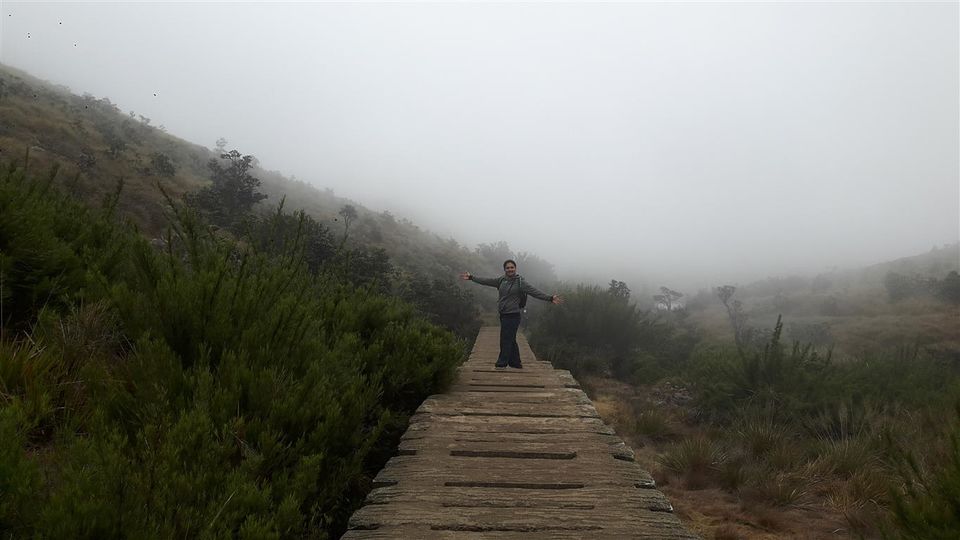 Once you start walking, there are no sign boards. There is only a trail which will lead you to the world famous sights located inside the park. You can surely greet the fellow trekkers from different countries who cross the roads. You can have a quick chat with them. Most of the conversations are like, "Hello, I'm from India, where are you from?", "How much distance more?" :)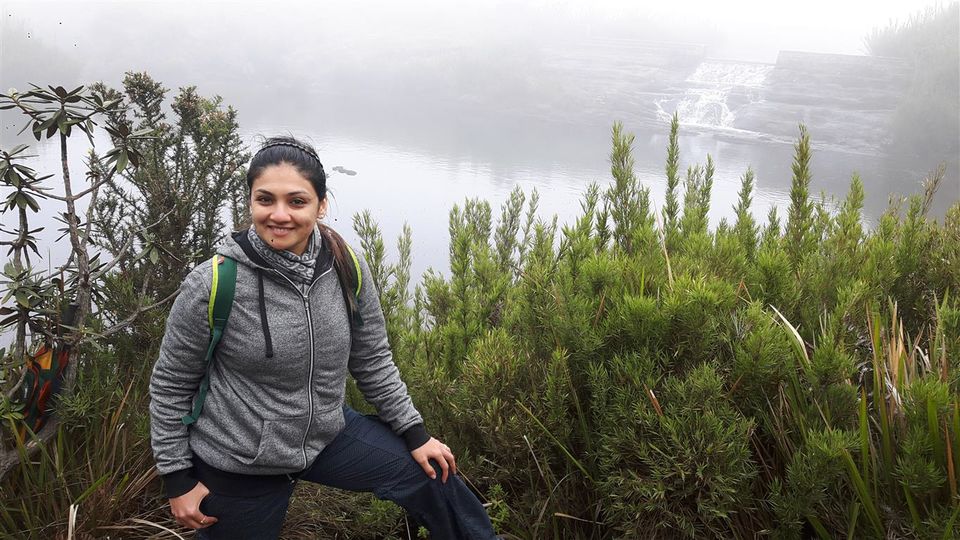 Keep walking and you will come across a small waterfall (above pic). The Horton Plains receives rainfall throughout the year. It also serves as an important catchment area for major rivers of Sri Lanka. Thus, ecologically, the Horton Plains is a very important place. A variety of flora and fauna is endemic to this region.
Again, keep walking. There are surprises all along the way just like a rivulet which made a pond here (below photo). The water is crystal clear, but don't jump into it. Since it is a rainy place, a variety of snakes must be living here peacefully. Don't disturb their peace; they will destroy yours!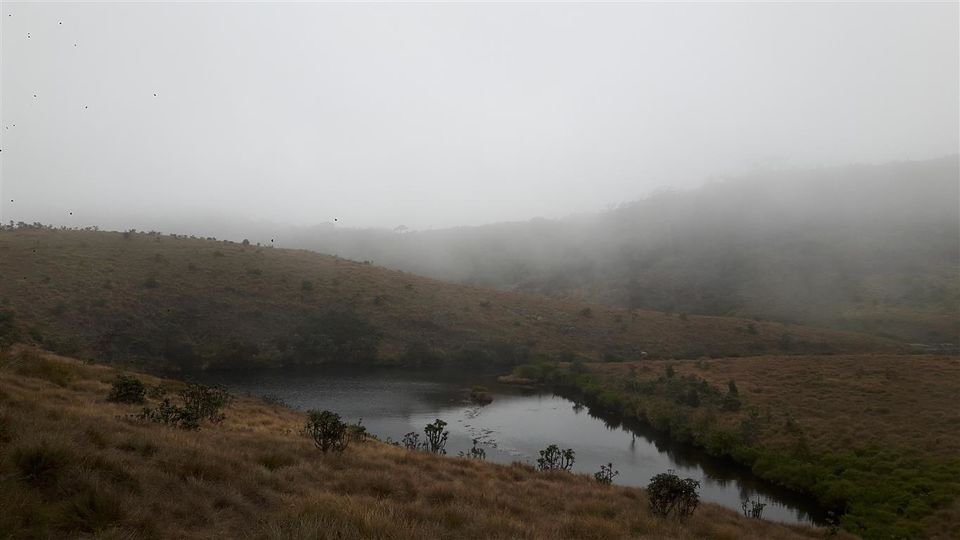 It was worrying to see this type (in above pic) of weather at 1 pm for a solo traveller. There are no cell phone signals anywhere in the Horton Plains. I had nothing to shelter in an event of heavy rainfall except for an umbrella given by Upali, my tuk tuk driver. I prayed for a better weather. And, in a few minutes, it all changed.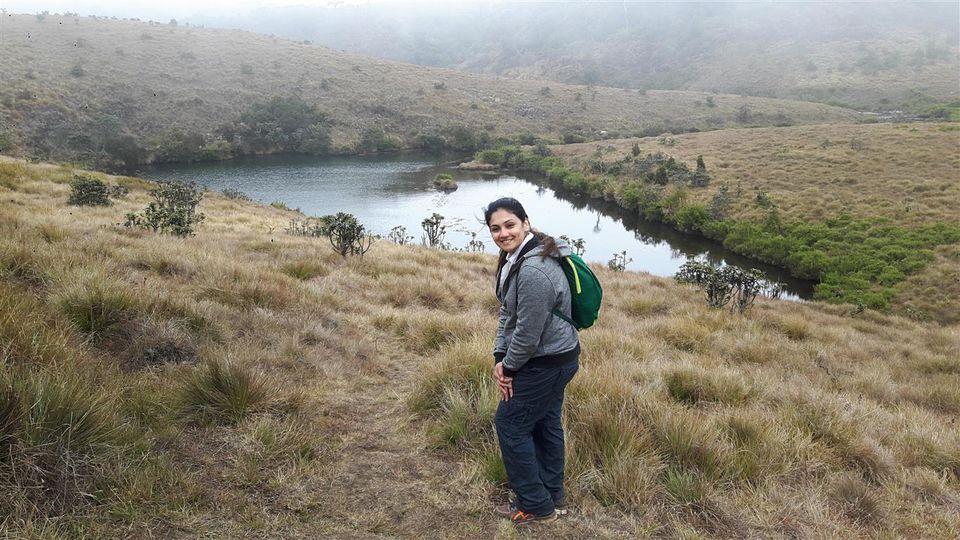 The geography of Sri Lanka is interesting. A small island close to the equator, Sri Lanka receives good amount of sunlight throughout the year and thus frequent rainfalls due its proximity to oceans. From the low-lying areas of the necklace-shaped coastline to around 8000 ft in the Central Highlands, Sri Lanka has got an uneven topography.
At around 1:30 pm, I found a cemented porch where I had lunch. I carried a packed lunchbox from my accommodation at Gregory Lake Inn. Weather was getting clearer. Warm winds were clearing the fog. This National Park is open to walk because the the wildlife here isn't that "wild"! It has a good population of sambar deer. Squirrels, mongoose, monkeys, and langurs are found here. Sighting of animals is not guaranteed. It depends on their mood if they want to come and see you! There are no elephants, no tigers, no lions, and no cheetahs! Large number of bird species is also found, but who will fly on a foggy day? Reptiles are also found in large numbers owing to grassy vegetation, perennial rainfall, and wet weather conditions.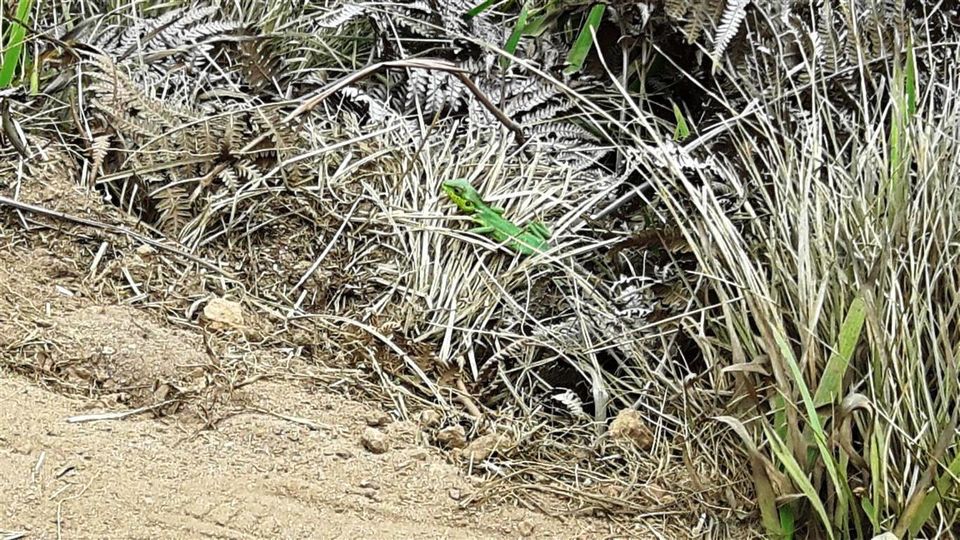 Keep walking! After some distance you walk down steep to a place covered with tall trees – typical for a subtropical montane-evergreen forests. A signboard will direct you towards the "Baker's Falls". Named after a British explore, this fall is around 70 feet high. Gallons of water falls down the huge rocks.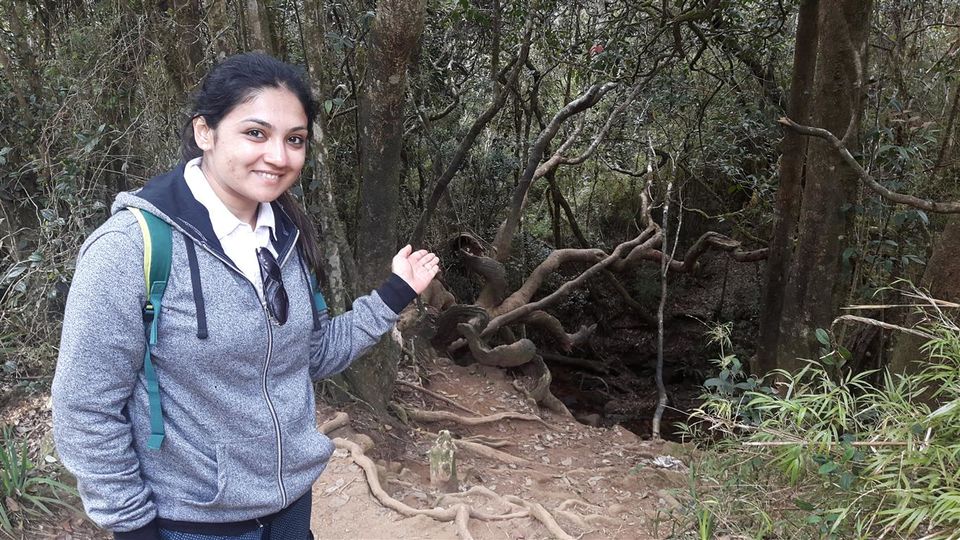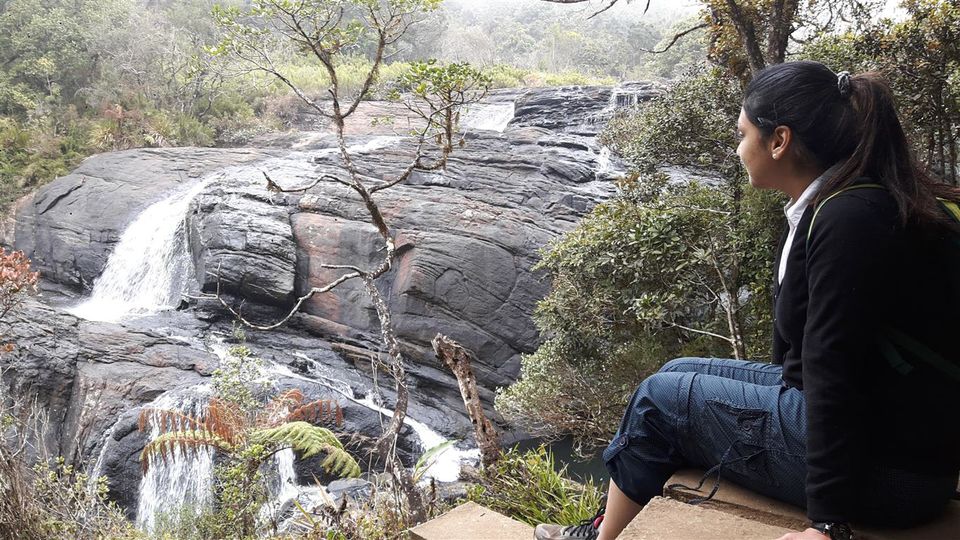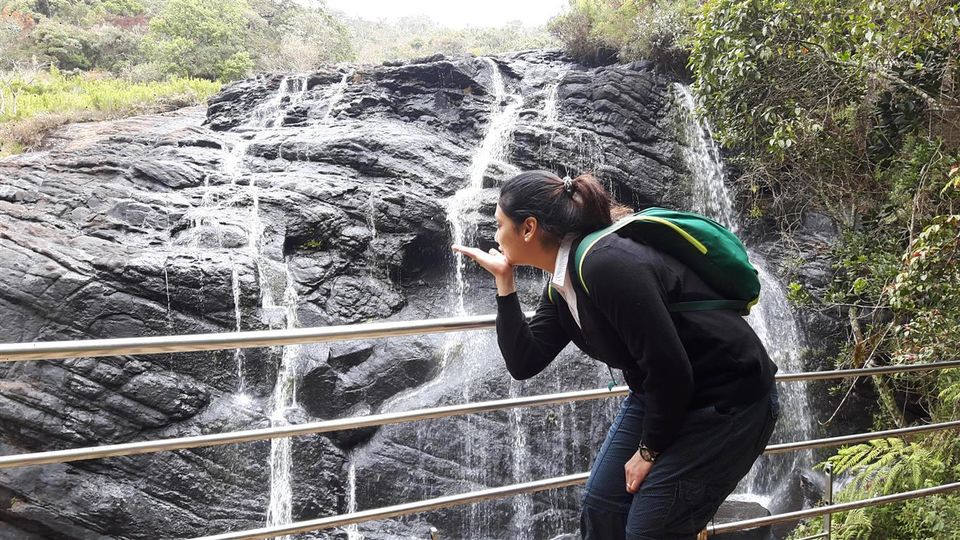 Watch video of Baker's Falls by me, click here.

Keep walking. I had only completed one-fourth of my trek. More exciting views are ahead. The trail is a full circle. Trekkers who start from the other end get to see Baker's Falls in the last lap of their trek.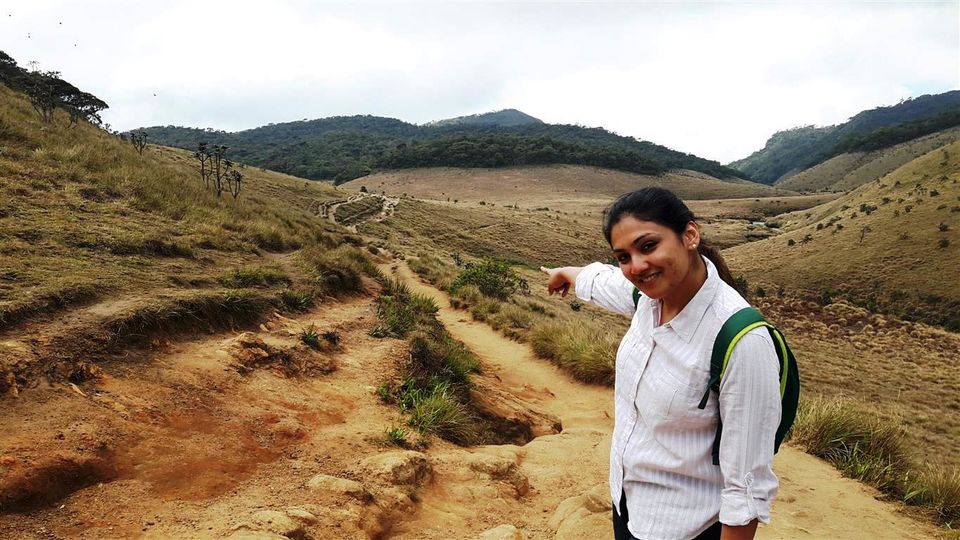 Keep walking. Enjoy the beauty of the place. Take deep breaths. Observe the landscape. Watch the dance of fleeting clouds. Take as many photos. You can even shout your name loud to experiment if it echoes!
After walking a few more miles, you see a sign board which reads, "World's End". Well, neither it is the end of world, nor the end of Sri Lanka's mainland. It is a vantage point, a precipice with a sudden drop of 2854 feet. A place like no other!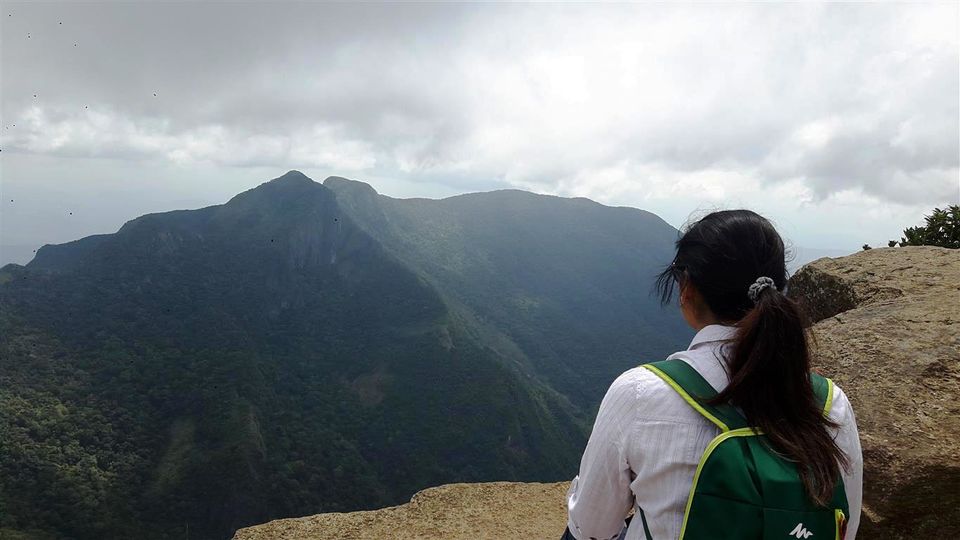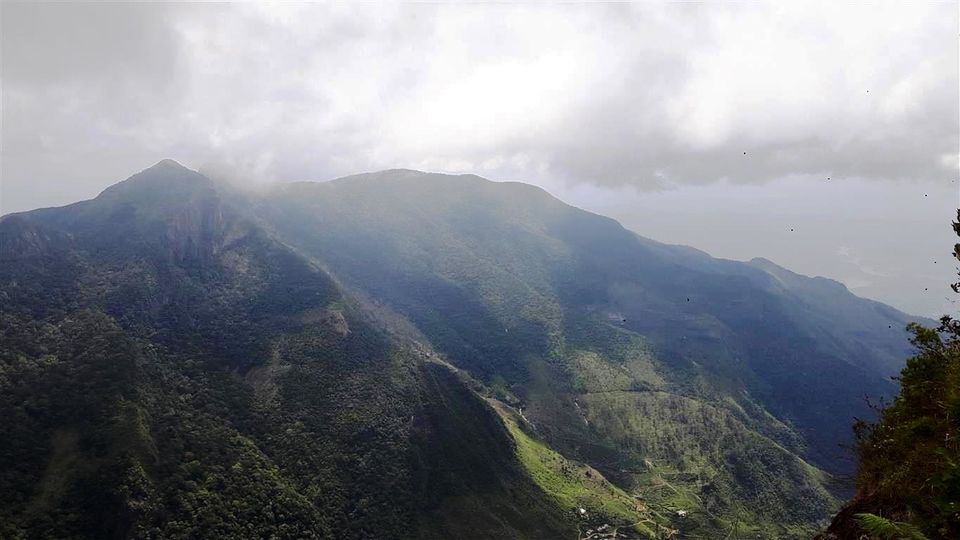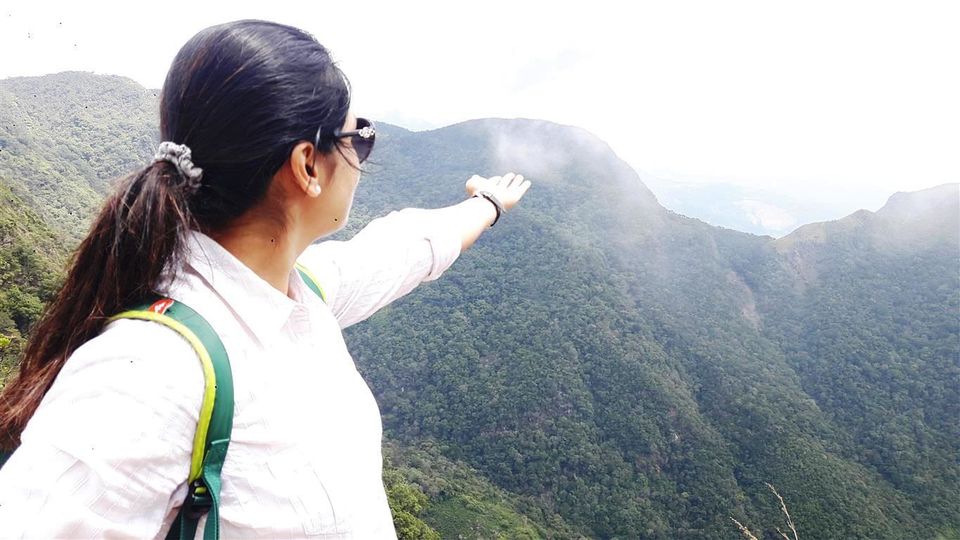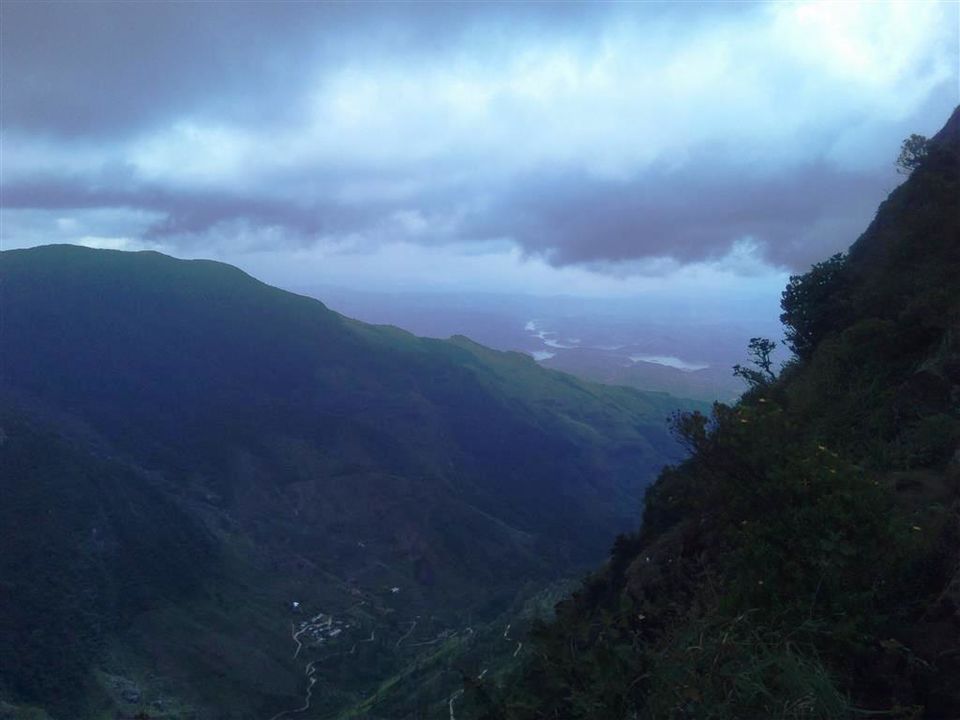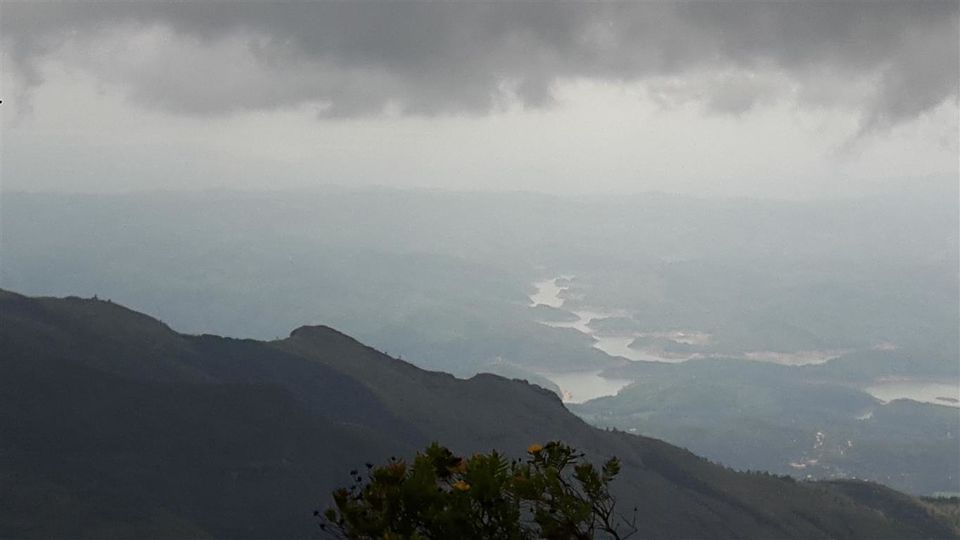 Perfect spot for photography, you can some spend time at "World's End" watching the panoramic scenery. I had another round of snacks here. No shops or tea stalls are available inside.
Again, keep walking. After a short distance, there is another similar spot called "mini World's End", which is not as magnificent as the "World's End", but it is beautiful in its own right.

Keep walking. You experience change in the settings. Now you enter a zone which has tall trees that have canopied the trails. Arboreal animals like the giant squirrels and monkeys can be spotted.
Keep walking. Keep walking to make sure that you are back to the starting point before it is dark. From start point, the entry-cum-exit gate is another 3-km by foot. Closing time of the park is 6 pm. I was out by 3:30 pm.
Near the parking lot there is a souvenir shop from where you can buy collectibles. There is a canteen where you can sip a hot mug of tea/coffee.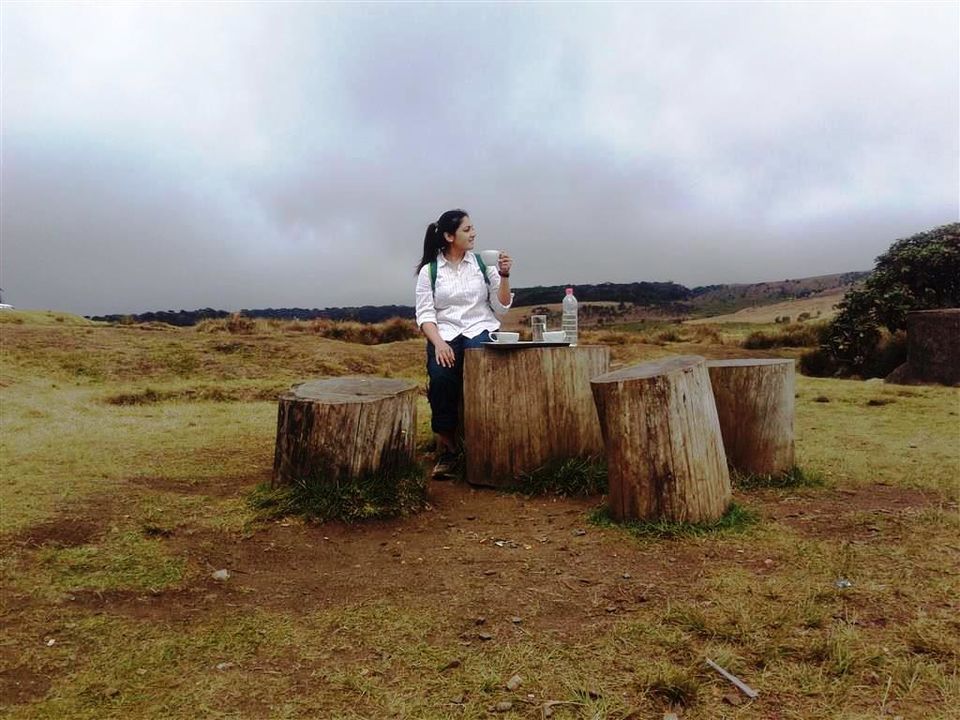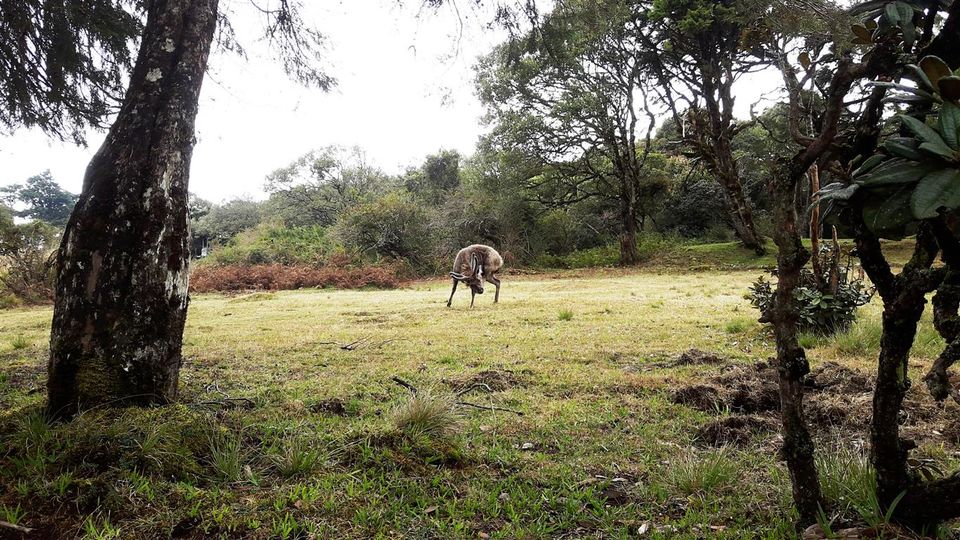 From Horton Plains, Upali took me back towards Nuwara Eliya. On the way, one can pay a quick visit to Ambewela farms. Ambewela is a small hill station which has earned a sobriquet of "Little New Zealand". The place is famous for dairy farming. Exotic breeds of cows can be seen grazing here. One can also find an accommodation at Ambewela. Tall wind mills are also seen here. Upali bought two cups of fresh yogurt for me from the factory outlet at Ambewela. I skipped visiting Ambewela milk factory due to rough weather. I had to reach my guest house Gregory Lake Inn before it was dark.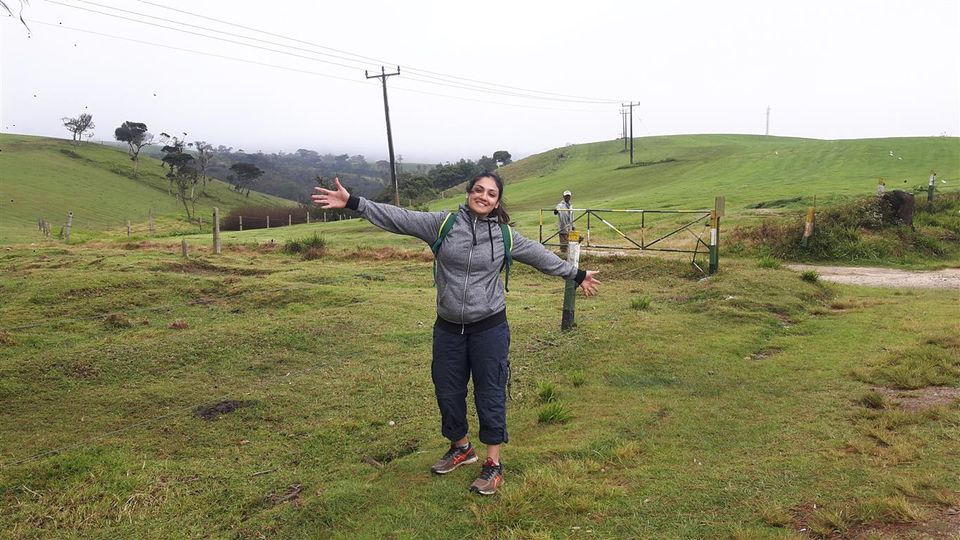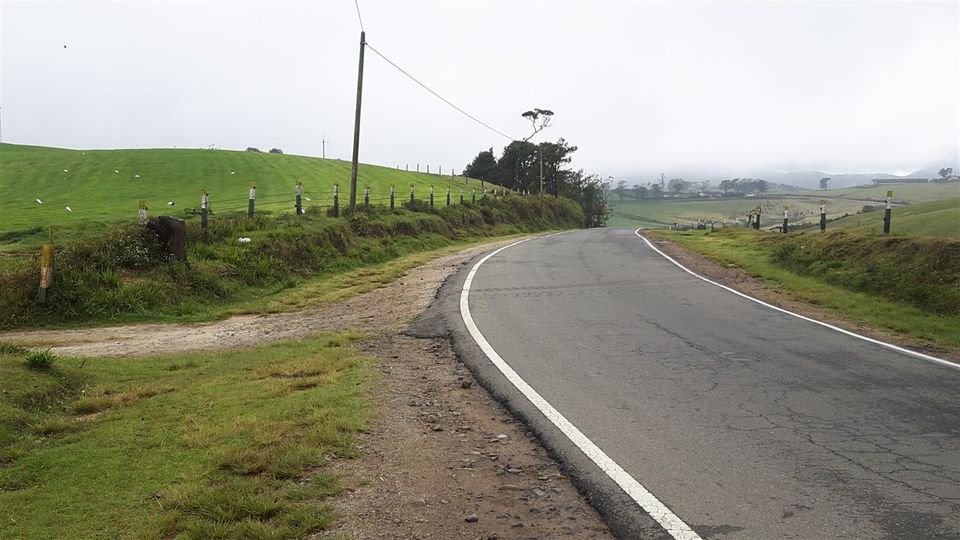 Horton Plains National Park is a highly recommended place.
Read my Sri Lanka itinerary here.

Follow me on Facebook.