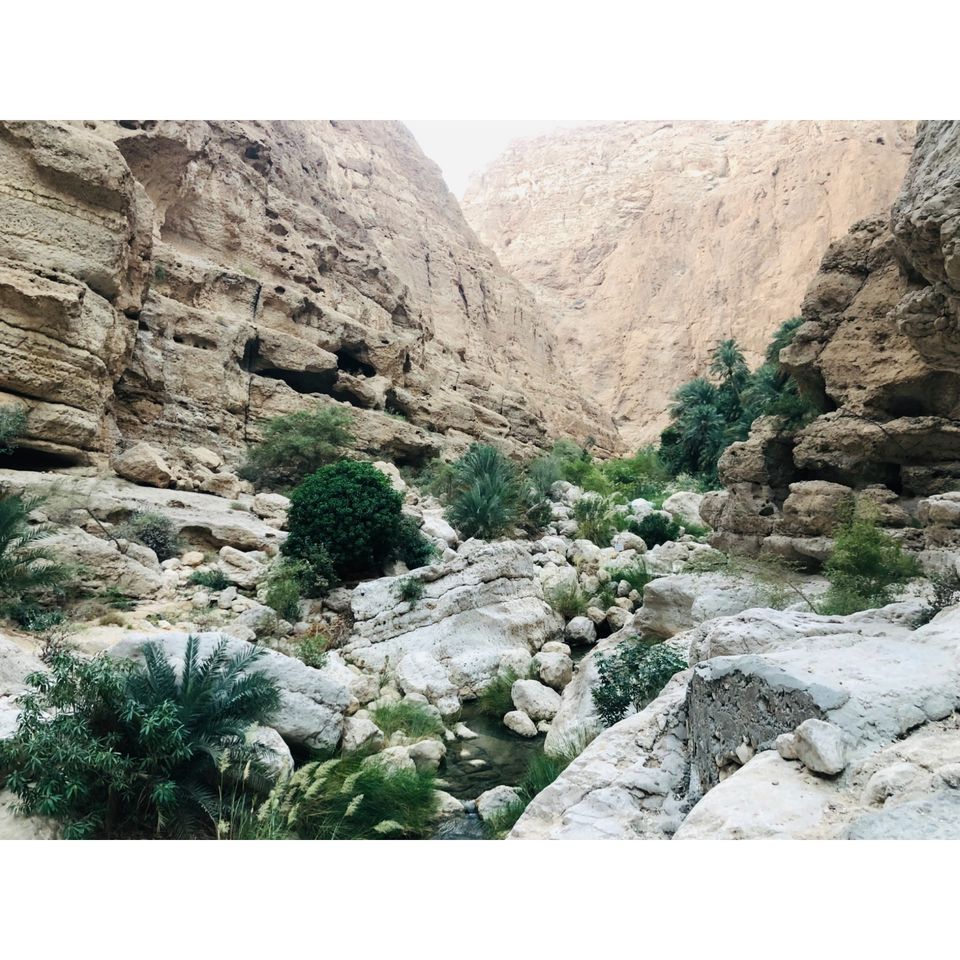 This is the story of how I went on one of the best spontaneous trips of my life so far. A trip to Wadi Al Shab. Wadi Shab is located in the Al Sharqiyah region in Oman, it is less than 2 hours drive from Muscat and you can combine your trip here with a visit to Wadi Tiwi, Bimmah Sinkhole and/or the lovely beach of Tiwi.
So I was in Oman for my winter break from college here in India because my family is settled over there. And so this one morning around 10-ish I get a call from my friend asking me where I was. I told him I'm home and that I had just woken up (had a night out the day before). So he was like come below in like 10mins and all of the boys will meet up and have some coffee. Seemed legit so I was like yeah cool. And so 10mins later I'm below my apartment in my boxer shorts and a t-shirt thinking its just coffee and I'll come back soon. Little did I know these bastards had planned to go to WADI SHAB, a trekking zone in Sur, which is well known as the location of the Red Bull Cliff Diving Competition. Wadi Shab (وادي شاب) also spelled Wadi Shab, is a very popular wadi located in the Al Sharqiyah Region in Oman. Its almost 300-400 km from my home. The main attraction of the wadi other than cliff diving is the water fall in the cave, which you can reach after a roughly 40 mins (once you get an idea of how to climb across the rocks) hike and swimming in 2-3 pools.
So as planned I reached the cafe and then these fucktards were like get in the car, lets go. *Visible confusion on my face* I asked them where to and they were like we'll drive around for 15mins and come back. And so I got in and they were like actually we'll all go to Sur. I WAS LIKE WTF! I mean i didn't even have spare clothes to wear after a swim xD
It was an off day and my parents were home as well. So I called my mom and told her I might reach home kinda late cause these idiots are taking me to Sur :3 She was like "what?! You don't even have extra clothes!" I was like its okey we'll manage. I was glad she was worried I left all of a sudden cause that's how she usually is xD
And so almost 3 hours later we reach the destination. We park under the bridge (you can see it in the pics) and take a small boat ride to the other side (you can walk through the water if you like). And so we began the trek. It took us about 1 hour 15 mins to reach the place we wanted. Once we reached we realized it would be a shame not to take a swim in the waters after walking all the way till here. Thus all of us jumped in regardless of whether we had extra dry clothes.
This was one simple and beautiful trip that I'll cherish for a long time. This trip is probably the reason behind me being ready for a lot of spontaneous trips that happened later.
10/10 recommended. Do visit this place if you ever come to Sultanate Of Oman. :)