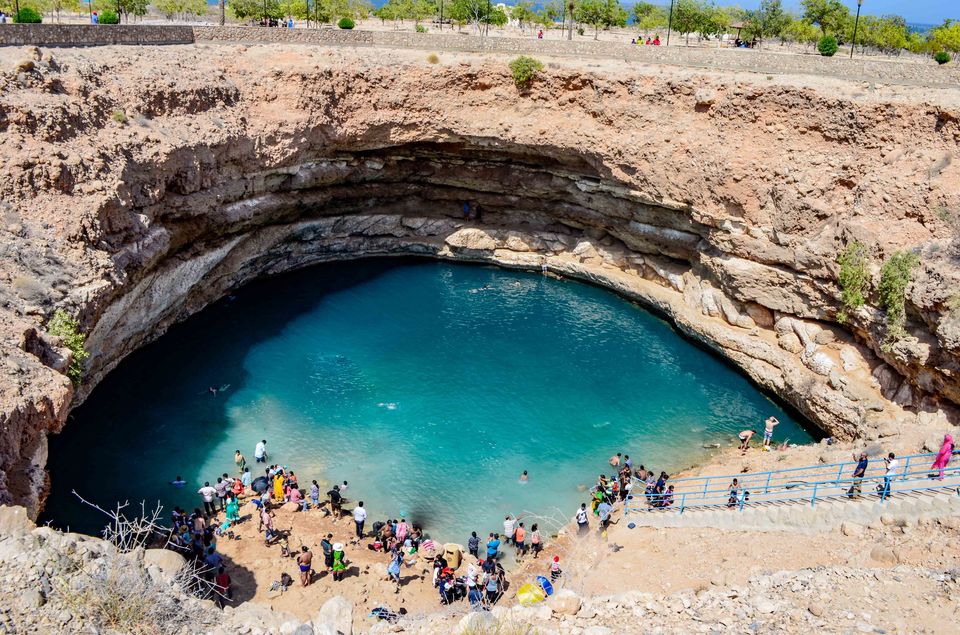 Oman is a growing tourist destination and for good reason. Besides its enchanting deserts and beautiful architecture, Oman has several hidden gems that will make you go oh man! Wadi Shab is one of those gems and the ultimate destination for every adventure junkie seeker. While the rest of Oman suffers from unbearable heat, this valley gushes with water. My favorite thing about Wadi Shab? This area is so undocumented that even Wikipedia barely has any information on it!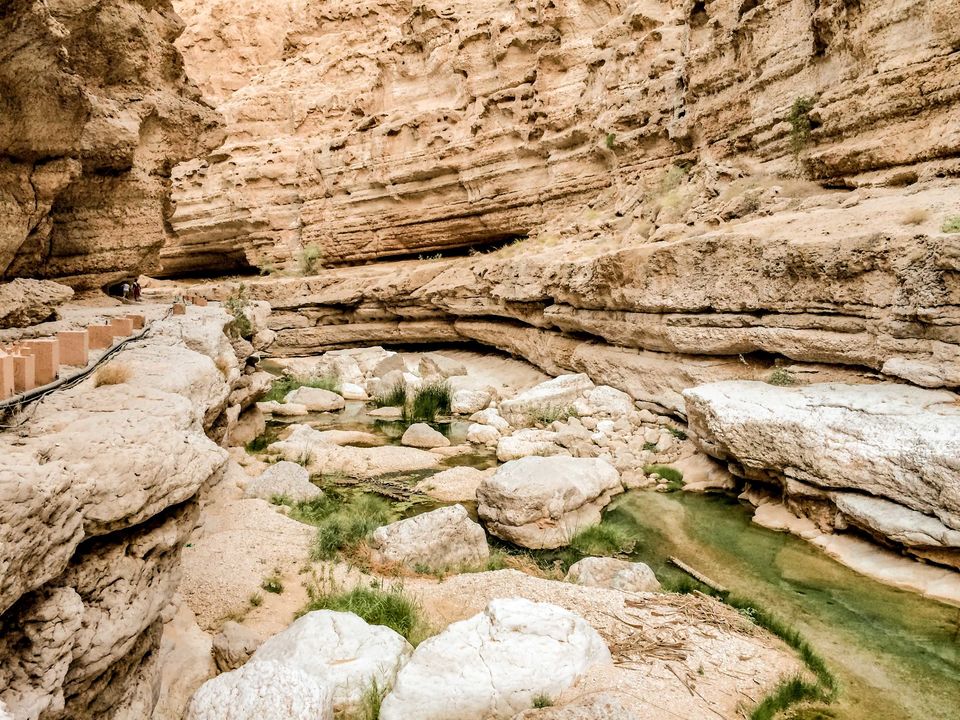 Wadi Shab
Oman has some of the most unique desert landscapes in the world with 300-million-year-old limestone cliffs and canyons and Wadi Shab is at the heart of it. This valley also makes for one of the toughest hikes I've ever been on. Where else would you need to hike, swim, hike, swim and hike some more to get to the top?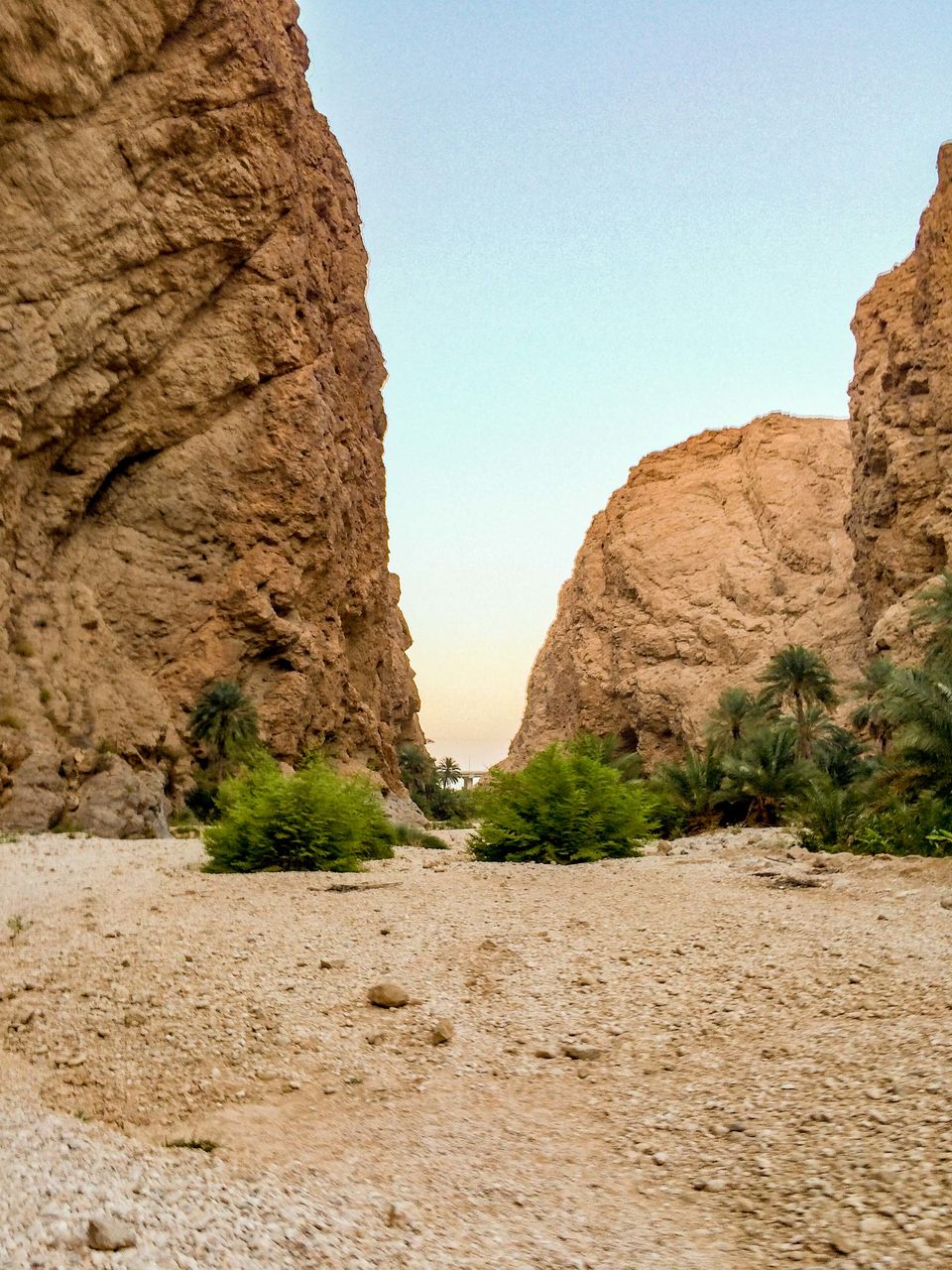 Qantab is the perfect beach for couples and solo travelers who want to get away from the crowd and spend time by themselves. Local fishermen often offer rides to hidden beaches along the Qantab coast that are otherwise inaccessible by land! If you're lucky you may even get to see dolphins and tortoises in the wild. Qantab is also ideal place for swimming, snorkeling and barbequing, especially at evening when the sun is bearable. This was one of the highlights of my trip!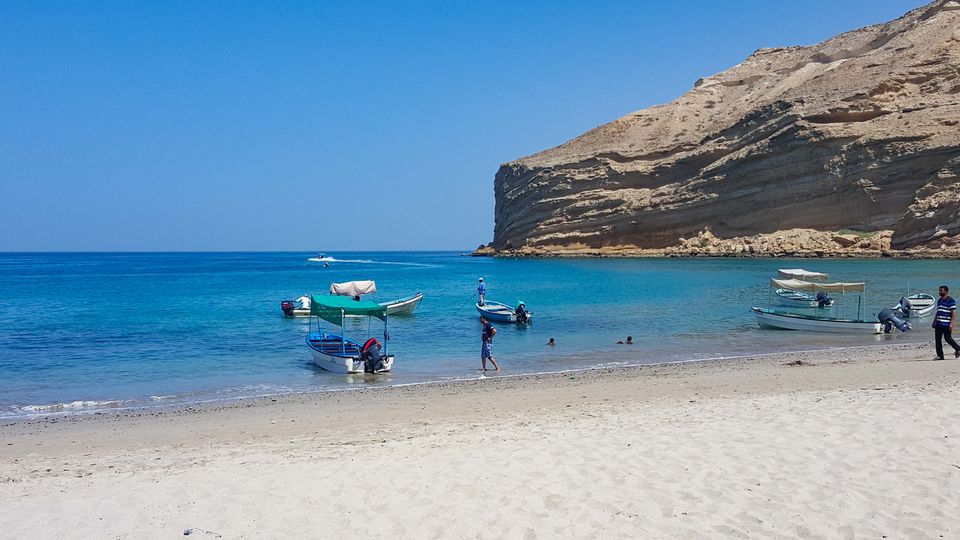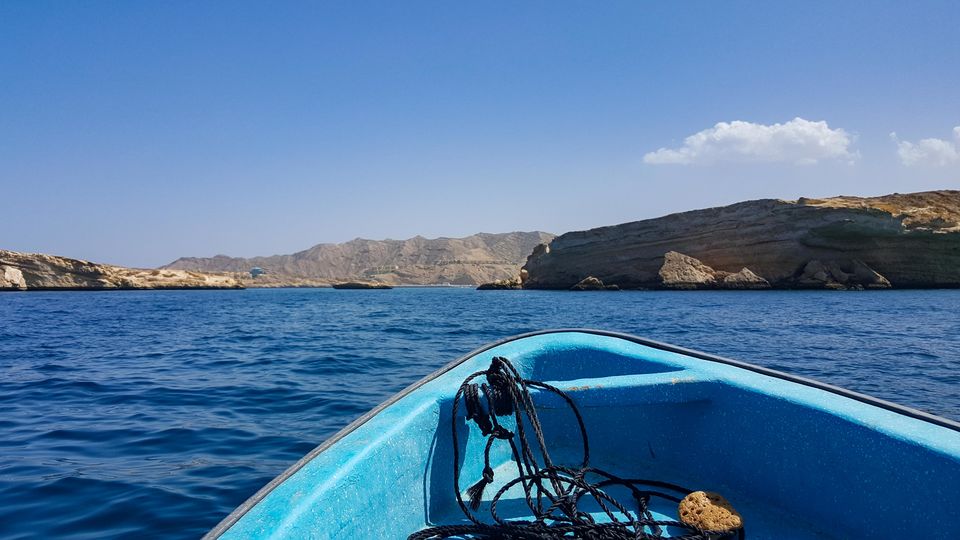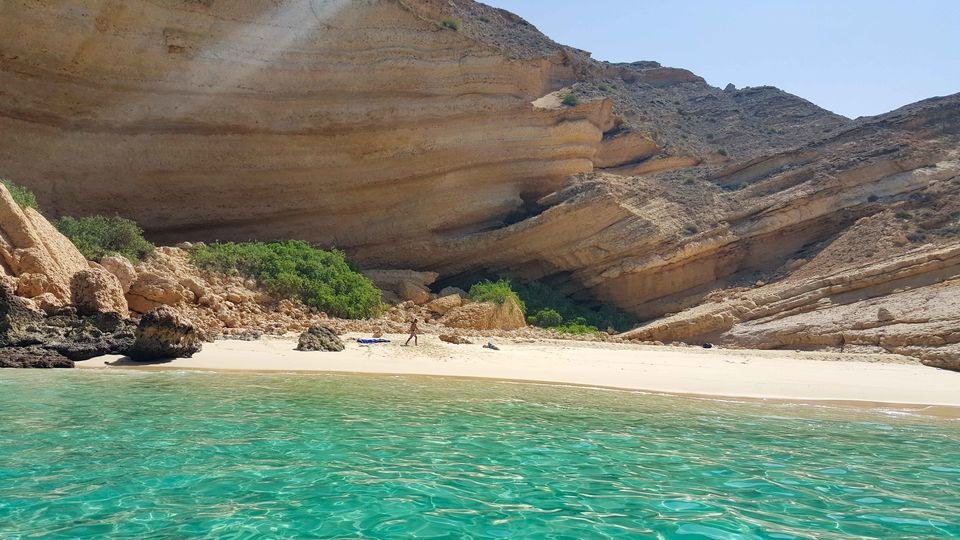 Bimmah Sink Hole
Located on the highway from Muscat to Wadi Shab, this sinkhole could possibly be one of the most incredible, natural swimming spots I've ever come across. The daily mail even called it the world's most beautiful sinkhole. It is surrounded by the sea on one side and the mountains on the other. Its Arabic name, 'Hawaiyat Najm' translates to 'The Falling Star' since a local legend says that it was created by a meteorite! However, scientists have since confirmed that the upper crust layer collapsed due to erosion of limestone with water. I am a sucker for local legends and would like to believe it was indeed a meteorite!
This sinkhole is 50-meter-wide and 20-meter-deep and is filled with turquoise water. The pool has hundreds of tiny fish and if you dunk your feet, they won't hold back from nibbling! Access to the sinkhole is free, and there are picnic and toilet facilities available.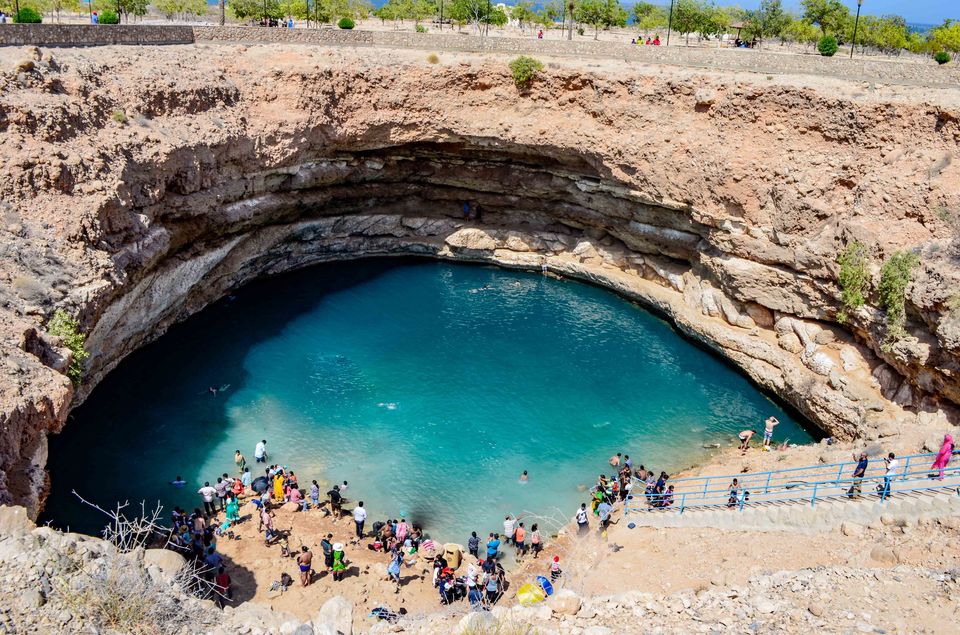 Tiwi Beach
Tiwi is one of the most sublime beaches in Oman and is ideal for swimming and spending inhibited hours of pleasure. The water in the Gulf of Oman is usually bathwater warm and the waves are smooth. Its long, pristine stretch of white sand is perfect for the water-baby in you. You will also see several tents and camp-houses along the coast that are ideal for spending the night at the beach and seeing the sunrise early next morning. It's a natural playground with stony beaches, sandy shores, massive boulders, towering cliffs and several diving spots. The snorkeling here is hard to beat due to its aquamarine waters. Spot a multitude of sea urchins, along with hard coral and colorful fish that dart around them.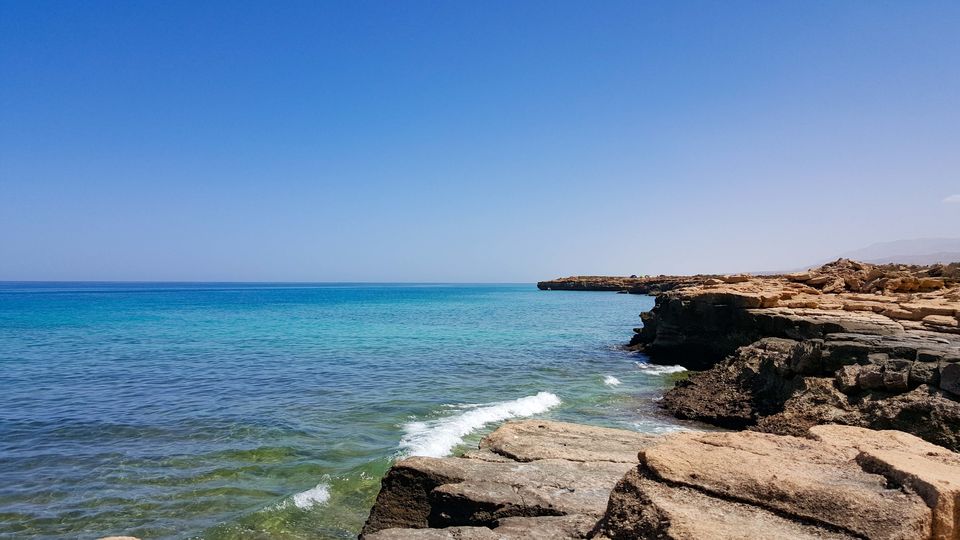 The path is well marked for most part, but you will need to wade through streams, climb over rocks, and even pass through a couple of narrow tunnels. The prize for finishing the hike is well worth your troubles. At the end of the hike is a pool and a waterfall that are a treat to your senses. Fresh emerald colored water and lush greenery make for outstanding scenery. There is also an underwater cave that you can swim in to if you're on the braver side of the spectrum!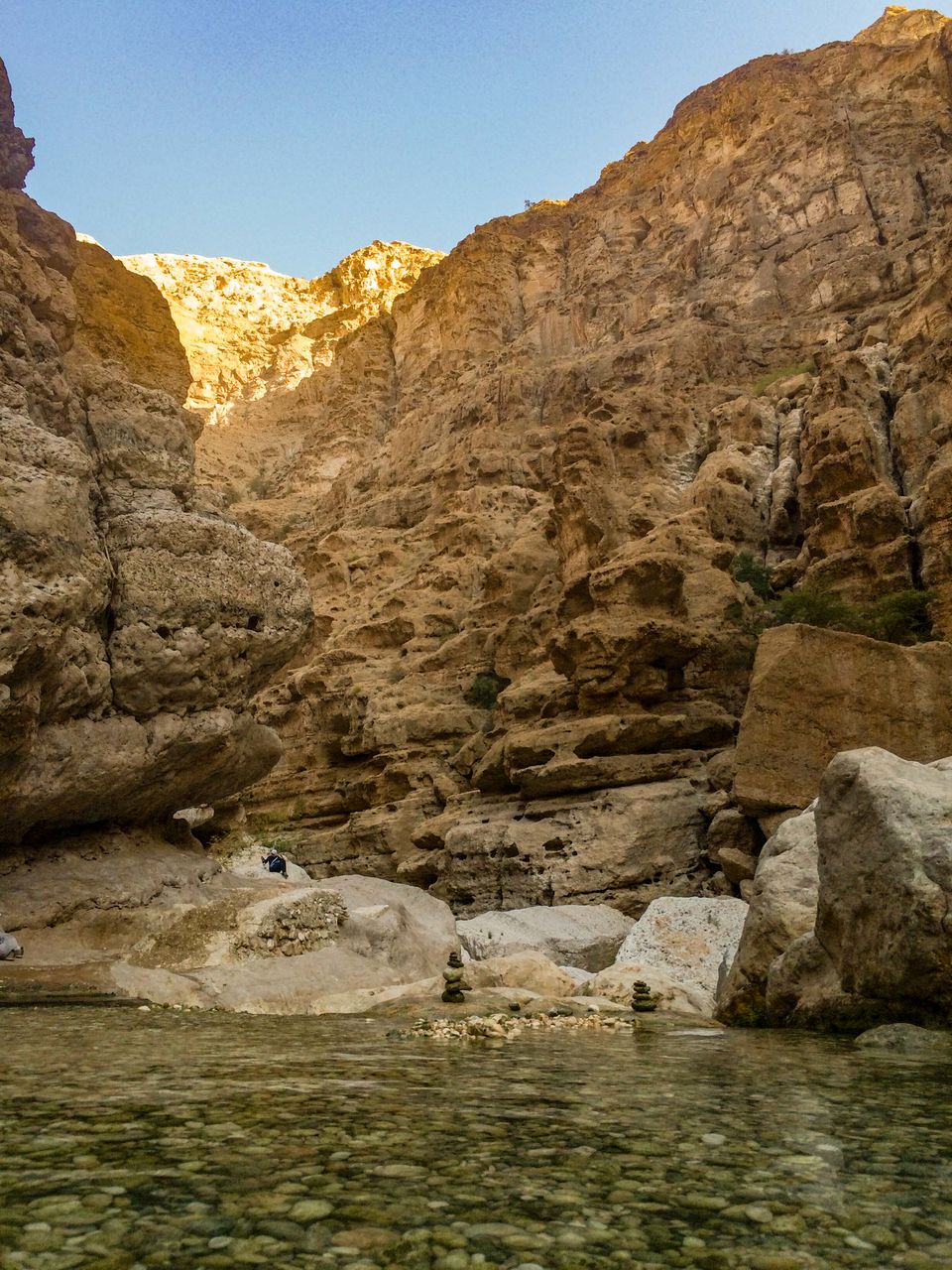 Best time to visit Oman
The best time to visit Oman is between November and February. You will find bright days, pleasant nights and almost no humidity. Carry light cotton clothes and tons of sunscreen.
Getting there and around
The easiest way to get to Wadi Shab is to fly to Muscat International Airport and then drive for a couple of hours to Sur. You could also take a bus from Ruwi in Muscat at 7:30 or 14:30. The trip takes around four hours and costs INR 700. Though the bus is cheaper, the drive saves you time and may make more sense if you're crunched for time or are traveling with a group. Flights from India to Oman are in the range of INR 15000-25000 if booked ahead of time.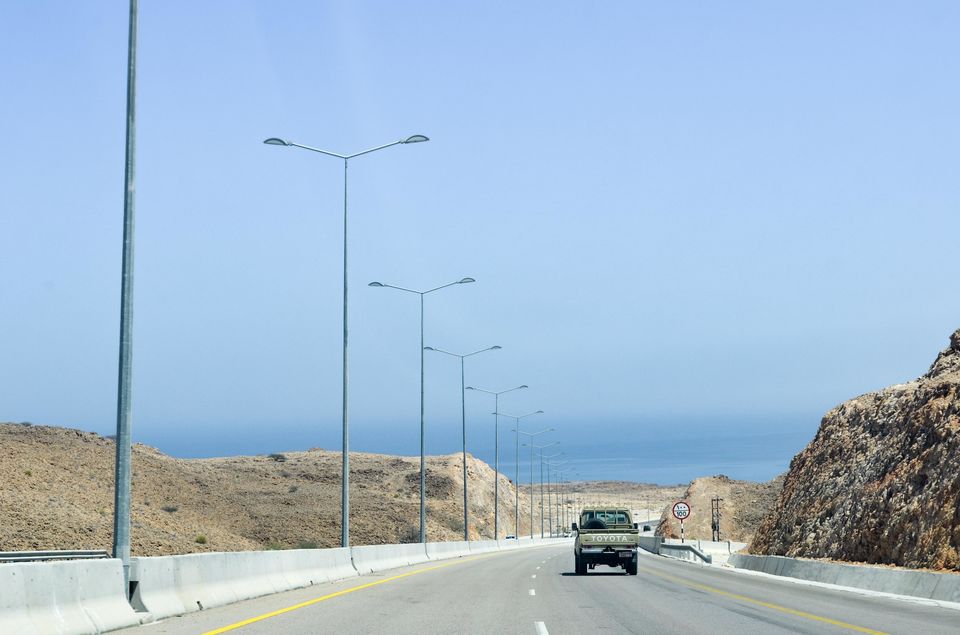 Indian nationals need to apply for a tourist visa that costs about INR 3200. However, if one has a valid US, Australian, Canadian, Schengen, UK visa or GCC residency, they may be granted visa on arrival for a stay not exceeding 30 days. I used my UAE residency to enter Oman. The process was smooth, and I was not asked any questions at immigration.
Where to Stay
I stayed at Savoy Grand Hotel Apartments, a mid-range hotel located close to downtown Muscat. The staff was polite, friendly and extremely helpful. The hotel even has an in-house restaurant. I paid about INR 4000 for a double room.
What to Eat
Oman is famous for its classic middle eastern cuisine. Everyone visiting Oman must try Harees, an Omani version of Haleem and Machboos, a local rice dish served with meat and saffron. My favorites restaurants were The Cave, that serves Omani-African fusion food and Kargeen that serves authentic Omani fare. Consumption of alcohol is prohibited in public places and you need a license to purchase it from a store. You must head over to bars to get your dose of booze. You may even want to consider substituting alcohol with Karak Tea, Oman's favorite beverage!
A traveler at heart, I have been to 22 countries on 6 continents. My favorite experiences are plunging in to sub-zero Antarctic waters, renovating a Buddhist monastery in Sri Lanka and hiking Borneon jungles. I am also an engineer, a public speaker, a sustainability believer and a polar explorer. Follow my misadventures on www.passportuncontrol.com and Instagram @geeknextdoor.