Sri Jagannathpuri is among the famous pilgrimage site for Hindus and temple has an interesting and long history stretching back to Dwapar Yuga. Sri Jagannath Temple procession and Konark Sun Temple are iconic scenes, and that is where we decided to spend our long weekend from 26th Jan to 29th Jan 2018. While Odisha doesn't figure in common tourist circuits in India, this trip was fabulous in many ways and very recommended for 4-5 days gateway.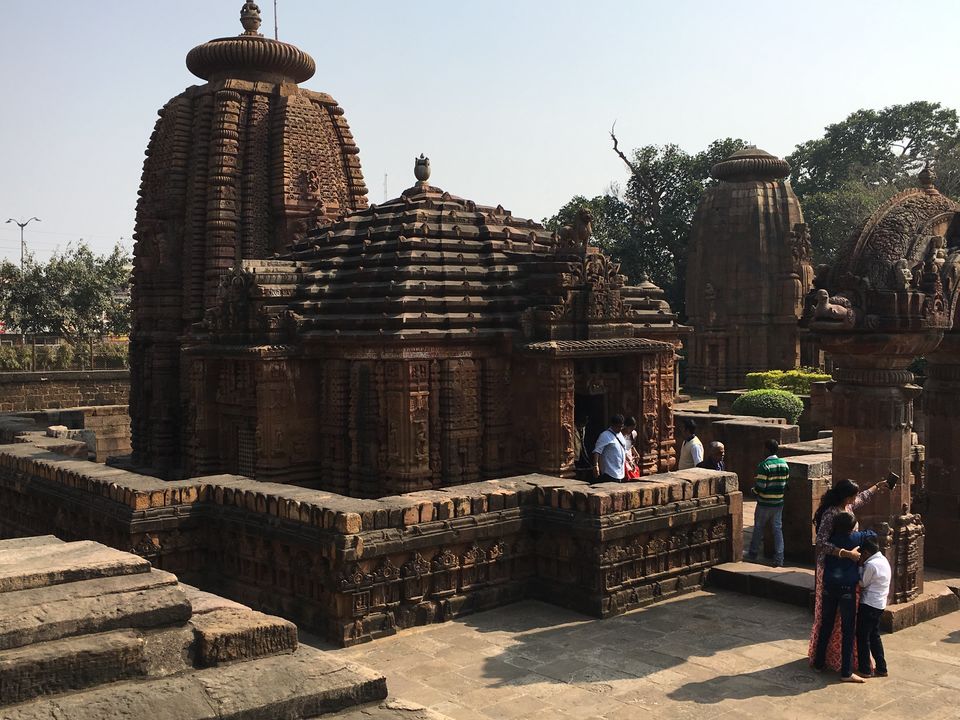 Costing
You can follow my best-practice model in planning a trip, though this being a domestic trip was much less hassle. My own planning costed me about 50% of comparable travel package sticker price.
All costs are for family of 2 adults + 2 children, in INR, for 4 days, as of January 2018.
* Return airfare from Bangalore to Bhubaneswar for 4 = 27,600/- = 6,900/- per person
* Taxi to/from home to Bangalore airport = 1,800/-
* Bhubaneswar local sightseeing within day = 1,100/-
* Bhubaneswar to Puri via train/bus = approx. 300/-
* Taxi for Konark round-trip from Puri = 1,200/-
* Taxi for Chilika round-trip from Puri = 1,500/-
* Chilika boating in exclusive boat = 2,000/-

* Hotel in Puri for 4 nights = 2400/- = 600/- per night
* Food and miscellaneous for 4 days = 4,000/- = approx. 500 per day per person
Total cost = 42,000/-
Approx. 14,000/- per adult all-inclusive, or 7,000/- ex-Bhubaneswar, for 4 days.
Bhubaneswar
We landed at Bubaneswar airport at about 10 am, and had planned to spend the day visiting local attractions before taking evening train to Puri. Having considered few options before departing, I booked Ola Rental for 8hr/80km at the airport and went straight to Lingaraja Temple which is largest and very old temple.
We had to leave our luggage in the car, and temple had lockers for wallets/belts/mobile phones. We were bit apprehensive in leaving luggage with unknown driver but after taking vehicle and driver pictures and trusting Ola, we went ahead. Temple looks like any other temple from the outside except visible police presence.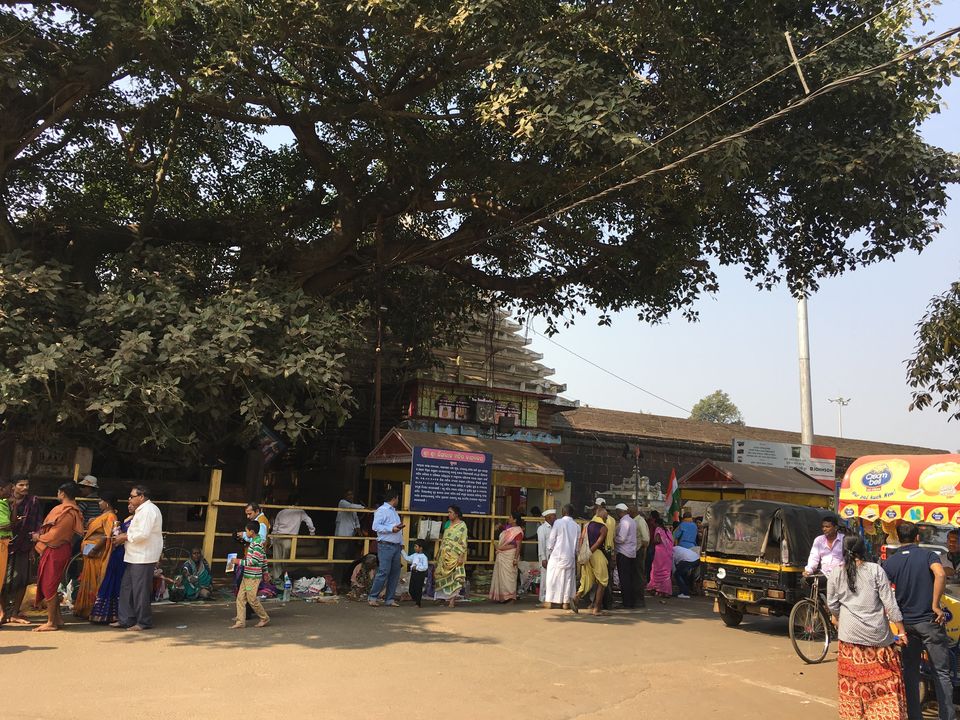 Inside is altogether a different story! There are not one but hundred small and large temples inside, and one can spend 2-3 hours just wandering about soaking miracle of history, architecture, and bhakti. This place is not to be missed!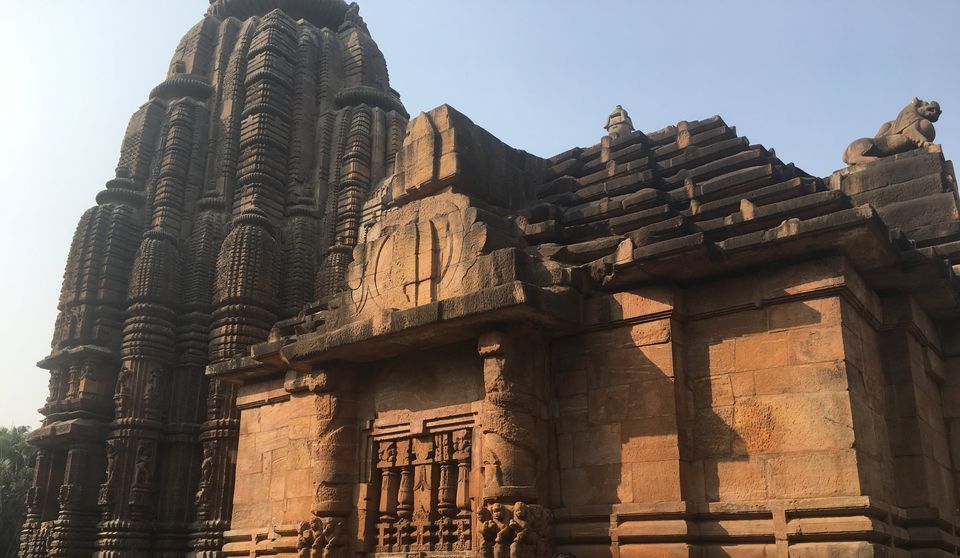 Nearby to Lingaraja Temple are small temples in similar architecture called Mukteswara Temple and Parasuramesvar Temple which also have small lawn around them. We spend an hour there resting and having our packed lunch.
Little far from there - but really Bhubaneswar isn't that big at all - there is famous Raja Rani Mandir, which has entry ticket of 50/- spread out in large grass lawn. By this time it was afternoon and sunny, and this place isn't as good, so you will be fine skipping this. We planned to visit ISKON Temple too as we had heard of good and serene place there but it was closed till 4 pm and we couldn't go in.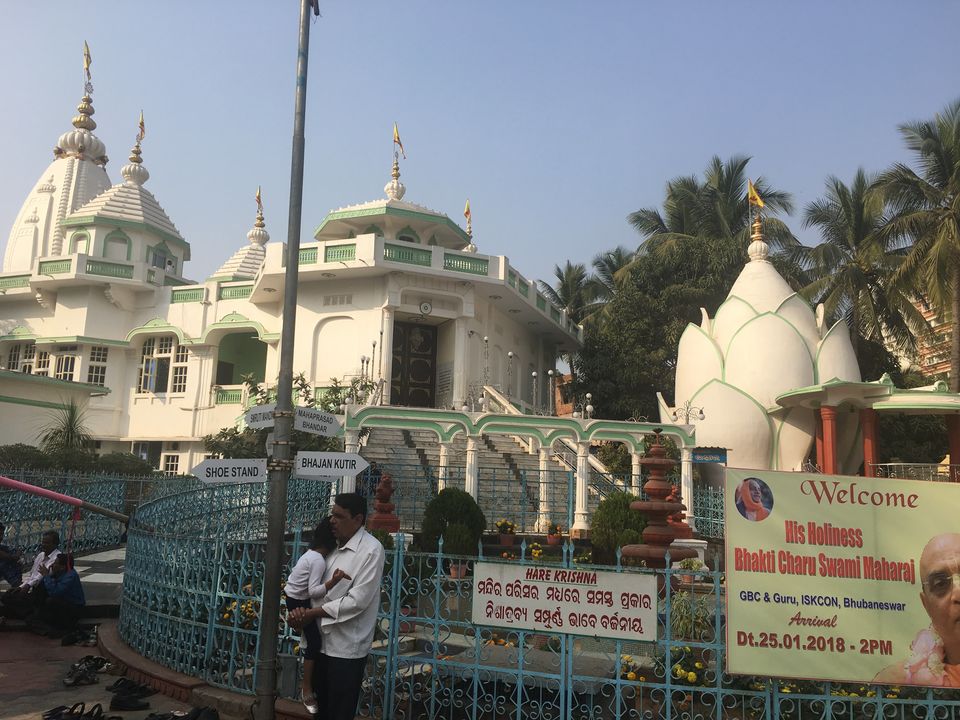 In mid-afternoon we visited Khandagiri & Udaygiri Caves which are large rock carved to provide lodging for Jain saints. Caves are good and beautiful place to spend about an hour or two, even as there is not much to see but large area to wander around and take pictures. We also liked narrow road leading to caves much as it had vibrant local market in village fair style selling toys, jewellery, balloons, games, and food items. Caves are under care of Archaeological Survey of India and have nominal entry fee.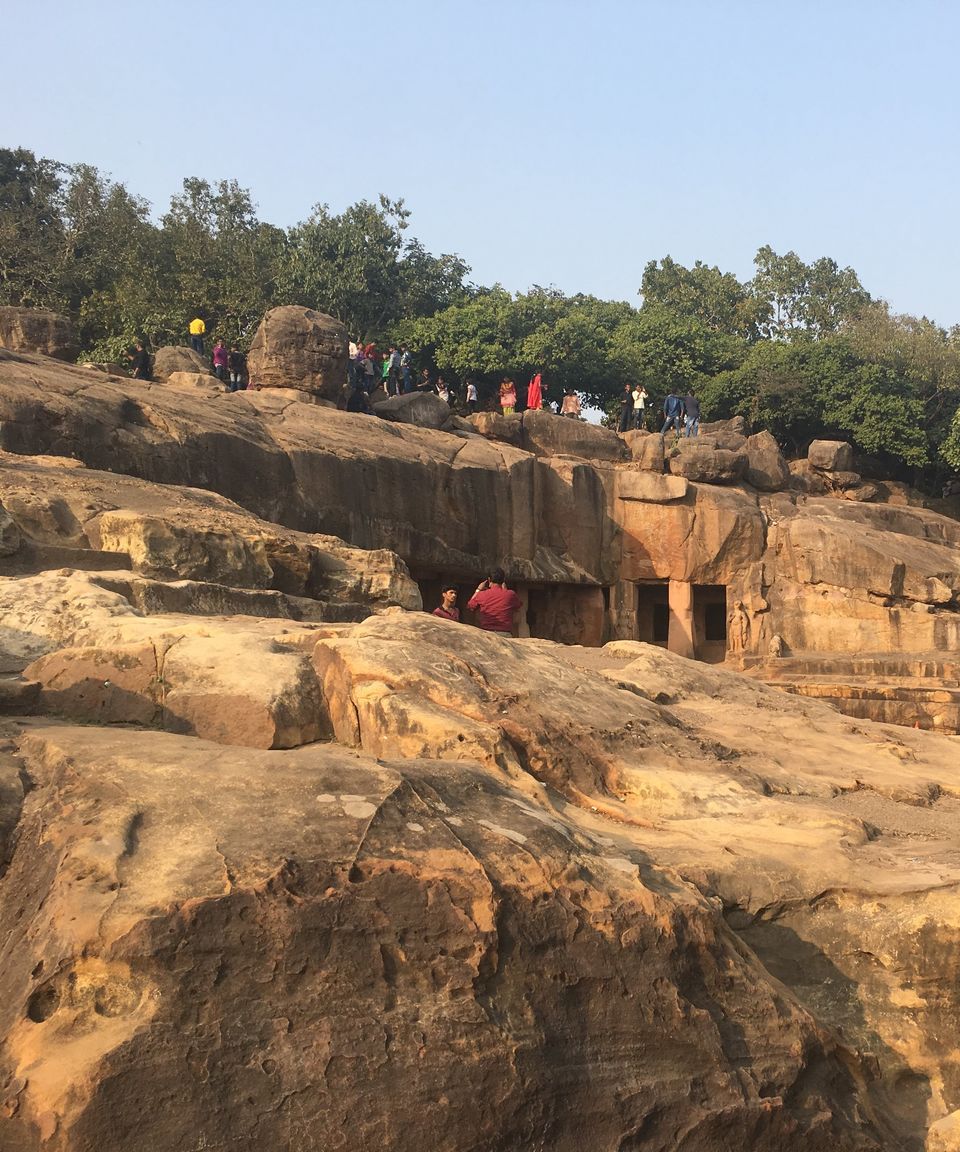 Last stop we covered was Ram Mandir near Bhubaneswar station, which is medium size modern style temple. It's okay to visit but can be easily skipped. By the way, TripAdvisor suggests a famous Ram Mandir as tourist spot but we found multiple such temples in Google Maps and in the end relied on our driver. Not sure if this was the Ram Mandir.
We departed to Puri via passenger train starting 6:40 pm which took about 4 hours to reach by 10:30 pm. We had quick, bad, and expensive dinner at railway station before finding an auto-rickshaw to our hotel Sri Sri Balananda Tirthashram, Sea Beach Road.
Konark Sun Temple
Next morning we went for round-trip to famous temple to Sun God at Konark. You cannot have lived your life without having seen those famous wheels of chariot. Temple is under Archaeological Survey of India with nominal entry and camera fee. There is small market on path leading to temple selling ice cream, food items, souvenirs, pictures, and devotional items. You should plan to spend about 2 hours here, and while we didn't hire tourist guide, we learned that they can be worthwhile for their stories.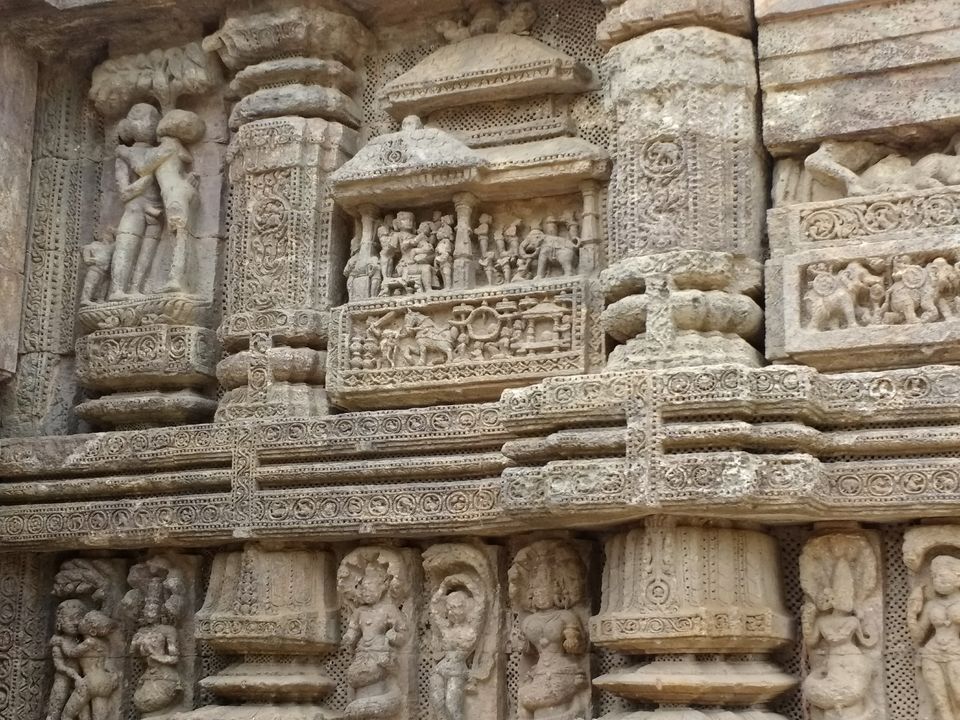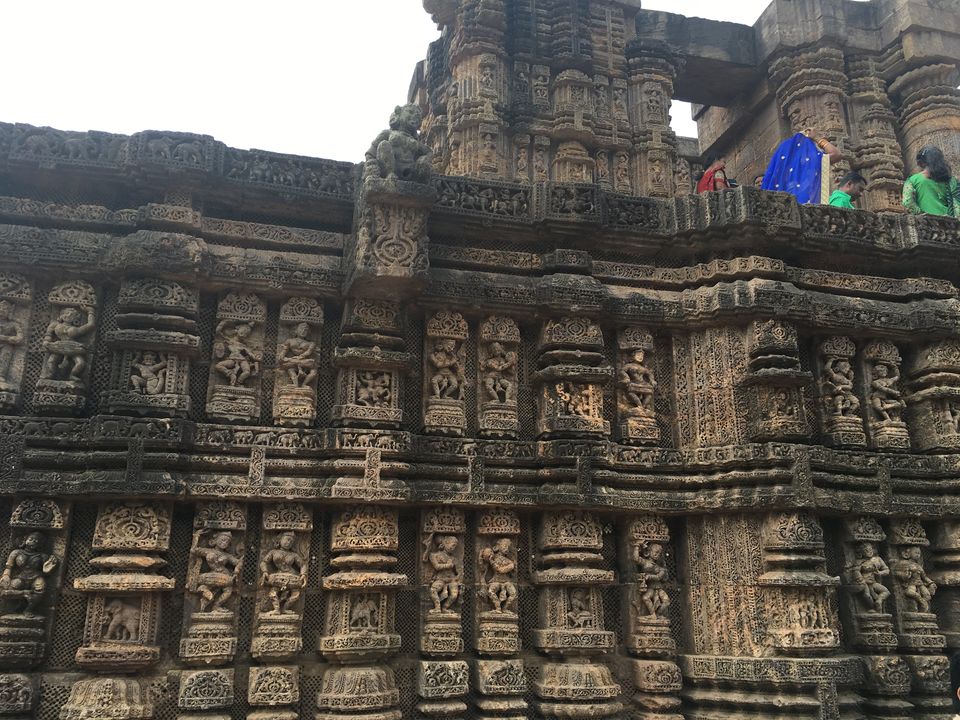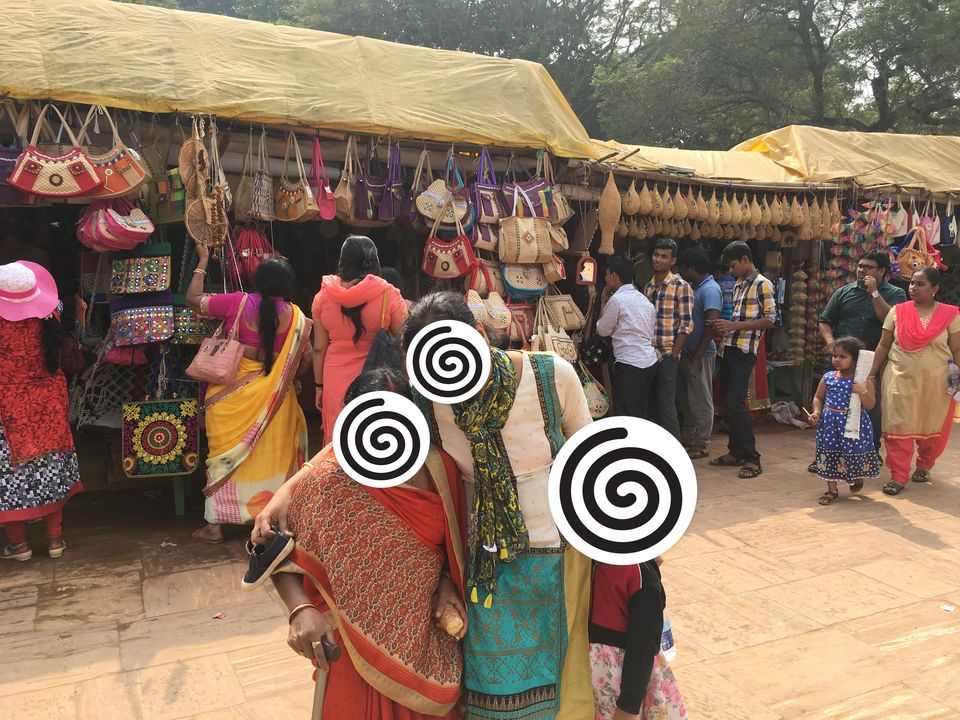 Temple is considered about 1000 years old and you can see parts of it supported by buttresses and harnesses for preservation. There is large garden area surrounding the temple too. There is well maintained toilet also in premises (a surprise!) but not too many lunch options. There were 4-5 restaurants nearby outside but food was worse than terrible (not to mention the service) and it looked like that behind their different facades they shared same kitchen. Most were selling ready meal thali for about 200/- and not a-la-carte options. I would advise you to pack from Puri before coming.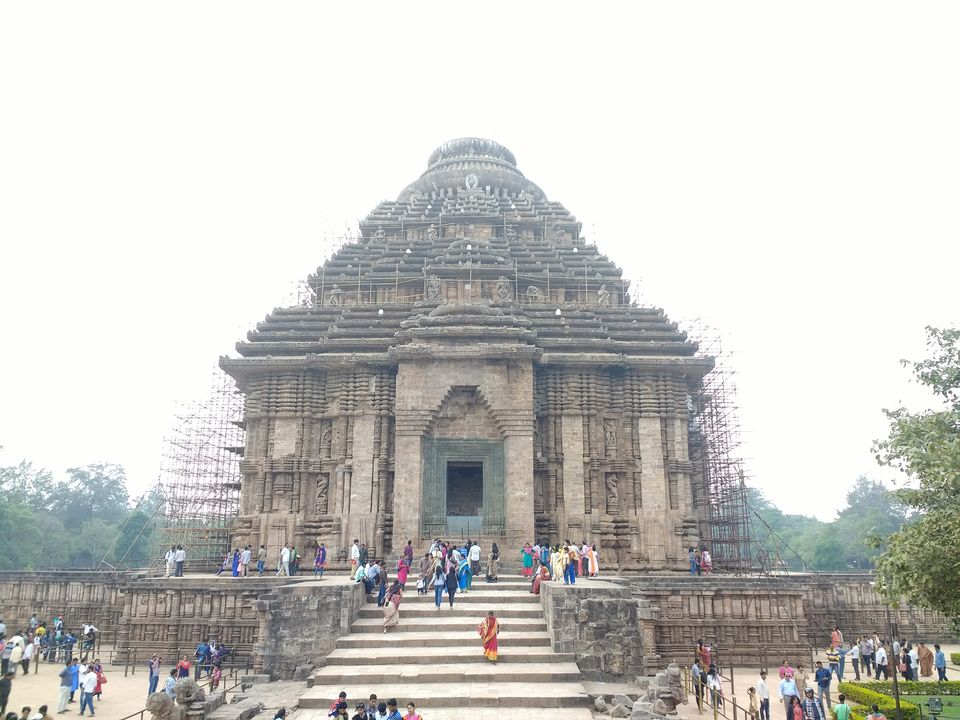 On the way back, you can visit Chandrabhaga Beach - small beach with not much crowd, can swim in - and Ramchandi Temple. Later is best avoided since it's local village temple without anything different. TripAdvisor also informs of Olive Ridley Turtle Reserve on the way back, but we couldn't find exact spot and are told by driver that it's closed now.
That evening we returned back to Puri by about 5 pm, and after quick refreshing at hotel, went inside the Sri Jagannath Temple. You will not find pictures from temples as photography is prohibited. Temple is however large and old and will take 1-3 hours depending on the crowd. There is huge crowd outside too from devotees and vendors and it's festive feeling. There are lots of pandits also who will, for a fee, give you guided tour. I would recommend hiring one, and assuming he does his job well, he will be worth 500-1000/- he charges. Otherwise you will miss many parts of temple. There are stories behind why main deities have Sri Subhadra Devi in middle and not Sri Krishna, what happens before/during/after the famous chariot procession, and size and quantum of food kitchen serves!
One complaint, if I may, is that devotee services are non-existent or badly maintained. For a temple of this size and crowd and donation it receives, there is no toilet, clean water, or benches. Place where prasadam is served is covered in discarded rice and has wet floor, and lighting could have been better. In effect, management has to realize that just because devotees come for God doesn't mean they shouldn't provide basic amenities. Marketing is important, even for pilgrimage site, or else they will lose out new generation of devotees.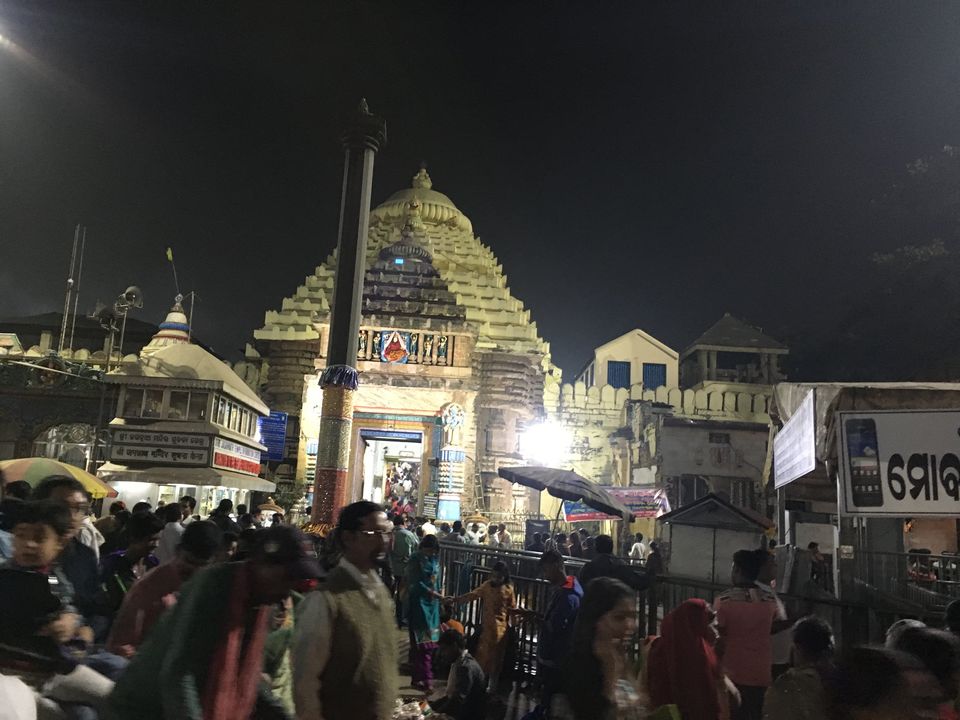 Later that evening we spent lying on the sand on the beach in front of the hotel. Weather and breeze made the experience just perfect.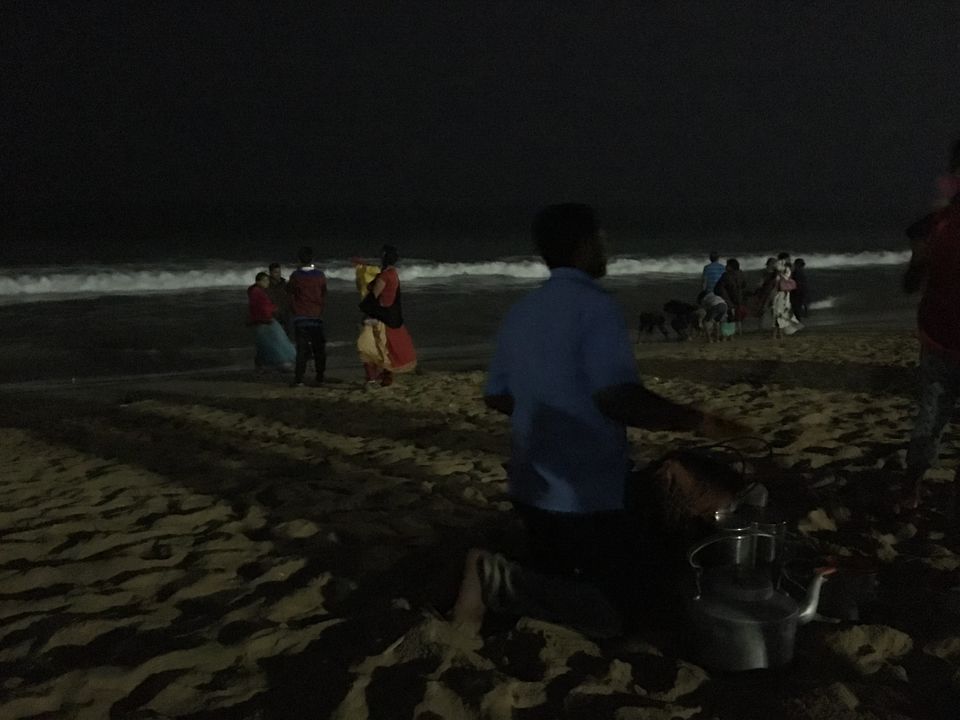 Satpada / Chilika Lake
Third morning, we planned for Chilika Lake which is very large lake famous for it's migratory birds and dolphins. This trip was 2 hour one-way and you are advised to carry water, snacks and food since there is nothing on the way except small shops chips and water bottles. One can hire a dedicated boat for 1720/- (fixed price) which provides 2.5 hr ride which includes dolphin sightings, crab in basket, and fake pearls. I will recommend you skip this experience unless you are very much into bird watching.
Lake is huge, and hence it gets boring just sitting at boat. Lack of wind and hot sun wasn't helping! There are seagulls you can feed for a while. Dolphins are few and far, and since every boat is trying to get glimpse of them, scared and hidden. Often, your boatman will call out and by the time you turn there will be nothing. We managed to catch glimpse only 2-3 times of just skin on the back of dolphins, and nothing of majestic dive they are known for. Your one way boat journey pauses at a island where they show some crabs collected in the basket and try to sell pearls (almost certainly fake). Given heat, boredom, no wind, and no dolphin, you'd rather spend time in Puri visiting few museums or at the beach. There is Alarnath Temple on the way back, but we didn't visit that.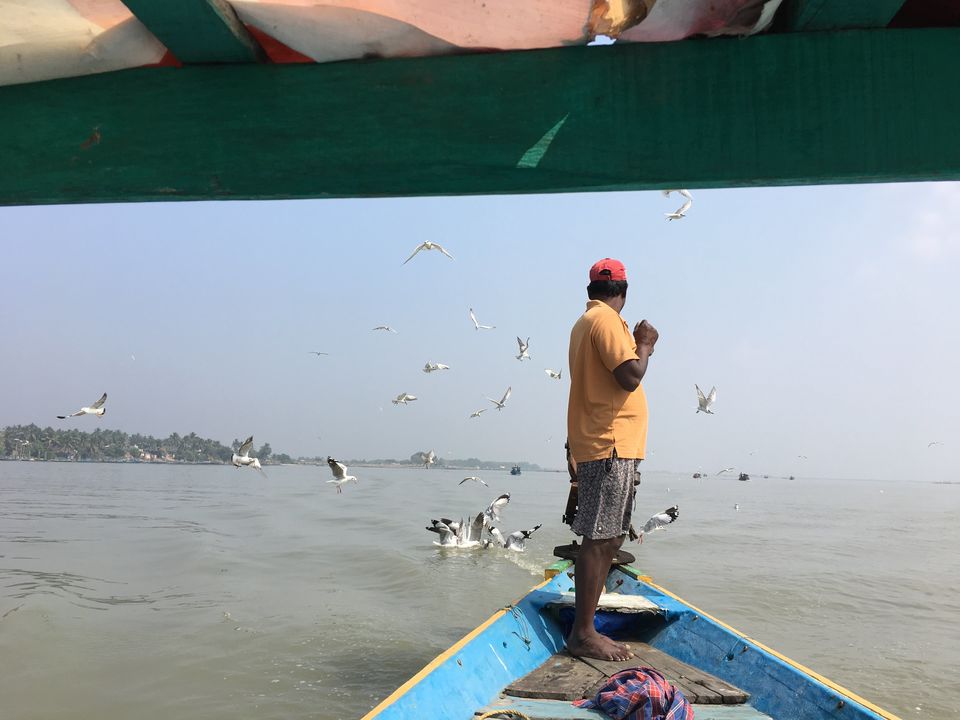 That evening, we returned about 4 pm to Puri and went straight away to Sri Jagannath Temple to catch the glimpse of flag hoisting. It's a 30 minute feat of acrobatics worth exclaiming over! You can get preview of this at this youtube video. Temple gets crowded around this time and you will have to find suitable spot to stand (sit, if lucky) to see this. While the ceremony is interesting, I wish they would have used larger and brighter colour flag commensurate with the grandiosity of the occasion. Evening was whiled away searching for Sudam Sand museum but we couldn't locate it.
Golden Beach, Puri
There are few other famous temples at Puri namely Gundicha Temple, Mata Matha, Tota Gopinath, and Swarga Dwar but we were done enough with temples and decided to spend first half of day bathing and playing at the beach. Beach is fairly clean, with gentle slope and mild waves which made the experience great. There are no water sports, and you will see locals strolling about. Some photographers may pester you for taking pictures in water (50/- per photo, can bargain) whom you can entertain if you like. You can rent chairs (with umbrella shadows) at the beach for about 50/- per hour.
In afternoon, we took a bus to Bhubaneswar (45/- per person) and flight back to Bangalore in the evening 9 pm. There are few spots on the way from Puri to Bhubaneswar which you can cover if you decide to take the taxi - Raghurajpur (Chandanpur) Art Village, Dhauligiri Shanti Stupa, Pipili art & craft street, and light & sound show at Dhauli (1st show – 6:30 pm to 7:05 pm & 2nd show – 7:15 pm to 7:45 pm). There is train as well at 2:30 pm for travel back.
Miscellaneous Commentary
On Taxis
For Konark and Chilika, we booked SUV but we could've done with a sedan car, and rates for SUV could have been negotiated 200-300/- cheaper since we saw our "agent" pocketing the commission before giving money to driver. There are many tour operators you can bargain with for taxis a day before.
There is a bus also from Bhubaneswar Baramuda bus stand to Balugaon (Satpada) if you plan to spend few days at islands on Chilika Lake which are more popular with migratory birds. Balugaon also has a railway station. Rambha is another town for access to islands for longer stay.
On our 'Hotel' at Puri
Little story behind our hotel. We got recommendation for this dharmshala style simple place to stay which is very close to the Golden beach. After few phone conversations and a Postal Money Order (yes!) for advance payment, we booked a room for four nights. Hotel is very simple with simple rooms (double bed, blankets, towels, table, cupboard) and no other amenities (AC, TV). Room service includes only tea in the morning, and simple restaurant with fixed and same (veg) daily menu, cheaply priced (30/- breakfast with 4 pooris and aloo) and 100/- lunch/dinner. They don't like to be referred to as hotel (will get angry and correct you if you do so) and want to be called aashram, though check-in/out rules are similar to hotel. We had to pay for an extra day since check out is early morning 7 am but we stayed till 9 am!
That said, it was cheap and near Golden beach in Puri. If you want to consider you can call at +91-6752-228727; +91-9439922924 between 08-30 am to 11-00 am exactly 32 days before the check in date. Advance payment for one day's charges needs to done via electronic Money Order (no NEFT, UPI, PayTm, etc.).
On Food
Puri doesn't have lot of fancy restaurants and food isn't why you are there, though you can still find Dominos for example. We really liked the taste of Agarwal's Pure Veg restaurant (take left while coming out of Sri Jagannath Temple, walk about a kilometer) but it's popular and wait time can be an hour long for dinner. Service is swift but basic. We even got them to pack for us on ride to Chilika and return to Bhubaneswar. There many other restaurants on that road.
On Government Tours
There are multiple single or multi-day government tours which are reasonably priced and fairly comfortable which you can join instead of planning your own trip. You can pick package from Panthnivas website or kiosk (near our hotel) or Odisha Tourism Development Corporation (OTDC) website and book in advance. If planning to book before coming to Puri or Bhubaneswar, you will have to call them as there is no online booking option.
Frequent Searches Leading To This Page:-
bhubaneswar tour packages, Amazing Puri with Bhubaneshwar Packages, best travel packages for Bhubaneswar trip, customized Bhubaneswar holiday packages,online booking Odisha Tours Packages