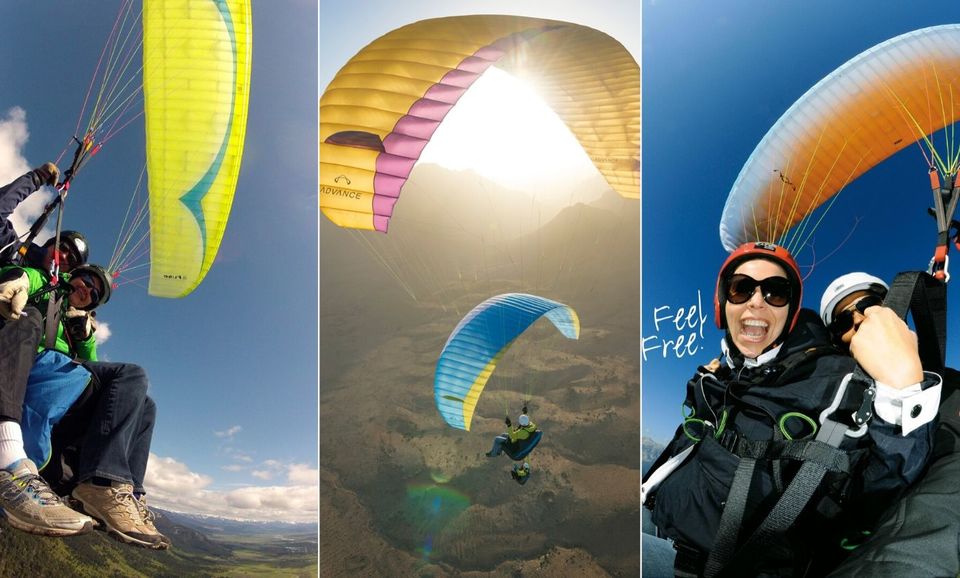 Turkey is famous for a lot of beautiful wonders that are protected by UNESCO. Pamukkale and Cappadocia are the most touristic destinations. You will agree that traveling so far for only seeing and walking around is not worth it. That is why you can easily add more emotions to your trip by doing paragliding.
Paragliding is one of the most exciting and top-rated activities chosen by thousands of tourists annually. Pamukkale, in its turn, is a perfect place for this amazing experience. First of all, it is everything about a beautiful panorama of Pamukkale national park and Hierapolis. without any doubt, a view from a bird's eye is much better than from the ground. When hiking on white travertines, you will see incredible pools and hundreds of other travelers everywhere. Yet paragliding gives you a chance to get control of a situation and enjoy Pamukkale on your own.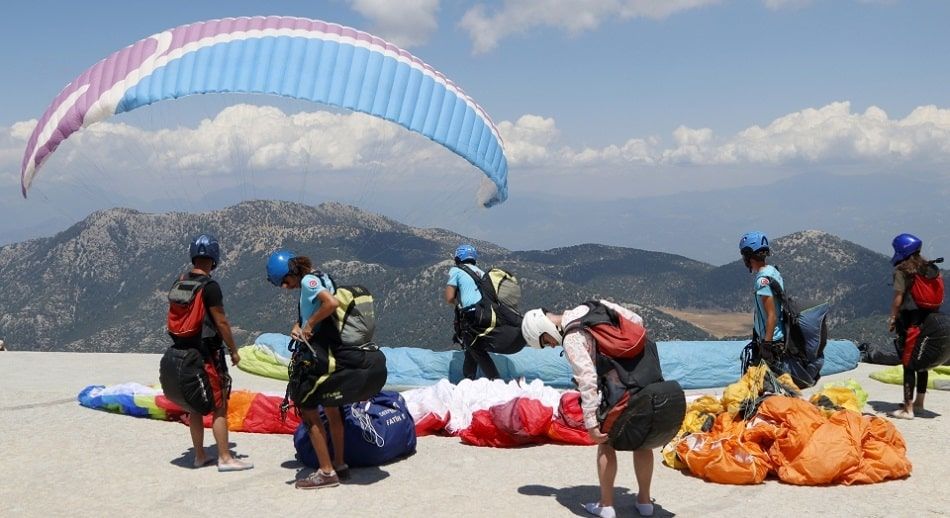 Paragliding is a totally safe means of flying. It is often compared to balloon flights; however, they are completely different. Having a balloon flight means sharing a basket with 16-20 people, whereas a paragliding flight is only your and your pilot activity. The paragliding experience can be divided into three parts: the first one is a pre-flight time when you make an online or face-to-face booking and choose a preferred spot and day for you. The next one is the flight itself, and finally, the post-flight time when you are taken back to your hotel and are welcome to share your experience with beloved or Internet users.
Everything starts from the moment you are choosing a team to fly with. It is an extremely important issue as there are a lot of companies but you need the best one. So, either follow your friends' advice or choose an agency based on online reviews. Online booking is always more convenient, due to a possible high demand in summer, you might not find a place for your flight when you travel. That is why a prior booking is recommended. Your paragliding experience begins early morning when at an arranged time a driver comes to pick you up from your place of staying. You will head to a launch site that is Dynamite Hill also known as Dinamit Tepe where except for you other travelers will be having a flight. Then after receiving instructions about a future flight and knowing what to do and not to do, you will be ready to set off. Also, let's not forget about special equipment such as helmets.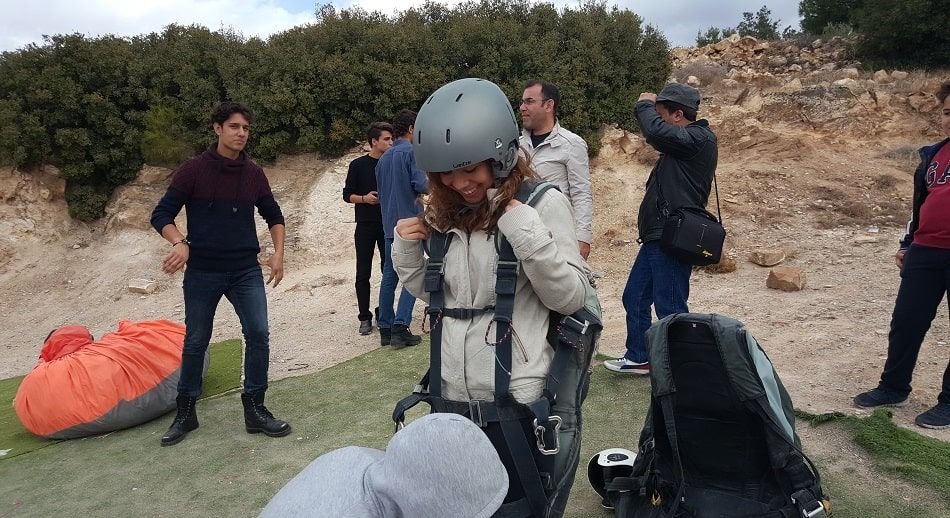 Running and jumping from a hill can be a bit scary till the moment you will not feel the ground under your feet. Now a pilot will be maneuvering a wing and you will be able to enjoy a flight and record everything with a camera. Your flight will last from 15 up to 30 minutes and it will basically depend on wind speed and weather. This time is enough so that you can observe all Pamukkale's attractions – national park, Cleopatra's pool, and Hierapolis's amphitheater. You will also see picturesque landscapes and a blend of green forests and white travertines. A genuine exhilarating moment! You will hear the sounds of wind and maybe other peoples' exciting exclamations at the beginning. But mainly after a few minutes, you will enjoy serenity and silence. When your adventure comes to an end, a smooth landing is waiting for you. The final part of your experience, as it was mentioned before, is a transfer back to your hotel in Pamukkale or Karahayit.
Paragliding is only your moment when you will face your fear of height and will jump in uncertainty. It is a great way to get your dose of adrenaline so that you would want to repeat this experience over and over again. Therefore, there are several reasons why you should paraglide exactly in Pamukkale.• Outstanding Views. Pamukkale is a temple of marvelous landscapes and attractions. One of them is definitely Pamukkale National Park, and it is a combination of thermal waters and terraced cliffs where you can walk later barefoot. Another amazing landmark is the amphitheater that derives from the 2nd century B.C. You will see the ruins of the ancient city and even more.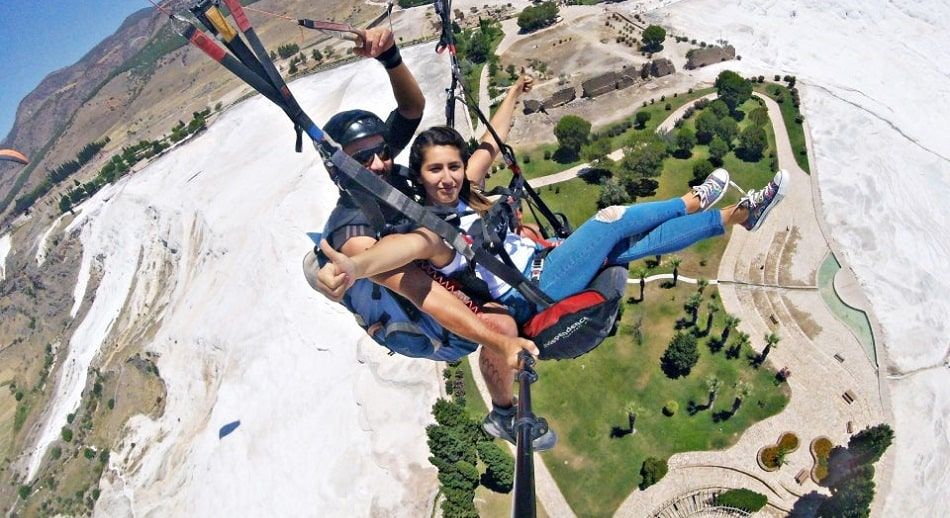 • Unique Emotions. What is a chance you will do paragliding later in your home country? Little. It is because there is no better time than your vacation. You are in Pamukkale to relax and enjoy the moment right now and right here. You can get more life feeling for a 20-minute flight than for 1 year on the ground. Everyone needs to get some adrenaline to feel your blood in the veins. Paragliding is an extreme activity that will bring you to that state.
• Real Freedom. Experience free flight above 300 meters. Even though a skilled pilot will ride a sail, you will easily imagine that you are doing it and a pilot aids you in this process. You will boost your confidence by 100%.
• Face Your Fears. If you are afraid of height, paragliding is an excellent opportunity to conquer your fear. First of all, it is not like a balloon flight, where you will be able to look only over the horizon. On a paraglide, you will not be able to hide from watching what is going on under you. Furthermore, not feeling the ground adds more adrenaline to the experience.
• Solo Experience. In contradistinction to a balloon flight, there will be just you and a pilot riding a wing. You will be able to enjoy the surroundings without extra talk of other tourists and will be able to focus on your emotions and feelings. If you are scared, you will share it with your pilot, and when he will be describing and telling facts about Pamukkale, you will get distracted from your fears.
• Value of Money. Paragliding is a really affordable activity. The prices vary from the season but mainly they will not exceed 60 dollars. Pamukkale is one of the most touristic places, so the number of flights is also high. You will be able to fly all year round. Moreover, the price includes a transfer from a hotel early morning and a dropoff after a flight.
The beauty of paragliding is an opportunity to see the most wonderful sunrise in your life on your own. At the same time is the easiest way to receive a rush of emotions within a short period of time. Your flight will last on average 20 minutes but you will remember it forever. A pilot will maintain a certain speed in the air based on wind, so you could have a smooth flight and have a perfect video to show to your friends and family. Nonetheless, your friends are also allowed to join you at Dynamite Hill and watch you paraglide. Unfortunately, you will not be able to take your electronic devices with you, and it is really great. Better to pay an additional charge for a professional video than lose your phone or camera somewhere in Pamukkale.
It is important to know that before a flight; you will get some advice about what you should wear for your first paragliding flight. As the temperature at the top is lower, you will be asked to wear a sports costume and sneakers, in winter, of course, warm clothes. Wearing a helmet is an obligatory part of a flight for your safety. Later, you will undergo some preparation, a short lecture where a professional team will tell you what you should and should not do during a flight. However, you should not worry because all the pilots have got a license and had thousands of flight hours. Besides, all of them have a parachute in case something goes wrong, but there have not been any emergencies recorded.
Weather conditions are extremely important for this activity. As well as hot air balloon flights, paragliding depends on the wind. Your safety is always a priority so it can happen in such a way that your flight is canceled or delayed. Weather is something we all cannot predict. For the same reasons, there are some age and weight restrictions for paragliding, exactly children under 6 years old and people with a weight over 100 kg are not allowed to paraglide.
Finally, there are many websites that offer paragliding tours over Pamukkale for reasonable prices. You can either book a flight here when coming to Pamukkale or order a tour from other nearby cities that includes paragliding. Flights take place from sunrise till sunset, so there is plenty of time you can catch your opportunity. Due to the peak of demand in summer, the companies raise the number of flights to make every traveler's dreams come true. Paragliding will be a lifelong experience in Turkey, so don't restrain yourself from making your trip really memorable.