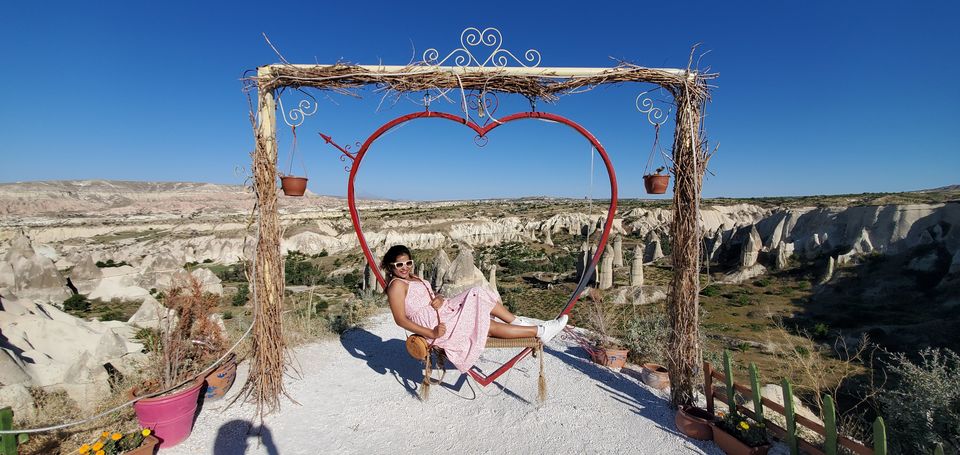 Don't just read or listen about it, go visit and make your own story.
Turkey: As much as our many Bollywood movies has shown it to be a place of terrorist/illegal activities and portrayed it as very unsafe place, this country is so much more than that and of-course(as per my experience there for 6 days) pretty safe country.
So first thing first, once your tickets and hotel bookings are done, Plan straight for your visa formalities. For metro cities like Mumbai, Delhi and Hyderabad, Consulates are in the same cities; hence the visa process will only take a week. But other cities like Bangalore, M.P. the visa application is forwarded to respective jurisdiction. Please once check with consulate if your passport is issued in different city and you're applying from different city. Passports having valid US visa, can apply online directly. without US visa, there are number of documents listed in the VFS global site. Go through all the docs and prepare exactly what they've asked for. keep at-least 15 days in hand while applying.
Frequent flights run from Delhi and takes about 6.5 hours. So by the time we reached Istanbul, it was post 7 pm Istanbul time. Turkey is on the western side, that's the reason it remains quite sunny even till 8 pm.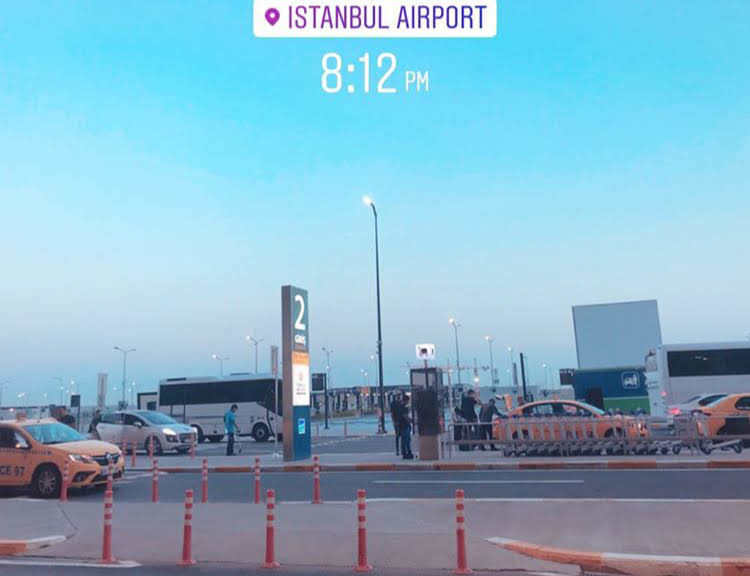 A little fascinating geographical revelation about Istanbul is that half of part of the city comes in European continent and the other half comes in Asiatic side. The Bosphorus strait forms part of the continental boundary between Europe and Asia and both sides are connected by Bosphorus bridge(or Martyrs Bridge) . Since all the tourist attractions are on the European side, it is recommended to book a hotel that side. Unknown of that fact, I booked hotel on the Asiatic side and was quite discouraged when my cab driver mentioned this fact. But luckily my hotel was located on a very quaint street with graffiti everywhere and really pretty eat-outs, cafes and bars around. On the first night there, we decided to explore some pub and nightlife. All bars are again on the European side and closes late at 4 am, which is a great thing if you're a party lover. By the time we were back to our hostel, it was past 2 am. There were still people around, drinking beer and smoking, minding their own business. No one seemed to care if we were tourists or there were females in the group. We kept strolling for some more time enjoying the quietness and prettiness of the city.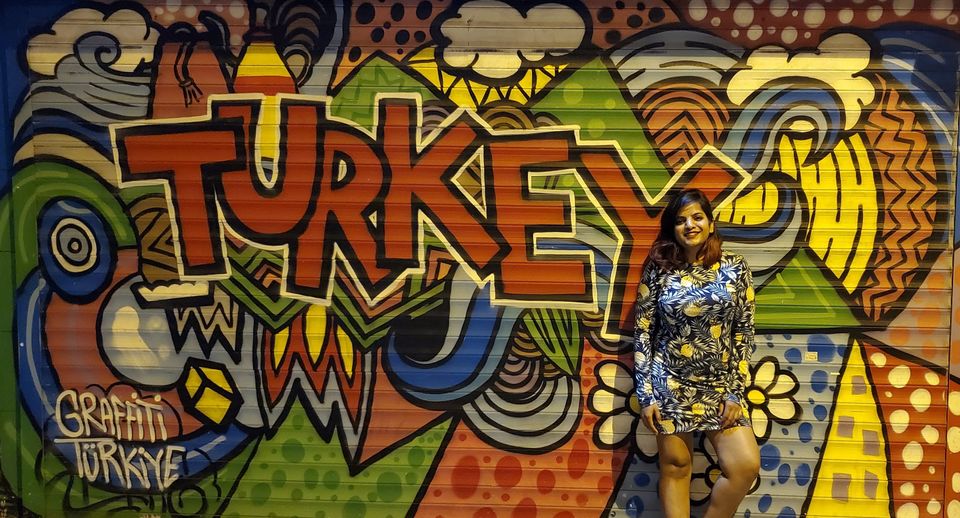 The next day we kept for exploring all touristic places, mosques, museums, Bosphorus tour and whirling dervishes show. The famous blue mosque and Hagia Sophia museum is on the same premises. There is no entry fee for mosque but for Hagia Sophia museum, you have to wait in queue to get the ticket. since there are multiple museums in the city, you can take a combine ticket for all the museums and also for day-wise. Single entry is usually under 100 lira while the combined-museums entry is approx 300 lira. Below is the list of all the places to visit in sultanahmet camii location or nearby vicinity.
-Blue Mosque: no entry fee
-Hagia Sophia: around 100 lira entry fee and can be obtained at the premise
Topkapi Museum: around 100 lira entry fee and can be obtained at the premise
-Whirling Dervishes show at Hodjapasha : entry fee is 120 lira, book it online beforehand. all the shows start at 7 pm and lasts for an hour. Keep this in your itinerary only if you're interested in sacred practice of the mystical sufis.
-Taksim Square and grand bazaar: NA
-Black sea Bosphorus tour: tour is available for 3 slots of the day(noon, pre-eve and dusk). Tickets for this can be obtained at any souvenir store in blue mosque's premise for 10 Euro if you have good bargain skills. The tour takes a round from Europe to Asia side and its recommended that you take this tour for 5-6 pm time in order to witness sunset.
if after dervishes show, you get a good appetite, head towards Bitlis restaurant nearby. So Bitlis is basically a small city of turkey. And this restaurant is based on Bitlis' exotic cuisine. Their food is so tasty and filling that I wont object google rating of 4.5 given to them.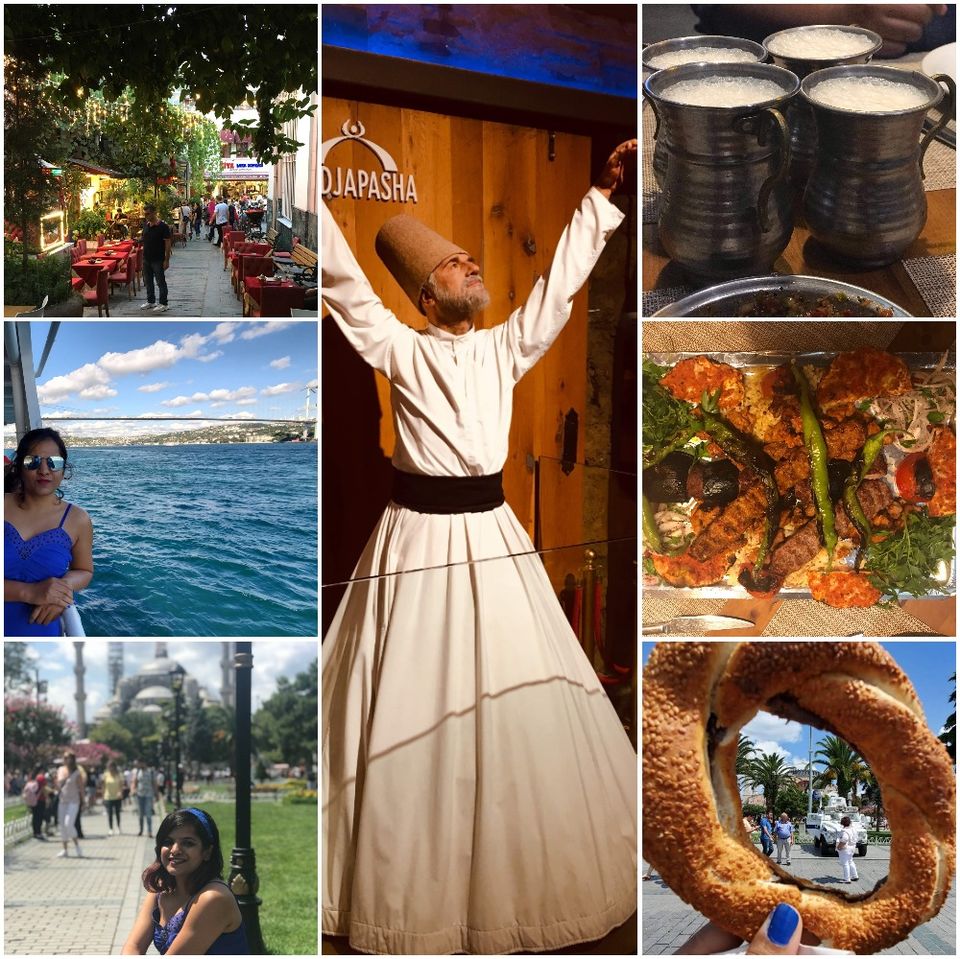 The next morning, we kept the day to explore Galata tower and Dolmabahce palace/museum. Both of these are up north from the taksim area hence we utilized out half day exploring these. Sadly Dolmabahce palace remains close on Monday. So make sure your visit is not falling on any Monday if you want to witness this magnificent palace.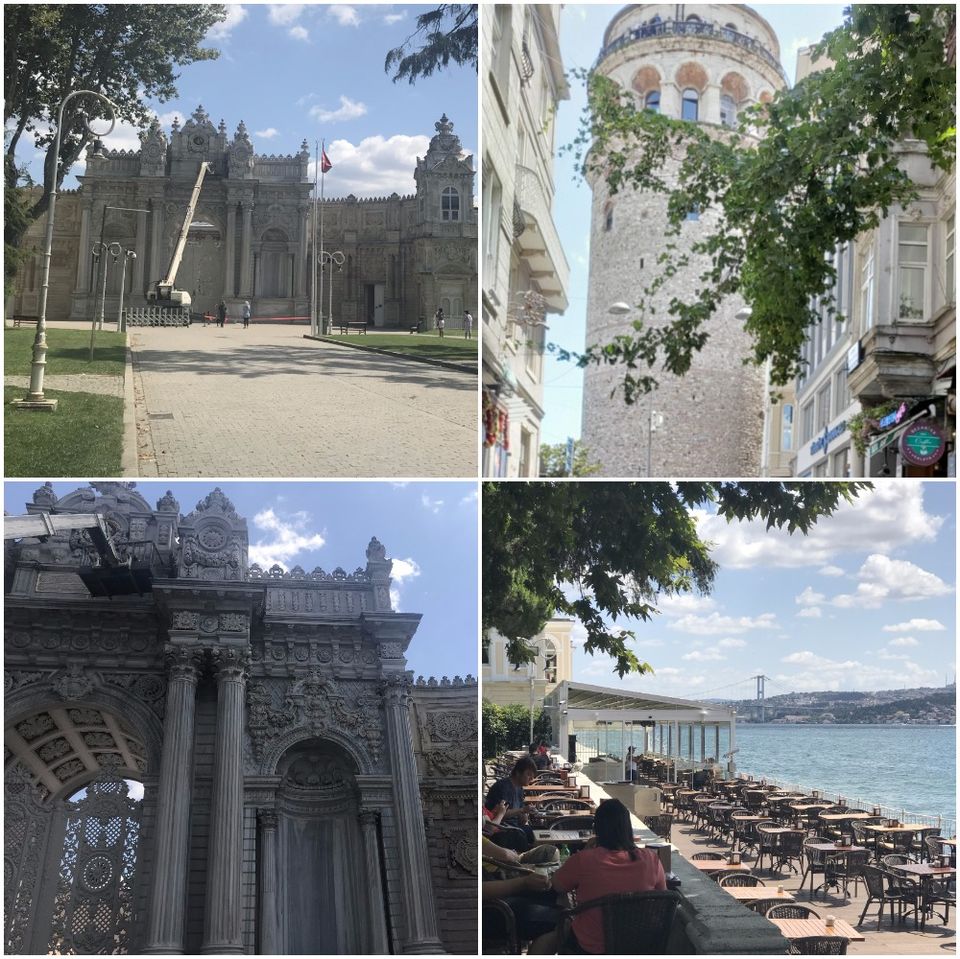 With enough time left in hand for the next flight, we headed to airport and caught the next flight to Pamukkale , a western city of Turkey. The nearest airport to Pamukkale city is Denzil town around 70 kms far, which operates all the flights to-fro Istanbul. Keeping in mind that Pamukkale is a village, we rented a car from Denzil airport itself for 490 lira for 2 days and with 2 Drivers' registration.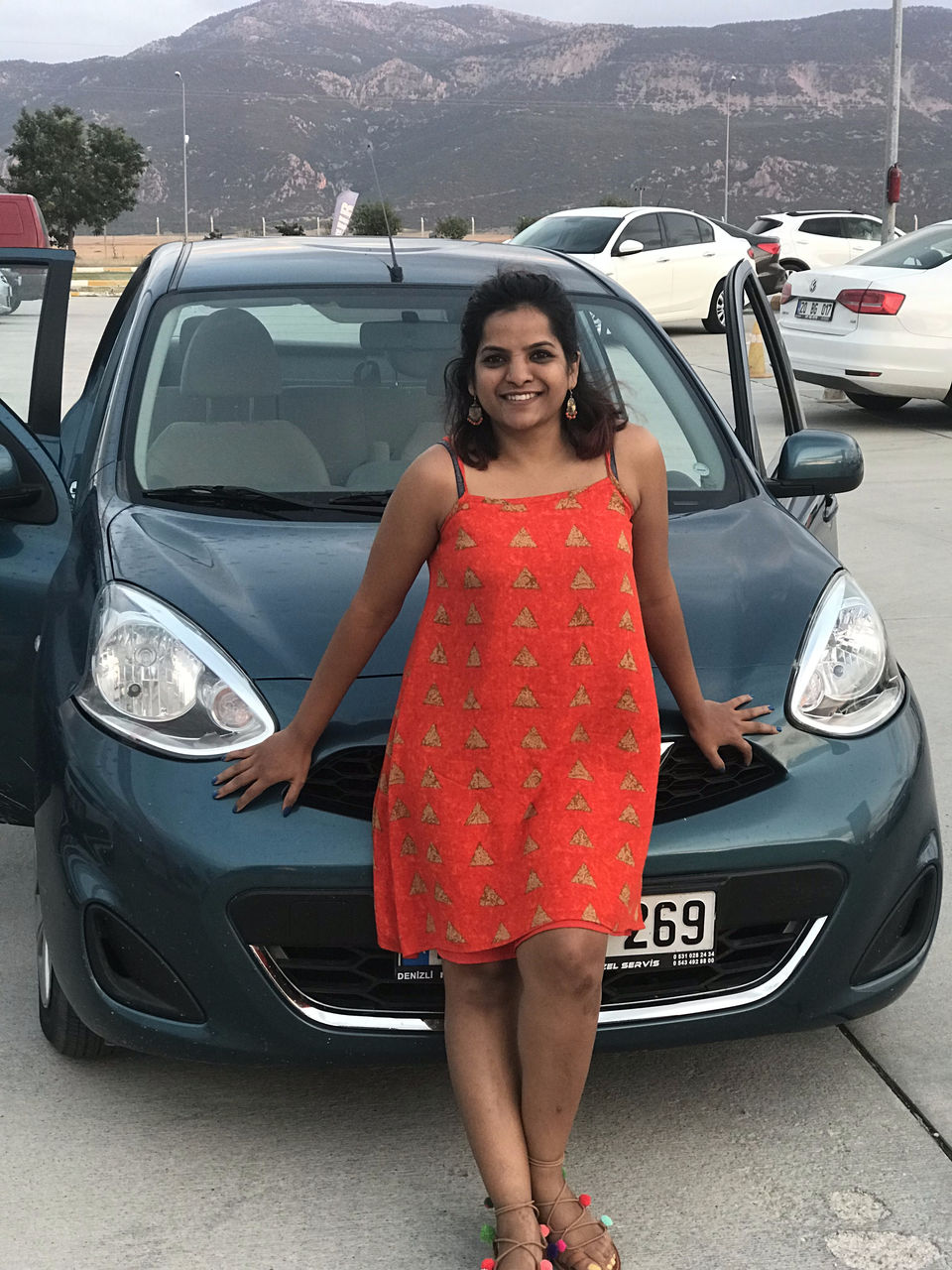 By the time we arrived our stay in Pamukkale, it was dark. we walked around the town to find a place to eat and found a really small dhaba-look-alike place for dinner. Even though it was late at night, the shop owner/cook made sure we filled our tummies with whatever he could cooked for us.
The next morning in Pamukkale city, we got up early and drove to Travertine. Travertine are basically the hot springs formed by the calcium deposits over years. If you want to see and enjoy the turquoise water, get up as early in the morning to reach this place. the booking counter opens at 7 am around. One ticket is worth 60-70 lira approx. By 9, the crowd here gets so high that if you take a picture, you will only get people behind not the water or calcium deposits. The entrance ticket enables you to visit other ruins under this premises along with antique pools. If you're really interested in knowing history of ancient Roman times, get a local guide available there. Another major attraction and important site to see here is Hierapolis' amphitheater. Once the tour of this property is done, you can drive around this small city for good food. Since all the hotels and restaurants are located near the Travertine area, it will not be difficult for you to find a good bar or cafe. I would suggest you to have lunch at whitehouse restaurant and cafe which has got santorini vibes. If you're in the city for dinner, try kayas restaurant.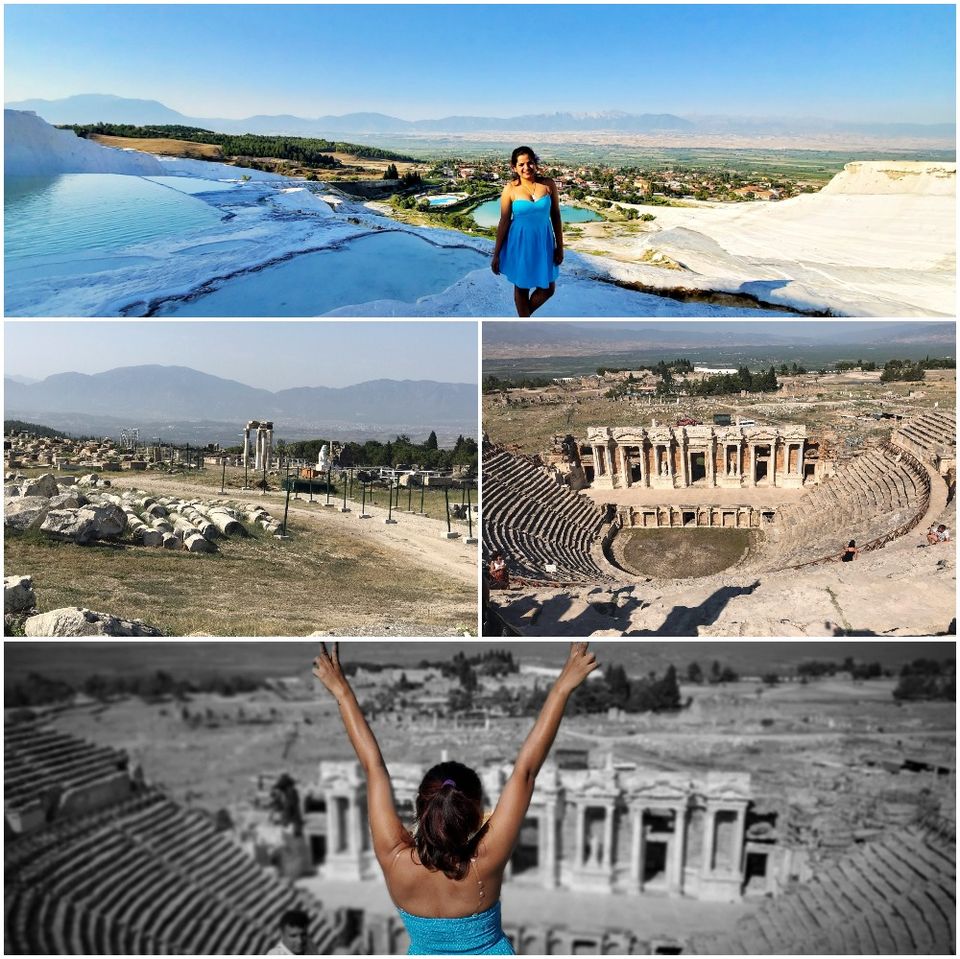 In Pamukkale, the activities to do consists only of visiting multiple ruins of roman reign such as Travertine, Antique pools, amphitheater, paragliding and the hot air balloon (but I would suggest you to try the ballooning at capadoccia,its much better as compared to ballooning in pamukkale) and can be completed thru half day provided you start early in the morning. The rest of the day, you can have a road-trip to Antayla which is 3 hour journey from pamukkale city, visit beaches, spend the night there, have a roam-around-city next day and take a flight to capdoccia. For us, we did not have extra day to spare for roaming around, we strolled and rested in pamukkale city and next morning took a flight to Istanbul and then to capadoccia.
Next day our flight journey was first from Denizil to Istanbul and then Istanbul to kayseri. we reached there by 12, and took a cab for 300 Lira to uchisar capadoccia. In capadoccia village, there are much better cab services than pamukkale village that is why we decided to rely on it and that was a better decision than renting a car since the village is densely populated, not easily reachable and all the touristic spots are spread around for 20-30 kms around the city. After checking-in to our cave hotel, we hired a cab with the help of our hotel-owner. The cab driver took us to 400-500 years old underground city, love valley, rose valley and lastly to pigeon valley. We had our late lunch at sedef restaurant in Goreme area. There are many more options available in this area for lunches, dinners or just for hangouts. Capadoccia city is very much a cave city. All the hotels and houses here are based on cave theme. If you have little evening time to spare, the city, shops and locals can be discovered barefoot. Our hotel owner were very generous people, When asked for a cake for a late-night birthday celebration, they arranged it for us from nevsehir city(a nearby city around 35 kms far with an airport) for 100 lira.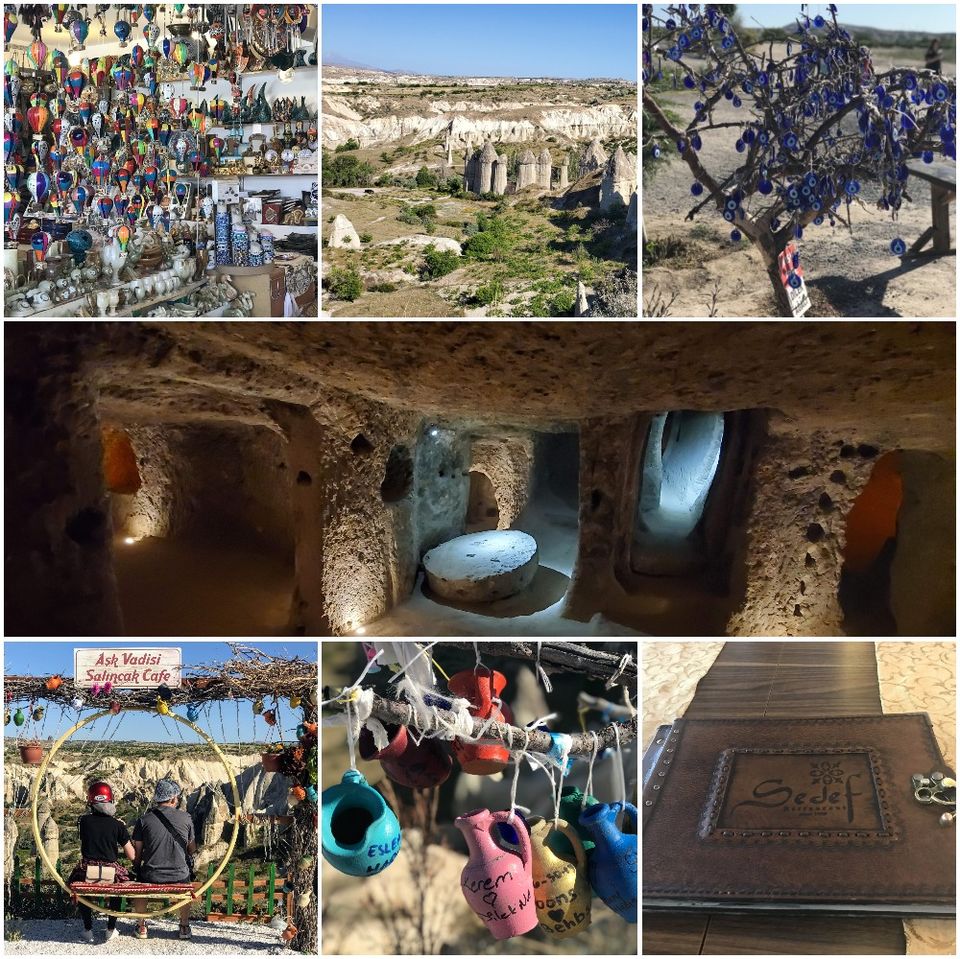 Next day, we got up at 3 am as our hot air balloon ride was booked with capadoccia voyager balloons company. A guy from the company picked us up exactly at 3.45 am, picked other tourists on the way and dropped us at the facility where we paid for our ride and were comforted with early morning breakfast. Once all the formalities were done, we were sent to balloon ride facility where we waited for around 20-30 mins for inflation of the balloons. This early morning site with hundreds balloons being filled up and people waiting beside to step up on experiencing one of a lifetime adventures makes getting up at 3 am worth. Once the hot air is filled and the balloon is lifted, the passengers take a step-in inside the basket and the lifting starts. The ride lasts for an hour, tours around the city and finally ends at the other end of the city. Usually all the balloon companies ends the trip with a raising a toast of champagne to all the riders and providing a certificate of "Been There Done That". It is one of the must-do activities while being in capadoccia.
After we were done, we were dropped at our hotel where we had the breakfast. After chilling out for sometime, we started for nevsehir airport to catch the flight to Istanbul and Delhi further. The immigration is easy and thorough at both places. Indigo has a hassle-free direct connectivity from India to Turkey but try to book seats with meals, as for 6.5 hours long journey, Indigo doesn't provide free food.
Here is my instagram profile to be updated for more pictures and videos:
https://instagram.com/rachnashivale?igshid=6ag59vuzlgpa
Important points to note:
The Total trip cost that I've mentioned includes flights tickets, stay, food, minimal shopping, commute and balloon ride.
1. Visa is priority if you don't hold US visa.
2. ATMs are available everywhere, so you can withdraw cash if you're debit is not internationally restricted.
3. Turkish economy is friendly to both lira and euro notes. Keep some denominations of euro handy in case of big purchases.
4. Buy sim of Turk-Telecom, it has good connectivity everywhere.
5. Do check the days the museums/palaces remain close so that your time and money isn't wasted.
6. Indian butter milk is called ayran there, do try it.
7. People are very generous here, but don't push their limits.
8. There are two international airports, SAW(asia side) and IST(europe side). Make sure you have got the airport right before heading to airport.
9. Almost all flights from small city go via Istanbul, there is no direct connectivity between these cities. Hence plan accordingly.
10. for reaching Capadoccia, there are 2 airports nevsehir (30 kms far) and keyseri (70 kms far). Check well before booking according to you itinerary
Frequent Searches Leading To This Page:-
top turkey tour packages with price for couples, top turkey tour packages for couples, top turkey tour packages for family, turkey honeymoon tour packages, 7 days turkey tour package