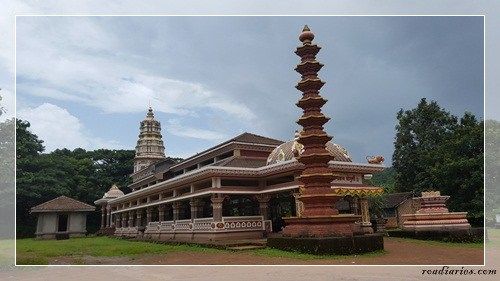 Hi Everyone
Today the post is about a short trip to Sri Devi Mauli temple in Sonurli, Maharashtra. The temple is very famous for Lotangan jatra. We visit this place every year. It is at an hours distance from my maternal home which is very close to Panaji. To be precise, it is at an exact location of 50kms, one way.
About the place
The temple has a very beautiful structure. The temple has been renovated in the last 3 years and still some work is pending. The temple work is done mostly from the money donated by the devotees. The temple is very close to Malewad, famous for kanda bhaji or pyaj pakodas. The temple is 3kms inside from the highway.
The temple is also famous for 'lotangan jatra' which is held after diwali, the very next day of tulsi wedding. It is a belief that your wish comes true if you pray whole heartedly and then put lotangan to Devi as a thank you gesture.
Sonurli is known as the South Pandharpur of Konkan. Devi is famously known as Mahishasur Mardini. The statue is engraved on a rock and is said to be 300 years old. Devi is known for fulfilling wishes.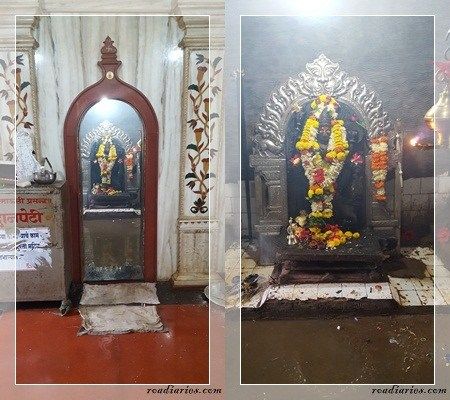 Best time to visit : Anytime
Who all travelled: Me, My husband, Aruhi and my parents
Mode of transport: Car
Time taken: 3 hours total including tea breaks
Things to carry:
Selfie stick
Power back up
Water bottle
Umbrella/Jacket
Devichi oti (if you dont wish to buy near temple)
Any offering to Devi (not compulsory)
My experience
Since Aruhi is very small, hardly 3 months old, we are covering mostly temples these days and not any beaches or any place which may catch infection to her. Going to this temple, was on our wishlist since a long time. We started from home by 11AM and we were home by 2PM. Sonurli is a small village near Sawantwadi, near to Goa Maharashtra border. It took us around 1 hour to reach the place. The roads are covered with greenery since its monsoons. The Konkan region has very beautiful temples. Best thing is they are spacious and with beautiful architecture.
There is enough place for parking vehicles right in front of the temple. And yes, there is an age old Banyan tree.
To the right of the entrance of the temple, there is a beautiful vrindavan while to the left there is a beautiful deepastambha made out of stones.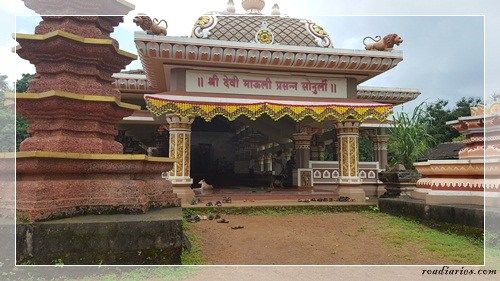 The temple has a big hall and its quite spacious I must say. The architecture is of marble and beautiful carvings are inscribed on the pillars of the temple. Not only pillars, but the ceiling also has beautiful carvings.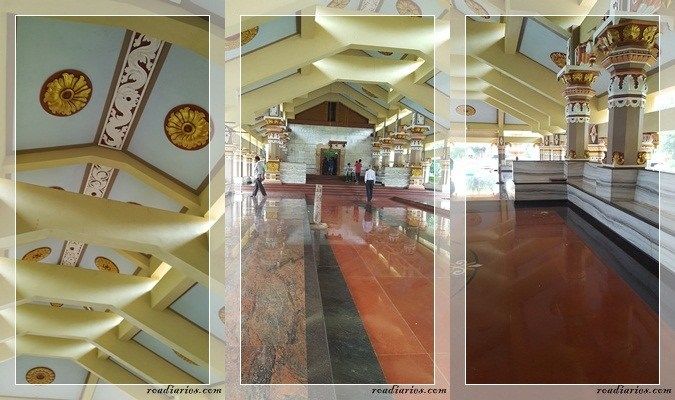 We were at the temple for around 20 minutes. You get all the essential items to offer to the temple in a shop opposite to the temple. The temple premises also boasts of a well and room stays. But, I think the room stays are not been maintained as of now. Once the temple is fully constructed, they would focus on building the room stays with better facilities.
The weather was lovely. We left after around 20 minutes. On our way back we had lime soda and onion pakodas at Malewad. Malewad is also famous for groundnut laddoos. Malewad is a junction, where in one road goes to Sonurli, other goes to Vengurla while third goes to Redi, famous for Ganesh temple. I would be covering Redi Ganesh temple soon on my blog.
Overall experience: It was a very short and sweet trip. Our minds were refreshed after visiting the place.
If you have any queries, please feel free to ask in comments. I will try my best to answer the same ASAP. Also I would suggest visit this place for an experience which you can cherish forever.
Frequent searches leading to this page:-
tourist places out of maharashtra, best tourist places in maharashtra in december, places of tourist interest in maharashtra, tourist places in maharashtra in september, 5 tourist places in maharashtra