Indian travelers headed to France make a beeline for Paris and the Riviera. But there is so much more to France. A less frequented region, despite proximity to Paris, is the incredibly diverse region of Normandy. When in Normandy, a four day itinerary could involve things ranging from admiring the impressionist master Monet's house and garden to checking out the famous D-day landing beaches from World War II. You could be spending a night on Mont St Michel, an island that houses an ancient abbey and admire the Bayeux tapestry the next day, the largest tapestry in the world. And after covering all this you would only be scratching the surface of Normany.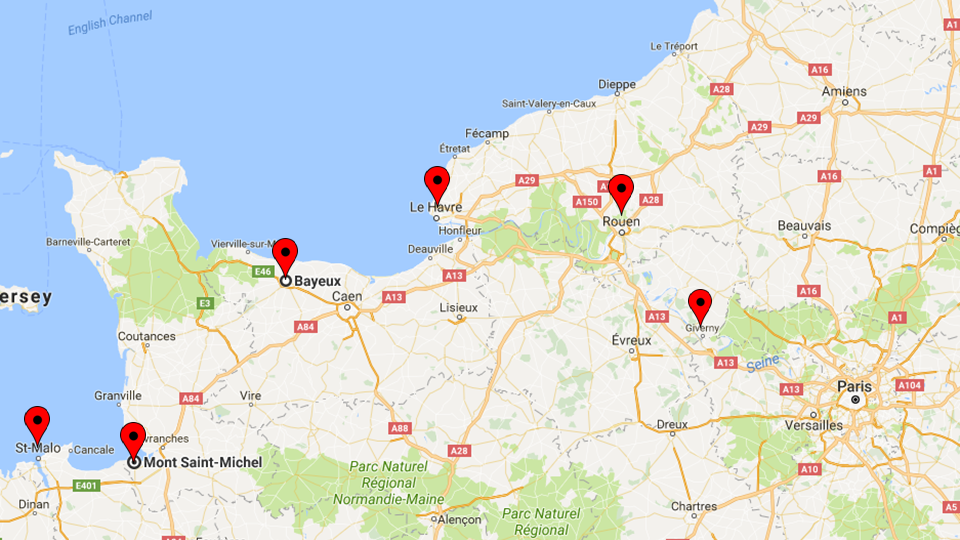 A map marking out the must see spots in Normandy
I was travelling with my wife and infant daughter and here's how we spent 4 amazing days in this lovely region of France. We relied on public transport throughout but you could also rent a car to make your itinerary more flexible.
Day 1: Monet's House and Garden
Other places in Normandy that would be worth your while are Rouen for its famous cathedral, and the harbour town of Honfleur which was the birthplace of impressionism. Unfortunately, we didn't manage to fit them into our itinerary.
This was our last stop in Normandy and we had saved the best for the last. If you don't find time to cover Normandy on your trip, at least spare a day to visit the Mont. We took a train from Bayeux to Pontorson, which is connected by a shuttle bus to Mont St Michel.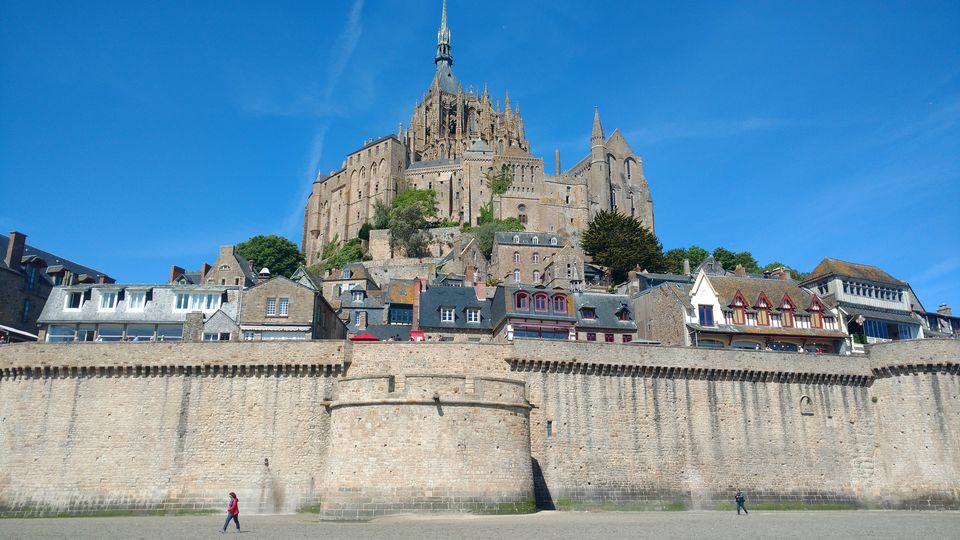 Monet settled down in this tiny hamlet, about 75km away from Paris. His house and garden now welcome tourists. Monet landscaped an amazing garden and cultivated lilies in a water garden so that he could paint them. No matter which season you visit in, some or the other bright flowers will always be in resplendent bloom.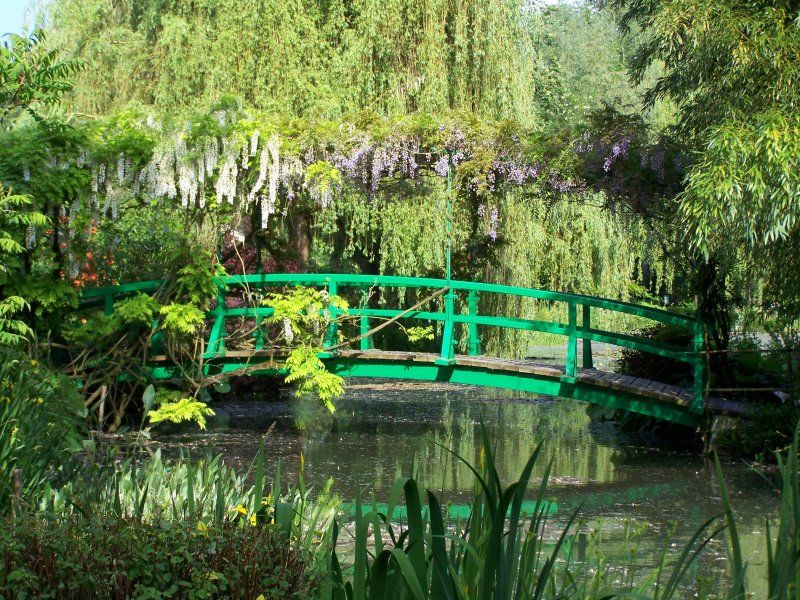 Upon landing in Paris, we headed straight to Vernon, the rail head for the sleepy town of Giverny made famous by its most illustrious resident Claude Monet. Pro Tip: Get your entry tickets to Monet's Gardens from the Tourist Information Office at Vernon to avoid lengthy queues. The office is housed in a medieval wooden building and is a sight in itself. Shuttle buses ply from Vernon to Giverny and cost 5 Euros per person one way. Schedules here https://tinyurl.com/yd2x4g2a . Giverny has limited stay options so you are better off basing yourself in Vernon.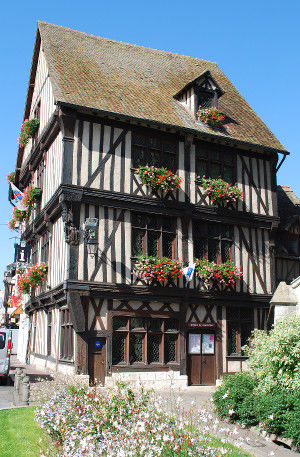 The Tourist Information Office at Vernon (Source: Giverny.org)
Japanese Bridge at Monet's water garden (Source: Giverny.org)
His house is now a museum and gives a peek into his life and times. But the star of the show is the water garden with lilies that Monet painted. He was heavily inspired by Japan and the quaint green Japanese bridges over the lake, along with a collection of oriental plants are a testament to that. It was incredible to witness first- hand the very scenes that had inspired the impressionist master, before eventually admiring the paintings in the Musee d'Orsay in Paris.
Day 2: Bayeux Cathedral and Tapestry
The next day we took a train to Bayeux. Well the thing with France is all railroads lead to Paris. So we had to come back to Paris and change trains for Bayeux. Bayeux falls on the Paris-Caen-Cherbourg line. Visitors to landing beaches in Normandy typically chose between Bayeux and Caen as a base. We opted for Bayeux as it's smaller and more intimate compared to Caen. It's a lovely destination in its own right housing the largest tapestry in the world and a fabulous 11th century Gothic cathedral. Bayeux is compact and can be easily covered on foot.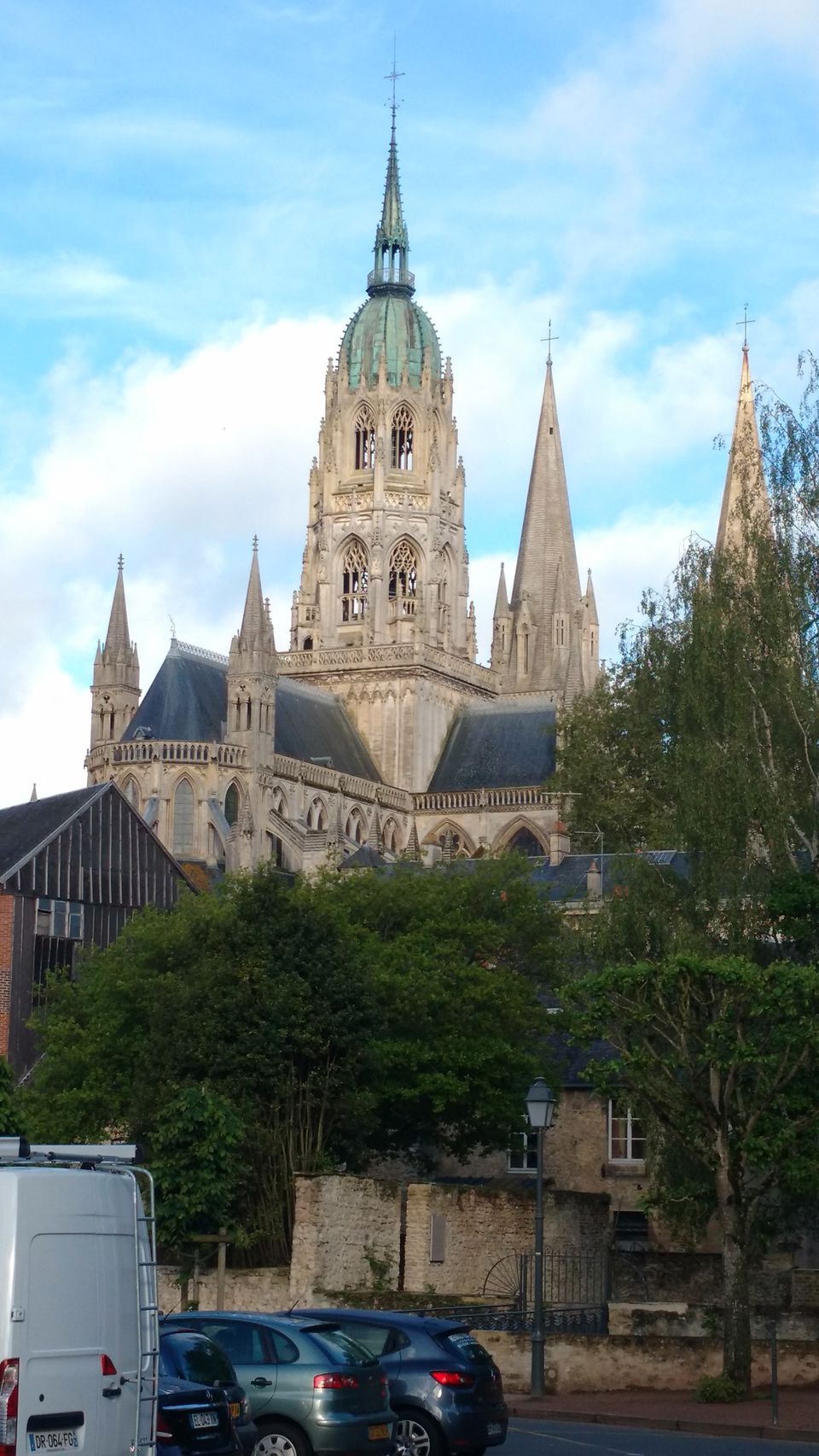 The Bayeux Cathedral in the background
Cathedral Notre-Dame de Bayeux was consecrated by Bishop Odo, the half-brother of the King of England, William the Conqueror in July of 1077. The cathedral still stands strong after over 900 years unlike the cathedral in Caen which fell to allied bombings.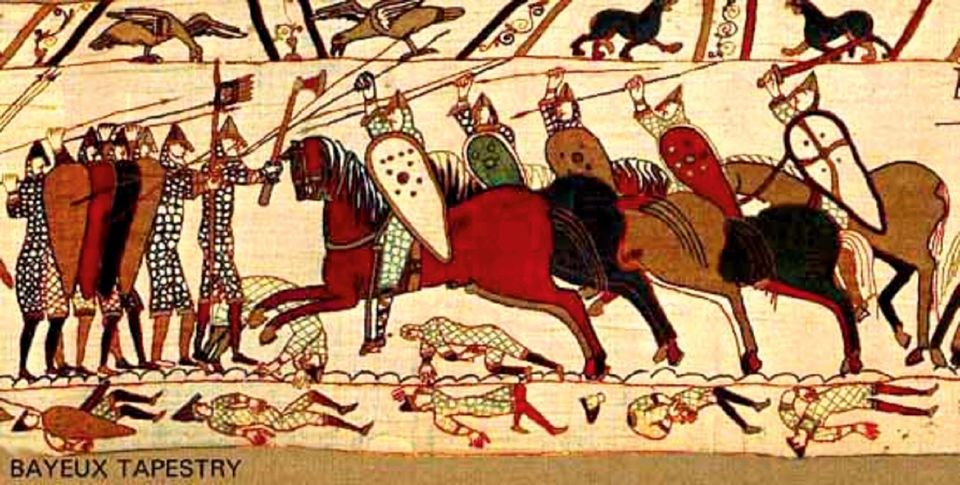 A section of the Bayeux Tapestry (Source: lelivrescolaire.fr)
The Bayeux Tapestry is a 70 metre long cloth embroidered with tales describing the Norman conquest of England by William the Conqueror. The tapestry dates back to the 11th Century and was commissioned most likely by Bishop Odo. One thing is for sure, it is unlike anything you have seen before and you don't need to be a history buff to enjoy it. I knew very little of French history and I came out fascinated. A very engaging audio guide is included in the price of the ticket which stands at 9.50 Euros presently.
The two major attractions aside, you'll enjoy wandering through the historic town stopping for a coffee here and a croissant there. Bayeux oozes old world charm.
Day 3: D-day Landing Beaches
This is the main reason travellers flock to Normandy. These majestic beaches bear sad testimony to a gory history.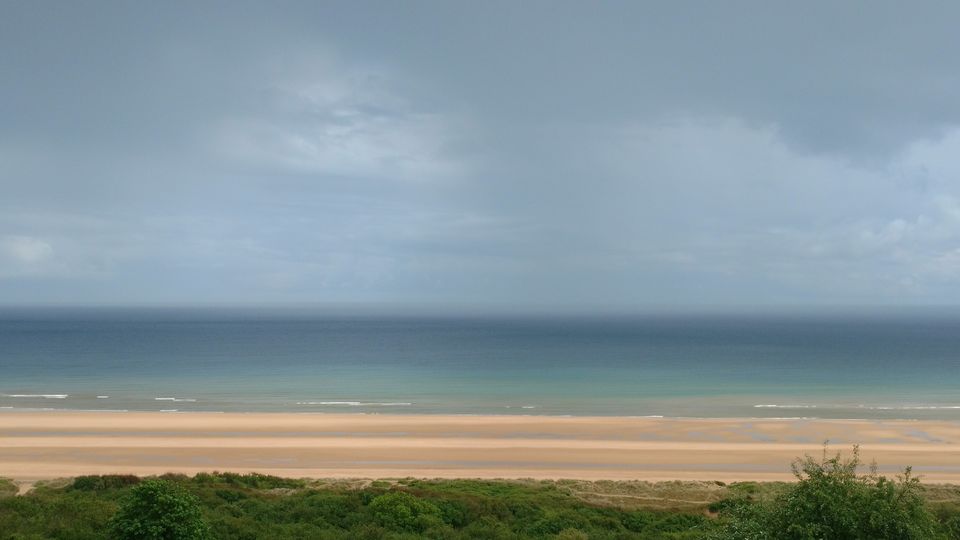 Omaha Beach
There are many operators who arrange full day and half day guided tours to the American, British or Canadian sectors of the D-day beaches. We employed the services of Bayeux Shuttle (http://www.bayeuxshuttle.com) and were very satisfied. The half day tour cost us 60 Euros per person and they were kind enough to give us a discount for our infant and arrange a car seat for her. Our guide Llyod, a Welshman, was a WW II buff and extremely knowledgeable. All our co passengers were either American or Canadian and came from families of war veterans. It was very moving to hear some of their accounts. Lloyd said it is very rare to have Indians on these tours and it was the first time they had an Indian infant on board!
We went for a tour of Omaha beach which is one among the five sectors where allies invaded German occupied France. It takes just about half an hour to get there from Bayeux. We chose the Omaha beach circuit because it includes a trip to the Normandy American Cemetery and Memorial.
The trip began with a stop at Pointe du Hoc where we saw the German gun installations comprising 6 guns. The canons had a range of 10 miles and could shot fired from here could both Omaha and Utah beaches, thus posing a great threat to the allied landings. We also saw German bunkers were soldiers holed up.
Next we went to the Omaha beach. A chill went down my spine as I heard Llyod narrate the events of the fateful day. It sounded as if he were a first-hand witness of the proceedings. While the incessant rain during our tour was bothering us, it would have been the least of the worries for the soldiers who landed on these beaches on June 6th 1944. It is indeed sad that such a pretty beach, once known as plage d'or or the golden beach had to get tainted with such gory history.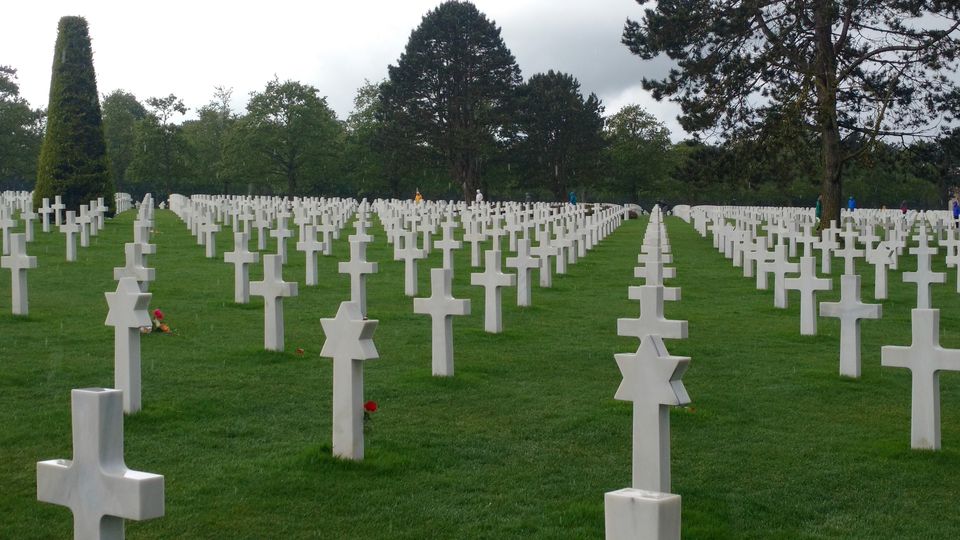 Normandy American Cemetery
Then we proceeded to the American cemetery which houses the remains of more than 9000 Americans, most of who lost their lives during military operations in WW II. It was an extremely humbling experience to walk through the cemetery amidst graves of soldiers, so many of who were barely in their 20s. Famous interments include Theodore Jr and Quentin Roosevelt, sons of president Theodore Roosevelt. The cemetery is featured in the movie saving Saving Private Ryan. The movie is based on the lives of Niland brothers who are also buried here.
Day 4: Mont Saint Michel
The impressive Mont St Michel by day
The Abbey in the middle of the ocean can be the highlight of any trip to France. It sure was for us. The first montastic establishment here was constructed in the 8th century. The Romanesque church of the abbey was built in the 11th Century.
Lots of tourists flock here during the daytime, but I would strongly recommend spending a night here and experiencing the place after the floating multitudes have left. In the summer when daylight stretches to almost 10pm, you can have a magical dinner seated on a restaurant next to the ramparts. Pro tip: Do avail the free guided tour available in English twice a day. It will help you truly understand the rich history of the Abbey and appreciate it better.
Mont St Michel is also famous for its fluffy omelettes. La Mere Poulard is a legend. They are worth trying because you won't find anything quite like this anywhere else though we didn't find them to our liking. The local restaurants also have a wide selection of crepes and galettes. Post sundown, the lit up mont is a magical sight.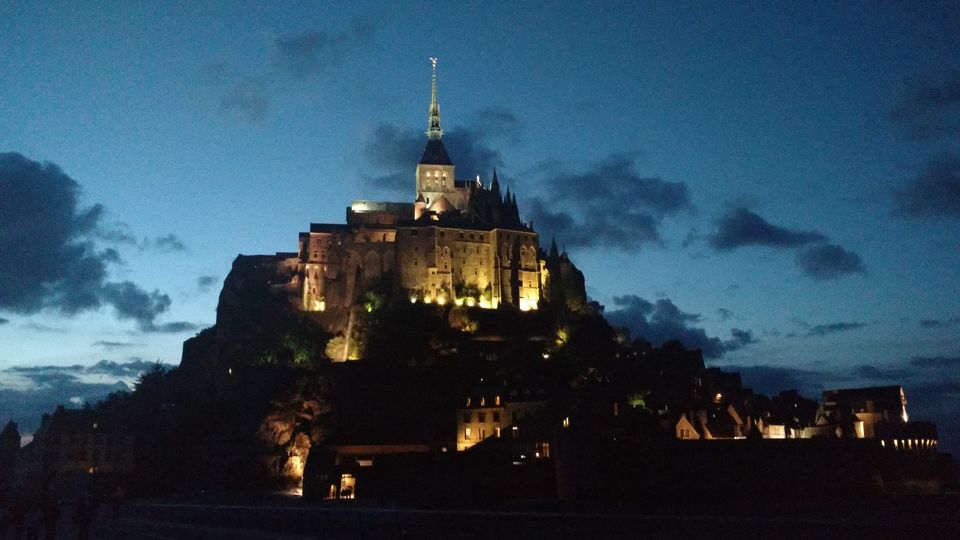 MSM looks nothing short of magical at night