International trips are always special. We go out of our comfort zone to embrace a new destination, an alien culture and some wonderous beauty which we may not be able to experience on our home turf. My trip to Phuket and Phi Phi was special on one more count- it was my first international trip with my toddler and mother-in-law.
We had chosen this destination because we thought it would be relaxed and since our baby loves water, a beach destination was an obvious choice. On our trip, we had some memorable experiences (and misadventures), which I just had to document:
1. Walking along the side of the Long Tail Boat to dis-embark at James Bond Island
Island hopping is one of the prime attractions of Phuket. The tall limestone cliffs and the ride through mangrove forests of Phang Nga Bay is an adventure in itself and filled with unimaginable beauty! When you do it with a toddler and elderly person, it is even more so. But we were managing quite well until we actually reached James Bond Island (in our James Bond Island Tour) and realized that we had to walk along the narrow walkway on the side of the boat to get down and reach James Bond Island. My mother-in-law was not even able to visit! We did get down, but not before our baby started bawling on the top of his lungs on being handed over to the tour guide (who was trying to help us).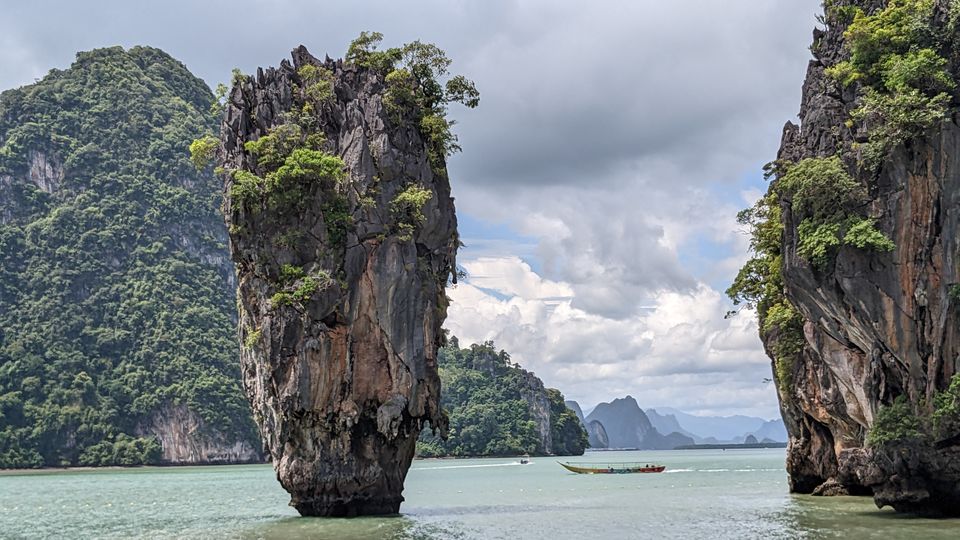 2. Canoeing Through Sea Caves in Koh Talu
The last stop on our James Bond Island Tour was Koh Talu. They took us to a big boat, and told us that we could go canoeing in a rubber boat for around 45 minutes, where the boat man would take us through cave like structures over the sea. We almost had cold feet, because we could not leave the baby on shore, and it seemed too dangerous with a baby. Finally, we did go on that rubber canoe with a (almost) 2 year old, and had the time of our lives. But I still shudder to think how risky it felt.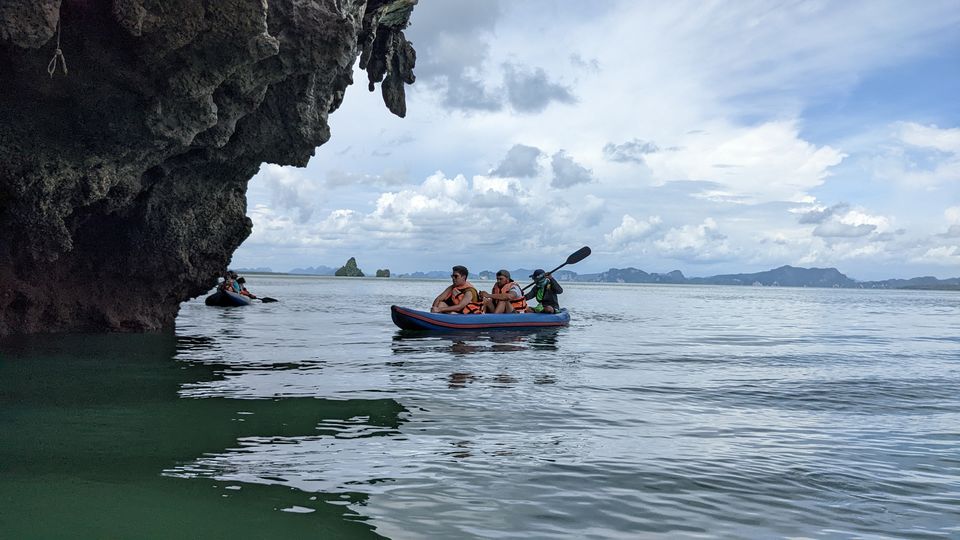 3. Taking a Private Boat to Tour Phi Phi Islands
We spent a couple of days relaxing in Koh Phi Phi Don, and on the second day, I really wanted to take a tour of the nearby islands. The blue-green water looked so pristine and inviting, but none of the tours were falling within the time slot we wanted. Ultimately, our hotel suggested a private longtail boat at 1500 baht for 2 people and 3 hours. It seemed reasonable and we could go at our convenience. Unfortunately, the weather was a bit stormy and I didn't realise how rough the sea is. As soon as we left the pier, the boat started rocking from side to side violently, tossed about like a cork in the sea. With a baby in my arms, and holding my husband's arm for support, I just prayed to God that nothing untoward should happen. While each destination was stunning (and a bit calmer than the open ocean), the journey to reach was terrifying!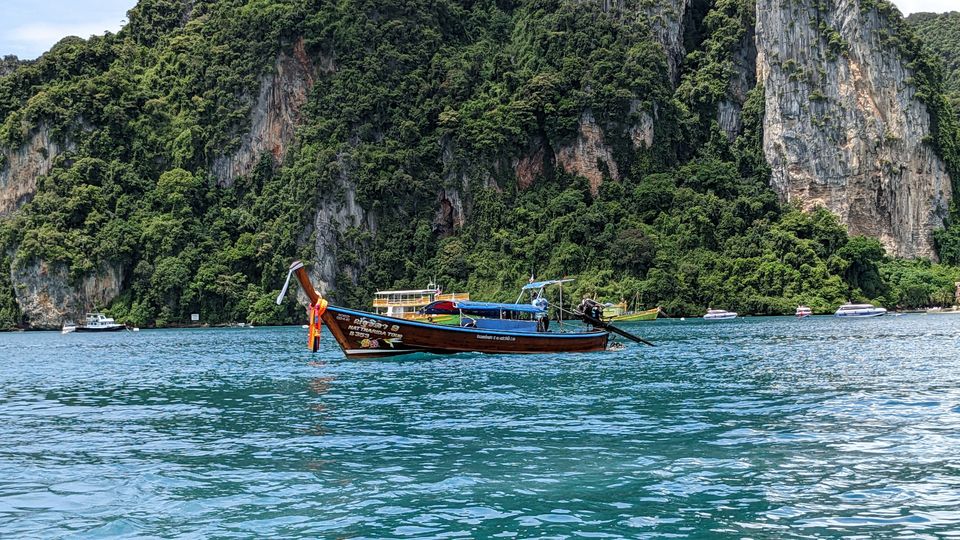 4. Realizing that Snorkeling in Thailand is definitely not for Beginners
One of the main reasons my husband agreed for the Phi Phi island tour was to experience jumping into the blue green crystal waters. He did jump in, but since he doesn't know how to swim, the experience wasn't the blissful one advertised in tourism photos and videos. In face it was downright scary, and with rain falling on our heads, it was chilly as well.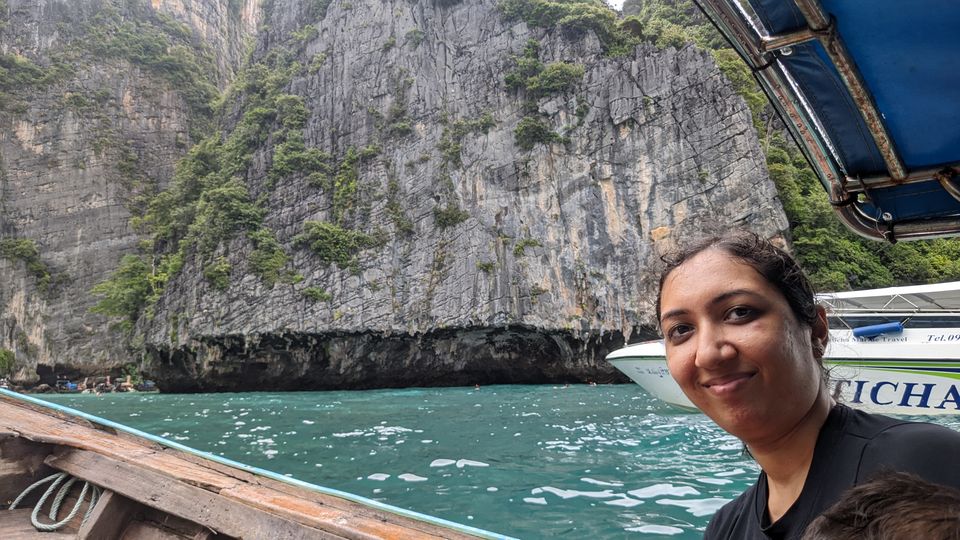 5. Going to Phuket and Phi Phi in the Rainiest Months(As per Google)
Any search for best time to visit Phuket and Phi yields the consistent result- September is the month it rains the hardest and is best avoided. But we risked going in September end, and the rains not only did not play spoilsport in our plans but enhanced our overall experience. We were saved from the tropical heat by the intermittent showers. On one of the days in Phi Phi it rained cats and dogs, but we didn't have any evening and night activities planned so it didn't really bother us. So, our risk paid off well, and we saved almost Rs. 30000 in flight costs overall.
6. Thai Food Tastes Better in India
We enjoy eating Thai food in India, and we were sure that we are going to eat local in Thailand. But we realized that Thai food tastes much better in India. I loved their Thai curry, but my experience with Pad Thai wasn't that great. Maybe, on my next trip I'll get used to it. We did go to an Indian restaurant in Phuket called Amritsr, which had the most amazing stuffed Kulchas, and authentic Punjabi food, albeit at a steep price.
7. Phi Phi is Cat Land, and I'm Not Exactly a Cat Lover
Koh Phi Phi Don is a tiny place. There are no roads, and the whole place can easily be covered on foot. And from each nook and cranny, you'll see cats staring at you. Cats of all shapes, sizes and colors can be seen walking with pride around the island. They don't bother you, but I'm not really a cat person, and seeing so many cats at once made me a bit nervous!
If you have any such stories, which don't make it to your main itinerary, but are worth sharing, do let me know in the comments.