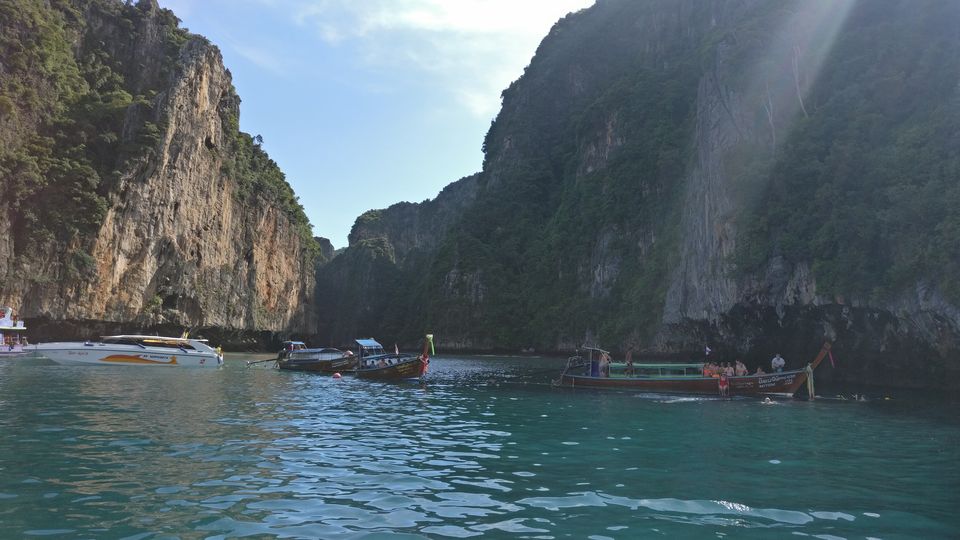 Thailand, a country that offers its visitors, diverse tourism opportunities, lies in the South-East Asia bordering Laos to the north, Cambodia to the East and Malaysia to the South. The country is filled with many naturally beautiful sites such as Phi Phi, Krabi, Surat Thani, Phuket, Koh Samui and historically significant such as Chiang Mai, Kanchanaburi, Ayuttaya and its capital city Bangkok.
The city of Bangkok is the primary gateway to international travelers visiting Thailand, however, the city has managed to emerge as one of the top visited cities and among the best cities in the world. Bangkok has many historic temples, Royal Palaces and religious sites which makes it famous for cultural tourism (among the famous ones are the Grand Palace, Wat Arun and Wat Phra Kaew), the city is known for its night life (such as on Khao San Road) and many markets such as Pratunam Market and Chatuchak Market. The city also houses one of the largest shopping malls in Asia, Siam Paragon. The city is also popular for its floating markets that sell fruits, vegetables and fish. The city is surrounded by the Chao Phraya river and boat cruise tours are offered to explore the traditional way of life in the city. The cruise tours even include dinner cruises. Another major tourist attraction in Bangkok is Safari World which includes Safari and Marine Park. The main attractions include the Giraffe feeding (with more than 100 Giraffe seen in the park), Dolphin show, Orangutan show, Sea Lion show, Walrus, Tapir, Macaw, hornbills, flamingoes, etc.
With Bangkok offering its visitors bustling city life, one can head to Phuket to experience nature at its best with lesser crowds. Phuket is the largest island of the country and this southern province also includes the smaller 32 islands that lie off coast in the Andaman Sea. Phuket is near to the Phang Nga and Krabi provinces. The island of Phuket has a mountainous topography. The island has many beautiful beaches with some of them offering excellent water activities such as snorkeling, scuba diving, kayaking, Jet skiing and parasailing.
Among the many beaches, the most popular and also a bit overcrowded is Patong Beach and it is in this area that most of Phuket's nightlife and its shopping lies. The area even has a Hard Rock Cafe and the street sea food options available here are abundant. Veg food options are limited (in general limited in Phuket). Some of the other popular beaches lie south of Patong such as Karon Beach, Kata Beach, Kata Noi Beach, Rawai. These beaches are generally less crowded. To the north of Patong are Kamala Beach, Surin Beach, and Bang Tao Beach.
One of the major tourist attraction/activity while visiting Phuket is opting for some of the Island hopping tours such as visiting the Phi Phi Islands (Phi Phi Leh and Phi Phi Don, which are part of Krabi Province that lies southeast of Phuket), Phang Nga Bay (Part of the Ao Phang Nga National Park that lies northeast of Phuket) and Krabi. These tours can be done using traditional Thailand's long tail boats, speedboats or a big boat. One can even consider staying at one of these islands, specifically at Phi Phi Don which has some good accommodation options.
Typically tour operators that run a tour to Phi Phi also include visit to other islands such as Khai, Yao Yai and Bamboo islands. These islands are good options for swimming, snorkeling and some scuba activity. A visit to Phang Nga is equally thrilling where one can get to navigate through the many limestone structures at Panak and Hong island through canoeing and also visit some of the naturally formed caves and mangroves in these islands. The main attraction of the National Park has been the James Bond Island, which became popular after a sequence of Bond movie (The Man with the Golden Gun) been shot here. One can also indulge in some souvenir shopping at James bond Island.
In October 2018, we traveled to this amazing country and visited Bangkok, Phuket and Pattaya on a 8 day trip.
Itinerary in brief
Day1: Bangalore to Bangkok (DMK Airport)

Fly to Bangkok DMK Airport by Air Asia - Arrival at Bangkok at 04:40; Finish Visa (if on arrival) and immigration; and the fly to Phuket by Thai Lion Air(Reach at 2PM).
Evening explore Patong beach and area, local markets and malls.
Overnight stay at Phuket
Day 2: Phi Phi Island Tour
Speed boat Island hopping tour to Phi Phi Islands - Phi Phi Don and Phi Phi Leh (Maya Bay, Monkey Beach, Viking Cave, Loh Samah Bay, Pileh Cove/Lagoon)
Other Islands to cover along with this:
· Khai Islands
· Yao Yai Island
Day 3: James Bond Island and Phang Nga Bay Island Tour on a big boat with canoeing
. Ao Phang Nga National Park and James Bond Island (Khao Phing Kan)
· Hong Island
· Panak Island and Lawa Island
Day 4: Phuket tour - Visit beaches of Karon and Kata. Visit the 'Three Beaches' viewpoint, which is one of the island's most scenic spots, from which one can get a panoramic vista of the beautiful bays of Kata Noi, Kata, Karon. Also visit Rawai Beach and Promthep Cape, another scenic spot of the island. Fly to Bangkok at 7:30 PM.

Overnight stay at Bangkok.
Day 5: Bangkok city tour - Explore Siam region and visit one of the largest shopping malls of the city, Siam Paragon. Visit Sea Life Ocean world. Night visit to Khaosan street/market.
Overnight stay at Bangkok
Day 6: Full day tour to Safari World, Bangkok. Explore the park and enjoy various shows such as Bird show, Dolphin and Sea Lion show, Elephant show, etc
Overnight stay at Bangkok
Day 7: Drive to Pattaya [close to 2 hour drive], and reach Koh Larn [Coral Island] by a ferry from Bali Hai Pier, Pattaya. Visit some of the beaches of Coral Island such as Samae and Tawaen beaches.
Evening return back to Pattaya and explore Pattaya Walking street. Night return to Bangkok and stay at Bangkok
Day 8: Explore Bangkok city - ChinaTown markets, visit Wat Arun [a landmark Buddhist Temple] and a ride on the Chao Phraya river.
Night fly back to Bengaluru
Bengaluru to Phuket
Our journey began on the 8th October 2018 from Kempegowda International Airport, Bengaluru (KIA) as we boarded the Air Asia flight departing from Bengaluru at 23:40 (Local time) and reaching the Don Mueang International Airport, Bangkok (DMK) at 04:40 (Local time). Thailand is about 1.5hrs ahead of Indian Standard Time. There are two airports in Bangkok, DMK and Suvarnabhumi Airport (BKK) which are roughly 45kms apart and there are regular shuttle services between the two. DMK is generally the Airport used by low cost airlines such as Air Asia and Thai Lion Air. Since we did not want to get into the hassle of switching Airports, we booked our Bangkok to Phuket flight from Thai Lion Air (also because it was less expensive).
After landing at DMK around 04:45AM, we headed for immigration. Bangkok allows Indian travelers to get a visa on arrival but we preferred to have it got in advance. We had got a tourist visa (single entry) that permits a stay of up to 60 days and the visa application can be submitted to the Royal Thai Consulate General in Mumbai, Chennai, Kolkata or the Royal Thai Embassy at New Delhi. VFS Global (Visa Facilitation Services Global) is a company at Bengaluru where the visa application can be handed to avoid travel to the Consulate/Embassy [More details on the visa process at https://www.vfs-thailand.co.in/]. The visa fees for a single entry tourist visa is roughly INR 2500/-. If going for visa on arrival, I believe the fees is 2000 THB (Thai Baht; 1 THB is roughly 2.3 INR) and is to be paid in THB cash only. (Occasionally, the Royal Thai Embassy has made provisions to allow Indian travelers without a visa for tourism purposes - one needs to check the visa rules applicable at their time of travel). In either visa options, one has to show records (bank statement) of having sufficient funds (min 10000THB per person) and also provide information such as itinerary, accommodation details and the return journey ticket.
The immigration form is available in the Air Asia flight and can be filled before landing and one can head to the immigration counters. After our immigration, we headed towards the checkin for our next flight to Phuket. The flight got delayed for departure after boarding and hence we reached Phuket late in the afternoon.
Day1 at Phuket
At Phuket Airport, we bought ourselves prepaid sim card. There are many shops available where one can buy the required sim. Dtac is one service provider in Thailand which has good cellular and mobile data connectivity even in some remote areas. They have good data packages with validity ranging from 24hrs to 15 days at reasonable rates.
At the Airport, we even got a free hotel drop offer when we booked our Phi Phi Island Tour for the next day by Sea Angel SpeedBoat tour [for THB 1250 per person; Generally Airport drops can cost roughly THB 800]
Around 2:30PM, we checked in to our hotel (Green Harbor Hotel & Service Apartment [Patong Area]; hotel cost roughly THB 700 per night) and our evening was for leisure to explore the hotel surroundings. Patong beach is roughly 1.2kms (15 minutes walk) from our hotel and we decided to head there. We spent our evening at the beach and then explored the nearby markets and malls. Being vegetarians, our biggest challenge was to find a veg restaurant for dinner. We found one near Banzaan fresh market called Madras Cafe [a bit expensive]. After dinner, since it was raining, we got into a tuk tuk (a three-wheeler vehicle used as a taxi in Thailand). Tuk Tuk's are generally expensive and costed around THB 200 for that short journey.
One good thing in Thailand is the availability of 7-11 stores (an American international chain of convenience stores). One can find many such stores throughout. Our hotel had a kitchenette and hence we got milk, bread, eggs, from the 7-11 stores and prepared our breakfast and dinner ourselves at the hotel room for the remaining days [We had also carried some ready to eat packets from Bengaluru itself].