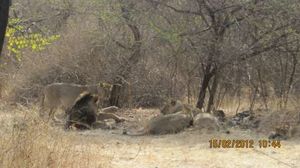 Best time to visit
Avoid visiting from June to September as the monsoons will be in full swing here.
Open hours
Every day of the week from 8:00 am to 11:00 pm and then again from 3:00 pm to 5:00 pm.
Things to do
Experience the wild side of Gujarat here.
Budget
Indians will have to pay anything between INR 75.00 and INR 95.00 for entry while foreigners will need to pay INR 100.00. One can hire the service of a tour guide for four hours at INR.50.00. For photography, anything between INR 100.00 to INR 500.00 is charged.
Best Months
December - May
Rank
1 out of 41 attractions in Junagadh
Gir National Park and Wildlife Sanctuary
The GIR Forest National Park is situated about 342 kilometres from the city of Ahmedabad and is a breeding area for the Asiatic Lion. The place was declared to be a protected area in 1990 by the Nawab of Junagadh. One can also expect to find panthers lurking about here. The park is also home to deers, peacocks, gazelles and nilgais. The borders of this forest reserve are home to some villages and hamlets inhabited by the Maldhari tribes. A tour of these villages will also one a glimpse into the lives they lead and their folk art. One needs to be attentive to the sounds here as the cry of a languor or monkeys could indicate that some jungle cat is on the prowl.
Reviews of
Gir National Park and Wildlife Sanctuary
•
16
Attractions near
Gir National Park and Wildlife Sanctuary