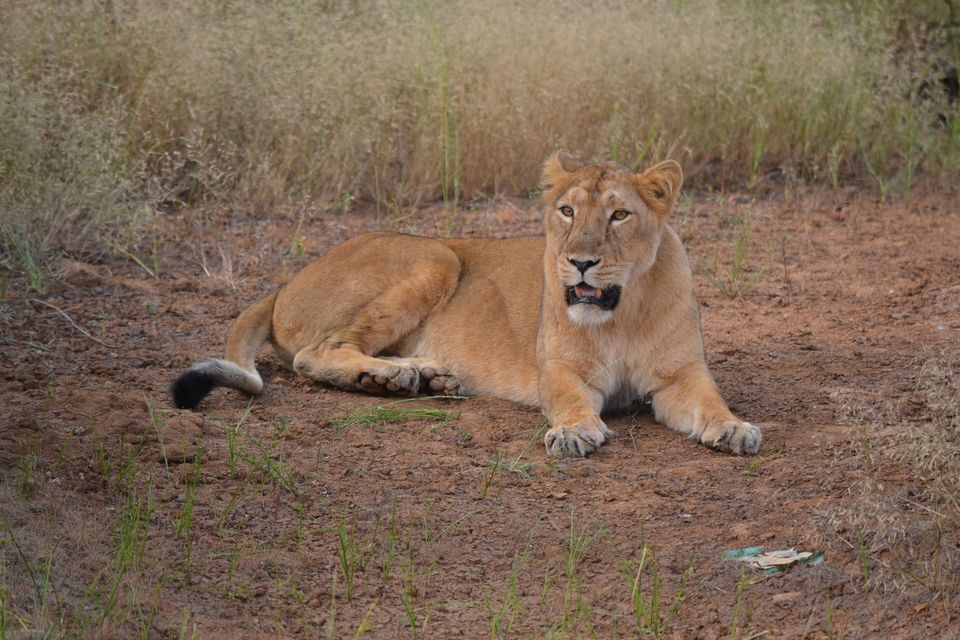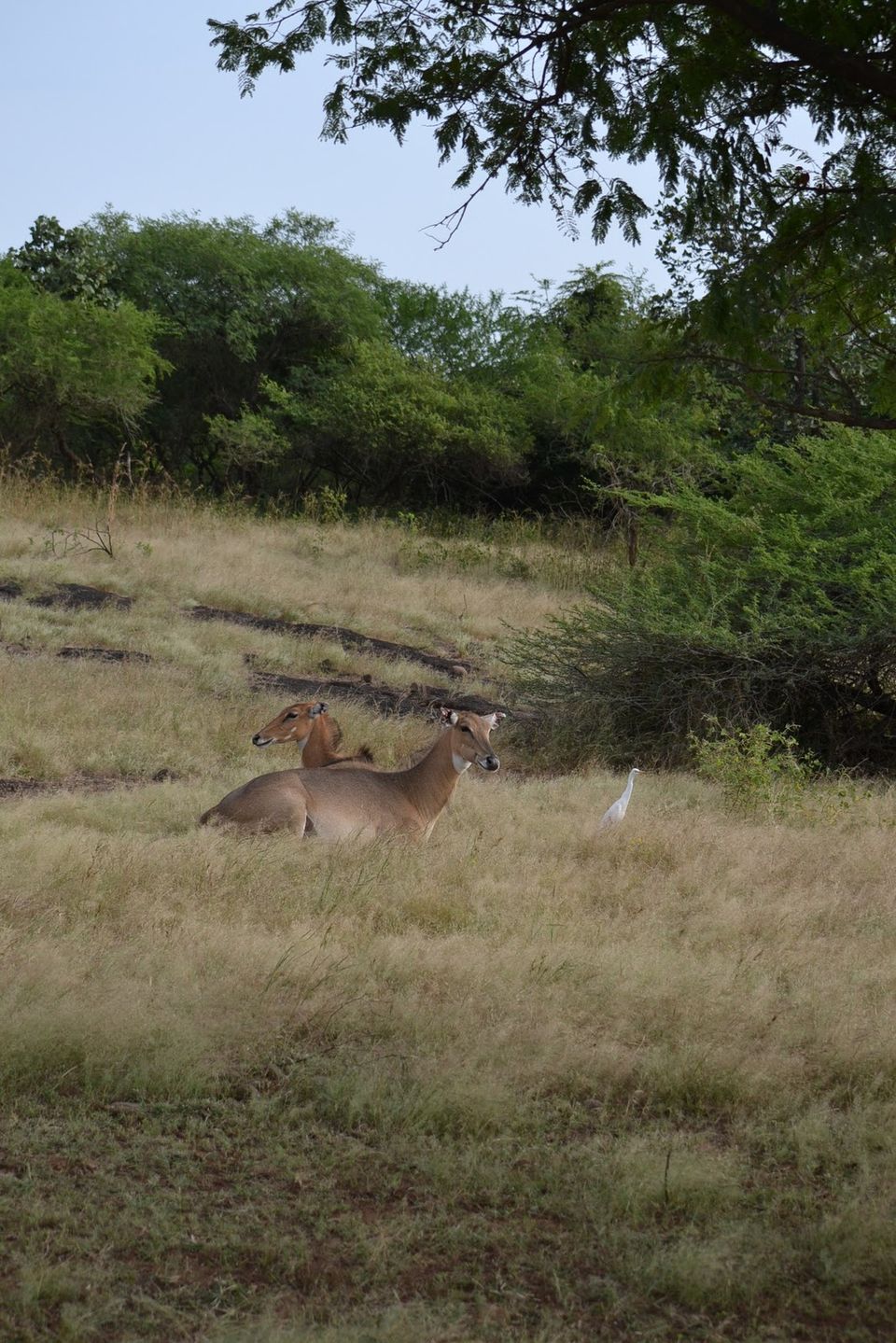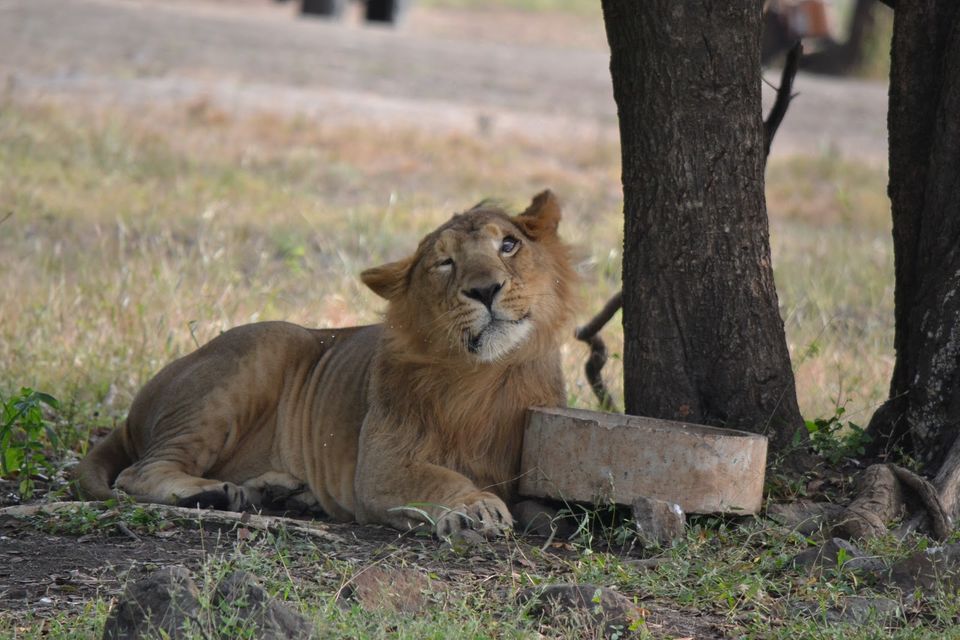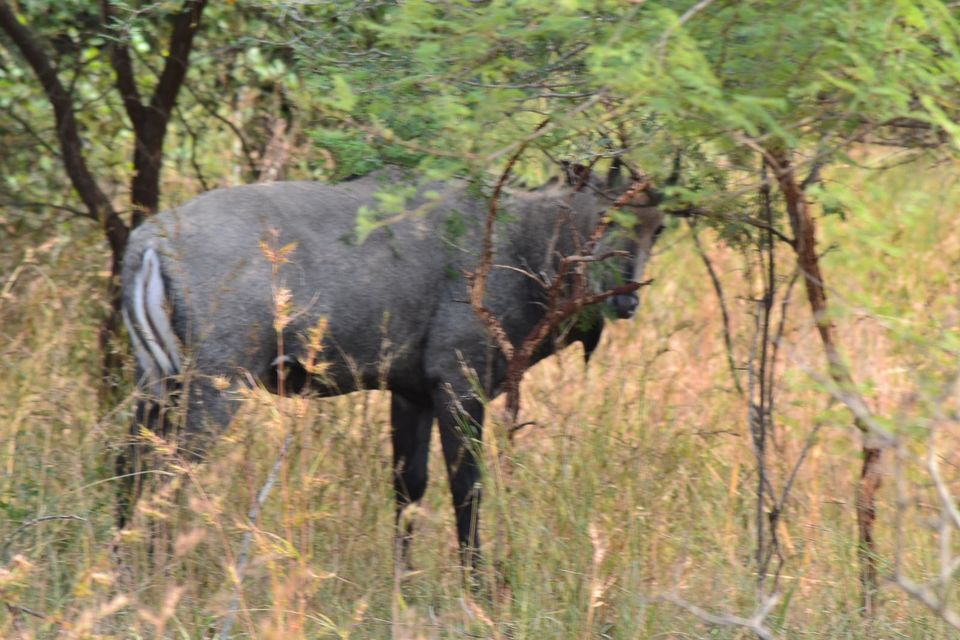 The second part of our Gujarat vacation was a trip to the Gir National Park / Wildlife Sanctuary in Gujarat. This was a rather unplanned trip as we had no idea as to how we were going to get to the Gir National Park from Palitana. The only thing planned for the trip was our place of stay – Hotel Anil Farm House. With some asking around, we figured that there was no direct way to get to our second destination. Thus began our half day long road trip, starting at 5 in the morning with a cab from Palitana to Songadh, a 6 hour long bus ride from Songadh to Junagadh, and finally 3 hour (for a distance of 50 kms) auto ride from Junagadh to Sasan - the village around the Gir National Park. (click here to see the journey on a map). Normally, its much simpler to get to Gir from Mumbai – you either take an overnight train to Junagadh and then a bus (recommended over an auto-rickshaw) to Sasan or an early morning flight to Rajkot and then a cab/bus to Sasan.
Sasan, also known as Sasan-Gir, is the village near the Gir National Park and is located along the banks of the river Hiran. Most of the hotels in Gir are located in this village, and are thus along the bank of the river. While options are abundant from the Department of Forest's Sinh Sadan to the Taj (which had been shut, but was to be restarted), there were two properties that we liked in particular and recommend to the budget traveller: (a) Hotel Anil Farm House and (b) Sinh Sadan. The latter is a property owned by the department of forest built in colonial British architecture, and is probably one of the cheapest properties around. Another reason why we like it so much is that no matter where you stay, you'll have to come back Sinh Sadan for all your permits to enter the sanctuary, so then you might as well stay here – considering that you'd typically be entering the sanctuary at 6 in the morning.
Gir National Park is spread over 1400 square kms, although tourists can visit only about 250kms out of that. It is the only home in India to the Asiatic Lions, who were once an endangered species, but thanks to this sanctuary are now abundant - from around 30 lions in early 2000, there are over 500 now. While Lions remain the main attraction of the place, there are various other animals like the spotted Deers, Sambar, Nilgai, Jackals, Leopards, Mongoose, and a huge variety of birds and reptiles. Infact, in a few of our safaris, we spent more time spotting birds then we did spotting Lions. Apart from the sanctuary, we spotted a lot of birds and a few crocodiles while walking along the bank of the river. Further, one may also plan an evening trip to Devaliya Interpretation Zone, which is about 12kms from Sasan. This is an interpretation zone where all the animals are kept within a fence and hence sightings are guaranteed here. So in case you cant find them in Gir National Park, head straight to the Devaliya Interpretation Zone.
There are three different times when you can enter the sanctuary – early morning (6-9), morning (9-12) and evening (3-6, maybe), although sightings are best early in the morning. For each trip into the sanctuary, you need a vehicle (mostly Maruti Gypsies lined outside Sinh Sadan or will be arranged by the hotel, charge around 800-900 bucks a trip), a guide (again allocated by the department of forest at sinh sadan, charge 100 bucks a trip) and a permit (for which you have to stand in a queue at sinh sadan). We had heard that during peak season, people stand in queues all night as the number of permits at any one time is limited. That was one of the reason we avoided going during the Diwali break and preponed our trip by a week. There are six different routes in the sanctuary, and you get the permit for any one of the routes at a time. The guides and drivers are fairly knowledgeable and it would be better to take their opinion as to which route to seek permit for, as they typically keep a track of where the lions were spotted last. Since all the drivers and guides are allocated trips on a rotational basis, they end up doing one or max. two trips in a day, and hence be kind enough to tip them generously. For most people, tourists are the only source of income there, as no other economic activity is undertaken there.
The best time to visit this place is in summers (the park is closed between June and October), and it is advisable to go before/after the holiday season as you would not want a lot of crowd around. A lot of crowd and noise can scare the birds/animals away, and due to the heavy traffic, your guide and driver might be in a hurry to get you out of the park soon (we had, a few times, waited at one spot for over an hour as the lions were expected to come there). During summer, the forest cover is thin, and most of the water sources within the jungle dry up. So sightings are easier as the lions are on the move in search of water. A lot of artificial water tanks have also been created especially for summers along the safari routes, so as to attract the lions. Mornings typically are the best time to catch the lions moving around. They are generally very lazy and sleep through most of the day, hiding away from the sun. Contrary to general belief, they are not very ferocious, unless provoked. We had a couple of male lions almost sniff our car (open gypsy), and as you know we survived. Do not run, scream or panic when they are around for this may provoke them to attack you. Mostly there are forest rangers who track the movement of these animals in the jungle, and they are equipped with nothing but a motor-bike and a stick. So if they can be safe living with the lions, you are much safer in the car. Lastly, be nice to nature and please do not litter in the jungle, use camera flash on the animals, scream or ask silly questions like "bhai sahab, yeh animals aise khule hi ghumte hain yahan pe?" (a lady in a nearby gypsy was asking this to her guide) when you spot animals.
Before I end this, a special thanks to the staff at Anil Farm House for their hospitality, to all the drivers and guides for taking us around patiently, and to Rahul Shah for helping me plan the trip.
Amongst the birds & animals that we spotted were (in alphabetical order):AntlersAshy DrongoBlack IbisChangeable Hawk EagleCitrine WagtailCrocodilesEgretsGreen Bee-eaterGrey HeronGrey WagtailIndian Magpie RobinIndian MongooseIndian RobinJackalsJungle WabblerLionsMonitor LizardNilgaiOriental White-eyePeacocks and PeahensPied KingfisherPond HeronRed Vented BulbulRed Wattled LapwingRose Ringed ParakeetRoufus TreepieSambarSandpipersSpotted DeersSpotted DovesWhite Breasted KingfisherWild Boar
This trip was first published on An Analytical Mind.
Frequent Searches Leading To This Page:-
Best Tour Packages for Gujarat, Best Travel Packages for Gujarat, Best Gujarat Trip Packages, Gujarat Holiday Tour Packages, Top Gujarat Packages for Family, Places to Visit in Gujarat other than Beaches