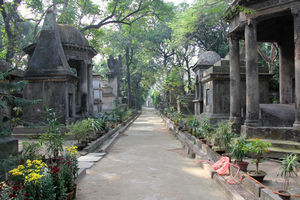 Best Months
September - May
Traveller Types
Friends, Solo, Couples
Rank
9 out of 199 attractions in Kolkata
South Park Street Cemetery
Places to stay near
South Park Street Cemetery
Sunny, Family-friendly, private
Treebo Globe International
TERRACE BY THE CALCUTTA LAKES
❤️of the City,Wifi,TV,AC,Balcony!
Reviews of
South Park Street Cemetery
•
3
The church was an entirely unique gothic church in Kolkata! After the church, we went to South Park Street Cemetery. The cemetery sent chills down my spine as it was absolutely one of its kind and incited numerous mixed emotions of awe and sadness. We then went to ' Govinda's' (ISKCON Temple's restaurant) for lunch. The sattvik food there was very delicious (although I could not each much due to my poor health). We went for a quick stroll post lunch to Victoria's Square Park opposite ISKCON temple. To our surprise, we saw monkeys, ducks, and rabbits! We sat down for a while and looked back at the entire trip and summarized our experiences briefly. After that, we went inside the ISKCON temple and after the evening 'Aarti' I went back to my PG, packed my bag, and left for the station. As I left the city with mixed emotions and experiences, I just had one word to bid adieu to the city of contrast, 'Aashchi' (I'll be back).This post was originally published on Nivedita's Blog.
 After satiating my desire to meditate in Dakshineshwar Temple, we headed to Kalighat Temple which was highly overcrowded because of it being a Sunday! However, a glimpse of Ma Kali made me forget about the struggle to reach within her aura! As we were heading towards ' Krishna Sweets' on Ashutosh Mukherjee Road, we witnessed the vintage car rally! I felt super lucky and stopped by the signal to catch a glimpse of the awesome vintage cars! After the rally, we ate 'Kachori & Aloo Sabzi' and 'Baked Sandesh' and headed towards St. Paul's Church. 
I am the biggest coward you shall ever come across, but visiting this place was and always is a MUST-GO-TO place! Peace, calm, composed environment interspersed with nature at its best. Could I want anything else?
Attractions near
South Park Street Cemetery