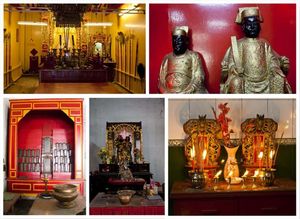 Places to stay near
Tiretta Bazar Ln
Sunny, Family-friendly, private
❤️of the City,Wifi,TV,AC,Balcony!
RedBrick Shakespeare 2 -Heritage GH
Reviews of
Tiretta Bazar Ln
•
3
Initially, we were confused what to eat but then decided to try whatever looked tempting. The Chicken momos were succulent and juicy. I did not like the pork dumpling soup but the fried version of pao was what I still crave for. Somehow, I felt there were lesser shops in the market that I heard about; maybe because we reached a little late or because the road was half blocked by a Durga Puja Pandal.If you are visiting Territy Bazaar then you cannot miss out on Hap Hing Co. a medical and Chinese provision store which was opened in 1934. When you enter the store, you will be smitten by its old-world charm. The store sells different Chinese products like homemade noodles, green tea, sauces and condiments, medicines and more.Reaching this place won't be a problem for most. It is better to take a taxi to reach this market early in the morning, as buses and the metro starts a little late. We returned home via metro as the nearest one was Central.This market should be visited by all those who love to eat and discover new places. What I love the most about this place is that the people are very warm and friendly. It is a perfect place to witness a slice of China in Bengal.
Last year when I visited Kolkata my cousin sister and I decided to pay a visit to Territy Bazaar. We reached Poddar Court in a cab and as usual, the ever-helping people of Kolkata guided us to our destination. The small street was lined with tiny stalls selling different dishes like chicken and pork momos, spring rolls, the traditional Chinese pao with some filling inside, pork dumpling soup, Shu Mei and lots more. Apart from these little eateries, there were vegetable and fish shops. In fact, most Bangali Babus come here, especially on a Sunday to do their weekly vegetable shopping (typical Bengali tradition) and take some of the authentic Chinese delicacies on their way back home.
Sea Voi Yune Leong Futh TempleSea Voi Yune Leong Futh Temple is little hard to locate because it is accommodated of a single room of a building and from outside it is indeed hard to locate. It is located just opposite of Sea IP Church and beginning of Blackburn Lane. This is a very small Church established in 1908 by Chinese carpenters from............................................Read More
Attractions near
Tiretta Bazar Ln